Perhaps just as much as going on attractions, enjoying your resort or dining at restaurants, drinking at Walt Disney World is an attraction all by itself, and for some, the highlight of their trip. So what are the best bars and lounges in Disney World?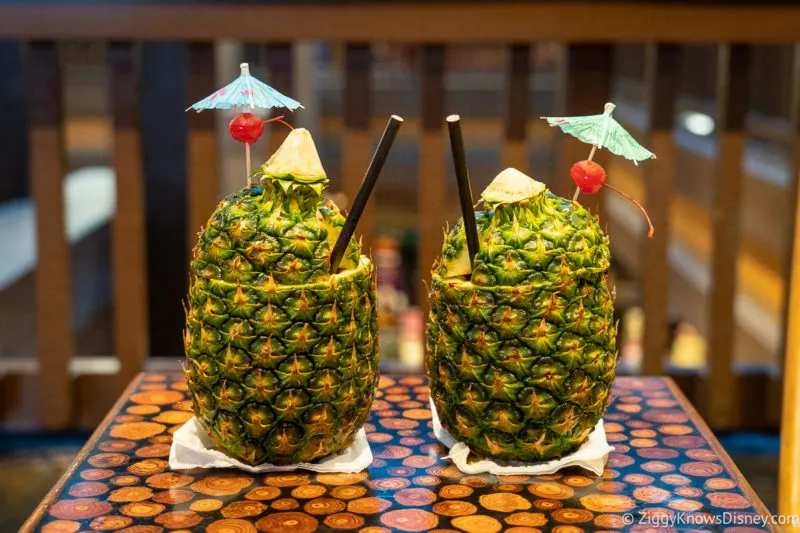 In this post, we are going to show you the best Disney World bars and lounges and rank our absolute favorites in order. Sure, there are well over 100+ bars to visit, so the choices are endless, however, these are the very best of the best, the ones you can't-miss on your next trip.
We'll cover the best bars in the theme parks, in the resorts, and also list the top ones by category, including the best themed, most relaxing, entertainment, and the best views. All of these are done really well, and if you are looking for something to take the edge off, you are in the right place.
We'll even answer your top FAQs about drinking at WDW in general so you can maximize your time and money.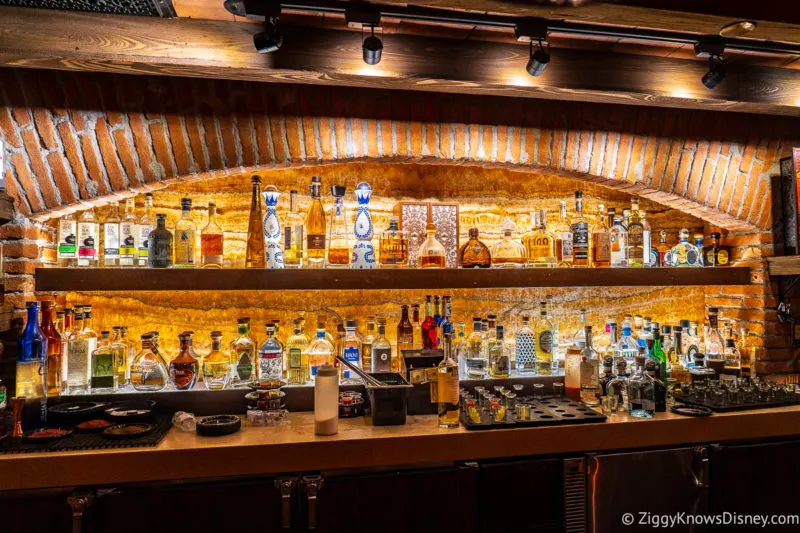 A trip to Disney World for us, as adults, is not complete without visiting some of the amazing and highly themed bars and lounges scattered across the Disney World Resort.
And many visitors are surprised to know that not only can you try some new and unique concoctions that are put together by Disney mixologists, but you'll also find some terrific grub and most lounges!
Some of our favorite food, namely appetizers, are found at the variety of different bars throughout Disney World. Not only does Disney have great lounges in the Disney World Theme Parks, but you'll also find some outstanding ones at the various different Disney Resorts and Disney Springs.
But what makes Disney World Bars and Lounges different from ones that you would normally find back at home?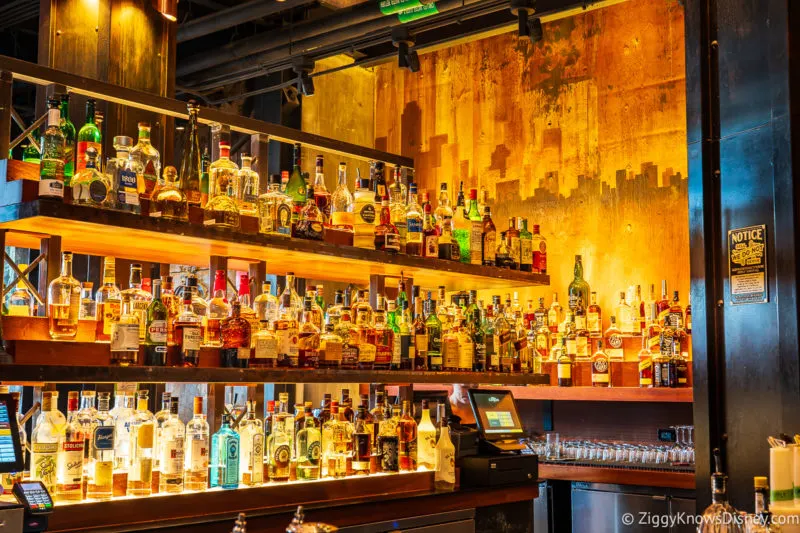 In short, a little extra Disney Magic.
Like with all things inside the "Disney Bubble", a visit to a Disney World Lounge can transport you to someplace else! Whether it's inside the lobby of an African-Savannah Lodge or it's on the beaches of the French Pacific, there's something for EVERYONE.
And don't discount the bars and lounges for the young ones too, because many of them have fun and unique mocktails for the kiddos to try! TRUST ME. They'll love them while getting their sugar fix!
While the prices you can expect to pay will typically be more expensive than bars and lounges back home, as you'd expect of Disney, but for the most part, we still believe they are completely worth the experience!
How Many Bars and Lounges are in Disney World?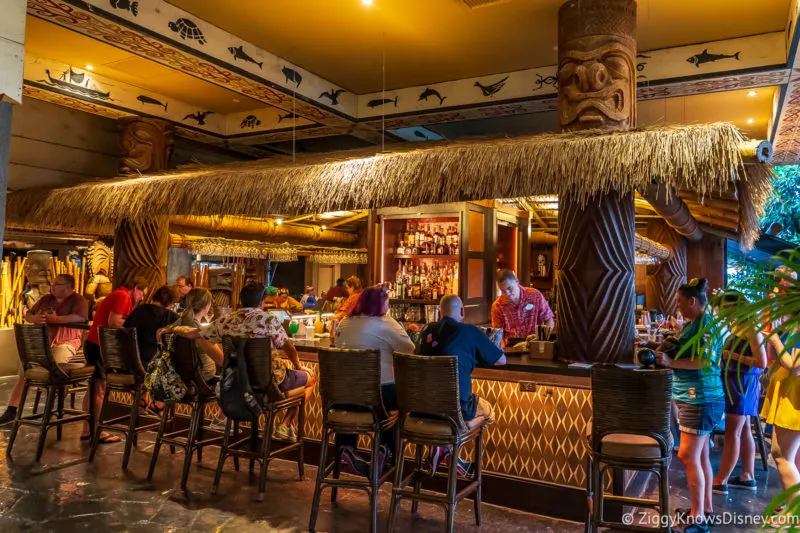 The Walt Disney World Resort is home to over 150 different bars and lounges spread across the four theme parks, the two water parks, and over 30+ resorts!
At each of these bars and lounges, you'll find thematically enticing environments that are sprinkled with the little bit of Pixie Dust that you'd expect to find with Disney World Imagineering behind the scenes.
Magic Kingdom
Unlike the other Disney Parks, Disney's Magic Kingdom is more particular about alcoholic beverages. For an in-depth look at 'WHERE' to get alcohol in Magic Kingdom and 'WHY' it's harder to get booze there.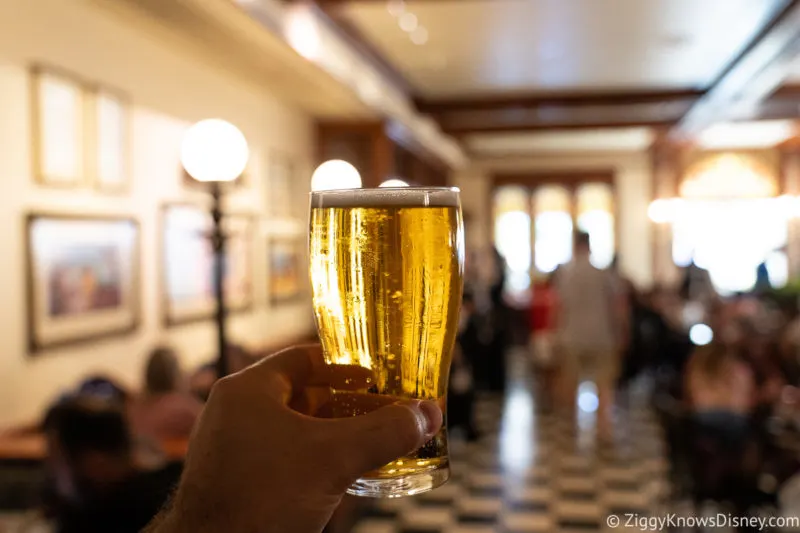 While Magic Kingdom doesn't have any bars or lounges, you can get alcoholic beverages at a few table-service restaurants if you can get a reservation. Here are your options:
Be Our Guest
Cinderella's Royal Table
Liberty Tree Tavern
Tony's Town Square Restaurant
The Plaza Restaurant
The Crystal Palace
The Diamond Horseshoe
Take a look at the Best Places to Get Beer and Alcohol at the Magic Kingdom for a more thorough look at what's available.
EPCOT
Known as the "adults park" and the "drinking park", EPCOT is home to the most amount of spots to grab drinks.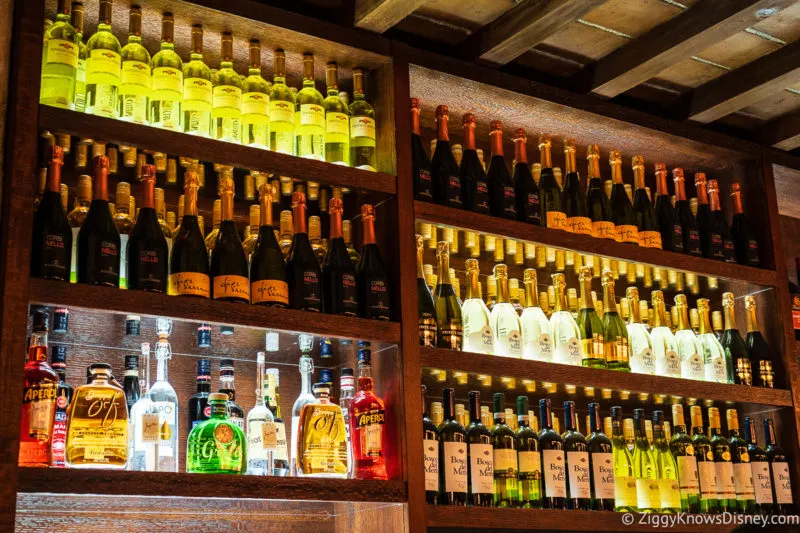 Here is the full list of places with bars in EPCOT:
Space 220 Lounge – A fun but difficult-to-get-in lounge that is connected to the restaurant.
Block and Hands Kiosk – A craft beer kiosk in American Pavilion that also offers some specialty cocktails.
Canada Popcorn Cart – Have a few different Canadian Beers on tap in addition to possibly a specialty cocktail or two.
Choza de Margarita – An outdoor margarita stand in the Mexican Pavilion that offers a number of different margaritas and some snack options as well.
Crêpes À Emporter – An outdoor snack stand in the France Pavilion that offers a variety of different crepes and some hard ciders and wines.
Fife & Drum Tavern – An outdoor stand in the American Pavilion that offers some food options, such as turkey legs, but also a few different beers.
Garden House – The Japanese outdoor sake bar that sells different hot and cold sake cocktails.
Germany Bier Stand – A beer cart in the German Pavilion that sells giant pretzels and different beer offerings.
Germany Hovels Stand – A kiosk that offers different German beers and German wines in addition to soft pretzels.
Joy of Tea – A kiosk in the China Pavilion that offers different hot and iced teas, including a variety of specialty cocktails.
Kabuki Cafe – Known for its Kakigori Japanese Shaved Ice, this Japanese outdoor kiosk also offers a number of different beers and types of sake.
La Cava del Tequila – Indoor lounge in Mexico Pavilion that offers unique and tasty drinks, especially margaritas. The seating area is small and it's VERY popular.
La Crêperie de Paris – The indoor crepe stand in France that offers different crepes and wines.
Les Vins des Chefs de France – Outdoor French kiosk that offers different frozen alcoholic slush drinks.
Morocco Snack Cart – Inside the Moroccan pavilion this snack cart offers shareable carafes of Sangria.
Oasis Sweets and Sips – Juice bar located in the Spice Road Table market inside the Morocco pavilion. They offer a number of unique cocktails.
Regal Eagle Smokehouse Walk-Up Bar – There's both an outdoor walk-up bar area where you can order drinks to-go or you can sit inside. This is located inside the American Pavilion.
Rose and Crown Beer Stand – Small outdoor beer cart in the U.K. Pavilion outside the Rose and Crown Restaurant.
Rose and Crown Pub – A fun original-feel English Pub where guests stand around inside the bar area and order drinks either to stay or leave with.
Sommerfest – Counter service restaurant in Germany that offers different German beers and wines.
Tutto Gusto Wine Bar – This cozy 96-seat wine bar is an Italian-themed wine cellar in the Italian Pavilion offering over 200 bottles of wines along with some small plates to pair.
Hollywood Studios
While not quite as elaborate or as readily found as EPCOT's many different lounges, stands, and kiosks, Hollywood Studios has some terrific options for adults looking for a fun and uniquely themed lounge or bar experience.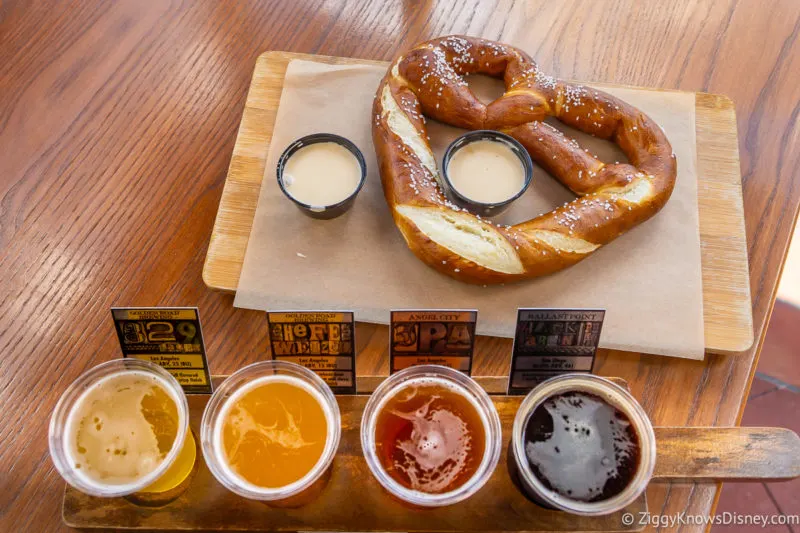 Here are your options at Hollywood Studios:
BaseLine Tap House – A tap house with a number of different brews and specialty cocktails in addition to some tasty appetizers and treats.
Hollywood Brown Derby Lounge – An outdoor lounge that is just outside of the main restaurant. They have a number of tasty drinks and good appetizers here.
KRNR The Rock Station – Food truck just outside of Rock n Roller Coaster that has some snacks and a few different frozen cocktails.
Milk Stand – Find alcoholic and nonalcoholic blue and green milk at the milk stand inside Star Wars: Galaxy's Edge. Don't worry, they aren't real milk 🙂
Oasis Canteen – This walk-up bar offers a number of different cocktails and specialty drinks right around the Echo Lake area.
Oga's Cantina – This space bar is found inside Star Wars: Galaxy's Edge offering a number of fun-themed cocktails. Enjoy a cocktail while pilot space droid DJ-R3X spins some tunes for you.
Peevy's Polar Pipeline – A kiosk that offers different frozen cokes and lemonades. You can add booze to them if you'd like.
Sunshine Day Bar – A full walk-up bar that offers specialty cocktails on Sunset Boulevard.
Tune-In Lounge – The fun 50s-themed lounge is connected to the restaurant 50s Prime Time Cafe.
Animal Kingdom
Disney's Animal Kingdom has been upping its game in the last several years to attempt to keep up with both EPCOT and Hollywood Studios when it comes to adult beverages and places for adults to enjoy an equally good time.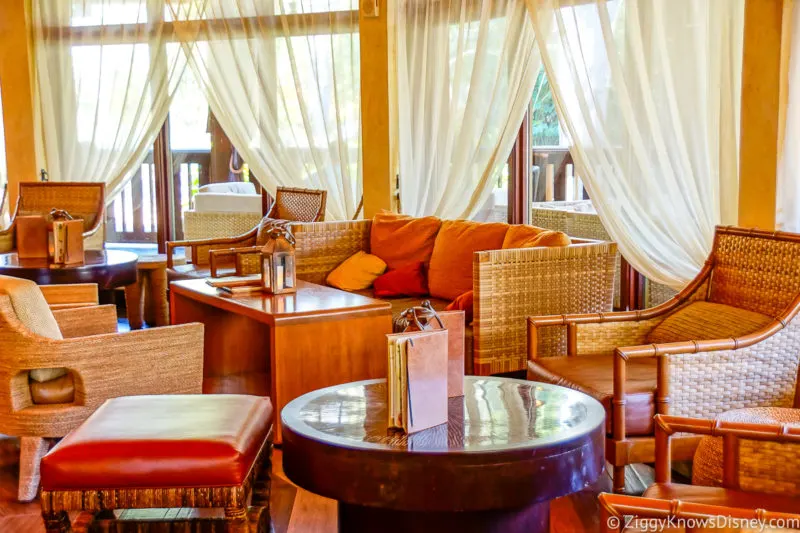 When reviewing and ranking the best Disney World Bars and Lounges, it's not as easy as you'd think. There are so many factors to keep in mind when coming up with the final list to decide how to put them in order.
With over 150+ different themed bars and lounges, and many guests having completely different preferences to me personally, it can be tough since there are so many we honestly love!
Rather than come up with fancy metrics or elaborate formulas for figuring it out, we used a few main ranking factors to allow us to decide.
The main ranking factors we considered when coming up with our final list are:
Originality of Drinks (Many Disney Lounges and Bars have the same drinks)
Price to Quality Ratio
Presentation of the Drinks
Ease of Getting to the Lounge
Restaurant Theming and Ambiance
Additional Disney Magic
Bar Bites and Snack Options
While it's impossible for any of the bars and lounges to perfectly meet our standards, we tried to rank them based on the best overall experience for guests.
We're PRETTY sure if you follow our list, you'll have a terrific all-around experience.
Best Disney World Bars & Lounges (RANKED)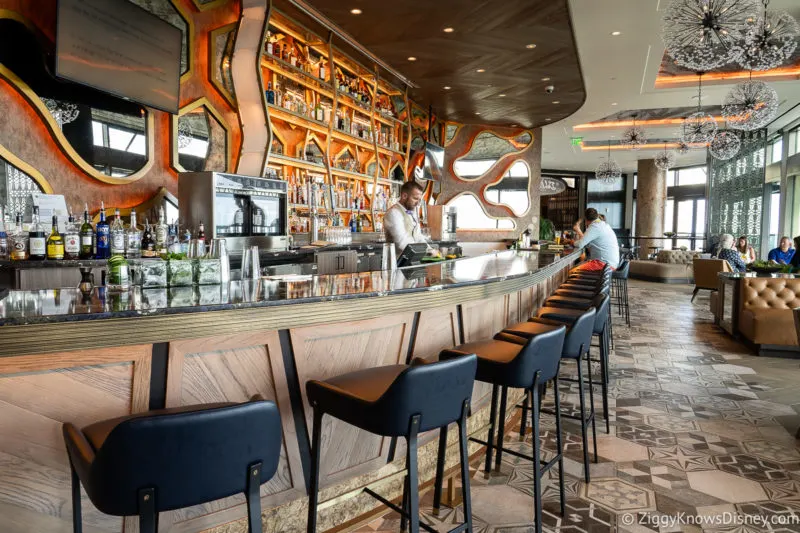 With our criteria for making it into our Top-21 clearly in focus, let's now rank our favorite Disney World Bars and Lounges.
We will start with 21 and gradually work our way down to 1. Each of these choices is highly themed and the best of Disney Imagineering and theming.
21. Tambu Lounge
Location: Disney's Polynesian Village Resort
Hours: 8:30 am – 11:00 pm
Theme: A South Seas-themed bar
Located on the 2nd floor of the Great Ceremonial House in the Polynesian Village Resort lobby area, just outside of the incredibly popular 'Ohana Restaurant. This tends to be the 'waiting area' for guests visiting 'Ohana in the evenings.
We love the Tambu Lounge because it has some super fun and tasty rum-based drinks that will transport you to your favorite tropical island. There's something incredibly relaxing about being in the Tambu Lounge!
Not to mention you can get some of your favorites off the 'Ohana Dinner Menu, including one of our favorite desserts in all of Disney, the Bread Pudding in addition to the famous 'Ohana Noodles!
While the seating area is a bit small, and it lacks the special Disney experiential lounge experience, it's a solid little lounge where you can get some really tasty drinks and eats.
Drinks to Get:
Lapu Lapu – One of the most famous drinks in all of Disney World, the Lapu Lapu is a rum-based drink served in a whole pineapple! It's fun and stronger than you'd think!
Backscratcher – This rum-based tropical drink is SO good, plus you'll get a backscratcher in your drink!
A welcome addition to Disney's Hollywood Studios in 2017, the BaseLine Tap House comes in at 20th on our list. We thoroughly enjoy this location for a number of reasons, namely because they have a great beer list!
With 14 different beers on tap, the ability to have flights, and a few additional specialty cocktails, the BaseLine Tap House has great options for guests visiting Hollywood Studios. They also have a full bar so if you'd like to get something other than beer or their specialty cocktails, they can whip you up something else!
With seating both inside and outside, guests coming to the BaseLine can either grab their drinks and go or sit down and find a place to sit. We also LOVE their Bavarian Pretzel, as it's one of our favorite pretzels ANYWHERE in Walt Disney World.
My one knock on this place is the seating area is limited and literally every single time we visit, there is no place to sit or stand, and on busier days, lines can get VERY long and slow. It can be frustrating at times because it makes you think twice about going when passing.
Drinks to Get:
Beer Flight – With all the beers on tap, it's worth getting a flight and trying a few
Baseline Select Margarita – Although a bit pricey, the Baseline Select Margarita is tasty and utilizes top-notch ingredients, giving you a nice alternative other than beer
Food to Get:
Bavarian Pretzel – An amazing and massive pretzel that is perfectly soft and chewy, and comes with a terrific beer cheese fondue
California Cheese and Charcuterie Plate – A solid charcuterie plate that comes at a very reasonable price point
19. Territory Lounge
Location: Wilderness Lodge Resort
Hours: 4:00 pm – 10:00 pm every day
Theme: A rustic lodge-like bar found in a National Park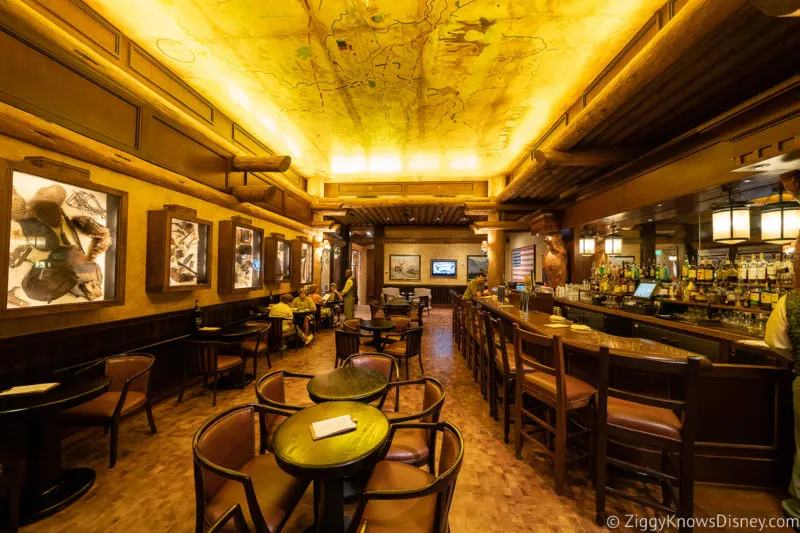 There's something special about # 19 on our list, the Territory Lounge. Sneak inside this cozy and warm lodge-like lounge which will transport you to your favorite mountain destination. Located inside one of our favorite Deluxe Resorts, Disney's Wilderness Lodge Resort, we love the feel and ambiance of this rustic lounge.
While we don't love how difficult it can be to get over to the Wilderness Lodge Resort if you're not staying at one of the Magic Kingdom Resorts, we love virtually everything else about it.
A perfect blend of signature cocktails and deliciously shareable bar bites that make a visit almost completely worth it even if you aren't staying nearby. We love how the cocktails and food items perfectly balance the rustic nature of this resort, featuring a number of different whiskey and bourbon cocktails.
Drinks to Get:
Bourbon Flights – A different type of offering that allows you to try three drastic different bourbons.
S'more Old Fashion – A highly unique take on an old classic. We love old fashioneds, and this is a good one!
Food to Get:
Loaded Macaroni and Cheese – This tasty mac and cheese has a number of unique flavors in it!
Bacon on the Wire – Can't go wrong with bacon, deviled eggs, and bourbon!
18. Jellyrolls Dueling Piano Bar
Location: The Disney BoardWalk
Hours: 7:00 pm – 1:45 am every day
Theme: A raucous piano bars with dueling piano players
An underrated gem, Jellyrolls is an under-the-radar piano bar found on the Disney BoardWalk. While it's not as easy to get to as some of the Disney Parks Lounges, Jellyrolls is located within easy walking distance to both EPCOT and Hollywood Studios.
What makes Jellyrolls great is it just feels different. What's better than listening to two great musicians playing classic rock hit after classic rock hit? Out of all of the places on this list, this FEELS adult, with kids not even being allowed in. It almost doesn't feel 'Like Disney', which I guess is a good thing in this instance.
It's a terrific time for adults, as you'll be screaming your hearts out to your favorite songs! The reason why it isn't higher on our list is that there is normally a cover charge to enter Jellyrolls, and unfortunately, there is no food. But…there is free popcorn!
With the abandonment of Pleasure Island in the former Downtown Disney, Jellyrolls is one of the true places where guests can hang out until the late hours of the night since it's often open past 1:00 am.
Drinks to Get:
Nineteen Twenty Cocktail – This fun mystery cocktail will be sure to please EVERYONE
Briskey Whiskey – A tasty whiskey drink with a perfect mix of strong and sweet
Food to Get:
Free popcorn! That's the only food they offer here
17. Scat Cat's Club
Location: Port Orleans French Quarter Resort
Hours: 5:00 pm – 12:00 am
Theme: A Jazz-themed lounge in the New Orleans French Quarter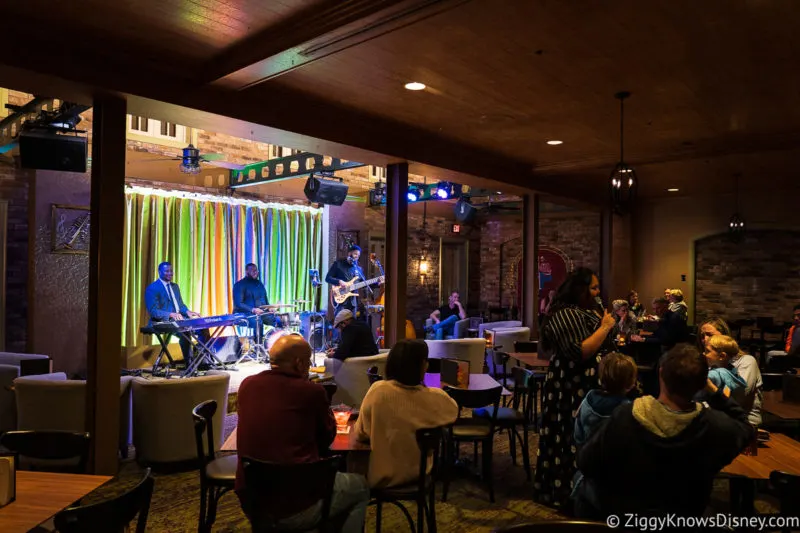 Coming in at 17th on our list is Scat Cat's Club, a place that FEW people know about that aren't staying at the Port Orleans Resorts. This terrific cocktail bar comes alive in the late hours with live jazz music being played 5 nights a week (Wednesdays – Sundays) and it's a really good time.
Drinks to Get:
Sazerac – If you want a true New Orleans-style cocktail, you have to try the Sazerac. We LOVE them, but be prepared they are strong.
Bonfamilles Bourbon Peach Tea – A more refreshing tasty bourbon drink with sweet tea.
Food to Get:
Beignets – With both savory and sweet beignets offered here, we recommend you try both!
Sassy Sassagoula Sliders – This trio of sliders offers tasty Southern-style offerings with completely different taste profiles. We love these!
16. Hollywood Brown Derby Lounge
Location: Disney's Hollywood Studios Park
Hours: 11:00 am to park closing
Theme: Outdoor lounge based on the famed Hollywood Eatery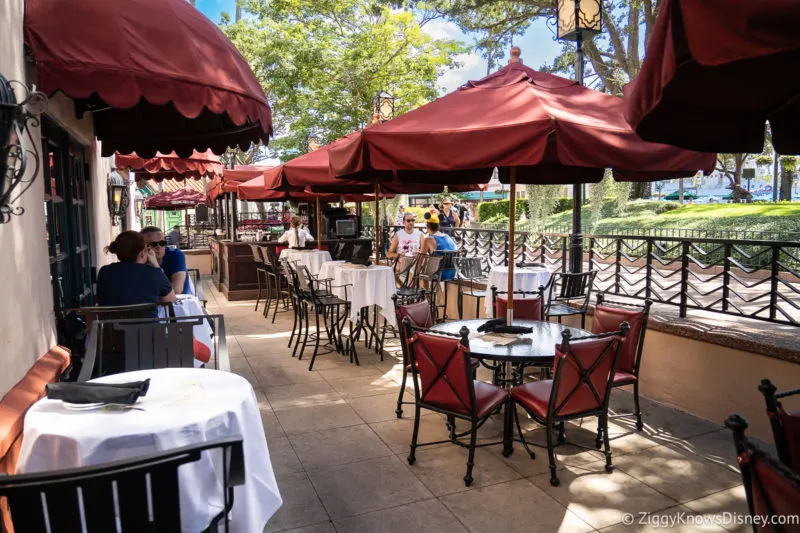 Located on the outside area of the famous restaurant, coming in at 16th on our list is the Hollywood Brown Derby Lounge. The lounge here is a truly under-utilized spot that guests don't visit near enough!
Of course, we love eating inside the main part of the restaurant as well, but the lounge is also a great spot, especially on a beautiful day when it's not too hard.
With the same food offerings found at the restaurant, eating at the lounge (which is easy to get in), you can get some of the same favorites! Cobb Salad, anyone?! We love how easily accessible this lounge is for all guests visiting Disney's Hollywood Studios Park, and it's normally VERY easy to get into.
While the seating area is limited and there aren't many tables, it normally isn't a problem. While the theming outside isn't anything that truly "stands out" it more or less offers a nice spot to people-watch at Hollywood Studios while eating and drinking outside.
Drinks to Get:
Margarita Flight – We LOVE this drink. It's a mix of three different margaritas on the rocks including classic, blood orange, and a pomegranate.
Hollywood Manhattan – A nice take on a classic drink, we love this sipping cocktail.
Food to Get:
BLT Sliders – This tasty lounge entree is a tasty blend of pork belly, lettuce, and tomato.
Cobb Salad – If you've never had their Cobb Salad before, it's terrific! It's one of our favorite salads in the world, and it's VERY filling.
15. The Edison Bar
Location: Disney Springs
Hours: 11:30 am – 11:00 or 11:30 pm
Theme: An industrial-themed gothic-style 1920s themed restaurant
While we do love the restaurant overall, in our rankings here, we are focusing specifically on the cocktail bar found here at The Edison. What's great about The Edison is two things, the unique American-style prohibition-era theming and the terrific hand-crafted cocktails on the menu.
Their specialty cocktails are terrific here, albeit they are pricey ($18ish range), but some of the unique concoctions they make are truly inspiring! The restaurant here as a whole completely changes in the evening hours, as it turns more into a cocktail bar with live music or a DJ that is spinning tracks.
It feels as if you truly are in the 1920s with the bartenders and waiters in their Roaring 20s outfits! The food offerings here are VERY good, including some real stand out and it's also an accessible spot for guests visiting Disney World, as it's located in Disney Springs.
Drinks to Get:
The Edison – A tasty and refreshing original bourbon cocktail.
He Went to Paris – A light and tasty gin cocktail we enjoyed.
Food to Get:
DB "Clothesline" Candied Bacon – What's better than tasty sweet bacon that is literally hanging down from a clothesline?! We LOVE this app.
The Gooey Grilled Cheese – The BEST grilled cheese in Disney, this thing is SOOO good.
14. California Grill Lounge
Location: Disney's Contemporary Resort
Hours: 5:00 pm to 10:00 pm
Theme: A contemporary Californian-style 15th-floor signature restaurant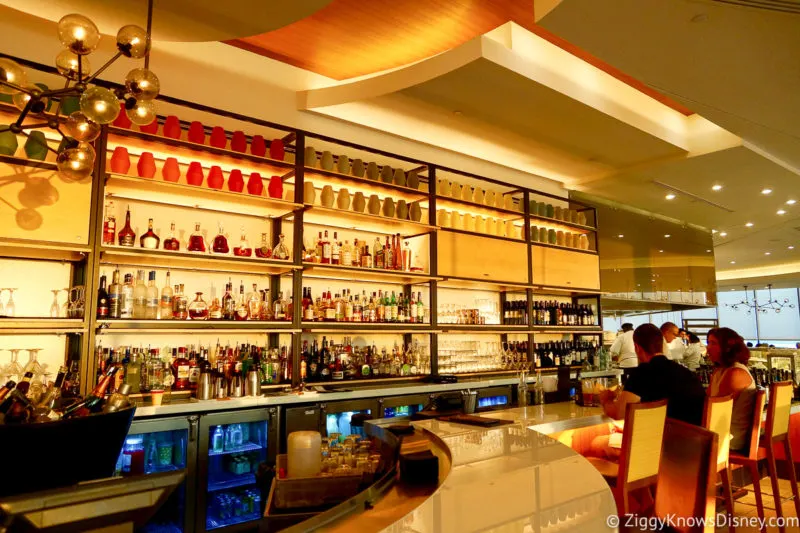 Located inside one of the most popular and most beautiful restaurants in all of the Walt Disney World Resort, the California Grill Lounge sits atop the 15th-floor original Disney World Resort.
And while we love eating at the restaurant, the problem is, it's VERY difficult to get reservations for.
Instead, by getting a seat at the lounge, you can order off of the same menu as the regular restaurant AND you get the wonderful views of the Magic Kingdom Fireworks from atop the building. The best part of all is that they take walk-ins, so no reservations required.
If you really want to WOW your group or take someone to a place in Disney where they can truly feel they are somewhere special, a spot at the California Grill Lounge will make them feel like a million bucks.
The essence of upscale Californian charm coupled with the Disney Imagineering, make an occasion at the California Grill Lounge feel extra special.
And while we aren't a fan of the fixed multi-course menu these days as a meal option, this is a great spot to get a cocktail either before dinner or just as a nightcap. Unfortunately, they do NOT have a separate lounge menu in which you can order things a la carte, like some of the other choices on our list, so you'll have to spend a lot.
For a look at the regular restaurant, check out our California Grill Review.
Drinks to Get:
Blueberry Lemon Drop Martini – We love lemon drops, and this is a refreshing take on one with a hint of blueberries.
Sonoma Maple Bourbon Old Fashioned – A California Bourbon and a hint of maple enhance this old fashioned.
Food to Get:
Sonoma Goat Cheese Ravioli – A fan-favorite that is to DIE for if you like goat cheese.
Sashimi and Nigiri Sampler – California Grill has some of the freshest and tastiest sushi food anywhere on the property. This is a great example of it.
13. AbracadaBar
Location: Disney BoardWalk
Hours: 4:00 pm to 12:00 am every day
Theme: A Magician-themed cocktail lounge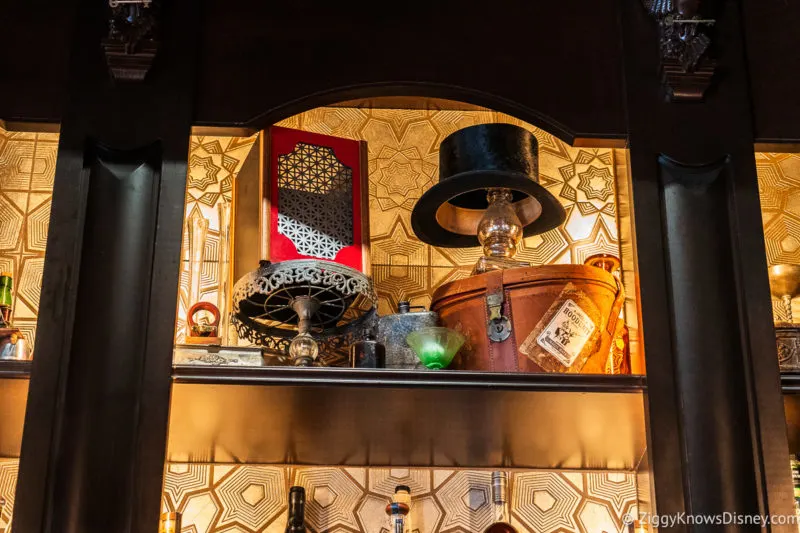 This unique and highly-themed experiential lounge opened up in 2016 and has been a popular late-night spot since. Coming in at 13th on our list the AbracadaBar is a solid choice for guests visiting either EPCOT or staying at one of the resorts on the Disney BoardWalk.
And while we wish that there was more of an interactive experience and element to this lounge-like some of the other choices on the list, as it would certainly call for it, it's still got wonderful theming. With tiny artifacts and details scattered throughout, the AbracadaBar will engross you in the lifestyle of the famous illusionists and magicians of yesteryear.
Drinks to Get:
Coney Negroni – A tasty Negroni that is made with top-notch ingredients.
Parlor Trick – A refreshing bourbon drink with an equal amount of sweet and strong.
Food to Get:
Abra Fries – We are big-time fans of truffle fries and these are really good!
Margherita Pizza – A surprisingly tasty pizza that is far superior to nearby BoardWalk Pizza.
12. Tune-In Lounge
Location: Disney's Hollywood Studios Park
Hours: 10:45 am – Park Closing Time
Theme: 50s-themed living room lounge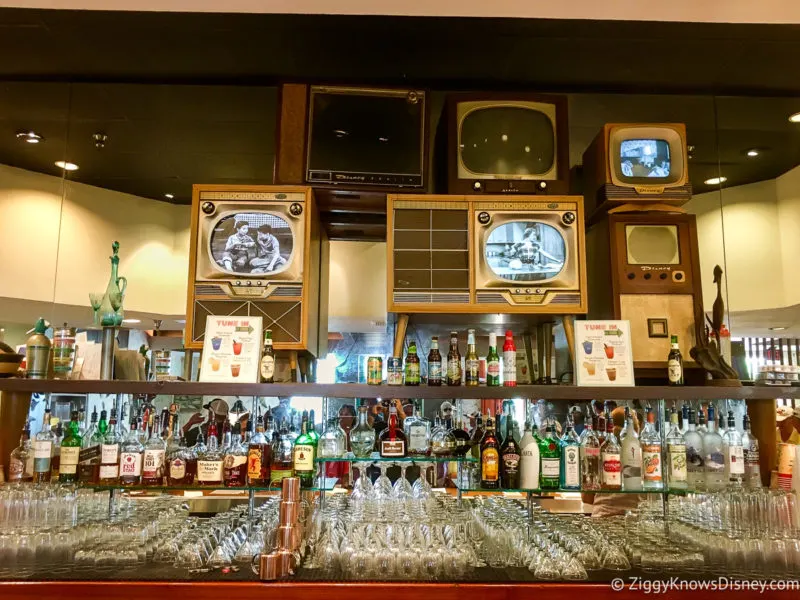 A quiet little secret for fan-favorites of the adjoining restaurant, 50's Prime Time Cafe, the Tune-In Lounge brings all of the best elements of the restaurant while allowing you to sit at the bar.
I mean, what's better than watching 1950s television sitcoms while sitting in grandma's living room?! This lounge will certainly bring you back in time, and perhaps make you nostalgic for the old days. It truly is a unique spot and a breath of fresh air from the chaos and noise of the main restaurant or the theme park.
For guests without a reservation for the restaurant, guests coming to the lounge are able to order anything from the full menu. It doesn't get much better than classic comfort food, 50's Prime Time's Fried Chicken!
At this lounge, you have a full-service bar at your disposal in which you can order seemingly everything you want. They also have a few signature cocktails that are worth considering if you want the full 50's experience!
Drinks to Get:
Dad's Electric Lemonade – A sweet but refreshing vodka drink that comes with a souvenir glow cube.
Grandma's Picnic Punch – Another original drink found here that is also sweet, but tasty.
Food to Get:
Beer-battered Onion Rings – These onion rings are SO good and the Horseradish Sauce is outstanding.
Aunt Liz's Golden Fried Chicken – Up there with our favorite fried chicken in Disney World .
11. La Cava del Tequila
Location: EPCOT (Inside the Mexican Pavilion)
Hours: 11:00 am – 10:00 pm daily
Theme: Hacienda-themed Mexican lounge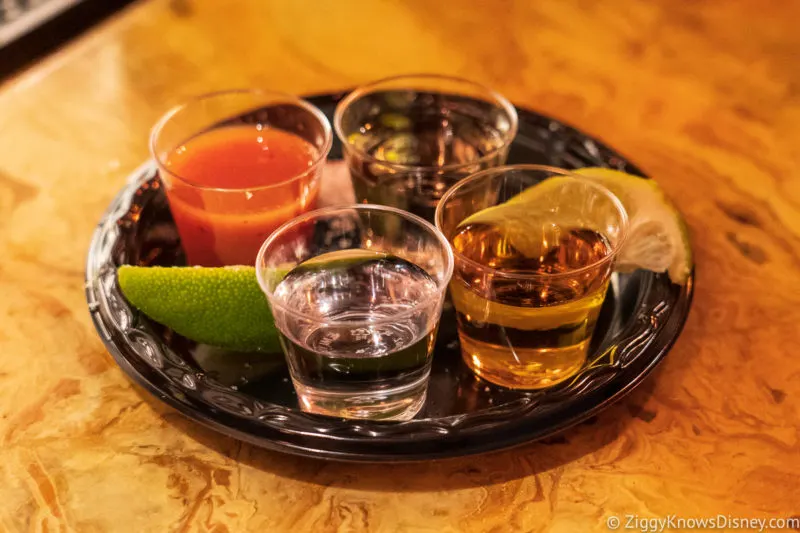 Tucked away inside the right side of the Mexico Pavilion in EPCOT's World Showcase, this small and "once quiet" spot has turned into a more and more popular hidden gem that is packed with guests most of the time.
With over 200 different tequilas, signature cocktails, and some tasty guacamole and queso, La Cava del Tequila is a true fan-favorite for the more hardcore Disney fans. And picking a cocktail can be difficult as almost everything looks and tastes fantastic if you like margaritas.
It's a great spot to get away from the intense sun that sometimes plagues the World Showcase in EPCOT and it has plenty of air conditioning. The only thing that's challenging about a visit here is that it's popular and it's VERY small. Sometimes the wait for tables can be long, as can wait for drinks.
And while the bar bites menu is a bit underwhelming considering what it "could be," this little tucked-away gem is a terrific spot to grab a tequila cocktail if you're in EPCOT.
Drinks to Get:
La Cava Avocado – A fan-favorite margarita that is green in color and actually has avocados. If it sounds gross, it isn't! It's absolutely worth trying.
Black Magic – This blackberry margarita actually has mezcal in it. We love mezcal and think this is a terrific drink, albeit very different from margaritas you've likely ever had.
Food to Get (Only available IF sitting inside at a table):
Queso – A white cheese dip that has a little bit of spice served with tortilla chips.
Guacamole – Homemade guacamole served with tortilla chips.
La Cava del Tequila Lounge Menu
10. Tutto Gusto Wine Cellar
Location: EPCOT (Inside the Italy Pavilion)
Hours: 3:00 pm to 9:00 pm. (They open earlier on the weekends normally 12:30)
Theme: Italian Wine Cellar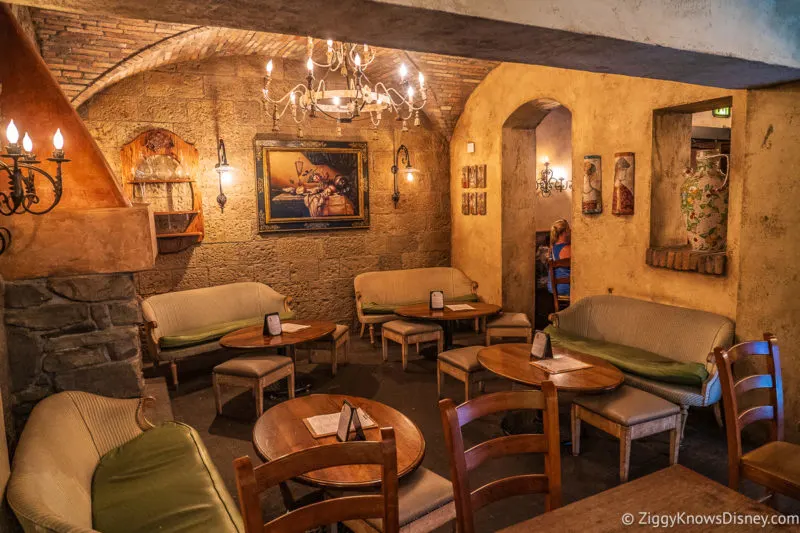 This cozy wine bar is tucked away adjacent to the Tutto Italia Restaurant at the front of the Italian Pavilion. This quaint and under-the-radar location is a favorite for hardcore Disney fans that want to escape the hustle and bustle of the parks.
To drink there are more than 200 different Italian wines and several Italian beers. And what's nice here is that it features a small-plate menu taking guests on an around-the-country tour of Italy, so there are plenty of good eats. Unlike most other restaurants, Tutto Gusto does NOT take any reservations and only seats are first come first serve.
Drinks to Get:
Wine Flight – Try one of the different wine flights so you can sample a few of the Italian wines on hand here.
Italian Margherita – We LOVE this drink and we get it fairly regularly on our Disney World Trips. Tequila and limoncello just go VERY well together and we never say no.
Food to Get:
Lasagne alla Bolognese – A tasty true Italian Lasagne with a creamy béchamel sauce
Tiramisu – They have a number of good desserts to split here but we especially like the tiramisu
9. Dahlia Lounge
Location: Disney's Coronado Springs Resort (Gran Destino Tower)
Hours: 5:00 pm to 12:00 am each day
Theme: Rooftop lounge themed to Spanish surrealism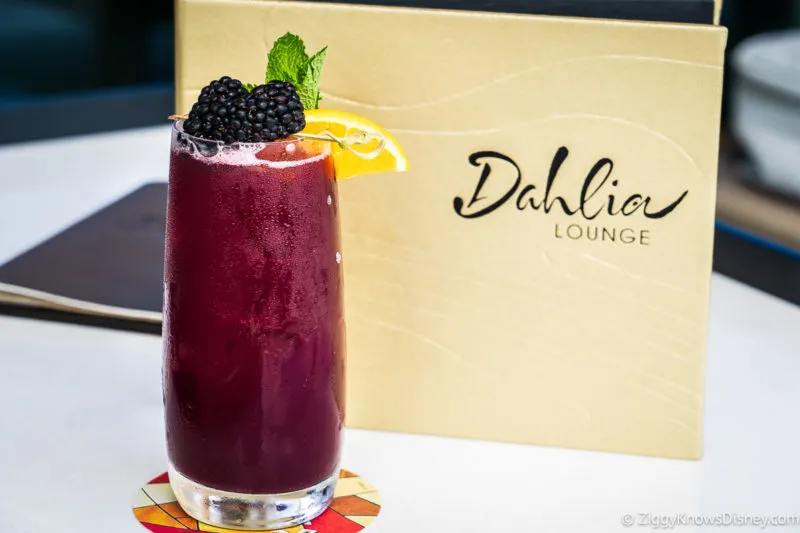 Opening up in 2019 inside the beautiful new addition to the Coronado Springs Resort, the Gran Destino Tower, the Dahlia Lounge is a spectacular lounge that sits atop the Tower across from the Toledo Restaurant.
Both inside and outside offer spectacular charm and theming engrossed in the Spanish-style architecture. And when sitting outside you'll get some of the best views of the Walt Disney World Resort which makes for a terrific addition to the evening.
Their mixologists on-site offer both tasty and Instagram-worthy photos with a number of savory libations. And in addition to their massive cocktail list and widespread wine menu, they also have some terrific tapas for those that want something savory to eat.
This lounge just brings about a terrific upscale ambiance while allowing you to feel completely removed from the typical Disney chaos and noise.
While it's not always easy to find your way over to the Coronado Springs Resort with minimal options, if you're able to do so, the Dahlia Lounge is a TERRIFIC spot to come relax and enjoy a cocktail.
Drinks to Get:
Espumoso Punch – Utilizing Spanish liquors, this tasty punch is unique and refreshing.
Sangria-Tinto – You can't go wrong with any of the housemade sangrias at the Coronado Springs Resort.
Food to Get:
Ham and Cheese Bocadillo – A great Spanish-style tapas with manchego cheese and serrano ham.
Croquettes – These pillow-shaped friend snacks are tasty with a little bit of a kick.
8. Geyser Point and Grill
Location: Disney's Wilderness Lodge Resort
Hours: 11:00 am to 11:00 pm daily
Theme: An open-aired Rustic Wilderness Outpost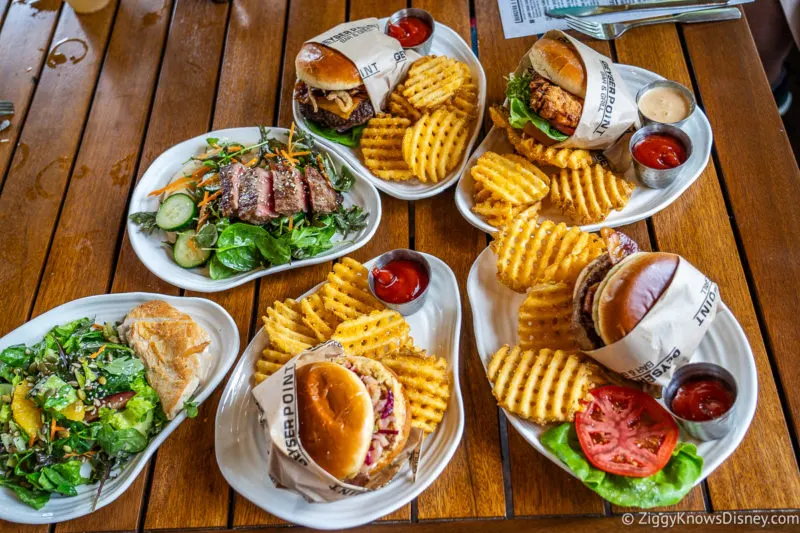 The 2nd lounge from Disney's Wilderness Lodge Resort on our list, Geyser Point is completely different from the Territory Lounge as it is outside with a stunning open-air location. Opening just recently in 2017, Geyser Point has quickly moved its way up our top lounge list, making it up to 8th on our list.
Perfectly fitting in with the theming of the Wilderness Lodge Resort, Geyser Point gives you both the rustic vibes of the resort with the stunning views of Bay Lake. You'll feel miles away from the action of Magic Kingdom, although you'll really only be a short little boat ride away.
This is definitely one of the most kid-friendly lounges on our list as families with young ones love the ambiance and the vibes here, maybe it's because of their family-friendly food offerings and tasty desserts!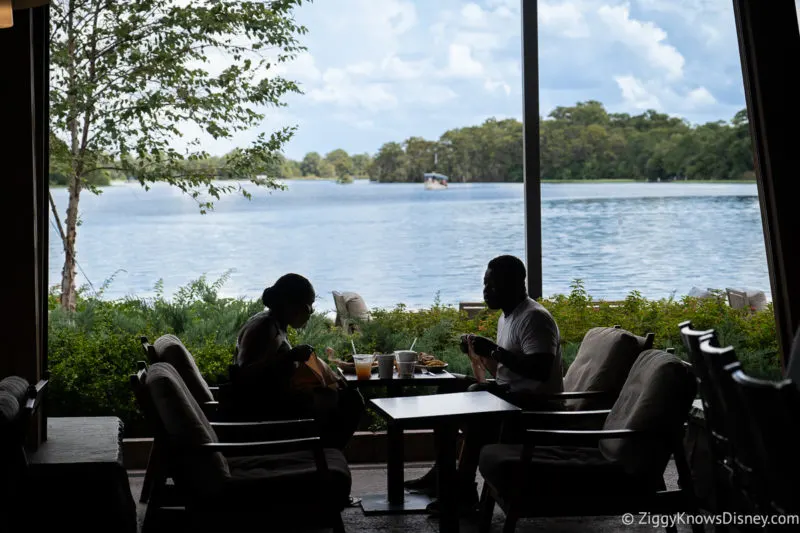 There are plenty of seating options. Feel free to grab a snack and a drink to go here or relax at the bar or at one of the lounge chairs or tables.
Both the food here and the drinks are VERY good, worthy of eating dinner or lunch here. The only downside to coming here is how far away it is from virtually everything other than the Magic Kingdom, so it takes extra time and effort you may not have.
Drinks to Get:
Northwest Iced Tea – It's hard to find a good Long Island Iced Tea in Disney, but this certainly is one of the better ones.
Rough Rider Sour – A refreshing and tasty Whiskey Sour that is worth getting.
Food to Get:
Bison Cheeseburger – A fan-favorite burger in all of Disney World, the Bison Cheeseburger is both unique and tasty.
Teriyaki Chicken Wings – We love these wings and find them sweet and mouthwatering by having the perfect blend of savory and crunch.
Geyser Point Grill and Bar Menu
7. Jock Lindsey's Hangar Bar
Location: Disney Springs
Hours: They rotate but normally 12:00 pm – 11:00 pm
Theme: An Indiana Jones-themed vintage airplane hanger bar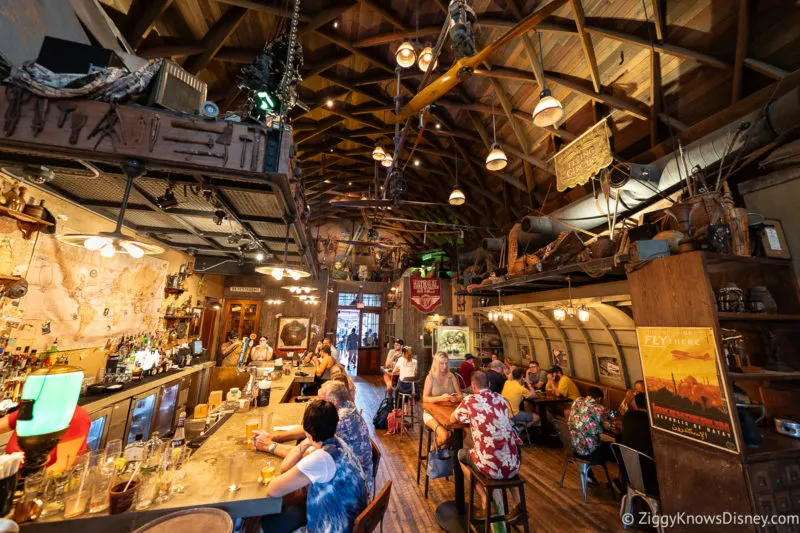 Coming in at 7th on our list is Jock Lindsey's Hangar Bar found in Disney Springs. This family-friendly outpost is an ideal destination for families to get tasty appetizers and cocktails. This spot perfectly combines the best of Disney Imagineering with immersive storytelling and great eats.
If you remember Jock Lindsey was the barnstorming pilot from Indiana Jones in Raiders of the Lost Ark. After his many travels, he eventually settled down in central Florida and built this hangar bar, fitted with custom and salvaged airplane parts and equipment. Seriously, the atmosphere here is great!
Like many Disney Springs locations, Jock Lindsey's has a good happy hour during the week from 12:00 to 3:00 pm each day. They have a number of memorable drinks and eats, with seasonal offerings and specials changing regularly.
6. Enchanted Rose Lounge
Location: Disney's Grand Floridian Resort
Hours: 3:30 pm – 11:00 pm daily
Theme: Beauty and The Beast-inspired Lounge
Opening up in 2019 after being redesigned from the former Mizner's Lounge, the Enchanted Rose has met and far surpassed our prior expectations. Disney fans were disappointed after finding out about this re-theming and wondering how it would fit in with the storyline of the Grand Floridian Resort.
But the Enchanted Rose has gradually and quietly become one of the best lounges in Disney World. Tastefully themed and perfectly keeping up with the elegant opulence of the Grand Floridian Resort, it will bring you into an enchanted story with classical baroque designs throughout the lounge.
With 4 highly-themed spaces, we love that each section of the lounge is completely unique. It also has a number of both signature French-inspired cocktails and some really yummy appetizers. Did we mention that we love the Enchanted Rose.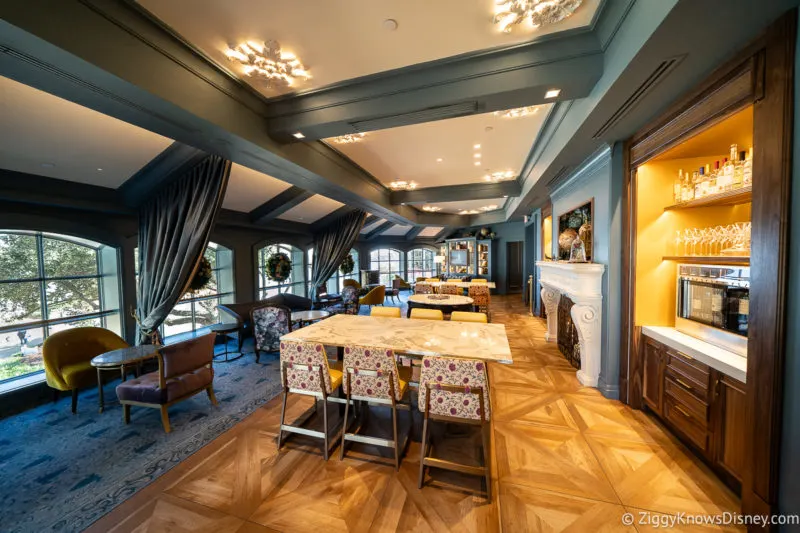 The one downside to the lounge is it's expensive, including the appetizers. Drinks start in the $18 range with some of them ticking up to over $28. So if you are visiting Disney on a Budget, that may be too much for your family.
However, if you want a good mix of refined charm, Disney storytelling, and terrific drinks, we absolutely recommend the Enchanted Rose Lounge.
Drinks to Get:
Seasonal Old Fashioned – While they do rotate, each of the ones we've gotten here are terrific! And the presentation is outstanding!
Rye Not? – A unique and flavorful cocktail made with a number of ingredients including rye whiskey
Food to Get:
Caviar – One of the only places to get caviar in Disney World, it's worth a try for adventurous eaters!
House-made Truffle Fries – We LOVE these truffle fries and they're the perfect thing to share
5. Three Bridges Bar and Grill at Villa del Lago
Location: Disney's Coronado Springs Resort
Hours: 4:30 pm – 12:00 am daily
Theme: An open-air Spanish American-inspired restaurant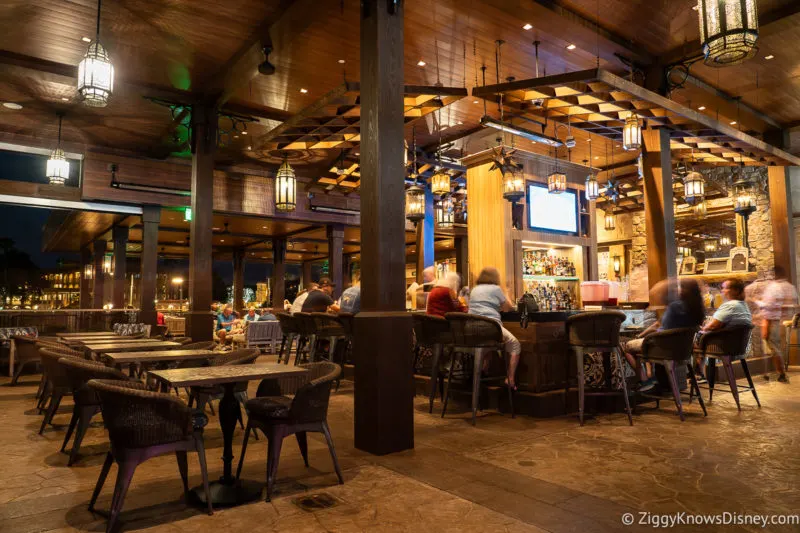 Recently opening in June of 2019, Three Bridges Bar and Grill was another new addition to the Coronado Springs Resort. Unlike the Dahlia Lounge, which is also located here, Three Bridges is located outside in an open-air format right on the water.
It's a thematically beautiful restaurant that brings about a relaxed but upscale venue that is also wrapped up in family-friendly fun.
We love everything about Three Bridges, including the food and drink. If you at all like sangria, Three Bridges literally has the best sangria anywhere on Disney's property with sangria sommeliers crafting them daily.
When the sun goes down, there are few places in Walt Disney World that have more beautiful sunsets, and something about this place is just MAGICAL. There are a few real winners on the menu as well, with some terrific options for guests that are coming for dinner.
The main downside to Three Bridges is that it's located in a difficult-to-get location for guests without cars. You'll likely need to utilize a ridesharing service or take a Disney Bus from one of the Disney Theme Parks or Disney Springs to get here. But to us, it's worth it and we go almost every trip.
Drinks to Get:
Sangria Flight – Sample all four homemade sangrias with the flight. They are generous with the pours too!
Santa Maria Collins – If you want something different than tequila or sangria, this is a solid gin option for guests that want something refreshing
Located right next to signature restaurant Tiffin's, the Nomad Lounge is equally as wonderful in its own right. Celebrating the globetrotting adventures of Disney Imagineers, you'll see festive nods to the multitude of traveling from Disney Imagineering in their quest to build and create Disney's Animal Kingdom.
The Nomad Lounge feels like a multicultural experience more than it does a lounge, and its menu and vast amount of signature libations are further proof of it. With standouts all over the menu, making selections here is more challenging than one would expect.
We love its easy access with it practically being at the front of Disney's Animal Kingdom Park. The one downside is it's VERY difficult to get in, as guests flock to their lounge quickly upon its opening at 11:00 am.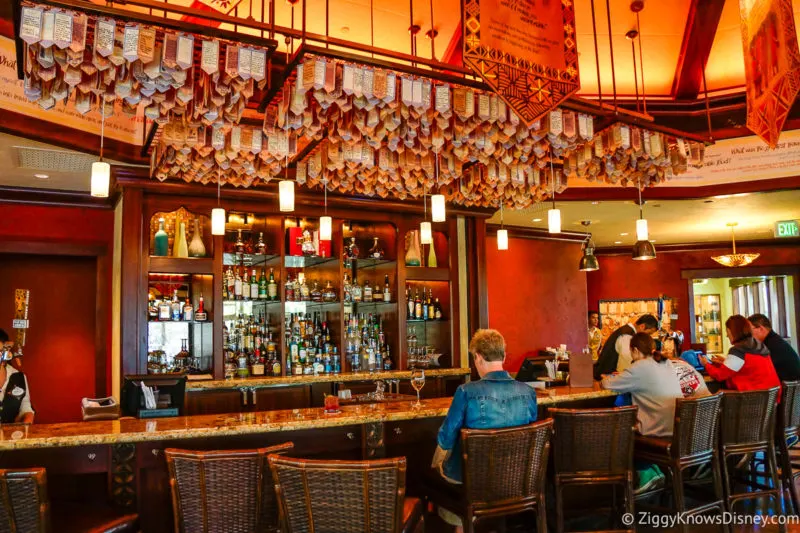 Expect to wait a long period of time, and the smart play is to get in the standby queue through the My Disney Experience app.
There are few better places to enjoy a relaxing air-conditioned retreat from the heat of Disney's Animal Kingdom like Nomad Lounge. We love this place, and almost everyone we know that has been here feels exactly the same way!
Drinks to Get:
Temping Tigress – A unique and tasty African-inspired take on an Old Fashioned.
Hightower Rocks – A yummy refreshing watermelon margarita of sorts.
Food to Get:
Honey-Chili Glazed Pork Belly – It's sweet and savory pork belly, what could go wrong?
Churros – These have to be amongst the best churros in Disney!
3. Trader Sam's Grog Grotto
Location: Disney's Polynesian Village Resort
Hours: 3:00 pm – 12:00 am daily
Theme: A fun and highly-themed tropical tiki bar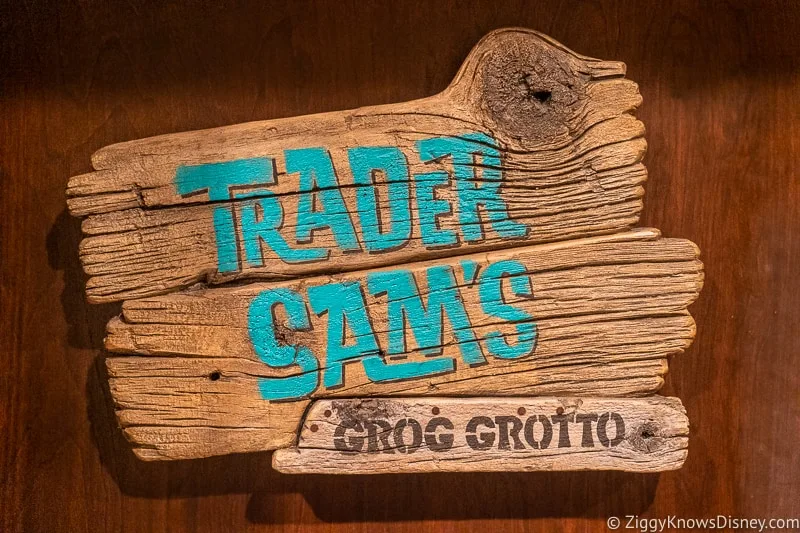 Coming in at 3rd on our Best Disney World Lounges list is Trader Sam's Grog Grotto! A true fan-favorite, Trader Sam's actually has two parts of their famous lounge. Grog Grotto is the more popular of the two options and is harder to get in with minimal seating, as it's the interior option.
Trader Sam's Tiki Terrace is the outdoor area of the lounge and it's far easier to get into. We love the ambiance outside as well, as it's often got relaxing Hawaiian-style live music playing in the background.
What truly separates Trader Sam's from other lounges in Disney World is the immersive storytelling and the fun and unique experience for the WHOLE family.
Unlike many of the Disney World Bars and Lounges, Grog Grotto actually encourages families and children. This lounge ties into the famous Adventureland allure with famed explorer Trader Sam, who you might have previously seen on the Jungle Cruise.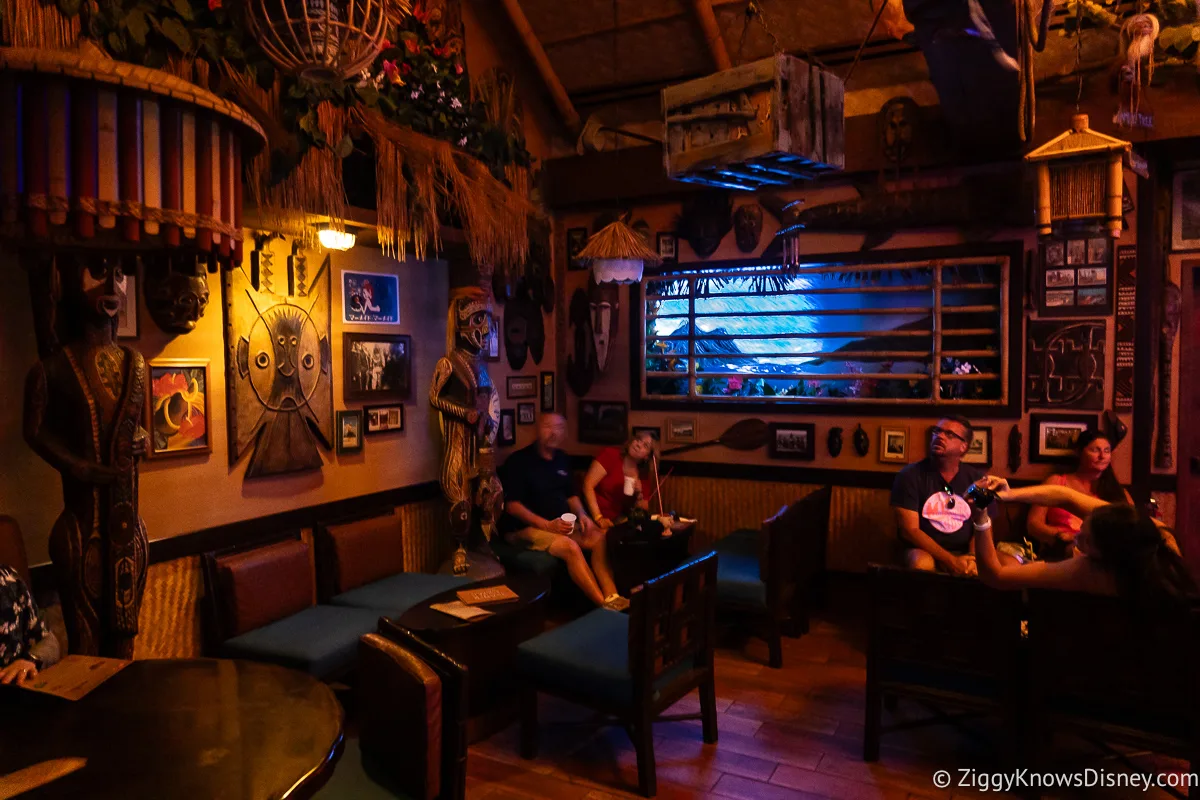 You'll see unique artifacts throughout Grog Grotto as it will bring you deep into the story of Trader Sam. This incredibly fun lounge will bring about enjoyment for the whole family as everyone will be sure to be caught off-guard by the amusement and hidden surprises throughout the experience.
While the cocktails here can be pricey, some of them are over $20, in our experience it is worth it! There's nowhere else on Disney Property that you can get some of these unique drink offerings, as it'll completely transport you to a tropical paradise.
Some of the eats here are tasty too, as it could be the perfect way to start your night or END the night. Just be sure to get here before opening time as there could be a LOOOONG wait if you don't.
Drinks to Get:
Krakatoa Punch – One of the more reasonable offerings here, a tasty Mai-Tai of sorts.
Uh-Oa – A specialty drink here that is on the pricier side but it's served in a fun speciality cup.
Food to Get:
Kalua Pork Tacos – Tasty sweet tacos that are worth getting as a shareable app.
Chicken Lettuce Cups – I love lettuce cups and this one is tasty.
2. Oga's Cantina
Location: Hollywood Studios Park (Star Wars: Galaxy's Edge)
Hours: 8:00 am – 11:30 pm
Theme: A Star Wars-themed lounge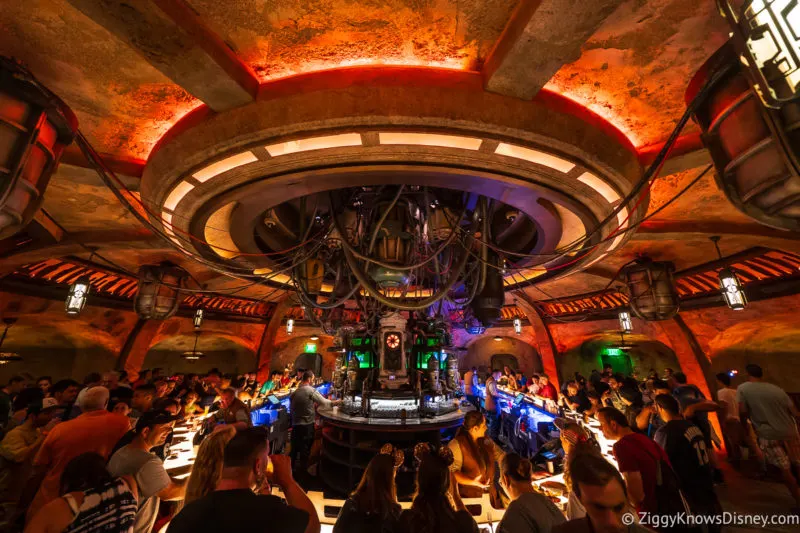 If you've ever dreamed of being in a Star Wars Cantina, Oga's is the place for you! It's hard to top the theming found at Oga's, it'll truly bring you to a galaxy far far away! You'll truly feel like you're in a similar cantina to Mos Eisley's Cantina, found in the original 1977 'Star Wars.'
Based strictly on how immersive the experience is, from the artifacts and the interior decorations of the experience to DJ Rex spinning some tunes, Oga's Cantina would have to be 1st on this list. That is especially the case if you're a Star Wars fan!
The mixologists here are terrific with some real standout drinks that are completely unique and different from anywhere else. Even the mocktails for kids are REALLY tasty and kids LOVE it here. The main knock on Oga's which keeps it from being 1st on our list is that it's VERY expensive.
The drinks here tend to be sweet with minimal liquor, and for drinks starting at $17 each, it's a bit too high in our view. The other knock on Oga's is the bar bites and snacks here are just OK. There are also no real stand-out food items whether it's breakfast, lunch, or dinner and it has a very limited food menu.
READ: Full Review of Oga's Canta in Star Wars: Galaxy's Edge
Drinks to Get:
Fuzzy Tauntaun – A crowd pleasure that guests love with its tingling foam and unique presentation.
The Outer Rim – A Star Wars take on a margarita. This drink is SUPER tasty, but it's a little sweet.
Food to Get:
Both the Batuu Bits and the Happabore Sampler are just OK. I wouldn't recommend either.
1. Space 220 Lounge
Location: EPCOT (World Discovery)
Hours: 11:30 am – 8:40 pm
Theme: Space-themed eatery aboard a space station
And coming in at 1st on our list is the Space 220 Lounge! Opening up just recently at the end of 2021, the Space 220 Lounge has surpassed both Oga's Cantina and Trader Sam's for us. While it's VERY close between these three, we feel that the Space 220 Lounge is the superior overall experience.
Not only is it located INSIDE a Disney Park (EPCOT), it's a truly unique experience that will make you feel as if you're really inside a space station 220 miles above the Earth! From the moment you board the elevator and ascent into the stars, you'll see the uniqueness and the incredible experience this lounge brings to the Disney Resort.
And while the Space 220 Lounge will require a reservation if you want to sit in one of the tables, you can walk up to the bar area, if you don't have any kids in your party. The walk-up bar area will only fit 10 people, but if you're willing to wait in line, you'll be able to get in.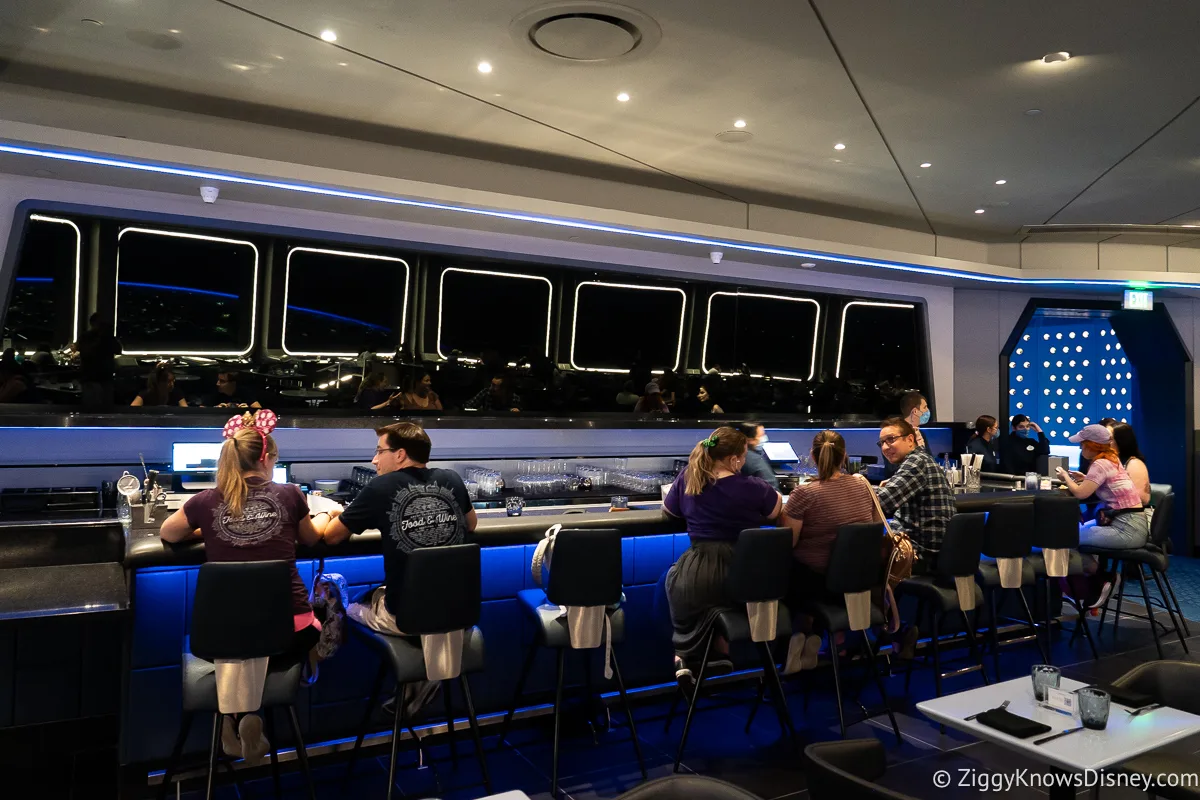 What's great about the lounge is that you can get EVERYTHING on the Space 220 Restaurant menu except that you don't have to pay for the fixed pricing! That means you get incredible flexibility of ordering anything on the main menu a la carte while making it significantly cheaper if you want.
In addition to being able to get everything on the regular menu, you also have lounge-only offerings, which are VERY tasty! We actually prefer the lounge to the restaurant!
We truly love the Space 220 Lounge! It's the best combination of family-friendly fun, terrific original drinks, top-notch Disney theming, and great food offerings, and that makes it the best Disney World bar hands down!
READ: For details on the Space 220 Lounge, read our Space 220 Lounge review. Also, make sure to read How to Get Reservations to Space 220.
In the Theme Parks – Space 220 Lounge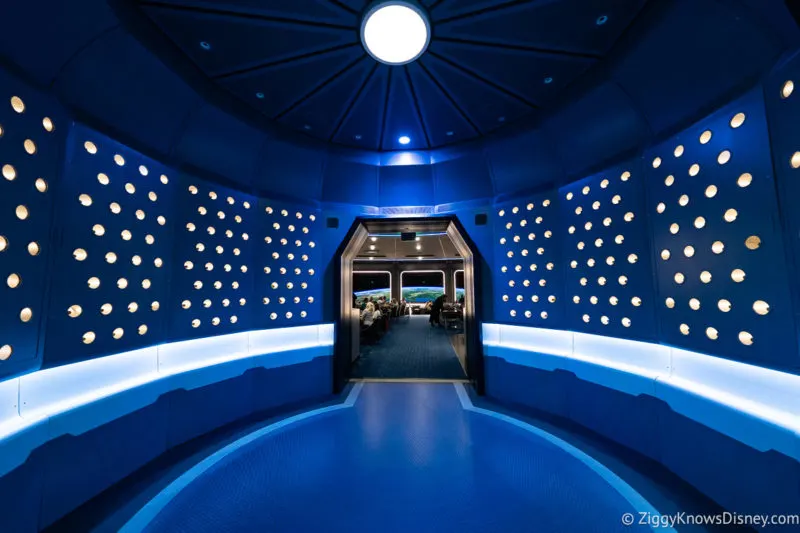 When it comes to theme parks, our favorite lounge has to be the Space 220 Lounge. It brings about the terrific convenience of being inside a Disney Park (EPCOT) while allowing guests to feel as if they are completely 'out of this world' and someplace far removed from the chaos of the Disney Parks.
The Space 220 Lounge combines fantastic theming with wonderful eats. It's a perfect family-friendly lounge for guests to get a little bit of relaxation after a long park day.
Runner Up:
The runner-up when it comes to the best-themed bars in the Disney Parks has to be Oga's Cantina in Hollywood Studios. The theming here is on point with Space 220 as an immersive storytelling experience coupled with unique and original drinks.
It's hard to top Oga's especially for Star Wars-lovers while being in Galaxy's Edge in Hollywood Studios. But it can't keep up with the Space 220 Lounge when it comes to the variety of tasty food offerings.
At the Resorts – Trader Sam's Grog Grotto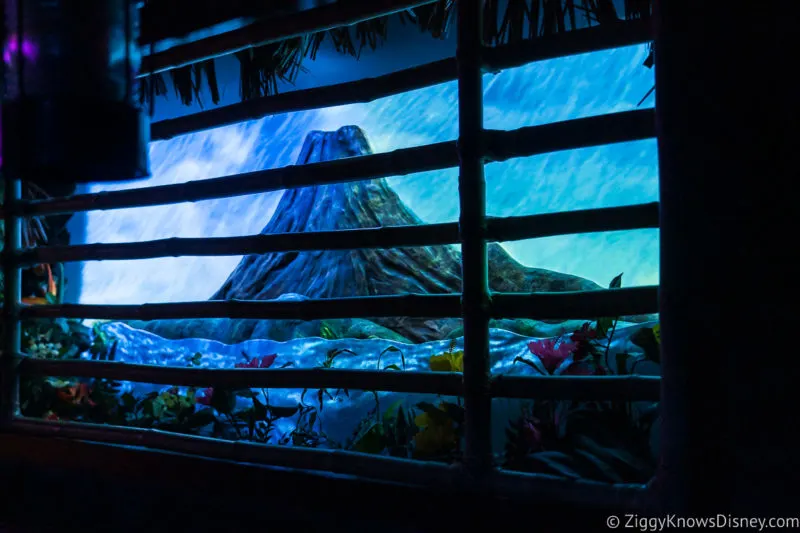 Our favorite resort-based lounge has to be Trader Sam's Grog Grotto! It's a unique storytelling experience that is unmatched in terms of originality and ambiance. In addition to the wonderful feel, they're tasty and delicious rum-based drinks will transport you to your favorite tropical island.
Runner Up:
Our 2nd favorite resort lounge has to be Three Bridges Bar and Grill. This is a favorite spot for our favorite in terms of ambiance, relaxation, and ease to get into. There's normally never a wait and it's truly one of the best hidden gems in all of the Disney World Resort.
While it can be more challenging to get to if you're not staying at the Coronado Springs Resort, we think it's something worth the trek!
At Disney Springs – Jock Lindsey's Hangar Bar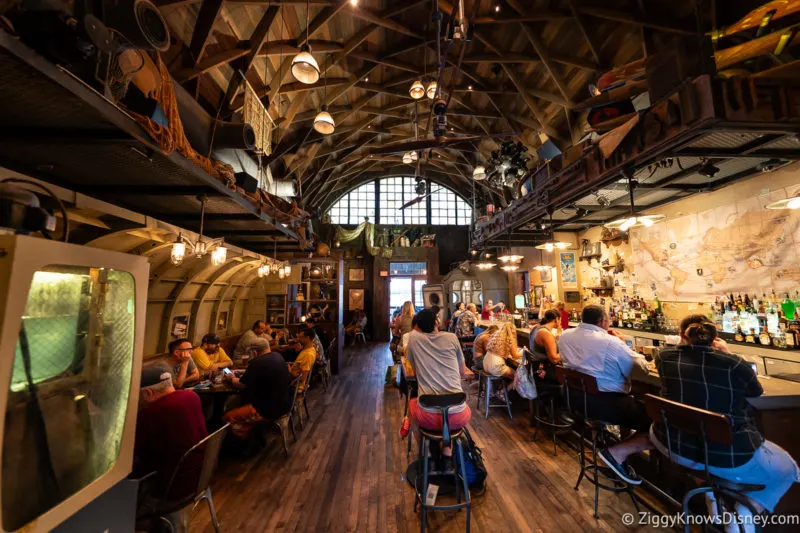 Our favorite Disney Springs Lounge has to be Jock Lindsey's Hangar Bar. It's got a great mix of seasonal rotational drinks and appetizers in addition to being a fun family-friendly vibe.
We also love their happy hour here and it's a great hang-out spot on a fun Disney Springs outing. It's fairly centrally in Disney Springs in addition, making it easy for guests to come into the different parking garages or through the Disney Buses.
Runner Up:
Our runner-up choice for the best lounge in Disney Springs has to be The Edison Bar. This adults-only spot after 10:00 nightly, is a rare spot throughout Disney Springs and actually all of Walt Disney World where guests can get some nighttime entertainment without worrying about kids.
They have some good entertainment and performers that perform in the lounge, and their tasty and unique concoctions make their drinks among some of the best in all of Disney World. We love the Edison Bar and its unique theming will make you feel as if you truly are in the Roaring Twenties!
Best Pub: Rose & Crown Pub
Our favorite pub in all of the Walt Disney World Resort has to be the Rose & Crown Pub in Disney's United Kingdom Pavilion. It's a perfectly-themed pub that will absolutely charm you in and make you never want to leave this original-style bar.
Runner Up:
Our runner-up for the best pub has to be Raglan Road in Disney Springs. The entire interior of the restaurant was actually shipped and brought from Ireland! And boy does it feel that way. With original Irish charm and terrific food and drinks, we love Raglan Road!
Most Relaxing Bars & Lounges: Belle Vue Lounge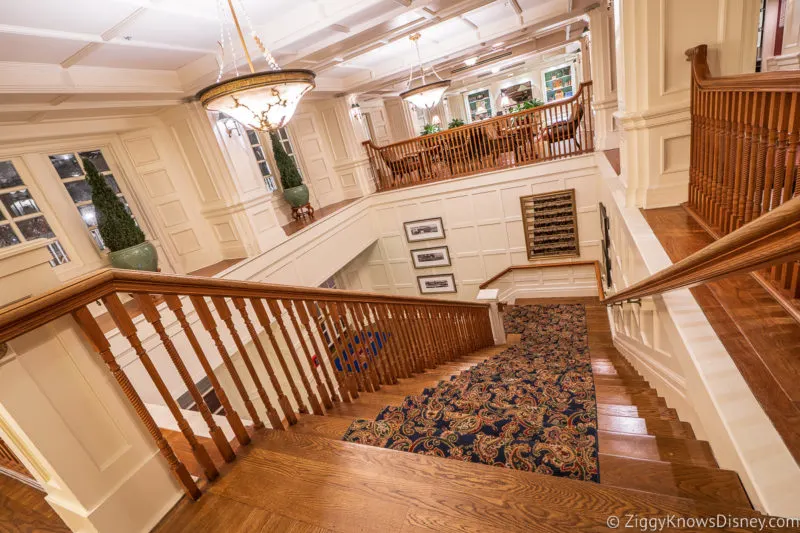 The most relaxing bar and lounge in all of Walt Disney World has to be the Belle Vue Lounge in the BoardWalk Inn Resort. This eclectic and unique lounge that is themed to the early 20th century is one of the truly hidden treasures on the Disney BoardWalk.
Best Bar Entertainment: Scat Cat's Club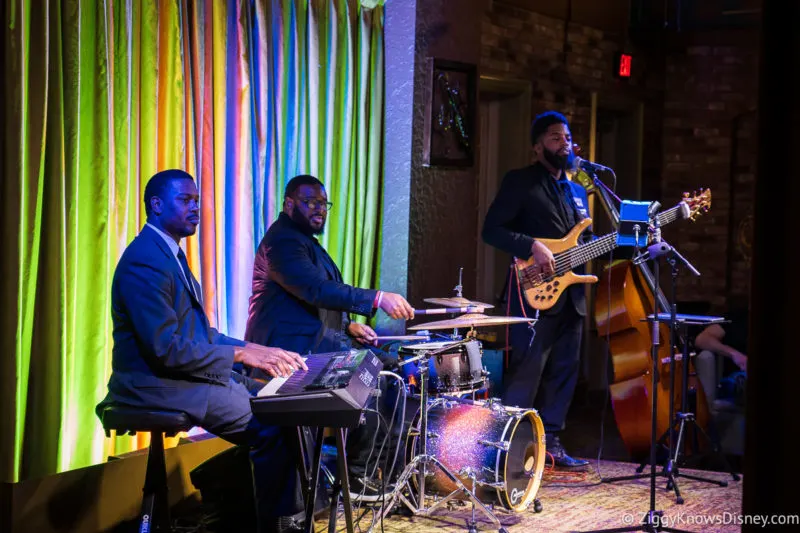 My pick for the best entertainment option would be Scat Cat's Club at Disney's Port Orleans French Quarter Resort. Having a jazz band playing 5 nights a week is just an awesome and completely unique vibe that isn't found at any other spot throughout Walt Disney World.
You will feel as if you truly are in the French Quarter of New Orleans, and having a nice relaxing Sazarac with a couple of appetizers while listening to some good jazz music just puts you in the perfect state of mind.
Runner Up:
My second choice for best entertainment would be Jellyrolls. Sure it's not quite as relaxing or authentic as Scat Cat's, but Jellyrolls is just a flat-out good time! The dueling piano players are great, and singing along with them while having a great time with friends is a wonderful experience!
Best Bar for Nature: Geyser Point Bar and Grill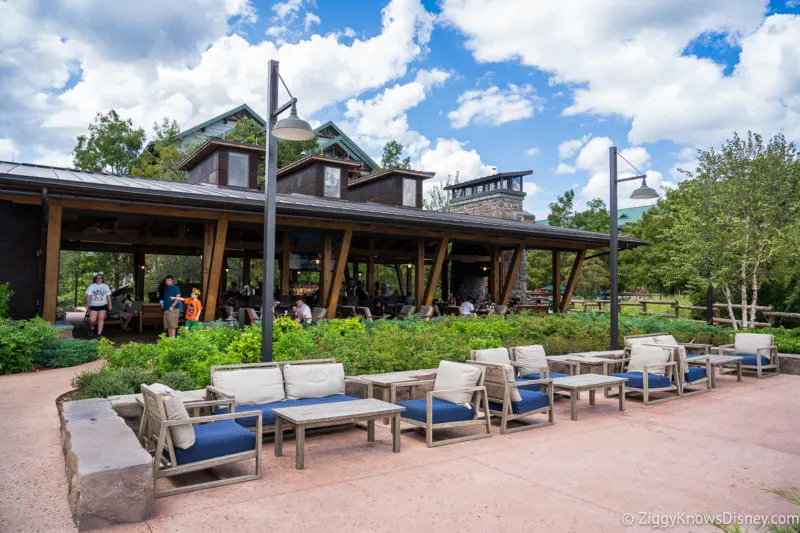 We are HUGE fans of open-air lounges and the one that puts you right in the middle of nature the most is Geyser Point Bar and Grill! Being on Disney Wilderness Lodge property just puts you into a rustic and wilderness environment where you feel like you're tucked somewhere along the Great American Frontier.
Eating and lounging at Geyser Point allows you to enjoy the rural ambiance while breathing in the air and tasting the bites of a terrific lounge. You definitely will NOT feel like you're in the middle of Central Florida while enjoying the sights and smells of Geyser Point.
Runner Up:
My 2nd favorite nature lounge is the other terrific open-air lounge and that's Three Bridges Bar and Grill at Villa del Lago.
While a completely different vibe than Geyser Point, Three Bridges brings about more of a Spanish Contemporary vibe. Being surrounded by a stunning lake on all sides is quite magnificent, especially on a beautiful Florida sunset.
Best Bar for Food: Wine Bar George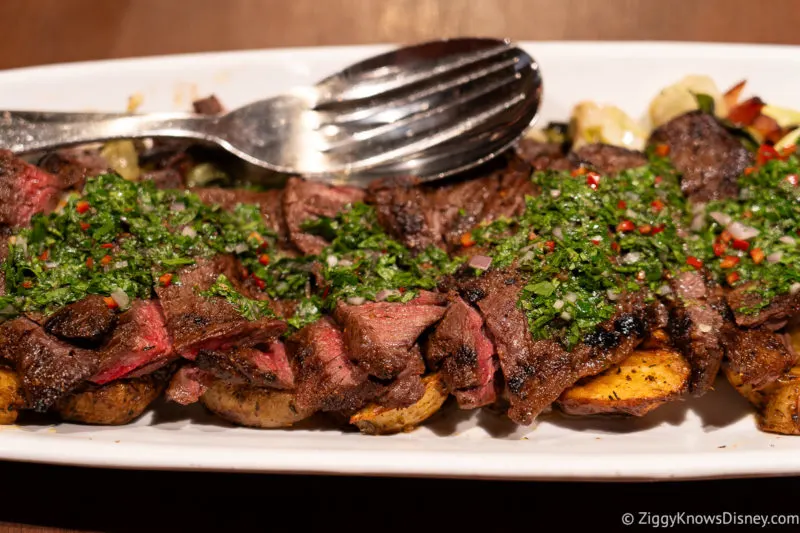 Our favorite bar for food would be Wine Bar George. While it isn't "just a bar", Wine Bar George has a terrific lounge and bar-like atmosphere that is a top-notch date night for couples.
There is a downstairs bar area and an upstairs bar area, plus the restaurant is STELLAR! The food here is incredibly good, and we love almost everything about it.
While they do have mostly bar bites and smaller dishes, they do have some entrees including the tremendous Skirt Steak and Sea Bass! We haven't tried anything here that we haven't liked, and we'd go as far as to say they could be a Top-10 Restaurant in Disney World as well.
Our favorite bar with a view has to be the Dahlia Lounge over at the Gran Destino Tower at the Coronado Springs Resort. This gorgeous rooftop lounge allows you to enjoy terrific views of the entire Walt Disney World Resort while you sip on tasty cocktails.
Sip either inside or outside and you'll enjoy either experience. Inside you'll get to enjoy the wonderful decor of contemporary Spanish architecture and modernism, while outside, you'll get to linger and stare at the marvelous views of the Florida Golden Hour.
Runner Up:
The runner-up choice of our favorite bar with a view has to be the California Grill Lounge at the Contemporary Resort near Magic Kingdom.
While there isn't outdoor eating or drinking here, you'll get to enjoy stunning views of Magic Kingdom and the surrounding areas from the windows encircling this beautiful rooftop restaurant and lounge.
Make sure to stay around for the Happily Ever Fireworks show which is perfectly visible from the rooftop and the music is piped in.
Best Pool Bar: Bar Riva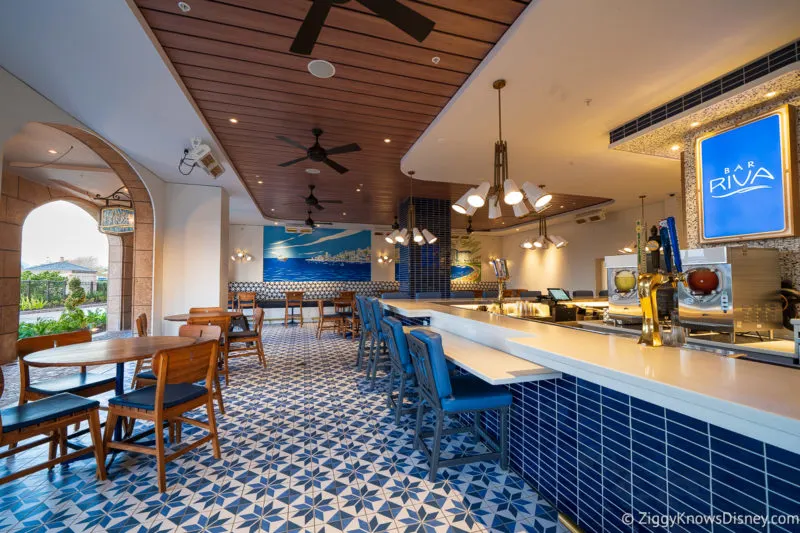 Our favorite pool bar in Walt Disney World has to be Bar Riva at Disney's Riviera Resort. There's something terrific about this bar, whether it's the more unique drinks or it's the tasty food offerings. It's very different from most of the pool bars throughout the hodgepodge of different Disney World Resorts. In fact, it has a very European feel to it, true to the resort.
The cocktails and original drinks and food offerings make it a true stand-out in terms of originality, theming, and just an all-around good time.
Runner Up:
Our 2nd favorite pool bar in Disney World has to be the Barefoot Pool Bar at Disney's Polynesian Village Resort. Just like the resort, this fun, and relaxed pool bar brings about an island theme allowing you to enjoy stunning views of the Seven Seas Lagoon.
Some of the tasty cocktails here are marvelous on a hot Florida day, perfectly putting you in the right state of mind.
Best Wine: Wine Bar George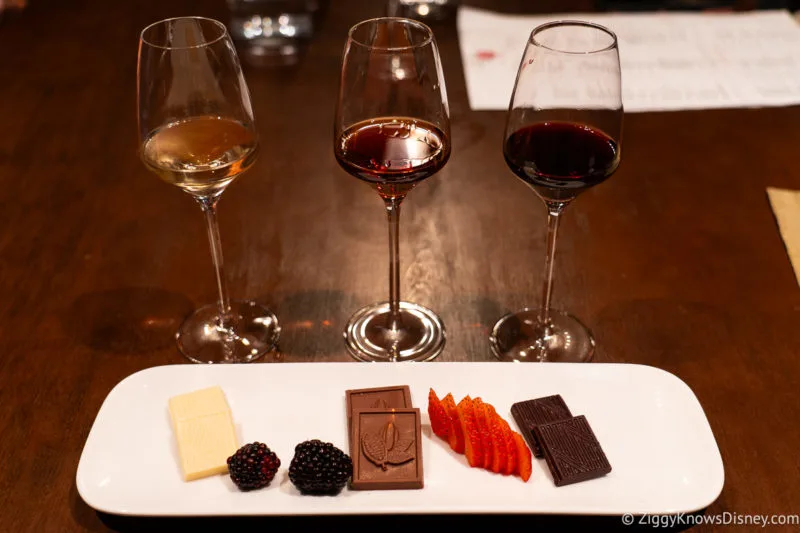 An easy choice for the best bar for wine has to be Wine Bar George in Disney Springs. With varied and unique offerings including more than 140 different wines, this wine bar is terrific! What I love most about it is it's unpretentious, making even less familiar wine drinkers comfortable and at ease.
The staff here goes above and beyond giving you a number of tasty wine pairings, while matching it with top-notch quality food.
Runner Up:
Our 2nd favorite choice for wine, although I can go in many different directions here, has to be the Victoria Falls Lounge inside the Animal Kingdom Lodge Resort Lobby.
In addition to the wonderful selection of South African wines, this lounge brings about a unique energy with its dimly lit vibe and surprisingly quiet atmosphere amidst the craziness of the restaurants just below and the lobby just above. We love this spot and grabbing a glass of wine here is a great idea!
Best Cocktails: Enchanted Rose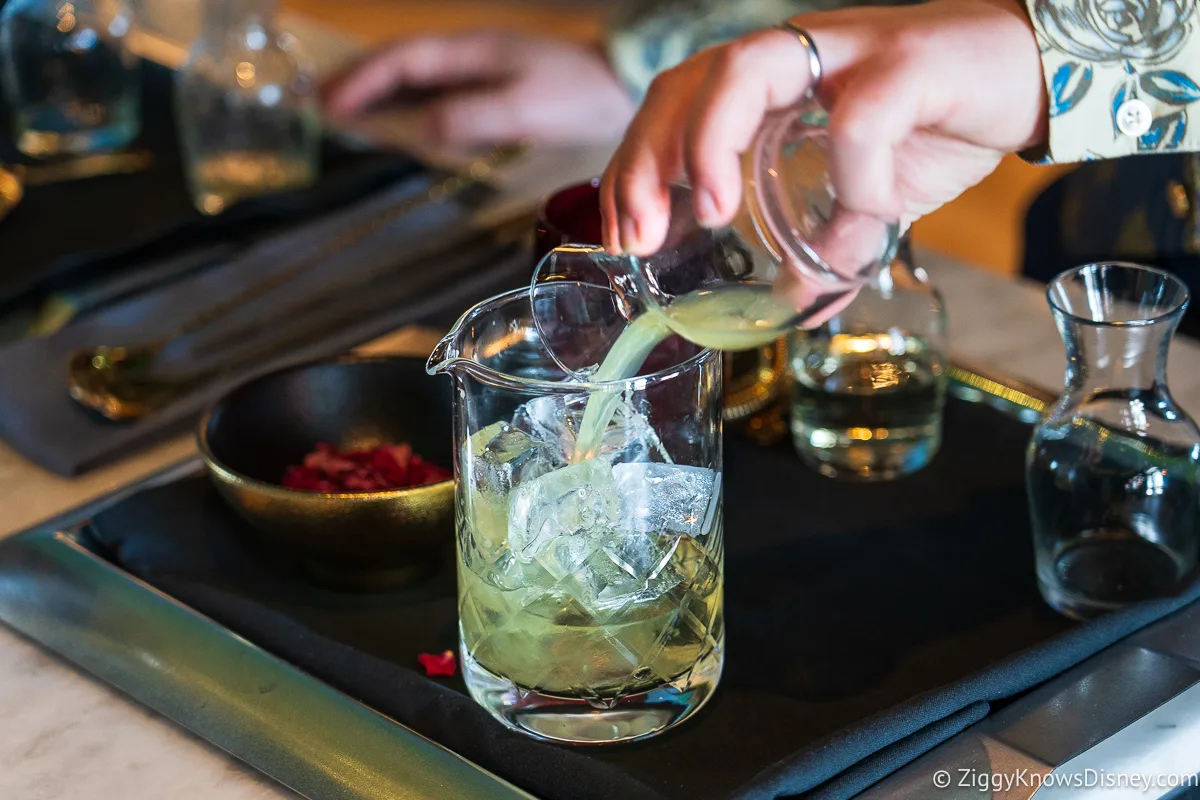 This is a VERY hard choice because I could give 8 different answers here, but I'll go with my gut, and the best lounge for the best cocktails has to be Enchanted Rose over at Disney Grand Floridian Resort. The drinks here are particularly unique and the presentations match the refinement of the lounge and the hotel lobby's vibe.
While they are costly, we've had some of our favorite drinks here in all of Walt Disney World. They really go above and beyond in making these drinks terrific stand-outs in almost every instance.
Runner Up:
The runner-up choice for us when it comes to the best cocktails has to be The Edison over at Disney Springs. The mixologists here take their craft seriously, and if you're into classic American cocktails, there's no better place to be.
They really UP the game when it comes to infusing and spicing up signature cocktails and allowing them to put unique spins on cocktails that you know and love. And for some reason, it just works!
Best Bar to Watch Sports: City Works Eatery & Pour House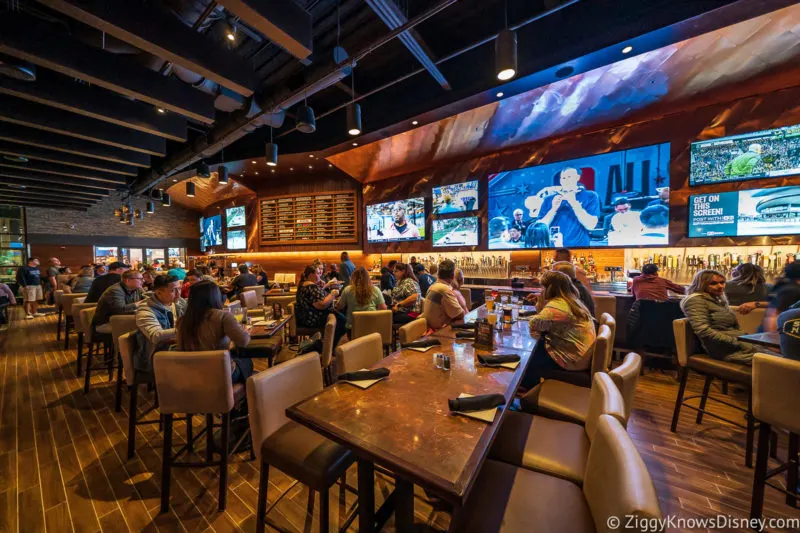 The best bar to watch sports in Disney World these days is City Works Eatery & Pour House over in Disney Springs.
In addition to being a full restaurant, there is also a full bar area for guests to sit in. Enjoy over 90 different craft beers that are on draft or sip on a number of different specialty cocktails. Even the food over here is criminally underrated and really good!
City Works is SURROUNDED by seventeen high-definition TVs including a 168-inch screen that is perfect for watching your favorite sporting event! They literally will have everything on the screens here, including all of the NFL football games!
In fact, it's a perfect location to watch the super bowl at Disney World.
Our favorite place to grab a drink to-go is the Southern Shine Bar at Chef Art Smith's Homecomin', which is located in Disney Springs. We love coming to the bar here to grab a popular moonshine drink in our specialty cup, and do it on every visit.
They have a number of wonderfully refreshing moonshine cocktails or other signature cocktails that are TASTY and original. Make sure you buy one of the refill cups, as you can get refills in your cups over and over again for a reasonable price considering the size.
Runner Up:
Our 2nd favorite spot to grab drinks to-go is at Splitsville Luxury Lanes in Disney Springs. With a full outdoor bar area in addition to another patio bar area also located outside, Splitsville has some fabulous offerings for those looking for a grab-and-go drink option in Disney Springs.
You can also use your refillable mug (that you purchased at Homecomin') to get one of the specialty frozen drinks at Splitsville.
Best Bars & Lounges for Kids: Space 220 Lounge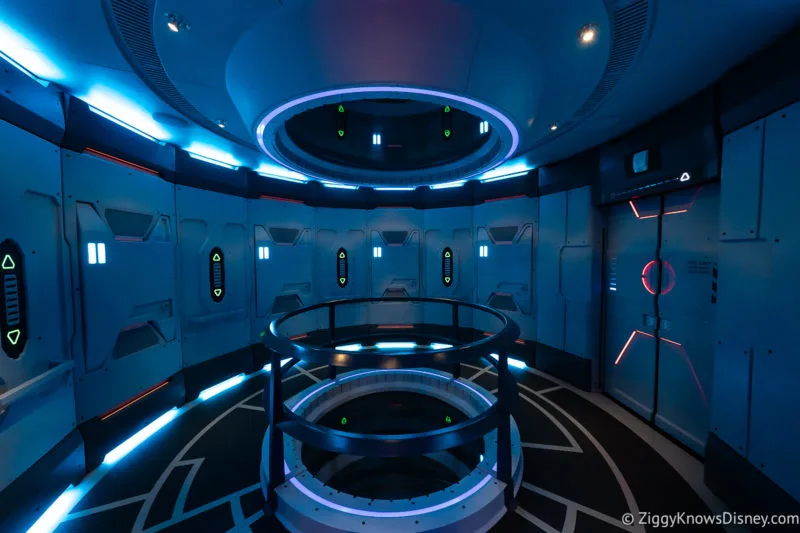 The best bar and lounge for kids has to be the Space 220 Lounge. While kids cannot sit in the walk-up bar area, they can sit in the lounge.
It has incredible theming and one of the most immersive family-fun atmospheres in all of Disney World, which is why kids absolutely adore Space 220. They'll be enthralled by the giant space windows surrounding them as they watch the various different elements floating around.
It's also incredible for big kids like myself!
Runner Up:
The runner-up choice for kids has to be Oga's Cantina in Hollywood Studios. It has a number of signature mocktails for kids that are both tasty and memorable, and kids LOVE Oga's. They'll feel welcome and actually even invited inside this fun family-friendly lounge.
Best Bar for Dessert: Tambu Lounge
We will go with the Tambu Lounge as our favorite bar for dessert. Why? Because you can get the signature 'Ohana Bread Pudding when visiting here. In fact, it's the only place you can get one of the best desserts in all of Walt Disney World a la carte!
The only other place you can get it is at the 'Ohana Restaurant, which is a multi-course meal. At Tambu, you can order it as an a la carte item while sharing it with the rest of your friends and family!
Runner Up:
Our runner-up choice for the best bar for dessert is the Tutto Gusto Wine Cellar in EPCOT. They have a number of shareable Italian Desserts, including Tiramisu, Cannoli, Gelati, and Torta de Ricotta.
Monorail Bar Crawl
One of the truly popular unspoken pastimes of Disney World guests is engaging in the Monorail Bar Crawl. What is it?
For guests visiting the Disney Monorail or staying at one of the Monorail Resorts, it simply means hopping around to the different monorail resorts and enjoying an alcoholic beverage at the many different bars throughout these three resorts.
Guests can do this in a number of different ways such as:
Enjoy 1 drink at 1 bar and then hop to the next Monorail Resort
Enjoy multiple drinks at multiple bars at each resort before hopping to the next Monorail Resort
Share a drink with a loved one at each of the different bars/lounges at these resorts
There's an unlimited number of ways that guests can partake in the Monorail Bar Crawl. While Disney will not broadcast this "event" for obvious reasons, it's a popular pastime for Disney Adults.
Just remember, if participating in the monorail bar crawl, be careful, and PLEASE don't drive. It's ideal and best for guests staying at one of the monorail resorts, so get a room so you don't have far to walk.
Skyliner Bar Crawl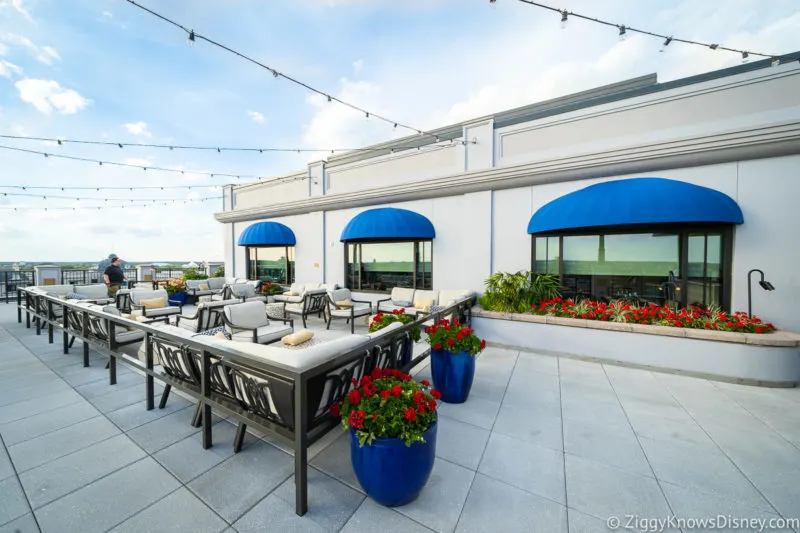 If you are staying at one of the Disney Skyliner Resorts, this is a must-do! While not quite as popular as the Monorail Bar Crawl, the Skyliner Bar Crawl is essentially the same thing except at a different locale.
Though not quite as famous, the Disney Skyliner actually affords guests more lounge and bar opportunities than the Monorail Bar Crawl.
While there are four resorts (Riviera Resort, Caribbean Beach, Art of Animation, Pop Century) that have direct access to the Disney Skyliner, there are another six resorts (Beach Club, Yacht Club, Boardwalk Inn, Swan Resort, Dolphin Resort, Swan Reserve) that are just a short walking distance away from the Skyliner station.
This presents a myriad of opportunities for guests that are creative that want to try the many different offerings of the Skyliner bars and lounges.
In addition to the resorts, you'll also have easy access to the Disney BoardWalk, which presents more top-notch lounge offerings including the AbracadaBar and Jellyrolls, two of our favorite bars in Disney!
If you want to enjoy a fun night with other adults, engage in either the Skyliner Bar Crawl or the Monorail Bar Crawl and let us know which is your favorite!
FAQs
Does Magic Kingdom Sell Alcohol?
Yes! While they don't serve alcohol at any kiosks or bars, they sell it at all of the table-service restaurants throughout Magic Kingdom now. For a full read on Magic Kingdom liquor offerings, check out my post here.
Can Children Go to the Bars or Lounges in Disney World?
It depends. Most bars and lounges are open for families but some of them are ONLY for adults, such as The Edison after 10:00 pm and Jellyrolls.
Where is Drinking Around the World?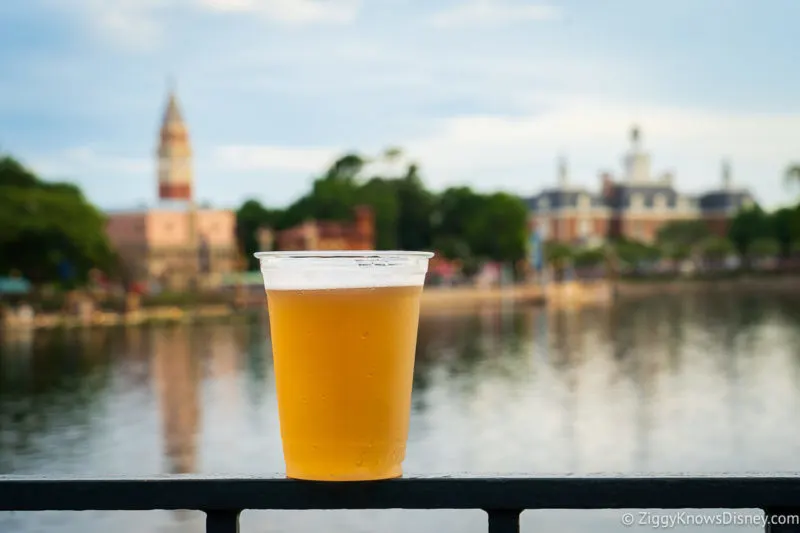 Drinking Around the World is a common thing to do in EPCOT around the World Showcase Lagoon. In EPCOT, there are 11 different countries around the World Showcase, and Drinking Around the World is a common unspoken pastime for guests visiting EPCOT.
It simply means to get an alcoholic beverage in each country or at several of the countries around the lagoon, and we highly recommend it (though don't do it too quickly, you need to pace yourself).
READ: Guide to Drinking Around the World in EPCOT
Can I Walk Around Disney World with Alcohol?
Yes, you can walk around with alcohol at all the Disney World theme parks, EXCEPT at the Magic Kingdom.
You cannot drink alcoholic beverages anywhere outside of the table-service restaurants at the Magic Kingdom. You also cannot leave any of the Disney Parks with alcoholic beverages.
Where is the Secret Bar in Disney World?
The secret bars in Walt Disney World are what's called 'Club 33 Locations.' Club 33 is an exclusive private members-only dining club located at Disney theme parks worldwide. It is incredibly expensive and is only open by invitation only.
In Walt Disney World there is a Club 33 location in each of the 4 Disney Theme Parks. In Magic Kingdom, the club is located at the "Captain's Quarters" building at the entrance to Adventureland. At Epcot, it's located inside the America Pavilion in the World Showcase.
It's a fun 1940s-style club that plays modern music and is the only official nightclub currently on Disney World property.
Need Help Planning Your Itinerary?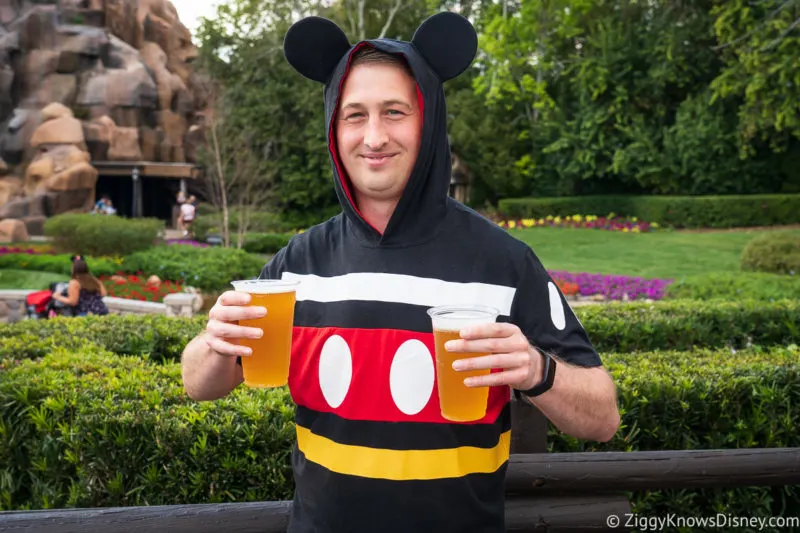 Want to visit the top Disney World Bars and Lounges but are overwhelmed with the idea of planning a trip? Visiting Disney World can be stressful with a ridiculous never-ending list of things for you to do to fully maximize your vacation. The best news is…you can get help!
At Ziggy Knows Disney, we absolutely recommend the use of an Authorized Disney Travel Agent that can assist you and help you get the most out of your Disney Vacation. Our favorite company and the one we suggest to everyone is Show You the World Travel.
They are incredibly helpful and will help you make sure you get to do all the things you really want to do, including visiting all of the best Disney World Lounges and Bars! The best part of using Show You the World Travel is they don't cost you a single penny!
To get more information and to request a FREE quote, fill out this form. One of their wonderful and qualified agents will then reach out to you to get ALL your questions answered.
If you are going to Disney World soon, make sure to read our Disney World Planning Guide for all the tips and info you will need to cover everything! Also, check out our Disney World Crowd Calendar so you know when the best time to visit is!
Your Thoughts
I want to know what you think about our rankings of the best bars and lounges at Disney World…
Do you agree with our list?
What are your Top Bars and what do you get to drink?
Let us know in the comments section below!
If you enjoyed this article, as always I appreciate it if you'd share it with others via social media. I work hard at making this website into a useful resource for you and your family to plan your visit to the Disney Parks and I hope it can help you! Thanks 🙂