The big day is almost here! It's the most-watched TV event of the year and you can't wait to see it. Whether or not your team is in it this year, if you're a huge football fan, you are probably wondering where the best place to watch the Super Bowl in Walt Disney World is…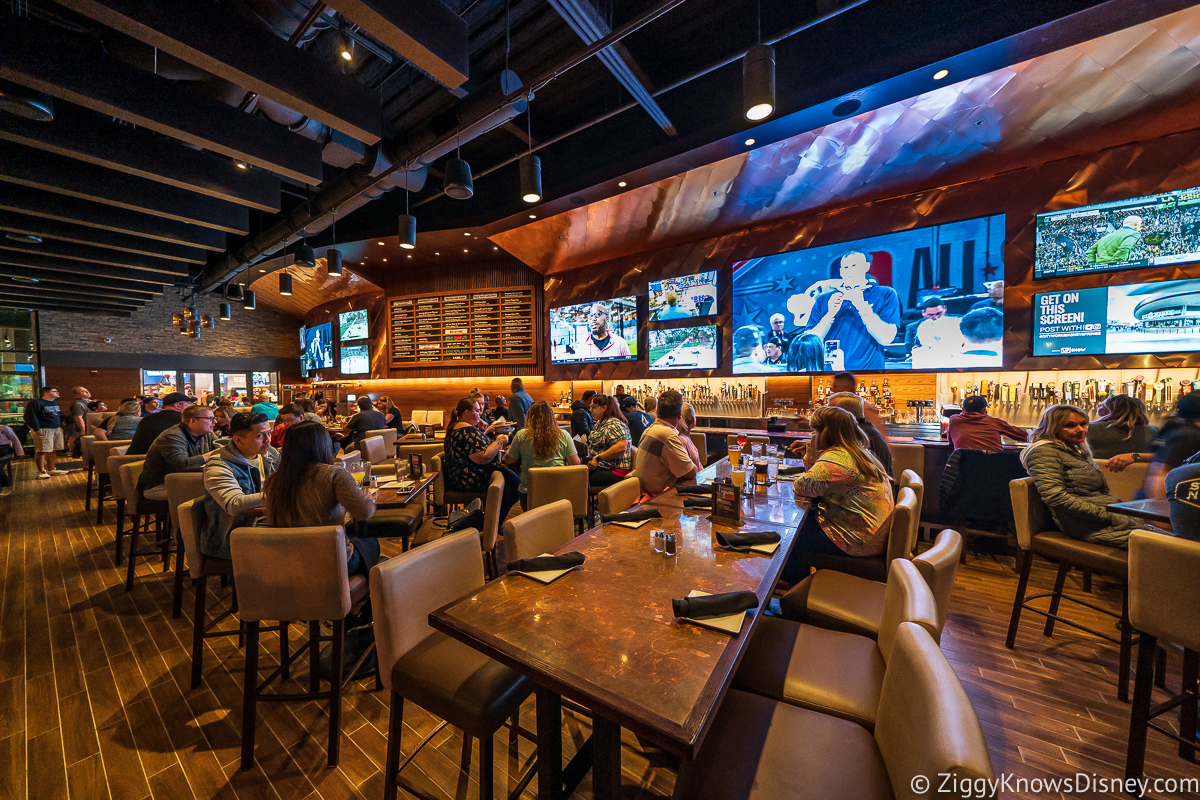 This year the big game is on February 7, 2021, in Tampa, Florida at the Raymond James Stadium. It will be a matchup of the Tampa Bay Buccaneers and Tom Brady vs. the Kansas City Chiefs and Patrick Mahomes.
Fans who are in Walt Disney World will be frantically searching for the best place to see the big game in Disney World in 2021, and we have the answers.
Just because you aren't at home in front of your big screen with your friends doesn't mean you can't enjoy the big game just as much! So to help you rest easy I've made a list of the 8 Best Places to Watch the Super Bowl in Walt Disney World, plus some other useful tips.
They are all great options, it just depends on which one is better for you and your family/friends!
(Be aware that some locations might be closed in 2021 since Disney World is in the middle of a phased reopening. Check our post on Disney Dining During Reopening Phase and the Disney World website to be sure the location you want is open.)
Let's have a look:
8. Atlantic Dance Hall – Disney's Boardwalk

You might not immediately think of The Atlantic Dance Hall when thinking about football. But because of other places being full on the Boardwalk (more on that later), the Atlantic Dance Hall usually always have a Super Bowl party with the game showing on big screens.
Recently new additions were made to the Atlantic Dance Hall and they are now showing games here all football season on NFL Sundays. This is for the overflow of a more popular Boardwalk restaurant (more on that in a minute).
The only problem is there's no food, only drinks, hence the #7 position on my board. If that's ok with you and you don't mind bringing your food with you to watch the Super Bowl, then this is a great option, especially for those staying in the EPCOT Resort area.
(The Atlantic Dance Hall is currently closed during the Disney World reopening phase.)
7. End Zone Food Court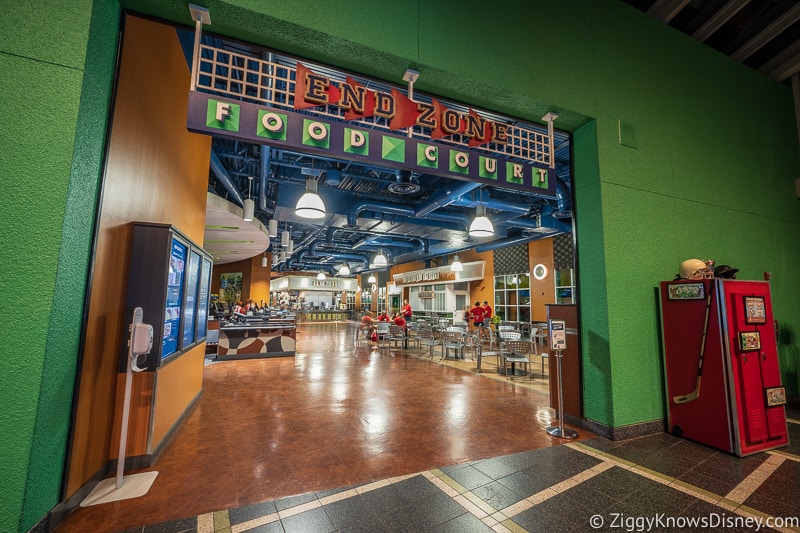 We thought about putting this one at #7, but just for the simple fact there are a lot of food options to choose from, we placed it here. Located in the All-Star Sports Resort, the End Zone Food Court is another place you can see the Super Bowl in Walt Disney World.
It won't be the quietest crowd in the world, and if you've been there before you can understand what I mean. That said, it could be a good option if you have a big group and can't a get a reservation to any of the other places on our list.
6. ESPN Wide World of Sports Grill – ESPN Wide World of Sports Complex
If you've ever been over to the Wide World of Sports Complex for an Atlanta Braves spring training game then you might be already familiar with the Wide World of Sports Grill. There are tons of screens to watch the game and you'll find a great sports fan environment.
You'll find a great selection of Sandwiches and Burgers like the BLT, Smoked Turkey, Booya Burger, and the Barbecue Pulled Pork. Other great selections include Winner's Wings, Home Run Hot Dog and the Game Day Nachos with Chili Cheese.
The only negative about this location is it's a bit far to get to depending on which resort you're staying at. Still, it's worth it and gives you a great excuse to make a trip over and check out the complex if you haven't already.
Stop by before the Super Bowl in the afternoon and make a day out of it!
5. Your Resort Lounge/Pool Bar

This one isn't the most inventive of places to watch the Super Bowl on the list, but one of the easiest to organize and is a nice last-minute option. Just about every resort lounge bar on Walt Disney World property will have the game running and it's already close to your room (a good option if your team loses and then want to go back to your room and wallow).
It's usually a great atmosphere and you can make some new friends or enemies quite easily, so be careful about that! A lot of times the resorts will put on a nice spread also so you might find some amazing game day eats set up!
Going along with the resort bar is the resort pool bar, which in my opinion is an even better option! Not every resort pool bar has a TV so you'll have to ask if yours does, but if so it can be a really great experience!
Basically the same as the lounge bar, the atmosphere here will be great, plus if your kids or significant other aren't interested in watching the Super Bowl, they can swim or play while you watch it. Just get there early if you can, as seats tend to fill up quickly.
4. Your Room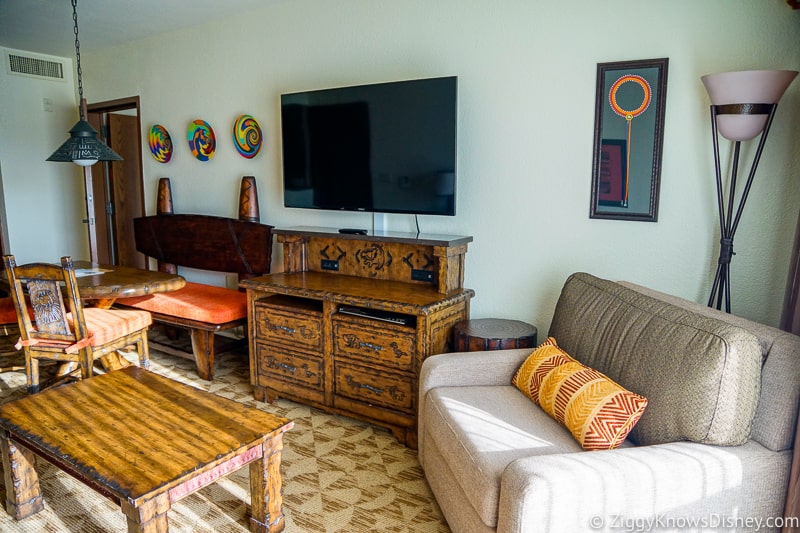 The older I get, the more this option for watching the Super Bowl appeals to me! You won't have any problems hearing the game or those hilarious commercials in the most comfortable seat in Walt Disney World, your room.
You can stay there and watch the game with the whole family and make it a really fun event. You can even watch it alone if you prefer solitude during the Super Bowl.
Sometimes I can't stand being around other people when I'm watching football, especially if they are rooting against my team, so this is perfect. You can sit back and order a pizza or other room service and feel free to yell and scream at the TV without others giving you dirty looks or worse, making the guy next to you rooting for the other team angry.
Of course, if you are looking for a more lively, fun atmosphere then look elsewhere, but for those lone wolves, it doesn't get any better than this!
3. Splitsville – Disney Springs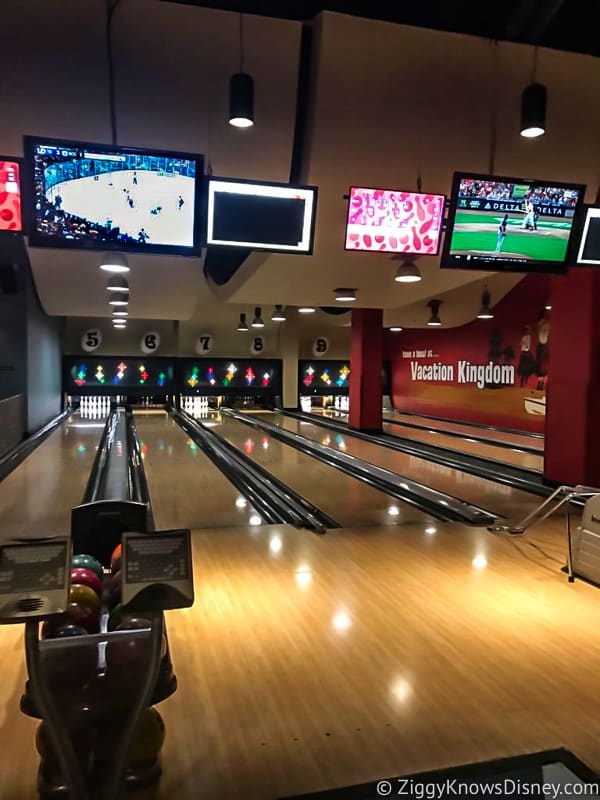 A bowling alley probably isn't the first place that comes to mind when you think of the best place to watch the Super Bowl in Disney World, but Splitsville isn't your ordinary bowling alley either.
You have a couple of options:
You might be able to get in a game or two as you're waiting for the Super Bowl. There is nothing like launching a 10-pound ball and trying to smash some pins to help get those pre-super bowl jitters out of your system.
The food is really awesome, another thing you don't expect at a bowling alley. Everything they have is great…Wings, Burgers, Tacos, Pulled Pork, you name it! But the calling card here is the amazing Sushi, believe it or not maybe the best on property!
The only problem is because of how popular Splitsville is, the ADR's for Super Bowl Sunday fill up quick! You have 2 options: you can keep checking My Disney Experience and the Disney World Website for cancellations, or they will be taking walk-ups too, just get there early so you don't miss out.
Most years Splitsville runs special Super Bowl-themed events, and it's still one of the best viewing spots on property. You also can enjoy the Wing Specials & More at Splitsville on Football Sundays, including Super Bowl Sunday.
Check the Splitsville website for specials during this year's super bowl.
2. City Works Eatery & Pour House – Disney Springs
This is a new entry to our list of the best places to watch the Super Bowl in Disney World, and it makes it all the way up to #2! That may seem like a huge jump forward, but City Works is really THAT good.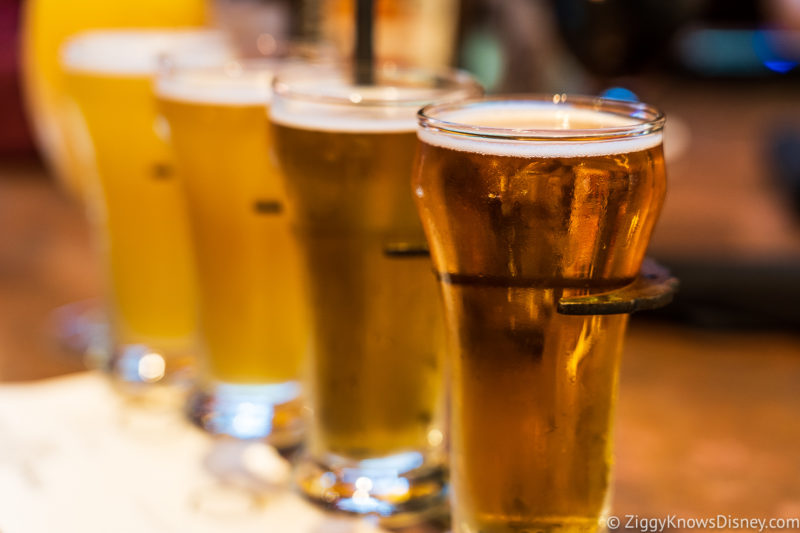 We love the atmosphere here. Just one step inside and you'll know why. The dining room is huge with many tables and a lot of booths too which will keep you comfortable throughout the game. There is an outdoor section if you prefer. In all there is 8,600 sq ft of dining space, so no problems there.
We especially love the 17 flat screen TVs throughout the restaurant, including the giant ones on the wall behind the bar.
The food is awesome here too. We've had almost the whole menu and some of our favorites include the duck nachos, filet mignon sliders, smoked bbq ribs and the kung pao cauliflower. You absolutely MUST try the peanut butter snickers pie, it's one of our favorite desserts at Disney World.
Do I even have to mention the 90 craft beers on tap? That should give you enough variety for the length of the game.
City Works is having a Super Bowl party from 6:30 pm to 11:30 pm EST, but we recommend arriving well before that to get a table. Better yet, you can make a reservation online to reserve a table. They also are having a raffle at halftime for a chance to win a $50 gift card.
1. ESPN Club – Disney's Boardwalk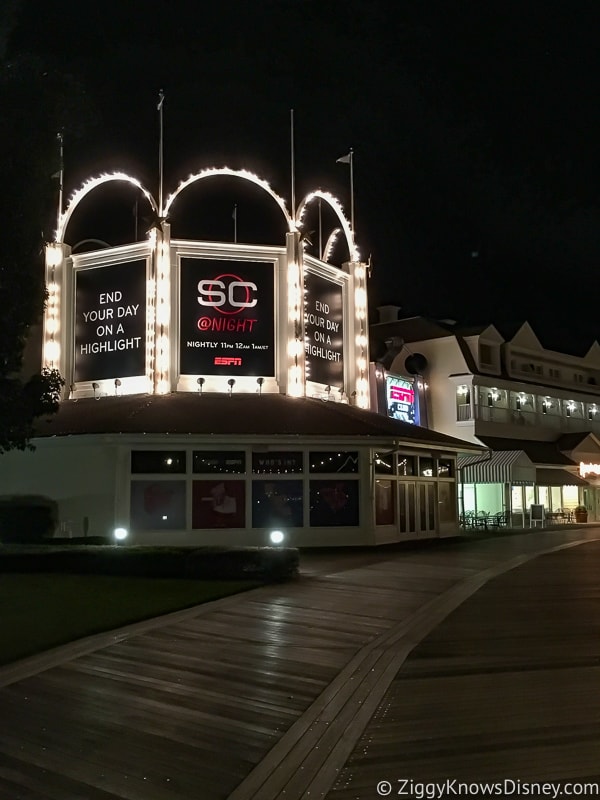 This is the Super Bowl watching Mecca of Walt Disney World! I love this place and have seen dozens of games here over the years.
It's full of almost 100 TV's, all of which will be showing the game, so you won't find a bad seat in the house. There are even TVs in the restrooms, so you won't miss one second of the action!
The atmosphere is the best on property as there's always electricity in the air when you watch a game here, especially the biggest one of the year.
ESPN Club has awesome food, and perfect for a football game like the Super Bowl. I think their wings are among the best in Walt Disney World, plus all the rest of the appetizers and drinks are great too.
Last year they ran a special cover of $100, where you pay that and all the drinks and food you want is included. It may seem like a high price, but over a few hours, all that beer and food is certainly going to add up so you will probably get your money's worth.
The only problem this year is that it's so extremely popular among guests that it sells out quickly. They aren't expecting to take walk-ins either, so if you haven't made a reservation yet, then your only option is to keep checking your My Disney Experience or the Website for cancellations.
You can try calling 407-WDW-DINE too. Keep trying as it's definitely the most unique and intense Super Bowl watching experience in Walt Disney World. (The ESPN Club is currently closed during the Disney World reopening phase.)
Other Disney World Super Bowl Experiences
Besides watching the actual game, there are other Super Bowl-related events and experiences around Walt Disney World that any fan can enjoy:
Football-shaped Snacks – Stop by one of the many bakeries or confectionaries in the resorts or theme parks and enjoy a delightful football-shaped treat!
Watch the Parade – Just like the famous expression players from the winning team make: "I'm going to Disney World!" any fans in Disney World the following day can visit the Magic Kingdom and watch the Super Bowl parade.

Usually, some of the players from the winning team team up with the Disney characters to participate in this parade. However, Disney has announced that there will not be a Super Bowl parade in 2021.
Disney World Super Bowl FAQs
Where Can I Watch the Super Bowl at Disney World?
Disney World has many bars, restaurants, and lounges that are perfect for watching the Super Bowl. You can also see the game in the luxury of your own resort hotel room.
Is Disney World Crowded on Super Bowl Sunday?
In the past Super Bowl Sunday used to be a "slow" day in Walt Disney World. That has changed in recent years and it is now an above-average day in attendance.
Is there a Super Bowl Parade Every Year in Disney World?
Yes, every year at least one player from the winning team makes it into the Super Bowl parade which is complete with Disney characters and plenty of festivities. However, Disney has announced that there will NOT be a Super Bowl parade in 2021.
What Time is the Super Bowl Parade in Walt Disney World?
The time for this year's parade hasn't been determined yet. Last year's parade was in Disney's Magic Kingdom at 2:40 pm.
Those are my choices, and I hope that helps you find the best option for you and your family to watch the Super Bowl while staying in Walt Disney World. Have a great time and Go Bucs!!!
Your Thoughts
I want to know what you think are the Best Places to Watch the Super Bowl in Walt Disney World…
Have you ever done it before?
Where is your favorite place?
Let us know in the comments section below!
If you enjoyed this article, as always I appreciate it if you'd share it with others via social media. I work hard at making this website into a useful resource for you and your family to plan your visit to the Disney Parks and I hope it can help you! Thanks 🙂