Let's be honest, when you walk through the entrance of Disney's Magic Kingdom you're thinking about what rides to do, and what yummy treats to eat! In fact, I always make a list of the best snacks at Magic Kingdom because no matter how many times you go, there is always some new ice cream, pretzel or sweet treat, or an old favorite to go back for.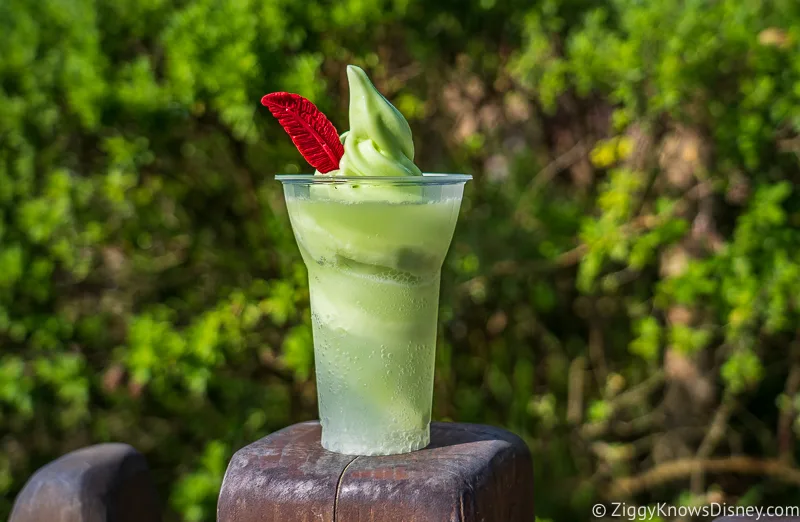 We want to make sure you don't miss out on the best that Disney has to offer so here is the must-try list of the 34 best Magic Kingdom snacks for your next trip. We've organized this list of treats into 3 categories of Savory, Sweet, and even the snacks to avoid.
We also try to keep our list up-to-date because it seems like there are new food items popping up in the park almost every day. Some of the things on our list are classic snacks that you should always be able to find, but shouldn't skip (hello dole whip!). Meanwhile, others are newer snacks and will definitely be included in the best snacks in Magic Kingdom in 2023, but beyond that, we'll have to see.
Please let us know down below what you think of our list and then tell us what your favorite must-have Magic Kingdom Snacks are!
Best Savory Snacks at Magic Kingdom
I figured we can start off in logical order with the savory Magic Kingdom snacks before filling our sweet tooth. After all, sometimes you can only handle so much sugar and you need something salty instead. Don't worry the sugar rush is coming, but here are my favorite savory snacks.
1. Candied Bacon Skewers – Westward Ho Refreshments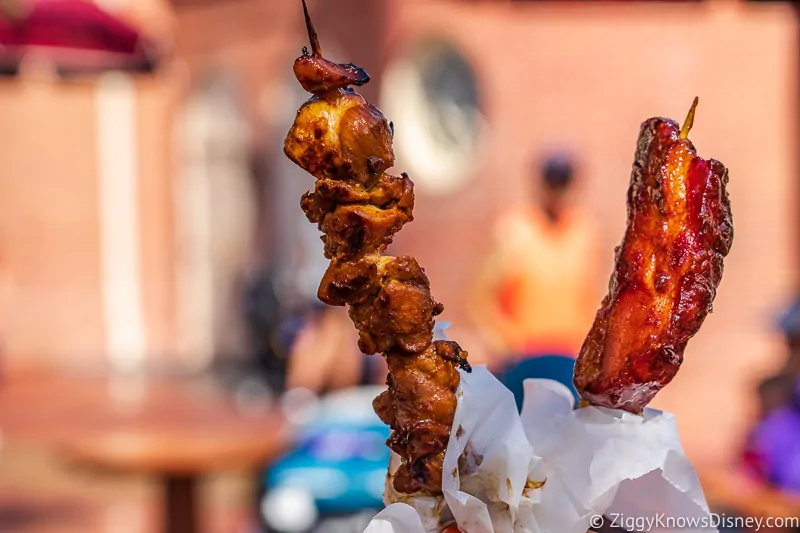 It doesn't get any better than a huge piece of meat on a stick, and the giant meat skewers from Westward Ho Refreshments are just that! The candied bacon one is basically a huge piece of pork belly caramelized with brown sugar and it falls apart in your mouth.
At times they also have the Sweet and Spicy Chicken Skewer, and believe it or not, it's even juicier than the bacon. We haven't seen it though for a while, so most likely the bacon will be the only one on the menu, which is still one of our all-time favs!
2. Spring Rolls – Adventureland Egg Roll Wagon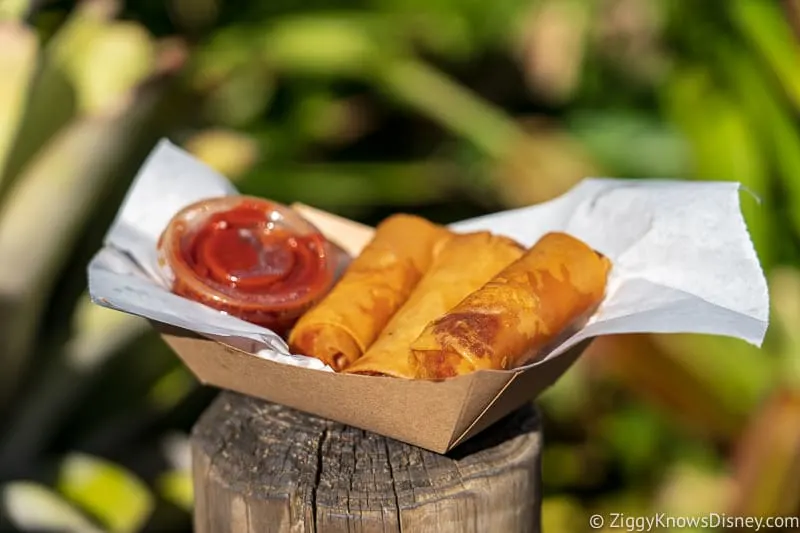 The spring rolls in Adventureland are to die for and a must-get savory snack in the Magic Kingdom. If you see that little red and green wagon sitting there, it's almost impossible to stop.
The flavors change, but right now you can choose between the Cheeseburger Spring Roll or the Pastrami 50th Anniversary! At times you will also find Pepperoni Pizza Spring Roll or even Buffalo Chicken.
All of them are delicious, but it's a toss-up between the pepperoni pizza and pastrami for the best flavor for me. It has to be the thinnest, flakiest egg roll crust I've ever tasted and a can't-miss snack!
3. Chipotle Barbecue Loaded Fries – Casey's Corner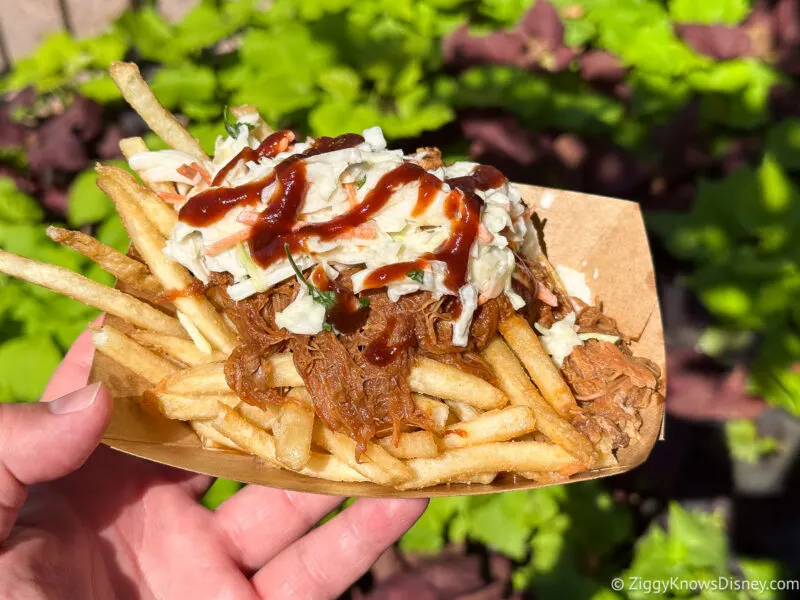 The Bacon Mac and Cheese fries are no longer available at Casey's Corner, but the good news is that they keep coming up with interesting new iteration that are just as good such as these Chipotle Barbecue Loaded Fries.
It's still a heaping portion of those classic thin french fries, but now they are topped with tender pulled pork goodness. The coleslaw on top was a strange addition at first, but it actually complimented the smokey and spicy flavors pretty well. You can also order them without coleslaw if you prefer.
You can eat these by themselves, or get them along side a footlong hot dog of your choice. They are a little bit messy, so you might need a napkin, but they are worth it. If these don't do it for you, try the Chili-Cheese Fries from the Golden Oak Outpost which are equally as tasty.
4. Pecos Pico Tenders – Golden Oak Outpost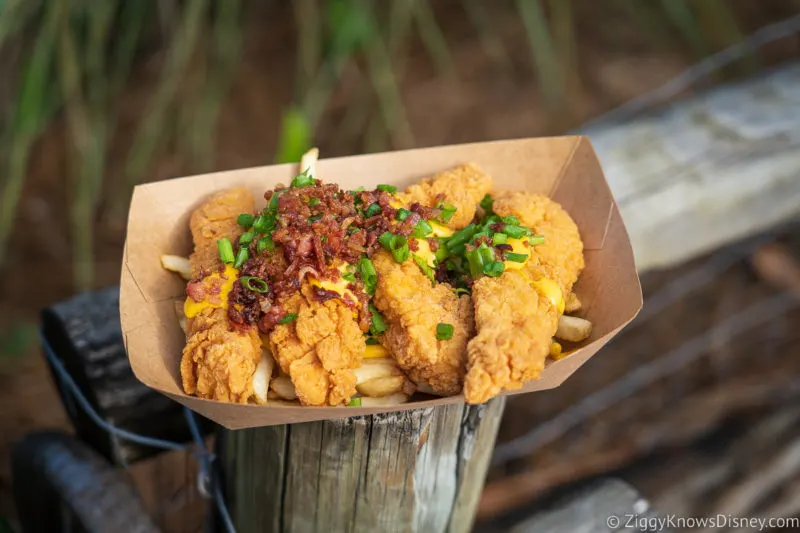 Everyone loves a good chicken tender at Walt Disney World, but unfortunately, they are usually pretty plain and very similar no matter where you get them. Not here!
They are breaded chicken strips served with French fries, but they are also topped with either bacon, cheese sauce, and chives, or sour cream, cheddar, and pico. These are the most dressed-up chicken tenders you will find, and they add a unique twist to this theme park classic that everyone in the family should love.
Just remember that the Golden Outpost always closes early each day (around 4:00 pm or 5:00 pm) so if you want them you need to get there early.
5. Loaded Tots – Friar's Nook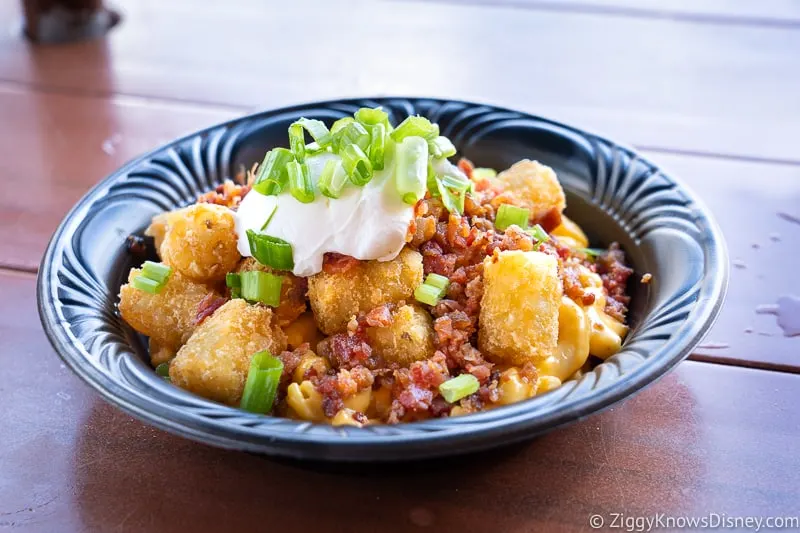 Friars Nook used to be THE go-to place in the Magic Kingdom and famous for its pot-roast Mac and cheese. In the last few years, the menu has changed and they are now home to a variety of tots. One of the most loved are the Loaded Buffalo Chicken Tots which are incredible!
However, I'm partial to the Creamy Bacon Macaroni & Cheese Tots myself with the bed of mac and cheese, crispy tater tots piled on high and doused with bacon bits, chives, and a dollop of sour cream! Make a stop here and try all the tots, they're fantastic!
6. Turkey Leg – Liberty Square Market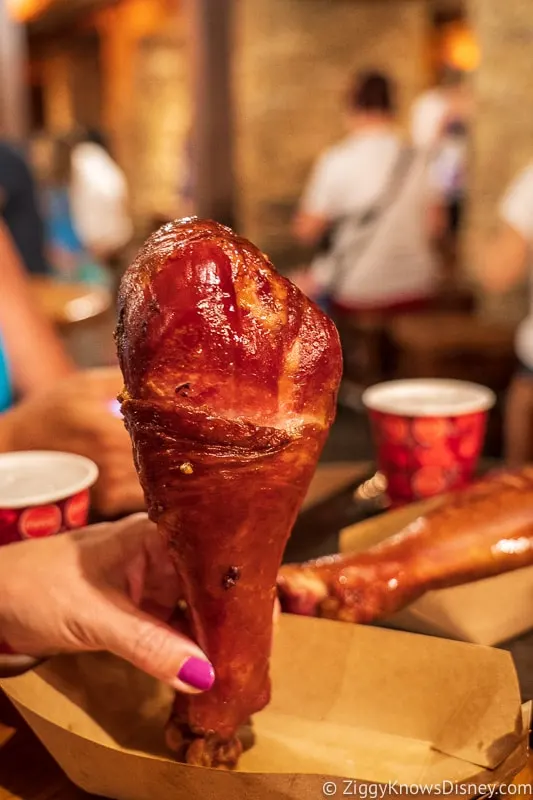 You may think that the Turkey Leg is boring, but it's a rite of passage Magic Kingdom snack, and something you just have to have at least once. They sell turkey legs in the other Disney Parks, but something about eating it here is a whole other experience.
It's nothing like what your turkey from Thanksgiving dinner tastes like. Instead, it's smoked and tastes more like ham than turkey, but it's so savory and so juicy I just can't help myself. Of course, to eat it, you'll need an army with you because it's a snack for 2-3 people easy!
7. Any Disney Pretzel – Various Snack Carts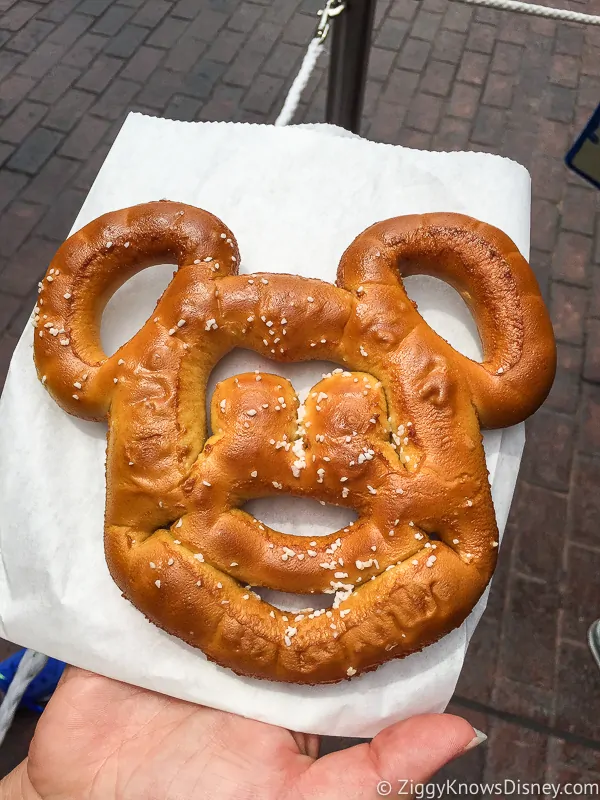 Something about warm dough covered in salt makes me hungry, and a trip to the Magic Kingdom without getting a pretzel is almost not a trip at all. Of course, you are familiar with the classic Mickey Pretzel, best served with a cheese dipping sauce, but have you tried any of the other varieties?
There are both savory and sweet ones, but we'll just throw them all in this category. You can get a ham and cheese-stuffed pretzel from Gaston's Tavern, or a cream cheese-stuffed pretzel at various snack carts. Also, you can't skip the sweet cream cheese-filled soft pretzel or a salted caramel stuffed pretzel from the Lunching Pad.
Mickey pretzels are also the perfect shareable snack and the best on-the-go snack in the Magic Kingdom. Just pick one and you can't go wrong!
8. Sweet and Spicy Chicken Waffle Sandwich – Sleepy Hollow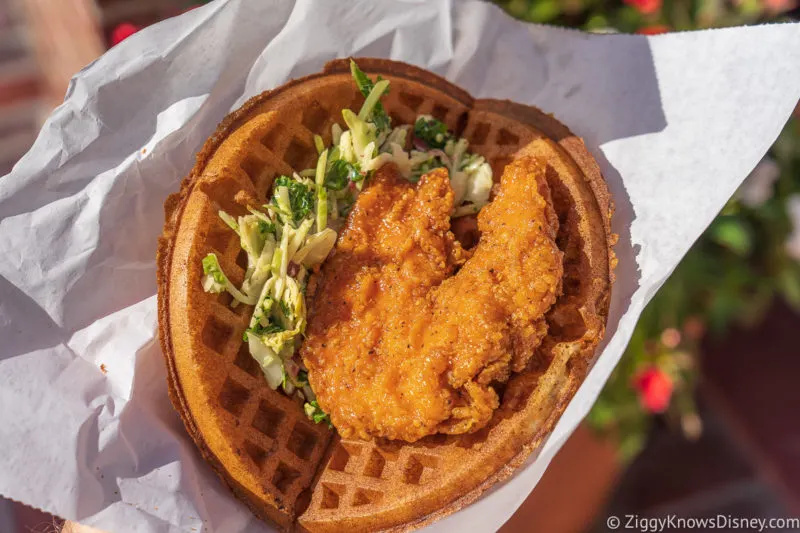 Most of the time Sleepy Hollow gets love for its sweet snacks, but this time we are here for the sweet and spicy chicken waffle sandwich! This snack debuted many years ago and thankfully it often finds its way back to the menu.
It's a rather large piece of chicken fried golden brown and served with a sweet and spicy sauce that has just the right balance between the two contrasts. It's served on a perfectly-crispy waffle usually with some kind of coleslaw. When these flavors combine it makes one of our all-time favorite savory snacks and not to be missed!
9. Jalapeño Poppers – Westward Ho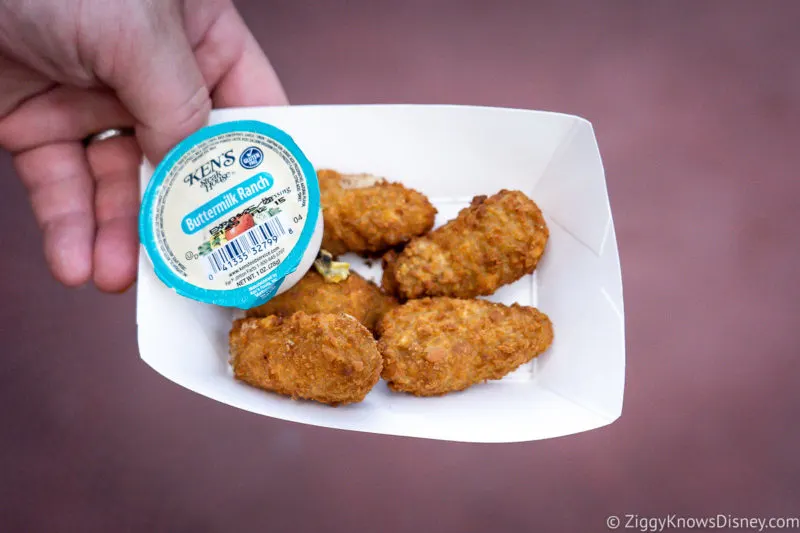 If you are looking for something savory and a bit spicy, then head over to Westward Ho for the Jalapeño Poppers. These are breaded poppers stuffed with nacho cheese and served with ranch dressing.
You get 5 pretty good-sized poppers with each portion and they are warm with the melted cheese oozing all over when you bite into them. The breading is solid and not super-greasy like fried food can sometimes be. You can use the dipping sauce, but we love them as is!
Westward Ho has really been stepping up its game lately with the candied bacon skewer, corn dog nuggets, and now the jalapeno poppers, so this is going to be a must-stop for anyone snacking through Frontierland.
10. Fried Pot Stickers – Sunshine Tree Terrace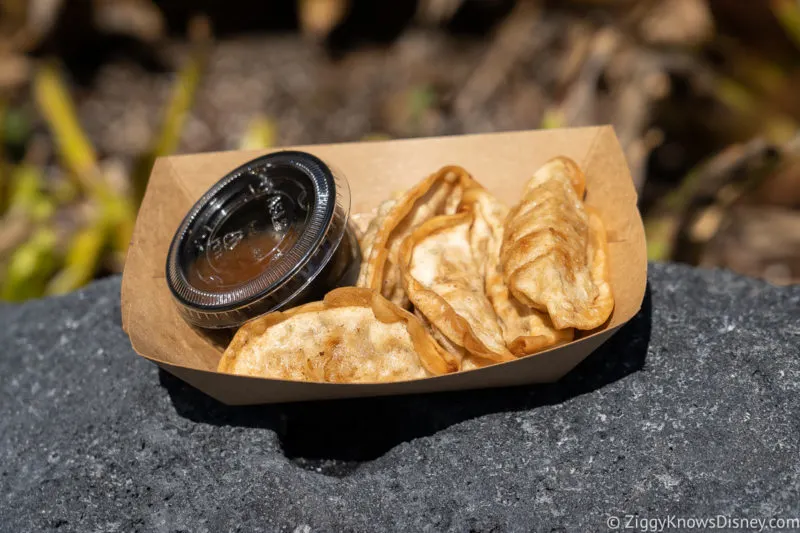 The Sunshine Tree Terrace is known for its citrus swirl and other ice cream-based snacks, but this time we are here for the fried pot stickers. The filling is a mix of vegetables and pork and they are served with an orange sesame ginger sauce, great for dipping. We love the crispy shell and could pop these all day long.
The portion size is decent and you get 5 or 6 together which makes it nice to share if you aren't super hungry. We find ourselves grabbing an order almost every time we pass by, which is a very dangerous proposition!
Best Ice Cream and Sweet Snacks at Magic Kingdom
Now that we've had something salty, are you ready for the best sweet treats in the Magic Kingdom? These will satisfy that sweet tooth, ASAP!
11. The Grey Stuff – Be Our Guest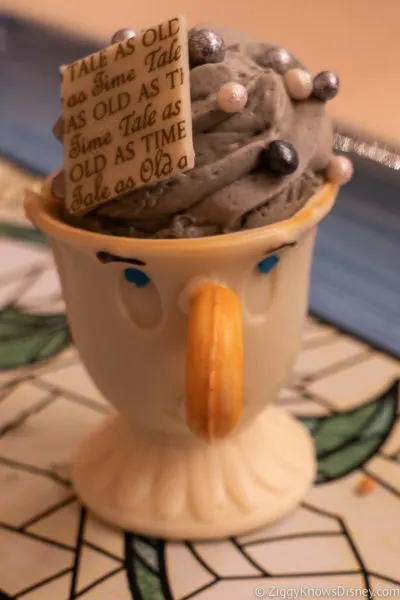 They don't say "Try the Grey Stuff, it's delicious" in Beauty and the Beast for nothing you know, and the Grey Stuff at Be Our Guest is worth the trip over there and the hard-to-get reservations all by itself.
It's basically the most addicting Oreo cream frosting you've ever tasted. Over the years, it's been served in many forms including a chocolate cupcake with the grey stuff frosting on top, on top of a cookie, or in a white chocolate cup in the form of Chip from Beauty and the Beast.
This is definitely, a can't-miss Magic Kingdom snack for any Oreo! Trust us, the Grey Stuff is where it's at!
12. Churros – Various locations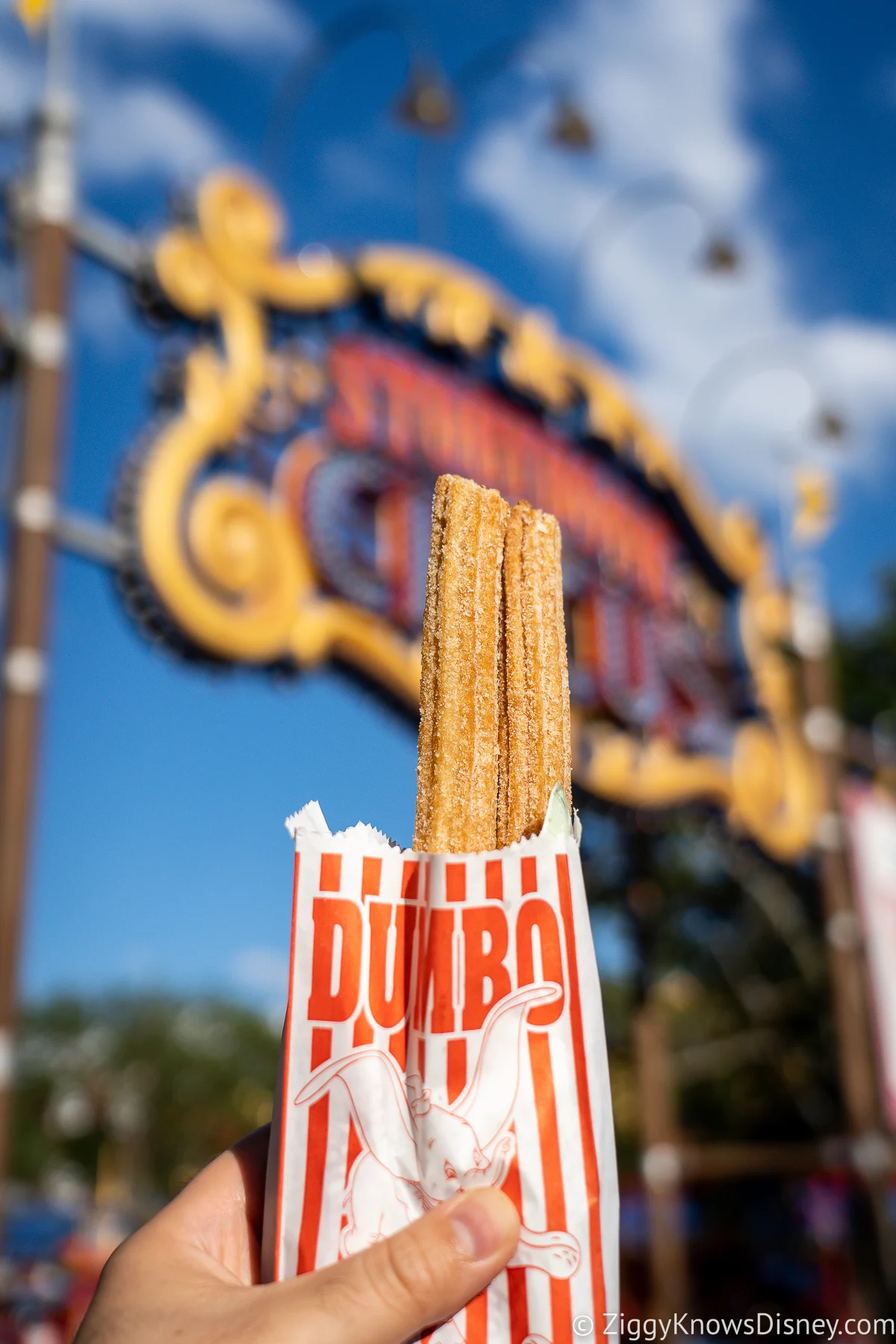 You'd be hard-pressed to find a more iconic Disney snack than churros. What is not to like here? You have a dough that is deep-fried to perfection and tossed in cinnamon sugar goodness and usually served with a chocolate dipping sauce, though other flavors are also available at times.
Sure, the ones in Walt Disney World are not as crisp and crunchy as their Disneyland cousins, but they still cannot be missed.
If you are looking for a churro fix, you can find them in multiple locations around the Magic Kingdom. Expect to find them at Pecos Bill Tall Tale Inn and Cafe, Frontierland Churro Cart, Cool Ship, Lunching Pad, and the Storybook Circus Snack Carts. Some will serve the basic churros with chocolate dipping sauce, but other locations will have specialty versions, especially when there is an event going on.
13. Aurora Cone (Strawberry Dole Whip & Blue Soft-serve) – Storybook Treats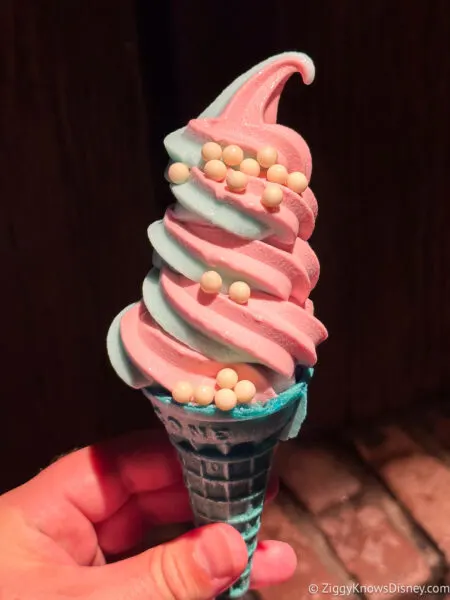 This is the first of many Dole Whip/Ice Cream snacks on our list, but it's quickly becoming one of our favorites. The Aurora Cone is inspired by Princess Aurora from Disney's classic film "Sleeping Beauty" and the colors here match the ones from her famous dress.
The strawberry Dole Whip is light, refreshing and just slightly tart and the "blue" soft-serve is blueberry-flavored, a little bit like the Pierre Mon Ami Float that used to be over at Aloha Isle, just not as strong of a blueberry flavor. It also has white chocolate crisp pearls on the side and it's all served in a blue sugar cone.
It's simple, but it really gets the job done. We think it's the right amount of tang and sweetness and if you like strawberry, you are going to be blown away by this cone. On your next trip through Fantasyland, you are like to find us in line at Storybook Treats waiting for one.
14. Giant Ice Cream Sundae – Plaza Ice Cream Parlor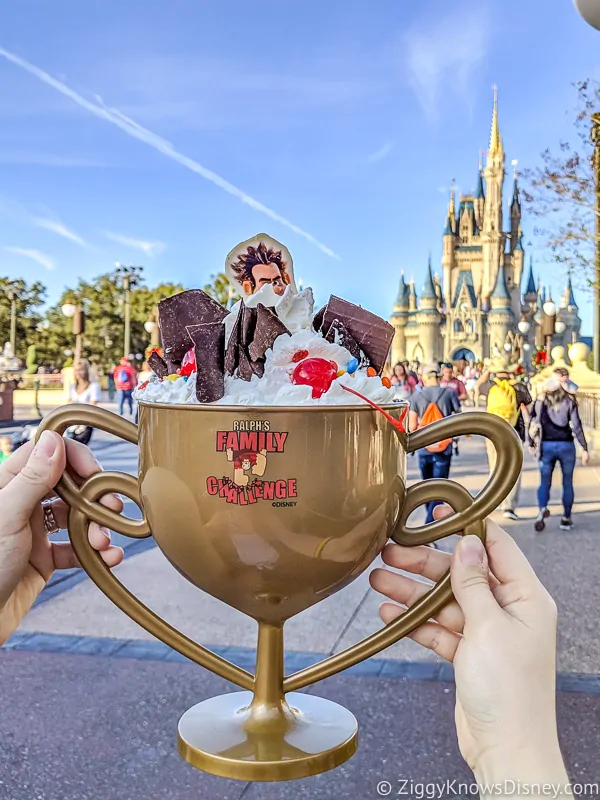 It doesn't happen often, but sometimes you are in a sharing mood and you want to split a tasty treat. Well, in that case, the oversized Ice Cream Sundaes at the Plaza Ice Cream Parlor are the perfect thing and maybe the biggest snack in the Magic Kingdom.
The varieties and flavors change all the time and can feature some of your favorite Disney and Pixar characters like Ralph and Venellope, or Minnie Mouse. Each sundae is loaded with ice cream scoops of your choice and then piled high with toppings such as fruity cereal, chocolate chunks, hot fudge, peanut butter, caramel, whipped cream, cherries, and more. If you somehow manage to finish it all, you really will get a "sugar rush!"
15. Candy Apples – Main Street Confectionery or Big Top Souvenirs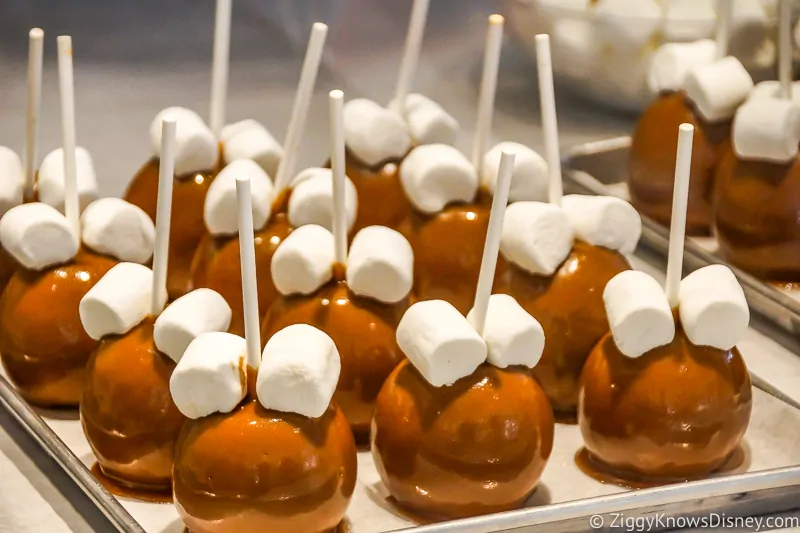 I know I've heard that an apple a day is good for you, well I don't know about the Candy Apples, but they sure are tasty! There are so many varieties of them and they change with the seasons, but you can't really go wrong with any of them.
I personally like the ones that have the Mickey shape because they are so adorable and Instagrammable. You can get them in Main Street Confectionery or Big Top Treats. Worried about them being too messy? Just ask the cast member to slice it for you and it will be much easier to eat.
16. Sticky Bubble Bread – The Lunching Pad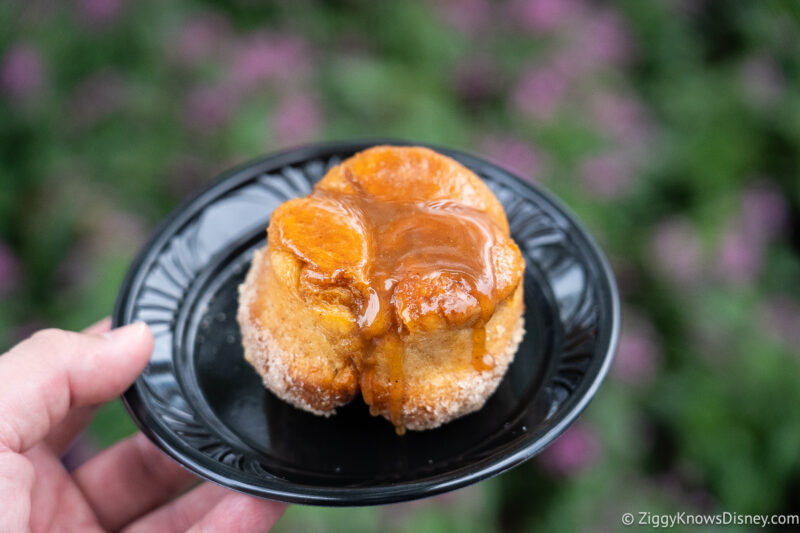 The Sticky Bubble Bread is a recent addition to The Lunching Pad and we love it! It's much better than some of the other options at the Magic Kingdom that are way overrated like the cinnamon roll. In fact, it is one of the most simple snacks, yet one of the best.
This snack is a sweet bread rolled in cinnamon, caramel, and warm spices. At first glance, it kind of looks like an upside down muffin but this one takes it to another level with a caramel sauce poured on top. It makes for a perfect snack in the morning for breakfast with a cup of coffee, in a park that is lacking options at that hour.
It's also easy to share with three pull-apart sections, but you will probably love it too much to do that any way.
17. Tropical Serenade – Aloha Isle Refreshments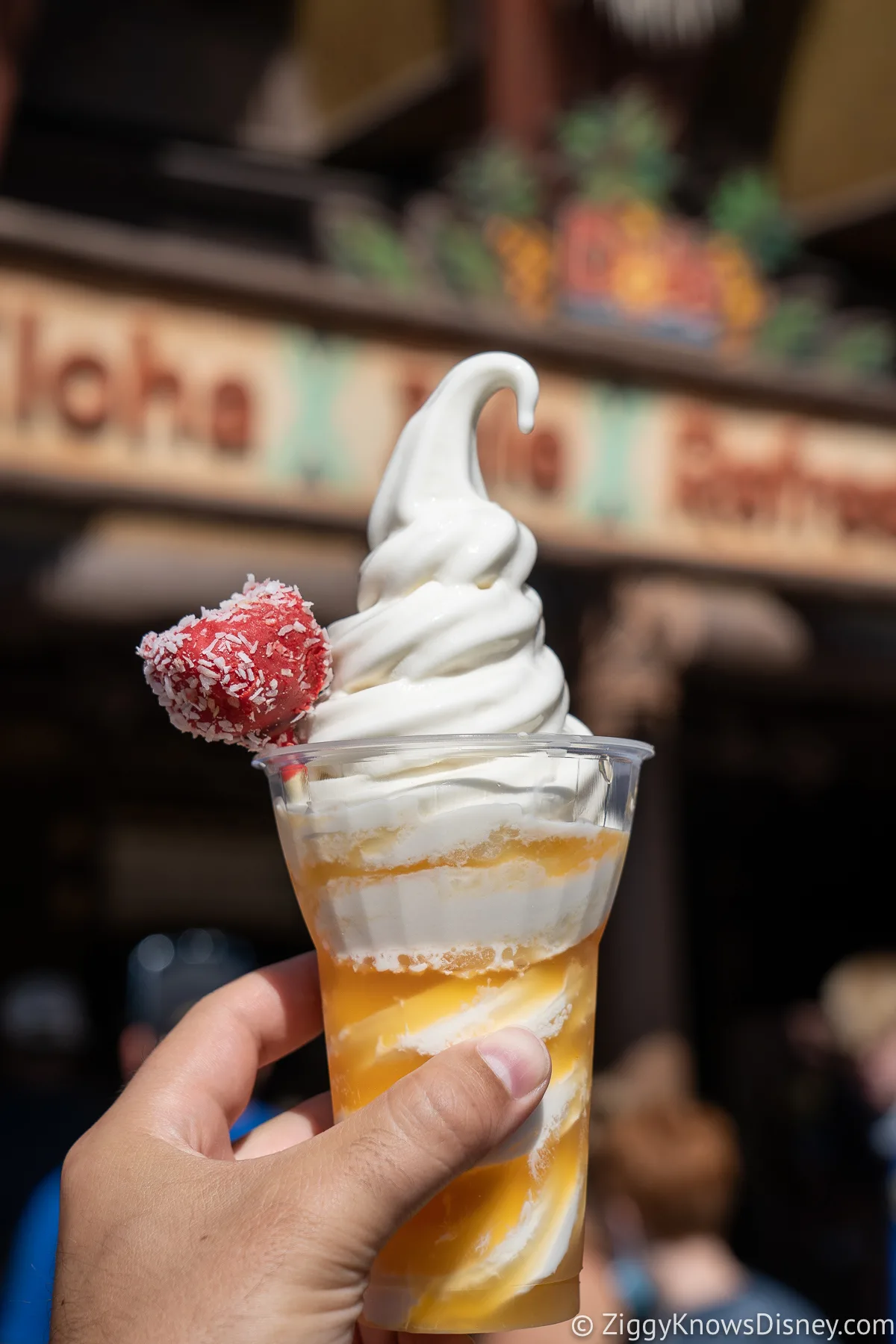 This is the first of many stops at Aloha Isle, so you might as well get used to it now because just about everything on the menu could be on our list.
The Tropical Serenade has just about everything going for it that a snack could ask for. The main ingredient is the coconut dole whip. These days they have just about every flavor dole whip that you can think of, but the coconut is so addicting it's insane. It tastes like real coconut and they got the sweetness level just right.
This is a float so the dole whip is sitting in Pineapple-Orange-Guava juice. Yup, you saw that right, it has the famous POG juice, which is our absolute favorite juice in Disney World. We were also blown away by the upside-down pineapple cake pop on the side. Can we get like 5 more of those to go please?
18. Frozen Mint Julep – Casey's Corner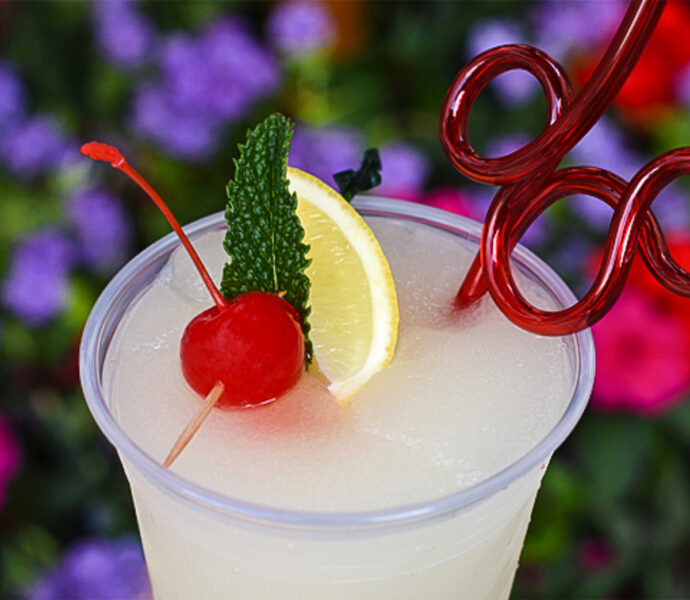 Usually, we are over at Casey's Corner filling ourselves on the giant-sized hot dogs. But not today. We are actually here for something tart, sweet, and refreshing and this Frozen Mint Julep hits all the right notes for us.
If you have had the mint julep in Disneyland then you already know how good this is. The Magic Kingdom version is heavier on the lemon flavor but there is still a nice mint taste to it and we may even prefer this one.
We never can say no to a good slushy, and this is right up there with the best of them and just perfect on a hot summer day in Florida. Get this along with your hot dog and fries and thank us later.
19. Mickey's Ice Cream Bar – Various Snack Carts
Mickey's Premium Ice Cream Bar is a Magic Kingdom must-get snack and it's super cute to boot! Not all ice cream bars are created alike, and to us, the combination of the creamy vanilla with the slightly dark chocolate coating does wonders for the taste buds.
Since most days in the MK are hot, there is really never a bad time to get one. Plus if you are going to any of the After Hours Events, you can get these by the bucket-full, and I highly recommend you eat as many as you can!
20. Brownie Pie – Main Street Confectionery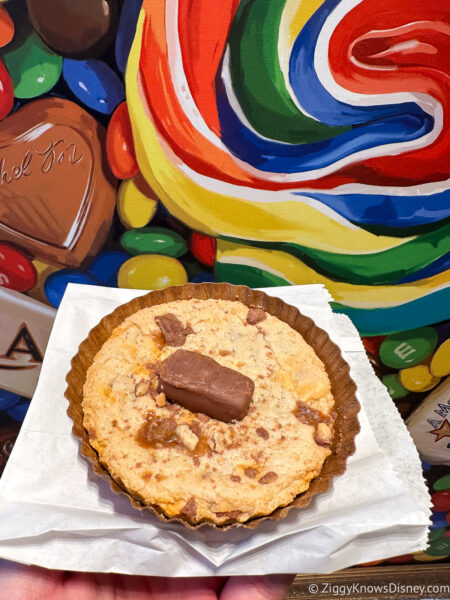 If you are a Twix fan, then you need to try the Twix Blondie Pie from the Main Street Confectionery. This is essentially a huge blondie flattened into a pie shape and stuffed and topped with chopped Twix pieces.
We really like the texture as it's chewy and crunchy, and the inside is rich and gooey. It's a great balance of salty and sweet. We would love this even if it were a normal blondie, but the Twix pieces are a perfect addition inside, and it's absolutely loaded with them.
We don't recommend it if you are not really into caramel, but if you are, not much beats this.
21. Raspberry Pineapple Swirl Dole Whip – Aloha Isle Refreshments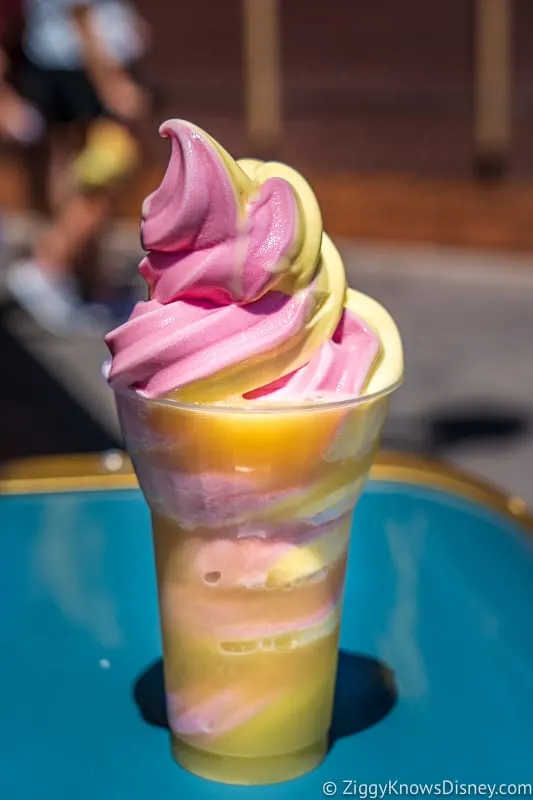 On our last trip to Disneyland, we stopped by the Tropical Hideaway at least 4-5 times, and it was always to go back for more raspberry and pineapple swirl dole whip. Thankfully it's now available here too and is quickly become a Magic Kingdom must-try snack.
If you like the original dole whip, then adding the tart raspberry flavor might make it even better. You can get it in a regular cup, or in float form for those really hot days. Even though Hei-Hei is gone, at least we have this to tide us over!
22. Cheshire Cat Tail – Cheshire Cafe and Cosmic Ray's Starlight Cafe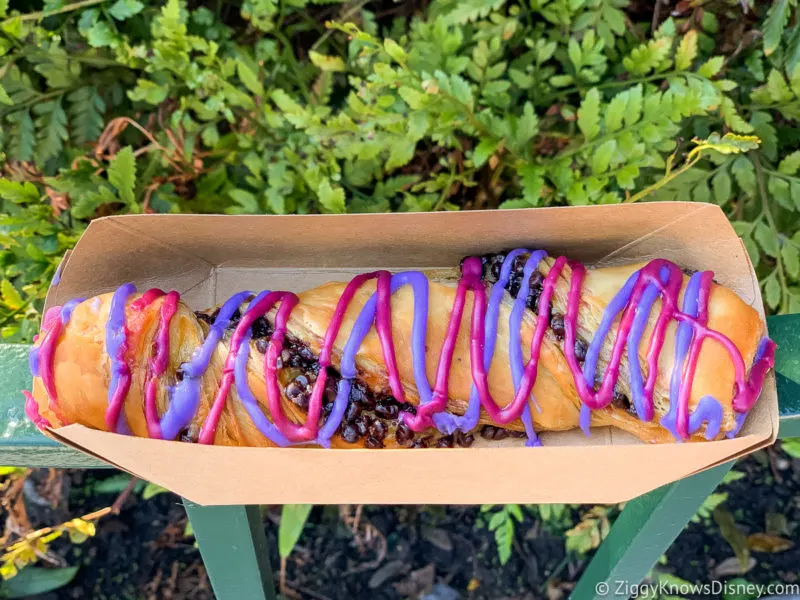 If you haven't tried the Cheshire Cat Tail yet, you are missing out on a Magic Kingdom snack classic! It's a croissant-like twist, similar to other similar Disney snacks but it's served warm and the inside is filled with gooey chocolate chips.
Of course, the top is glazed with a purple and pink icing in honor of the Cheshire Cat from Alice in Wonderland. It's also a pretty decent-sized snack and is enough to make for a good breakfast. We fell in love with the Cheshire Cat Tail years ago and haven't broken off the romance since.
23. Nutella Fruit Waffle – Sleepy Hollow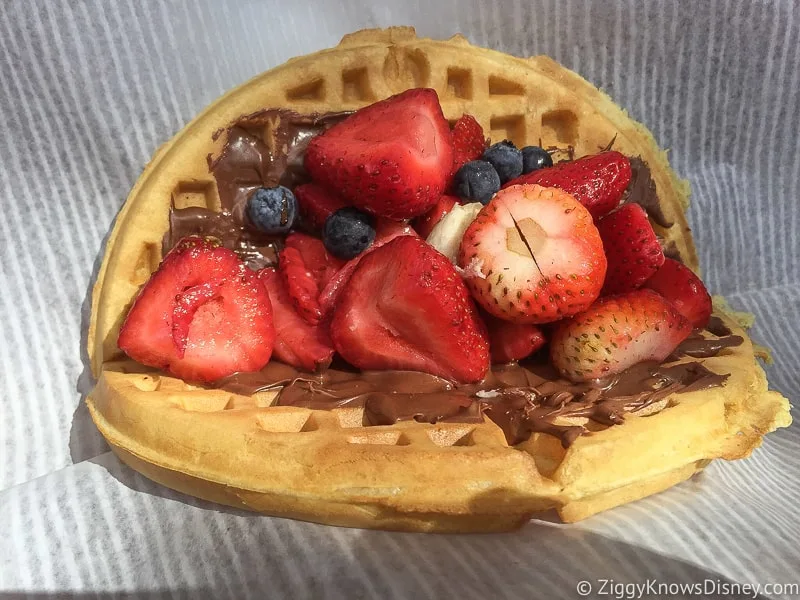 Sleepy Hollow Refreshments is famous for its waffle sandwiches, some of which are savory, but the one we keep coming back for is the Nutella Fruit Waffle.
Picture a warm waffle right off the skillet, then Nutella spread melting across it, and lastly, piled high with strawberries, blueberries, and bananas. Just try to tell me you won't add it to your best Magic Kingdom snacks list!
24. Baseball Brownie – Casey's Corner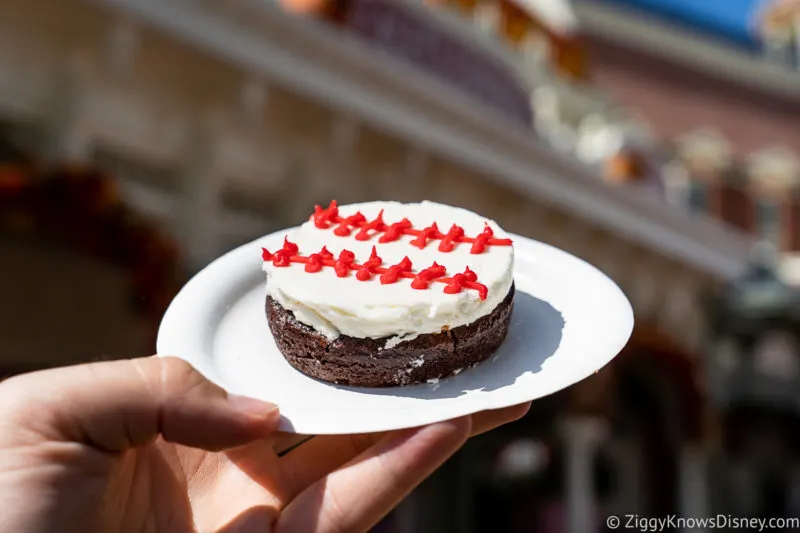 Casey's Corner is known for its early 20th century baseball theme, and this snack fits in perfectly. The baseball brownie is a round chocolate brownie, topped with a sweet marshmallow frosting in the shape of a baseball.
The brownie part is moist and has the right amount of chewiness and has a strong chocolate flavor. The frosting on top is our favorite part, but it's definitely sweet which is perfect after a chili-cheese dog.
The baseball brownie is nothing complicated, and you will find more elaborate and complicated desserts throughout the Magic Kingdom. However, it's that simple goodness that makes us keep coming back for more.
25. Pineapple Upside Down Cake – Aloha Isle Refreshments
Let's just be real here, Dole Whip is the best Magic Kingdom snack of all time, so how can you make it even better? How about throwing it on top of a super moist and sweet pineapple upside-down cake!
They complement each other so much and there is just the right quantity of each ingredient to make this dish a success. Being only a couple of bucks more expensive than a regular dole whip, this is a no-brainer!
This was off the menu for a few years, but we are so happy they decided to bring this classic snack back!
26. Fudge – Main Street Confectionery or Big Top Souvenirs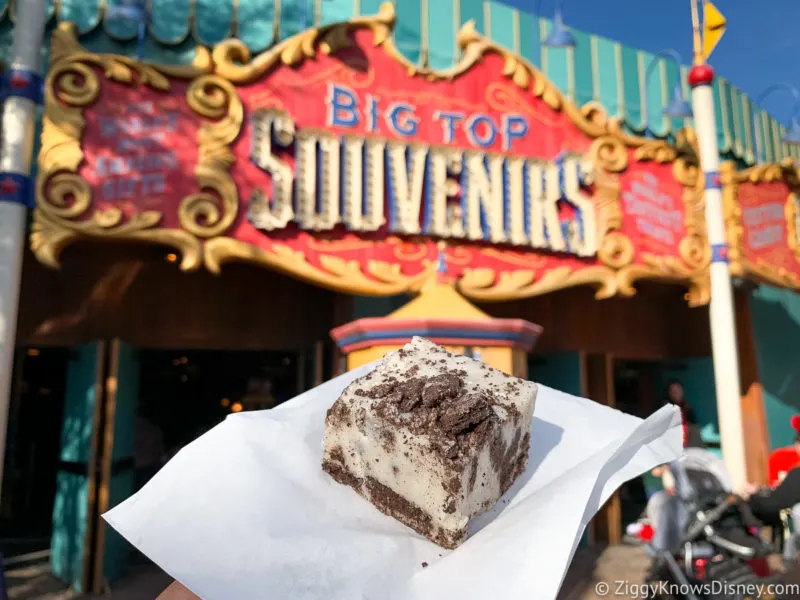 You can never go wrong with a piece of fudge, and it's something Disney has perfected over the years. There are so many incredible flavors to choose from, you will definitely find one for your tastes. Options for fudge include chocolate, espresso, maple nut, Oreo, Snickers, chocolate caramel, peanut butter, chocolate peanut butter, and many, many more.
Disney makes most of its fudge right there on-site and if you wait around long enough you will see them bringing out fresh trays to add to the rows and rows inside the display window. Of course, you need to have a sweet tooth for this and you are better off sharing since it's a very rich snack.
The best locations for fudge at the Magic Kingdom are the Main Street Confectionery and Big Top Souvenirs. Both usually have the same selection and seasonal varieties are included too.
27. Ice Cream Cookie Sandwich – Main Street Ice Cream Parlor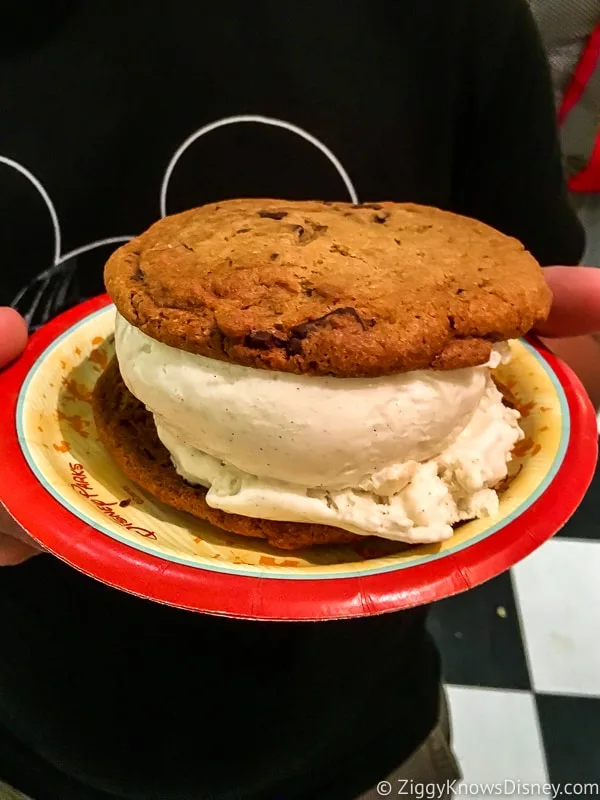 We're back at the Main Street Ice Cream Parlor again, and this time it's for one of the massive handmade ice cream sandwiches! You choose the flavor ice cream you want and the cookie and a must-have Magic Kingdom snack is born!
I've eaten this myself many times, and it's really filling so two people is probably a better option. This is a great option at the end of the night when you want something sweet and most other places in the park are closed. Go for it!!
28. Rapunzel Sundae – Storybook Treats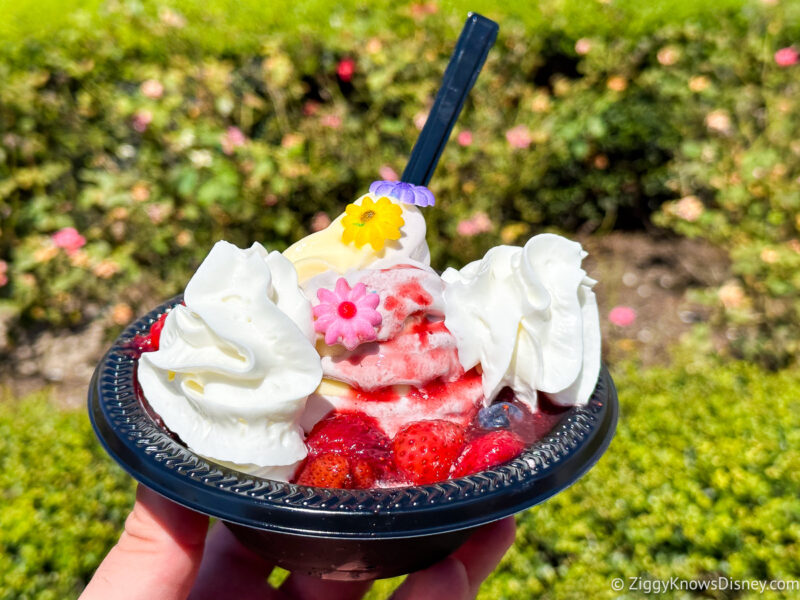 If you like any of the other ice cream snack we've mentioned so far, you'll love the Rapunzel Sundae. Shortcake topped with Dole Whip Lemon and Wild Berry Soft-serve and covered in a berry compote and sugar flowers!
Storybook treats is known for trendy snacks lately, but the Rapunzel Sundae isn't all look, it's also delicious! We go crazy for anything lemon or berry, so if you combine both of them together it's even better.
Honestly, we love everything about this treat as it's tangy and tart as lemon should be, but also sweet with all the berries on top. Did we also mention it's absolutely massive? It's a great value at under $8 and you could easily split it with another person if you are into that sort of thing!
29. Rice Krispie Treats – Main Street Confectionery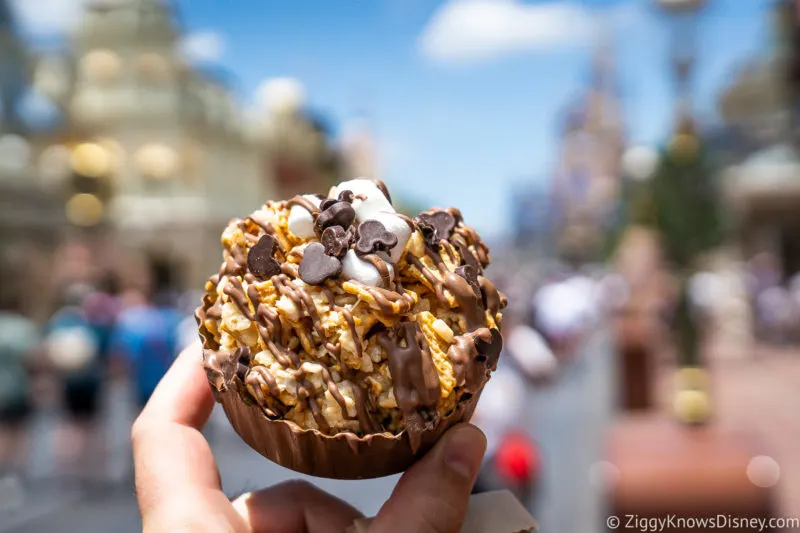 I don't think you can visit any of the Disney parks without first trying one of the famous Rice Krispie treats. You will find these in every conceivable shape and size known to man, on a stick, in a square, as a cake, or even shaped like your favorite Disney character.
The flavor combinations are endless and they get even wilder for the special events. The one in the photo is one of our recent favorites. It's a gourmet s'mores Krispie made with Cinnamon Toast Crunch pieces, mini marshmallows, and chocolate drizzle.
Even though they are available throughout the park, there is perhaps no better place to get one than from the Main Street Confectionery. There is something about going back into the early 20th century and then stepping onto Main Street U.S.A. with one of these in your hands!
30. Dole Whip – Adventureland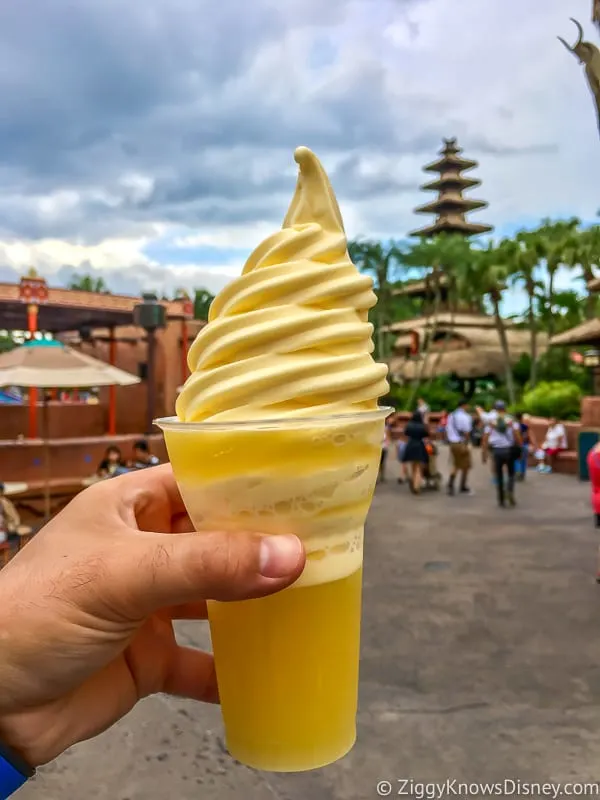 You knew it was all building towards this, the best sweet snack, and the best overall snack in the Magic Kingdom is hands down the original Dole Whip! You just can't beat this thing, and as many other amazing snacks are introduced, nothing is better than this Disney classic.
Some form of Dole Whip is sold across Disney World in every park, in Disney Springs, and even at some of the resorts, but in the end, and regular pineapple dole whip in a cup or float is the ultimate snack to me! Try to prove me wrong! 😉
Worst Snacks at Magic Kingdom and What to Avoid
So even though there are dozens of must-try snacks in the Magic Kingdom, there are also some mustn't try ones too. It's not that they are completely uneatable, but these 5 snacks are just way overrated and you absolutely shouldn't waste your time on them when there are so many more options out there.
31. Loaded Corn Dog Nuggets – Casey's Corner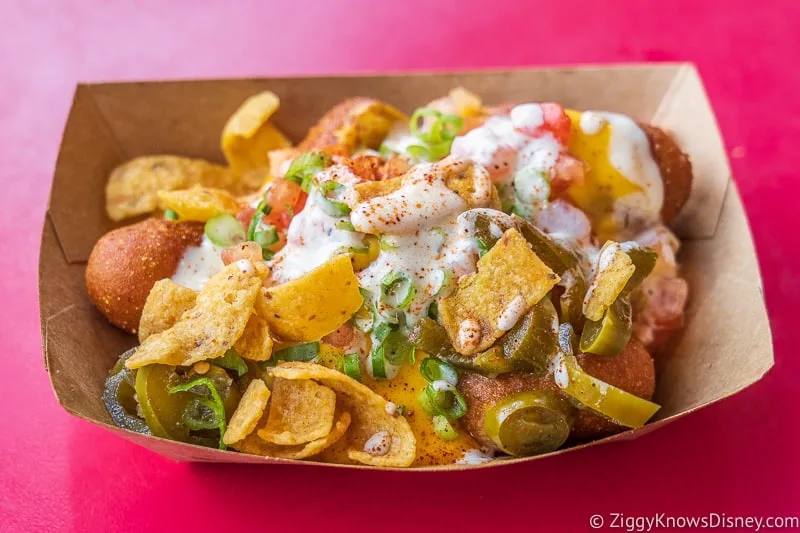 The regular corn dog nuggets are an all-time favorite of mine, but the loaded ones…not so much. And it's funny because you'd think that since they're topped with Cheese Sauce, Chile-Lime Seasoning, Sliced Jalapeños, Diced Tomatoes, Garlic Ranch, Corn Chips, and Green Onion, they would be spectacular. Try again.
Most of the things in there I love, but it's that garlic ranch that I just despise and makes them uneatable. I'll probably try them without the sauce one day and might love them, but served like this they are a solid pass for me and one of the worst Magic Kingdom snacks out there.
32. Warm Cinnamon Roll – Gaston's Tavern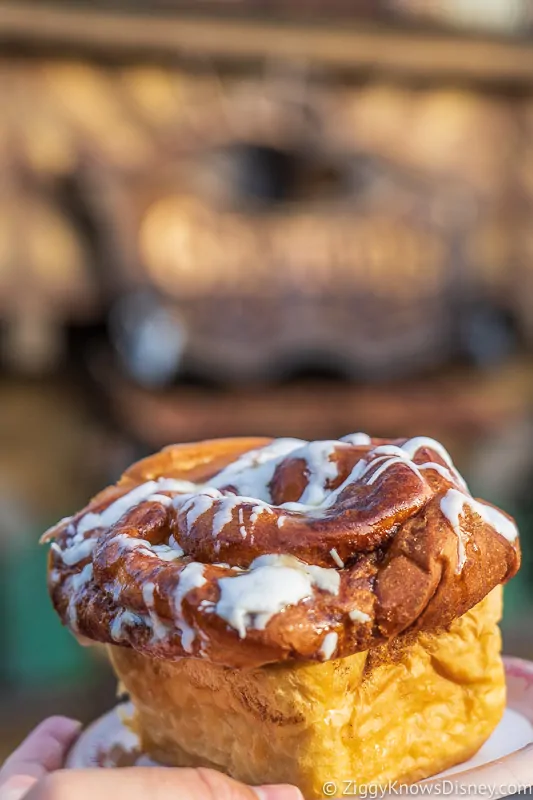 I love a good cinnamon roll as much as the next guy or gal, but this one is so overrated. They are super skimpy with the topping and the whole thing just feels dry and without much flavor.
If you want a real cinnamon roll in Disney World then try the Mickey Cinnamon roll in Disney's Animal Kingdom which is much better.
33. LeFou's Brew – Gaston's Tavern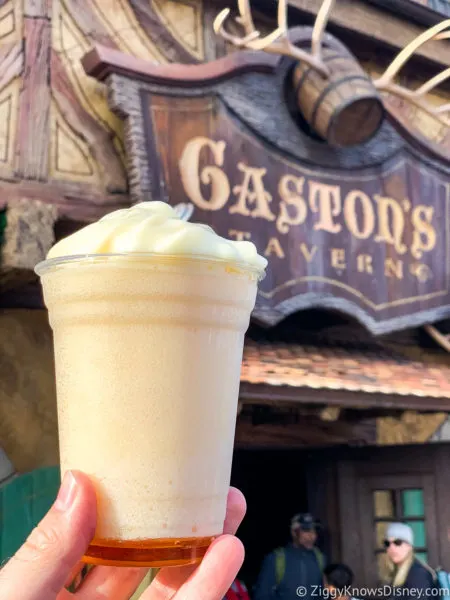 Ok, we know it looks like we are picking on Gaston's Tavern here, but we just think the entire menu is totally overrated. Don't get me wrong, LeFou's Brew CAN be good. The non-alcoholic icy cocktail blends together frozen apple juice and marshmallow flavor with mango foam. Sounds pretty good right?
The only problem is the drink is very inconsistent and it can depend on who is pouring it. More often than not we find they put way too much foam in it and you end up with something like what you see in the above picture. It's not a bad drink, just very overrated and not worth getting.
34. Churro Ice Cream Sandwich – Sleepy Hollow Refreshments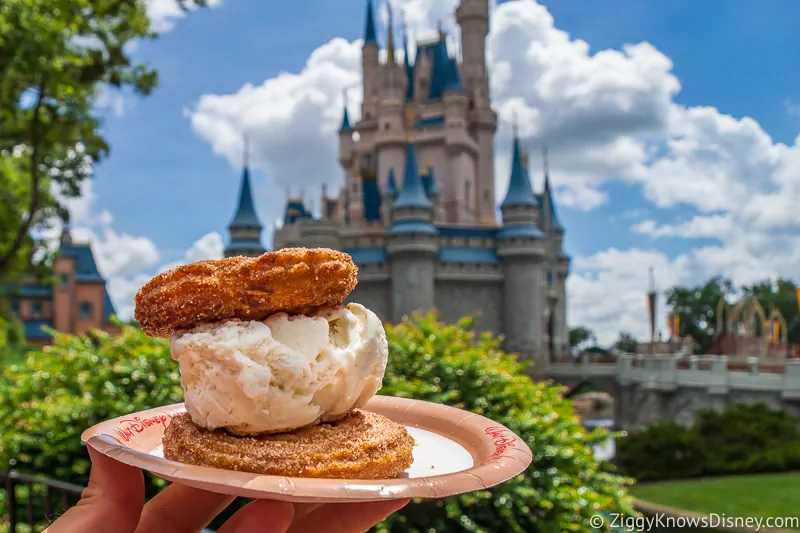 Who doesn't love a Disney Churro? I should rephrase that…a Disneyland churro, which is an amazing snack. The Disney World churros just don't live up to the hype and as much as I thought I would really love the churro ice cream sandwich, I found it super doughy and almost impossible to eat.
Though it may look awesome in pictures, you'll be regretting it when you realize it doesn't taste anywhere near as good as you thought it would.
That's the end of my list of the 34 best snacks at Magic Kingdom. I hope I gave you a lot to put down on your list for your next trip to the Magic Kingdom, and I really hope you weren't hungry when you were reading this post!
Please leave me a comment down below and let me know what your favorite Magic Kingdom snacks are and what you think I left off the list!
For more great Disney food be sure to check out our other snack posts like:
Your Thoughts:
I want to know what you think about my list of the Best Snacks at Magic Kingdom park…
Which snack is your favorite?
Which ones don't you like?
Let us know in the comments section below!
If you enjoyed this article, as always I appreciate it if you'd share it with others via social media. I work hard at making this website into a useful resource for you and your family to plan your visit to the Disney Parks and I hope it can help you! Thanks 🙂
Check out our Best Magic Kingdom Snacks Story here!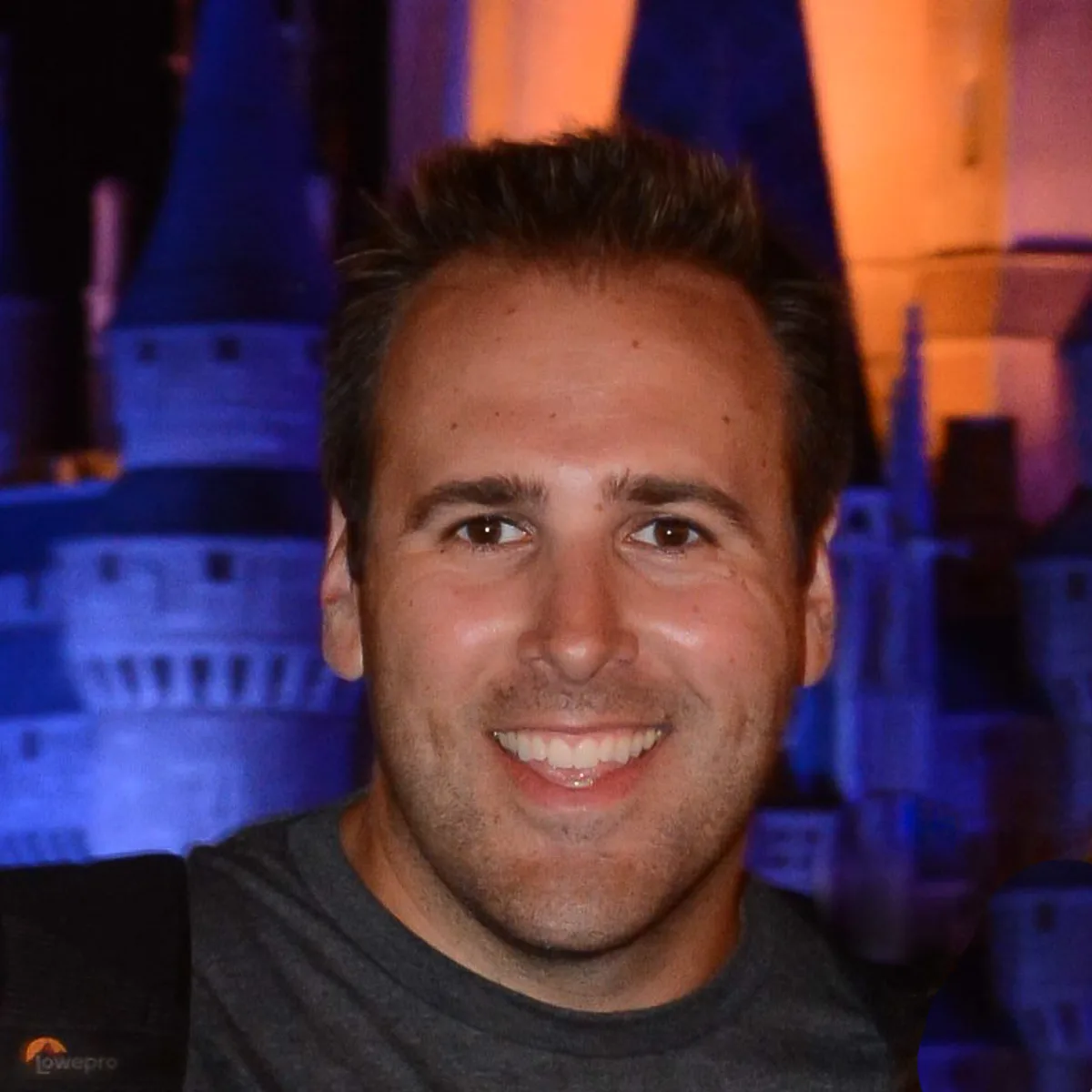 My name is Ziggy and I love Disney, everything Disney! I grew up on Disney and it has and continues to be a huge part of my life. I started young when my parents took me to Disney World when I was 18 months old. Little did they know that would be the first of an uncountable number of trips we would take. I have so many amazing memories going to Disney with my family and friends and it has been interwoven into my DNA.