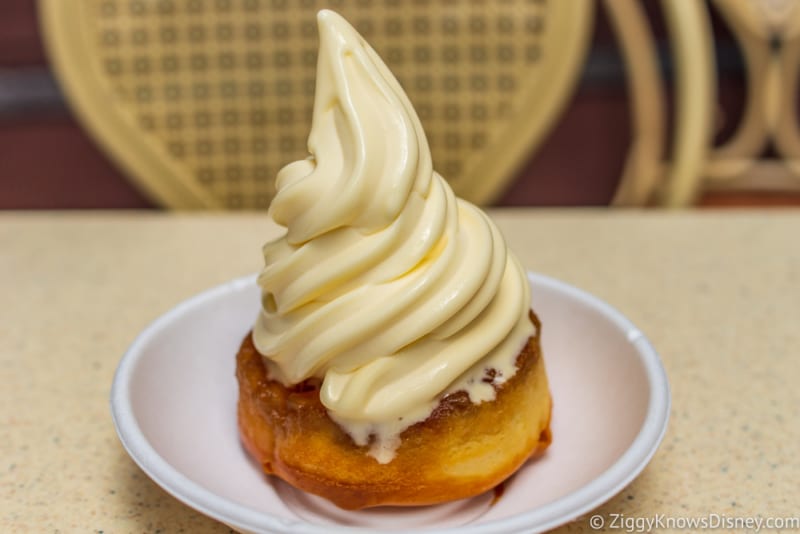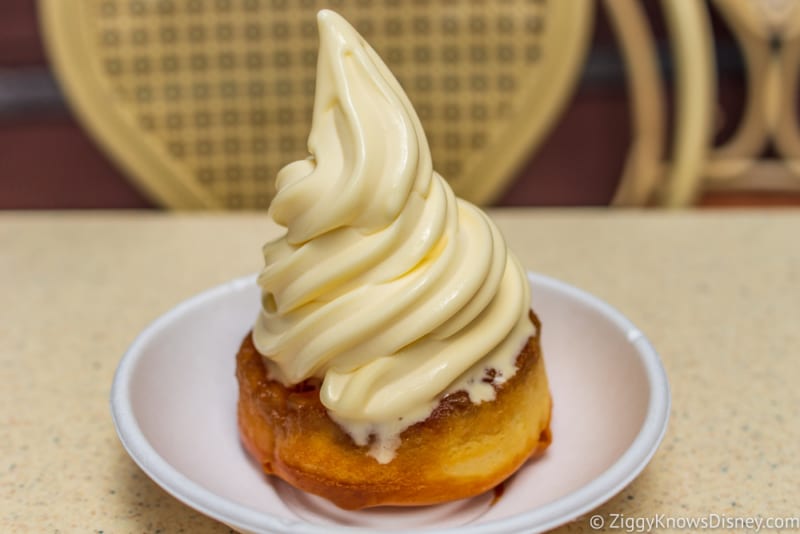 Let's just be straight, Dole Whip is probably my all-time favorite Walt Disney World snack. I love the regular Dole Whip, the Dole Whip float, basically in any form you can give it to me. So when I heard about the new Pineapple Upside Down Cake now in the Magic Kingdom, I had to do a review of it! So we headed over to Aloha Isle Refreshments in Adventureland to see what all the fuss is about!
The line wasn't too bad so now was our moment!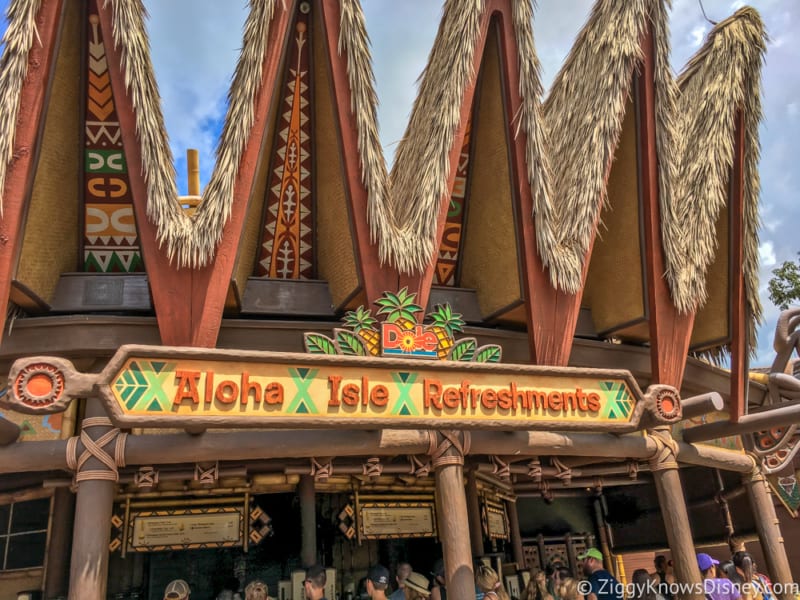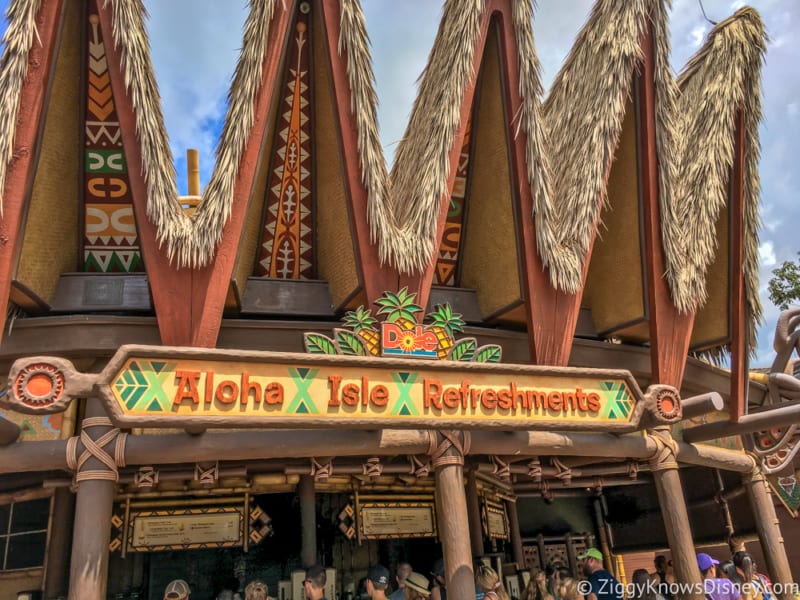 Looking at the Aloha Isle Refreshments menu you can see all of the options, all of which are delicious!! And there you see the Pineapple Upside Down Cake served with Pineapple Dole Whip: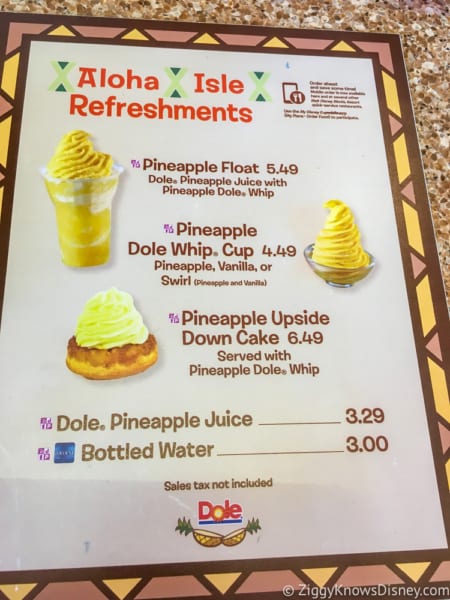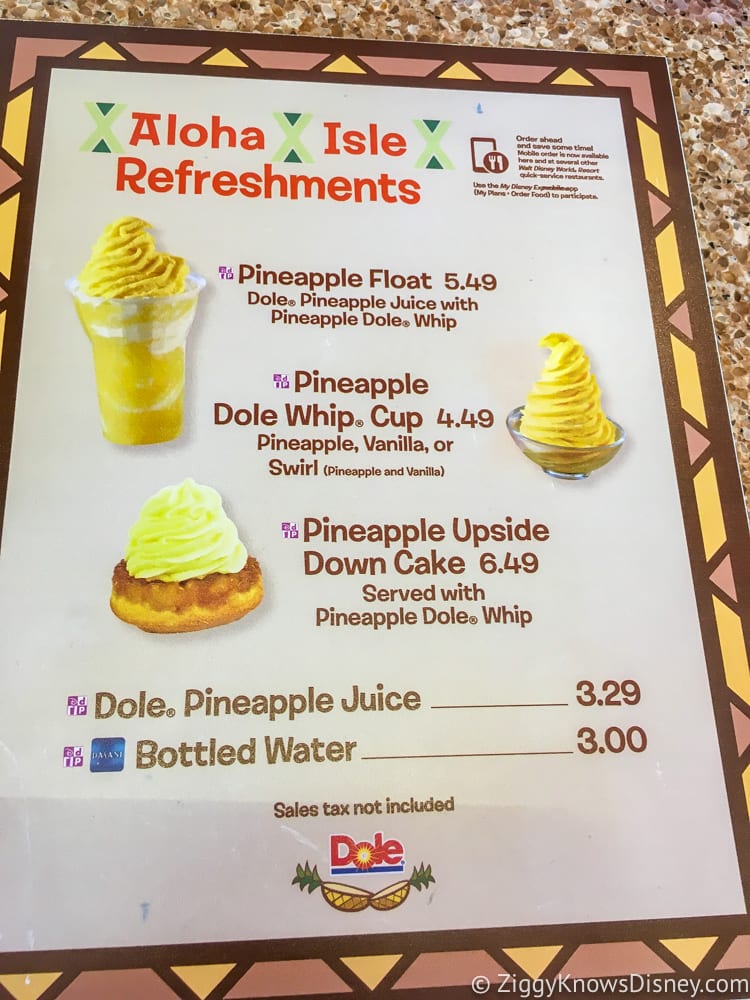 Now because the Dole Whip is so close to my heart, I'm not sure exactly how I feel about it going on top of a cake. That's part of its appeal is that it's so cool and refreshing and I'm wondering if the cake will detract from the normal flavor of the Dole Whip.
We got our Pineapple Upside Down Cake and headed over to a table for a closer look…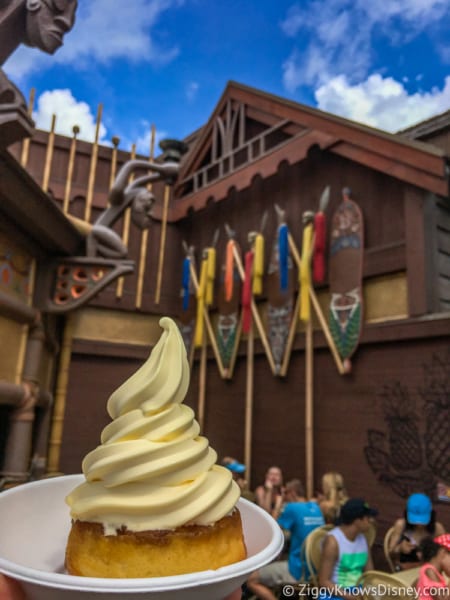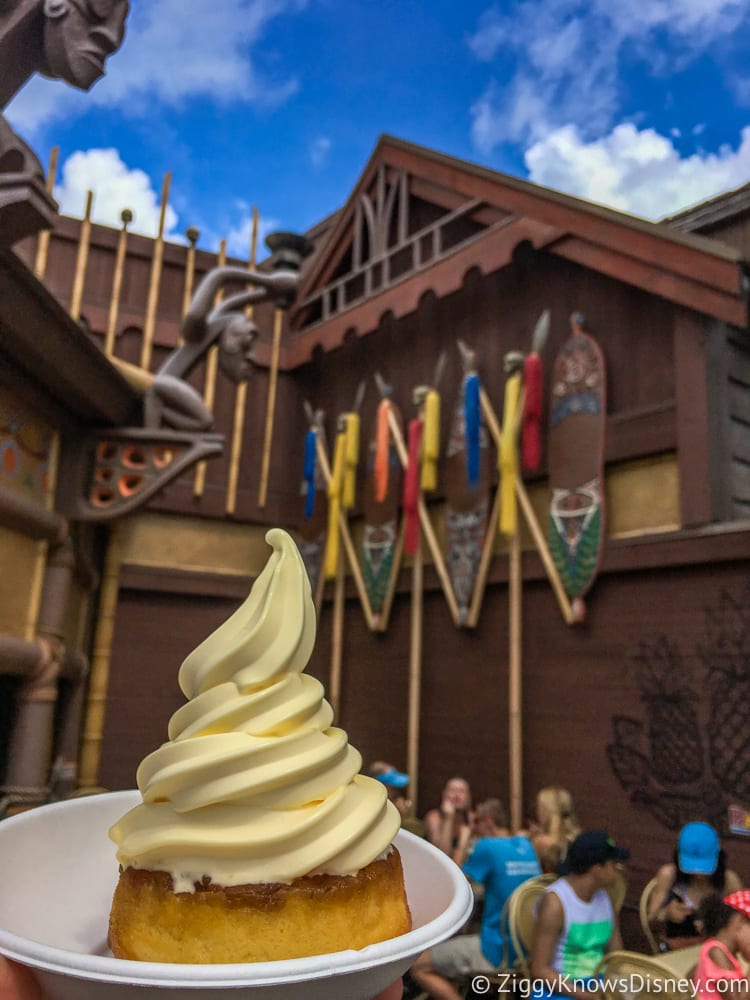 It is glorious!!! Any hesitation I had about the Pineapple Upside Down Cake were thrown out the door when I had my first bite!
So first off the portion was pretty big. I'd say it was almost a full Dole Whip portion of ice cream, plus the cake underneath. Being only a couple bucks more than the regular Dole Whip that makes it a pretty good deal for quantity imo. It's also served in a bowl which is good because it's about to get really messy in here!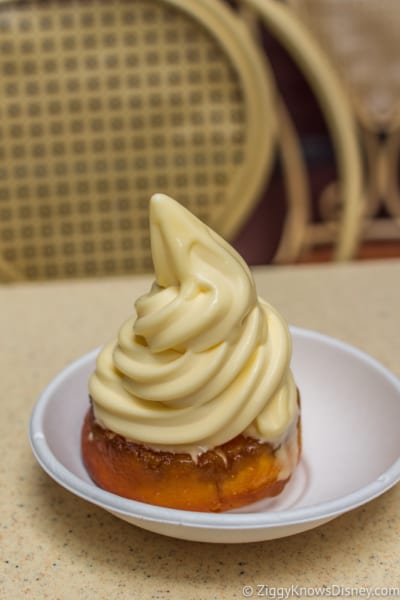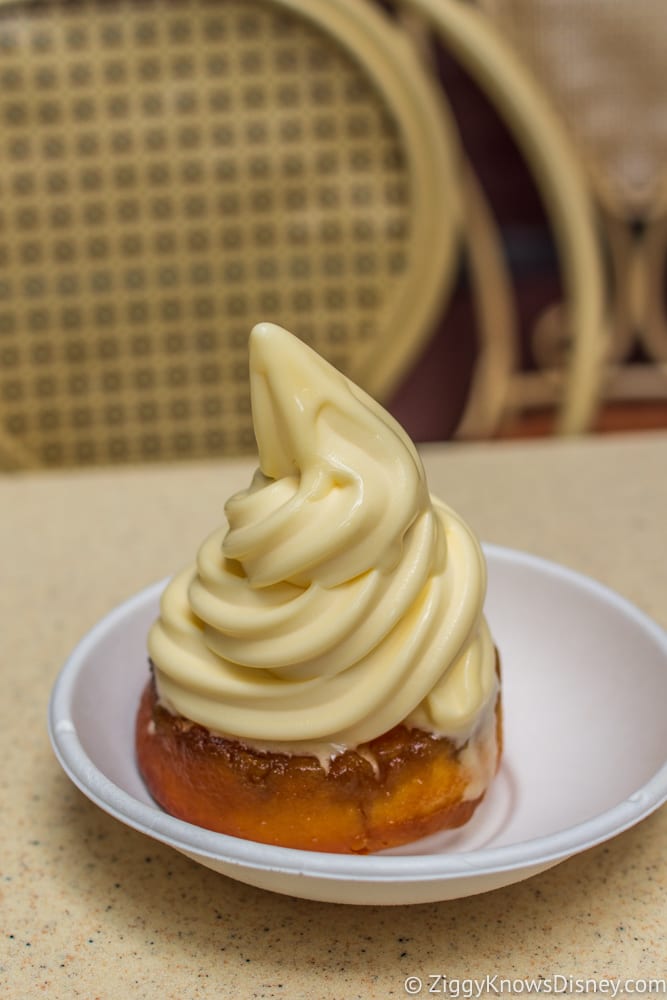 The Dole Whip is served on top of a very dense and moist pineapple flavored cake. If you've ever had Pineapple Upside Down Cake then the cake part is probably very similar to past experiences, but this one also had little pieces of candied fruit mixed throughout which I liked.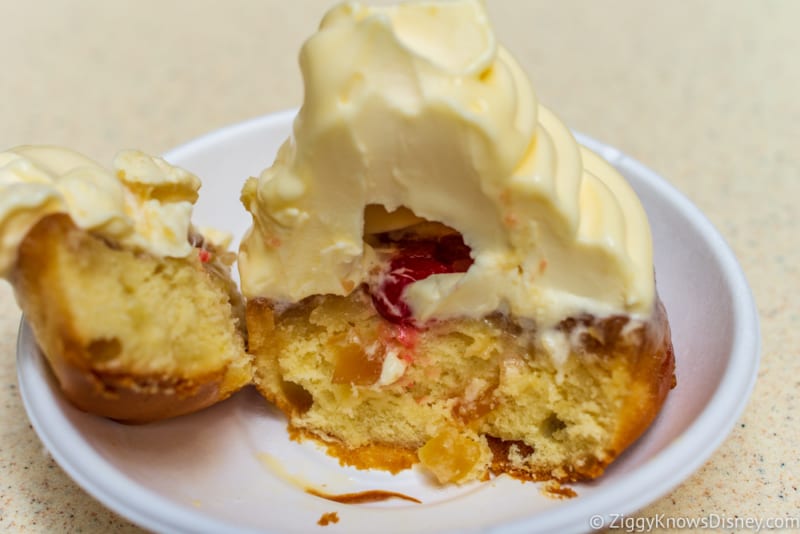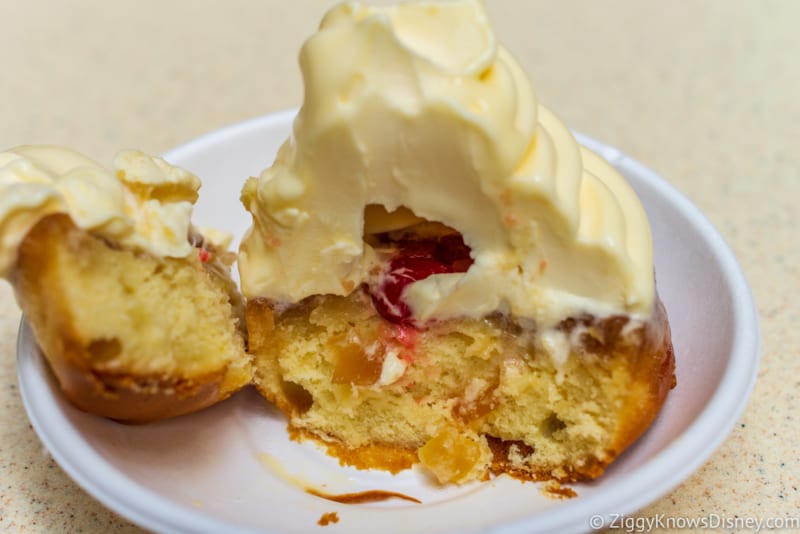 So again the fact that I was mixing my Dole Whip with cake was the part I was most worried about. I really thought the cake would be really dry and detract from the Dole Whip, but it actually turned out I was wrong. I really loved the combo of the ice cream and cake and thought they blended well. There was just enough Dole Whip with each bite.
Also on top of the cake and under the Dole Whip there was a nice layer of minced and glazed pineapple with a candied cherry. This whole part was awesome. In fact I'm not a cake guy at all but I would have eaten this without the Dole Whip it was so good!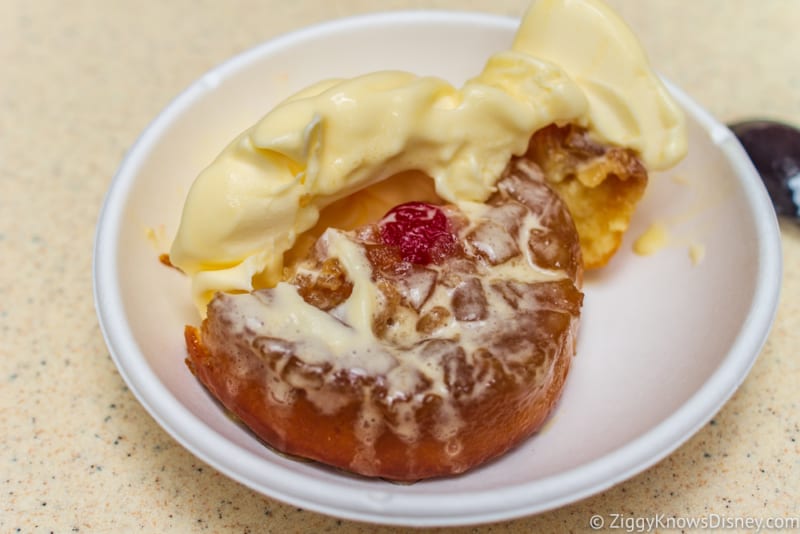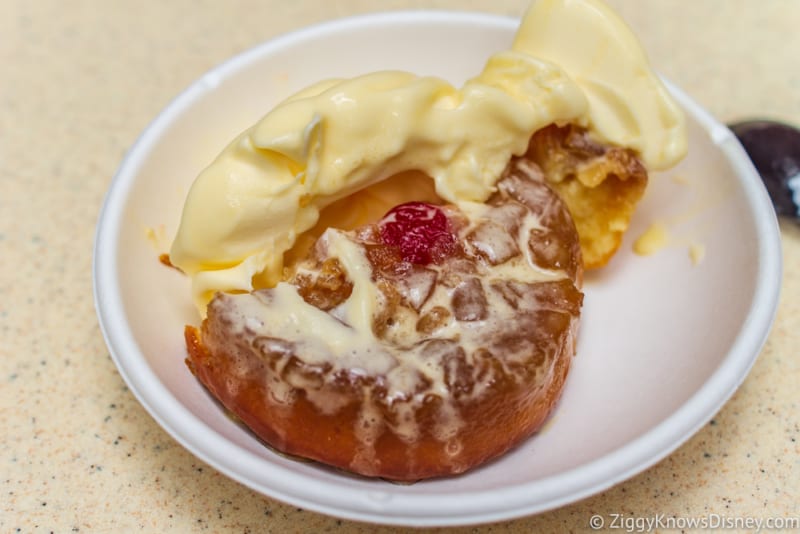 Overall I really LOVED the Pineapple Upside Down Cake and it's probably my favorite new snack that's shown up in the Magic Kingdom in the last months. The whole thing just works and eating it in Adventureland just made it all the better. It was sweet and refreshing and definitely a good value for the money. It's a snack you want when you are in the mood for something a little more filling than just a Dole Whip. I would get this again in a heartbeat and highly suggest you to do the same if you are at all a pineapple fan!
I hope you enjoyed this review of the Pineapple Upside Down Cake from Aloha Refreshments. Please check out our other food reviews on our Walt Disney World Dining Reviews page for a full look at some of our favorite restaurants!
Your Thoughts:
I want to know what you think about the Pineapple Upside Down Cake.
Have you tried it yet?
What are your thoughts on it?
Let us know in the comments section below!
If you enjoyed this article, as always I appreciate it if you'd share it with others via social media. I work hard at making this website into a useful resource for you and your family to plan your visit to the Disney Parks and I hope it can help you! Thanks 🙂