Tell me right now you don't love meat on a stick… I mean really, that's about as good as it gets, and 2 new snacks have recently made its way into Disney's Magic Kingdom that's right in our wheelhouse: Candied Bacon and Chicken Skewers. Yeah just let that sink in a minute! You don't have to tell me twice to get down there and check it out, so here is my review of both the Candied Bacon and Chicken Skewers at the Liberty Square Market in Liberty Square.
The Magic Kingdom has really been improving its snack game recently, and we're always happy to see new entries come into the mix. But will it be a Must-Try Magic Kingdom snack? Let's find out…
The Liberty Square Market is all decorated for Fall, and though it's 95 degrees out there, you can almost feel the brisk cool air: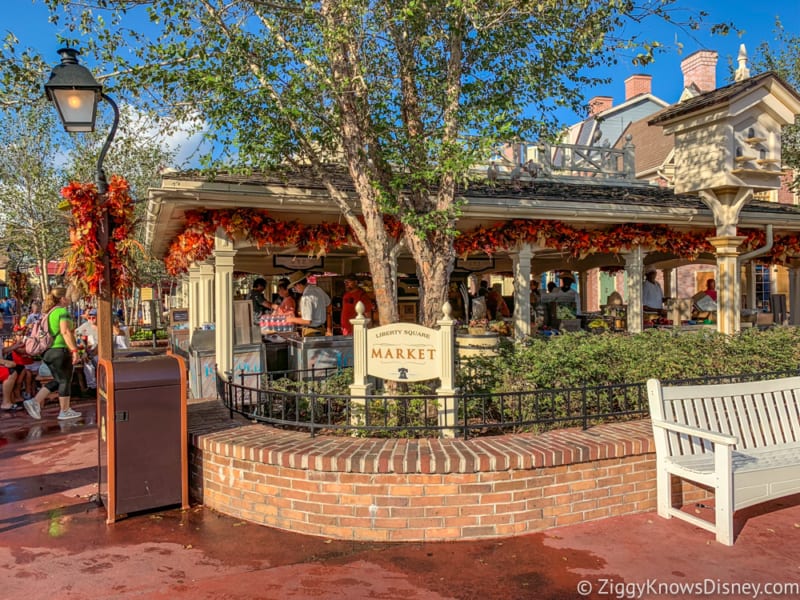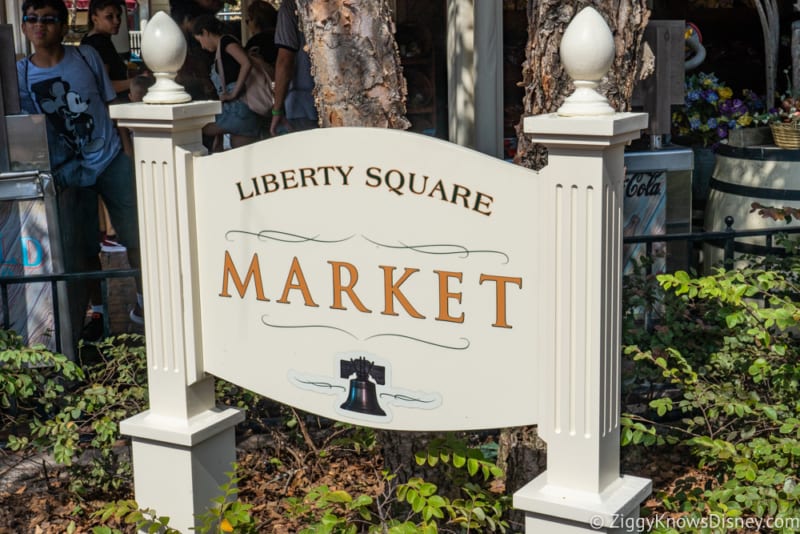 The Liberty Square Market is a go-to food location for us when visiting the Magic Kingdom. They have soda, and snacks, but with the new additions of the skewers, we're going to be stopping by even more now: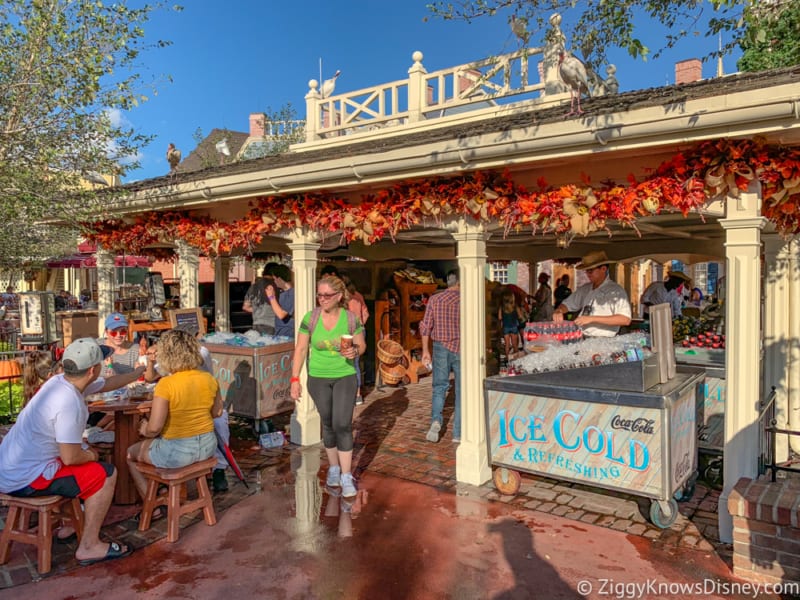 There is a great seating area around back that you can use to take a load off and eat something. It's also convenient to bring food here from the Columbia Harbour House.
At this point the sweet and savory aroma of grilled meat out back on the grill is hitting our every sense and our nose leads us to the right place…
Right away as you approach the entrance to the Liberty Square Market, the sign hits you right in the eyes.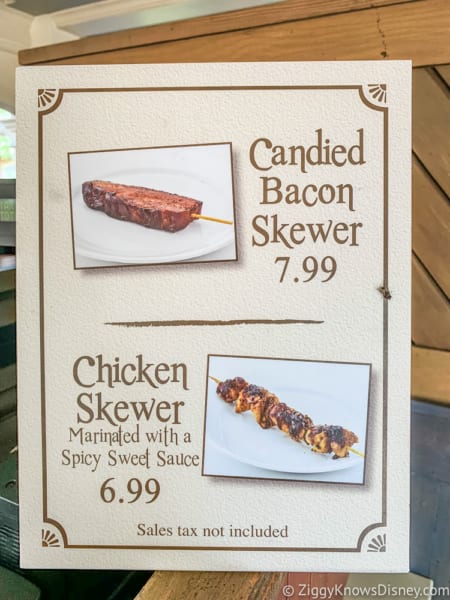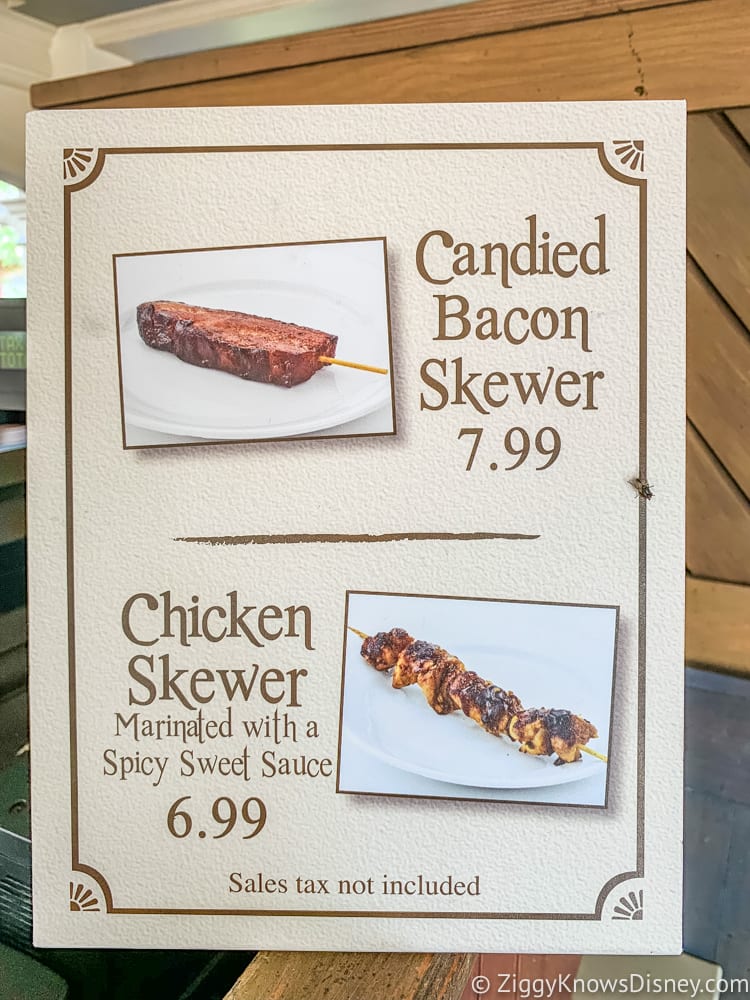 $7.99 and $6.99 are no joke, but these days with the new price increases to snacks around Walt Disney World you're already paying almost $6.00 for a Churro. When you look at it that way it's not so bad. In the end though if the skewers are delicious it won't matter.
We place our order, one of each and head outside where we immediately hear the sound of what sounds like angels singing…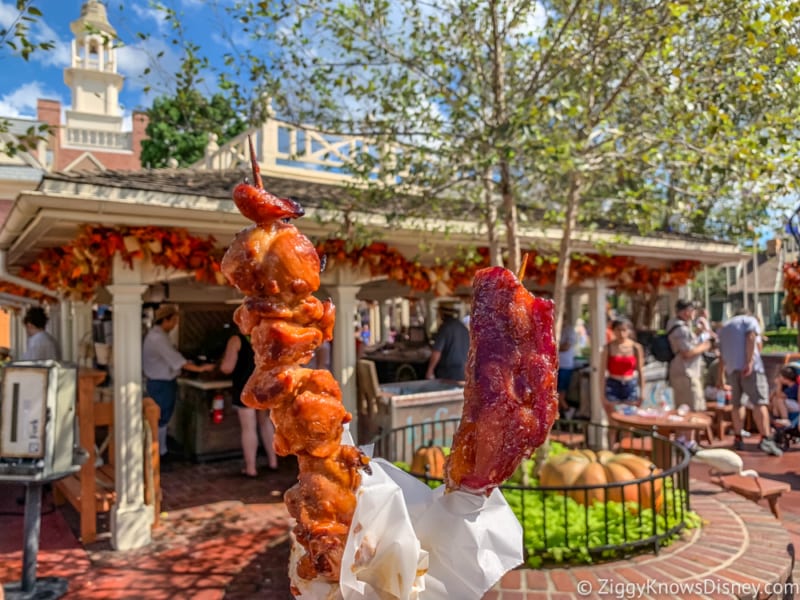 These babies are gorgeous and my mouth is watering just holding them in my hand. At first glance the chicken skewer is significantly bigger than the candied bacon skewer, which is surprising as the photos I've seen of it made it look bigger. Maybe they just gave me a smaller one than usual.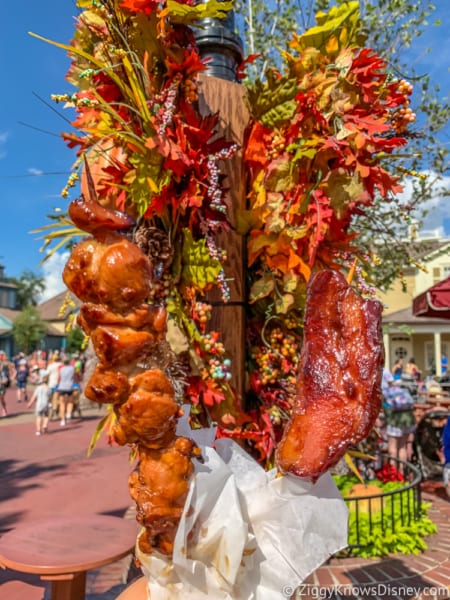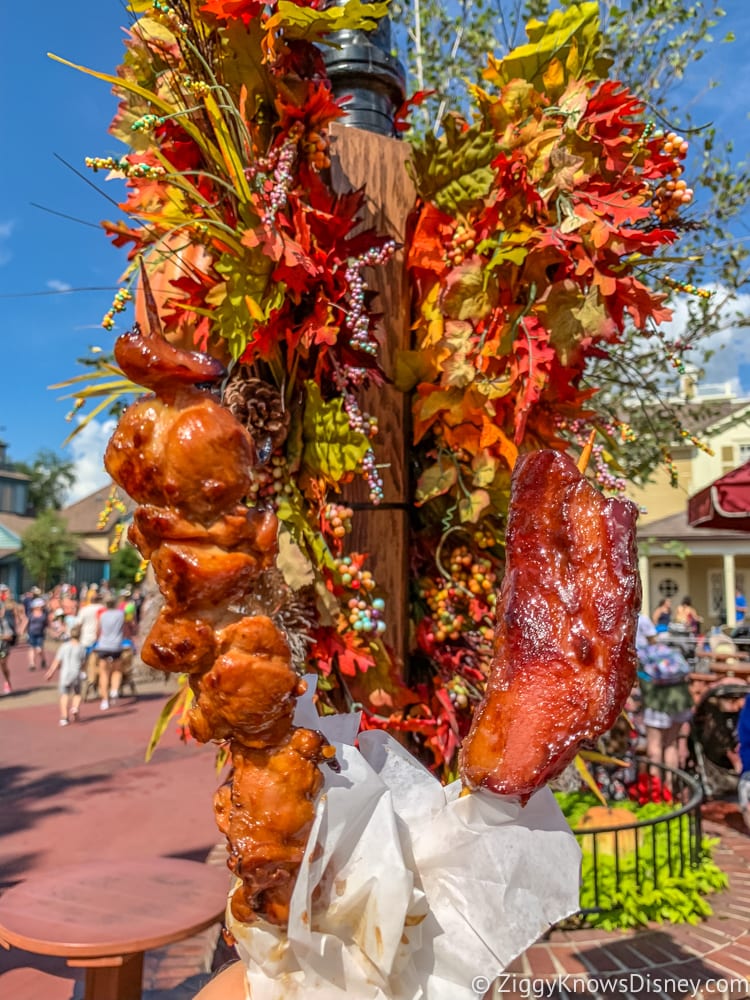 So we can't decide to dig into the Chicken Skewer or the Candied Bacon Skewer first, but we're going to take a quick bite of each and then save the best for last! You'll notice a heavy glaze on both skewers, and from first look they seem to be dripping with flavor. They don't look dry at all and it's a good thing they give you paper because the juice from skewers are running down my hand!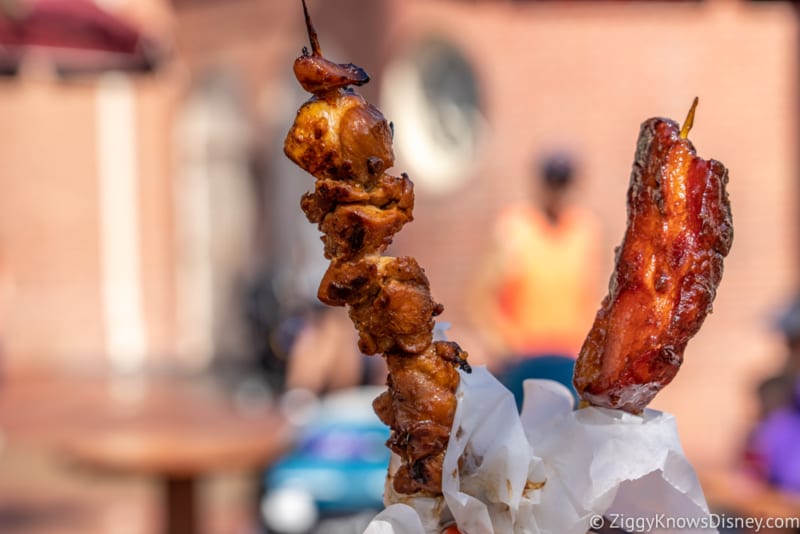 Here we go!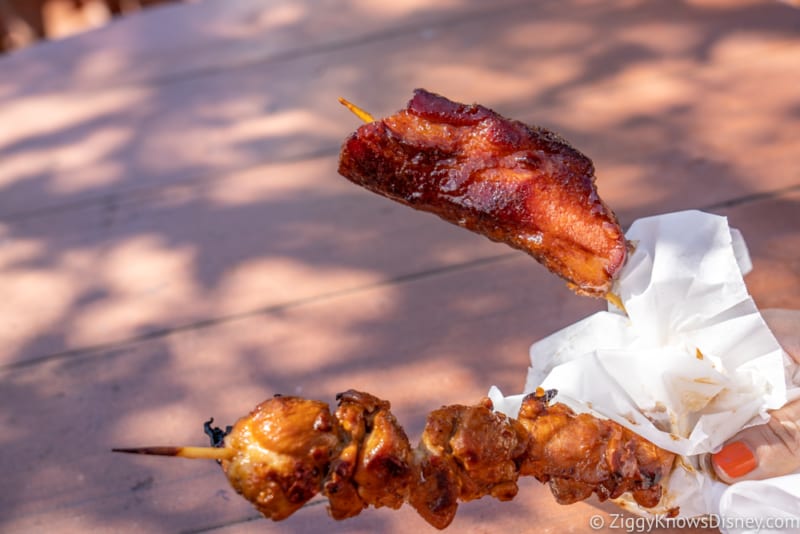 So we first tried the Chicken Skewer and let me tell you, it was 10x better than I was imagining from the beginning. I mean it's not really fair because bacon always wins the popularity contest, but this chicken skewer was unbelievably good! As was noted from the juices, the chicken was so moist and anything but dry. It is packed with flavor as it's marinated in a sweet and sour sauce.
That's not usually my go-to combo for flavor, but this was on another level. It's also a really good size and makes an incredible snack.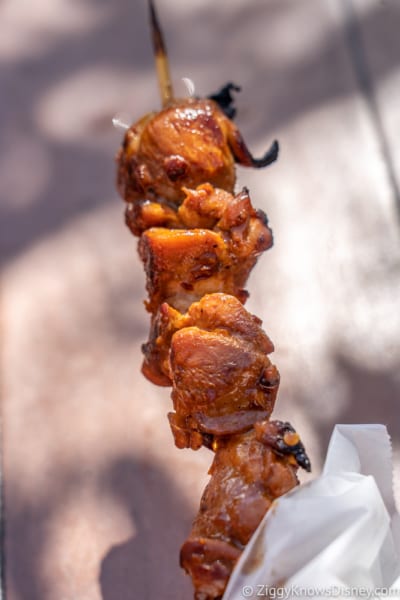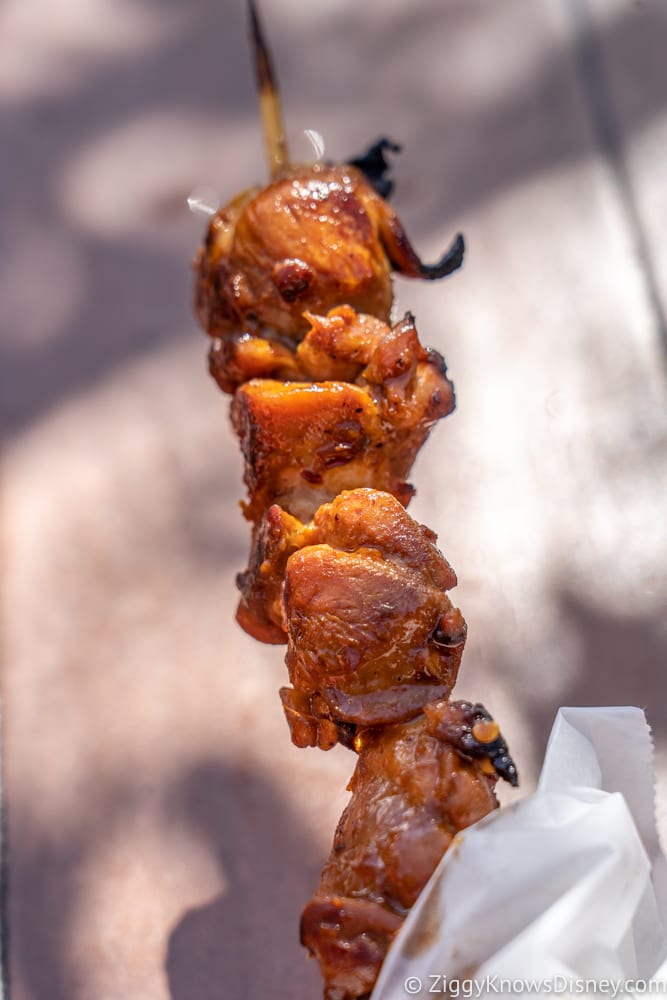 Onto the Candied Bacon Skewer…
I felt kind of cheated at first from the size, and the more I look at the photo now, the more it seems like it actually was longer but maybe a piece of it fell off there from the top. Oh well…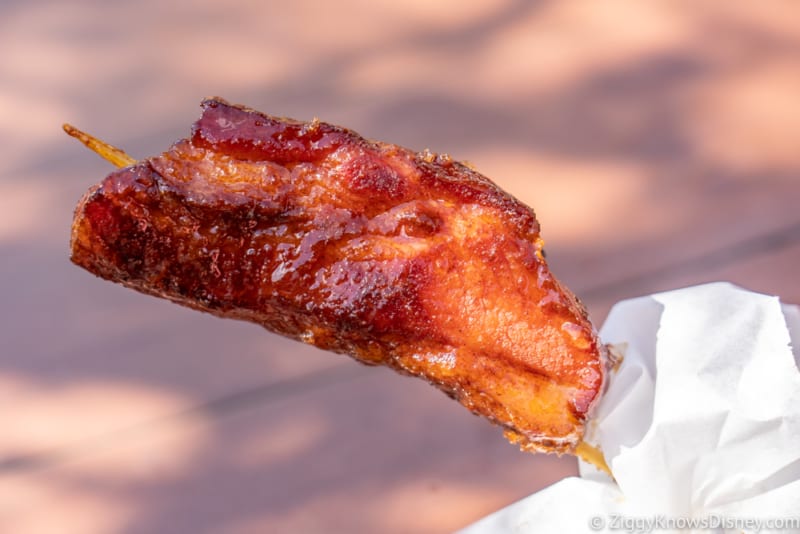 So how was the taste?
Let's just say that after one bite I forgot all about that $7.99 price tag as it just might be the best thing I've eaten in Walt Disney World all year long. I'm not kidding, it rivals anything we tried at the Epcot Food and Wine Festival, and we tried it all there!
Bacon is a bit misleading as a term, because it's much thicker than bacon is. It's more like a big hunk of pork belly. Like the chicken skewer, the candied bacon skewer was so tender and juicy. I didn't need a knife at all because it literally fell apart in my mouth.
It had a sweet glaze that completely covered the bacon and gave it an incredible flavor that I can't stop dreaming about!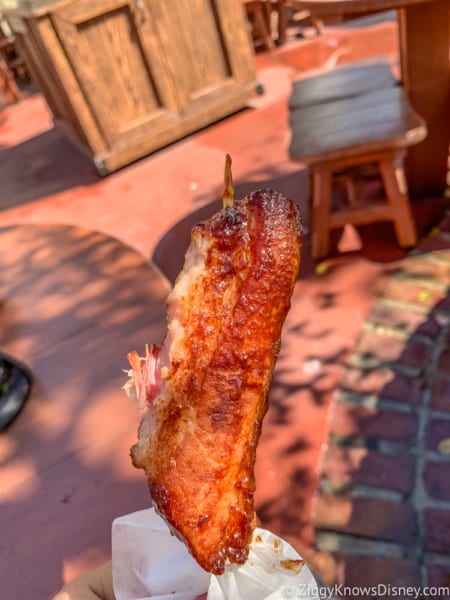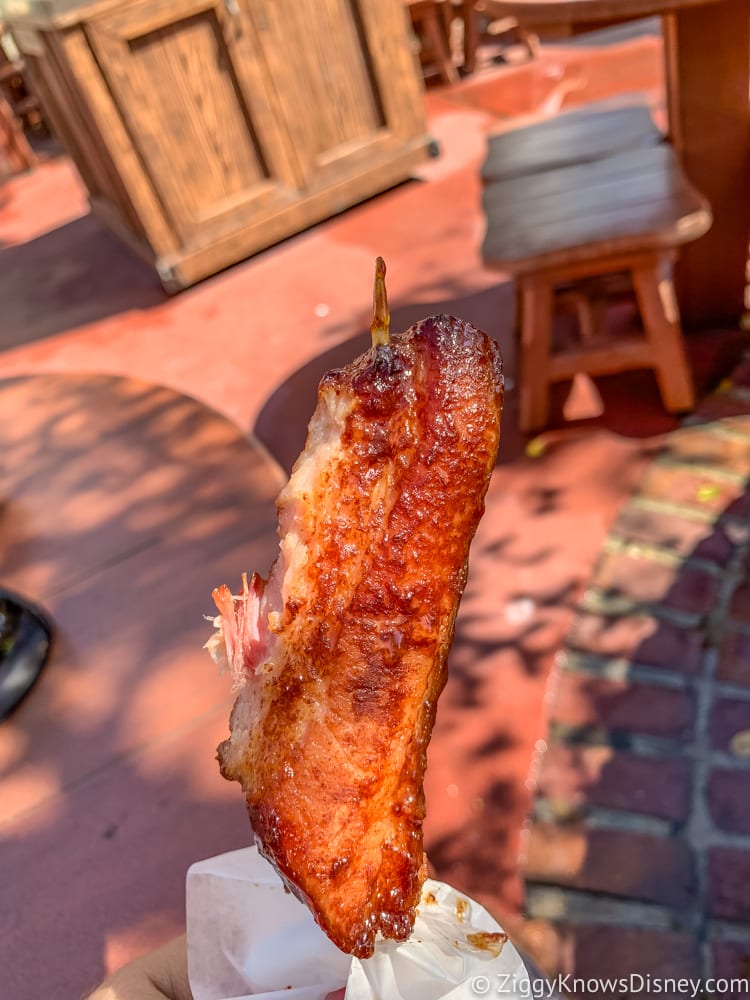 Which one was better? The Chicken Skewer or the Candied Bacon Skewer?
That's a really unfair question, like asking a parent to choose between two children. If I'm forced I'll say the Candied Bacon Skewer, even despite it's smaller size but really by a fraction. We're splitting hairs here because they were both outstanding choices the you absolutely HAVE to try!
I'm glad to see the Magic Kingdom picking up the selection of snacks and I hope the Chicken and Candied Bacon Skewers stick around for a while, or at the very least become a seasonal thing.
One thing is sure, don't risk it and get over to the Liberty Square Market IMMEDIATELY to try both of them!
Your Thoughts:
I want to know what you think about the Candied Bacon and Chicken Skewers from Liberty Square Market…
Which one do you like more?
What other snack ideas would you like to see come to the Magic Kingdom?
Let us know in the comments section below!
If you enjoyed this article, as always I appreciate it if you'd share it with others via social media. I work hard at making this website into a useful resource for you and your family to plan your visit to the Disney Parks and I hope it can help you! Thanks 🙂
Need Help Planning Your Disney Vacation? Show You the World Travel is Here to Help!
Just fill out the form below and someone will contact you for all your Disney Vacation Planning Needs….