In this latest Star Wars Galaxy's Edge Construction Update for May 2018, we're going to take a look at all the progress made around this exciting new land coming to Disney's Hollywood Studios. There has been a lot of work done to Galaxy's Edge since our last update where we saw new roofing arrive for the Battle Escape attraction building.
We also learned that during the panel for the Star Wars Galactic Nights event in Hollywood Studios, Disney Imagineers are going to be revealing new details about Galaxy's Edge and show how some of the project has been developed so far. It's going to be a very exciting night!
Thanks once again to @bioreconstruct over on Twitter who takes fantastic shots from high above, giving us a bird's-eye view of the various construction projects going on around Walt Disney World. Let's see what's new in Star Wars Galaxy's Edge!
So just to give you an idea of how far we've come in the last two years, this is a shot of Star Wars Galaxy's Edge in August 2016 as the demolition of the Studios Backlot was taking place: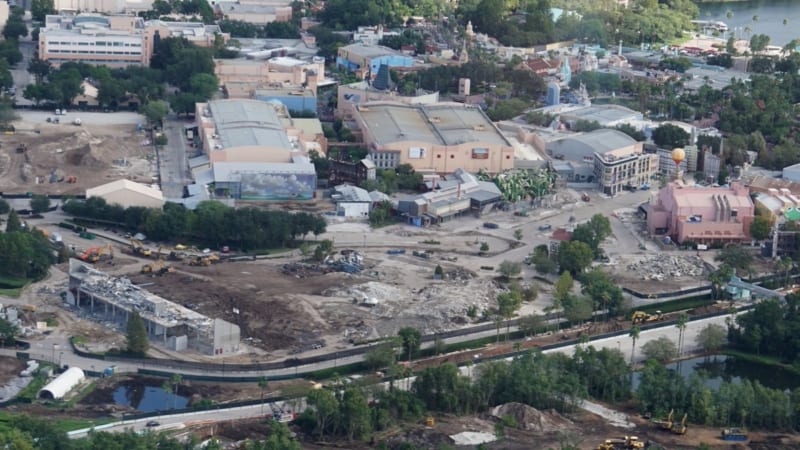 You can see most of the Streets of New York and Lights, Motors, Action! Stunt Show were down and the land was getting totally leveled. You can even see the future area for Toy Story Land being prepared in the top left corner.
Fast forward and we see an aerial shot of Star Wars Galaxy's Edge Now. What a difference less than two years makes: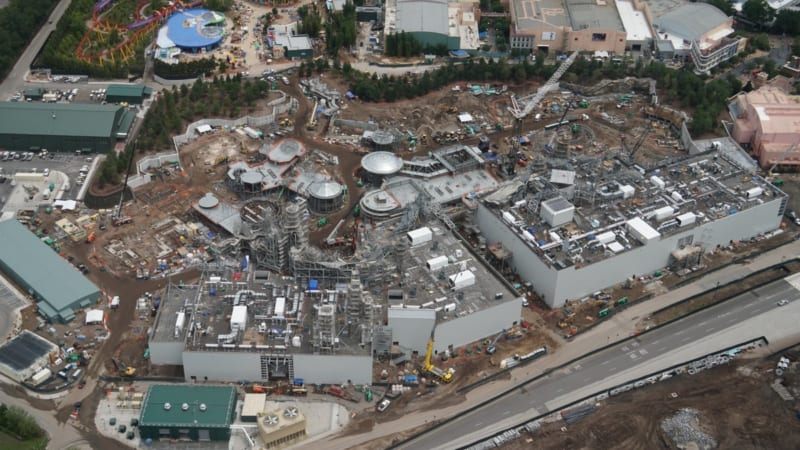 you can see the Hollywood Studios parking lot expansion on the top right which will allow space for all the Galaxy's Edge guests: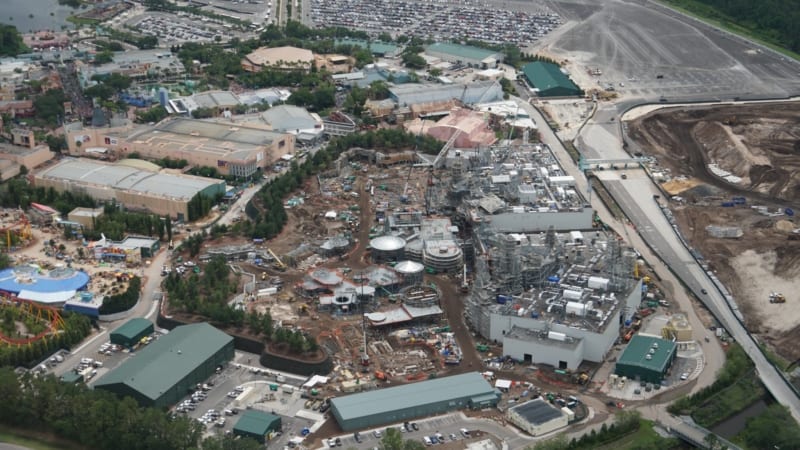 Here's a beautiful view of the Entrance Tunnel leading into Galaxy's Edge. The rockwork lining the berm looks absolutely stunning from this view: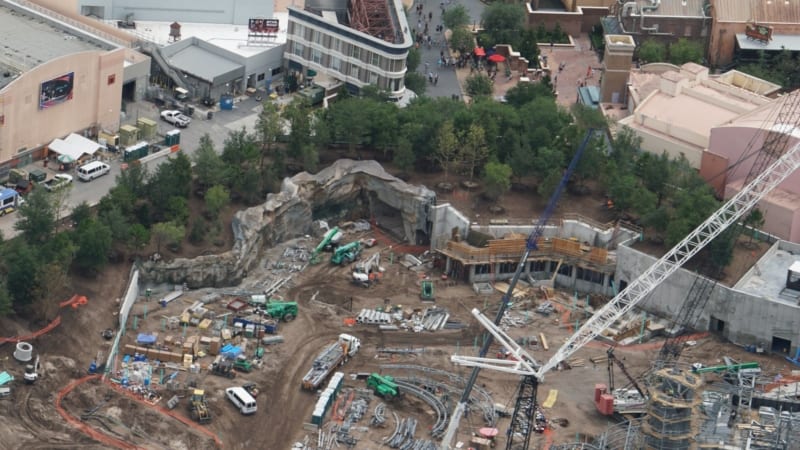 Here are some photos of the latest buildings being constructed in Galaxy's Edge. This is where the complex of restaurants and shops will be that make up the marketplace: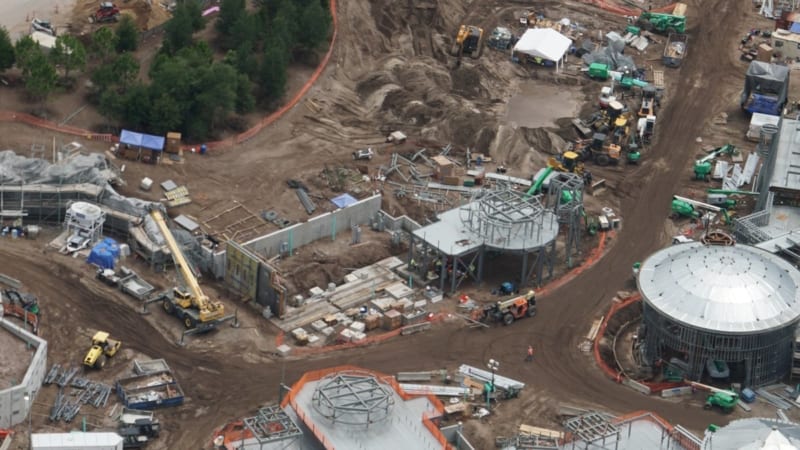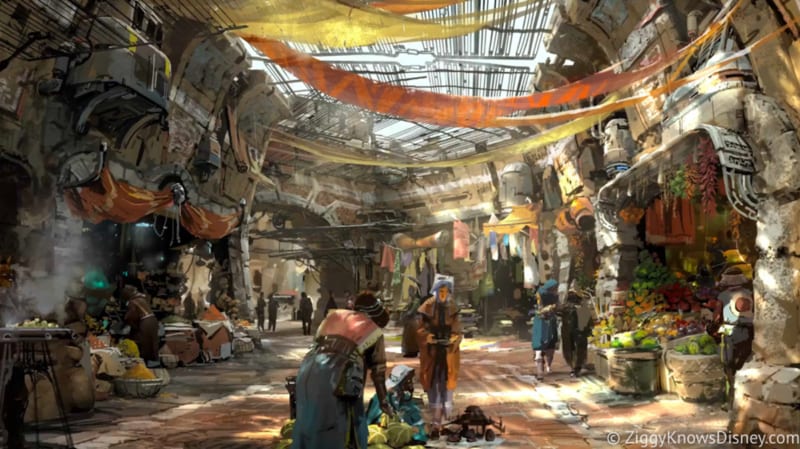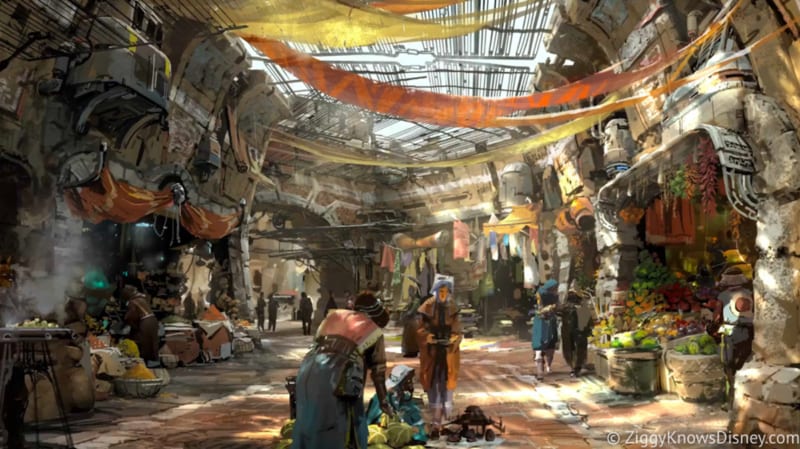 This is the Table Service restaurant which is one of the last buildings being built. It's going to have some sort of entertainment experience inside too, probably music and a live show: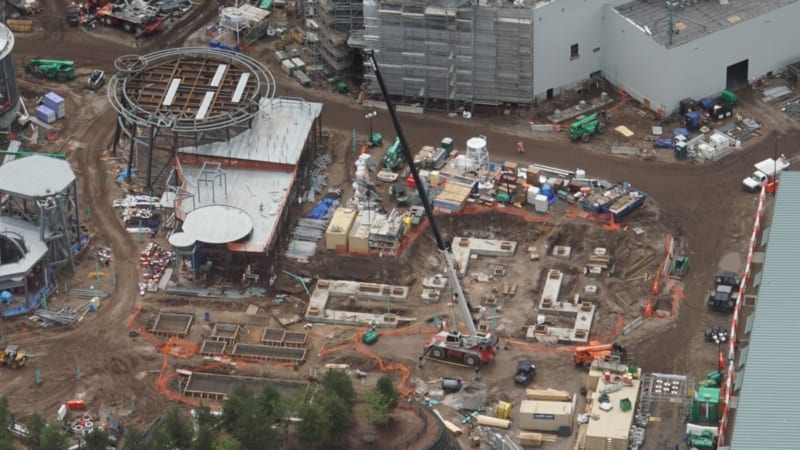 You can see all the work being done and we have a nice view of the Millennium Falcon (right) and Rise of the Resistance (left) attractions, as well as the marketplace in front of them: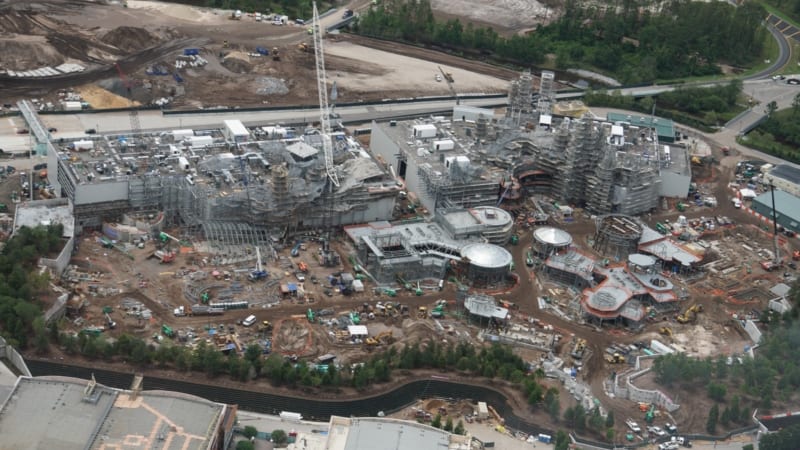 First over at the Battle Escape attraction you can clearly see the new covered area in front which will have a canopy. That will serve as the queue exit for guests leaving the attraction. On the left though is where the queue entrance will be which will be a series of pre-show areas all leading up to the actual attraction.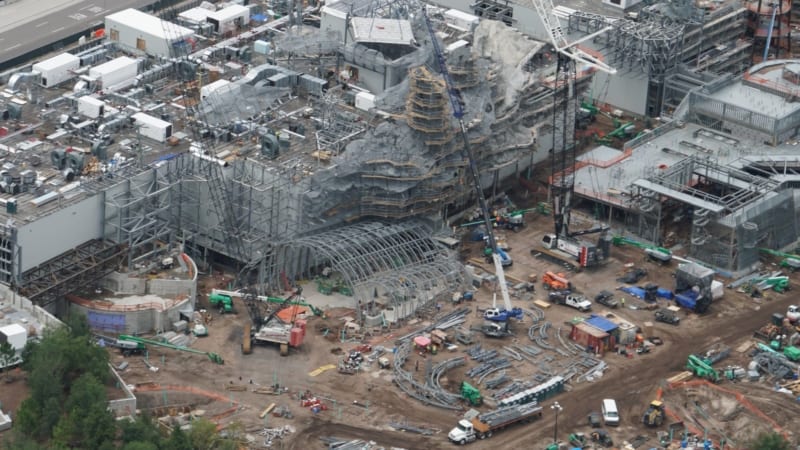 Here we see the side of the Battle Escape building on the left and the grey building in the middle is where the attraction queue will begin. This is take from the back side, out of Hollywood Studios: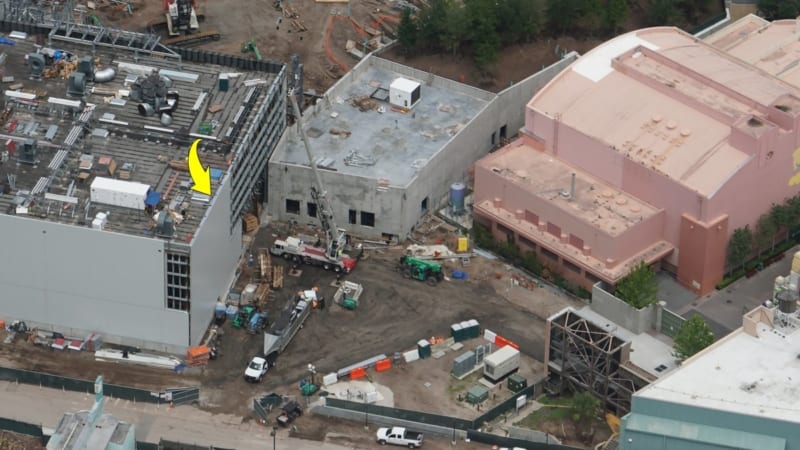 Even though trees are covering most of the sight lines into Galaxy's Edge, from Muppet Vision you can see the side of the Battle Escape attraction building in the photo below which corresponds to the yellow arrow in the above photo: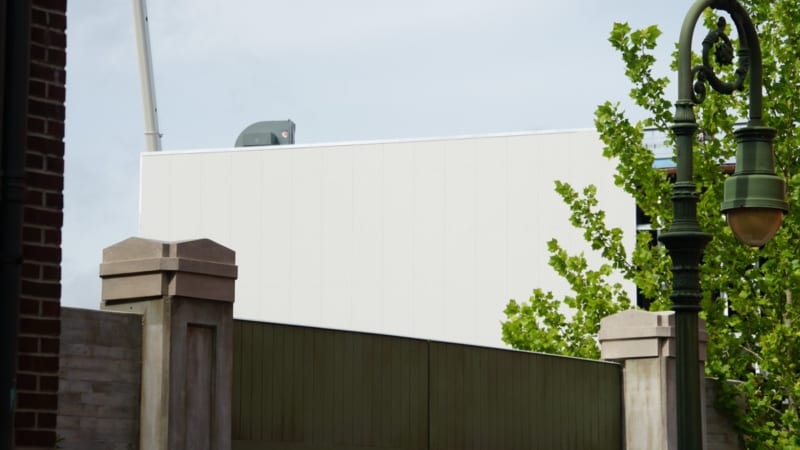 A back angle of the Battle Escape attraction shows a couple of big cranes out in front which are moving materials that are going on top of the building and for the structure in front: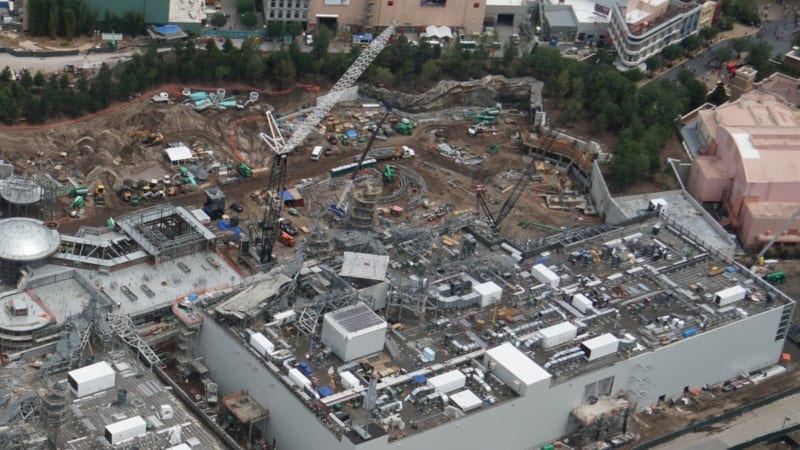 Lastly we take a look at the Millennium Falcon attraction: which we know will have a full size Millennium Falcon sitting outside the hanger bay as guests enter the attraction:
On both attraction building lots of progress has been made to the rockwork and spires on the tops and sides of the buildings. It's really a pleasure watching them sculpt them in a way that's so realistic. Disney has had lots of practice after the rockwork for Pandora which is also very realistic.
A lot of people have been wondering about the two timelines between the Disneyland and Hollywood Studios versions of Galaxy's Edge. Right now the Disneyland version is still ahead, but DHS is catching up and is now only about 3 months behind. Still no official opening dates announced yet but Disneyland will be in the early Summer, maybe even May/June while it's looking like WDW one might not be more than a month or two behind. Again nothing is official yet but it's nice to see DHS has made up some of the difference. We'll keep you up to date whenever we hear more.
UPDATE: Disney just announced the Star Wars Galaxy's Edge Opening Dates will be: Disneyland – May 31, 2019; Walt Disney World – August 29, 2019.
Don't forget to check out my latest Disney World Construction Updates including:
Disney Skyliner – Construction Update May 2018
Toy Story Land – Slinky Dog Dash Coaster Testing 3 Trains Simultaneously
Hollywood Studios Parking Lot Expansion – Construction Update May 2018
Disney Springs – Construction Started on New Pedestrian Bridge
Friendship Boats – Dock and Bridge Construction at the Swan and Dolphin Resorts
For everything you want to know about Star Wars Land read our Massive Guide to Star Wars: Galaxy's Edge for a detailed look at the rides, dining, planning and touring tips.
Your Thoughts:
I want to know what you think about my Star Wars Galaxy's Edge construction update for May 2018.
What are you most looking forward to in Galaxy's Edge?
When do you think Galaxy's Edge will be finished?
Let us know in the comments section below!
If you enjoyed this article, as always I appreciate it if you'd share it with others via social media. I work hard at making this website into a useful resource for you and your family to plan your visit to the Disney Parks and I hope it can help you! Thanks 🙂
Photos: @Bioreconstruct