In this Star Wars Galaxy's Edge Construction Update. We're going to look at some new aerial images which show the Star Wars Galaxy's Edge Restaurants layout as well as the first signs of the Millennium Falcon model outside the attraction starting to be constructed. Of course this is the Disneyland version of Galaxy's Edge, so if you've been following the construction progress of the Hollywood Studios version you'll see this one is a bit further ahead. However at the end of the day both land will be almost identical so looking at the Disneyland version gives us a good idea of what's coming to Walt Disney World too.
There's been lots of activity in the last couple weeks since our last update, including Disney working on new technology which could be used in the new Star Wars Hotel coming to Hollywood Studios. This technology will allow for immersive multimedia hotel rooms where a combination of audio, projections and other effects create entertainment in theme with the resort right in your own room. It's really cool stuff and looks like the future for themed resorts!
Big shout out to Nearmap for the awesome high quality images!
Here is an aerial of Star Wars Galaxy's Edge in Disneyland. The positioning of the land itself as you can see is vastly different from the Hollywood Studios version. You can see the close proximity it has to Critter Country on the right side and Tom Sawyer's Island down below: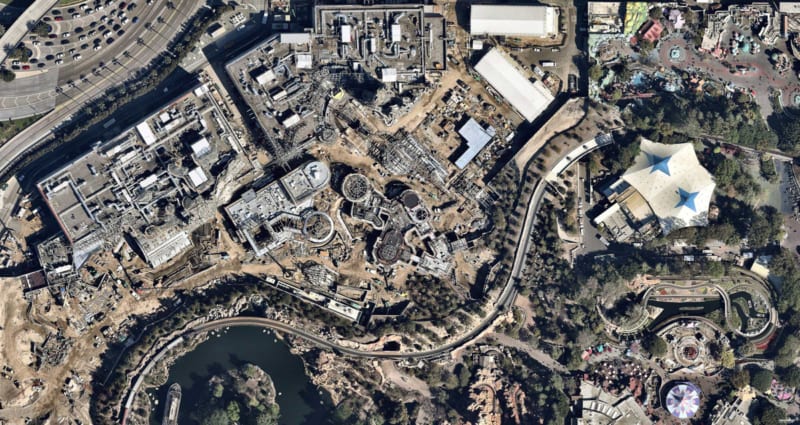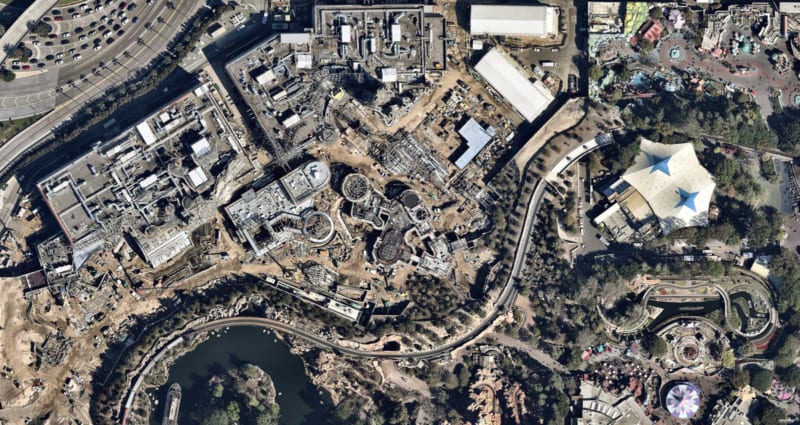 We've known for a long time where the 2 Galaxy's Edge attractions, the Millennium Falcon and Battle Escape are going, but now thanks to Marni1979 on the wdwmagic forum, we now know the exact locations of the 2 restaurants and shopping marketplace: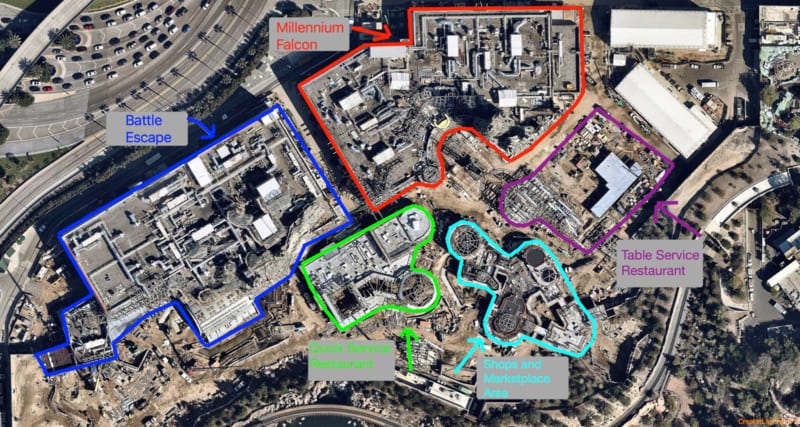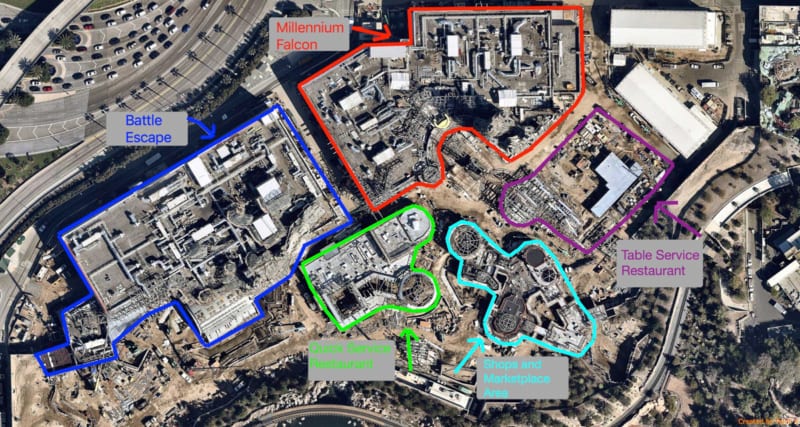 The table service restaurant is going to be the Oga's Cantina where it will feel like walking into the cantina on Tatooine in "A New Hope." There will will live entertainment and surely a whole host of strange alien characters throughout the restaurant!
The quick service restaurant Docking Bay 7 Food and Cargo will have both inside and outside seating, and will no doubt have an equally interesting atmosphere and much easier to get into.
The construction for the quick service and table service restaurants, as well as the marketplace are much further ahead than the Disney World version: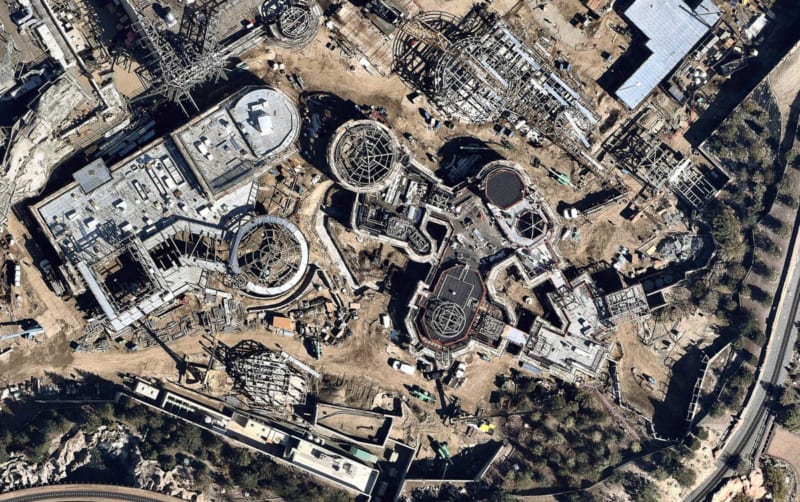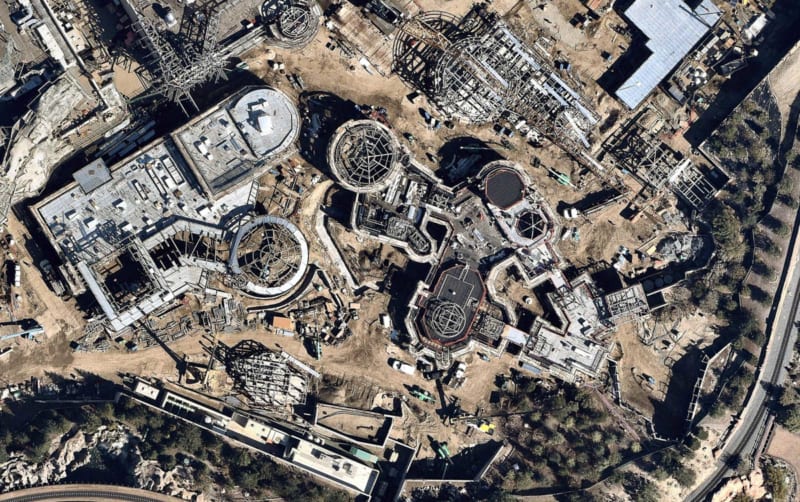 The marketplace is supposed to have windy streets and was inspired by the Disney Imagineers' visits to exotic locals such as Morocco. Expect to find "hand-made" merchandise that will be totally unique to Galaxy's Edge. I'm hearing it won't be branded with the "Star Wars" logo or anything, to further play-up the fact that you are in-fact on another planet, right in the middle of the Star Wars universe: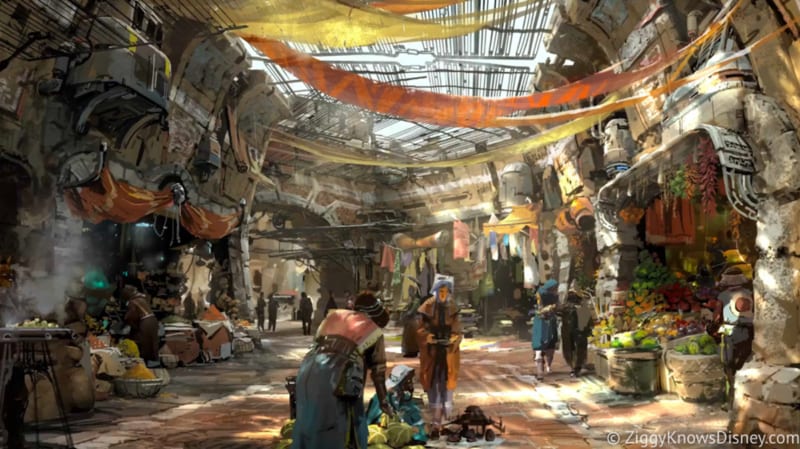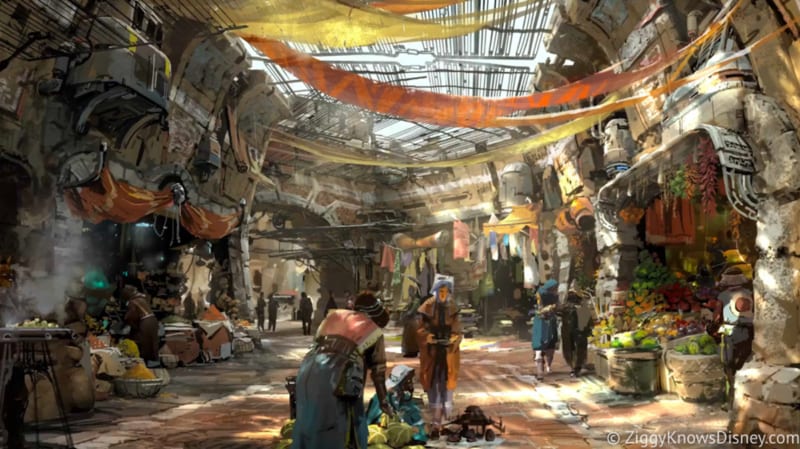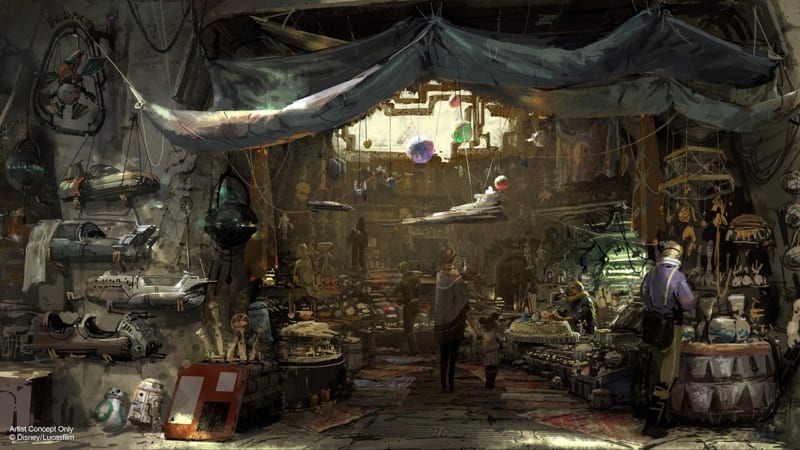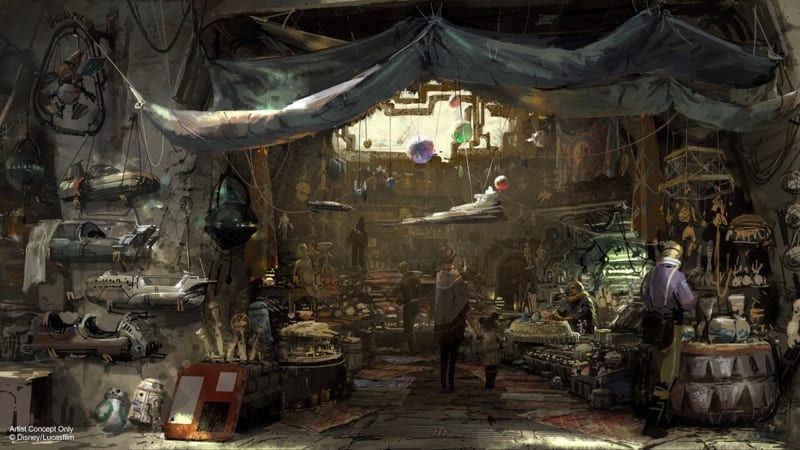 Here's a look at the First Order Battle Escape attraction. You can see the detail on the rockwork and how much they are blocking the mechanical equipment on the top of the roof: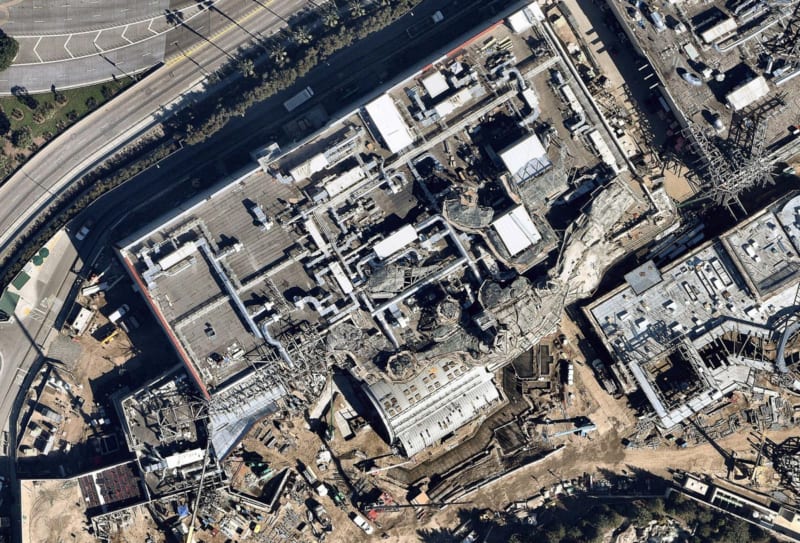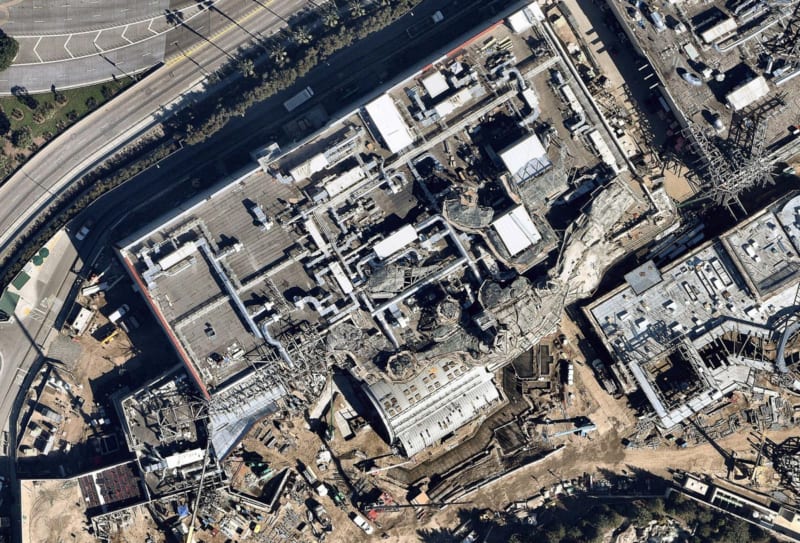 Lastly we want to see the Millennium Falcon: Smuggler's Run attraction, which will have a super-sized Millennium Falcon waiting outside the entrance: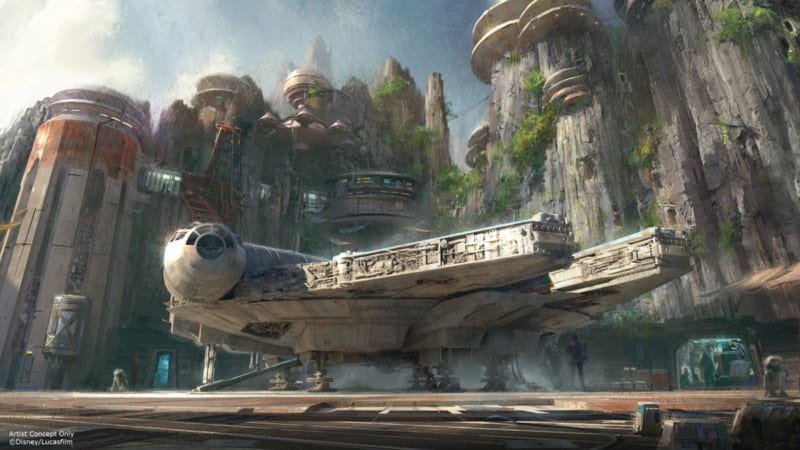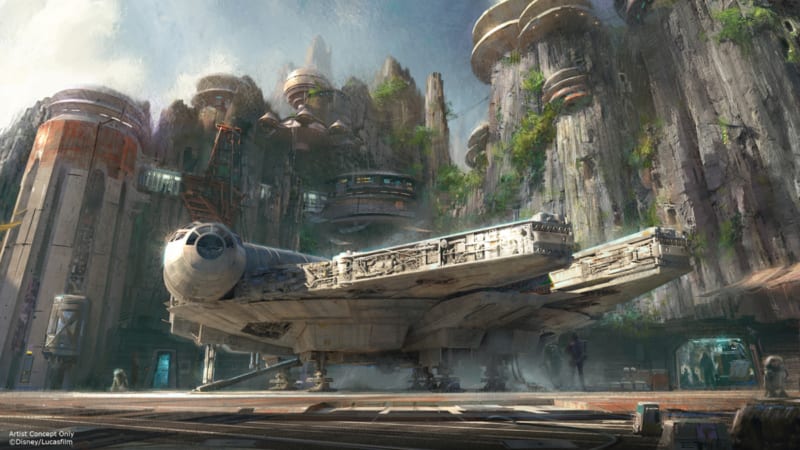 In this shot you can see the Millennium Falcon being constructed, as well as other transport ship which will then be put on top of one of the buildings in Galaxy's Edge like we've seen in the model: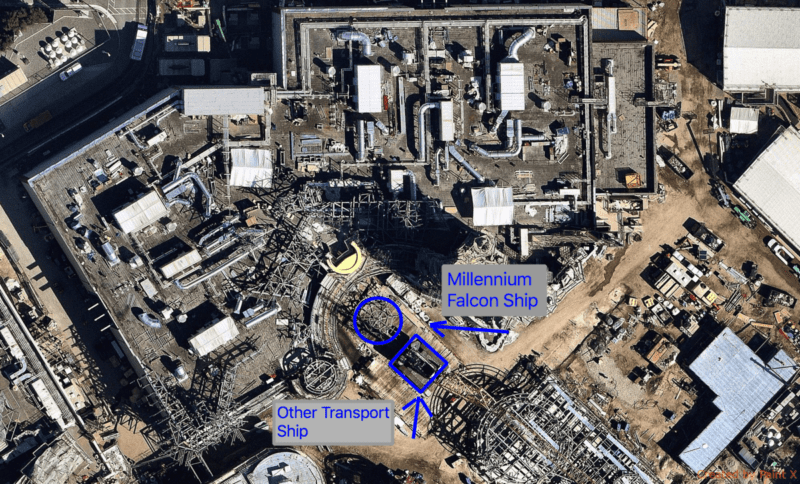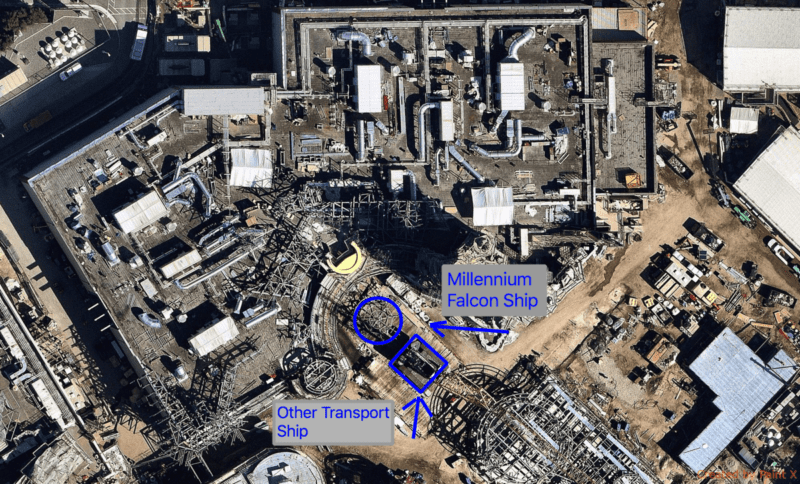 Here's a closeup of both the Millennium Falcon and the Transport so you can get a better idea of their shapes: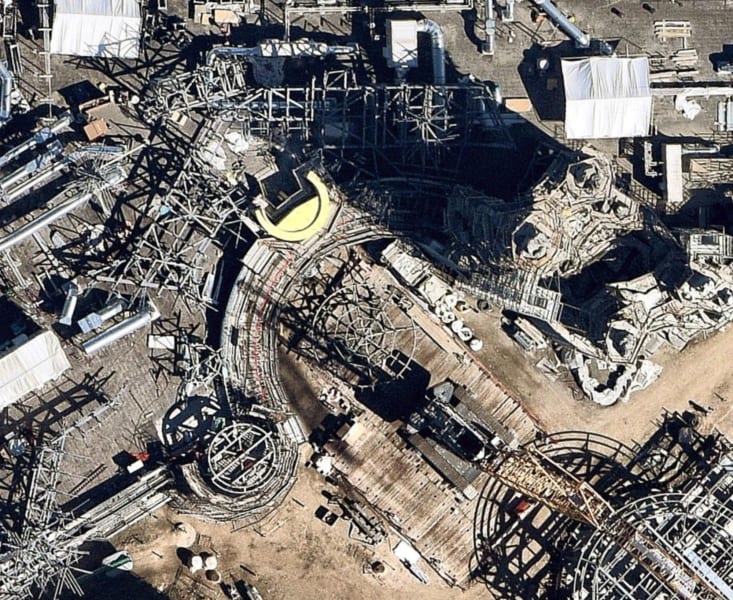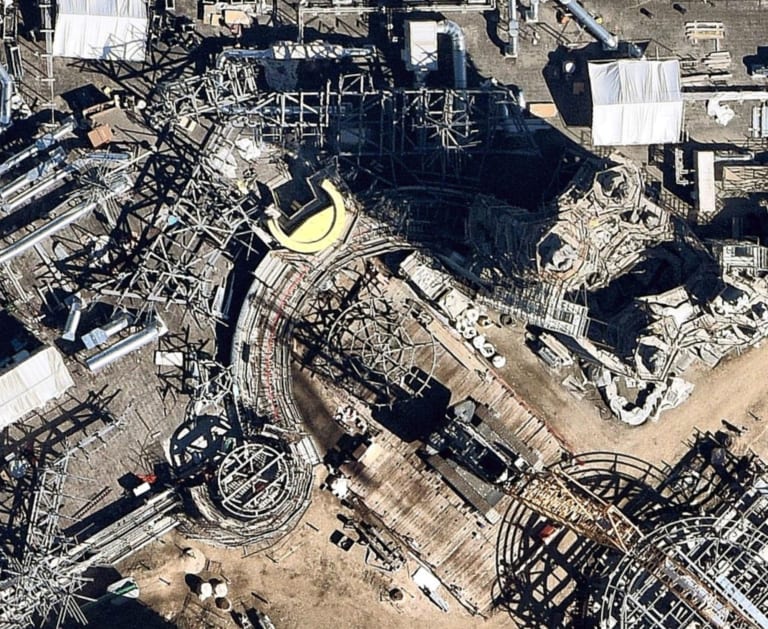 Here is what the Millennium Falcon will look like when finished out in front of the mountain!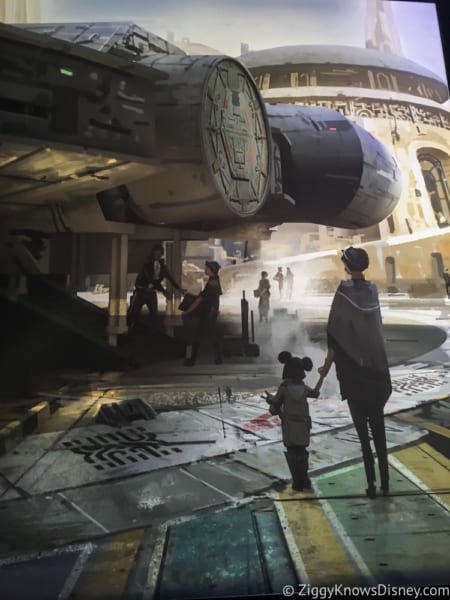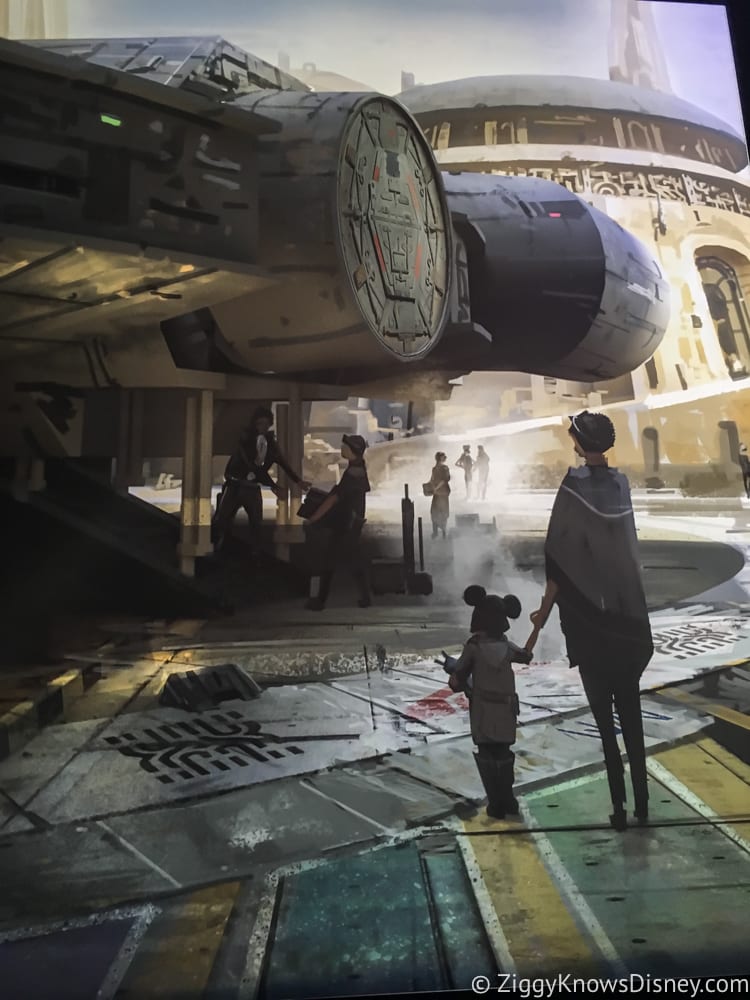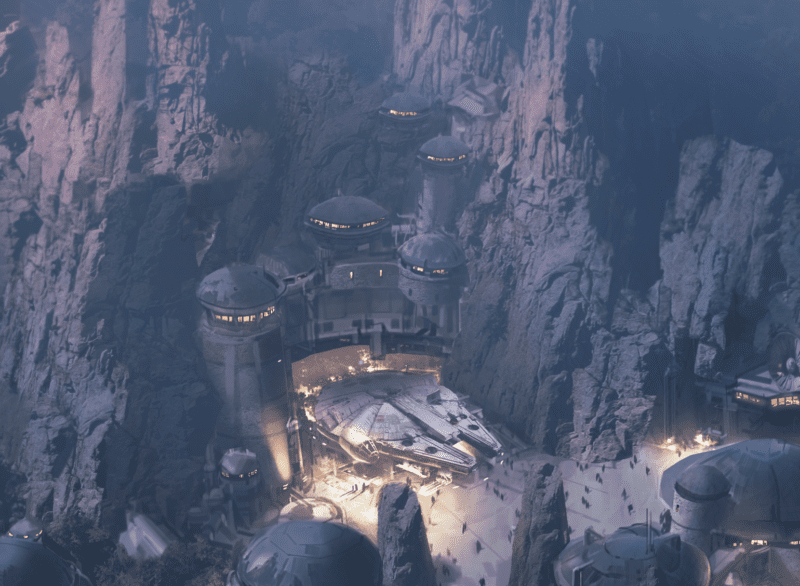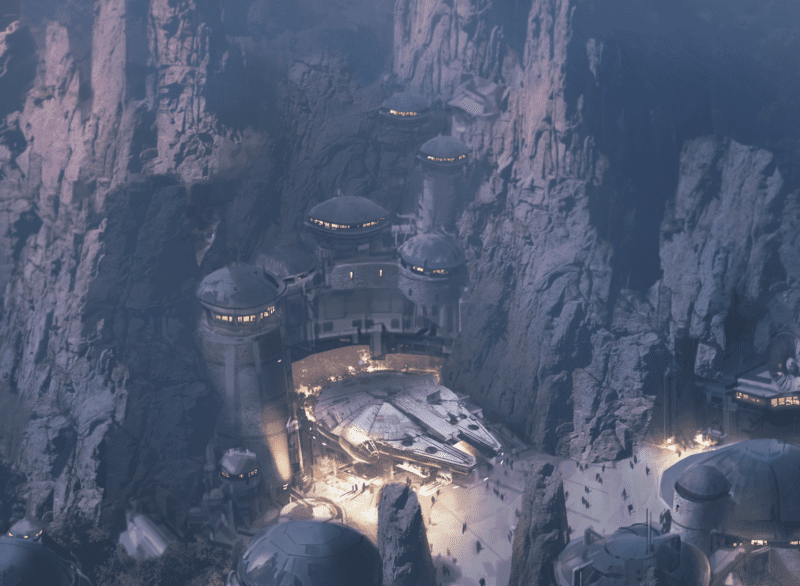 Here's that other transport ship: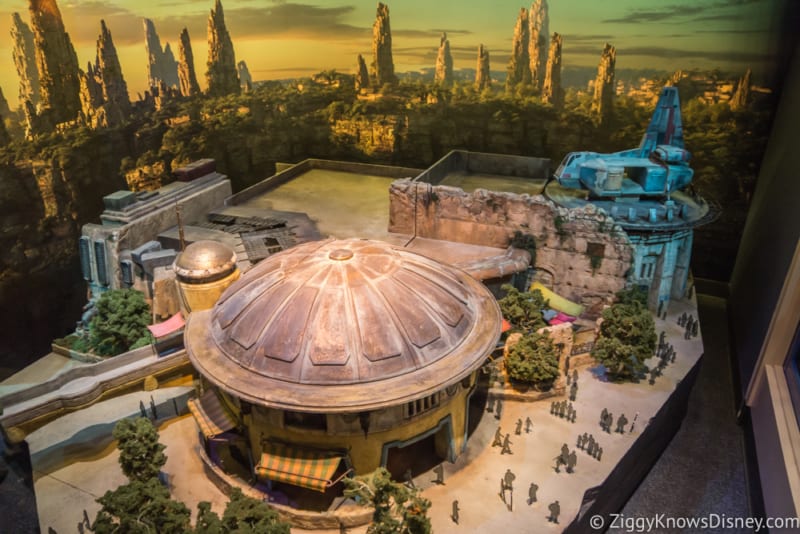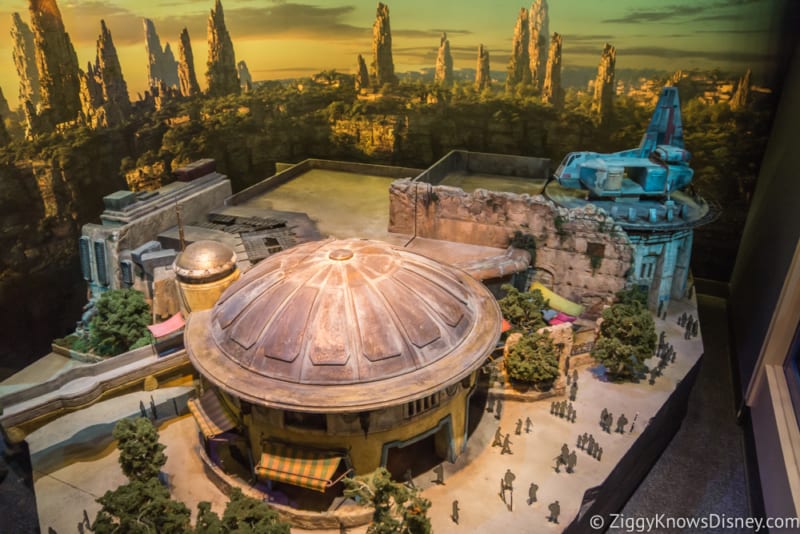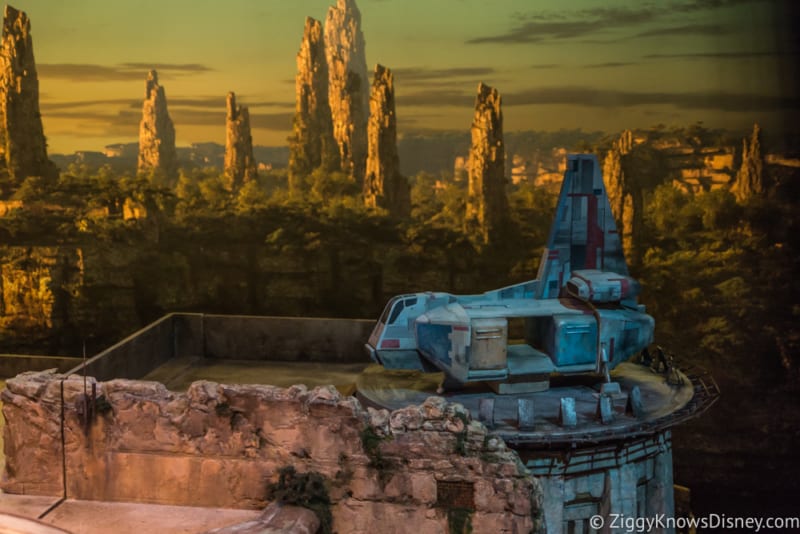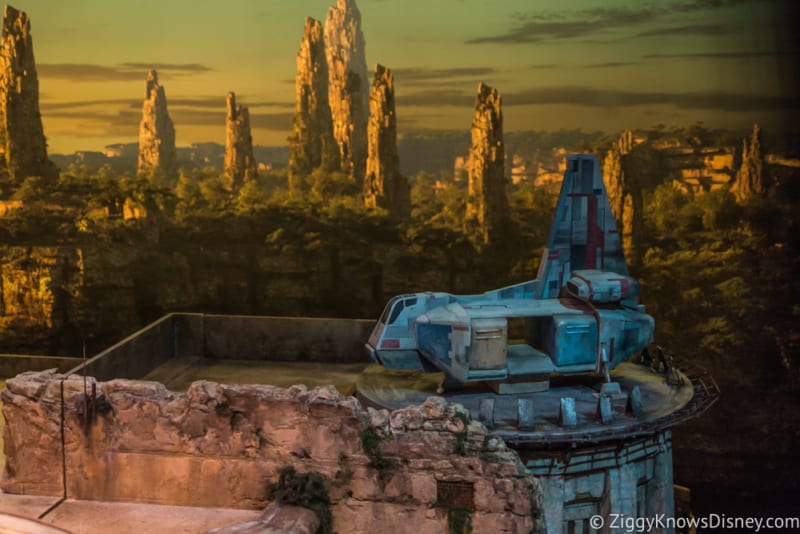 We're still waiting to hear when the opening of Star Wars Galaxy's Edge in both Disneyland and Hollywood Studios will be. Disneyland will be first, definitely before the 2019 D23 Expo which is is August 23-25, 2019, while the WDW version will be after that sometime September-December 2019. As soon as we have more info we'll let you know!
Don't forget to check out my latest Disney World Construction Updates including:
Ratatouille Steel Structure Now Visible
Disney Skyliner/Gondola Towers Visible in Epcot
Toy Story Land Construction Update April 2018
Main Street Theater in Magic Kingdom Cancelled
New Parking Garage Pedestrian Bridge in Disney Springs
Mickey and Minnie's Runaway Railway Roof Work
For more info read our Star Wars: Galaxy's Edge Complete Guide for more info about the attractions, dining, planning and touring strategies in Star Wars Land.
Find out How to Make Reservations for Galaxy's Edge in our latest post.
Your Thoughts:
I want to know what you think about the Star Wars Galaxy's Edge Restaurants Layout.
Which one are you most excited for?
Which attraction are you looking most forward to?
Let us know in the comments section below!
If you enjoyed this article, as always I appreciate it if you'd share it with others via social media. I work hard at making this website into a useful resource for you and your family to plan your visit to the Disney Parks and I hope it can help you! Thanks 🙂