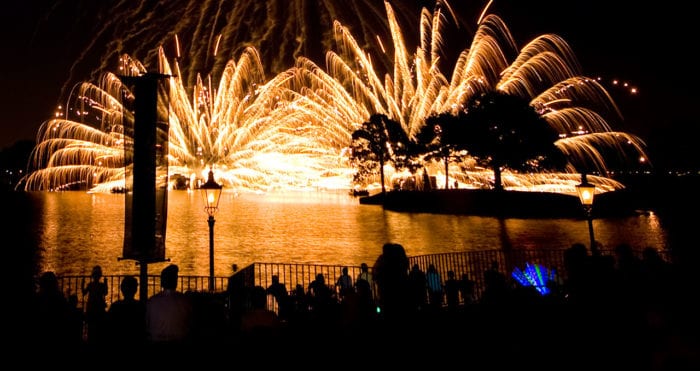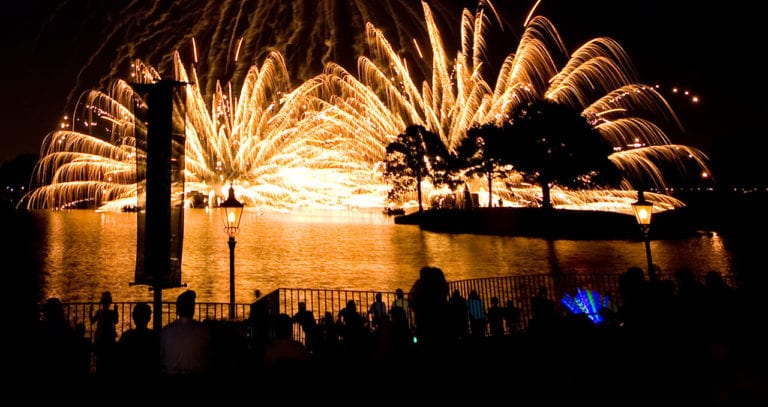 After 20 years running and over a year of speculation, Disney announced today a New Fireworks Show in Epcot which will be replacing Illuminations: Reflections of Earth starting next Summer 2019.
Disney hasn't given an exact date yet, but announced that Illumination: Reflections of Earth will run to "the end of Summer 2019," then giving way to an immediate transition to the new show the next day, much like Wishes to Happily Ever After did last year. This new fireworks show doesn't have a name yet, but we know that it will continue to be shown over World Showcase Lagoon like IllumiNations.
(UPDATE December 2018): There will be 2 new fireworks shows replacing Illuminations. The first is called: "Epcot Forever" and is coming in Fall 2019. The second still doesn't have a name yet, but is the permanent replacement for Illuminations and is debuting in 2020.
In the announcement Disney also mentioned how this new Epcot nighttime fireworks show is just one part of a bigger plan to completely makeover the Epcot park. "we've got big plans for our multi-year transformation of Epcot, with new experiences that will "Wow!" guests while keeping true to the original vision of the park. And the all-new nighttime fireworks spectacular coming to Epcot's World Showcase Lagoon will be part of the park's exciting evolution."
While a bit longer than I expected, this jives with what we told you back in July that construction was underway for an IllumiNations replacement. At least now everyone has one year to get to Epcot and see IllumiNations at least one more time, not like the mere weeks we got for Great Movie Ride and Universe of Energy.
Disney has been hard at work on this all-new nighttime spectacular and it was even hinted at during last year's Parks and Resorts presentation at 2017 D23 Expo, and traces could be seen in the concept art for Epcot along with other physical changes coming in Future World. Disney is already hard at work on the Guardians of the Galaxy coaster and the Ratatouille attraction with them opening in 2020/2021, this among other planned additions still not announced will make up the big changes coming to Epcot in the next few years.
I found it interesting to note that Disney made a point of saying in the press release that they are still "keeping true to the original vision of the park." I'm really curious how exactly they are going to do that since the original vision didn't include characters in the park (which are coming in full force). I mean what is exactly the theming of Future World today and how does adding GotG and others to it even close to the original vision. I'd like more clarification from Disney on just exactly what they have in mind…
As much as I love IllumiNations (and I do love it) I think it's about time for a change. Illuminations just isn't the same as it used to be when it was an 18-minute long epic fireworks show. It's been reduced now to about 12-13 minutes, the music sped up and less fireworks used for a while, so you know the writing was on the wall. I'm really excited for this change and can't wait to see what they have in development, which if it's even half as good as Happily Ever After, will be amazing!
There has been a lot of speculation for a while now that Disney would like to work drones into the new fireworks show in Epcot, but they've had problems getting the drones to behave and not nosedive into the lagoon on a consistent basis. That might also be part of the reason that we're waiting a year for this show as it will give Disney Imagineers time to get it right. I'm also happy with a far out date because the last thing we want is another Rivers of Light situation where they keep telling us it's opening and it keeps getting postponed months at a time. It's more important to get it right the first time!
We also don't know what kind of theming this new Epcot fireworks show will have, but the word is that it will continue with the whole idea of uniting the world, which makes sense since it will still be done on World Showcase lagoon. While that's fine, I would like something fresher feeling, and not just IllumiNations 2.0. I'm interested to see what ideas you have too!
We'll keep you posted over the next months for the name of the IllumiNations replacement show, and any other details of what it will be like!
Your Thoughts:
I want to know what you think about a replacement fireworks show for IllumiNations in Epcot…
Are you excited for a new show coming to Epcot?
What ideas do you have for a theme?
Let us know in the comments section below!
If you enjoyed this article, as always I appreciate it if you'd share it with others via social media. I work hard at making this website into a useful resource for you and your family to plan your visit to the Disney Parks and I hope it can help you! Thanks 🙂
News Source: Disney Parks Blog
Need Help Planning Your Disney Vacation? Show You the World Travel is Here to Help!
Just fill out the form below and one of our trusted travel agents will contact you for all your Disney Vacation Planning Needs….
[rainmaker_form id="19792″]