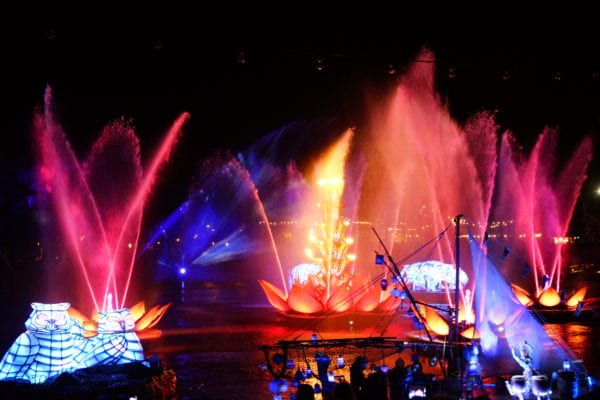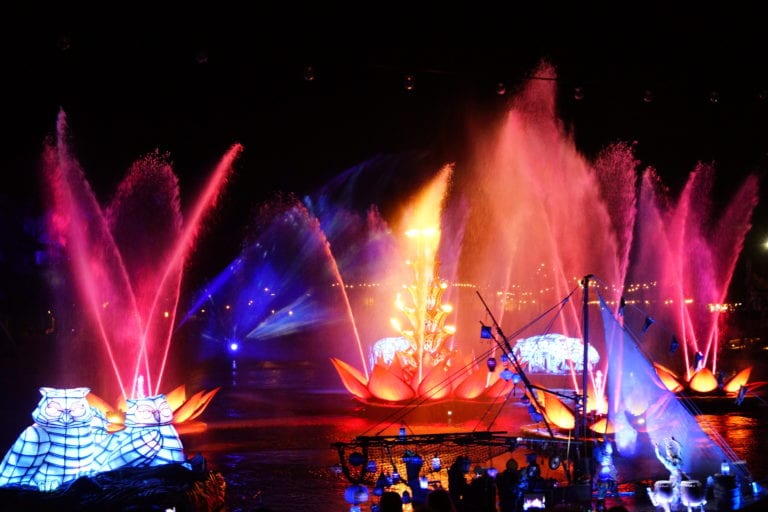 After almost 10 months of added waiting, Rivers of Light made its debut last night at Disney's Animal Kingdom, and I must say it didn't disappoint. Here's my Rivers of Light Full Review so that you know if it's worth your time and what to expect when going to see it.
The Rivers of Light show was originally supposed to debut last May, but due to technical difficulties with the show it was delayed, then delayed again, and then delayed again. I was getting worried it would ever debut. Simply put Rivers of Light is unlike any other show you've seen at Disney World or anywhere for that matter. Unlike most of Disney's nighttime shows it doesn't use fireworks, as the loud booming wouldn't really be the best for all the animals at the Animal Kingdom. Instead it uses these unique water barges, fountains, floats, mist and projectors to create a really awesome experience. Honestly I was really skeptical that I would like it, and I really did.
For us it just happened to be a fluke that we were invited. We are annual passholders and when we got into the Animal Kingdom yesterday morning they told us they had a surprise for us. We were then given wristbands which gave us access to the show. We stayed the morning in Animal Kingdom, went back to our hotel for a couple hours to rest and made it back in time for the show. I was surprised at how many people were in attendance. I wonder if they were all annual passholders like us, or if towards the end of the day they started giving tickets our to regular guests to fill the stadium.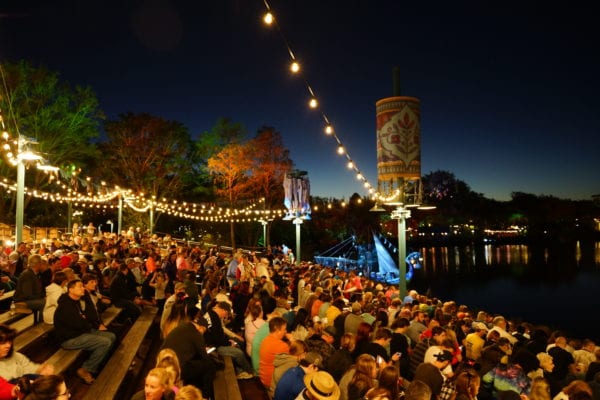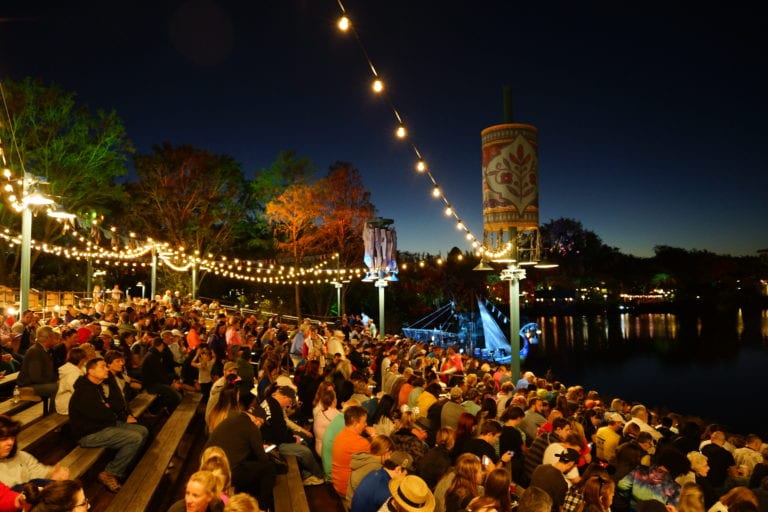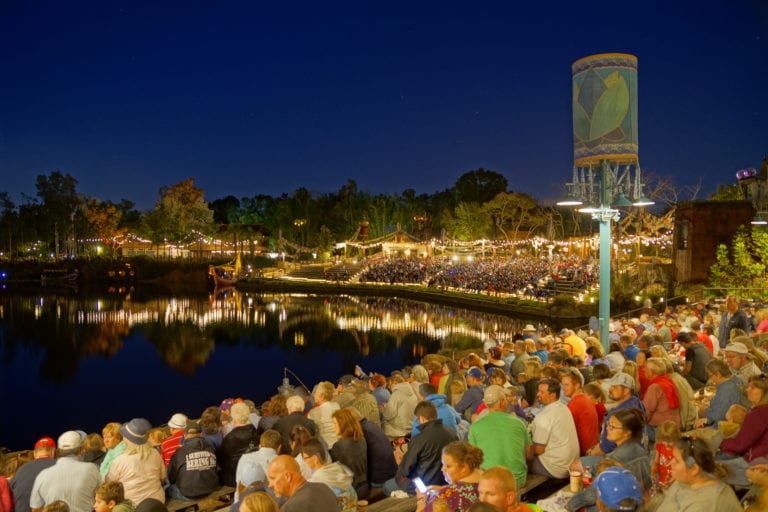 The show is really quite elaborate and takes you on a journey and makes you feel at one with the animals. There are 11 different floats in the show as well as more than 50,000 programmable LED light, all which change color. The show starts out with the lily pad floats out in the middle of the 5,000 person stadium, which are soon met by many other barges and boats.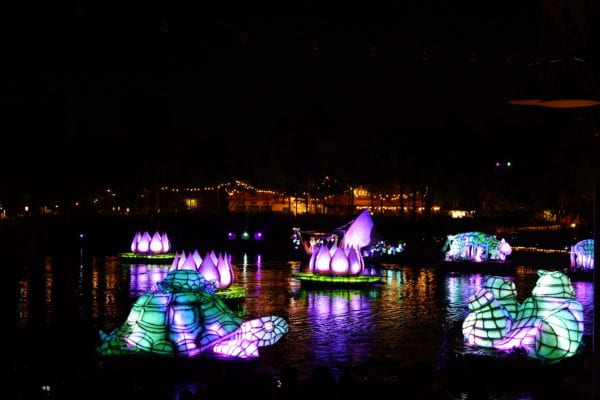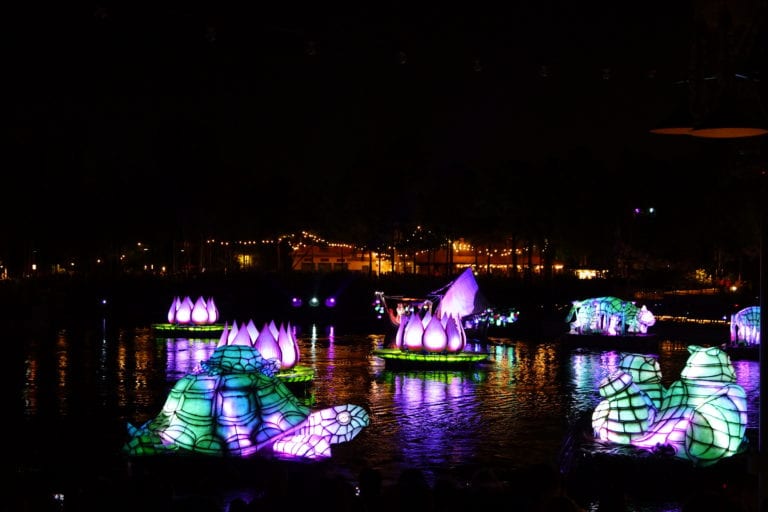 Many of the floats spray this mist of water into the air, and then the spirits of the animals are projected onto them, it's really unbelievable how they do it. To 3 out of the 4 of us who was the show thought that that was the best part of the whole show and couldn't get over the effect it made, it was unreal how cool it was. The animals just jumped out of the water! The floats also shoot water jet streams into the air, all while spinning and coordinating their movements and rhythm together, really really cool stuff. It's easy to see why there were so many delays.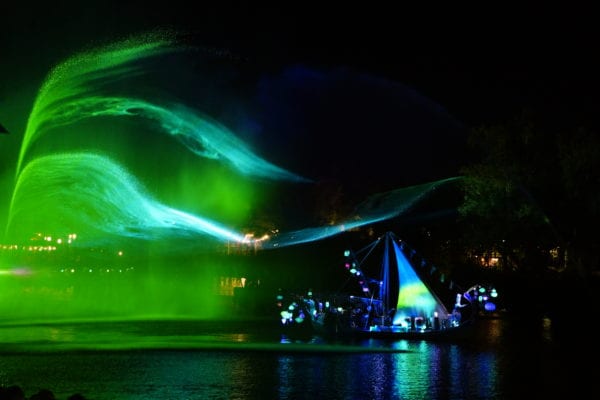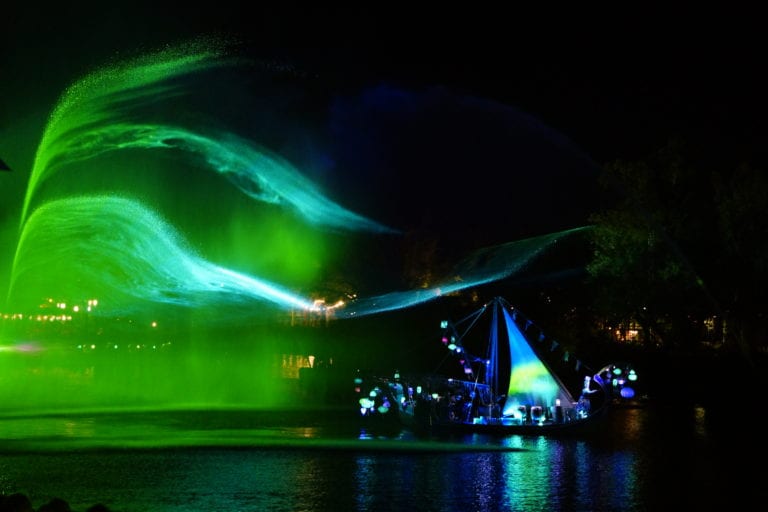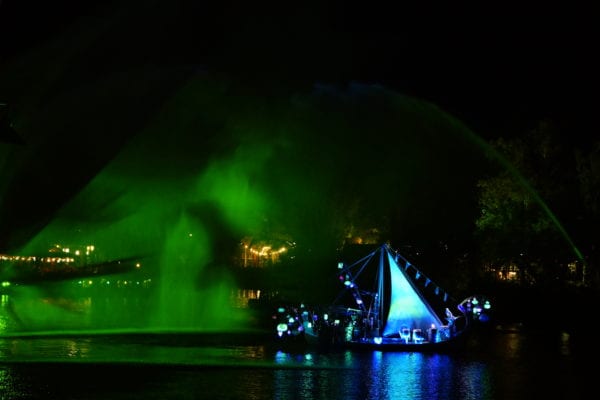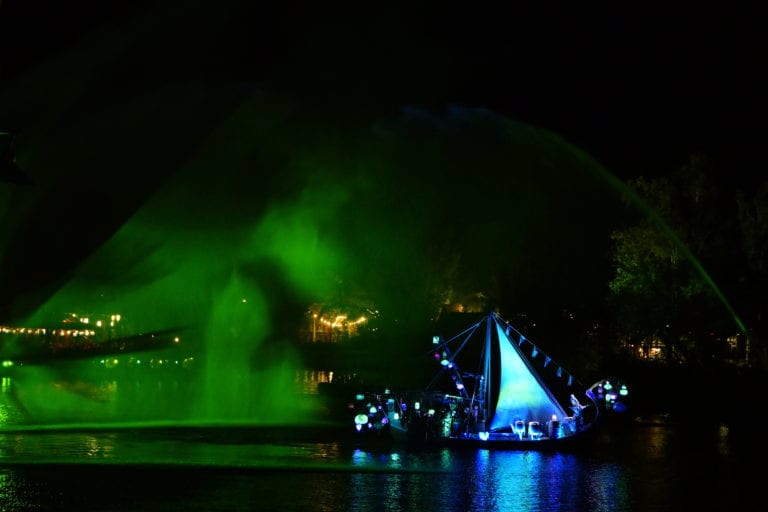 The music score is really good too, and I thought quite moving. The movements of the floats was all synced up with the music as well, so watching it made it look like a complicated ballet dance almost, with all the participants acting as one. Very artistic. The whole river comes to life right before your eyes.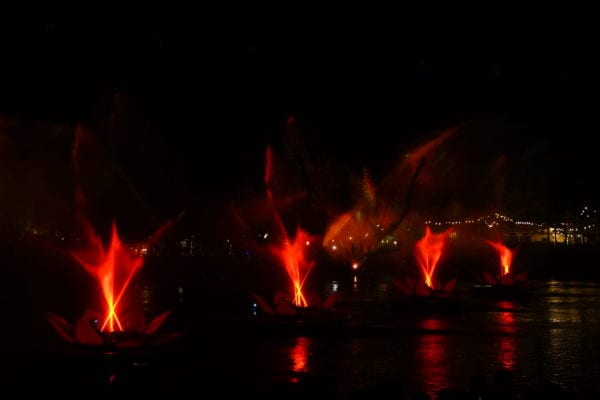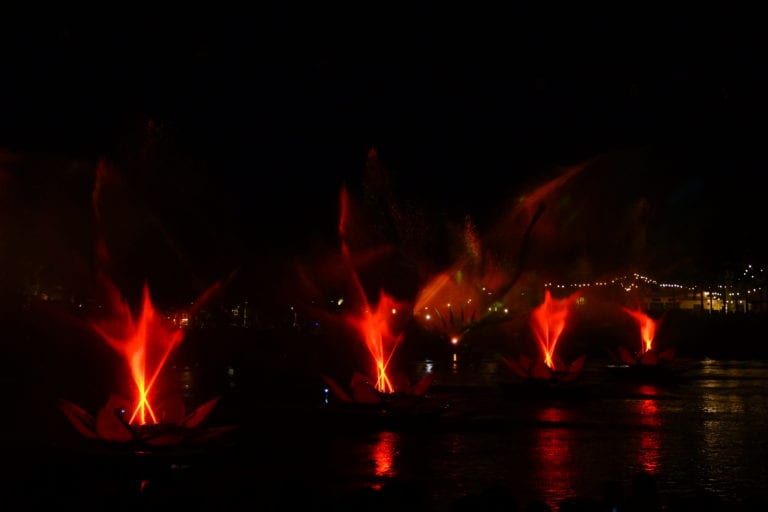 As far as viewing points I don't think there's really a bad seat in the house, although if I had to do it over again, I would have sat closer to the water and preferably closer to the center of the stadium as our spot on the left was a bit obstructed and we didn't get the full view of the huge water screens that were being sprayed with animals projected onto them, in fact the one on the right was hard to see from our angle.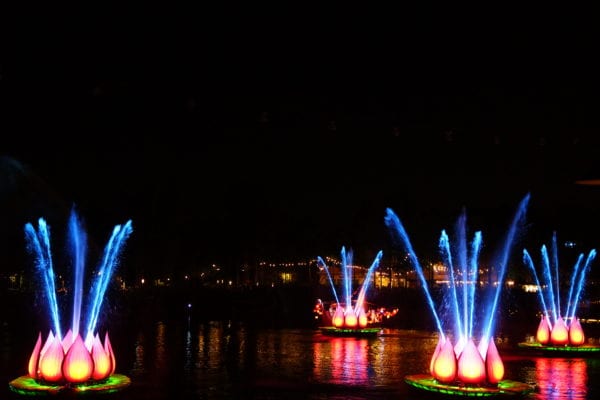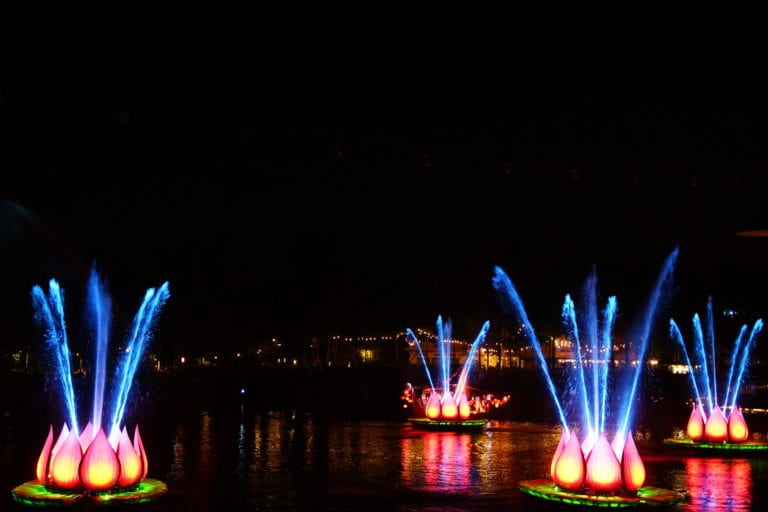 The whole show was memorizing from start to finish, all 4 of us were really floored and I think surprised we liked it so much. Also the ending which was much criticized while going through the trial runs for being a bit anticlimactic, this time was much more powerful and I didn't think it was a problem at all. I was specifically watching for it but I thought the music built up nicely at the end, and the river was full of all of the barges and floats who all were spraying water streams, and flashing their lights. There was even a big water tower in the middle which had some really cool pyrotechnic effects and shot flames into the air as it all came to a climax. Fantastic.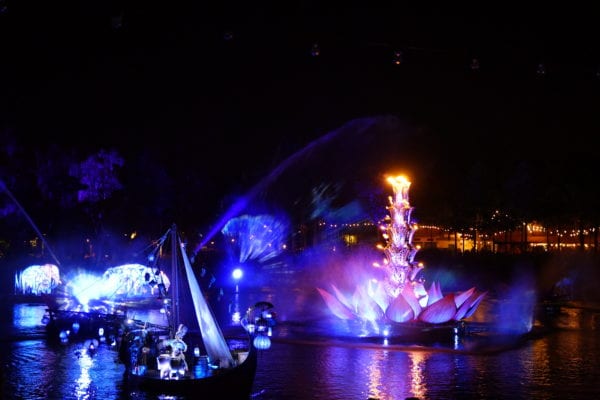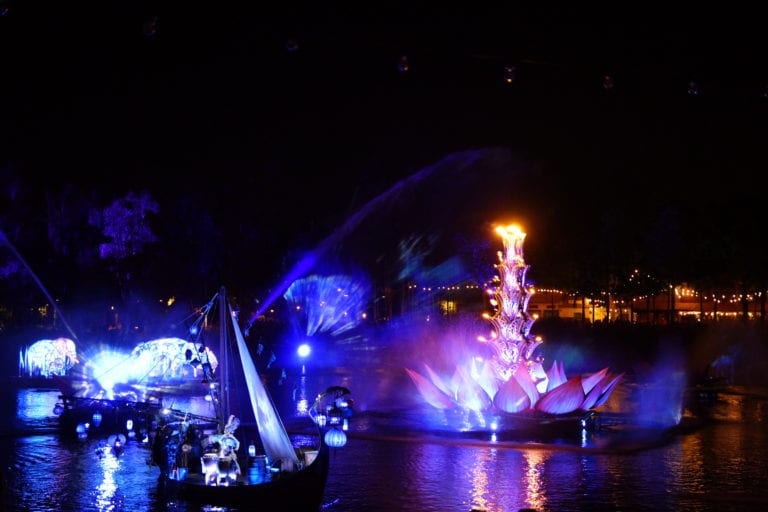 We had very few critiques for Rivers of Light. The show is 15 minutes long and really flew by, which I guess is actually a good thing, but it flowed so nicely and went by so fast, it would have been nice for it to be even a few minutes longer than it was. And while it was an exciting show, we loved the bursts of light and color that there were at the more unbeat and exciting parts of the show and it would be great for them to last even a bit longer or for there to be more of those moments, they were truly special. But that's about it, don't really have much bad to say at all.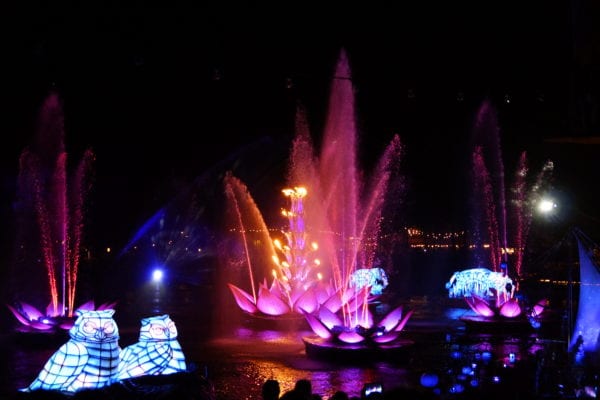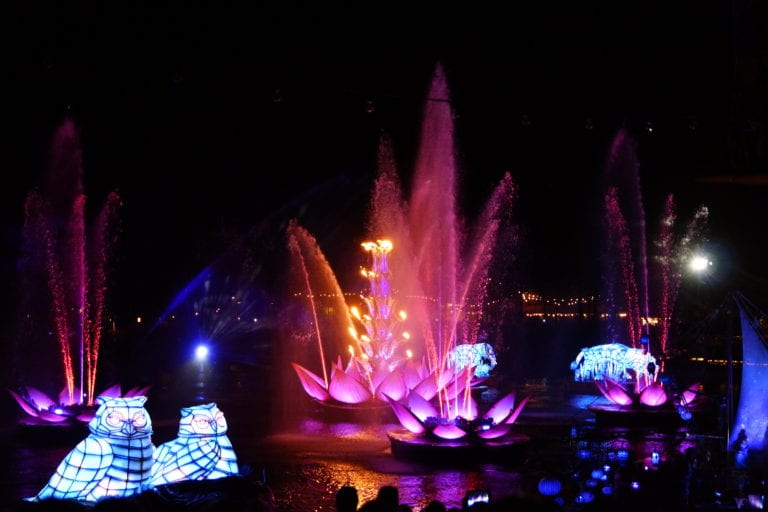 As I said, this was the Rivers of Light debut show and is the final version. The next show which will be available to the public as well will be February 17th, and then will run about every other day the woman working on the show told me. Of course right now it's the off season, so it's possible that in the Summer when things pick up they will even run the show every night, but for now every other. If you want to be assured of getting a good seat there are dining packages available at the Tusker House and Tiffins. That way you can eat a nice meal and then have preferred reserved seating.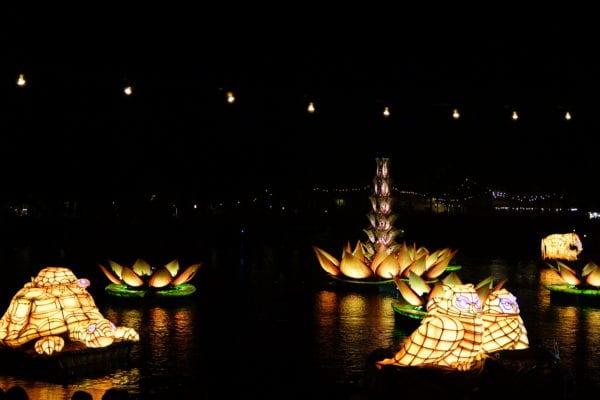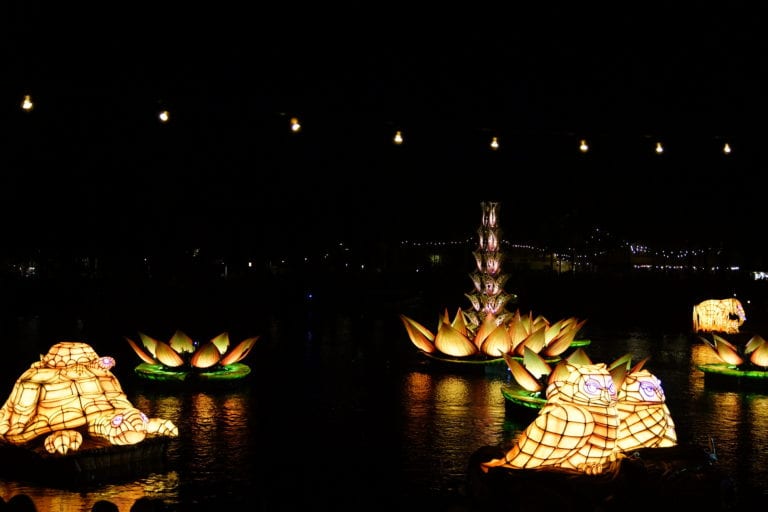 I highly recommend seeing Rivers of Light on your next trip to Disney World, I think it's really worth it. Now with Pandora: The World of Avatar opening May 27th, there is so much to see at the Animal Kingdom that it becomes a must do to try the park at least once next time at night. Finally Disney's plan is falling into place for the park.
Your Thoughts:
I want to know what you think about my Rivers of Light Full Review. Did you like the show as much as I did? What was your favorite part of the show? What would you change if anything? Let us know in the comments section below! 🙂
If you enjoyed this article, as always I appreciate it if you'd share it with others via social media. I work hard at making this website into a useful resource for you and your family to plan your visit to Walt Disney World, and I hope it can help you! Thanks 🙂