Eating in restaurants is one of our absolute favorite things to do in Walt Disney World, but in order to do it right, you need Disney Advance Dining Reservations. Getting reservations for the restaurants you want to visit in Disney World is an essential step of the planning process and not something you want to skip.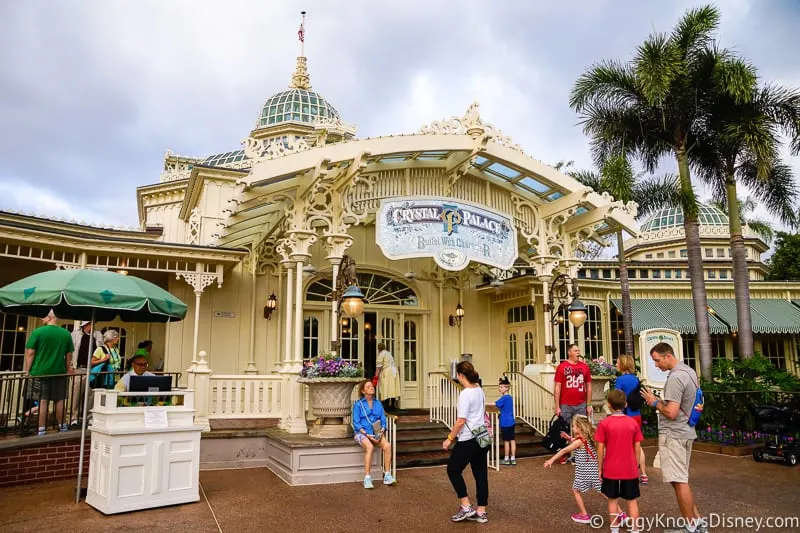 Even if you are a pro at making Disney dining reservations, there are some new guidelines you need to pay attention to as things have changed at Disney World in the last few years following the reopening of the parks. The Dining Reservation system is still running but with some changes from a few years ago.
As if getting reservations for your favorite restaurants wasn't hard enough.
(Update) – Disney has re-worked the reservation system with big improvements to finding available time slots for your favorite restaurants. Also, same-day Disney World Dining Reservation cancelations are now available up to 2 hours before the reservation time in the My Disney Experience app.
Read on for more in the news section…
In this post, we will explain everything you need to know about Disney's Advance Dining Reservations (ADRs), including what to do before you book them, when you can book them, how to make reservations on the phone, and tips on booking the hard-to-get reservations in the best Disney World restaurants.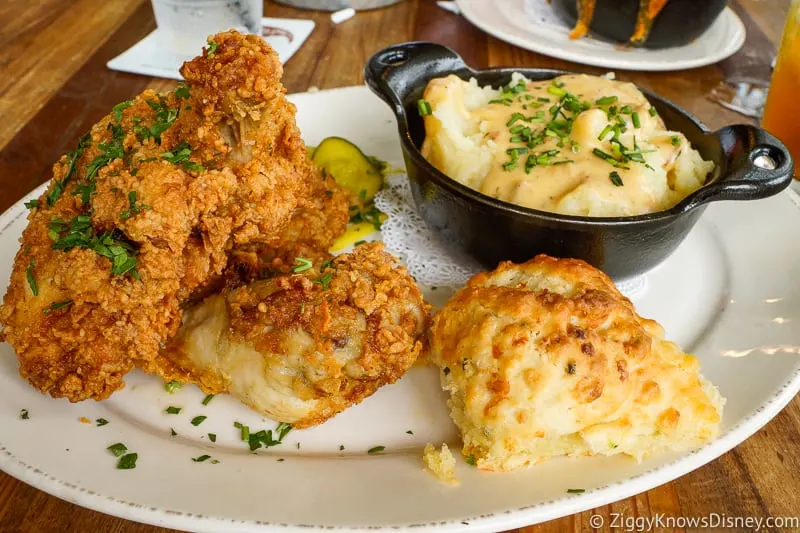 We'll also cover how to cancel dining reservations, what to do if you can't get a dining reservation for the restaurants that you want and if advance dining reservations are even necessary. After all, we love being spontaneous as much as possible when visiting Disney World, at least when it's possible.
Before we get further into the dining reservations, make sure to read our Disney World Dining Guide for more information on Disney restaurants and reviews from some of our favorite restaurants.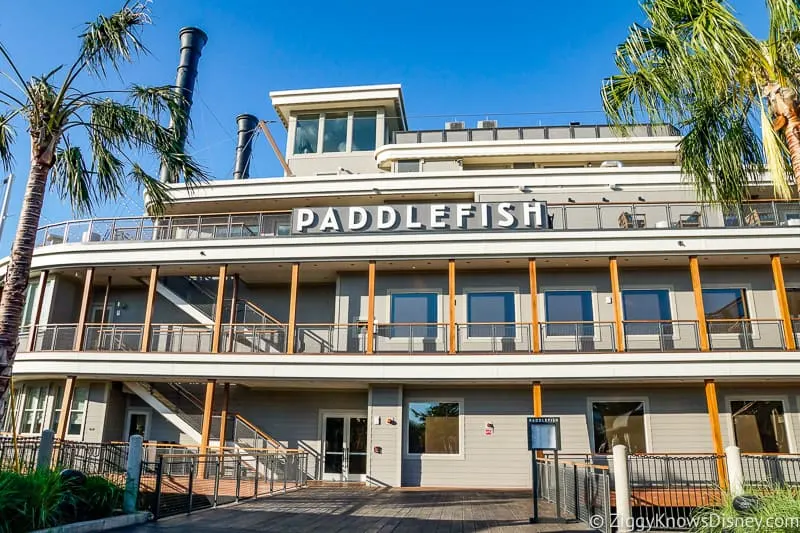 These other posts will get you prepared for your dining journey at Disney World:
Also, if you want to find out the latest information about Walt Disney World Dining, don't forget to sign up for our FREE Weekly E-Mail Newsletter. You can sign up here: Join our E-Mail Newsletter!
(UPDATE) Big Improvements to Disney World's Dining Reservation System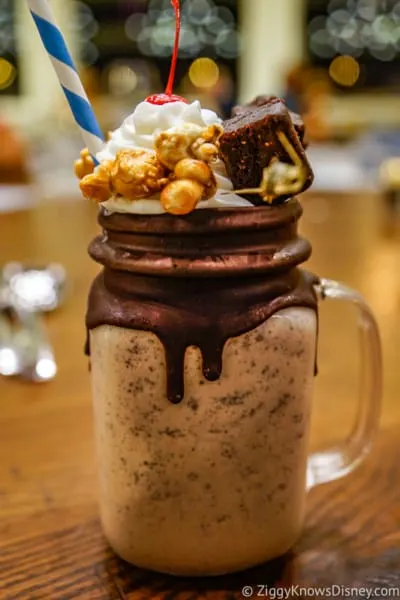 Things just got a whole lot easier when it comes to finding Advance Dining Reservations at Disney World restaurants!
Previously the My Disney Experience app or the Disney World Website would ONLY show you the available time slots based on specified timeframes for what you were looking for. Now you are able to see all of the reservation slots that are available for the location that you are looking for.
This gives you additional options and prevents you from having to constantly check the different timeframes which was quite tiresome.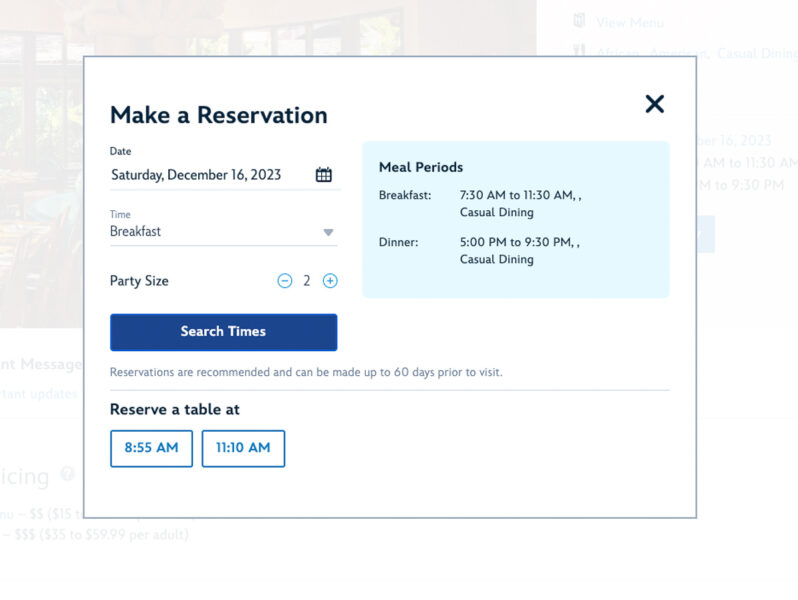 The other nice change implemented in the summer of 2023 is that reservation availability is now sorted by meal periods, so you'll be able to view the availability for the specific meal that you are looking for.
For example, many times guests don't realize that menus frequently change from 10:00 am to 11:00 am as restaurants transition from breakfast to lunch.
This also happens at many restaurants at around 4:00 pm as restaurants transition from lunch to dinner, and now you'll be able to find reservations that fit into which meal you wanted to eat. Now with this change, it is FAR simpler.
(UPDATE) Same-Day Cancellations for Disney World Dining Reservations Now Available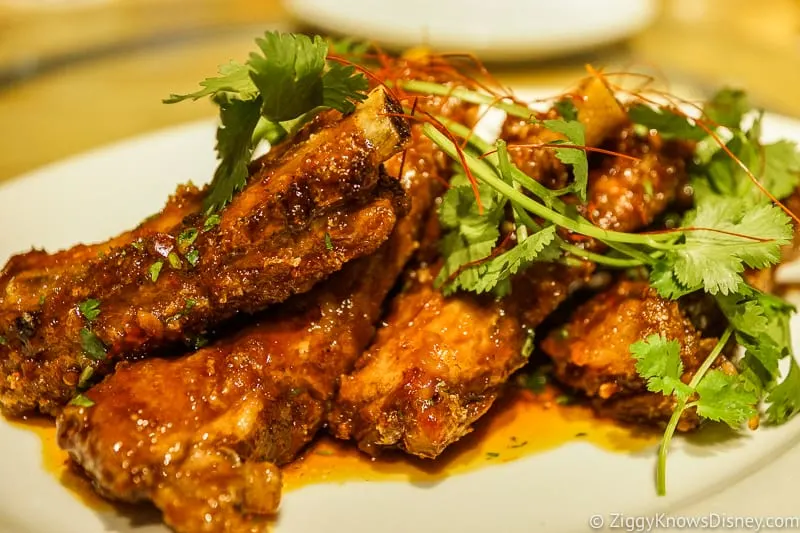 Disney has made a big change to the cancellation process for Advance Dining Reservations and it makes it a lot easier to not get hit with a big cancellation fee.
Right now, Disney World dining reservations can be canceled or adjusted up to 2 hours before the reservation time in the My Disney Experience app without incurring a no-show cancellation fee (usually $10 per person).
Before this change, guests had to cancel their dining reservations 24 hours before the reservation time to not get hit with a fee, otherwise, they had to change the reservation to another time or day to avoid a penalty.
The only exception where the 24-hour rule remains is on dining experiences that guests must pre-pay for, for example, the Hoop-Dee-Doo Musical Revue. This may change in the future, but for now, you still need to cancel these at least 24 hours in advance.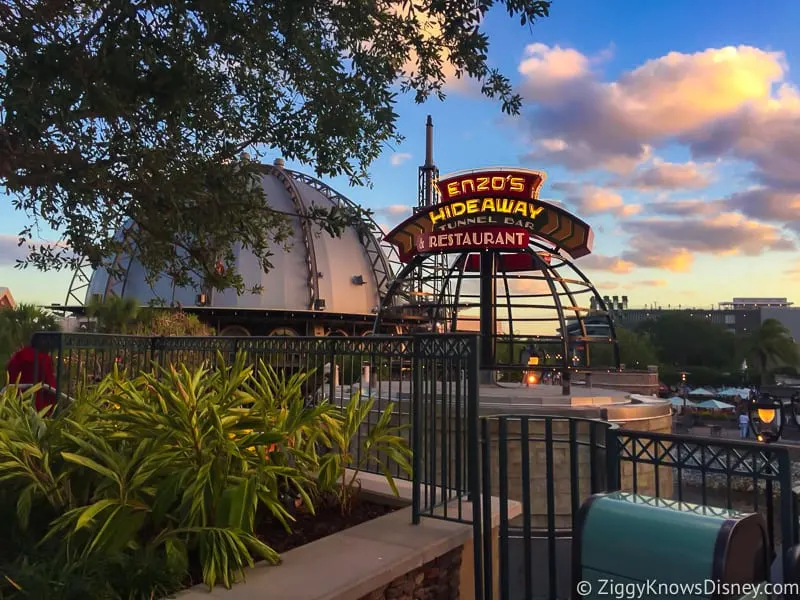 We are very happy about this change as it was a pain to get hit with a fee if for some reason you needed to cancel at the last minute. However, with a shortage of dining reservations across Walt Disney World, we hope that guests who really have no intention of using those dining reservations don't abuse the system and let them go early enough for others to use them.
If anything, it means that you might find some hard-to-get tables now available only a few hours before your desired dining time. These are some big changes and we are sure that they won't be the only ones in the coming months so stay tuned for more soon.
What are Advance Dining Reservations at Disney World?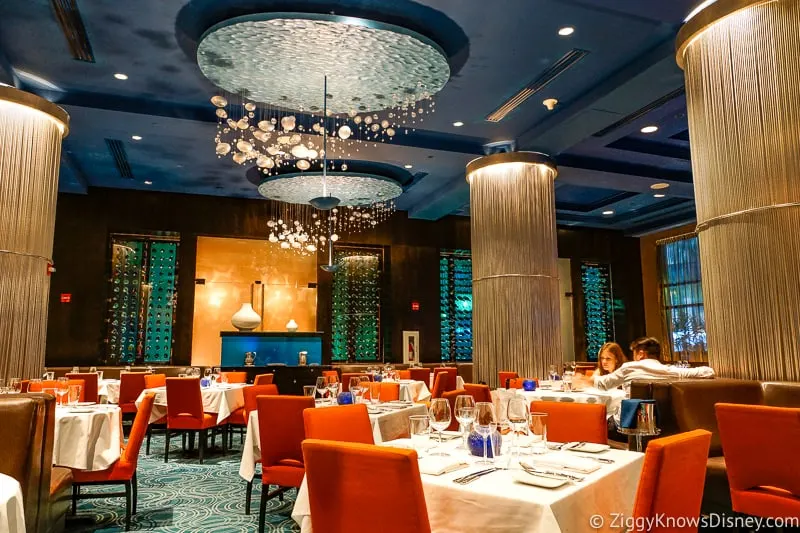 With Walt Disney World being one of the most popular vacation destinations in the world, you can imagine how busy its restaurants are. That's where dining reservations come in.
Advance Dining Reservations ("ADRs") are a part of Disney World's restaurant reservation system. When you have an ADR, it guarantees you a table at a specific restaurant on any given day.
Guests can plan ahead of time which restaurants they want to dine at in Disney World and then can book a table online or on the phone.
Once you have an ADR, you will receive a reservation time for that restaurant. Depending on how busy the restaurant is when you arrive you may be seated immediately or you may have to wait a few minutes until a table is ready.
Dining reservations can be made for Breakfast, Lunch, and Dinner, character meals, buffets, dinner shows, and any other limited dining experiences.
ADRs are typically only used at Table Service Restaurants, though occasionally Quick Service Restaurants will offer dining reservations.
The nice thing is that ANYONE can use Advance Dining Reservations to book restaurants in Walt Disney World. This includes guests staying in a Disney World Resort hotel, guests staying off-site or just anyone visiting for the day.
Do You HAVE to Make Dining Reservations for Disney World Restaurants?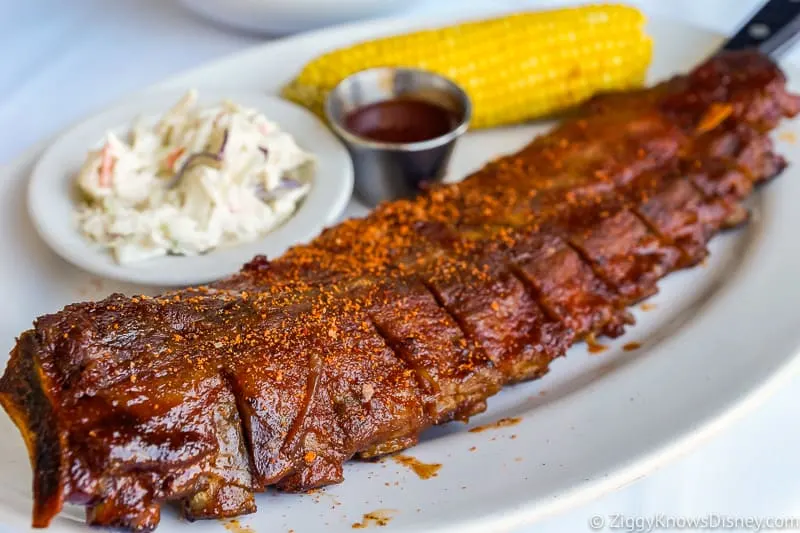 For most restaurants in Walt Disney World, you are not required to make a dining reservation ahead of time. However, when available, it is always best to get an advance dining reservation for the restaurant you want to visit.
Depending on where you want to go, some restaurants are more difficult to get a table at than others. There are some restaurants that take walk-ins and are easier to pick at the last minute.
On the other hand, if you want to dine at one of the more popular restaurants in Disney World, then reservations are HIGHLY recommended and it will be extremely difficult to get in without one.
The time of year you are visiting also matters and the busier Disney World is when you visit, the more likely you will need an ADR. Just another reason to use a Disney Crowd Calendar before deciding when to visit.
Walt Disney World is not a great place for spontaneous eaters and you should familiarize yourself with how dining reservations work for the best results.
Which Restaurants Use Advance Dining Reservations?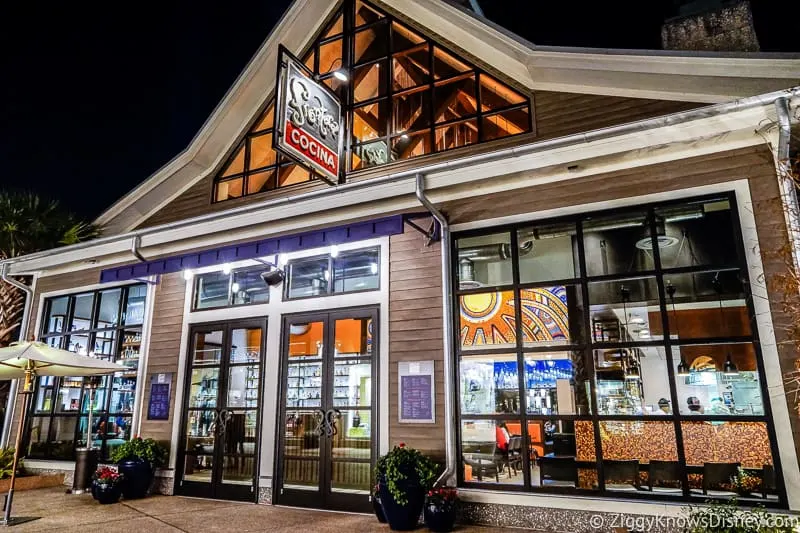 The majority of dining reservations are found at table service restaurants and buffets. These are restaurants where you have a waiter for your table.
Occasionally, a quick service restaurant like Be Our Guest or a lounge such as Oga's Cantina will require them too. ADRs are not usually required in restaurants where you have to go up to the counter and order your own food.
Advance Dining Reservations can be found in almost every area of Walt Disney World including:
Theme Parks
Resort Hotels
Disney Springs
As we are currently writing this post, Walt Disney World has over 440 restaurants including special dining experiences. Over 160 of those restaurants take advance dining reservations.
The bottom line is if Advance Dining Reservations are available, it's a good idea to get one.
When Can I Book Restaurants?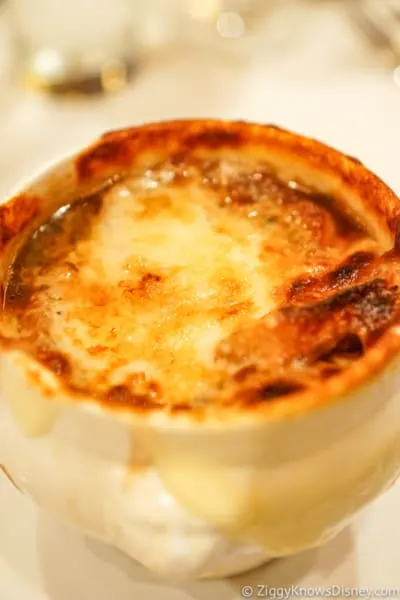 Figuring out when you can book dining reservations in Walt Disney World is one of the most important steps because time is of the essence.
Right now, Advance Dining Reservations can be made up to 60 days in advance of your desired reservation date.
Before this latest change, dining reservations in Disney World were available 180 days in advance. Although it's been around since 2020, we'd still expect that the 60-day booking window is temporary and at some point, it will probably go back to 180 days.
Disney Advance Dining Reservations can be made the following number of days in advance:
All Guests (guests not staying in Walt Disney World – 60 Days
Walt Disney World Resort hotel guests – 60 Days + 10
The best restaurants in Disney World always fill up quickly so try to make your reservations exactly on the 60-day window if possible. The sooner you make your advance dining reservations the more likely you are to get a table at the restaurant you want to dine in.
General Public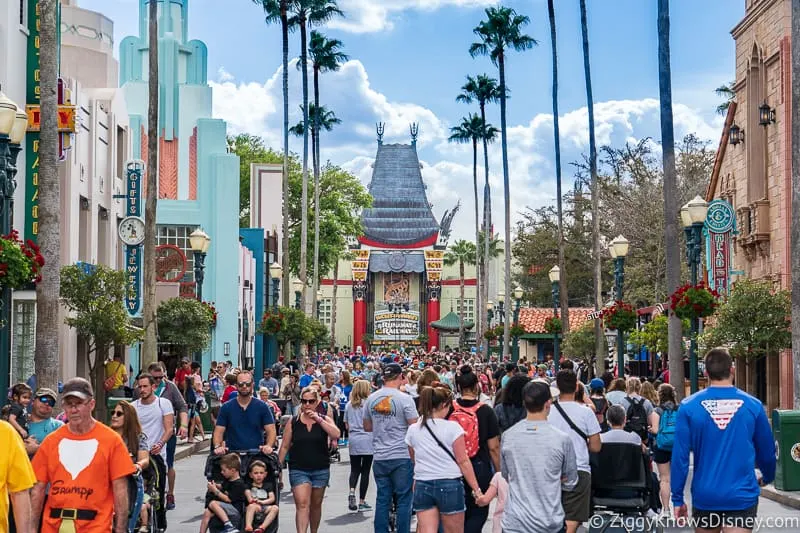 All guests can book reservations for Disney World restaurants at least 60 days in advance. This counts even if you aren't staying in a Walt Disney World Resort hotel or if you are a Florida local just visiting for the day.
The rule is you can book restaurants 60 days in advance from today. For example, if today is June 3, the 60th day would be August 2. That means you can book a restaurant on any day, all the way through August 2.
Who counts as the general public? Anyone NOT staying at a Walt Disney World-owned and operated resort hotel. This includes:
Staying at an off-site hotel
Disney Springs-area hotels
Swan & Dolphin hotels (they are on Disney property but not owned by Disney)
Shades of Green
Local Florida residents visiting for the day
If you are in any of the above categories, you can book dining reservations 60 days in advance from today, but you don't qualify for the bonus 60+10 rule I will explain below.
Walt Disney World Resort Guests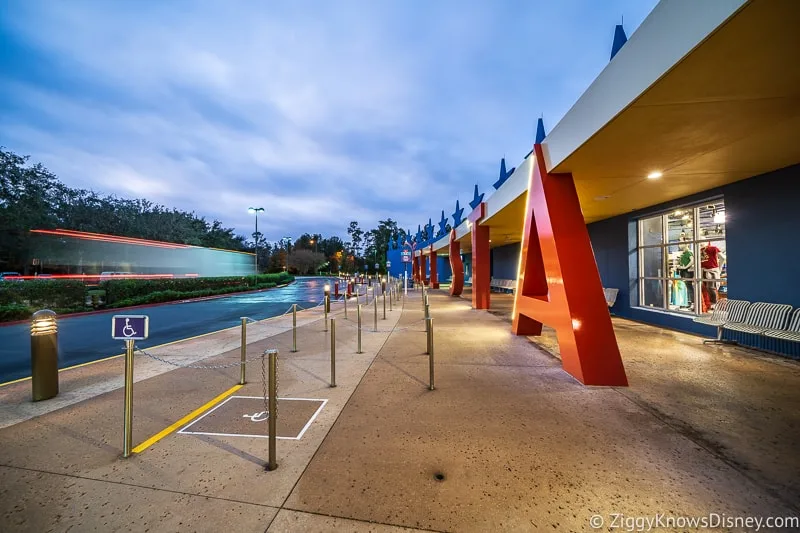 If on the other hand, you are staying at a Walt Disney World Resort hotel, you have a slight advantage over other guests when it comes to restaurant reservations. You get to take advantage of the 60+10 rule
This used to be the 180+10 rule and will most likely go back to that at some point as we'd anticipate the ability to book restaurants at 6 months prior to the start of their trips hopefully soon!
Instead of only being able to book Disney restaurants 60 days in advance, you can book them 60 days in advance of your arrival date PLUS you get an additional 10 days bonus from that date. This allows you to book advance dining reservations for the entirety of your stay, as long as it doesn't go over 10 days.
For example, if today is June 3 then 60 days out is still August 2. But if you have a trip planned for 10 days or less, you can book the restaurants for your whole trip on June 3 and call it a day.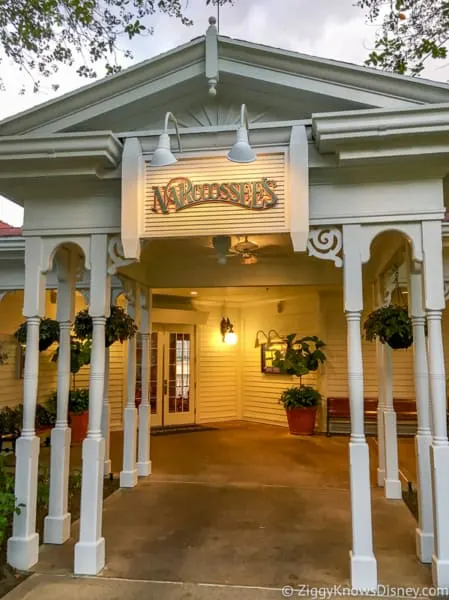 Instead, if you were not staying at a Disney World Resort hotel, you could book your ADR for August 2 on June 3, but then for the restaurant on August 3, you'd have to wait to book that until the next day, June 4. And so on and so forth. That means waking up early for the next 10 days in a row just to book a reservation.
Do you see the advantage in staying on property in this case?
The 60+10 rule gives you a big advantage in getting hard-to-get dining reservations over non-Walt Disney World Resort guests. Of course, you'll still be competing with other Disney World Resort guests, but the closer to the last day of your stay that you try to make a dining reservation, the fewer people are already going to have one, making it easier for you.
TIP: Count back now 60 days from your Walt Disney World arrival date and mark it down on your calendar so you don't forget.
Disney World Split Stays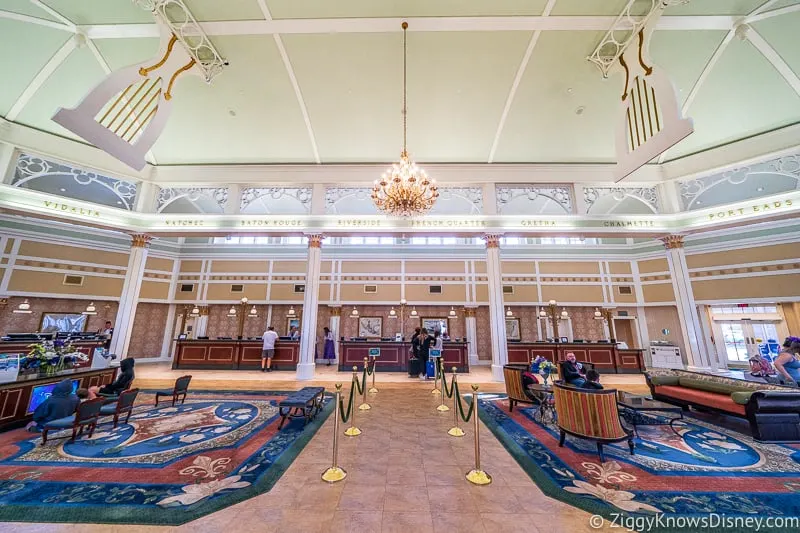 If you are not sure what a split stay is, it is when you stay at two or more Disney hotels during your vacation. For example, 5-night at the Polynesian and 5 nights at Caribbean Beach.
In the case of a split stay, the 60+10 rule does NOT apply. On the 60th day from your arrival date, when are able to start making ADRs, you will only be able to book a restaurant for those first 5 days of your vacation at the Polynesian and not the last 5 at the Caribbean Beach.
Even though it would be logical to be able to book them all right away since you are staying all 10 days on Walt Disney World property, that is not the case.
In order to book the restaurant for the last 5 days at the Caribbean Beach Resort, you will have to wait until 60 days before your arrival at THAT resort. Even though we love split stays, this is one of the only downsides to doing it and is usually not a problem unless you are trying to book one of the absolute hardest-to-get reservations in Disney World.
Before You Book Dining Reservations
Now that you have your list of restaurants, there are just a few more things you need to prepare before the 60-day booking window starts.
1. Make a list of restaurants you want to try – Before you start making advance dining reservations you need to have a plan for which restaurants you want to eat at in Disney World.
The Walt Disney World website is a great resource with a list of every restaurant and all the menus. Go on there and through them to see which ones look the best to you.
Always put a few extra restaurants on the list than what you will be able to eat at. This gives you more options when it comes time to make ADRs.
2. Narrow down your list to the absolute must-try restaurants – Out of your whole list, write down the 4-5 most important ones that you HAVE to eat at. This will help you prioritize when booking.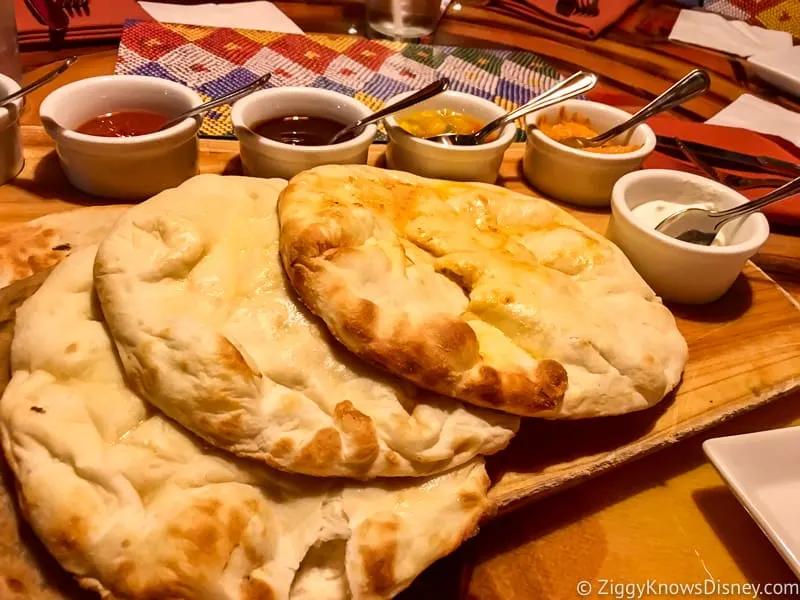 3. Plan your vacation days – Write down which days are going to be park days, which parks you will be at on each day so you figure out where you are going to be. Once you know where you are going to be, you can start filling in the meals with restaurants from your list that are located in those places.
Will you be in the Magic Kingdom on Wednesday? That's a great time to try Be Our Guest. EPCOT on Thursday? Grab some sushi at Shiki-Sai:Sushi Izakaya then.
4. You have to be flexible – We always have a list of the must-try restaurants for our next trip and make some of our plans around those. When we go to make the dining reservations we sometimes end up switching our park days around so we can get the ADRs we want.
5. Make a DisneyWorld.com account – Go on The Walt Disney World website and set up your account if you haven't already. You can use this account with the My Disney Experience app which is essential to planning your vacation.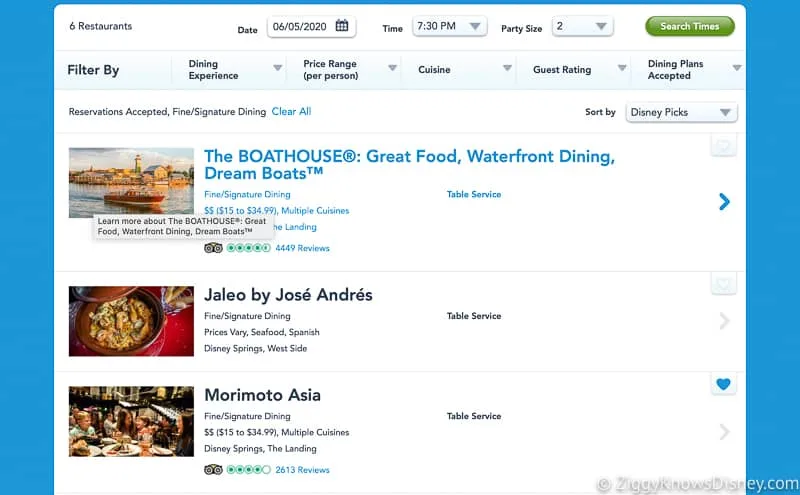 6. Sign in and get familiar with the website – Once you create your account, log in and get used to the Disney World website. The better you can navigate before you make dining reservations, the smoother things will go when your booking window opens.
7. Link Hotel Reservations to your account – Once you get your My Disney Experience account set up, you need to link your hotel reservations to your account. If you don't do it, the system won't know when your trip is and you can't use the 60+10 days from your arrival rule.
Go to "My Plans" under the "My Disney Experience" tab on the website or in the My Disney Experience app to do this.
Click "Link a Reservation."
Enter your Walt Disney World confirmation number and the last name on the reservation.
Once you link them, you can check the status to make sure it is all connected correctly. Check under "My Plans" to see if your reservation shows up.
You will need your Walt Disney World confirmation number, the last name on the reservation, your arrival date, and the name of your Disney Resort hotel.
What Time Can I Make Dining Reservations?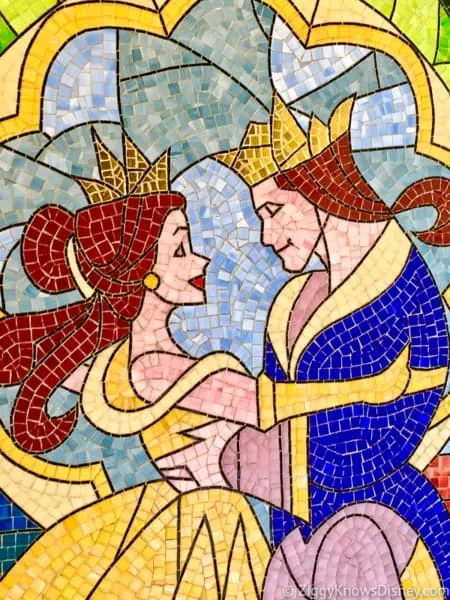 What time of the day can you start making advance dining reservations? That depends if you are making them online or on the phone.
Online and My Disney Experience App Reservations – Advance dining reservations open each morning at approximately 6:00 am ET. Sometimes the window opens at 5:45 ET, so be prepared for that.
Phone Reservations – Dining reservations are available on the phone each day starting at 7:00 am ET.
You may have noticed a time difference between making your advance dining reservations online or on the phone. The online reservation system goes online one hour earlier than phone reservations and starts at 6:00 am.
That may not seem like a big difference, but that one hour can mean the difference between you getting those hard-to-get ADRs or not.
How Many Restaurant Reservations Can I Have at Once?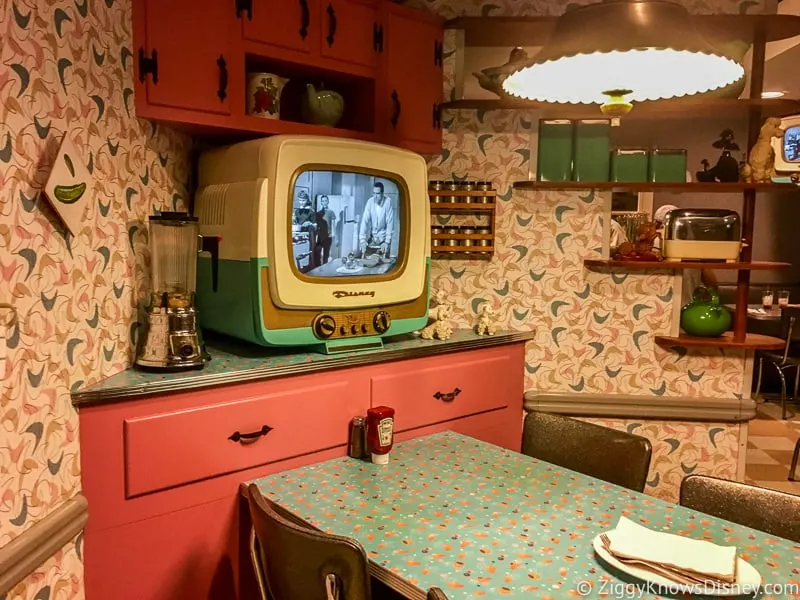 You can have an almost unlimited number of dining reservations for your trip, just as long as they don't overlap each other at the same time.
Disney World's dining reservation system doesn't allow you to book more than one restaurant within 2 hours of each other. That means if you have a dining reservation at 5:00 pm, any other reservations you have that day have to be before 3:00 pm or after 7:00 pm.
If you try to book two restaurants within that 2-hour window, the online system will tell you that you already have another reservation at that time, and you are given the choice to cancel one and keep the other.
If you are trying to make two separate reservations for different groups in your party, you will have to use the phone reservation system and explain the situation.
Do I Have to Have a Hotel Reservation?
No, anyone can make dining reservations at Disney World. Even if you don't have a hotel reservation at a Walt Disney World Resort hotel, you can still use the dining reservation system and manage everything through your My Disney Experience account.
Do You Need to Have a Park Ticket?
Unless you are going to a restaurant inside one of the Disney Parks, theme park tickets are not required to dine in Walt Disney World.
Can I Make Disney Dining Reservations for Someone Else?
Yes, anyone can make a Disney World dining reservation for someone else. Just keep in mind that whoever's credit card is used to hold the reservation will be charged if the party is a no-show or the reservation gets canceled with less than 24 hours notice.
Can I Get Into a Theme Park if I Have a Dining Reservation There?
No, having an Advance Dining Reservation doesn't give you automatic entry into the theme parks, you still need a valid theme park admission.
To get into the theme parks you need a Park Reservation (no longer needed for most guests after January 9th, 2024) AND Park Admission Ticket. If you then want to go to one of that park's restaurants, you will need an advance dining reservation (ADR).
If you show up to the Magic Kingdom with a dining reservation but no park reservation, you will not be allowed in.
Making Dining Reservations Online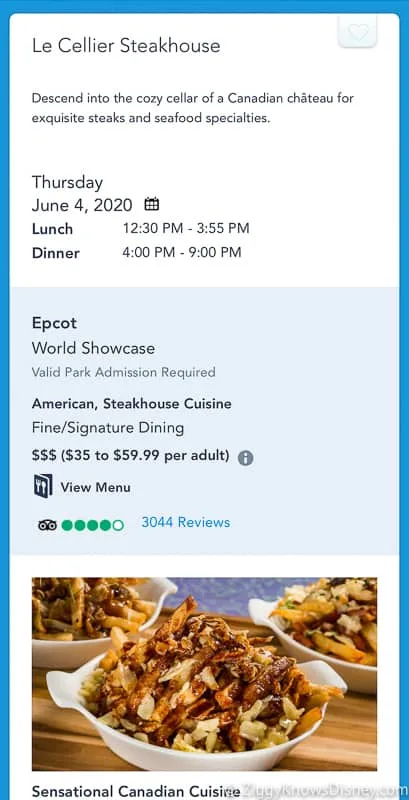 Before you make your dining reservations, we'll assume that you've already followed the above steps and registered your My Disney Experience account.
Make sure you book your dining reservations 60 days before your arrival date. That means being online 15 minutes BEFORE the 6:00 am ET starting time that day.
Go to DisneyWorld.com/dining/ on your computer or open up the My Disney Experience app 15 minutes BEFORE the 6:00 am ET starting time that day.
Make sure your account is logged in properly or the 60+10 days rule won't work.
Select your restaurant to book from the list. (You can type the name in the search bar for faster results.)
Choose the date you would like to book and the number of people in your party.
Select the time you would like to make the reservation for or choose the "Meal Period" (All Day, Breakfast, Lunch, or Dinner).
Click "Find a Table"
If there is a table available you will be given a choice of times. Select one that you prefer.
Follow the prompts to confirm your booking.
Write down the confirmation number or take a screenshot.
Now that you've made your first advance dining reservation, you can go down the list and book the others.
Once you have made your reservations a confirmation email will be sent to your email address. We suggest keeping a master list of dining reservation numbers and bringing them with you to the restaurant, just in case for some reason you aren't in the system.
TIP: If making reservations for your entire stay on the same morning, we suggest booking the most important reservations first and then write down the list in order.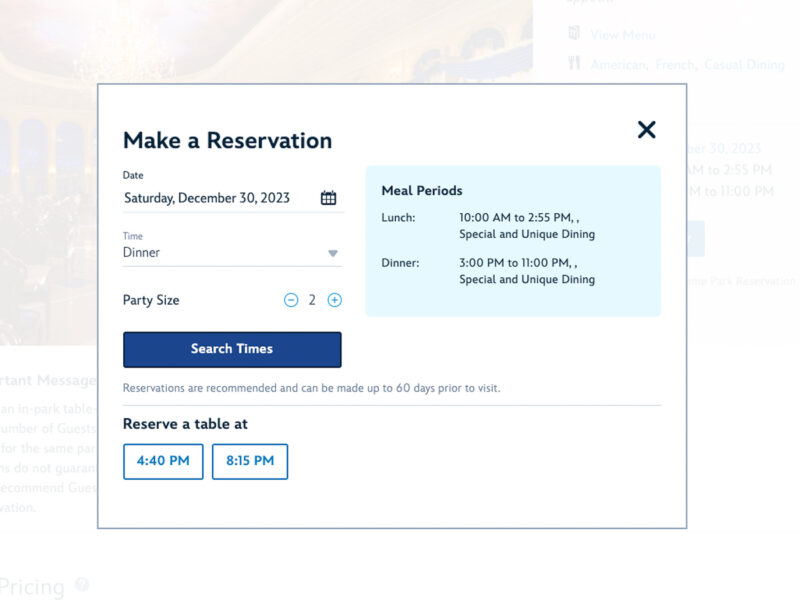 Technical Issues – While we like the Disney World dining reservation system, it isn't without its glitches. We always book our restaurants on the computer as it seems to be more reliable than the My Disney Experience app.
If for some reason the website is having issues, however, switch quickly to the app and try there. Try again on both and see if it eventually starts working. If not, you will have to try making a reservation on the phone at 7:00 am ET.
Reservation Lead Guest – All guests in your group can be added to the restaurant reservation, but only one will be labeled the "Lead Guest." It's important to note who you designate on the reservation because only the lead guest can cancel reservations for you if you have to make changes later on.
If you Use a Travel Agent – While using a travel agent is possible to make your Advance Dining Reservations for you, be aware they will be the lead guest on the reservation.
Searching for Times – When searching for available Disney World restaurants you can sort times by All Day, Morning Before 12:00, Afternoon 12:00 to – 4:00, or Evening After 4:00 If you are looking for a specific restaurant, sometimes switching between the options can help find a reservation.
Have your Credit Card Ready – All Disney World dining reservations require a credit card on file in case of cancellation. A few other restaurants and dining experiences will require full payment ahead of time. In either case, have your credit card handy when booking.

To save time you can enter it into the system before booking ADRs. Once you insert it into the system, it should save your credit card for future reservations.
Website vs My Disney Experience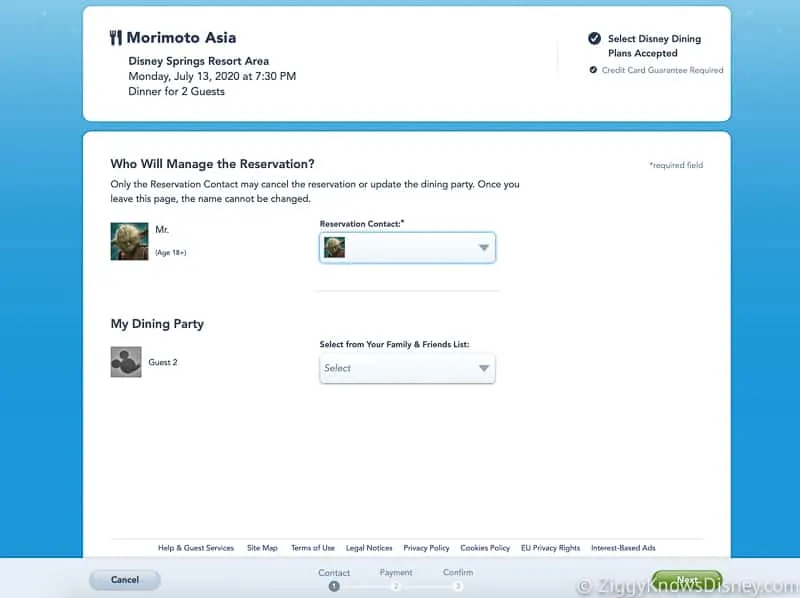 To book dining reservations online you can use the Disney World website or the My Disney Experience app. There isn't much difference between the two.
Both options let you book ADRs, check the status of existing reservations, and cancel reservations you don't want to keep. The booking window for both also starts at 6:00 am ET.
However, over the years we have found the website to be more consistent and quicker to make reservations with. The My Disney Experience app tends to timeout or freeze up more so we avoid it when we can.
We recommend you use the website if you have a computer, but both of them are better options than making phone reservations.
Reservations on the Phone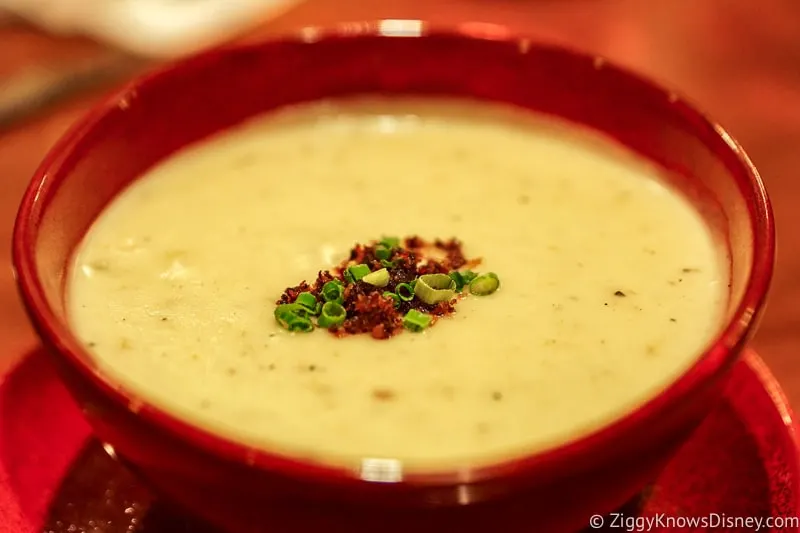 If you don't have access to a computer or the mobile app, you can still make Disney World ADRs over the phone.
The normal phone number for Disney Dining Reservations is: (407) WDW-DINE or (407) 939-3463.
Phone reservations can still be made 60 days before your arrival date like online reservations.
The advance dining reservation booking window starts at 7:00 am ET daily, which is 1 hour later than online reservations. This means that many of the best restaurant reservations are likely to be taken by the time you call at 7:00 am.
Besides potentially missing out on some restaurants, you also may experience long wait times while waiting for a Disney representative to answer the phone. The times to call with the shortest wait are on weekday evenings after 8:00 pm ET. Weekends are busier and any day at 7:00 am ET.
Which Restaurant Reservations Require a Credit Card?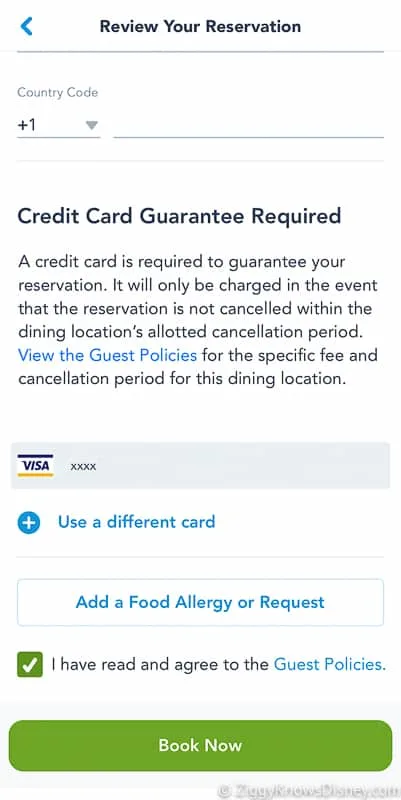 ALL Disney World Advance Dining Reservations require a credit card at the time of booking. This could be for restaurants, lounges, dinner shows, buffets, and any other dining experience.
That doesn't mean that your credit card will get charged during the booking process, however. Disney World uses your credit card as a security in case you cancel your reservation at the last minute or decide not to show up.
If you don't go to your reservation or fail to cancel within 24 hours, there will be a $10 charge per person applied to your credit card ($100 if the reservation is for Victoria & Albert's).
Disney will NOT charge your credit card at the time of booking. Most restaurants in Disney World require payment at the end of the meal just like back home. Payments can be made with cash, credit card, Disney Dining credits, or a room charge using your MagicBand.
There are, however, a handful of restaurants that require payment upfront before actually going to the restaurant.
Here is a list of the Disney World restaurants that require pre-payment with a credit card:
Cinderella's Royal Table
Dessert Parties
Managing and Modifying Dining Reservations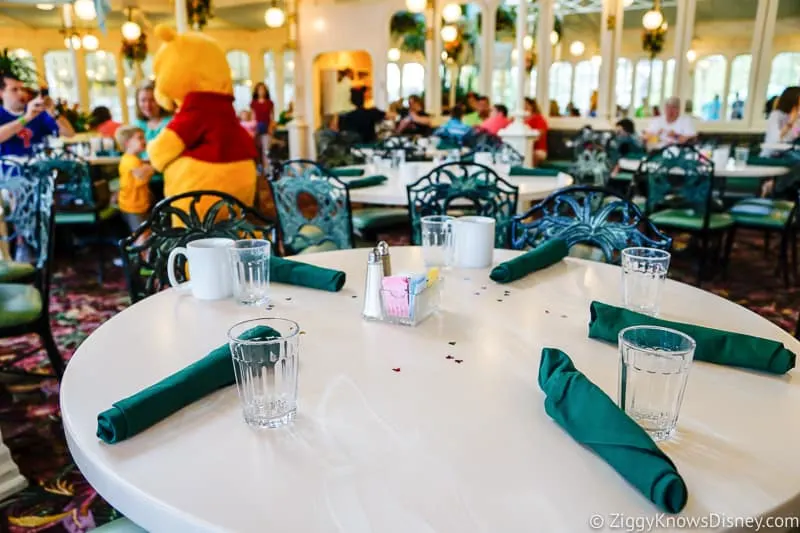 Once you make your advance dining reservations, you can see your existing restaurant reservations online on the website or in your My Disney Experience app. On the website, go to the "My Disney Experience" section and check under "My Reservations."
We recommend checking here once you make the reservations to see if everything is listed. If not, you can manually link your reservations to your account. To manually link them to My Disney Experience you will need your reservation confirmation number (that's why we write it down when we book it).
On the website go to the "Link an Existing Reservation" section of the site and insert your confirmation number. This can be done for reservations previously made online or by phone.
Showing Up for Your Reservation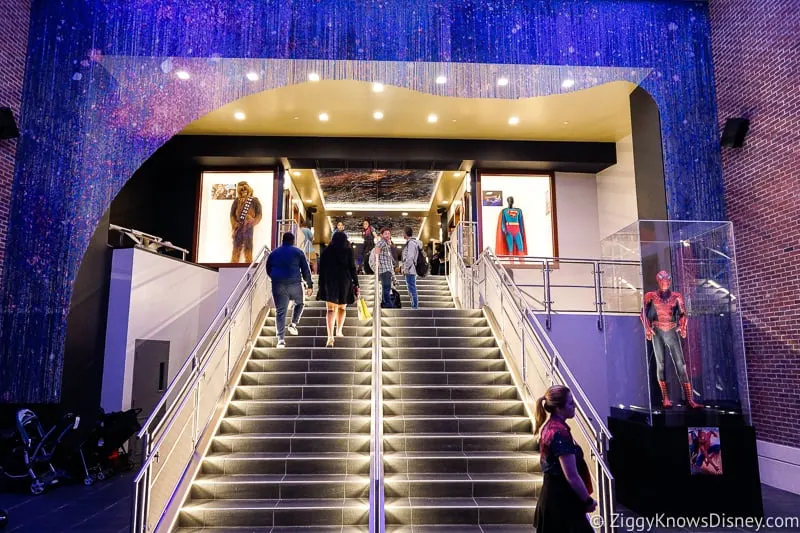 The only thing left to do once your book your ADRs is to go to the restaurant and eat!
Disney will send you a dining reservation reminder email 24 hours before your scheduled dining time. It includes your group size, time, and confirmation number. You also have the chance to modify or cancel the reservation at this point.
We like to keep a list of all our Disney dining reservations for the trip just in case the emails don't go through or we forget.
What Time Do I Have to Show Up?
It's important to show up in time for your dining reservations at Disney World. Disney will hold your reservation for up to 15 minutes past your original seating time.
If you are more than 15 minutes late, your dining reservation will be canceled and you will be subject to a no-show fee of $10 per person. Sometimes Disney is flexible with this rule, but it depends on the restaurant.
For that reason, we encourage you to show up 15-20 minutes early for your reservation, especially if it requires you to take transportation to get there. This will ensure you have enough time and you will not be late.
The check-in process might be faster now with the new Disney Mobile Dine Check-In app which allows you to skip the host stand and go directly to your table. We'll update you when we have more experience using it.
Disney Dining Cancelation Policy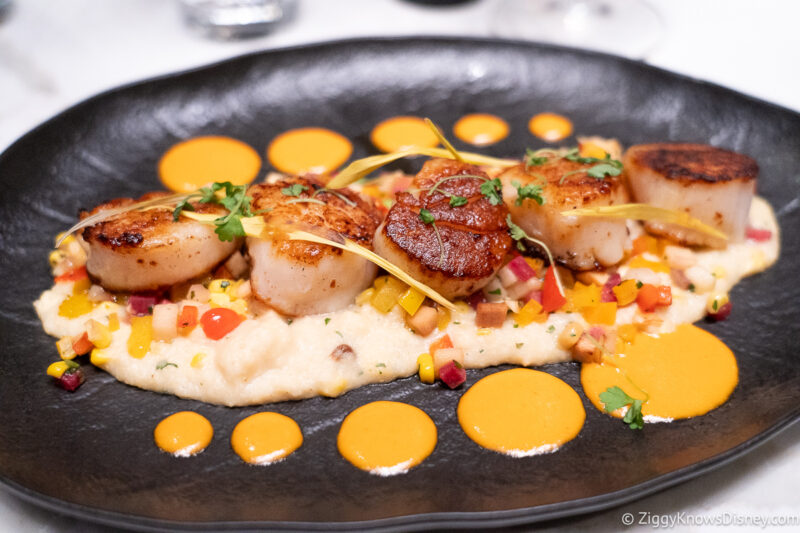 Sometimes your plans change in Walt Disney World and you now might not want the dining reservations you originally intended on using. Thankfully, you can cancel your restaurant bookings, you just need to do it the right way so as to not get charged.
Advance dining reservations must be canceled 2 hours or more in advance of the scheduled dining reservation.
No-shows or being more than 15 minutes late will incur a $10 fee per person.
Some of the dessert parties and dinner shows might have a 48-hour cancellation rule so be sure to check the details at the time of booking.
You will NOT be charged a cancellation fee as long as at least ONE member of your party shows up. Even if it was for 8 people, you just need 1 to not get a penalty.
If you cancel your dining reservation 2 hours in advance or more, you will not be charged the $10 fee.
You can cancel Advance Dining Reservations in Disney World in many ways:
Online – Using the website or My Disney Experience app.
On the Phone – Disney has a dedicated number for cancellations (407-WDW-CNCL).
At the Restaurant
Hotel Front Desk
Disney Guest Relations
One thing to keep in mind is canceling a Disney World Resort Hotel reservation DOES NOT automatically cancel any Advance Dining Reservations associated with your account. If you are not planning on taking your trip, make sure to log into My Disney Experience and cancel the dining reservations or you will be charged a fee.
Canceling at the Last Minute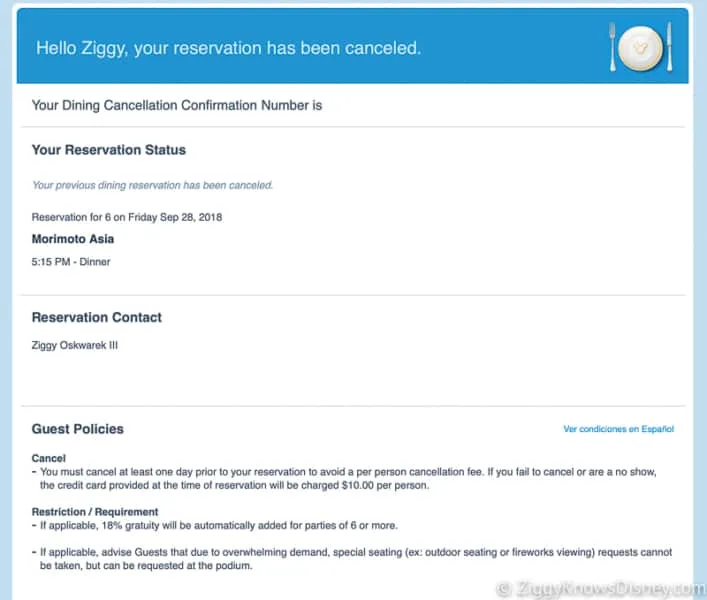 Sometimes unexpected events come up at the last minute and you can't make your scheduled reservation. This is less of a problem now that Disney recently changed the cancellation window from 24 hours down to only 2.
However, if you have to cancel less than 2 hours before your dining reservation, here are a couple of things that might work:
Explain the Situation – If there is some kind of emergency that happens where someone is sick or something similar, explaining what happened can often get you out of the penalty. Try stopping by the front desk of the restaurant, or calling them on the phone and explaining your problem.

If that doesn't work, you can also try calling Disney Dining Reservations at (407) WDW-CNCL and explain what happened. Results are mixed in both cases and it will all depend on the discretion of the Cast member you are dealing with.
Change Reservation Time – If there is still availability you can always try checking if there is a table available at a different time that day that might work better for you.
One More Trick – If you absolutely can't make your reservation that day, one secret is to change the reservation for that same restaurant to another day and then cancel it. This usually works as your new reservation is now outside the 24-hour cancellation window and you can just cancel it and not be charged.
Hard to Get Reservations in Disney World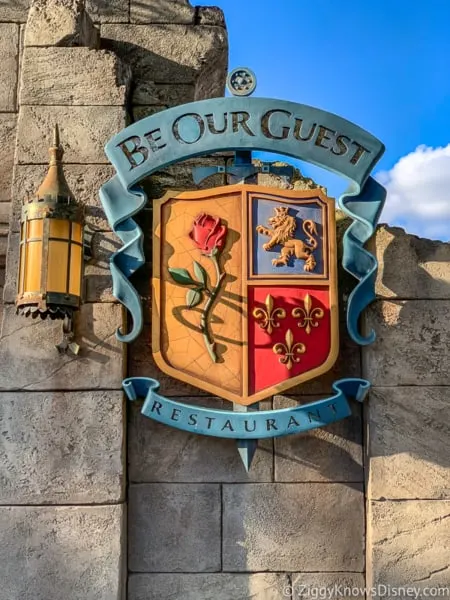 While there are hundreds of restaurants to dine in at Walt Disney World, a handful of them are what we'd call "Hard to get dining reservations." Many people even plan their vacations around these restaurants, making them extremely hard to get.
If you are planning on eating in any of these restaurants during your trip, then advance dining reservations are absolutely 100% necessary!
Hardest to Get Restaurants
Here is a list of the hardest restaurants to get dining reservations for in Disney World:
Victoria & Albert's – This restaurant has won countless awards and is a world-class dining experience. It is a favorite location for celebrating special events like anniversaries and birthdays. For that reason expect it to sell out immediately when the booking window opens.

This is taken even to another level with the Chef's Table experience at Victoria & Alberts. This special 10-course meal only has 1 table seating per night and sells out the first day it's available. To book this, try booking online or by calling Victoria & Albert's directly at 407-939-7707.
Cinderella's Royal Table – Almost just as hard as Victoria & Alberts. Situated in Cinderella Castle, it is a favorite of princess fans as it's one of the only places to find them all together for a meal.
Be Our Guest – Even though it may not be brand-new anymore, Be Our Guest remains just as popular. Reservations at any time of day are hard to get, but Dinner is especially hard since The Beast comes for photo-ops with guests.
Chef Mickey's – Character meals are one of the most popular dining reservations in Disney World, and these tables go fast.
Hoop-Dee-Doo Musical Revue – You might still be able to get tickets after the initial booking window passes, but the good seats go immediately.
Ohana – Really popular, especially at Dinner.
Oga's Cantina – Even though it's only a bar/lounge, this is probably the coolest dining experience in Disney World. Tables are extremely difficult to get and you'll likely find yourself crowded at the bar. Definitely worth the effort though!
Space 220 – This is one of the newest restaurants in Walt Disney World and it is definitely the most unique dining experience. The food is great here and the space windows will take your breath away.
Storybook Dining at Artist Point with Snow White – Another highly popular character meal and one of the newest. The Wicked Queen steals the show here and is worth the hassle of getting an ADR.
These restaurants list above are what we'd consider to be the hardest-to-get reservations in Walt Disney World and should absolutely be made on the first day that booking is available (60-day window).
It's very rare for them to take walk-in guests, and they can be quite difficult to get large groups into.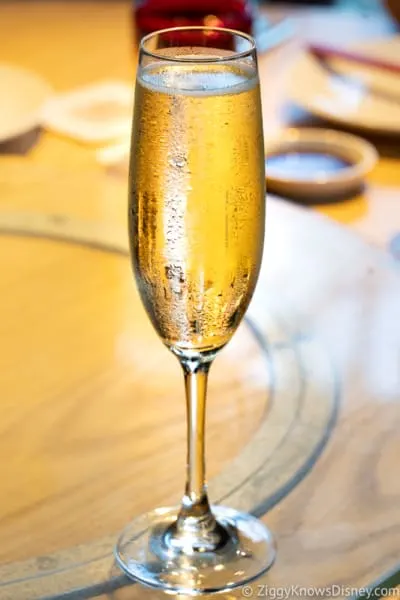 Here is what we would consider the "next-tier" of hard-to-get advance dining reservations:
Akershus Royal Banquet Hall – Princess character meal in EPCOT's Norway pavilion.
Bon Voyage Adventure Breakfast at Trattoria al Forno – Another Princess character breakfast located at Disney's Boardwalk Resort. *(The princess dining here has not yet returned.)
California Grill – Beautiful location, great food, and stunning views of the Magic Kingdom fireworks make this one of the hardest tables to get in Disney World.
Cape May Cafe – People line up around the block for a New England Clam Bake, and they also get online at 6 am to get the reservations.
Le Cellier – Perhaps EPCOT's most popular restaurant after all these years.
Rose & Crown (Dinner) – This restaurant is located right on World Showcase Lagoon, making it a perfect place to see the fireworks right from your table.
Pretty much all character dining meals at Disney World are going to be hard to book. So if you like the idea of eating with the characters, be ready to book as soon as your window opens and keep checking for cancellations.
How to Get Hard Dining Reservations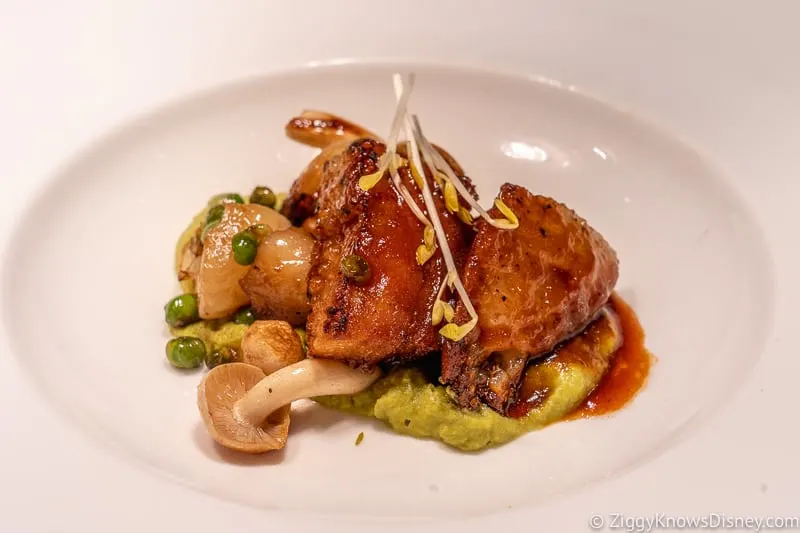 Getting hard-to-book restaurants is where all your training so far on Advance Dining Reservations is going to come in useful to you!
Book these restaurants online. You have a one-hour advantage over booking ADRs on the phone (6:00 am vs 7:00). It may not sound like a lot, but that will be the difference between eating at Cinderella's Royal Table or seeing that look on your child's face when they find out they won't be eating there.
Make reservations on the first day your booking window opens (60 days before arrival).
Use the 60+10 booking rule. Getting to book past the 60 days into the rest of your trip will give you a big advantage over others staying off-site.
Make hard-to-get dining reservations for the end of your trip. The more days into your trip you try to make a reservation, the less competition you will find. Hard-to-get restaurants are much more likely to have availability 69 days from now than they are only 60 days from now.
Split up into two groups – Sometimes a restaurant will have two tables of 4 rather than one table of 8. You can try splitting up your group this way to get a reservation.
Make sure your My Disney Experience account is set up and logged in ahead of time.
Make sure your credit card is already on file so you don't waste time entering the numbers at 6:00 am.
Advance Dining Reservations for Large Groups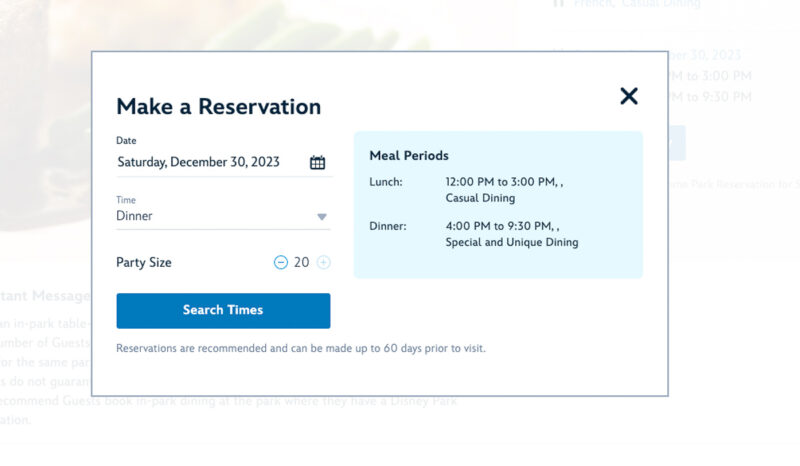 Making advance dining reservations in Disney World can be a challenge with a big group, especially in one of the more popular restaurants. We've had to do this for extended family on vacation and it is not easy.
The Disney World reservation system allows you to search for up to 20 guests per dining party. The changes of you finding a restaurant that allows 20 guests to seat together isn't too likely though. Making reservations for guests for more than 8 guests can be challenging….
We do have a few tips that might help if you are booking restaurants for a large group:
Choose the Right Restaurants – Some restaurants are more accommodating to big groups of people. If you try to make a reservation for 12 people at Victoria & Albert's for example, you are going to be disappointed.

Restaurants like Hollywood & Vine, Whispering Canyon Cafe, and Biergarten for example are all accommodating for large groups.
Use "Group Dining" – If you have 8 or more people in your dining party, you can make ADRs using Disney's "Group Dining" number. "Group Dining" will help work with you to get a table all together, and make suggestions.

Just Call 407-WDW-DINE and ask to be transferred to Group Dining.

The only thing to keep in mind is that an 18% gratuity will be automatically applied to any dining party booked through Group Dining.
Split Up Tables – As a last resort you could split up your group into 2 or more tables. Many restaurants are able to accommodate big groups if they don't have to put them all at the same table.
Last-Minute Reservations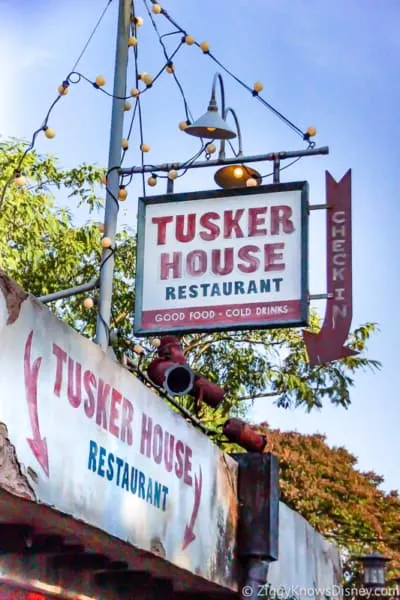 Disney World in general is not a place to be spontaneous most of the time and there is a lot of planning required, including restaurants. Back in the day, it was easy to get restaurant reservations in Disney World at the last minute.
Now with the popularity of the Disney Dining Plan and the Free Dining promotion, it's gotten harder and harder to find a table at the last minute. Sometimes though, you don't want to have everything always planned out and it's nice to make a decision when you feel like it.
While I definitely don't recommend it if you are planning a vacation, it is possible to get Disney dining reservations at the last minute. We often check a few hours before to see what restaurants are available, and many times there are some great reservations still out there.
Advance Dining Reservations can be made up to 20 minutes before your desired dining time using My Disney Experience. This comes in handy if you are walking around one of the parks and browsing for where to have Dinner for instance.
Keep Your Expectations Low – If you deliberately are not making advance reservations because you don't like planning that far ahead I get it. Just don't go into it expecting to get an ADR for Ohaha, Cinderella's Royal Table, or one of the more hard-to-get reservations in Disney World.

If you have something in mind ahead of time, it's always better to book right away and not wait. Sometimes you do get lucky however
Go to Disney Springs – Restaurants in Disney Springs are much easier to get a table for at the last minute than restaurants in the Disney Parks or resort hotels. Disney Springs has an amazing lineup of restaurants and many of them are quite large with big seating capacities.
What to Do if You Can't Get a Dining Reservation?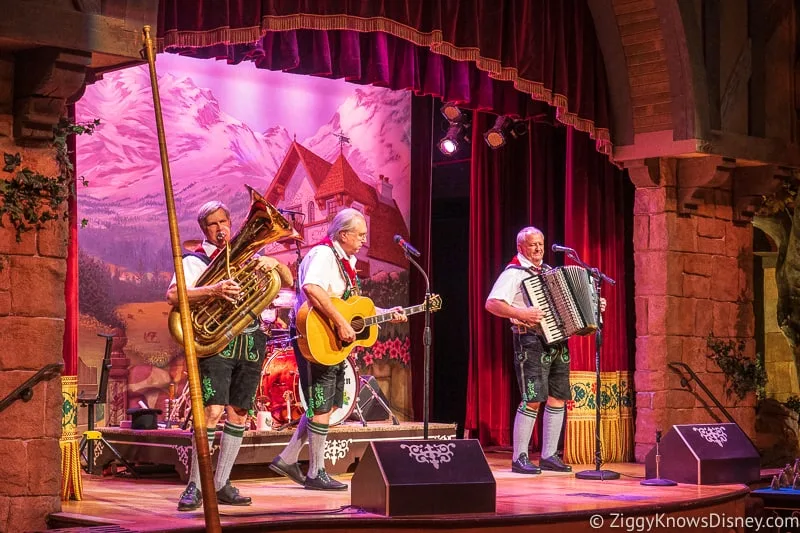 Keep Checking
Sometimes people cancel reservations and they go back into the pool for others to get. Canceled reservations are released into the Advance Dining Reservation system every morning at 6:00 am ET.

Check every day to see if something opens up. The more relentless you are at checking, the more likely you'll find a table available.
Try at the 60 and 30-day Booking Windows
A lot of guests change dining reservations in Disney World at the 60 and 30-day points because of other trip planning moves. This is when plans change and they might be willing to let go of an ADR or two.
Check 24-48 Hours Before
This is an especially good tactic. Trying to get a reservation the day before or on the exact day you are trying to get a reservation for is a good strategy since many people end up changing their plans shortly before their reservation.
Unfortunately, many people hoard dining reservations early on in the process, and then if something else better opens up, they let the previous reservations go, reservation you may want.
Now with the 2-hour cancellation window, this works even a few hours before your desired dining time as some people let them go at the last minute.
Eat at an Unpopular Time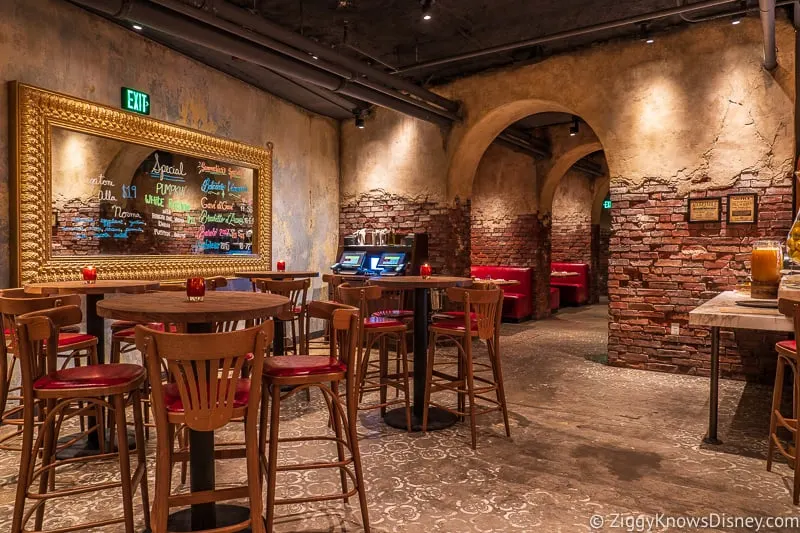 If you want to book a restaurant at the last minute the best thing to do is try for a table at an undesirable time for other guests.
Most guests, especially ones with kids will eat at the classic meal times. That means between 12:00 pm and 12:30 pm for Lunch and between 6:00 pm and 7:00 pm for Dinner. You are very unlikely to find much at those times at the last minute.
Don't look for a reservation at 12:00 pm for Lunch, try for 2:30.
For Dinner either choose a very early time (5:00 pm or before) or a late time (after 8:00)
Ask the Concierge
When you arrive at your Walt Disney World Resort, press the "DINING" button on your room phone or dial *55 to connect directly with Dining Reservations. You can ask if they have any last-minute cancellations and tell them what you're looking for.

When you go down to the lobby, head over to the Concierge Desk and do the same thing. You never know what will turn up and they might recontact you if a table opens up.
Try Another Reservation System
Sometimes, Disney's Dining Reservation system isn't the only way to book a table at a Walt Disney World restaurant.
Many of the restaurants in Disney Springs and the Swan & Dolphin hotels use other reservation services like Open Table or you can call them directly to book. Some keep a separate reservation inventory across the different systems, and you might find they have an open table if you speak with them directly. And you don't have to worry about charges for not showing up to a reservation!
Dining Without Reservations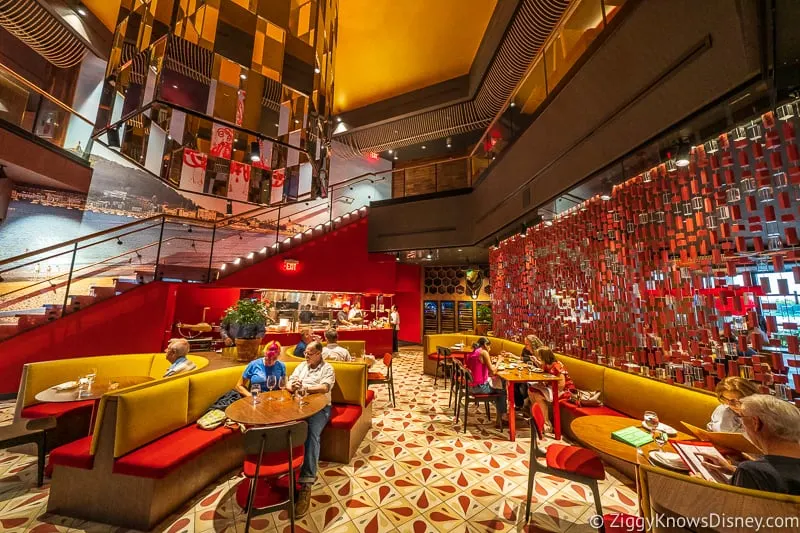 Even with no dining reservation, not all hope is completely lost. With a little work, you won't have to eat quick service Disney hot dogs for the entire trip and you can still get into a table service restaurant without a reservation.
Again, we do not recommend this method as the choices will be extremely limited, but somewhat doable.
Walk-Ups – Some restaurants take walk-ups so if passing by a place that sounds good, just pop in and ask the front desk if they have any free tables. If they take walk-ins they will ask you for a phone number and send you a text when your table is ready.
Get Lunch Instead – During the day many families prefer to eat at the quick service restaurants around the parks, leaving the table service restaurants with fewer guests. This is especially true back at the resorts or in Disney Springs. This is your best chance to be a walk-in diner in Disney World.
Again, you can't get into a place like Victoria & Albert's without an advance dining reservation, but at least you do have some choices, albeit limited.
Best Restaurants for Walk-Ups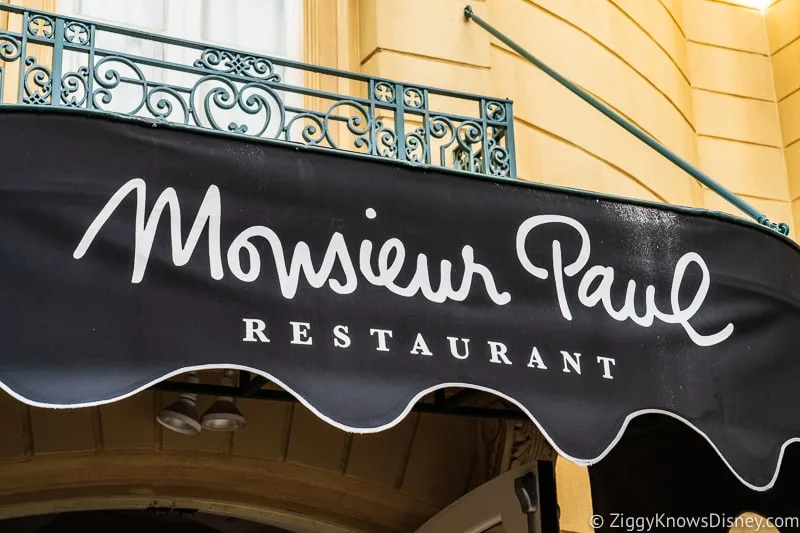 Here is a list of the best restaurants to try in Disney World without a reservation. We'll break them down by location:
Monsieur Paul – France Pavilion
Nine Dragons – China Pavilion
Spice Road Table – Morocco
Tutto Italia – Italy Pavilion
Rainforest Cafe
Tusker House (Lunch and Dinner)
Yak & Yeti
Resorts
Ale & Compass Restaurant – Disney's Yacht Club Resort
Grand Floridian Cafe – Disney's Grand Floridian Resort
Kona Cafe – Disney's Polynesian Resort
Olivia's – Old Key West
Rix's Sports Bar & Grill – Disney's Coronado Springs Resort
Sebastian's Bistro – Disney's Caribbean Beach Resort
Shula's Steak House – Dolphin Hotel
Todd English's bluezoo – Dolphin Hotel
Whispering Canyon – Disney's Wilderness Lodge Resort
Disney Springs
Just about any restaurant in Disney Springs will have walk-in, unless you come on the weekend when it is much more difficult to get a table.
Lounges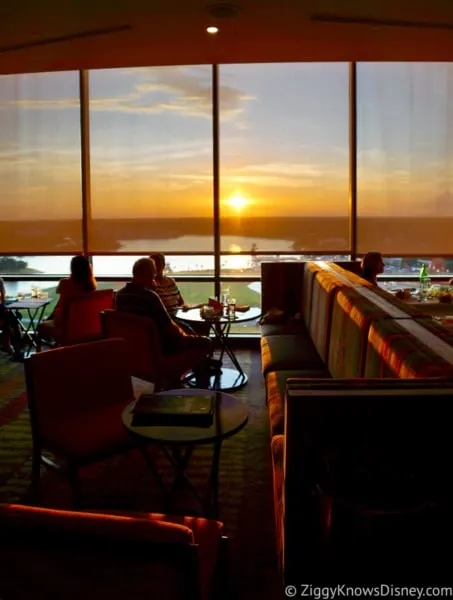 Who says you have to eat in a "restaurant?" Why not try one of the amazing lounges in Disney World. Many of them share the same kitchens as the attached restaurant, but they talk walk-ins and have a minimal wait.
Some of our favorites are:
California Grill Lounge – Disney's Contemporary Resort. All the amazing views and the fireworks show, with incredible food offerings.
Hollywood Brown Derby Lounge – Disney's Hollywood Studios. Much overlooked but an incredible menu in the best restaurant in this park.
La Cava Del Tequila – EPCOT's Mexico Pavilion. Incredible margaritas and the best selection of tequila on property.
Nomad Lounge – Disney's Animal Kingdom. Very relaxing and low-key atmosphere. Awesome food for the more adventurous eaters.
Territory Lounge – Disney's Wilderness Lodge Resort. Get the cheese fondue and mushroom soup and thank me later.
Tutto Gusto Wine Cellar – EPCOT's Italy Pavilion. Great selection of wine and a full menu of Italian favorites. Great atmosphere too.
READ: Best Disney World Bars & Lounges
Will Disney Ever Go Back to the 180 Days Rule?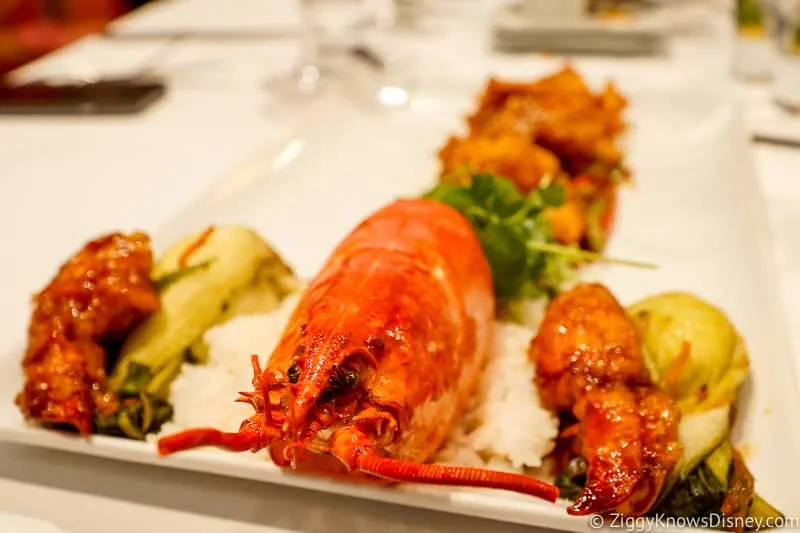 At this point, there is no telling if Disney will ever go back to making dining reservations available 180 days in advance. It might never return to how it used to be.
It's already been years now that they are using the 60-day booking window, which means booking restaurants a bit closer to your arrival date. Given the more uncertain nature of things during this time, Disney will probably keep the advance dining reservation system like this until otherwise.
Just how long that is, remains to be seen. Until that happens we'll just have to keep rolling with the changes.
FAQs
Can I currently make Disney World Dining Reservations?
Yes, Disney World Dining Reservations are available for all guests.
When can you book Disney World Dining Reservations?
All guests can book dining reservations 60 days before. If you are staying at a Walt Disney World Resort Hotel you can take advantage of the 60+10 rule for an extra advantage.
How do I book dining reservations at Disney?
You can make advance dining reservations on the Disney World website, My Disney Experience, or by calling the dining phone number.
How many reservations can I have at once?
You can have as many as you want. The only rule is you can't have two reservations for the same time period and they must be spaced out at least 2 hours from each other.
Can you make Disney dining reservations without tickets?
Theme park tickets are not required for dining reservations unless you are making a reservation in one of the Disney Parks.
Summary
There is certainly a lot to digest when planning your Disney World dining reservations. In our opinion, the most important thing is to be organized beforehand.
Have a plan for which restaurants are most important to you.
Make sure to book them 60 Days ahead of the date or vacation arrival date.
Use the Online reservation system when possible and be online before 6:00 am ET.
If you don't get what you want, keep trying until something opens up.
Be flexible with your dining times, park schedule, and restaurant choices.
Overall, Advance Dining Reservations in Disney World are a life-saver and an absolute must if you want to eat in the best restaurants or if you are coming with a group. If you follow all these tips, you'll be in great shape and end up with the reservations you want at Disney World.
There are some changes we'd like to see still, but overall it's a good system and necessary to use.
Despite some of the changes that were implemented in recent years, you'll still be able to enjoy incredible meals with your family and friends, the new way will just take some time to get used to.
Your Thoughts
I want to know what you think about Disney World Advance Dining Reservations…
Do you like Disney's system for restaurant reservations?
What is YOUR favorite tip?
Let us know in the comments section below!
If you enjoyed this article, as always I appreciate it if you'd share it with others via social media. I work hard at making this website into a useful resource for you and your family to plan your visit to the Disney Parks and I hope it can help you! Thanks 🙂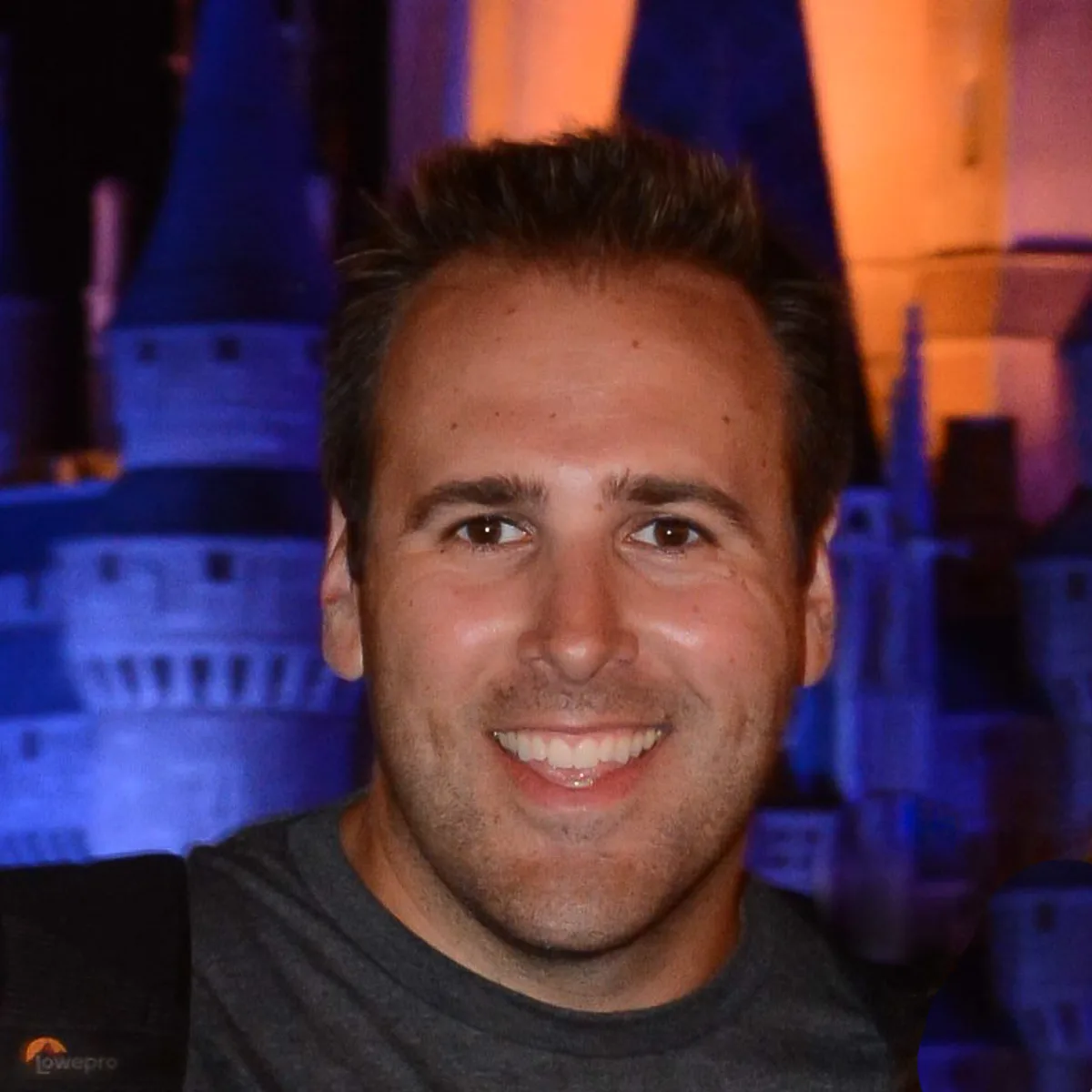 My name is Ziggy and I love Disney, everything Disney! I grew up on Disney and it has and continues to be a huge part of my life. I started young when my parents took me to Disney World when I was 18 months old. Little did they know that would be the first of an uncountable number of trips we would take. I have so many amazing memories going to Disney with my family and friends and it has been interwoven into my DNA.