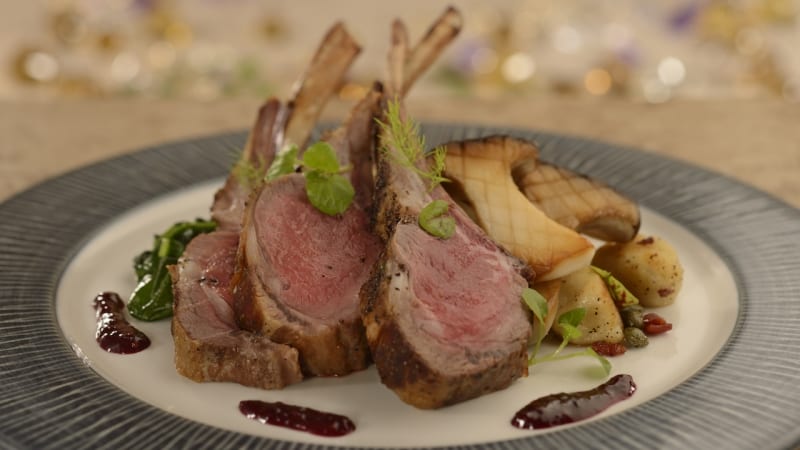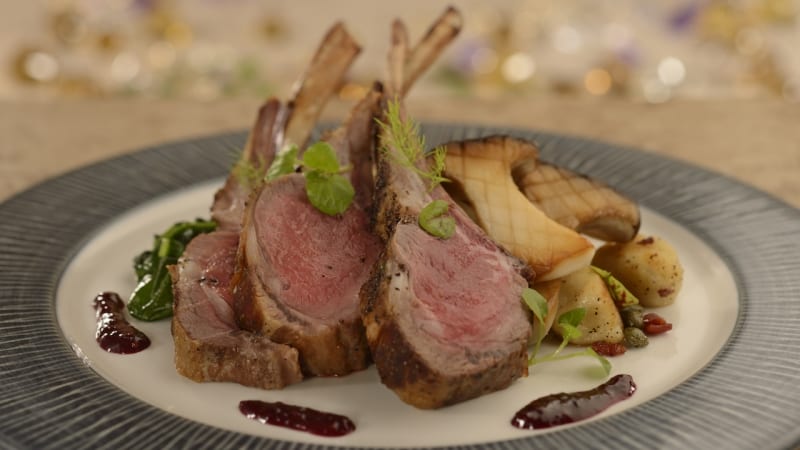 UPDATE 7/27/18: Now we know the answer to the Rumor about Be Our Guest Switching to Signature Restaurant.  Today July 27th marks the opening of the new dining experience at Be Our Guest Restaurant with a 3-Course pre fixe dinner.  Be Our Guest is one of my absolute favorite restaurants in Walt Disney World, I think the atmosphere it offers is second to none, so I'm happy to see them experimenting and keeping it fresh.
This new dining experience will be a 3-Course prix fixe dinner and boast a variety of delectable French-inspired dishes and new offerings.  You will have your choice of appetizer, entree and a personal dessert platter.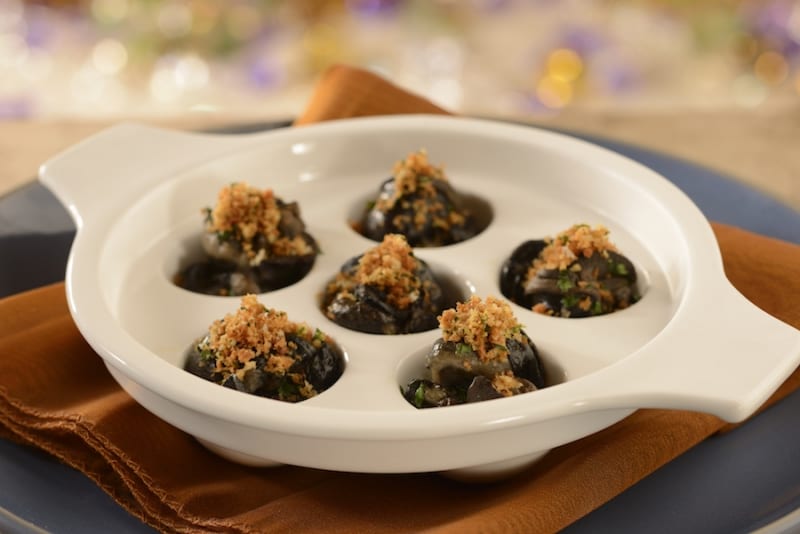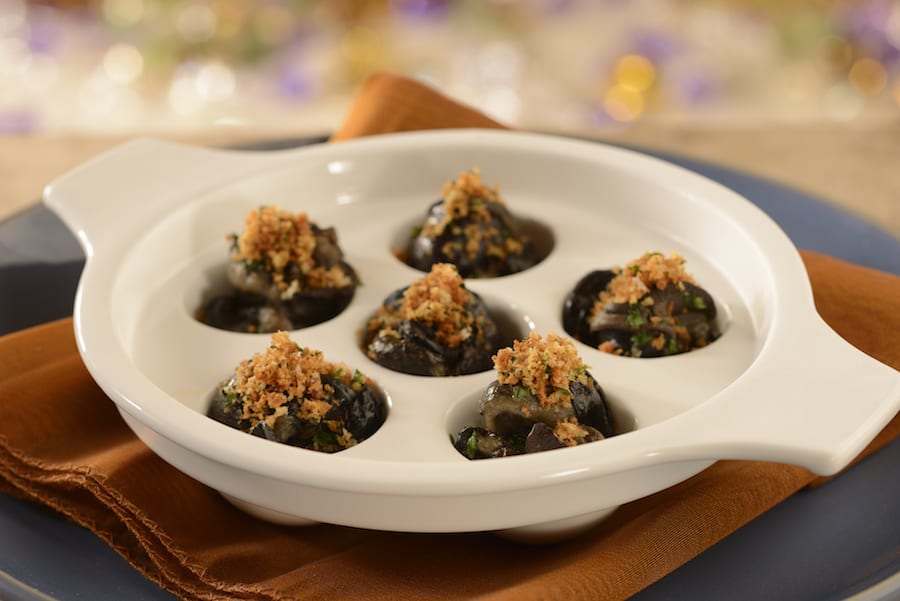 Appetizers:
The classic French Onion Soup which is always delicious, as well as rich new offerings like Charred Octopus with citrus-laced fingerling potatoes, pickled hearts of palm and red pepper coulis; Escargot with herb garlic butter and toasted gremolata; and a selection of assorted meats and artisanal cheeses such as chicken liver pâté, chorizo sausage Manchego, and truffle tremor.
Escargot – Herb-Garlic Butter and Toasted Gremolata
Frech Onion Soup – Toasted Cruton, Gruyére, Provolone
Maine Lobster Bisque – Créme Fraîche and Poached Lobster
Charred Octopus – Citrus-laced Fingerling Potatoes, Pickled Hearts of Plum, and Red Pepper Coulis served Cold
Mixed Field Greens – Sunflower Seed Brittle, Heirloom Tomatoes, House Farm Cheese with a Citrus Vinaigrette
Assorted Meats and Artisnal Cheese Selection – Chicken Liver Paté, Shaved Serrano Ham, Chorizo Sausage, Pleasant Ridge Cheddar, Truffle Tremor, and Stilton Blue with Seasonal Garnishes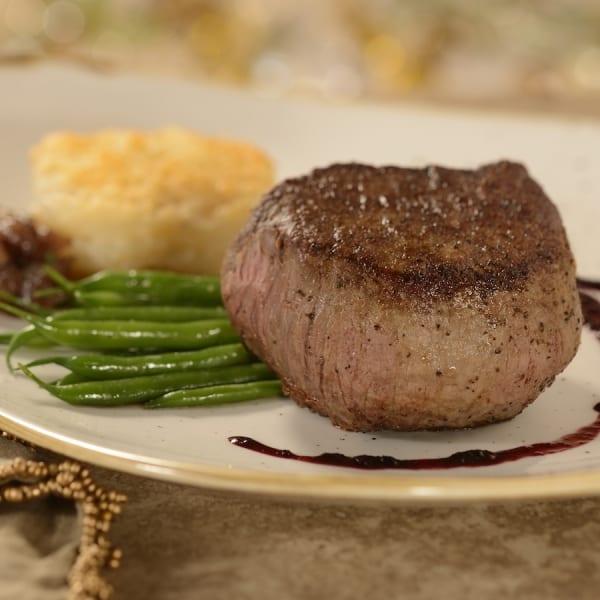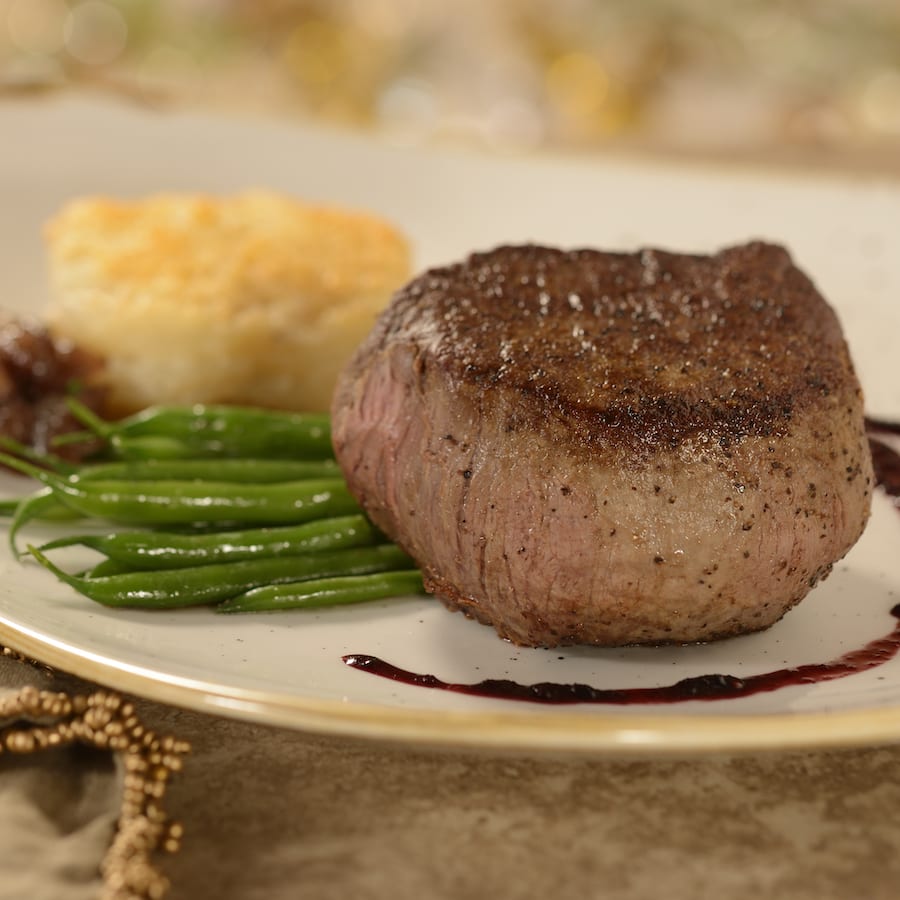 Entrees:
Guests will choose from: Grilled Center-Cut Filet Mignon with potato au gratin, Romano beans, Cipollini marmalade and a cherry-laced red wine reduction or the Smoked Black-Eye Pea Tortellini with roasted seasonal vegetables, tomato relish and basil-scented tomato water.  Otherwise there is also Poulet Rouge Chicken, Saffron-Infused Seafood Bouillabaisse, Roasted Lamb Chops and Kurobuta Pork Tenderloins.
Center-Cut Filet Mignon – Robuchon Yukon Potatoes, Seasonal Vegetables, and Cipollini Marmalade, with Red Wine Glaze
Smoked Ricotta and Corn Tortellini – Roasted Corn and Peppadew Relish, Rainbow Cauliflower, and Asparagus with Corn-infused Nage
Spice-Dusted Lamb Chops – Roasted Salsify, Baby Zucchini, Charred Tomatoes, and Royal Trumpet Mushrooms with a Lamb Demi
Poulet Rouge Chicken – Faro Wheat Risotto, Seasonal Vegetables, Crisp Pancetta, and Garlic Butter Sauce
Saffron-Infused Seafood Bouillabaisse – Seasonal Fish, Maine Lobster, Shrimp, Confit Potatoes, and Baby Fennel
Roasted Pork Tenderloin – Crispy Berkshire Pork Belly, Caramelized Cipollini, Roasted Asparagus, Brussel Sprouts, Cauliflower Purée, and sprinkled with Bacon Dust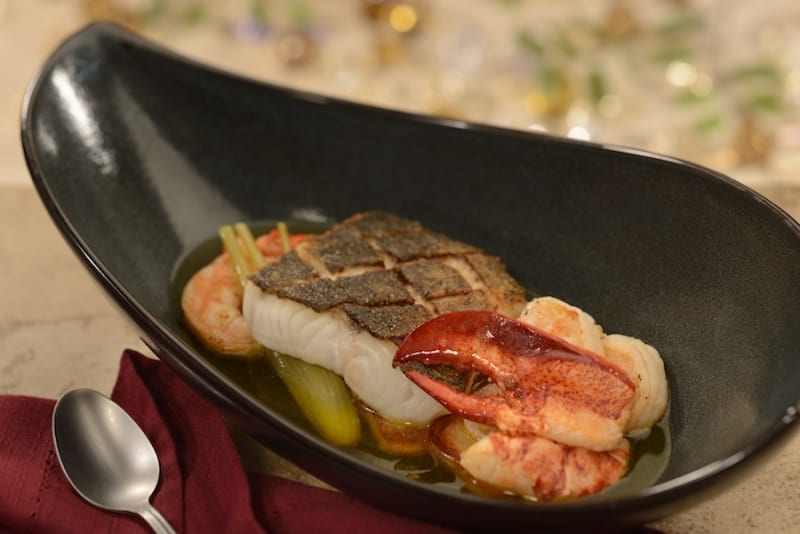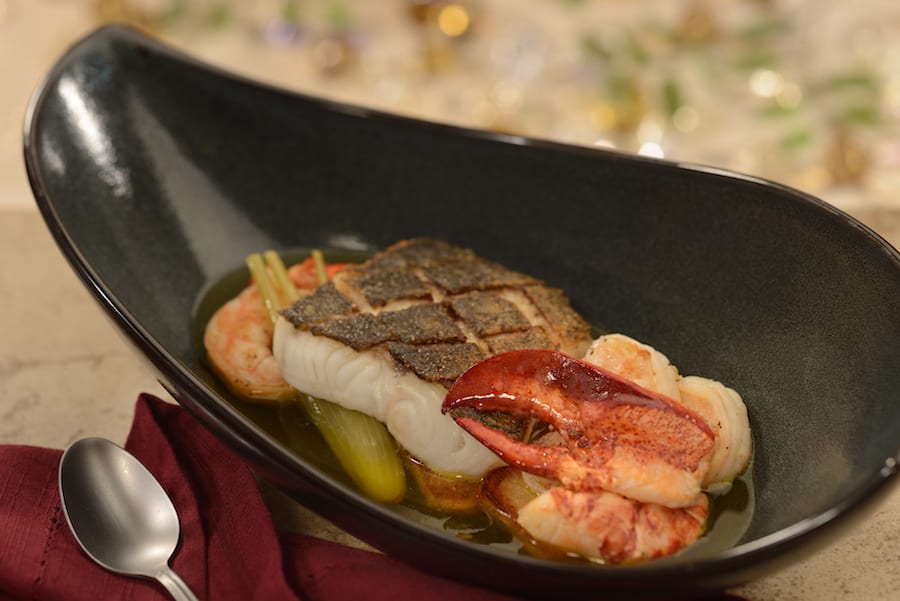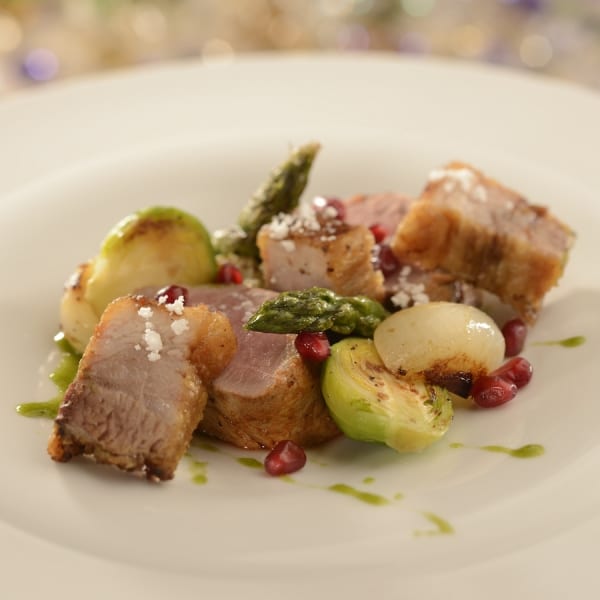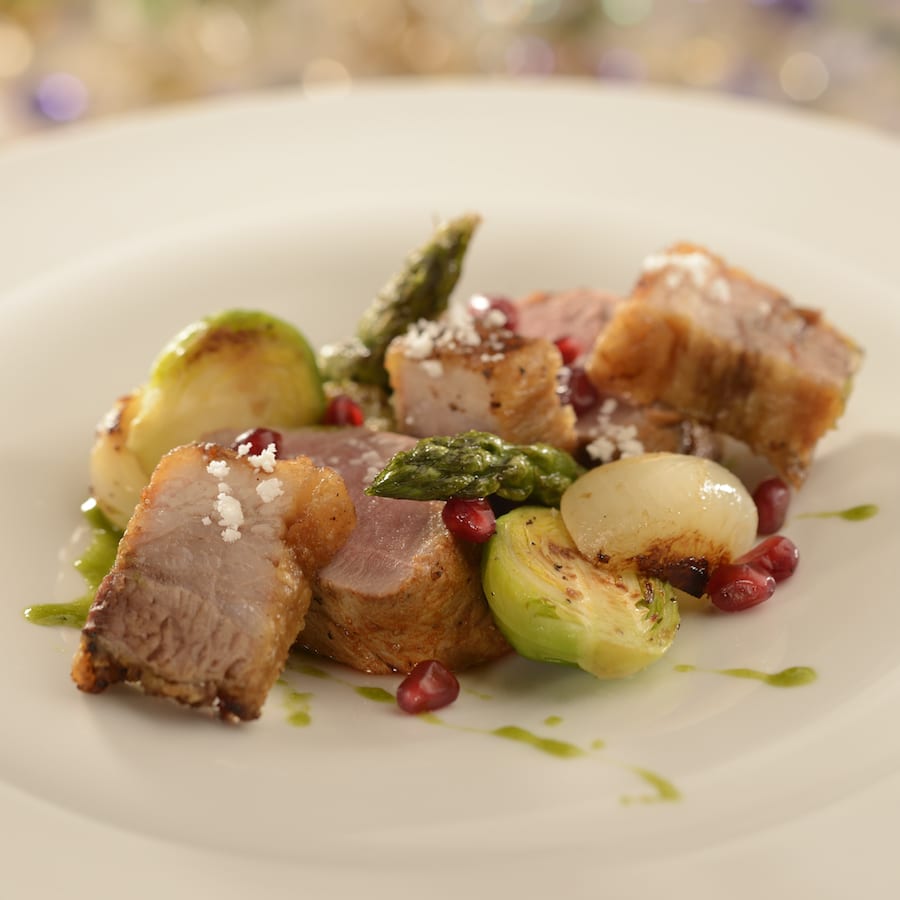 Dessert:
The Dessert Trio is going to be exclusive to the Be Our Guest Dinner menu.
Almond Macaron – with Lemon Jam and Raspberries
White Chocolate "Chip" Cup – with Grey Stuff and Crisp Pearls
Dark Chocolate Truffle – filled with Dark Chocolate, Grand Mariner Ganache
This is a whole new version of the Grey Stuff and that edible white chocolate Chip cup looks adorable!!.  You'll have to score one of the extremely difficult reservations if you want to try it!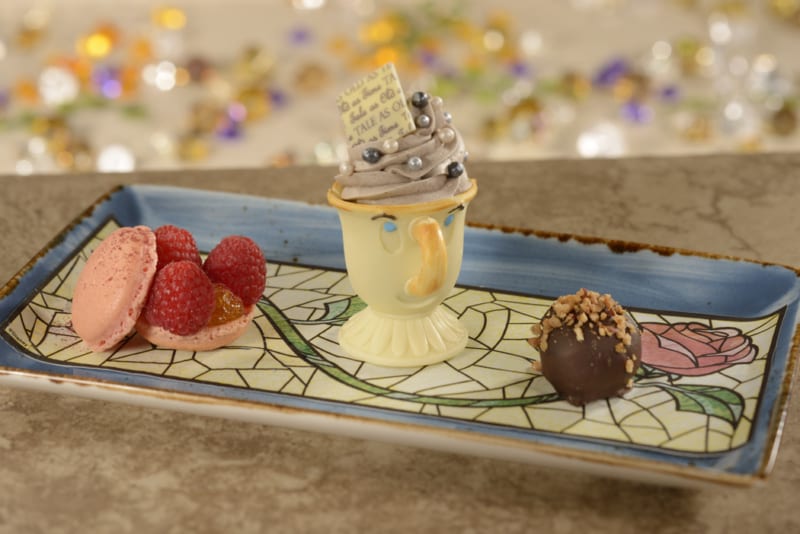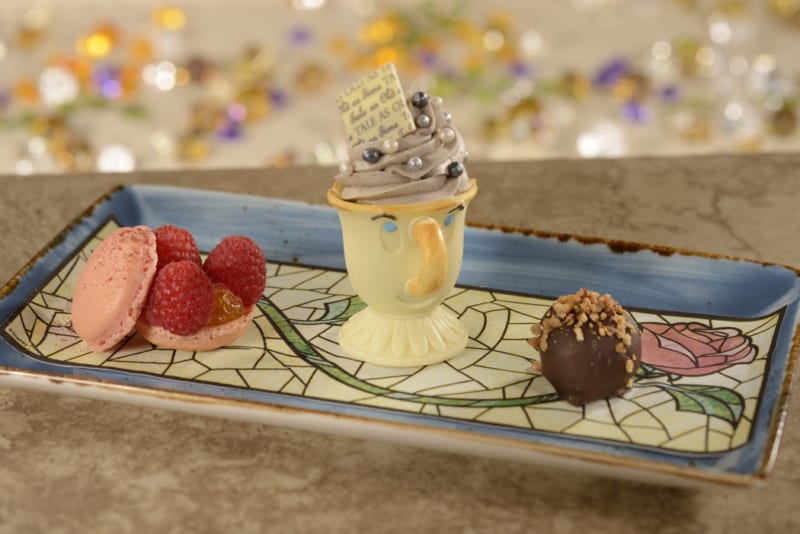 Kid's Menu:
Appetizers:
Iceberg Wedge Salad – Curled Carrots, Baby Tomatoes, and Fat-free Ranch Dressing
Fruit and Cheese Plate – Seasonal Fruit, Cheddar, and Crostinis
Entrees:
Pan-Seared Chicken Breast – Served with Cauliflower Fried Rice
Grilled Beef Tenderloin – Served with Steamed Green Beans and Sweet Potato Wedges
Seared Shrimp Skewer – Served with Wild Rice and Sautéed Zucchini
House-Made Macaroni & Cheese – Rotini Pasta, and Black Diamonds Cheddar with Toasted Breadcrumb Topping
Dessert:
Seasonal Fruit – Served with Freshly Made Yogurt Dip
Dessert Trio – Almond Macaron, White Chocolate "Chip" Cup with Grey Stuff, and Chocolate Truffle
We've always had excellent experiences here.  You can read about it in our Be Our Guest Review.
The Pricing for this Be Our Guest special dining experience which isn't bad either:
Adult – $55
Child – $35
2 Dining Credits (seeing as it's a Signature Meal)
You have some good looking entrees in there and it's actually a lot lower than I thought it would be.  Here's hoping for some decent portion sizes because the quality is there: Filet, Lobster, Lamb, etc…
This Be Our Guest Prix Fixe Dinner again will begin July 27 and reservations can be made this Friday, February 23rd, and can be booked online or by calling 407-WDW-DINE (407-939-3463).
Your Thoughts:
I want to know what you think about the New Be Our Guest Dinner Menu…
Does it look good to you?
Which item looks the best?
Let us know in the comments section below!
If you enjoyed this article, as always I appreciate it if you'd share it with others via social media.  I work hard at making this website into a useful resource for you and your family to plan your visit to the Disney Parks and I hope it can help you! Thanks 🙂