EPCOT is quite likely the best place to eat in Walt Disney World, and it's especially good if you want a quick meal. That's why we've put together this post and our rankings of the Best Quick Service Restaurants at EPCOT.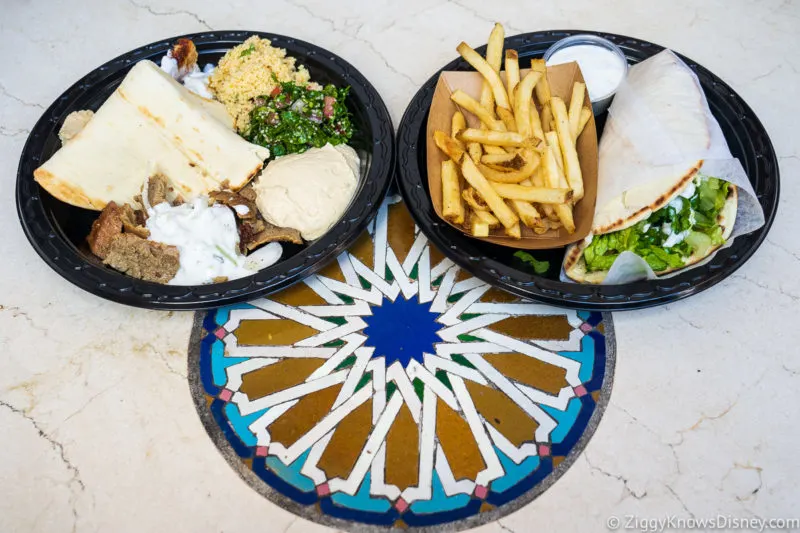 EPCOT may just be my all-time favorite Disney World theme park. After all, where else can you walk from Canada to Japan, then over to Italy and Mexico, all the while enjoying their totally unique cuisine?
This is the ultimate foodies' park and the combination of food and drinks that you can get in one day is absurd, even if you don't want to sit down but are looking for a quick bite to eat.
In this post, we're going to share with your the best counter service restaurants at EPCOT and what food and drinks to order at each location. We've included the top 15 places which should keep you occupied for your next few trips.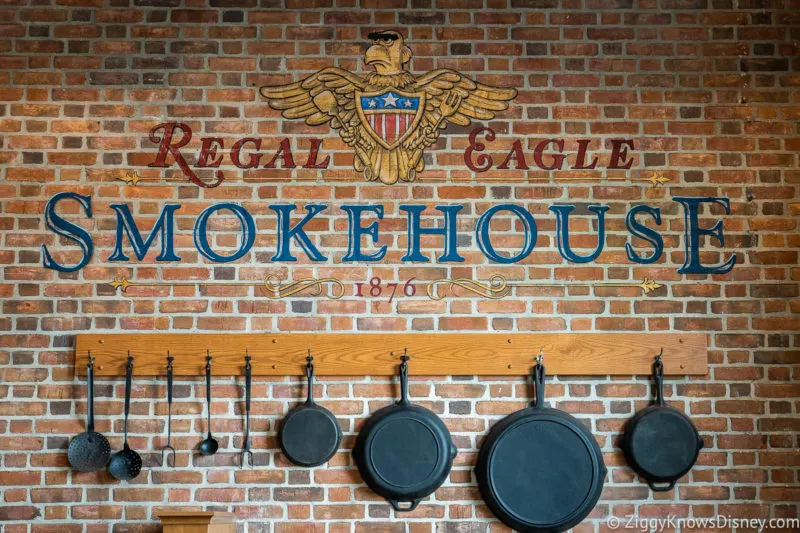 The parks are a crowded place and having a plan ahead of time will save you a ton of time. We suggest reading through this post and then looking at the menus online so you have a better idea of what to expect and so that things go smoother once you are actually at EPCOT.
Also, even though the vast majority of EPCOT quick service restaurants are good, there are a few we would recommend skipping altogether. Thankfully, in our hundreds of visits to the park, we've been able to try all of them for you, so you can go right to the best ones and not waste your money elsewhere.
Besides our rankings, we'll also share with you the best quick service for breakfast, where to get the best desserts, and even how to eat healthy on your visit to EPCOT (if that's your thing).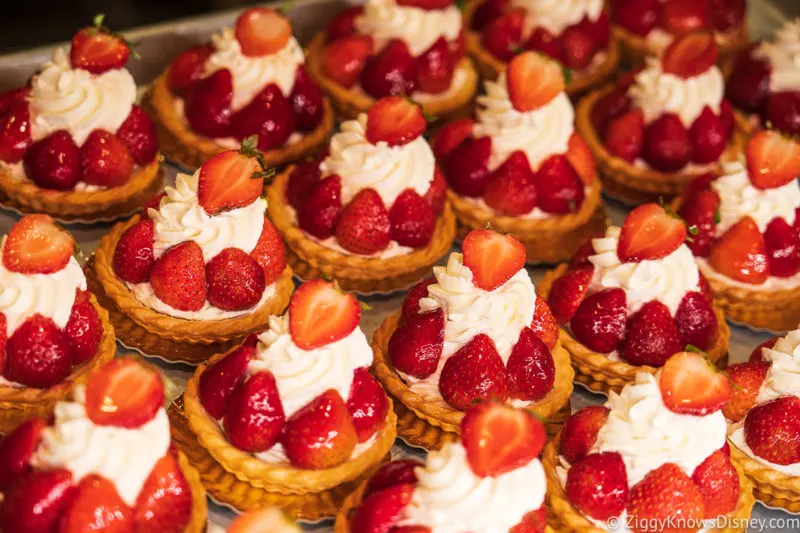 If you are looking for a more relaxed sit-down meal, EPCOT is the best of the 4 parks for that, with dozens of choices, some downright spectacular. Make sure to read our guide to the Best EPCOT Restaurants to see our rankings of all the table service restaurants too!
Also, don't forget to sign up for our FREE Weekly E-Mail Newsletter. There we bring you the latest updates on all the Disney World restaurants as well as vacation planning tips. You can sign up here: Join our E-Mail Newsletter!
EPCOT Counter Service Restaurants Overview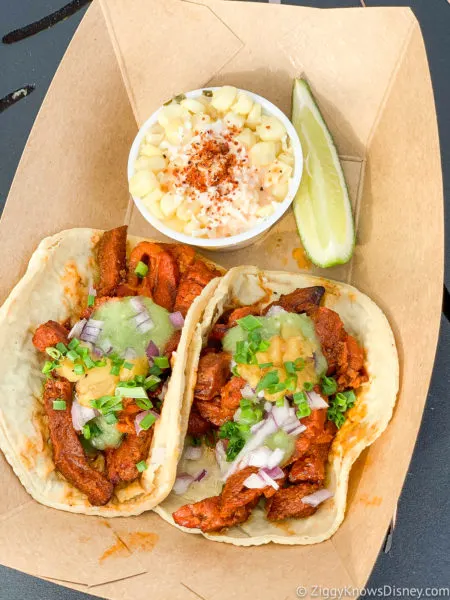 Before we dive into our rankings of the best counter service restaurants, we have some basic info you need to know to be prepared.
While the park is split into two halves, the vast majority of restaurants both quick service and table service are located in World Showcase. That is the section of the park around the lagoon where all the countries are located.
In every country, you will find at least one counter service restaurant. Right now in EPCOT, there are 26 quick service restaurants. Some of them serve multiple entrees good for an entire meal, while others are smaller stands and snack carts to get dessert or something to drink.
The advantages of eating a counter service meal are it will save you a lot of time you can then use for riding attractions, shopping or just wandering through the park admiring the gorgeous architecture. It also will save you some cash overeating a table service meal which is great since a trip to Walt Disney World costs a TON of money!
Also, there are no advanced dining reservations required so no need to worry about booking them ahead of time. When you are in the park you can even Disney Mobile Ordering service and skip waiting in a traditional line.
What Restaurants are Quick Service at EPCOT?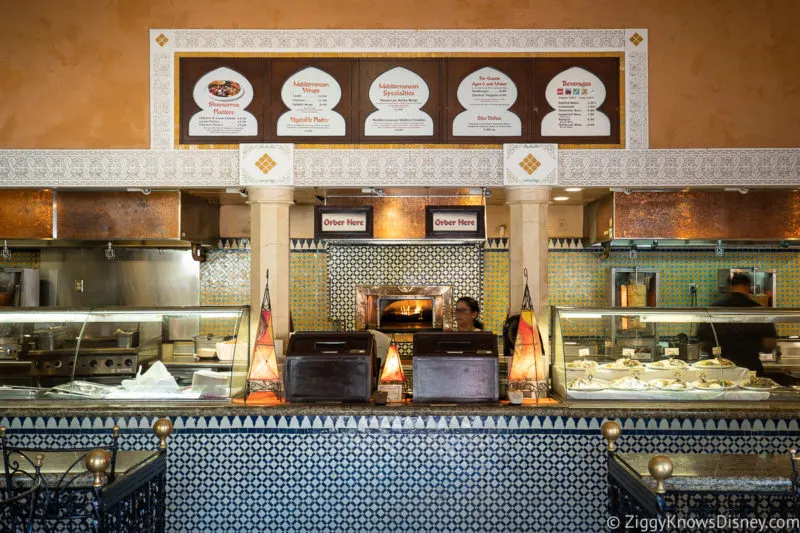 Here is a list of all the current quick service restaurants at EPCOT:
Block & Hans
Choza de Margarita
Connections Café
Connections Eatery
Cool Wash
Crêpes À Emporter by La Crêperie de Paris (France)
Funnel Cake
Gelateria Toscana
Joy of Tea
Kabuki Cafe
Katsura Grill
Kringla Bakeri Og Kafe
La Cantina de San Angel
Les Vins des Chefs de France
Lotus Blossom Café
Refreshment Outpost
Refreshment Port
Sommerfest
Sunshine Seasons
Traveler's Café
Yorkshire County Fish Shop
What Kind of Food Can I Expect to Find in EPCOT?
If you are an adventurous eater or even just want a break from the traditional "theme park food" like hot dogs, burgers, and pizza, EPCOT is the park for you!
Some of the cuisines represented include Mexican, Italian, French, Canadian, British, Moroccan, Japanese, Chinese, Norwegian, German, and yes even American food.
Besides traditional fare, you'll find tacos, bratwurst, stir-fry, grilled salmon, fish & chips, shawarma, kebabs, brisket, crepes, poutine, sweet & sour chicken, sushi, and much, much more.
How Much are Counter Service Meals at EPCOT?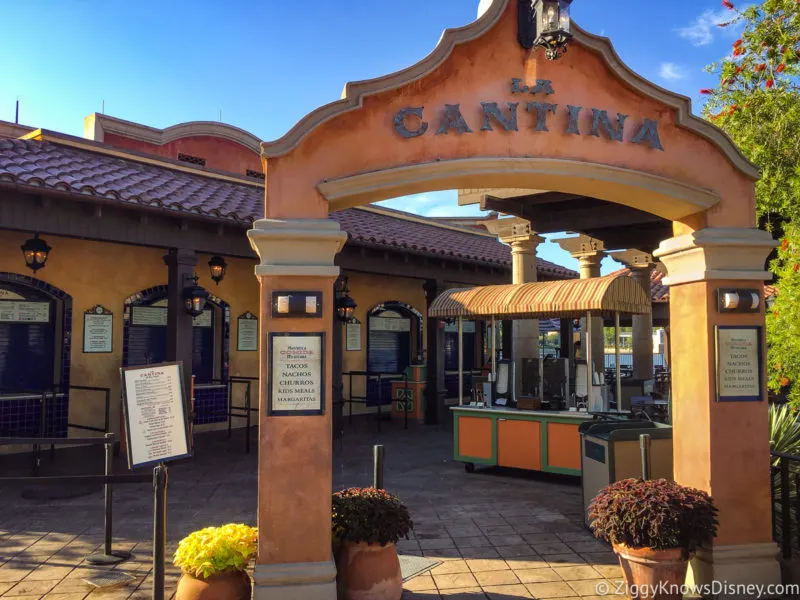 Most counter service meals at the Disney Parks cost between $10-$20. That usually includes a side dish but not a drink. Kid's Meals are less expensive and usually cost between $8-$11.
So if you figure an average of $15 per adult and $9 per child, you are looking at spending around $50-$60 per quick service meal for a family of 4. That's significantly lower than a table service restaurant which will easily cost you double that, if not more.
What's Included in a Disney Dining Plan at EPCOT?
If you use the Disney Dining Plan at a quick service restaurant here is what is included:
1 Entree
1 Nonalcoholic Beverage (or Alcoholic Beverage, for Guests 21 and older)
That will use up one quick service dining credit. If you are getting a snack then that will use a snack credit.
Allergies & Dietary Restrictions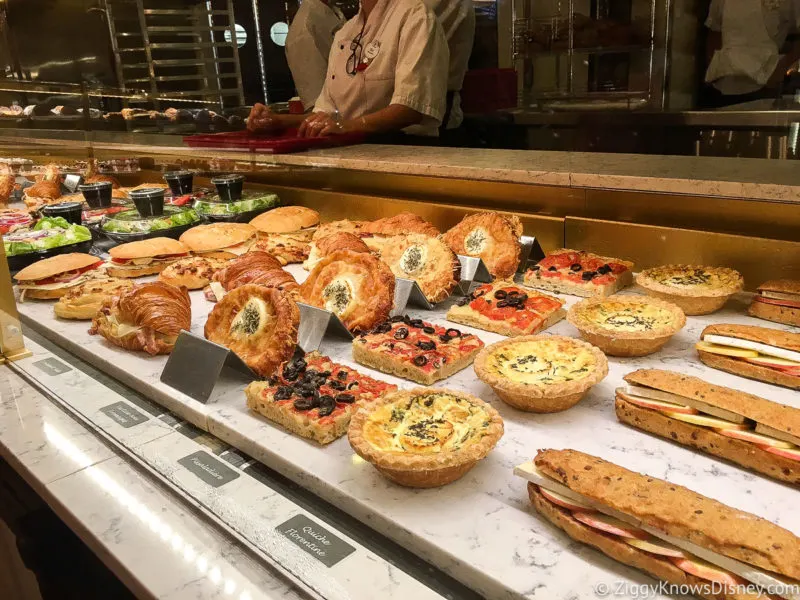 If you have food allergies or dietary restrictions, the idea of eating at a theme park can be downright terrifying as you have to worry about what ingredients are in the food as well as cross-contamination.
Walt Disney World however is pretty good when it comes to allergies and all the quick service menus offer a variety of options that are allergy-friendly.
Some of the most common dietary restrictions Disney caters to include:
Gluten/Wheat Allergy-Friendly
Egg Allergy-Friendly
Milk Allergy-Friendly
Peanut/Tree Nut Allergy Friendly
Soy Allergy-Friendly
Disney has a special menu for each of these allergies that you can ask a cast member to see. You can also lookup any restaurant you want using the My Disney Experience and see its menu and all of the allergy-friendly options.
Our Ranking Factors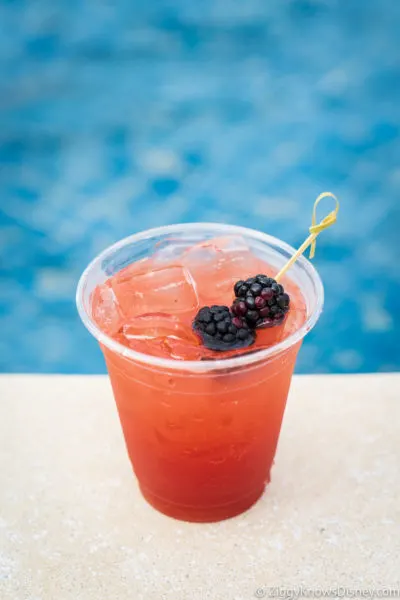 Ranking all the restaurants at EPCOT is a fun exercise, but it was a lot harder than we expected. There are so many locations around World Showcase that we absolutely love and we had a hard time putting them in a specific order.
Some of the ranking factors we considered are:
Food Quality
Price to Quality Ratio
Portion Sizes
Restaurant Theming and Ambiance
We tried to weigh carefully each of these factors, with the quality of the food being the most important.
Of all the Disney parks, EPCOT naturally has the most quick service restaurants with what we would consider good theming. Being located in a unique country, each of them has the possibility to really make the guest feel like they are in that country.
The restaurants in this list are quick service only and don't include any sit-down restaurants. We also had to draw the line with what we are calling a "quick service" restaurant and each one on our list must have entrees, or at least some savory items you could make an actual meal out of.
That rules out snack stands that only sell sweets.
Best Quick Service at EPCOT Ranked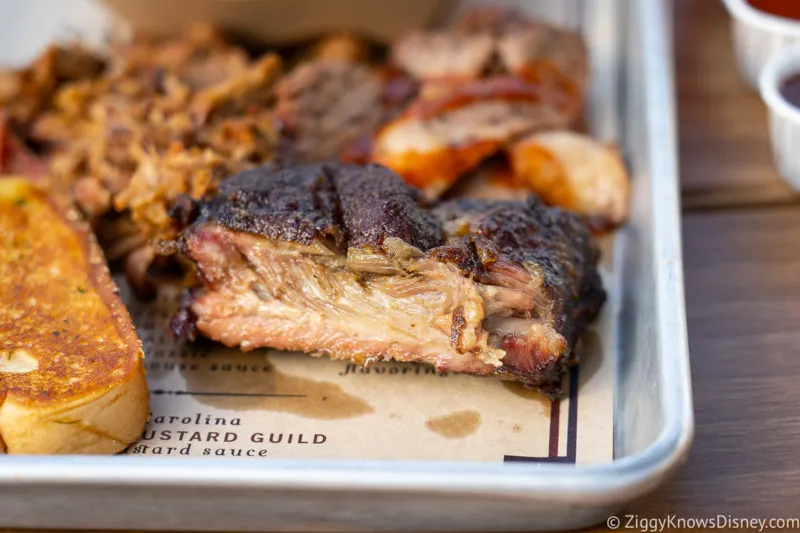 In our rankings, we've included the name of the restaurant and where it's located in EPCOT. We've also included the approximate price, type of food, and our favorite food items at each one. This should give you a good idea about what to order when you go.
15. Lotus Blossom Cafe (China)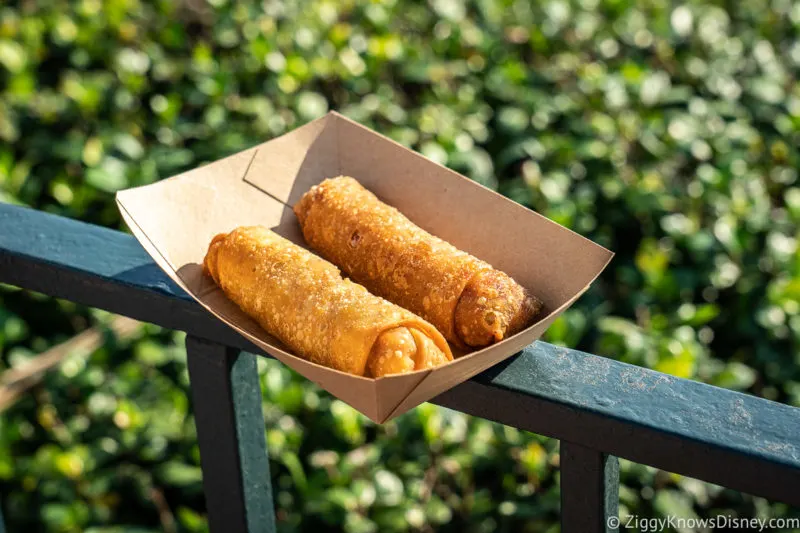 Cuisine: Chinese (Fried Rice, Egg Rolls)
We have two problems with the Lotus Blossom Cafe: there aren't a lot of choices on the menu, and the food that is on the menu isn't very good. Think of it as a bad Chinese take-out in your local town.
The menu is limited to egg rolls and potstickers as appetizers, and entrees include Mongolian beef, orange chicken, and chicken fried rice. The food isn't horrific, but it just doesn't have much flavor. With so many better choices around World Showcase, it just doesn't make sense to come here.
All of this boils down to one thing. This is the worst quick service restaurant in EPCOT and you should come here only if someone in your party absolutely must eat Chinese food.
What to Get: If we were to suggest something here, we're torn between the Orange Chicken and Mongolian Beef. The orange chicken has a little better flavor, but the Mongolian Beef is more filling, so decide which is more important to you.
14. Refreshment Port & Refreshment Outpost (Canada & African Outpost)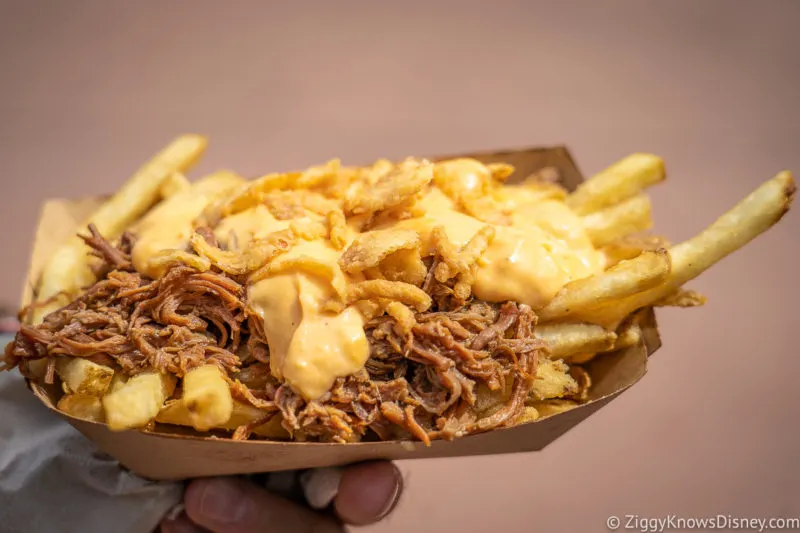 Cuisine: American (Poutine, Hot Dogs, Chicken Nuggets)
Even though these are technically two separate restaurants, we stuck the Refreshment Port and Refreshment Outpost together as one. Both of them have extremely limited menus compared to other quick service restaurants and have menus that rotate with the current festival.
The Refreshment Port has chicken nuggets which are standard but it also has poutine! There is usually a traditional version and then a specialty one from whatever festival is going on.
The Refreshment Outpost on the other hand is limited to hot dogs, ice cream, and usually one specialty item from the festival, which tends to be African-inspired.
Again, there isn't much to choose from here which brings down the ranking, but the items they have are usually of good quality and worth trying.
What to Get: All the flavors of Poutine being served at the Refreshment Port are definitely a must-try. Our favorites throughout the years have been the Duck Confit Poutine or the Beef Brisket Poutine. Even if you only get the Traditional Poutine with beef gravy and cheese curds it's still amazing.
Refreshment Port Menu, Refreshment Outpost Menu
13. Via Napoli Pizza al Taglio (Italy)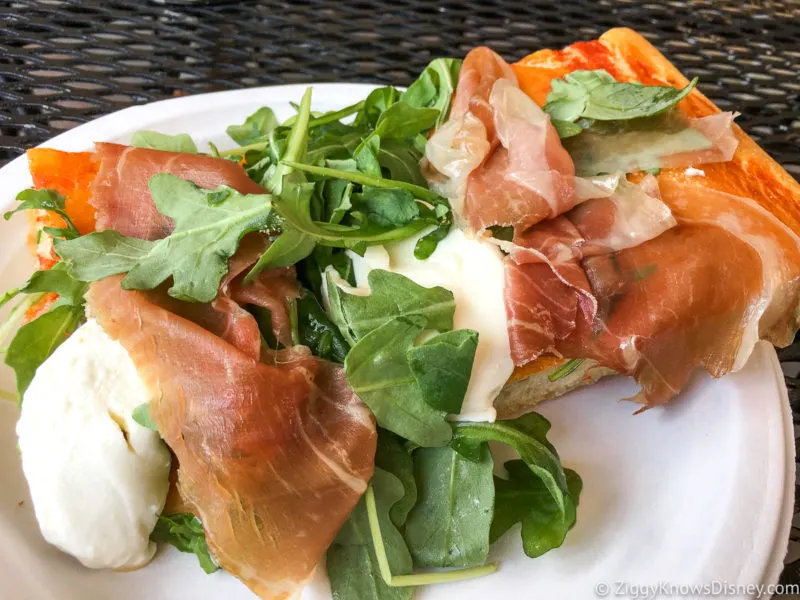 Most guests might not even notice it, but tucked away in the back of the Italy pavilion, in a small window you'll find Via Napoli Pizza al Taglio. This is supposed to be a take-out version of the popular Via Napoli restaurant, offering mainly slices of pizza.
You probably have never been there because it's only open at certain times of the year and doesn't run on a set schedule. In fact, Disney makes it especially hard to even find the menu listed on the website.
Don't go here expecting the same style of pizza as what they serve at the table service restaurant. These are thicker, Sicilian-style square slices of pie, and the dough is softer than Via Napoli. We think the table service version is much tastier. Even so, the toppings are pretty flavorful, and if you are looking for a slice of pizza to go, it's your only option.
What to Get: There are usually 3 or 4 types of pizzas, but we always seem to go back to the Pepperoni Slices as our favorite. Each slice is loaded with toppings which makes the high price tag a bit easier to swallow. If you are feeding 3-4 people, getting a whole pizza and splitting it is a much cheaper alternative than paying for each slice individually.
Via Napoli Pizza al Taglio Menu
12. Sommerfest (Germany)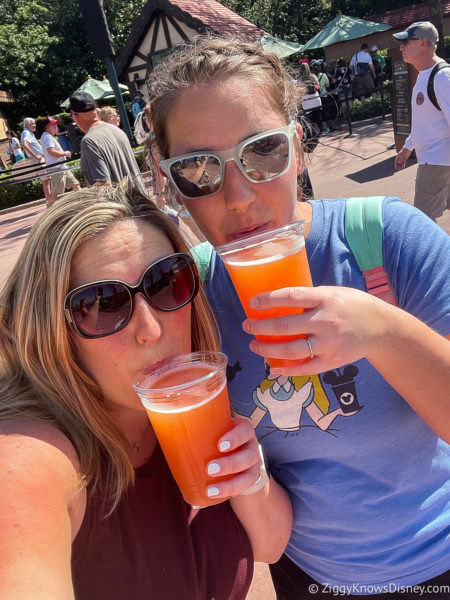 Cuisine: German (Beer, Bratwurst, and Bread Pudding)
This is another "hidden" counter service restaurant and it's located in the back of the Germany Pavilion, near the entrance to Biergarten. The menu isn't huge, but what they do, they do well, and they have some good options whether you are looking for savory or sweet.
The menu hasn't changed here in years and they are still serving up bratwurst and great big German pretzels! For dessert, they have a great newer addition, the Pretzel Bread Pudding.
The food is good here, but the fact that the menu is so small and they haven't done much to change things up in recent years makes us hesitant to move it up any further than #10.
What to Get: The Pretzel Bread Pudding is really good and it's moved up into one of our favorite yearly sweets around World Showcase. If you are looking for the famed Schöfferhofer Grapefruit Beer, this is a better place to get it than at the beer stand in the front of the pavilion. The line at Sommerfest is always so much shorter.
11. Yorkshire County Fish Shop (U.K.)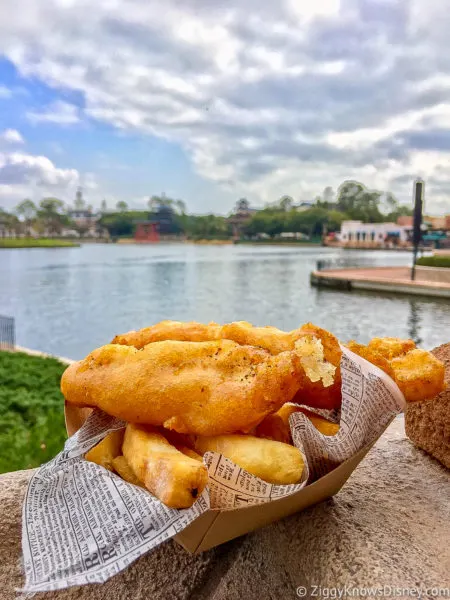 Cuisine: British (Fish & Chips, Guinness Beer)
The Yorkshire County Fish Shop is a staple on every visit to EPCOT. Since it opened in 1999, we haven't missed it once on a vacation to Walt Disney World. We love it THAT much!
The only thing holding this place back from jumping into the Top 5 is it's a one-trick pony. If you are looking for a meal, the only option is fish & chips, but they are the most perfectly battered, golden-fried, juicy fish and chips you've ever had, at least on this side of the Atlantic.
The fish is just the right combo of crunchy, and oily without being too much. You get two large pieces and it's served with a side of wide-cut chips (fries). If you get them fresh out of the fryer, I'll put it up there against any other counter service meal in EPCOT.
What to Get: Obviously, you are getting the Fish & Chips here, and they are without a doubt the best in Walt Disney World, period.
Yorkshire County Fish Shop Menu
10. Kringla Bakeri Og Kafe (Norway)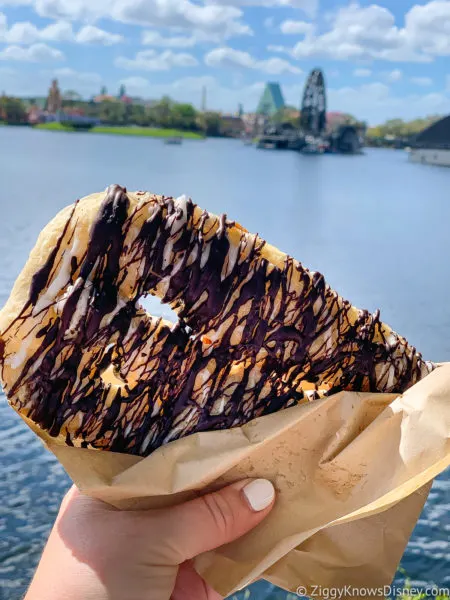 Cuisine: Norwegian (Pastries, Sandwiches)
The Kringla Bakeri og Kafe is a dream come true for lovers of decadent pastries, cupcakes, and other yummy sweets. Located in the Norway pavilion, it's one of the most popular spots to eat in EPCOT and it always has a long line.
Most people come here for the sweets such as school bread, lefse, troll horns, or Norwegian kringla, which are constantly named among the best snacks in EPCOT. However, there are also some savory treats to eat for lunch such as Norwegian sandwiches which are pretty good.
Though Kringla Bakeri og Kafe is hyped by many fans as being a legendary spot for sweets, we think it's been a bit overrated throughout the years. It's a good spot for dessert, but not nearly on the same level as Les Halles over in France.
What to Get: Our favorite snack here is the scrumptious Norwegian Kringla, a pretzel-shaped pastry with cinnamon, almonds, or chocolate. If you like creamy desserts the Troll Horn is another good choice. School Bread is the most "famous" snack here and worth trying, but it's nowhere as good as others claim it to be.
9. Crêpes À Emporter by La Crêperie de Paris (France)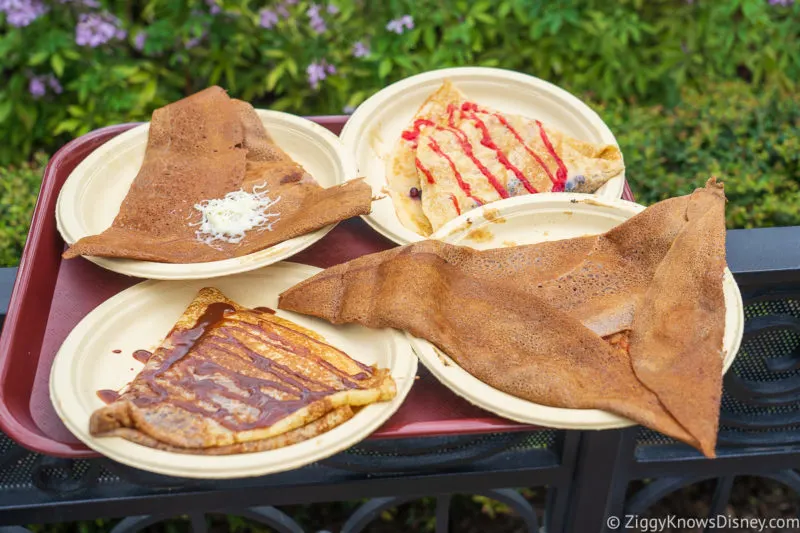 Cuisine: France (Crêpes)
Crepes are one of the most iconic food items in France, and it's the place to get them in EPCOT. This is an outdoor window located in the new France expansion area near Remy's Ratatouille Adventure.
The menu is divided into two sections Galettes (Savory Crêpes) and Crêpes (Sweet Crêpes). The crêpes menu is a bit different from the table service restaurant next door, so don't assume you've already tried them all without first visiting. Besides that, they have a nice selection of hard ciders, wine, and sparkling wine.
If you are still dreaming about the crepes in France, this is the closest you will get without traveling across the Atlantic.
What to Get: All the crêpes are good, but our favorite savory one is the Bechamel, Cheese & Ham Galette. We think that it's the perfect combination of flavors, just classic. For sweet crêpes we really like the Red Berries Crêpe which is packed with blueberries, raspberries, and blackberries.
Crêpes À Emporter by La Crêperie de Paris Menu
8. Choza de Margarita (Mexico)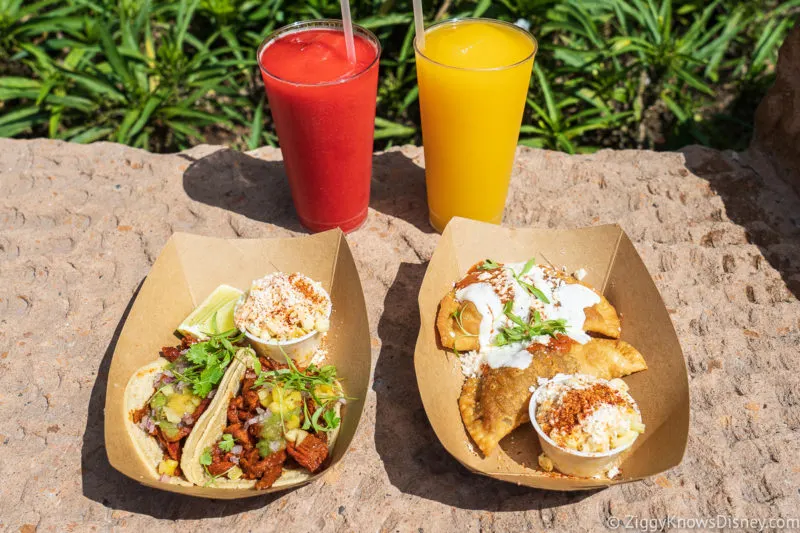 Cuisine: Mexican (Margaritas, Tacos, Empanadas)
Choosing between these next two is really splitting hairs. Choza de Margarita and La Cantina de San Angel are really 6a and 6b, but if forced to choose we put Choza de Margarita slightly behind its Mexican neighbor across the walkway.
Choza is first-of-all famous for its Margaritas. These are the BEST in EPCOT and you'll find one in our hand on practically every trip around World Showcase. They come either "on the rocks" or frozen and in a ton of flavors like smokey pineapple, cucumber, wild passion, wild strawberry, or classic lime.
The food here is really underrated as well and they have some solid options like tostadas, tacos, and empanadas.
What to Get: You MUST get a Margarita here. It honestly doesn't matter since they are all amazing. We prefer The Cucumber if we are doing "on the rocks" since it's light and refreshing, or the Mango Loco if we are getting frozen. If you are hungry, it's a toss-up between the Tacos de Cochinita and Empanada de Barbacoa. Both are filled with quality ingredients and taste very fresh and authentic.
7. La Cantina de San Angel (Mexico)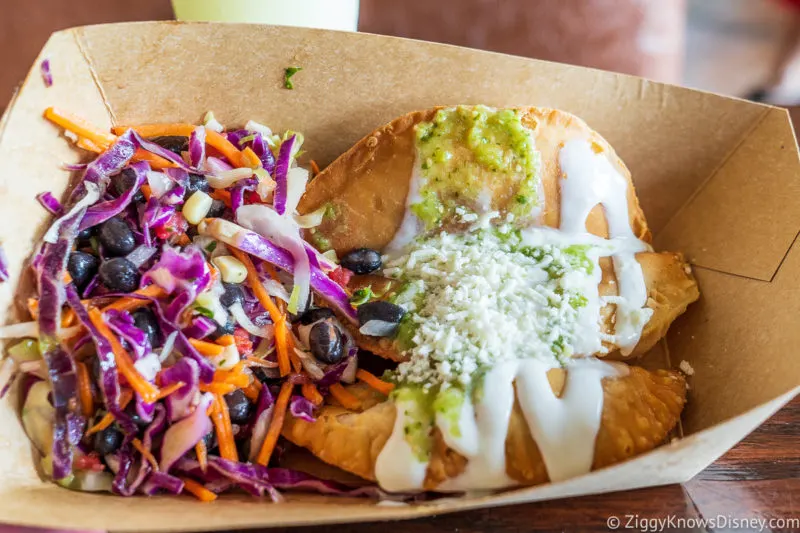 Cuisine: Mexican (Tacos, Nachos, Margaritas)
Also located in the Mexico pavilion, La Cantina de San Angel is another excellent quick service restaurant with a menu featuring tacos, empanadas, and nachos. The margaritas are similar in quality to Choza only with fewer flavors to choose from.
The atmosphere is great here and if you can get a table in the gazebo along the water it offers one of the best views in EPCOT. The only problem is there is no air conditioning, but if it's too hot, you might be able to grab a table indoors at La Hacienda at lunchtime.
What it comes down to is Choza de Margarita is better for drinks and La Cantina has a slight edge on food and ambiance. However, you can't go wrong with either and you should try them both eventually.
What to Get: We can't leave here without a helping of Nachos which come piled high with ground beef, nacho cheese, tomatoes, jalapeños, beans, and sour cream. All of the different versions of Tacos are also very good.
6. Sunshine Seasons (The Land)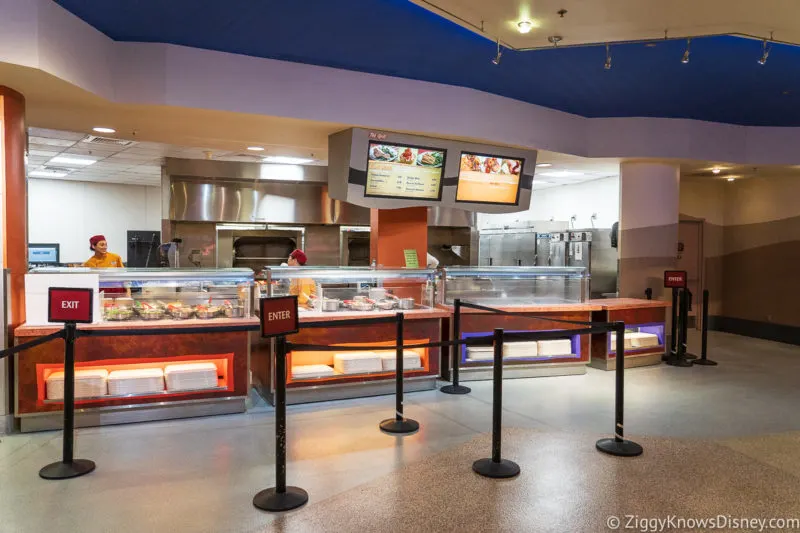 Cuisine: American (Burgers, Sandwiches, Roasted Chicken, Fish)
Sunshine Seasons is the only counter service restaurant located in Future World to make the list, and it's not a "pity ranking," it's genuinely one of our favorites. It also has the biggest menu of them all and has something for every guest.
If you are in the mood for roasted chicken, they have it. If you want a burger, they have that too. Flatbreads? Check. Pulled pork? Check. The list goes on and on. They also have very reasonable prices so it's easy to find something within your budget.
The theming won't blow you away, but the dining room is huge, with more than enough seating space, and it's all in the air conditioning which makes it one of the more comfortable counter service meals.
The fact that it's located in EPCOT is the only thing holding it back. If Sunshine Seasons was located at the Magic Kingdom, it would easily rank in the Top 2 quick service restaurants in that park. Nonetheless, it's a great place for a meal at any time of the day for guests with any food preferences.
What to Get: Our top choice here is a tie between the Oak-Grilled Salmon or Rotisserie Chicken. Both are big portions and cooked surprisingly well for a quick service. They also have a decent number of Asian menu items which we like including the Mongolian Beef and the Stir-fried Shrimp.
5. Katsura Grill (Japan)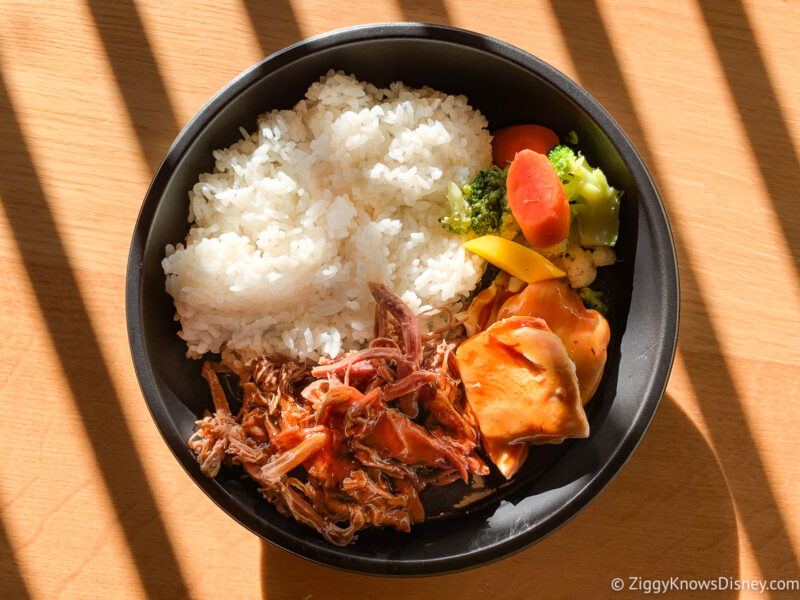 Cuisine: Asian, Japanese (Sushi, Noodles, Ramen)
If you like eating Japanese food in a calm and quiet atmosphere, Katsura Grill is for you. We don't understand how this place doesn't get more love and are shocked that 95% of guests walk right by without even knowing it's there.
The menu is one of the healthiest of any quick service in Disney World with options like sushi, ramen, and vegetable udon. Many of the entrees are served with steamed rice and mixed vegetables, great for eating light.
With its lush gardens and koi pond, the location can't be beaten, and you'll be hard-pressed to find a more easy-going tranquil setting in EPCOT. The only downside is they did recently raise prices meaning it isn't quite the value meal it used to be.
However, the combination of great atmosphere and quality food makes Katsura Grill one of the best quick service restaurants in EPCOT.
What to Get: If you are in the mood for noodles, the Tonkotsu (pork) Ramen is our go-to, but we also enjoy the Shrimp Tempura Udon. On the Osusume menu, we tend to get the Shrimp and Chicken Teriyaki which has just the right level of sweetness to it.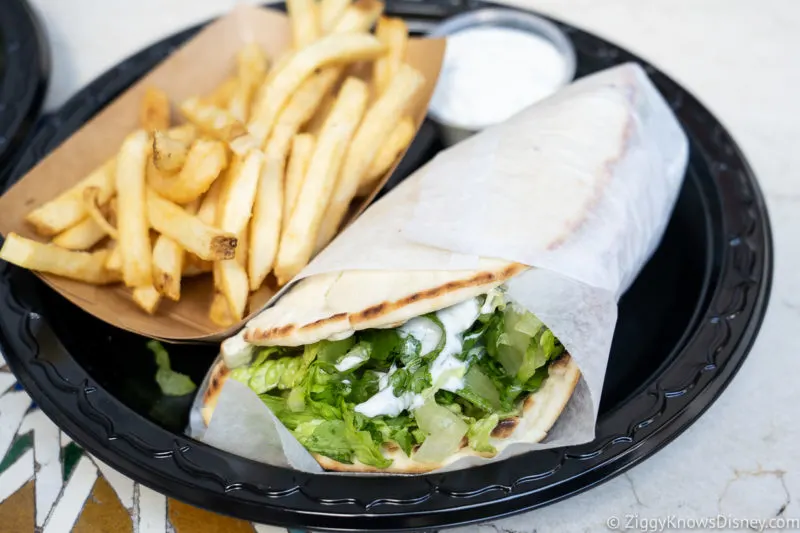 Cuisine: Moroccan (Kefta, Shawarma, Baklava)
The Tangierine Café is another gem on this list, and a strong case could be made for it as the overall number one counter service restaurant.
(UPDATE: Keep in mind that Tangierine Cafe is currently not a full-service quick-service restaurant at this point in time. It's been used specifically for the different EPCOT Festivals four times a year. So the menu is always rotating. We hope the full menu comes back soon)
The food isn't fancy, but it's amazingly good. The menu items include shawarmas, kefta, and kebabs and are all made with fresh ingredients and feel much healthier than a burger or pizza. The portions here are huge and you can likely split one of the platters between two people. A great bargain for the money.
We also love the location and it feels like you are really sitting in a little cafe somewhere in Casablanca. Like the rest of the pavilion, we could stay here for hours admiring beautiful mosaics and stained-glass windows.
Many theme park guests don't immediately think of Morocco as an ideal location to eat when visiting EPCOT, but between the impressive architecture and craftsmanship of the location plus the authentic food, the Tangierine Café is easily toward the top of the list.
What to Get: The various different kebabs they normally have are very good! We also really enjoy the Falafel when they have it.
3. Connections Café & Eatery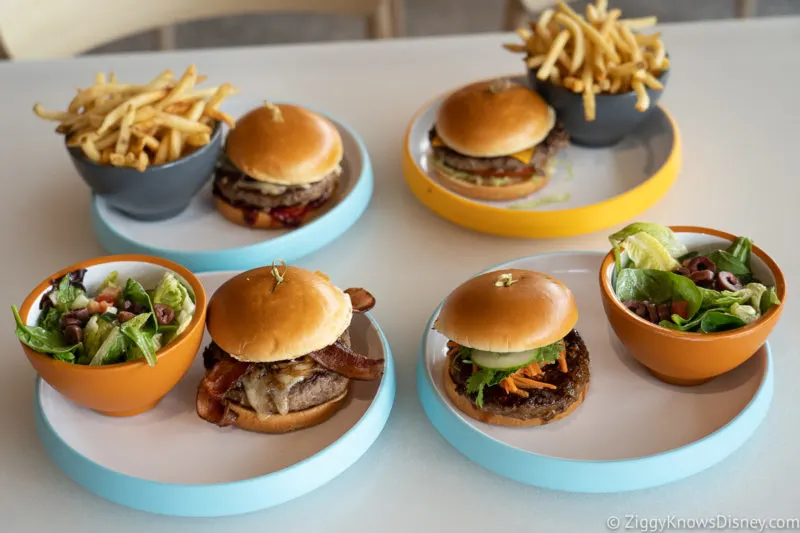 Cuisine: American & Mediterranian (Burgers, Pizza, & Salads)
This is the newest addition to EPCOT's quick service lineup and it instantly jumped into the top 3. It's really two quick service locations in one (Starbucks and a traditional counter service restaurant). It is located in the old Electric Umbrella building, but it is a huge upgrade over its predecessor. It serves international cuisine, but it's really mostly American cuisine touched up.
Expect to find an extensive array of burgers, pizza, and salads, all done really well. It has the best selection of burgers at any quick service restaurant in Disney World and they all have unique and intriguing flavor combinations.
Besides the amazing food, the location is also really great. It's open, bright, and offers incredible views of Spaceship Earth and World Celebration once complete. EPCOT was desperate for a quick service dining location at that end of the park and Connections Eatery & Café exceeds expectations.
What to Get: Honestly, there isn't anything bad here so you can't go wrong no matter what you order. Our favorite burger was the French Bistro Burger with its caramelized onions, bacon, brie, and mushrooms. The General Tso Chicken Salad is one of the best salads we've ever had at Disney World. The huge pieces of chicken are crispy and tender, and we love the General Tso's dressing.

For dessert, don't forget the Liege Waffle. Its brioche dough is sweet and great even without the homemade whipped cream and strawberries on top.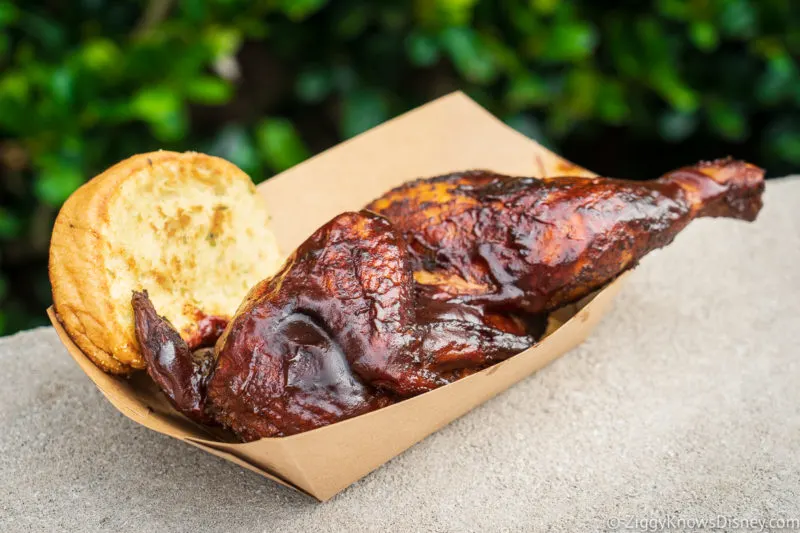 Cuisine: American, BBQ (Ribs, Brisket, Sandwiches)
Honestly, what took Disney so long to get a respectable BBQ quick service in the American Adventure pavilion? At this point, the only thing that matters is that it's here and that the Regal Eagle Smokehouse is a must-visit for just about every family.
All of the menu items here are strong and provide a good tour of American BBQ for international visitors. Expect to find classic options such as BBQ ribs, brisket, and smoked chicken. All of the items are big to huge and come with garlic Texas toast and another side.
Considering the massive quantity of food that is made here on a daily basis, the quality remains surprisingly high, and the prices are pretty good for what you are getting.
There is seating both indoors and outdoors, and we choose depending on the season. If you do eat indoors, keep an eye out for all "The Muppets" references that are cleverly worked into the theming.
The Regal Eagle Smokehouse is a massive upgrade over the Liberty Inn and we are ecstatic that Disney made the switch. If you are looking for good BBQ at a reasonable price, there are few quick service restaurants that do it better than here.
What to Get: The Loaded Burnt End Fries is not what we would normally order, but ever since we tried it, we don't want anything else. It's moist and has just the right combo of sweet and tangy flavors. The Ribs are also good, and on a similar level as the ones at Flame Tree.
Regal Eagle Smokehouse: Craft Drafts & Barbecue Menu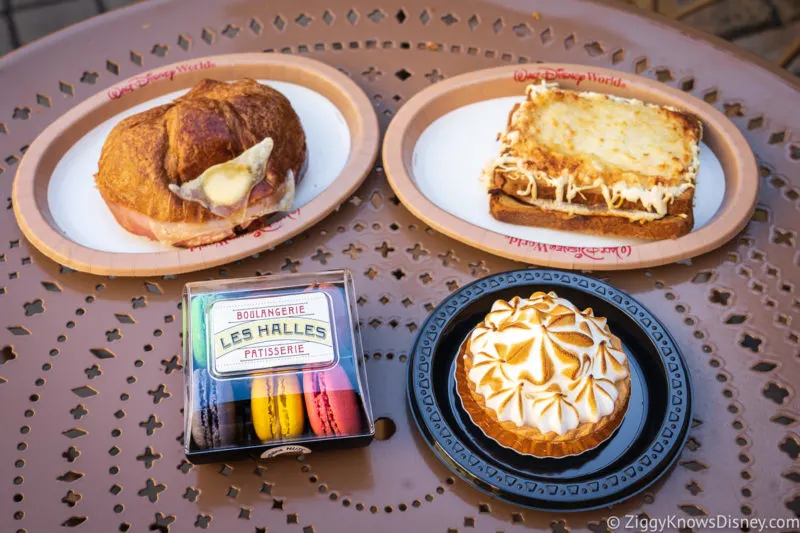 Cuisine: French (Pastries, Sandwiches, Baguettes)
We've made it to our number one overall counter service restaurant at EPCOT…Les Halles Boulangerie-Patisserie. While the top 5-6 restaurants on this list put up a good fight, in hindsight, it was never really close.
We asked ourselves: "where do we visit the most and which restaurant would we be most upset about if it closed?" The answer every time was Les Halles.
While you may not think of it in line with the traditional quick service restaurants where you order an entree, side, and drink, there are an abundance of food items here both savory and sweet that will blow you away.
Savory items include quiche, B.L.T., chicken with cheese and pesto, lobster bisque, bacon cheese roll, croque monsieur, and even a cheese board. The desserts are even better and almost impossible to choose between.
Just the smell of the fresh baguettes and croissants baking in the oven will pull you in all the way from the main promenade. No matter what meal you are here for, Les Halles comes out as the top counter service restaurant in EPCOT and one every guest needs to try.
What to Get: The Roulé au Fromages (bacon and cheese roll) or the Croque Monsieur are hands down our two favorite savory items, and we get them regularly. The desserts are like choosing which child you love the most but the Framboise, Tarte au Citron, and Eclairs are among the best.
Les Halles Boulangerie-Patisserie Menu
Best Places for Breakfast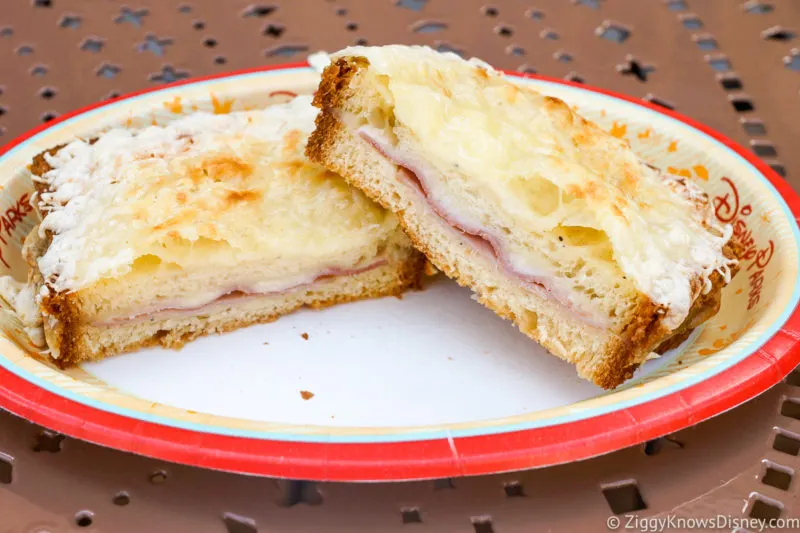 Here is a list of the best counter service breakfasts in EPCOT:
Les Halles Boulangerie-Patisserie (France) – Whether you are looking for something sweet or savory for breakfast, the Boulangerie-Patisserie has it all. We like to start our mornings in EPCOT with a croque monsieur and a chocolate croissant.
Sunshine Seasons (The Land) – There are tons of options here from a full breakfast platter with eggs, sausage, bacon, and French toast, or you can get a breakfast sandwich, a bagel, or one of the many pastries.
Kringla Bakeri og Kafe (Norway) – Grab a pastry and Joffrey's coffee for a quick breakfast on the way to Frozen Ever After.
Connections Café (Showcase Plaza) – This is the Starbucks location in EPCOT. Expect all the usual menu items from your Starbucks back home plus a few specialty pastries and cupcakes.
If you are looking for a sit-down breakfast, head over to the Garden Grill in The Land pavilion, or to Akershus in Norway. Both are character breakfasts that the kids or kids-at-heart will love.
READ: Best Breakfasts at Disney World
Best Places for a Snack/Dessert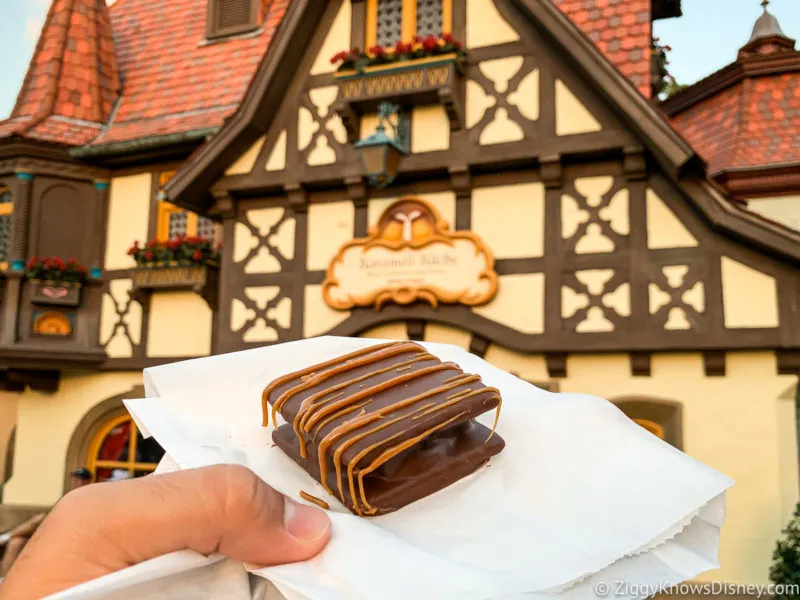 Once you are done with your meal you might be looking for a yummy dessert to top everything off right. EPCOT is the perfect location for that as there are a number of amazing places with incredible sweets!
Here are our favorite places for dessert in EPCOT:
Les Halles Boulangerie-Patisserie (France) – This is hands down the best place for dessert in EPCOT. There are literally 20 things we love here and it's impossible to try everything. Menu items include eclairs, napoleons, macarons, cookies, chocolate mouse, fruit tarts, croissants, creme brûlée, and much more.

Karamell-Küche (Germany) – This is a must-stop for caramel fans as everything in the store has it in some form. Try any of the chocolates with caramel, the cookies, or the irresistible Werther's caramel popcorn.

Kringla Bakeri Og Kafe (Norway) – People come to Kringla for the desserts, the most popular being the school bread, troll horns, and Lefse which is a soft flatbread rolled with cinnamon, sugar and butter.

L'Artisan des Glaces (France) – If you are in the mood for ice cream in EPCOT, this is your place. You can get an ice cream cone or cup, or if you are feeling more adventurous, go for an macaron ice cream sandwich or the warm brioche ice cream sandwich made right in front of you.

Sunshine Seasons (The Land) – This is the place for cupcakes in EPCOT. They also have pastries and the turtle brownie with a dense chocolate base, caramel middle, and chocolate frosting top.

Kabuki Café (Japan) – This is traditional Japanese shaved ice available in a variety of fruity flavors and with the option of a sweet milk topping.

Gelateria Toscana (Italy) – One of the newest places for dessert, here you can get hand-scooped gelato or sorbet, gelato sundaes, gelato floats, cannoli, or those cream-filled zeppole.

Oasis Sweets & Sips (Morocco) – Many guests don't know about the pasty counter along the main promenade in Morocco. The baklava is must-get here and comes in 4 different flavors: chocolate, walnut, cashew, and our favorite, pistachio.

Funnel Cakes (American Adventure) – Funnel cakes are an American classic and here you can enjoy a traditional one with powdered sugar, chocolate sauce, cookies n' cream, or with ice cream. During the festival season there are specialty funnel cakes that are even better.

Fife & Drum Tavern (American Adventure) – The menu here does have soft serve ice cream, but we are coming for The American Dream, a frozen Fanta strawberry and blue raspberry slushy with vanilla ice cream in between the layers!

Crêpes À Emporter at La Crêperie de Paris (France) – What would a visit to France be without crepes? While they are pretty good here, you are better off going to L'Artisan des Glaces or Les Halles for a much bigger selection of sweets.
Check out our post on the Best EPCOT Snacks for the full list of snacks
How to Eat Healthy at EPCOT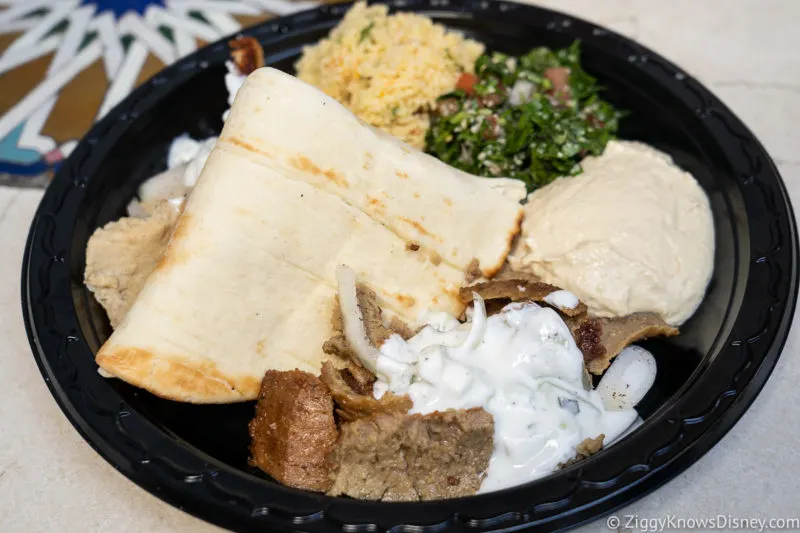 With all the tempting treats around every corner, being on a diet or just eating healthy can be a challenge at Walt Disney World. You'll probably want to go easy on the cheeseburgers and ice cream and look for an option with fewer calories.
Good thing there are plenty of options at all 4 theme parks. Here are some of the healthier options at the counter service restaurants in EPCOT:
Sunshine Seasons – This has the biggest menu of any quick service in EPCOT and there are plenty of healthy choices. Our favorite is a tie between the oak-grilled rotisserie chicken or salmon.
Lotus Blossom Café – The Mongolian beef combo is probably the healthiest choice here as it comes with thin slices of beef, onions, and is served with steamed rice and steamed broccoli. You can give the egg roll to someone else if you are being really strict.
La Cantina de San Angel – Skip the tacos here and go for the pollo cascabel instead which has grilled chicken, Mexican rice, corn, and pickled onions.
Tangierine Café – The Mediterranean diet is one of the healthiest in the world and here you can find varied menus with some offerings including shawarma, Kefta or kebabs served with healthy sides like couscous, hummus, tabbouleh, and marinated olives.
Anything at Katsura Grill – Basically every item on the menu here you could consider healthy. Sushi, miso soup, udon, grilled chicken salad, ramen, and edamame are all excellent choices and are lighter than the majority of quick service meals.
Les Halles Boulangerie-Patisserie – Of course, you want to stay away from all the amazing sweets here, but they also have quiche and sandwiches such as brie and apples or ham and cheese.
The easiest way to make any quick service meal healthier is to substitute those French fries for some sliced apples or mandarin oranges. Just by doing that you will probably save yourself thousands of calories throughout the length of your trip.
Don't Forget the EPCOT Festivals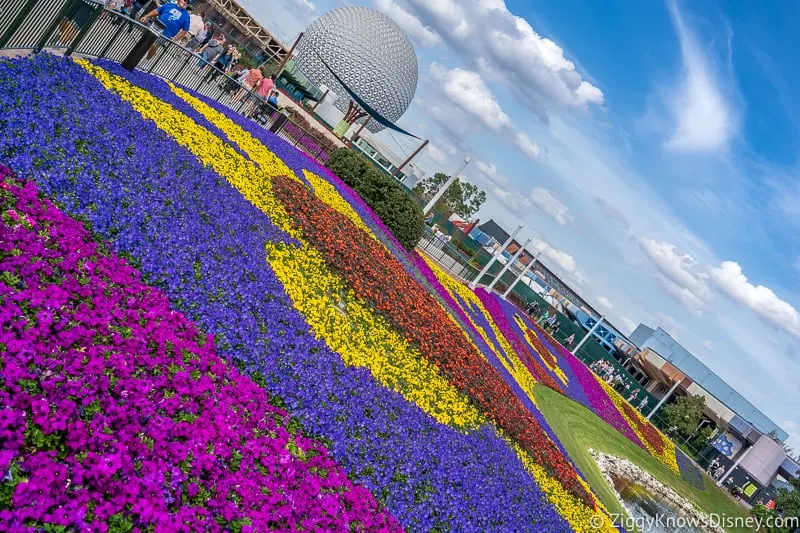 As if there weren't enough counter service restaurants already in EPCOT to try, almost all year round there is a festival which of course includes a ton of yummy food marketplaces to try.
Festival of the Arts (January – February) – This festival is focused on the arts and has activities and street artists to entertain you. Plus your food never looked this good!
Flower & Garden Festival (March – July) – This is EPCOT at its most beautiful as the entire park is transformed into one giant garden.
Food & Wine Festival (July – November) – This is the original EPCOT festival and the most famous. This is all about the food and drinks with over 30 food marketplaces to try.
Festival of the Holidays (November – December) – Food and activities to the theme of the holidays as well as the candlelight processional.
Every one of the festivals is fun and each of them has its own appeal depending on your interests.
Our favorite is probably the Flower & Garden Festival because of the way it transforms EPCOT, or maybe we prefer the Festival of the Arts or the Food & Wine Festival… Who can decide? They are all great!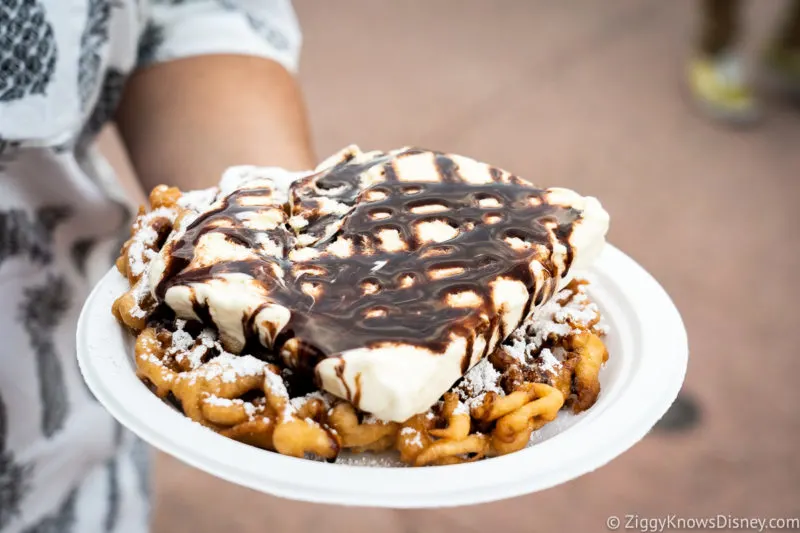 That wraps up our rankings of the best counter service restaurants at EPCOT. We hope you enjoyed our list as it's always fun to write about food and all the yummy restaurants!
For more list of the top quick service restaurants at Disney World, check out our other guides:
Best Hollywood Studios Quick Service Restaurants (Coming Soon)
Best Animal Kingdom Quick Service Restaurants (Coming Soon)
We want to hear what your top EPCOT quick service restaurants are, so drop them in the comments!
If you are going to Disney World soon, make sure to read our Disney World Planning Guide for all the tips and info you will need to cover everything! Also, check out our Disney World Crowd Calendar so you know when the best time to visit is!
Your Thoughts
I want to know what you think about our list of the best quick service meals at EPCOT…
What are your Top 10 Restaurants?
What is the overall Best Counter Service Restaurant at EPCOT?
Let us know in the comments section below!
If you enjoyed this article, as always I appreciate it if you'd share it with others via social media. I work hard at making this website into a useful resource for you and your family to plan your visit to the Disney Parks and I hope it can help you! Thanks 🙂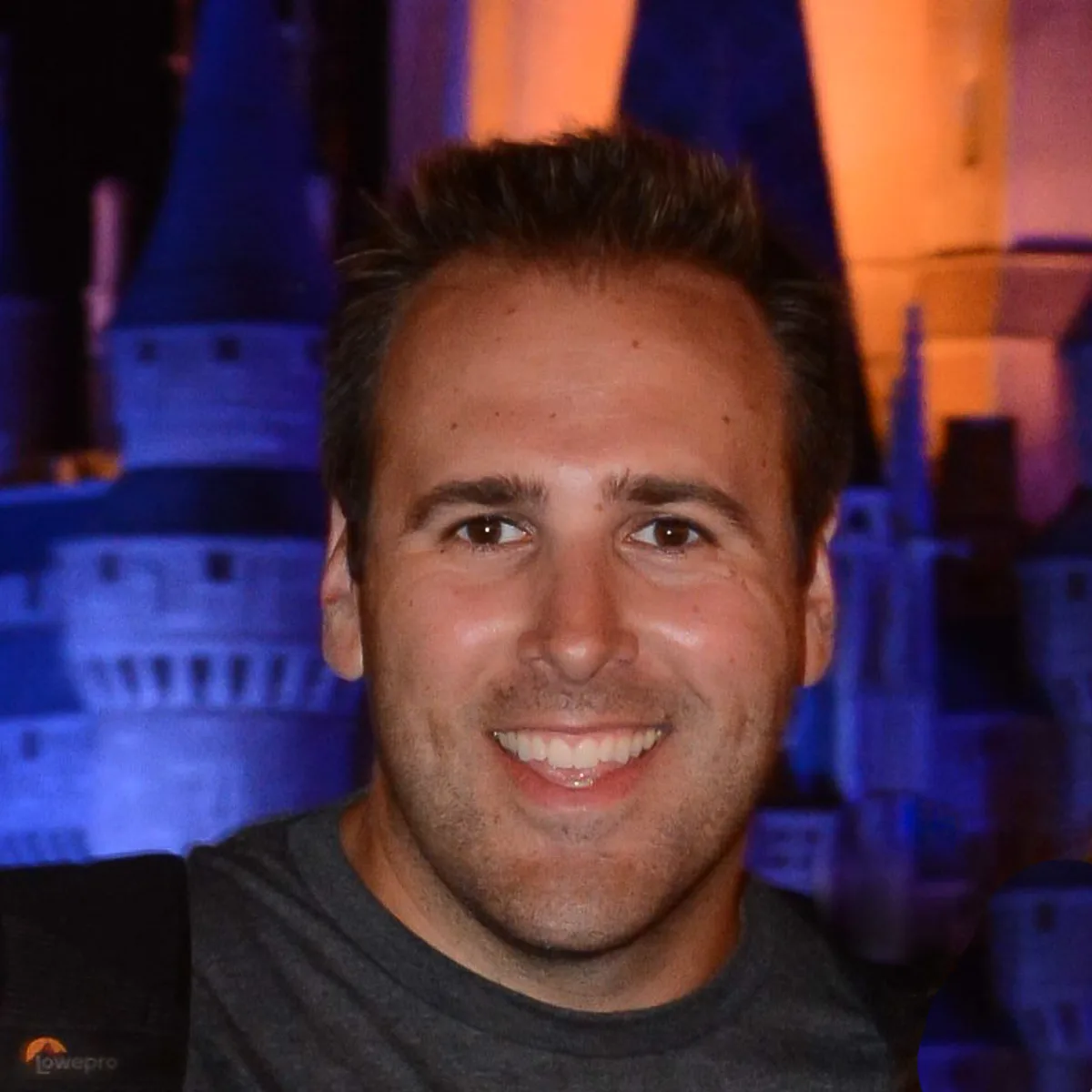 My name is Ziggy and I love Disney, everything Disney! I grew up on Disney and it has and continues to be a huge part of my life. I started young when my parents took me to Disney World when I was 18 months old. Little did they know that would be the first of an uncountable number of trips we would take. I have so many amazing memories going to Disney with my family and friends and it has been interwoven into my DNA.