We already know about the Guardians of the Galaxy roller coaster and Ratatouille projects going on in Epcot right now, is there more on the way though? In some new aerial photos by @Bioreconstruct on Twitter, we see that some construction work is going on in the back of the "Africa pavilion" in World Showcase. What is being built there though? Could this mean a new pavilion is coming to Epcot after all?
One look at the aerial photos makes it obvious something is happening. This area is one of the expansion pads in World Showcase, and currently is where the Refreshment Outpost is located. (Mango Star anyone???). The inlet from World Showcase Lagoon on the right is also where the Friendship Boats are stored, as well as the fireworks barges for Illuminations: Reflections of Earth.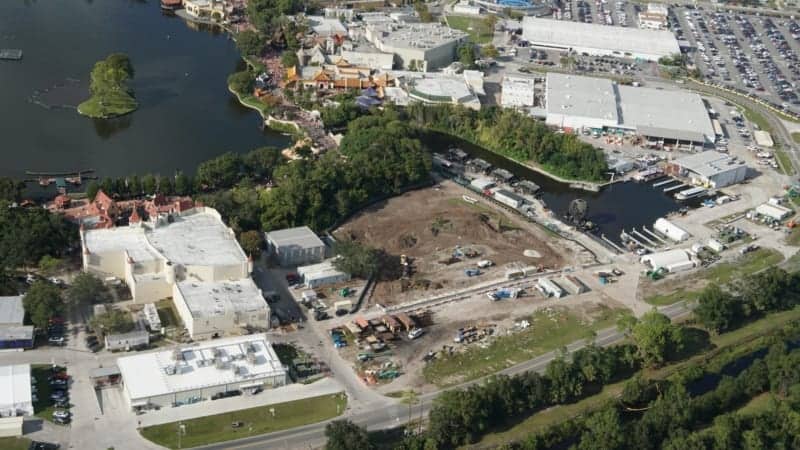 It's important to note that new World Showcase pavilions have been rumored since the beginning of time, but the latest rumored pavilions are Brazil, Spain and India. I honestly don't think that is construction work is a new pavilion for a few reasons.
Brazil is the most hotly rumored pavilion coming to Epcot, but this is supposed to be going in the expansion pad between Germany and Italy, not in Africa. This could be the location of a future India pavilion, but not now as multiple insiders including Marni1971 on the wdwmagic forums have said that as of now India with a Shanghai Pirates of the Caribbean ride system are not currently on the table.
What's more likely is that this plot of land will be used in connection with the new Illuminations fireworks show replacement in Summer 2019.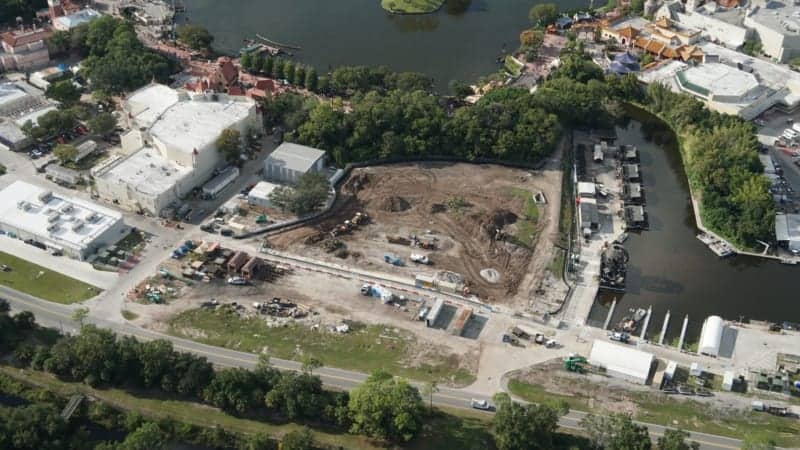 It could be a staging area for the fireworks show, and it could even be a preparation and housing area for drones if they are in fact included in the show too. What exactly the new Epcot fireworks show turns out to be remains to be seen. Some are saying there are actually 2 new fireworks shows coming, the first will be a Figment-based show that will be temporary and only last 8-12 months until the infrastructure is completed for the full-time Illuminations replacement.
Either way, recent construction permits filed with the county seem to confirm that this is not a new pavilion, but something related to the support of the new nighttime show coming. The address given was 1640 Avenue of the Stars, and it mentioned "Grade Yard, install retention wall and fire lane access" which is probably what we are seeing in these shots.
If that's the case it could just be temporarily holding this expansion pad, which would make it open for an expansion pavilion some time in the future. If it was something more at this point, Disney insiders would be hearing big noise about it and things wouldn't be this quiet for sure.
We'll have confirmation soon enough as construction continues to move along.
Don't forget to check out my latest Disney World Construction Updates including:
Guardians of the Galaxy Roller Coaster – Attraction Building Walls Rising
Your Thoughts:
I want to know what you think about the construction happening behind Africa in Epcot…
What do you think it is?
What should Disney use that space for in the future?
Let us know in the comments section below!
If you enjoyed this article, as always I appreciate it if you'd share it with others via social media. I work hard at making this website into a useful resource for you and your family to plan your visit to the Disney Parks and I hope it can help you! Thanks 🙂
Photo Credit: @Bioreconstruct
Need Help Planning Your Disney Vacation? Show You the World Travel is Here to Help!
Just fill out the form below and someone will contact you for all your Disney Vacation Planning Needs….