(UPDATE 3/25/19): This is the latest Star Wars Galaxy's Edge Construction Update for March 2019. We have lots of new things to share, including brand new aerial photos of Galaxy's Edge and especially work in front of the attractions, Black Spire Outpost and an amazing look at the detailed theming throughout the land.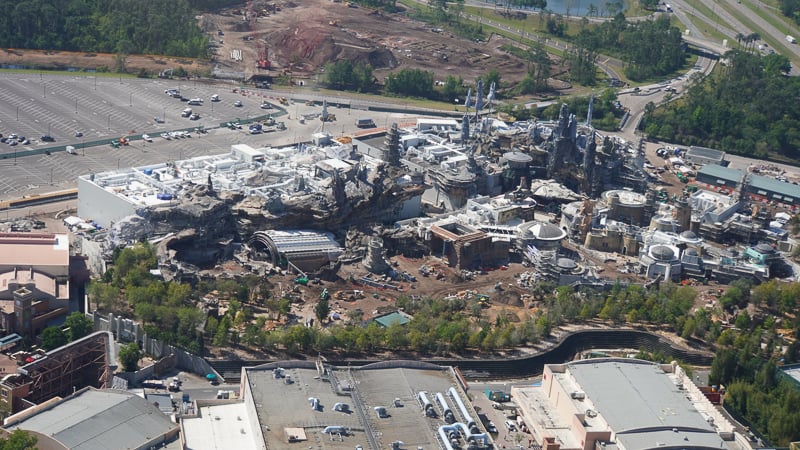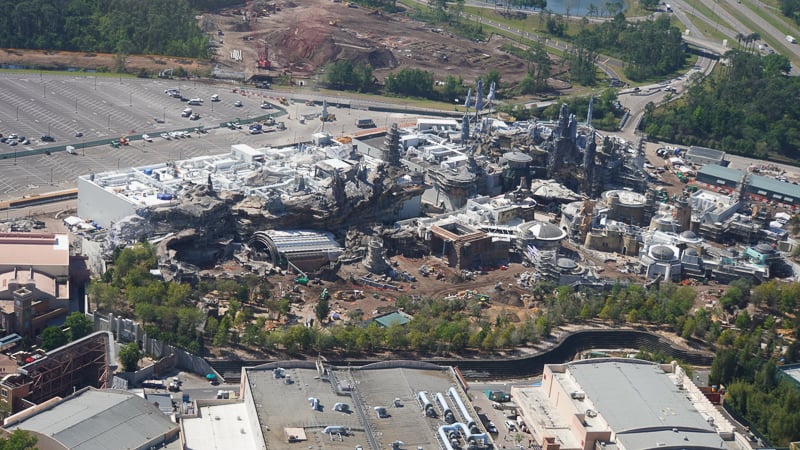 Something that we've also been waiting on for a while is the Millennium Falcon which is now finished outside of the Smuggler's Run attraction in the Disney's Hollywood Studios version of Galaxy's Edge!
As always @bioreconstruct over on Twitter does a masterful job with his aerial photos of Disney World and we can get a unique perspective on the land and all the construction projects going on around property.
Read our Ultimate Guide to Star Wars Land for a better look at the rides, dining, planning and touring tips.
I'm constantly updating this post so you can scroll down for the latest pictures:

Ok, let's dive in and see what's going on in our Star Wars Galaxy's Edge construction update for March 2019:
Right away we look out over Black Spire Outpost and we see the Millennium Falcon nestled in under the massive rock spires overhead: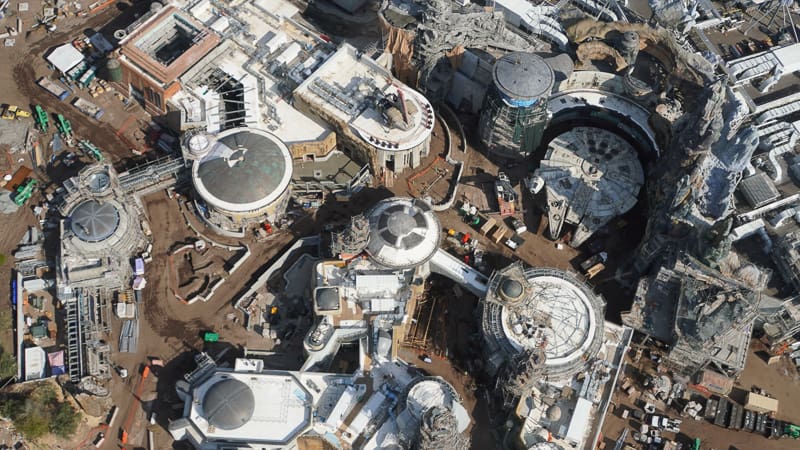 The only thing that's different about the Millennium Falcon this time around, is it's now complete!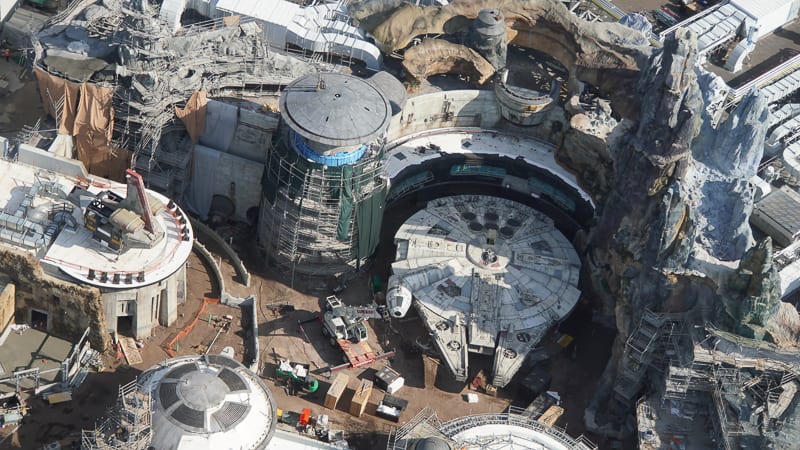 Look at all the details built into the sides of this massive 100-foot spaceship: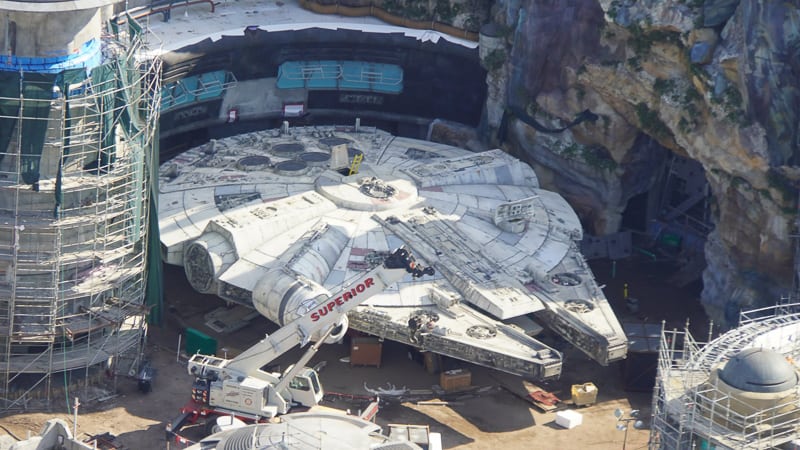 I love that there's a working hatch right in the top middle of it…just like the films! Think Disney will let me go down there?? ?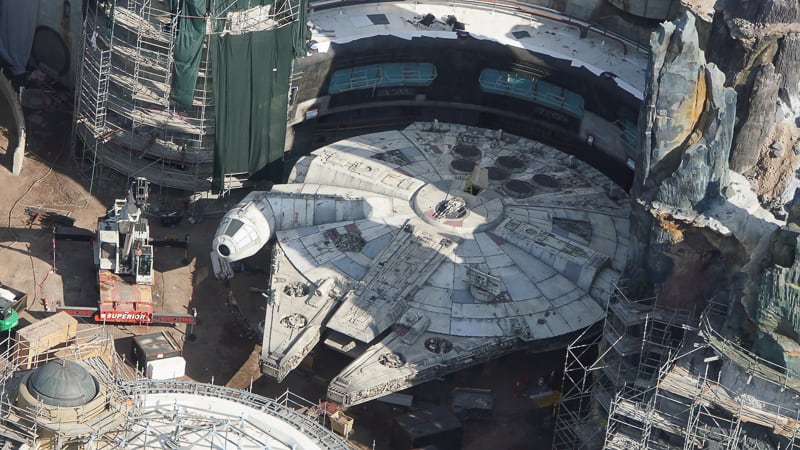 You can tell they spared no expense on this thing and it's going to be truly special when seen up close and in person.
The Millennium Falcon is going to act as the "weenie" of Star Wars Galaxy's Edge, which means that it was designed to be the focal point of the land, and it will have a "big reveal" setup much like the castle appearing at the end of Main Street USA after you walk out of the tunnels and turn the corner.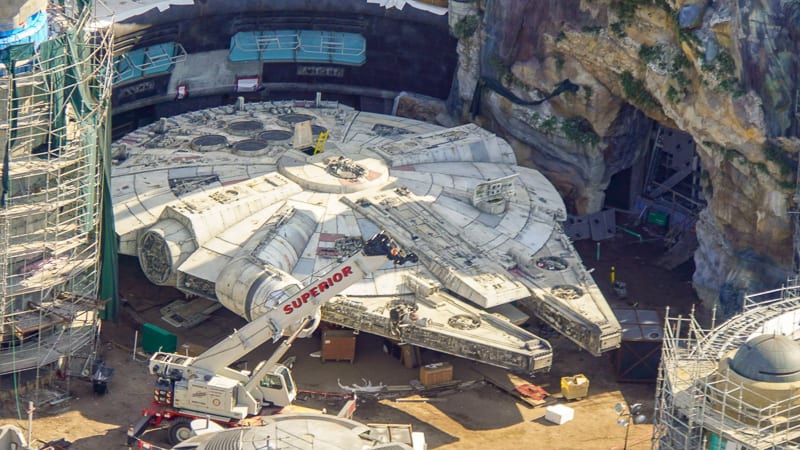 Disney has built a lookout point, roughly from the angle which will let guests get an un-obstructed view of the Millennium Falcon parked outside Smuggler's Run. Also throughout the day, Chewbacca is going to be patrolling underneath the Falcon, looking for parts to use on it and taking pictures I'm sure with guests!
UPDATE 3/25/19 – Areas for New Spaceships Built and Detailed Theming in Black Spire Outpost
It's been a busy month to this point in Galaxy's Edge and we have lots to report on with lots of theming progress around Star Wars land, details to buildings, rockwork, etc. It's really starting to get exciting! So let's get to it!
Our first look is an aerial overview of Star Wars Galaxy's Edge. Notice the two attraction buildings on the right (Rise of the Resistance further away, and Millennium Falcon: Smuggler's Run closer), and Black Spire Outpost in the center: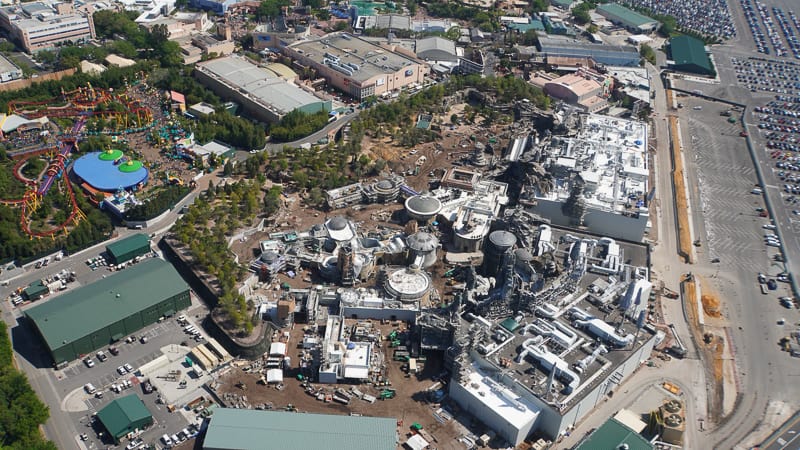 I always laugh at how big this place really is. Just look at it compared to Toy Story Land next door, it's a monster!
Let's start out in Black Spire Outpost were we can see some of the buildings that will be used for the restaurants and shops in Galaxy's Edge. We can also see the Millennium Falcon parked outside Smuggler's Run: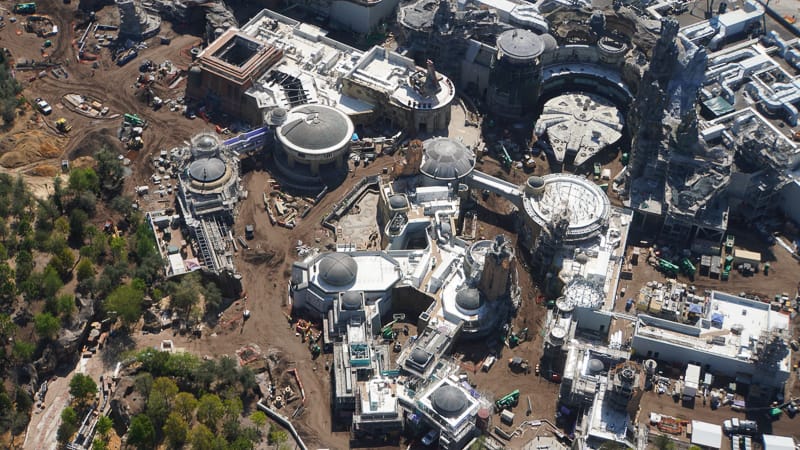 Here we can see a better view over top of some of the buildings that will be part of this thriving, bustling spaceport: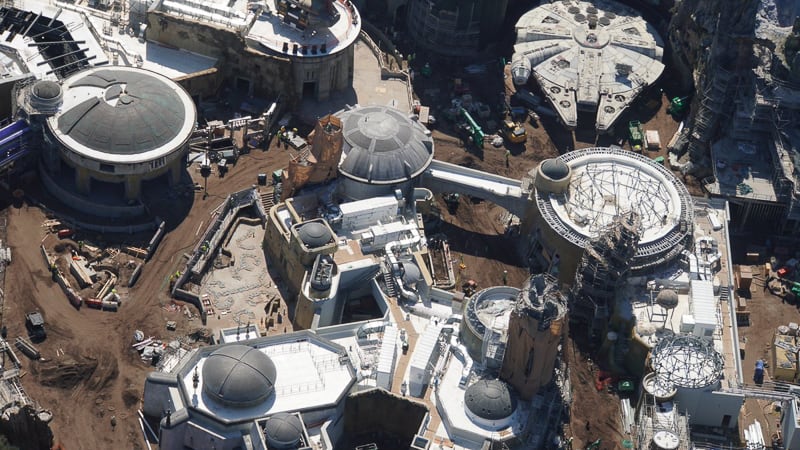 As you can see some of the domes are still not on the tops of the buildings, but you also see the ones that are installed already. It's going to be so cool to wander though here and explore all the nooks and crannies and hidden secrets to be found.
There will be all sorts of secret missions to do for guests staying at the Star Wars: Galactic Starcruiser Hotel too, which should give it a high return satisfaction rate for guests: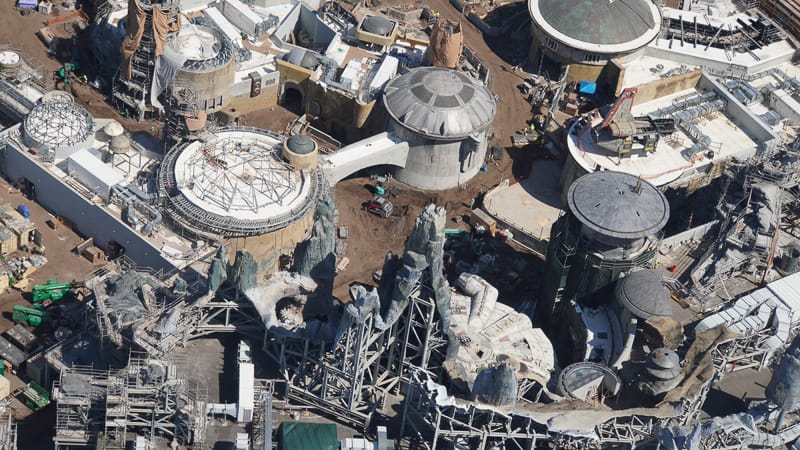 One thing of note in Black Spire Outpost is the way it's setup in comparison to the Disneyland version of Galaxy's Edge. In this photo you can see how the Hollywood Studios version differs from the Disneyland one.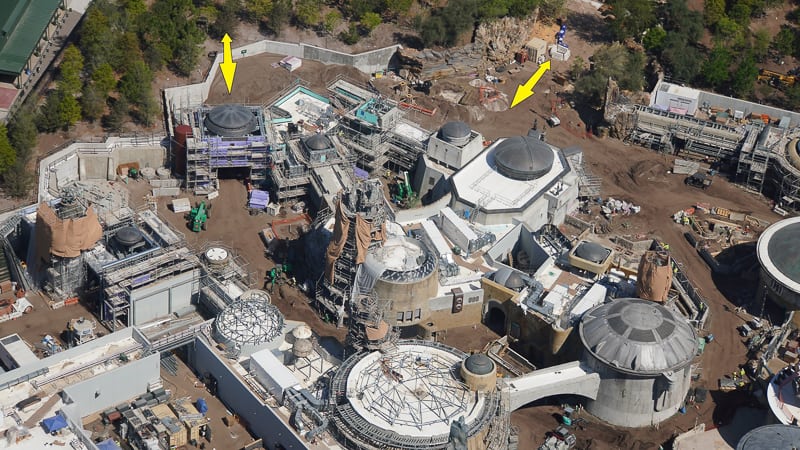 In the Disneyland Galaxy's Edge, there is a solid berm in between 2 accesses into the land. Both entrances are located at the above arrows. In the Hollywood Studios version instead there is a walkway which connects Black Spire Outpost and you only have the one entrance on this side of Galaxy's Edge (2 total instead of 3) which enters from Toy Story Land, indicated by the top right arrow.
This is where the third entrance in Disneyland comes in but in Hollywood Studios there is just the berm: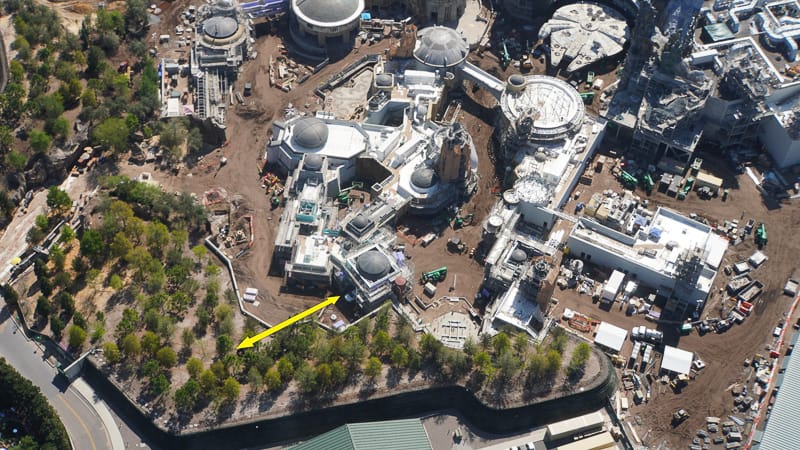 Let's take a look now at some of the buildings themselves. Of course we all know about the famous spaceship on top of Docking Bay 7, which we found out recently is used to transport goods into Black Spire Outpost.
Here we can see what looks like themed lighting on top of the roof which will light up the spaceship at night. That will be something awesome to see!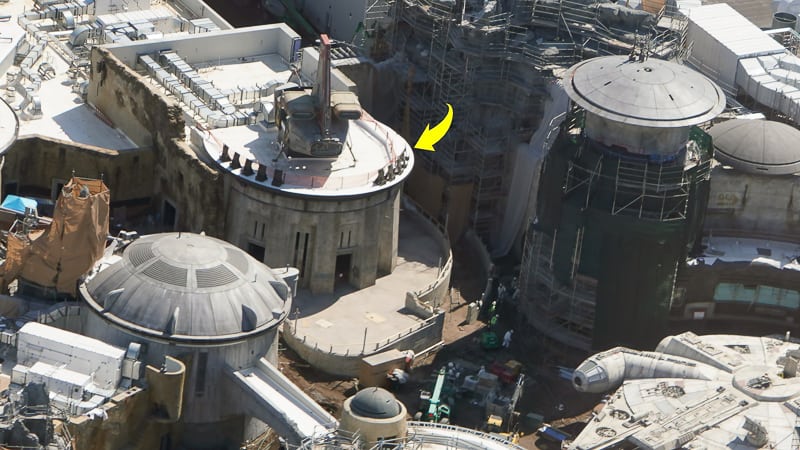 This shot is just a great example of the detail involved in the theming of Galaxy's Edge. Where the arrow is we can see some severe aging applied to the wall to make it look really old. Then in the courtyard on the right and equally as cool we see stonework being laid out to be installed on the floor: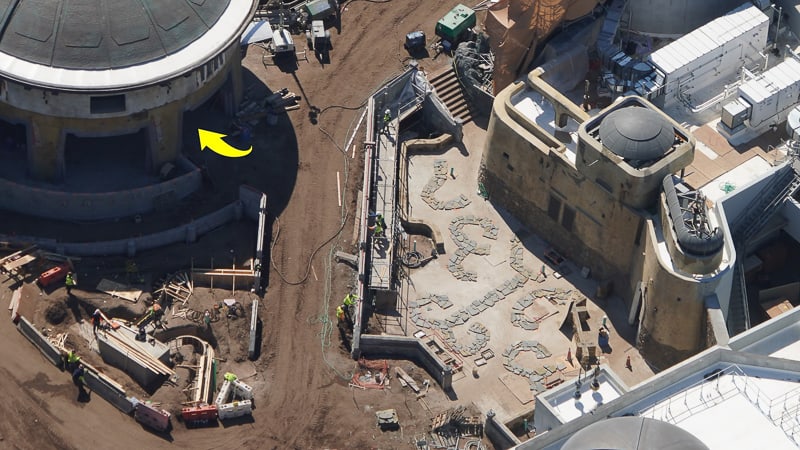 Even more detail going on here as the wall on the left is being made to look like it's made of stone and again very much aged: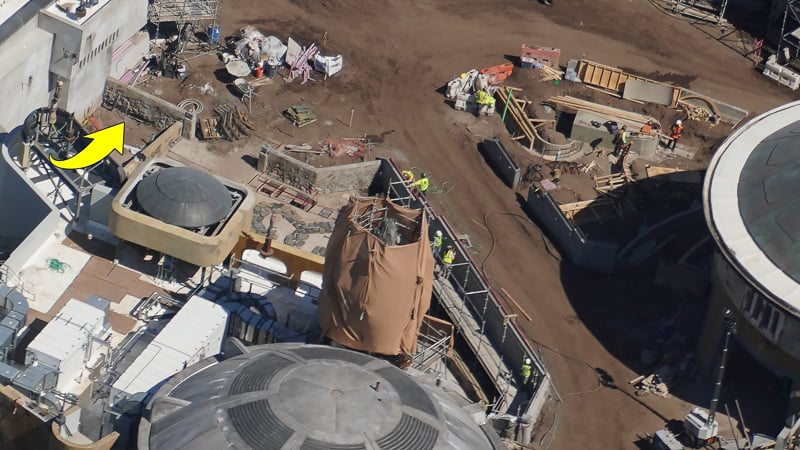 Take a look at the scrim which is setup to build a new spire in the above photo, then look down at the next one and you can see the same one from inside Toy Story Land: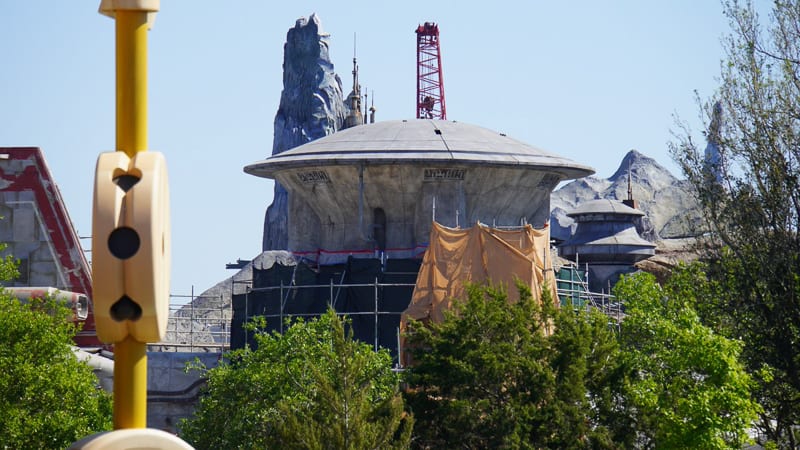 Though it is visible, overall Disney is doing a good job at hiding some of the features of Galaxy's Edge from the outside. Here is is again from an aerial point of view: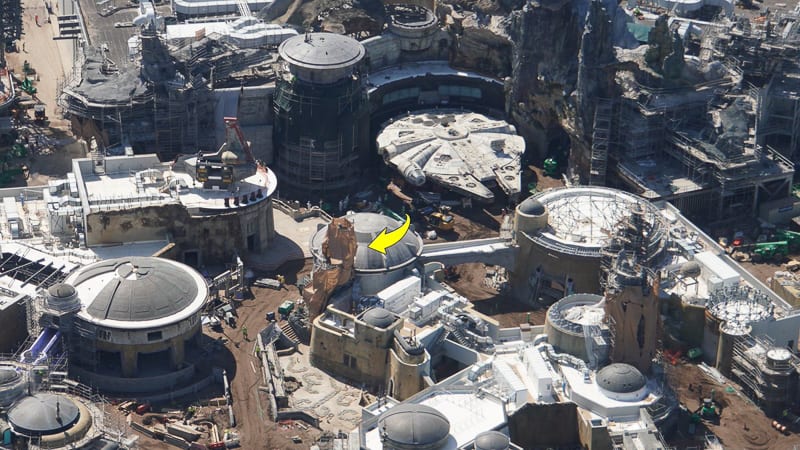 Let's look at some of the other amazing details around Galaxy's Edge. Are you can see the intricate rockwork lining the top of the Rise of the Resistance attraction building: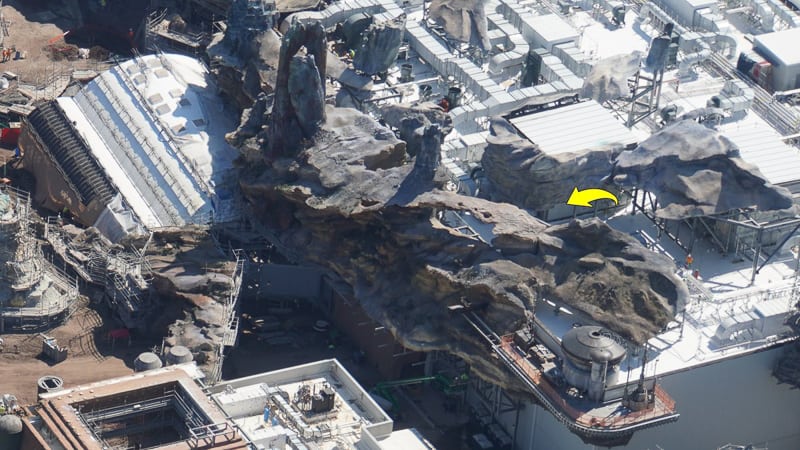 It's really impressive up close and will be incredible looking up from inside Galaxy's Edge: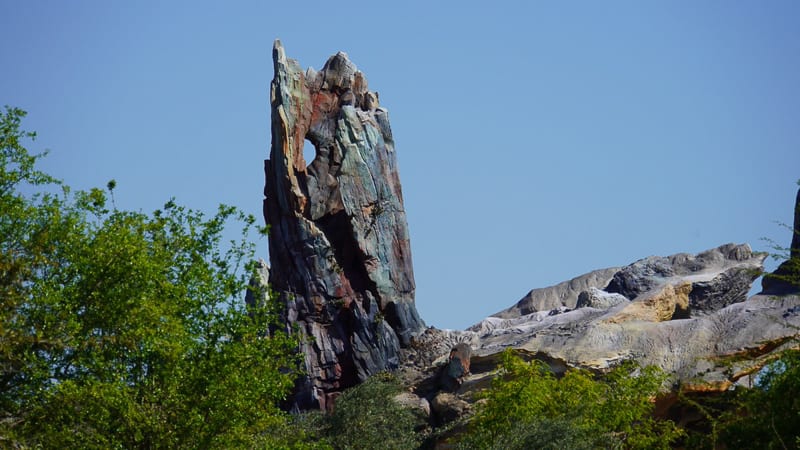 Here is another one in an arch form: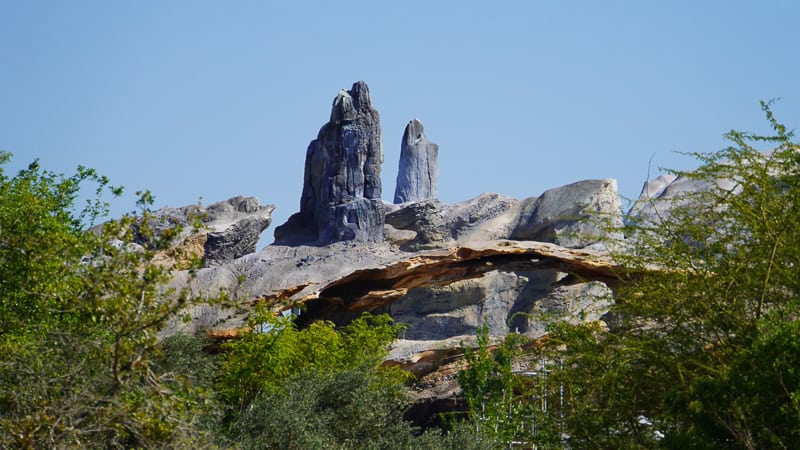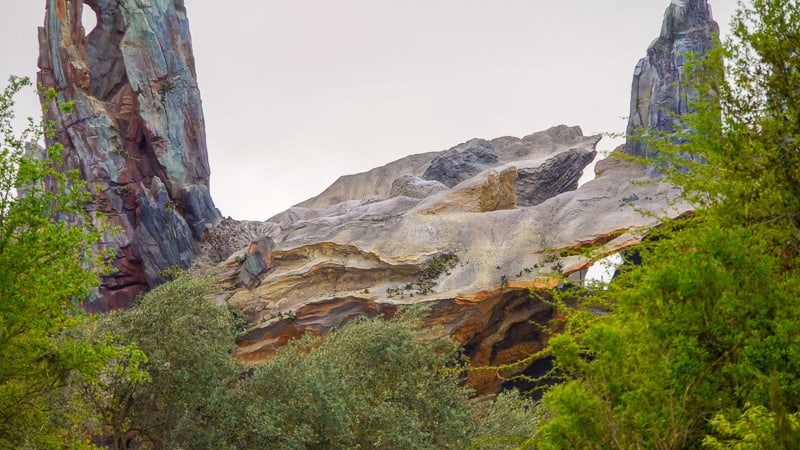 Disney is getting better and better at making artificial rocks and has even come a long way from only 2 years ago when Pandora: The World of Avatar opened up. This is even more impressive and I love all the different colors in the rocks not just a boring grey: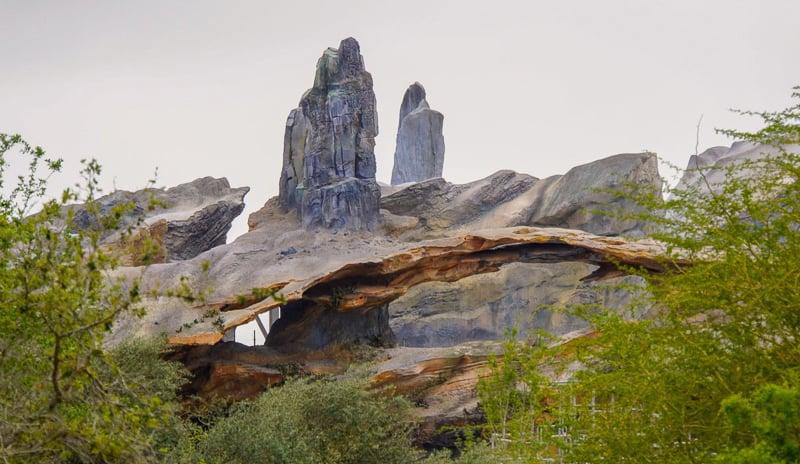 As you can see, these features are visible from the ground level and outside Star Wars land, but as the trees fill in, I think they will hide more and more:
Here's the famous spaceship on top of Docking Bay 7 again from the outside: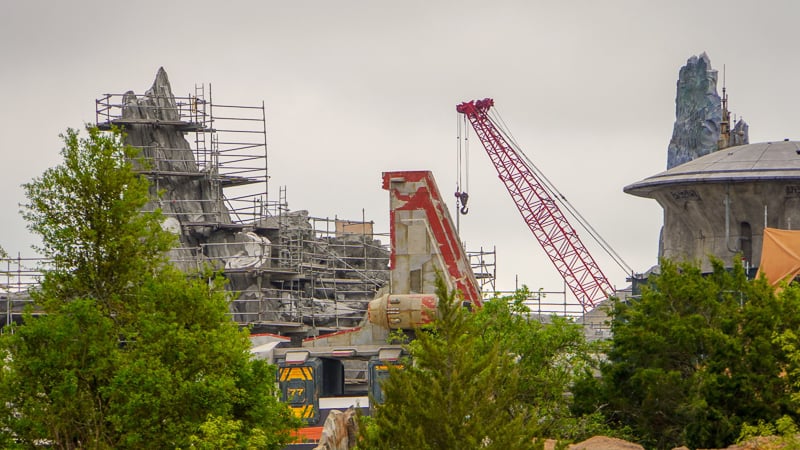 And another rooftop building: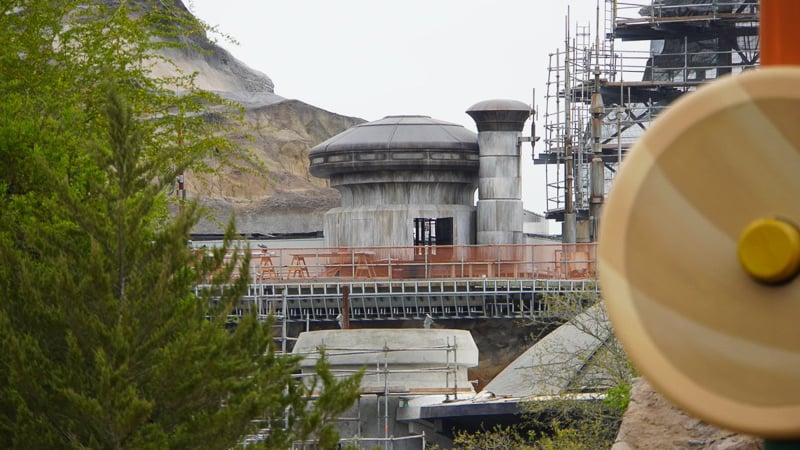 While I'll say Disney has mostly done an excellent job with these details, some of the spires still need some coverage as you can see underneath the spire here which breaks the scene. Let's hope Disney fixes that up: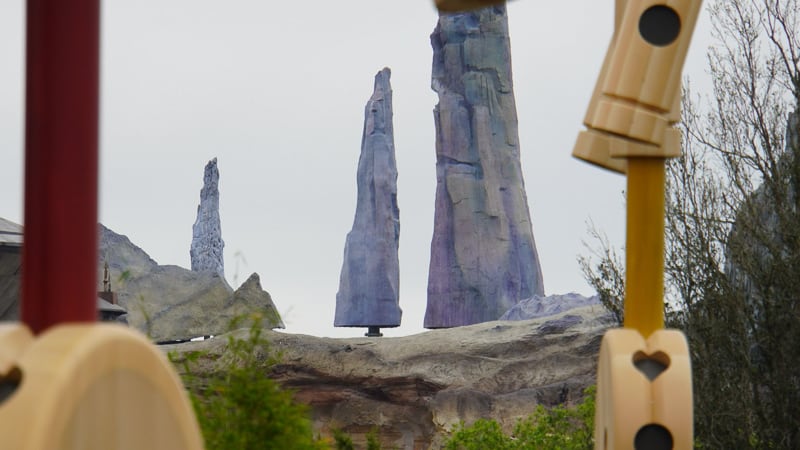 Now let's go over to the main entrance of Galaxy's Edge from Grand Avenue: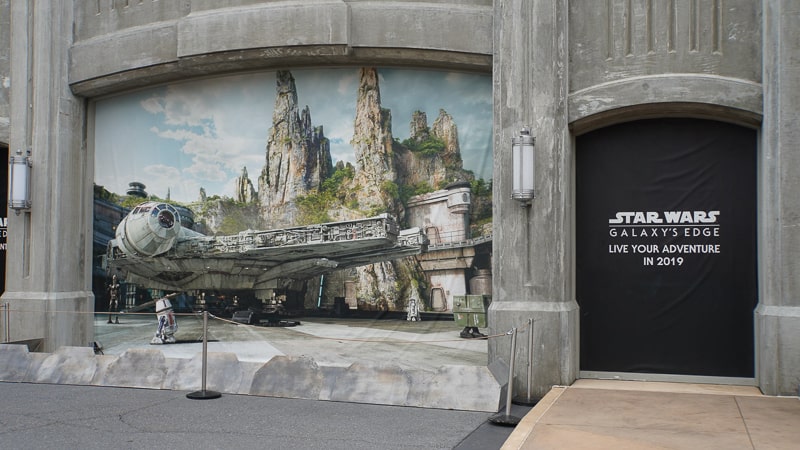 They still haven't updated the opening date to reflect August 29th in Hollywood Studios, it just says 2019.
Here we get a nice overhead shot of Star Wars Galaxy's Edge from that Grand Avenue entrance: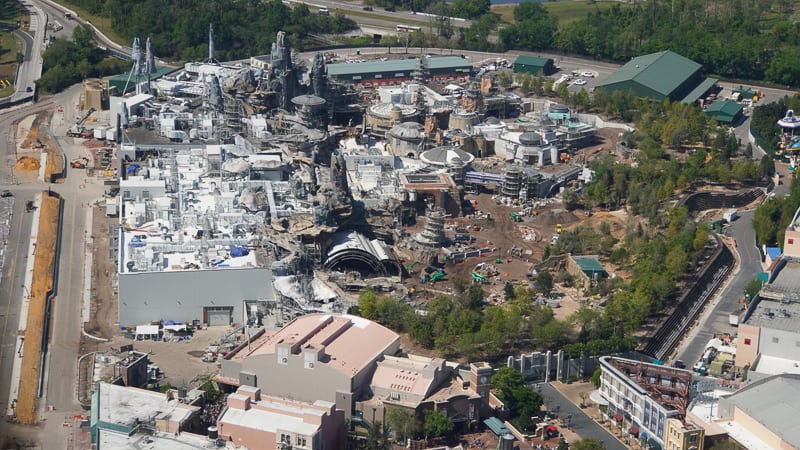 To enter you'll walk through the tunnel there and come out into this courtyard of sorts where you'll get that "big reveal moment." This will be right in front of Star Wars: Rise of the resistance: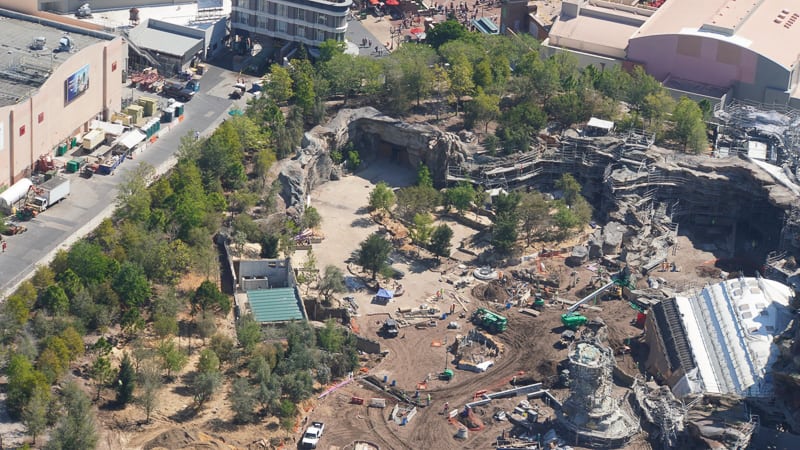 Here is another angle of that area. We can now see the new building in the top center is closed in, though we're still waiting to find out just what exactly it is: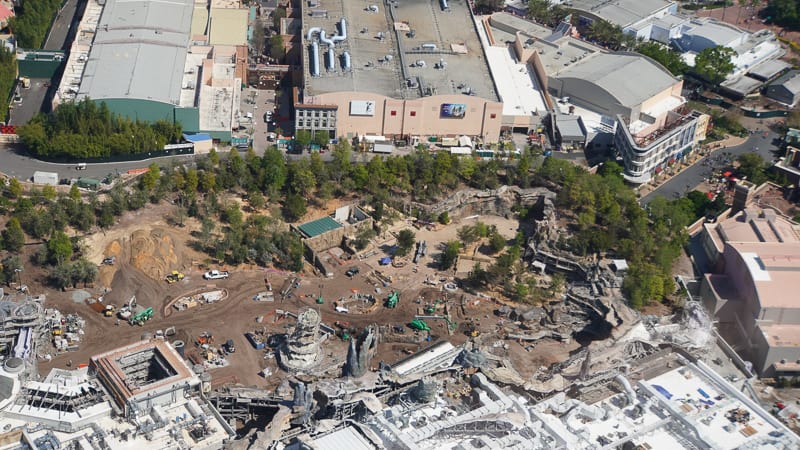 So from this angle we can see more how the Rise of the Resistance attraction queue is forming: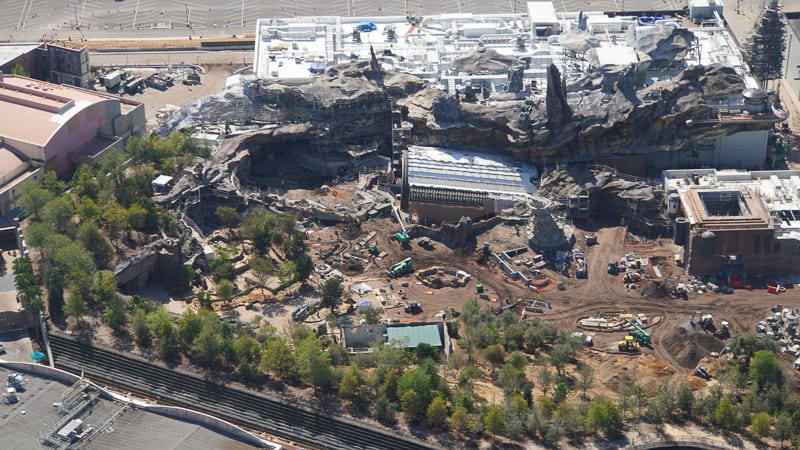 The attraction queue will start to the left and bring you inside the wall. Then after long and elaborate queue, you will end up in this courtyard, separate from the crowds in Galaxy's Edge where you will get a mission briefing from Poe and other Resistance leaders. Here is the concept art for that area: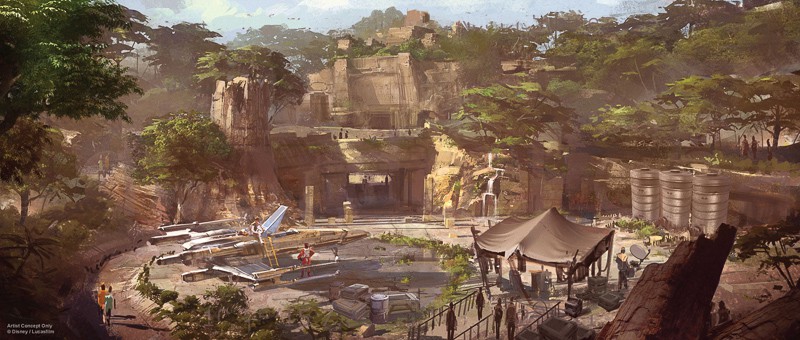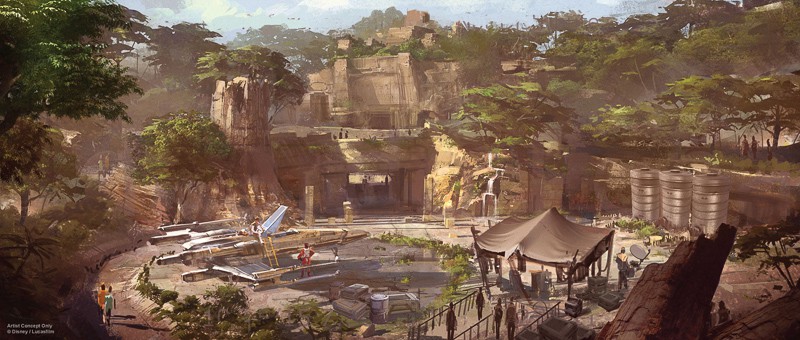 From the construction photos it looks like that will be on the bottom left of the next photo where it's getting totally walled off from the rest of Galaxy's Edge: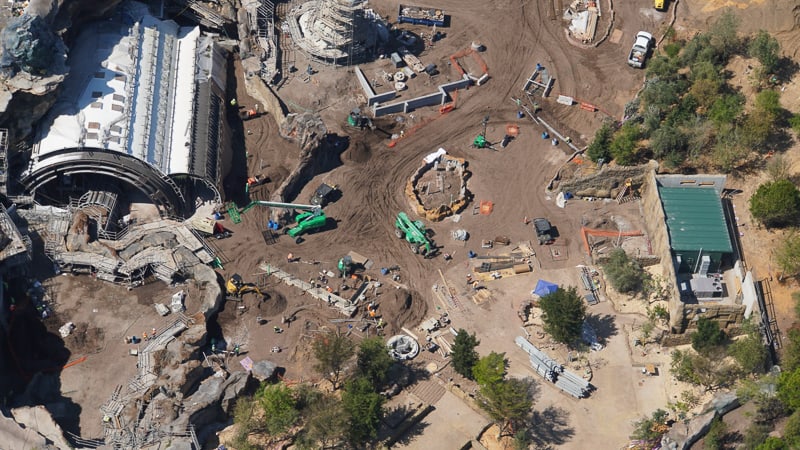 Moving out towards the berm we can see a new building going up just past a gate: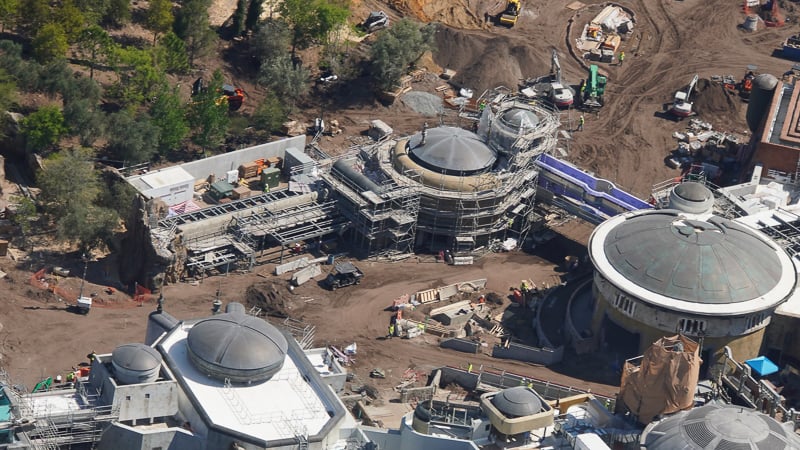 Ok, now for the coolest part of this update, we can see the landing spots for new spaceships in Galaxy's Edge and where they will be placed.
For example, this one alone the berm going towards Toy Story Land is for an X-Wing: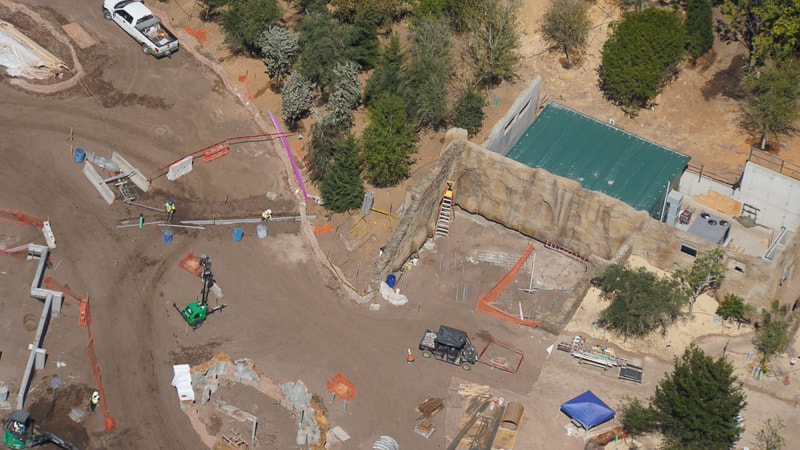 You can see it here in this model of Galaxy's Edge: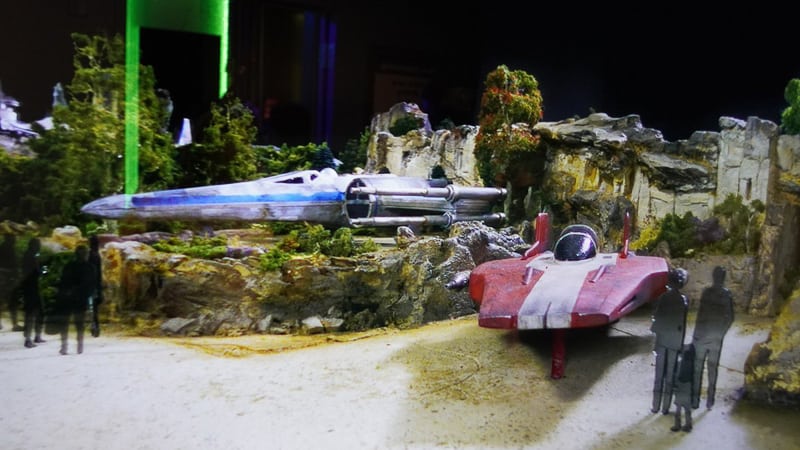 In the back we can see another area for a First Order ship: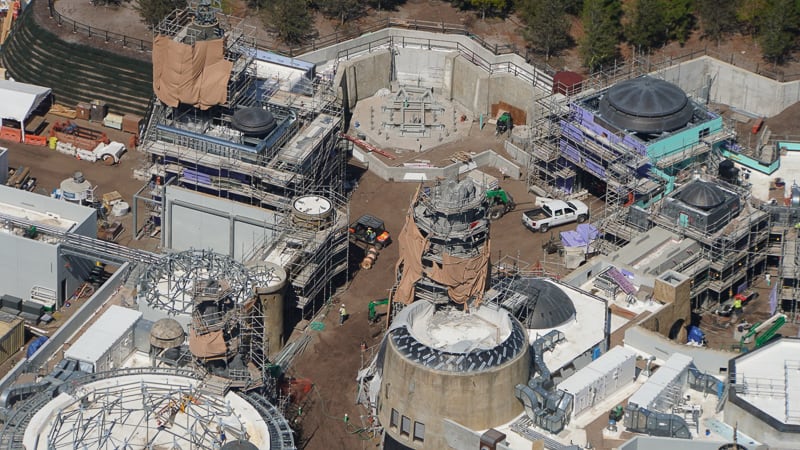 This is where the new TIE Echelon fighter that's already in Disneyland is going to go: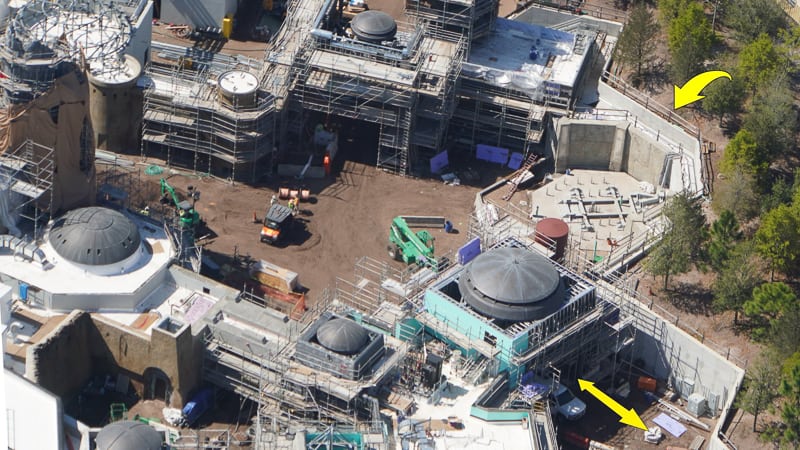 Here is a shot of that ship in Disneyland: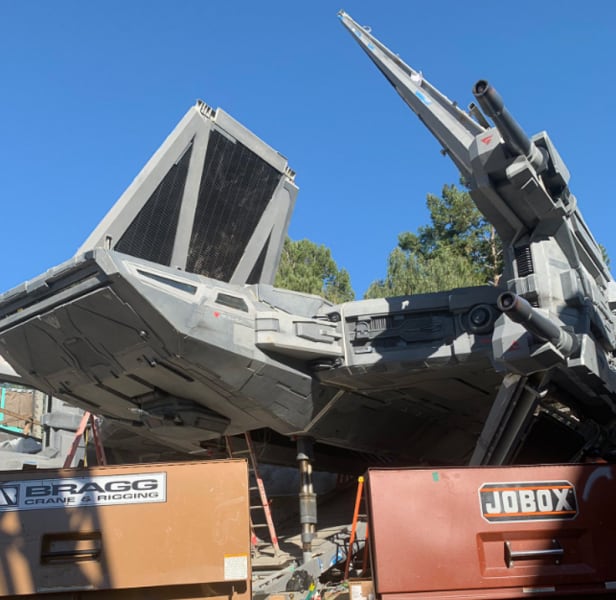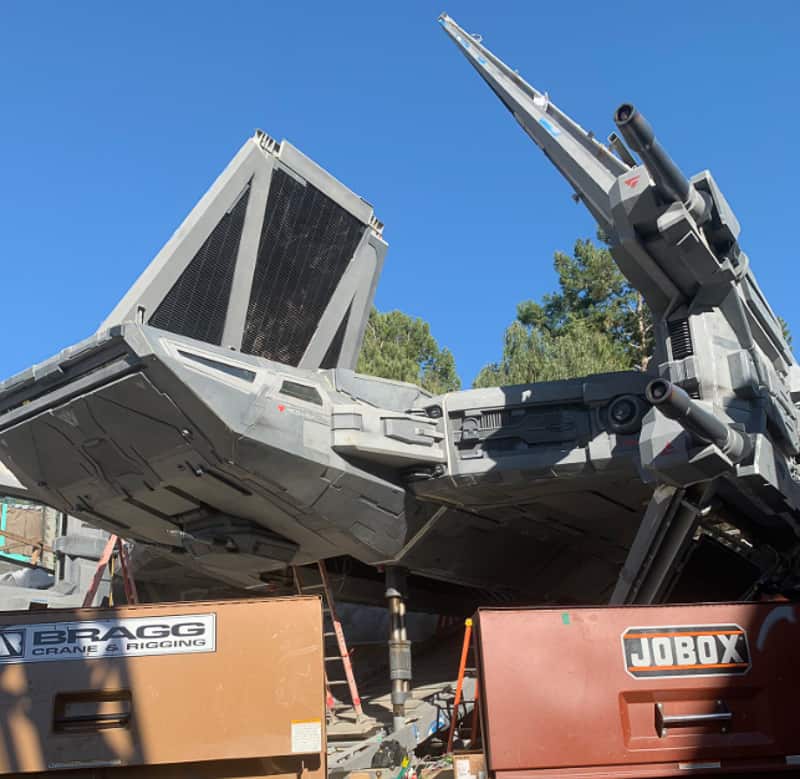 This goes along with the story and is a cool placement because the First Order have after all just taken control of Black Spire Outpost and this shows us their presence: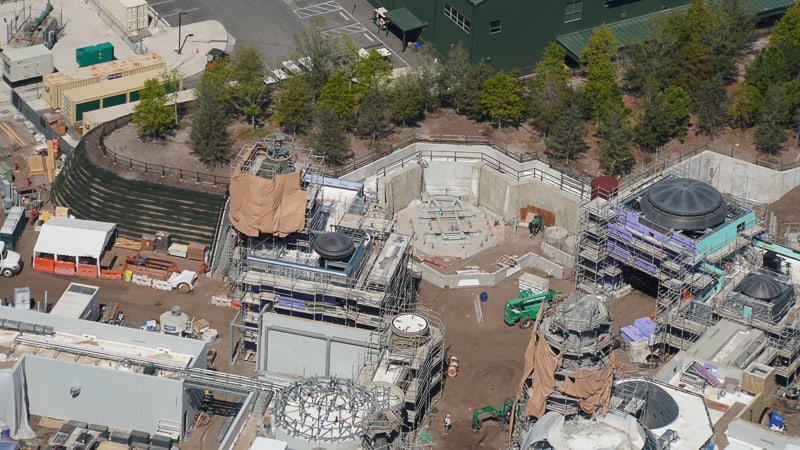 Lastly we look over at the Millennium Falcon which is looking really good at this point and seems to have all the details already placed on it: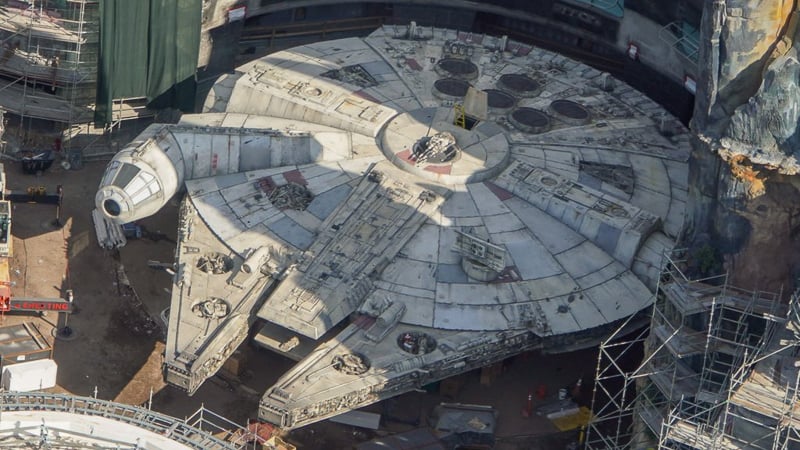 I'll be continuing to update this post with more construction updates for Galaxy's Edge throughout the month so keep checking back!
In the last few weeks there have been lots of new details about Galaxy's Edge including a detailed look into the Rise of the Resistance and Smuggler's Run attractions, and a first look at the droids, lightsabers and all the dining, food and menus for the land which will be available when it opens.
Star Wars: Galaxy's Edge opens May 31, 2019 in Disneyland and August 29, 2019 in Disney's Hollywood Studios.
Be sure to check out our Walt Disney World Construction Updates page for more updates on all the projects going on around Disney World as we continue to bring you the latest!
Other Disney World Construction Updates:
Disney Skyliner Update (March 2019) – More Testing and Station Progress
Remy's Ratatouille Adventure Construction Update (March 2019) – Work on the Front Facade
Lightning McQueen's Racing Academy (March 2019) – Signs Up and Character Meet Ready
Star Wars Hotel Update (March 2019) – First Foundation Pour for Buildings
TRON Roller Coaster Update (March 2018) – Staging Area for Coaster Track Set Up
Illuminations Fireworks Replacement Epcot (March 2019) – Construction on Islands and Underwater in World Showcase Lagoon
Your Thoughts:
I want to know what you think about the Star Wars Galaxy's Edge Construction Update for March 2019…
How excited are you for Galaxy's Edge?
Which part are you looking forward to most?
Let us know in the comments section below!
If you enjoyed this article, as always I appreciate it if you'd share it with others via social media. I work hard at making this website into a useful resource for you and your family to plan your visit to the Disney Parks and I hope it can help you! Thanks 🙂
Photo Credit: @Bioreconstruct