In this latest Star Wars Galaxy's Edge Construction Update we're going to check out all the latest updates including the first spaceship to land in Star Wars Land in Hollywood Studios and some interesting additions to the Battle Escape attraction.
Since Toy Story Land opens up we've been able to see into Galaxy's Edge and get a unique view of the construction work going on there. We also now know about how the Star Wars Hotel will be connected to Galaxy's Edge with a private entrance and where it will be.
Thanks as always to @bioreconstruct over on Twitter who gets some amazing aerial shots giving us a unique view of the construction projects around Walt Disney World. Let's see what's new in Star Wars Galaxy's Edge!
Here's an aerial view of Star Wars Galaxy's Edge. It looks nice with the finished Toy Story Land next to it doesn't it? ?
Here's a great view and you can see the two attractions plus the Black Spire Outpost area where the restaurants and shops will be: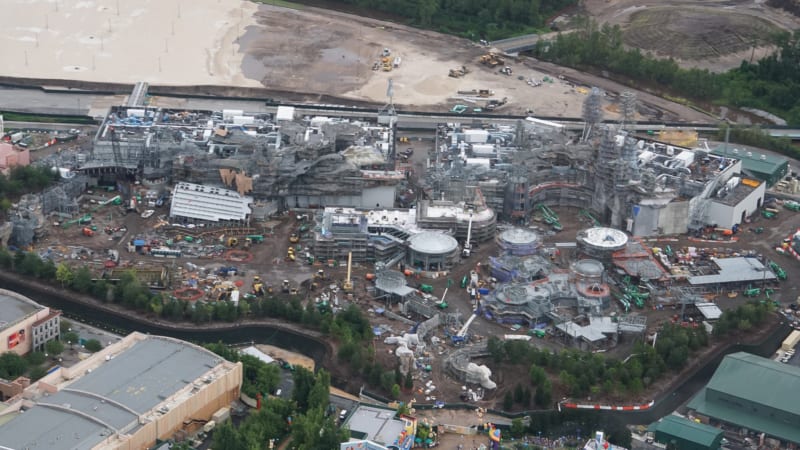 Look at all the duct work and HVAC stuff going on the tops of the two show buildings, it's like a maze!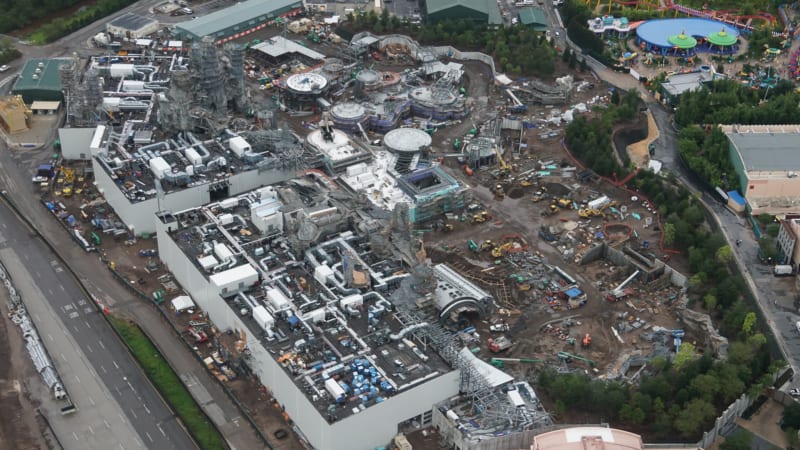 Let's first look over at the Battle Escape attraction: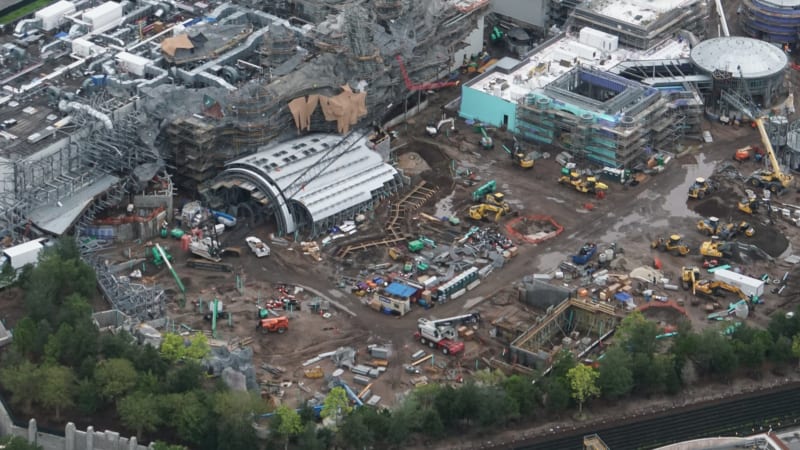 Rock work is being layered on nicely over the top and sides of the building. I swear, every time Disney does this they get better and better at it, and they are experts now after having done Pandora last year. Just look at that detail: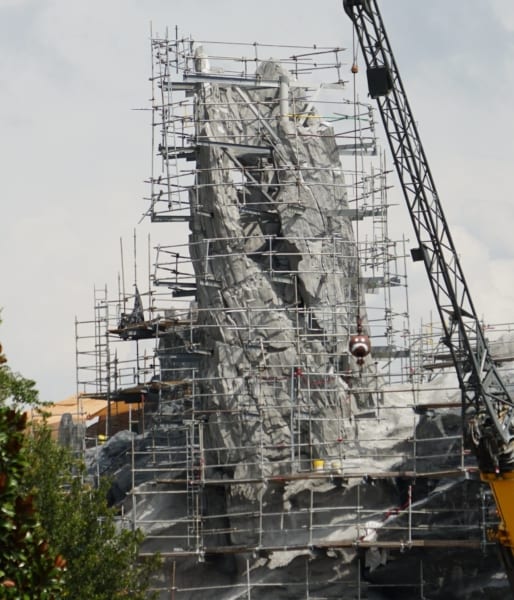 You'll notice a lot of concrete work going on inside that open area in the building, which is where the attraction's queue will be: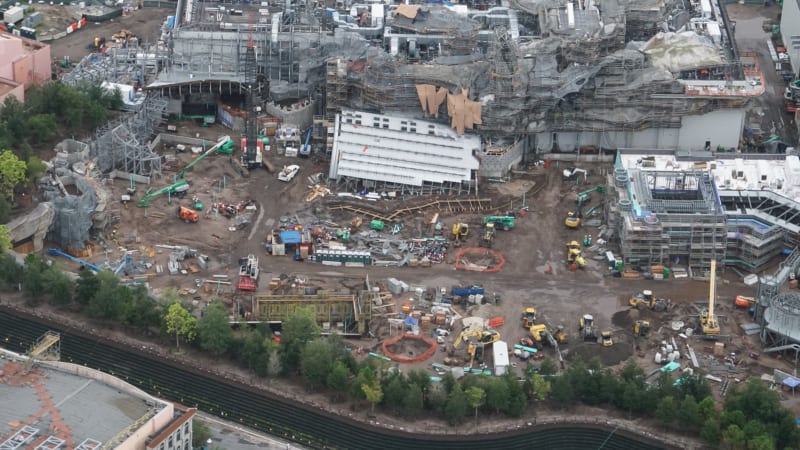 Inside the metal overhang on the left which is where the attraction exit will be, you can see a cylinder shape inside the bigger cylinder. Is that a tunnel that guests will emerge out of when re-entering Galaxy's Edge?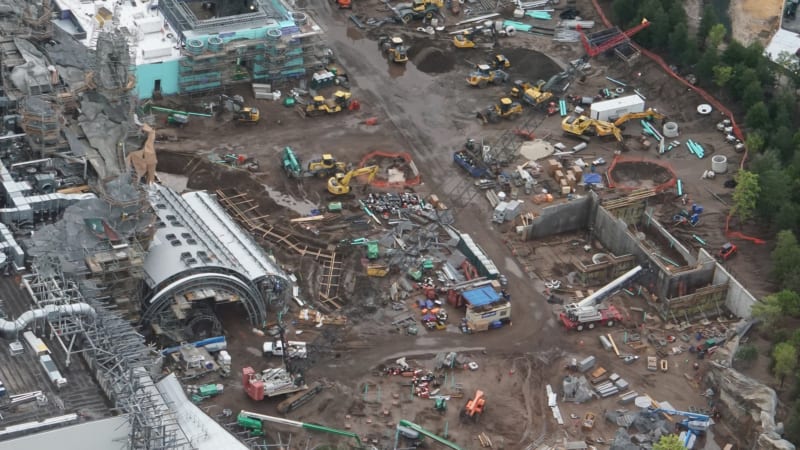 This is where the tunnel will be into Galaxy's Edge from Grand Avenue. Again that area is now looking full of trees and most of the rock work seems to be done there by the wall: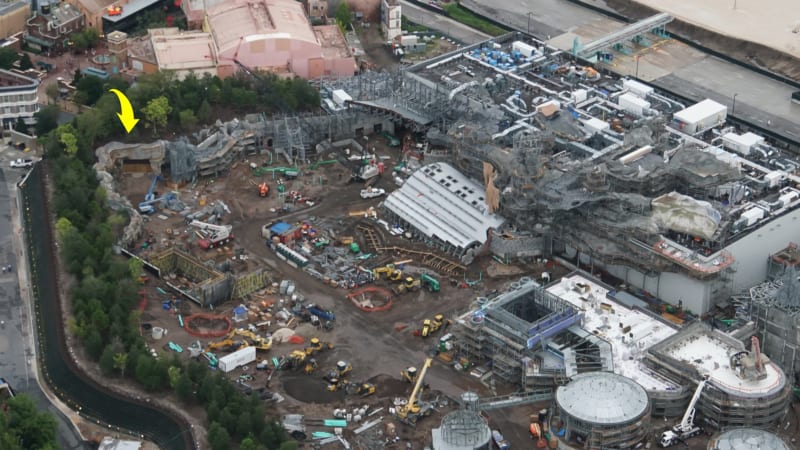 Now looking over by the Millennium Falcon: Smuggler's Run attraction you can see a couple of things. First is that the area in front of the attraction where the Millennium Falcon is going is being prepared. You can see the group of cherry pickers in a semi-circle: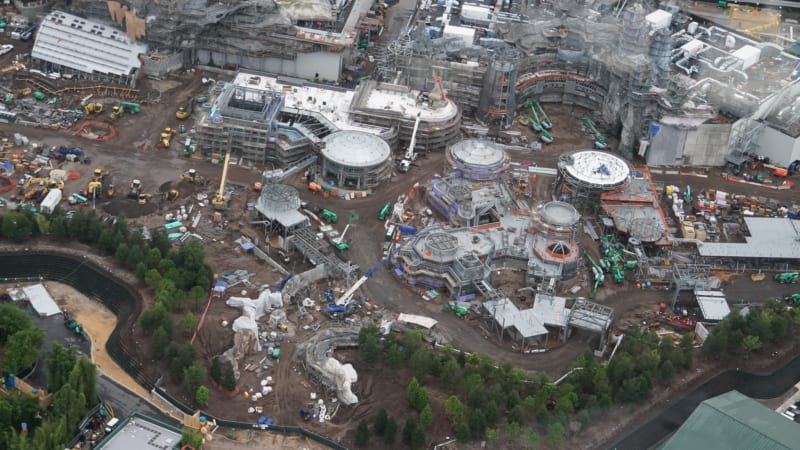 You can also see the first spaceship in Galaxy's Edge being built on top of one of the buildings in the Black Spire Outpost area just to the left of the cherry pickers: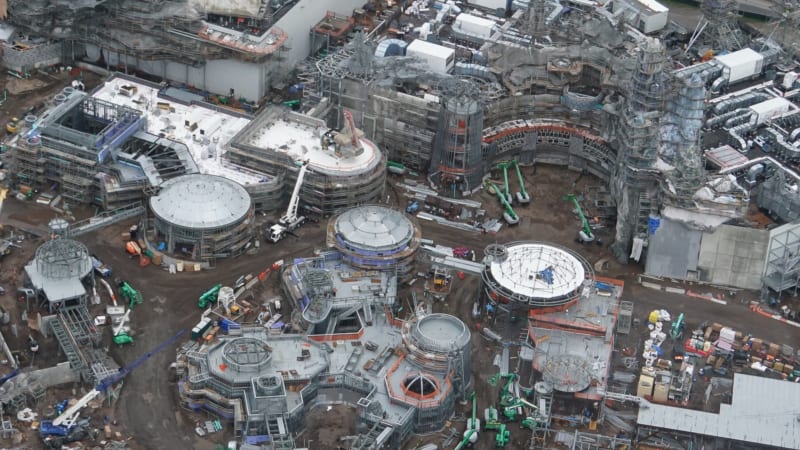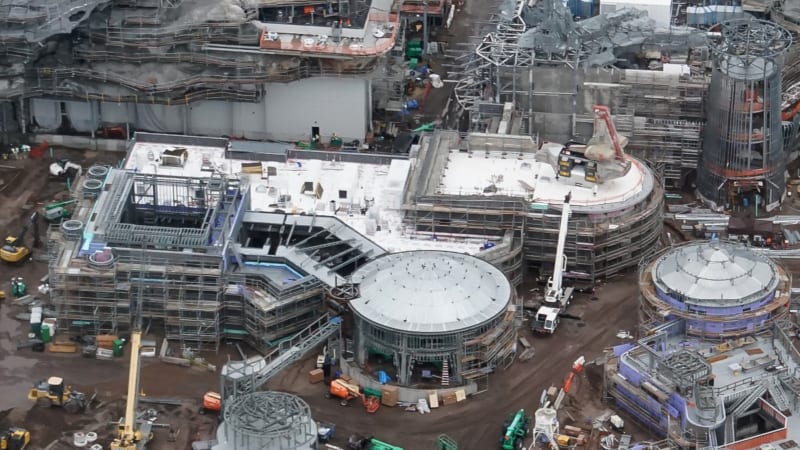 You'll recognize the spaceship from the Star Wars Galaxy's Edge model in Hollywood Studios: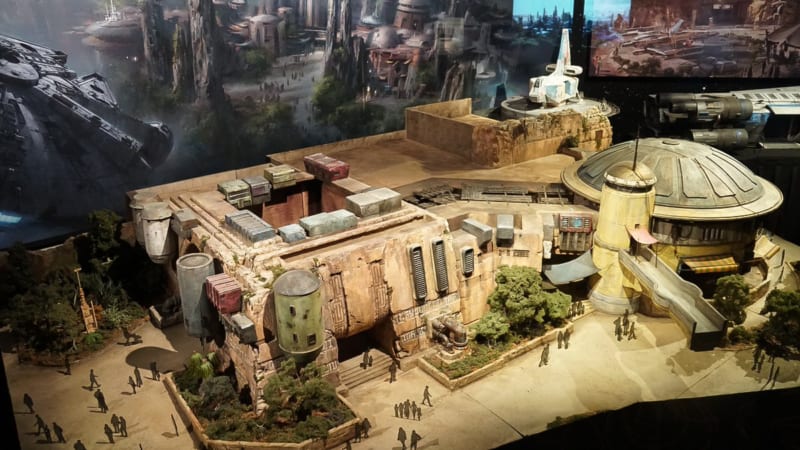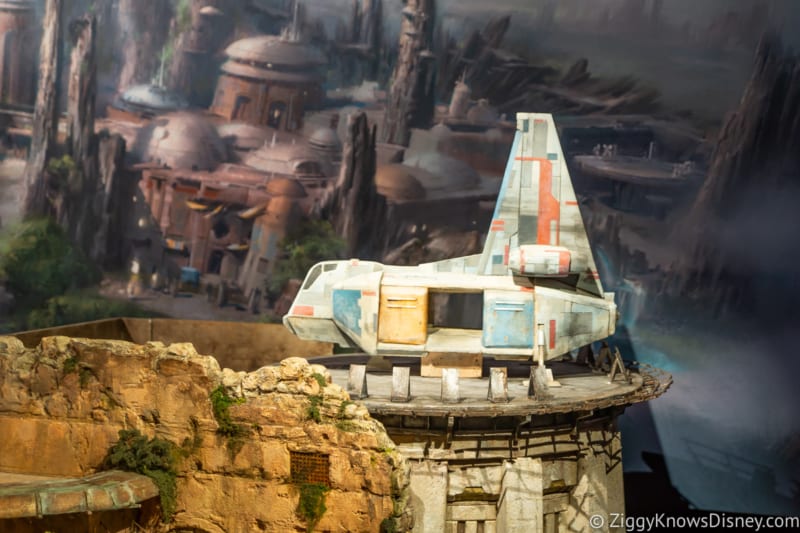 Here's a closeup view of the spaceship: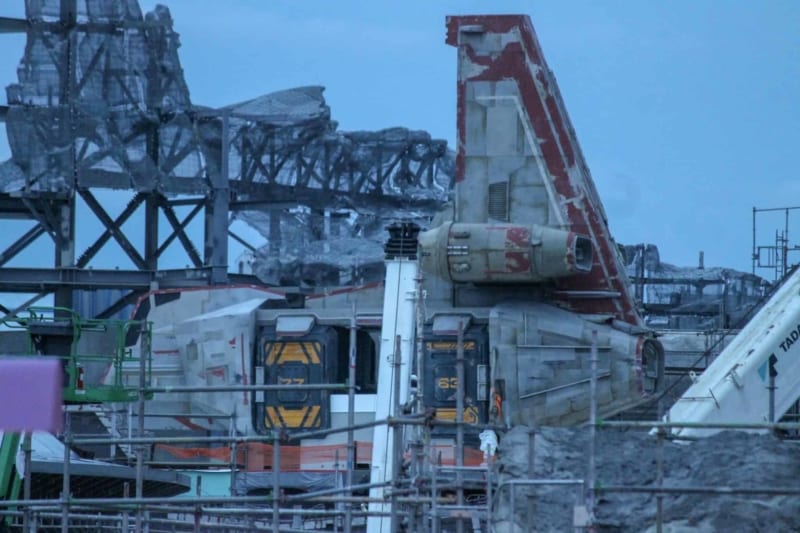 You can see the side of the spaceship is still being put on: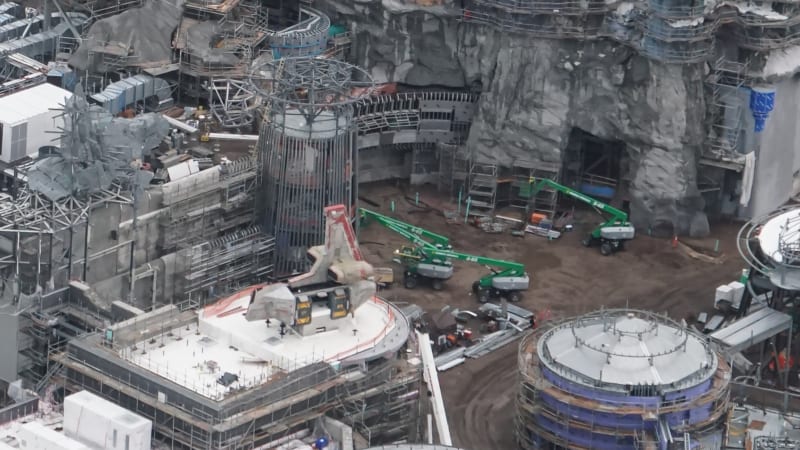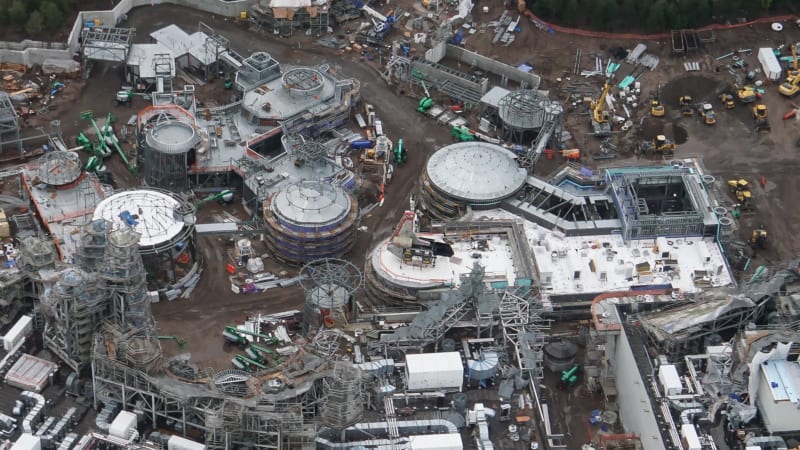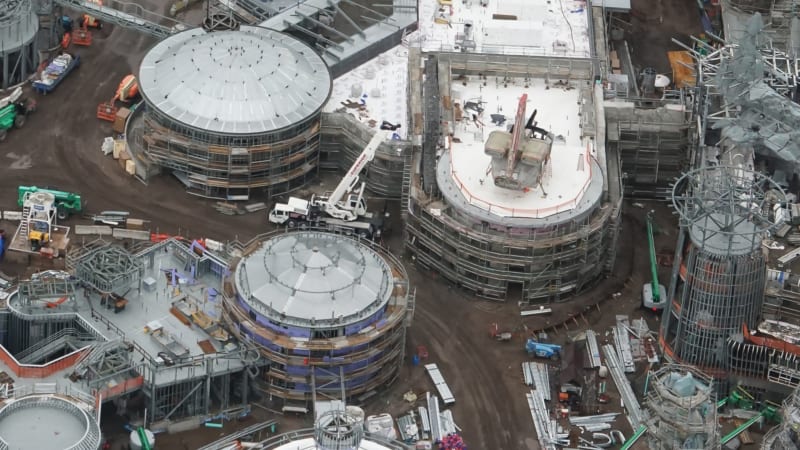 There are also bridges up between the building in Black Spire Outpost as noted by the arrow: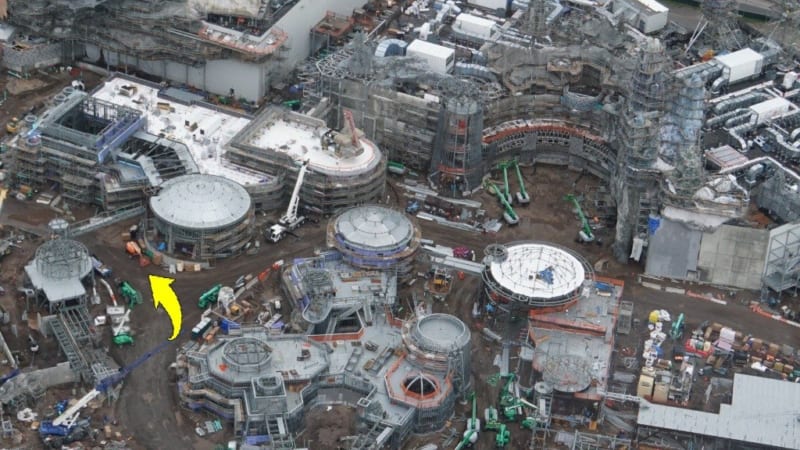 It's really cool to see some of the details of Star Wars Galaxy' Edge starting to come into place which are going to make this the unreal place we've all been hoping for!
We recently learned that the Battle Escape attraction is going to be called Star Wars: Rise of the Resistance!
Disney has confirmed Star Wars Land is opening in May 2019 in Disneyland and August 2019 so start thinking about your plans now. You can check a 2019 Walt Disney World vacation packages for more info about booking your trip.
Check out our latest construction updates for Walt Disney World for info about:
Epcot Illuminations Fireworks – Work Starts on Support for New Fireworks Show
Guardians of the Galaxy Coaster – Roof Being Installed on Coaster Building
Epcot Space-themed Restaurant – Land Clearing Underway
For more details about Galaxy's Edge read our Ultimate Guide to Star Wars Land where we go in-depth into the rides restaurants, planning and touring strategies.
Your Thoughts:
I want to know what you think about the first spaceship arriving in Star Wars Galaxy's Edge…
When are you planning to go to Star Wars Galaxy's Edge?
What details are you most excited for?
Let us know in the comments section below!
If you enjoyed this article, as always I appreciate it if you'd share it with others via social media. I work hard at making this website into a useful resource for you and your family to plan your visit to the Disney Parks and I hope it can help you! Thanks 🙂
Photos: @Bioreconstruct