If you would like to step back in the turn of the century seaside ambiance with games, fireworks, shopping, incredible dining and all within walking distance from EPCOT and Hollywood Studios, look no further than Disney's Boardwalk!
In this post, we are going to explain everything you need to know about Disney's Boardwalk. We'll explain what it is, which hotels are located there and what you can do if you visit.
Honestly, it's one of our favorite places in Walt Disney World and it is severely underrated by most guests. In fact, unless you are staying at one of the EPCOT-area resorts, we'll guess that you've never even visited before, and that is a mistake we want to correct immediately.
Before we get started, don't forget to sign up for our FREE Weekly E-Mail Newsletter. There we will update you with the latest Disney World Resorts updates, and share the latest vacation planning tips. You can sign up here: Join our E-Mail Newsletter!
What is the Disney BoardWalk?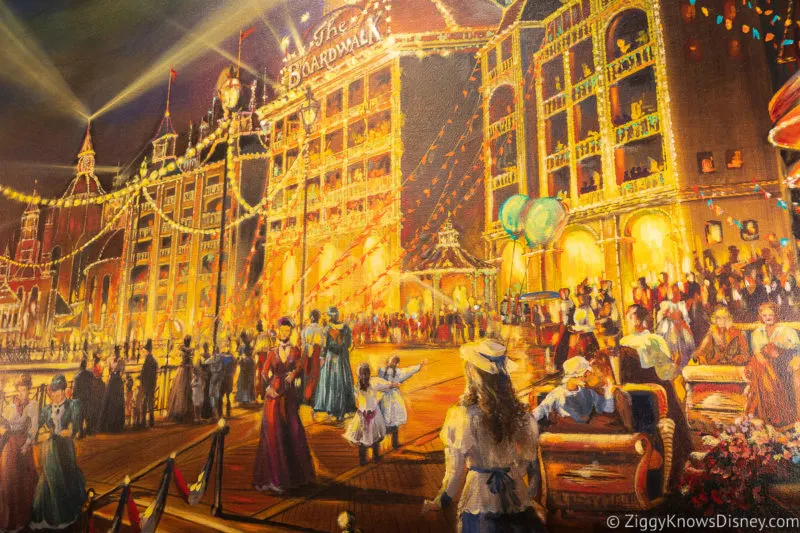 Disney's BoardWalk is a highly themed and immersive entertainment, resort, and dining district just outside of EPCOT's World Showcase. It's themed to the charm of early 20th Century Northeast boardwalks such as Atlantic City and Coney Island.
It's also about a ¼ mile long and stretches across Crescent Lake, which is conveniently located near EPCOT.
It's home to 6 different resorts and two additional Disney World Villas properties, including its namesake the BoardWalk Inn Resort. Visitors that want a change of pace from EPCOT or just a great spot to enjoy an evening and grab a bite to eat or walk along the promenade can visit the Disney BoardWalk and have a wonderful time.
There are a number of fun and unique entertainment options, in addition to some terrific eats for food lovers. It truly comes alive at night, especially on the weekends and it's one of our favorite places to be!
Is the BoardWalk Free Entry? / Can Anyone Go to the Disney BoardWalk?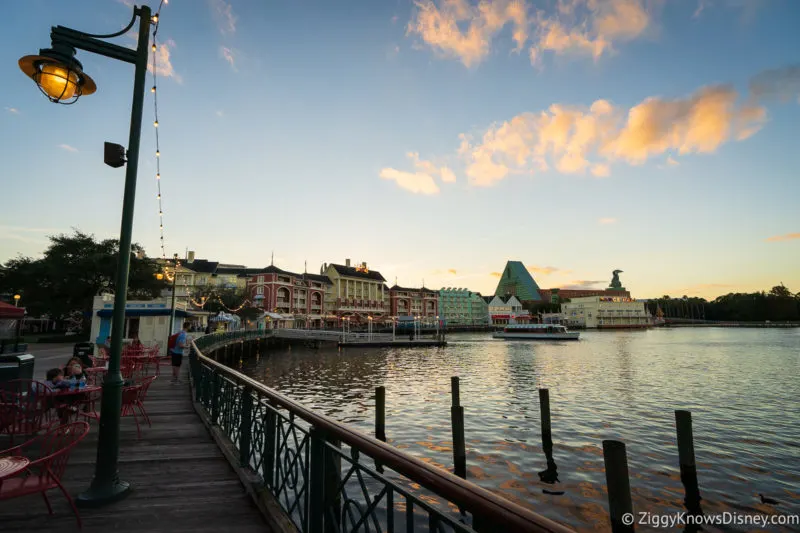 One of the best parts of visiting the Disney BoardWalk is that it's completely free and ANYONE can visit! In fact, it's one of our favorite things to recommend to people who are looking for something free to do in Disney World.
There are six Resort hotels that are situated on the Disney BoardWalk. There are also two additional DVC Villa properties that are also part of the same resorts.
The Resorts are:
Disney's BoardWalk Inn
Disney's Beach Club Resort
Disney's Yacht Club Resort
Walt Disney World Swan Resort
Walt Disney World Dolphin Resort
Walt Disney World Swan Reserve Resort
And the two DVC Villas properties are:
Disney's BoardWalk Villas
Disney's Beach Club Villas
Disney's BoardWalk Inn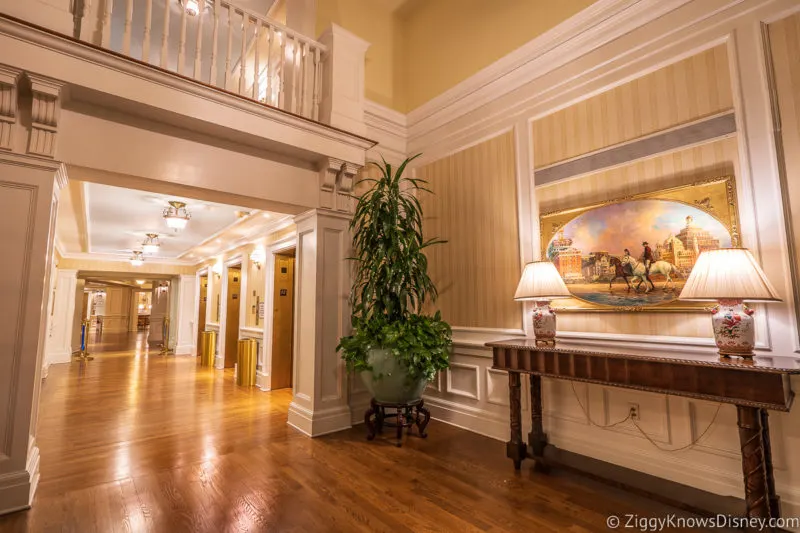 First opened in 1996, Disney's BoardWalk Inn is the 'host' hotel of the Disney Boardwalk. In fact, visitors parking in the parking areas will come in through the Boardwalk Inn Resort area. This resort is a charming waterfront resort that's themed just like the actual Disney BoardWalk, but more specifically to the Atlantic City charm.
You'll feel like you're in a quaint waterfront village with white-railed balconies and bright and colorful buildings. This is a very popular resort, and guests with families just love the pool area and the fun seaside theming.
The BoardWalk Inn has the unique designation of being the closest resort within walking distance to Disney's Hollywood Studios Park. It's nestled perfectly between both EPCOT and Hollywood Studios.
The BoardWalk Inn Resort is a Disney Deluxe Resort and is on the higher end of the spectrum. In fact, rates for this hotel will range between $600-$1000 per night depending on the time of year you visit.
*(You can get a room for cheaper by following our money-saving Disney tips.)
Disney's Beach Club Resort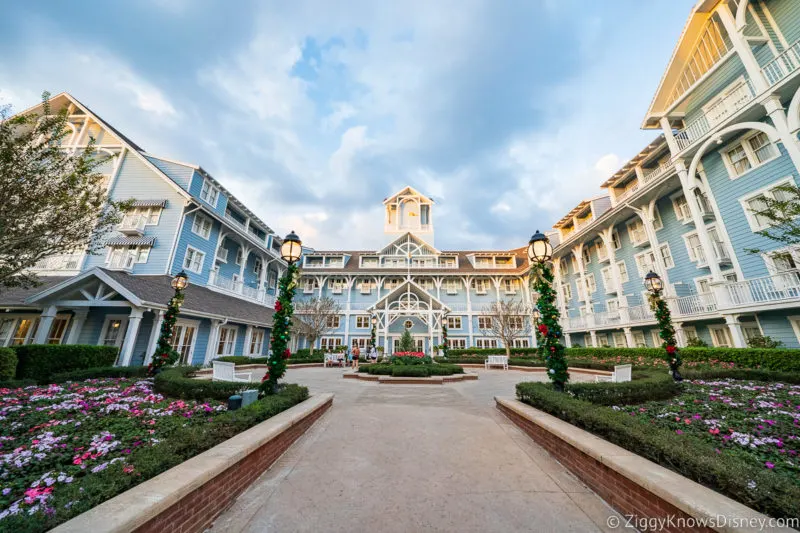 This fun beach-themed Deluxe Resort opened in 1990 and shares the space with its sister resort, the Yacht Club Resort. While sometimes these hotels will get lumped together as Disney's Yacht and Beach Club Resorts, they are technically two different resorts and have different spaces and completely different themes.
The sister resort of the Beach Club, Disney's Yacht Club Resort shares many of the same common areas, including the pool and outdoor areas, but the Yacht Club has more of a quiet and formal feel with darker colors and an elegant vibe.
It's full of nautical themes with darker colors while being themed to a New England-style Yacht Club.
However, a nice feature is that the Yacht Club Resort has the designation of being one of the only dog-friendly resorts in all of Walt Disney World, and the ONLY one on the Disney BoardWalk that is dog friendly.
Guests can pay an additional cost of $75 per night to use this service, but it can be worth it to bring your furry friend with you.
We like the quiet and sophisticated feel of the Yacht Club, and it's also home to one of our favorite restaurants in all of Walt Disney World, the Yachtsman Steakhouse!
Guests staying here will pay within the same range per night at the Beach Club and the Boardwalk Inn Resorts, between $600 and $1000+ per night.
Walt Disney World Swan Resort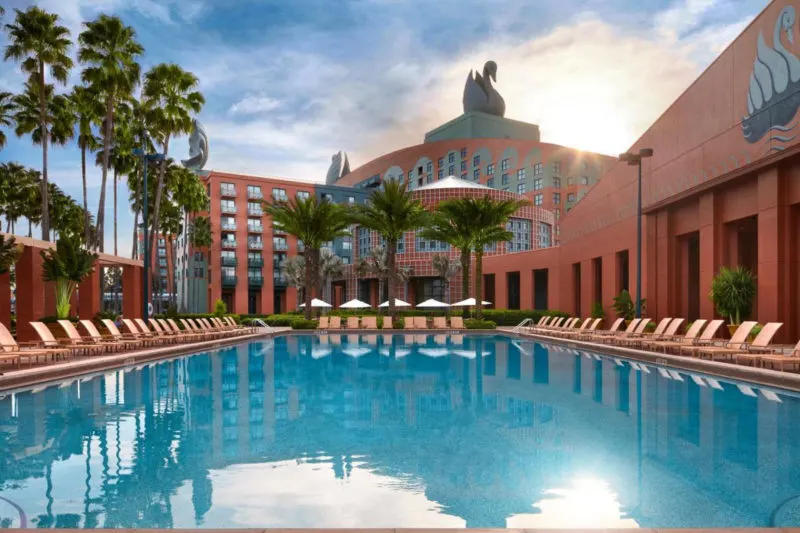 The next three hotels on our list are technically "not Disney", and are owned by an outside company. They are all under the Marriott Umbrella of hotels, although they are found on Disney's BoardWalk and within walking distance of the parks.
The Swan and Dolphin Resorts, like the Yacht and Beach Club, are sister resorts that are conveniently located just a short pathway apart.
The Swan Resort is a modern-style resort with a nod to Renaissance elegance. You'll find clamshell fountains and twin swans presiding over the hotel's roof and they've recently renovated the interior of the hotel, even though the outside area can feel a little outdated.
Even though the Swan Resort is technically under the Marriott Bonboy Umbrella, they are managed by Westin whereas the Dolphin Resort is managed by Sheraton. Guests continue to rave about the Swan's Heavenly Beds, which are a staple of Westin Hotels.
It's the smaller of the sister hotels and feels more quaint and personable, while the Dolphin is significantly bigger and feels more of a convention-style hotel, although they both are. Neither hotel is overly popular with kids, due to their convention appeal for business travelers, but don't let that deter you if you have children.
The larger of the two sister resorts, the Dolphin Resort is a massive convention-style resort that instead of swans is themed with twin dolphin statues atop its roof. It's very similar in style and feel to the Swan Hotel.
The main difference is the Dolphin has essentially double the rooms and feels grander in areas, most notably in the lobby area (which was recently redone). You'll find tropical palettes both on the interior and exterior of the Dolphin Hotel, with colors of aqua and coral surrounding all of the common areas.
The Dolphin is more favorably positioned to the common pool areas that the two resorts share, and also is home to the Mandara Spa, which features over 100 different signature treatments that is themed to a Balinese-style spa.
Also, the Dolphin rooms are slightly larger in nature and also include laundry facilities for all guests, of which the Swan does NOT.
While the prices for the two resorts are normally VERY close, typically the Dolphin Resort is slightly cheaper, although this isn't always the case. The prices will be in the same range of about $270-$1000+ per night.
Walt Disney World Swan Reserve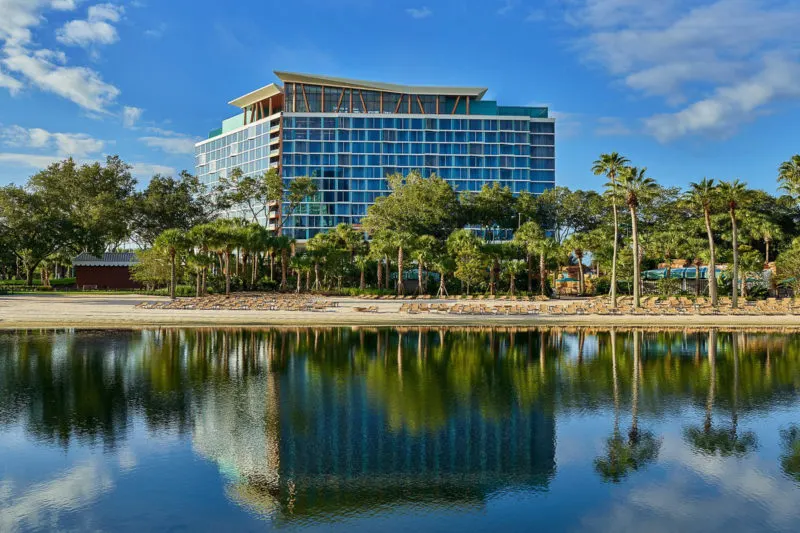 And last on our list is the Swan Reserve, which is the newest of all of the Disney BoardWalk hotels. It's the most expensive and upscale out of the three non-Disney Marriott Hotels (Swan Reserve, Dolphin, Swan).
This modern boutique was just opened at the end of 2021 and is a beautiful new addition to the Disney BoardWalk. It's got more of a luxurious feel than the Swan and Dolphin hotels, with lavishly appointed hotel rooms.
It's considered an 'Autograph Collection' Marriott hotel, so it's more of an intimate type of atmosphere without the big convention feel, even though convention-goers are the target guest here.
It's a little bit of a further walk than the Swan and Dolphin Resorts, but the Swan Reserve has all of its own amenities, not requiring as much sharing of facilities or common areas.
Rates for the Swan Reserve range from about $300 to over $1000+ per night. It's generally SLIGHTLY more expensive than the Swan and Dolphin Resort.
Disney's BoardWalk Villas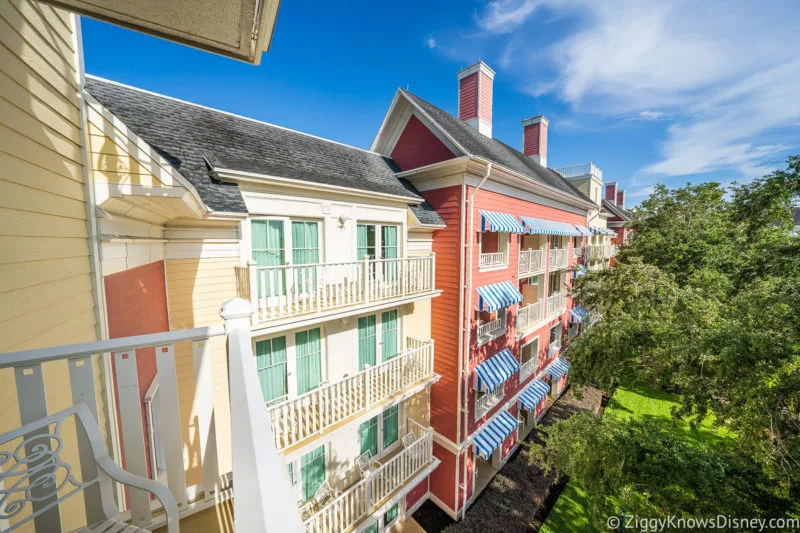 The BoardWalk Villas are the Disney Vacation Club part of the BoardWalk Inn Resort and share the same common areas. They are located directly across from the standard hotel rooms and feature about 400 units. The Villas are either rented by current DVC Members or through non-member guests.
The Beach Club Villas are the other DVC Properties on the Disney BoardWalk and share the resort grounds with the Beach Club Resort. The villas are situated in the back part of the hotel and they're easily connected to the common areas of the hotel through exterior covered walkways in the back. It's literally a 30-second walk.
Villas found at the Beach Club fit into three different categories; deluxe studios, one-bedroom suites, and two-bedroom suites. The largest rooms fit a max of 8 people. The villas have access to all of the same wonderful amenities that those staying in the hotel do, including the terrific Stormalong Bay pool area.
By renting DVC Points, you can find rooms at the Beach Club Villas for as low as $300 or so per night for the studio rooms. The larger two-bedroom units can cost in excess of $1000 per night in the busier times of the year.
Read our Full Review of David's DVC Rentals and find out why it's out preferred method of renting points.
Things to Do on the Disney Boardwalk
For visitors coming to the Disney BoardWalk, whether you're staying at one of the resorts found on the BoardWalk or not, there are a NUMBER of things you can do. In this section, we will touch on the many different offerings that the BoardWalk affords guests.
Does the Boardwalk Have Rides?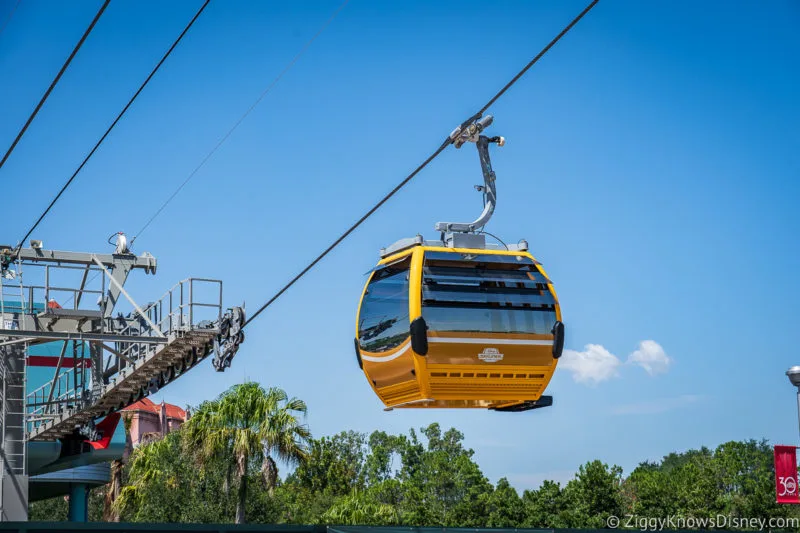 While there aren't technically any rides per se, what they do have is the Disney Skyliner. In fact, the Disney Skyliner is one of our favorite "rides" in all of Disney. While it's not truly a ride but more of a transportation method, we LOVE the Disney Skyliner.
For those unfamiliar the Disney Skyliner is the newest form of Disney Transportation that takes guests aboard a gondola life system to different points along the Disney World Resort.
Amazing Restaurants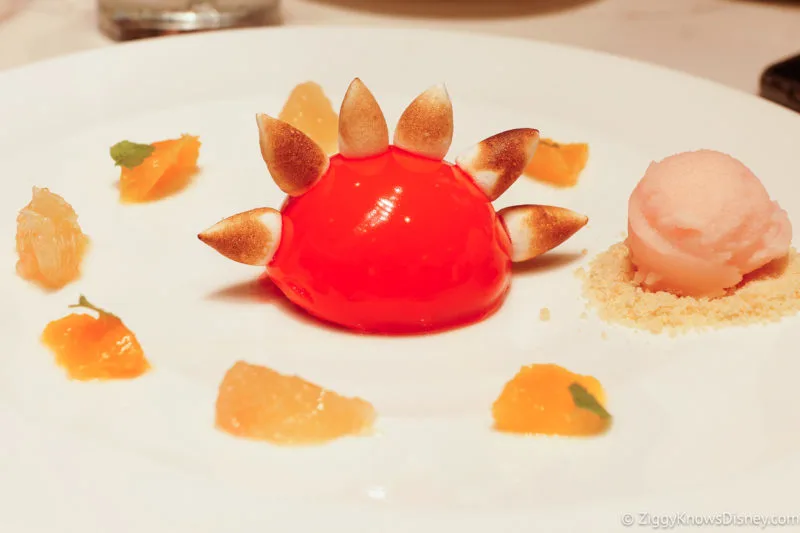 One of the best-concentrated areas in all of Walt Disney World for terrific restaurants is the Disney BoardWalk! With many different table services and quicker counter-service restaurants available that offer terrific views of the Crescent Lagoon, it's hard to pick bad on the Disney BoardWalk.
In addition to the restaurants that are situated right on the BoardWalk Promenade near the BoardWalk Inn Hotel, there are also a number of additional restaurants that are found in all of the resorts and hotels along the BoardWalk, which gives you even MORE options available right within walking distance.
Some of these options are terrific! You'll also have great choices for cocktails, desserts for sweet tooths, and late-night snacks for those desiring a quick bite while they walk along the BoardWalk.
Surrey Bike Rides for the Whole Family
A favorite tradition for many families, including mine, is to rent one of the Surrey Bikes on the BoardWalk! These fun and colorful bikes will fit up to 6 guests as you round the Disney BoardWalk in the evening while attempting to avoid the many walkers.
It sounds tiring and exhausting, but I assure you it is fun! While this does cost a little bit of money, guests LOVE doing this. I'd fully recommend doing it in the later hours when the sun is down and it's a few degrees cooler, but be ready, it'll be a workout especially if you have six guests in one of these.
Go Dancing
A highlight for adults that are visiting the Disney BoardWalk is getting to enjoy the nightlife! The Disney BoardWalk is full of nightlife and things for adults to do, including dancing!
In fact, a visit to the Atlantic Dance Hall is actually Disney World's last remaining nightclub! It's got a fun vibe, themed to the 1940s.
But don't worry you won't be dancing to the oldies, instead, you'll hear fun upbeat, and modern music as you have a few cocktails and dance the night away on the dance floor. Oftentimes it's free on slower nights, but on busier nights there could be a small cover charge to get in.
Is Street Entertainment Back Yet?
While street entertainment along the Disney BoardWalk disappeared for a while, it has now returned! You'll love walking along the Disney BoardWalk and seeing all kinds of street performers, reminiscent of a standard boardwalk you'll find along the Northeast in the summertime.
These performers will be anything from dancers to illusionists to jugglers to magicians and everything in-between. They are sure to get guests to watch them perform, and be prepared, they'll have your whole family enthralled by their talent!
Carnival Games
In addition to the arcade found at the Disney Boardwalk Inn Resort, there are also some fun Boardwalk-style carnival games that your family can enjoy!
They have some vintage-style games including Lob-A-Lobster in addition to a fun Boardwalk Hoop Toss which are both fun. Trust me, kids love the carnival games along the BoardWalk!
While these games do cost extra money, they can be a really fun way to spend a night and bring home a special Disney prize from winning a game on the BoardWalk.
It'll bring you back in time to a different generation as you have a great time playing along the BoardWalk promenade.
Movies Under the Stars
While specifically designed for guests staying at the BoardWalk Inn Hotel, a fun thing that all guests can enjoy is sitting outside along the back lawn and enjoying a wonderful Movie Under the Stars Night!
Even if you aren't staying there, you can walk over and find your own spot on the lawn. While most Disney Resorts do this nightly, the BoardWalk Inn's location is fantastic and one of the best.
There's something special about being on the Disney BoardWalk while having the backdrop of the promenade and all the nighttime entertainment behind you with beautiful views of Crescent Lake, and possibly EPCOT Fireworks, as you enjoy a movie under the stars!
Relax on the Beach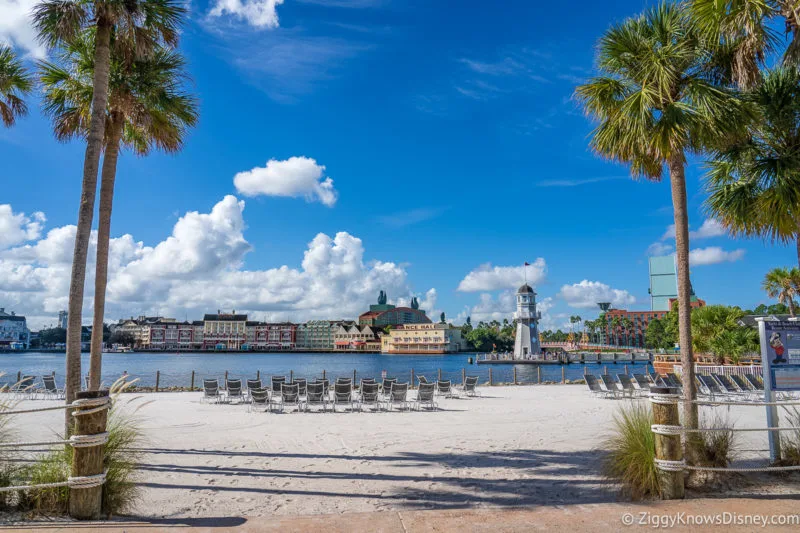 Take a walk to the other side of the BoardWalk and enjoy a nice relaxing time on the beach! Outside of Disney's Yacht and Beach Resort is a scenic sand area where guests can relax on the beach and even swing in a chair swing while their toes are in the sand.
For guests that love the beach, relaxing here is a wonderful thing to do! You can have a picnic outside or just take a little nap. You can also come out here at night and enjoy the beautiful night sky as you take in the sounds and sights of the Disney BoardWalk as it lights up in the distance.
Take an Evening Stroll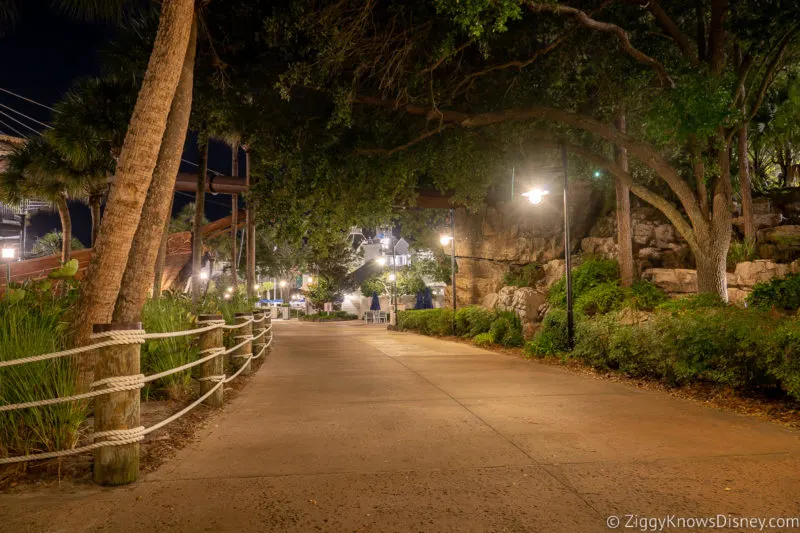 If you enjoy walking, one of our favorite walks in all of Disney World is the quarter-mile trip along the timeless charm of the Disney BoardWalk. The path loops around from the BoardWalk and over to the Swan/Dolphin and Yacht & Beach Club Resorts.
This is a personal favorite that I do every time we visit with my mom while everyone else is back in the room sleeping.
You'll be able to take in all of the nightlife, shopping areas, and performers as you walk along the promenade. Stop in at some of the shops or one of the resorts if you want to take your time and do some exploring!
Cruise on the Friendship Boats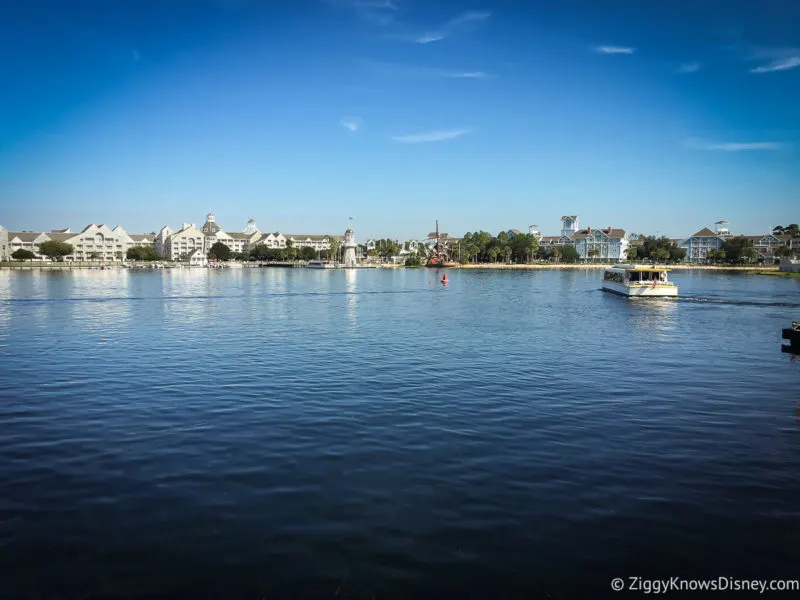 The Friendship Boats are the boats that take guests from the different BoardWalk Resorts to EPCOT and Hollywood Studios. There are a number of boat stops along the BoardWalk, and instead of utilizing the boat to go to one of the Disney Parks, you can also just take the boat to take a boat ride!
It's a relaxing and scenic route to take as you enjoy your day with a little relaxation sprinkled in. Enjoy the many sights while you do some people-watching as you sail from resort to resort and park to park.
While everyone else is running from one destination to another, you can just sit and relax!
Take An Ice Cream With You
If you're a sweet junkie like myself, you will NOT be disappointed on the Disney BoardWalk. There are three, yes I said three, places to grab Ice Cream on or near the BoardWalk.
The most obvious stop is the BoardWalk Ice Cream Shop right along the main promenade close to the BoardWalk Inn Hotel.
Then there are two other wonderful ice cream spots if you want to try something different. You can visit Beaches and Cream, found over at the Beach Club Resort. Or you can visit The Fountain over at the Dolphin Hotel, which is a lesser-known hidden gem.
Honestly, if I have to choose, I much prefer the last two over the actual BoardWalk Ice Cream Shop.
BoardWalk Dining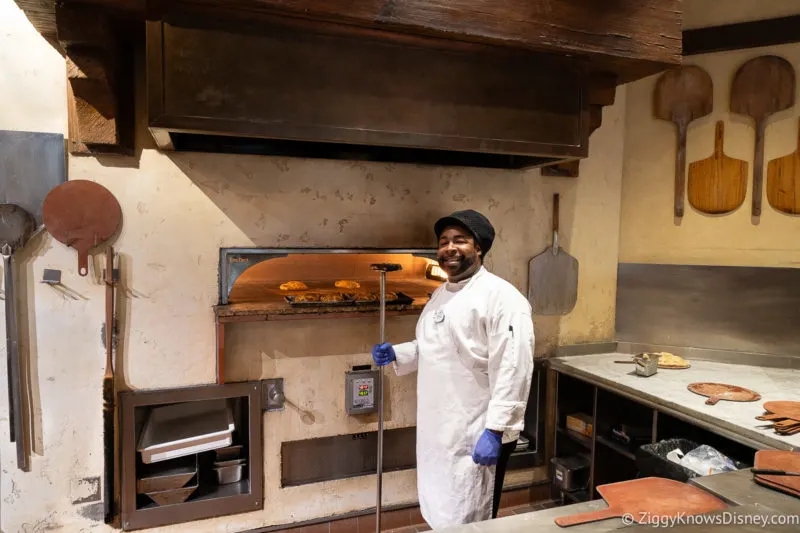 In addition to the many wonderful entertainment offerings of the Disney BoardWalk, our FAVORITE part of the Disney BoardWalk is dining! But there are so many options, how do you choose?
In this section, we will touch on the table service & quick service restaurants, snack stands and bars of the Disney BoardWalk and what they serve. For a more in-depth look you can also check out our Disney Boardwalk Dining Guide.
Table Service Restaurants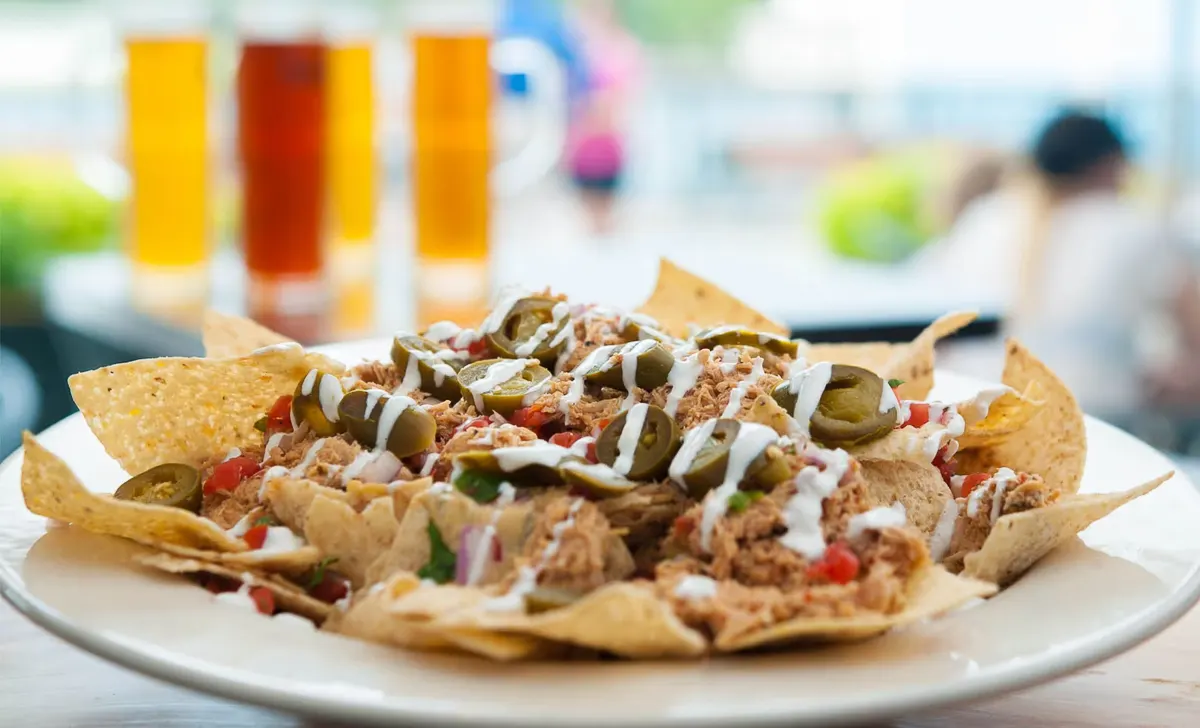 In this first section, we will focus on the Table Service options. Disney utilizes the term 'Table Service' to refer to restaurants that are sit-down in nature and require the usage of a waiter.
Big River Grille & Brewing Works – A classic American-style pub with typical pub fare such as burgers, sandwiches, salads, and a number of shareable appetizers. They are considered a microbrewery with a couple of signature brews on tape that are exclusive to the restaurant.
We like the ability to sit outside here along the promenade, and it's the ONLY Table Service option that has privilege.
Flying Fish – A signature experience, Flying Fish is a high-quality dining experience that features a number of terrific surf and turf options. Not only are their seafood options wonderful, but they have some outstanding cuts of meat as well.
We've never had a bad meal here, and the service is almost always top-notch. The open kitchen is a nice touch so guests can see the chefs hard at work preparing the meals.
The restaurant has recently been completely redone and it's turned into one of our favorite options for getting a really nice meal in Disney World. But be prepared, it's going to cost a pretty penny! Entrees found at Flying Fish will range between $35 and $60, not to mention appetizers, drinks and dessert.
Still, it's one of the Best Disney World Restaurants and a treat if it's in your budget.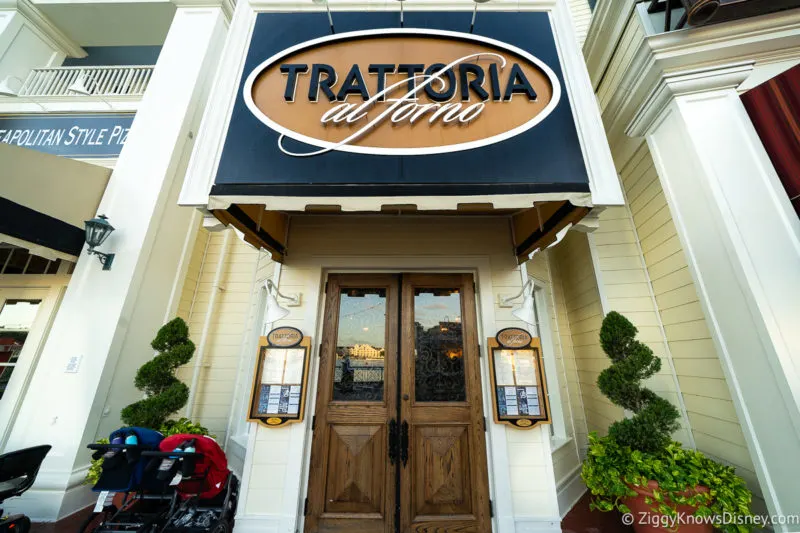 Trattoria al Forno – The Italian option on the Boardwalk, Trattoria al Forno focuses on the many diverse and rich flavors of Italian foods ranging throughout the country. You'll find your standard American Italian dishes in addition to a large variety of Italian wines.
This restaurant is also open for breakfast as well, and is included in the list of character breakfasts at Disney World.
Prices will range from about $15 to about $40 for an entree found here. We thoroughly enjoy the value found here for both breakfast and dinner, even if it isn't the "best Italian."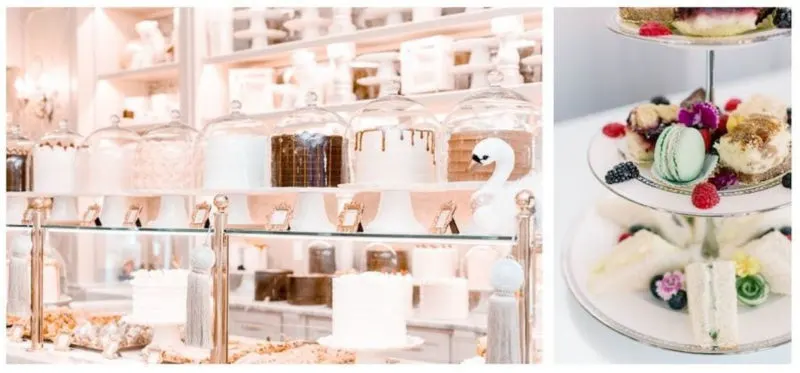 The Cake Bake Shop by Gwendolyn Rogers (Coming Soon) – Famous actress and Hollywood Producer Gwendolyn Rogers is creating a new whimsical table-service restaurant that will feature a number of glistening cocktails and a specially curated menu.
They'll be breakfast, brunch, lunch, afternoon tea, dinner, and desserts and cocktails found here. This restaurant is rumored to be opening sometime in early 2024 and we can't wait to try it ourselves!
Quick Service Restaurants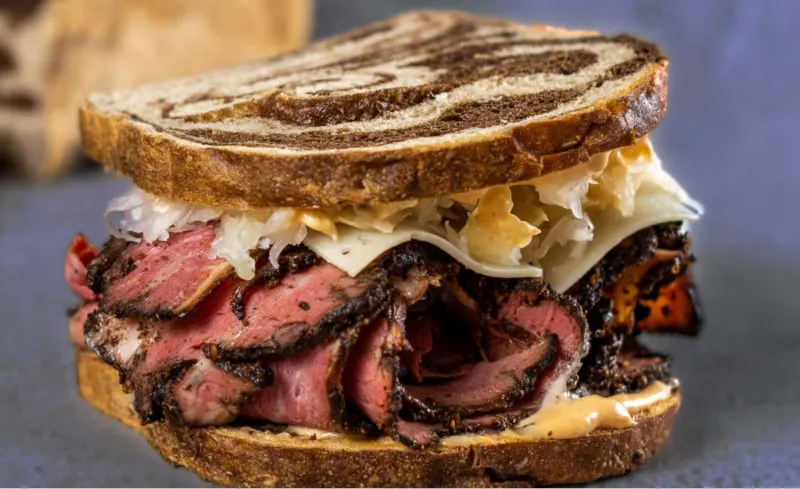 These next restaurant options will be geared towards the 'quick service' options. Quick service is Disney's term for more grab-and-go options.
You simply go up to the counter and order your food or place a Mobile Order on your My Disney Experience app for these selections. All the prices here will typically be under $15 per item.
BoardWalk Deli – The former BoardWalk Bakery was re-themed in 2022 to the BoardWalk Deli. Here you will find all kinds of different pastries, muffins, and sandwiches. This is also a great place to grab a quick breakfast and/or lunch.
BoardWalk Ice Cream – Next to the BoardWalk Deli is the BoardWalk Ice Cream shop. This ice cream shop offers a number of unique and interesting flavors. They're open late so it's a great option for a late-night sundae. The ice cream is always good here and reliable, though not outstanding!
Carousel Coffee – Inside the BoardWalk Inn Resort is the Carousel Coffee shop. You'll find a number of different specialty iced and frozen coffees in addition to your standard coffees.
They have a few popular snack items here, including a Raspberry Danish and New Jersey Crumb Cake. A pretty standard coffee place with a few good options that are worth trying.
Funnel Cake Cart (Currently closed) – Enjoy a tasty Funnel Cake at the Funnel Cake Cart along the BoardWalk Promenade.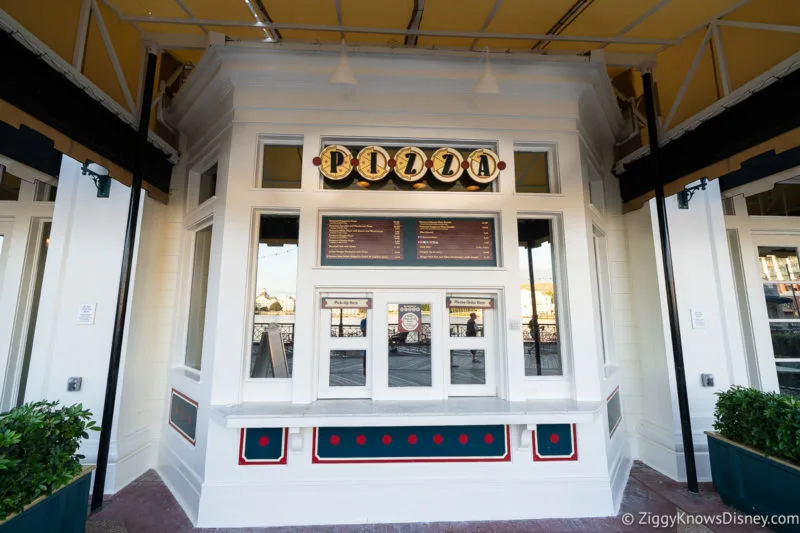 Pizza Window – This window-serve pizzeria is a popular late-night option that offers an outdoor seating area with a few different pizza options, draft beers, and sangria. The pizza here is very underwhelming and we'd generally recommend you steer away from it.
The To-Go Cart (Was closed in late 2022) – Not reopening in the near future.
Bars & Lounges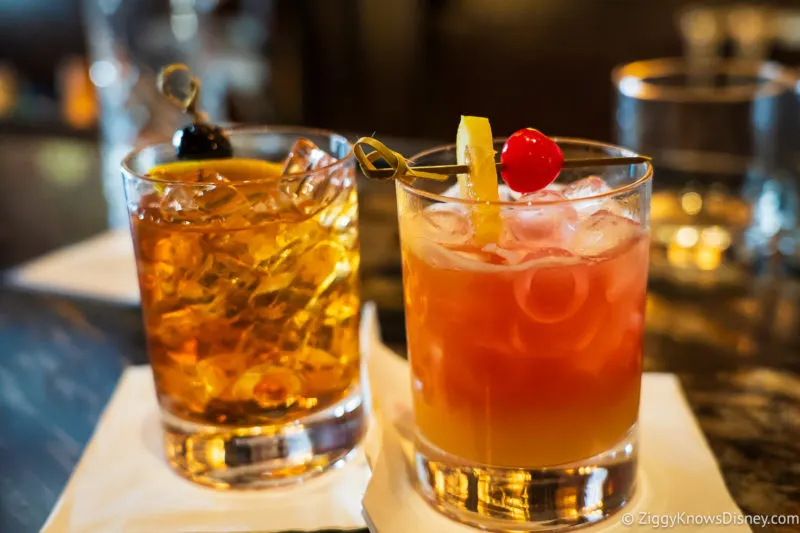 Next, we will touch on the four main bars and lounges that you can find along the BoardWalk Promenade. These are solid options for guests that want either a break or just something to grab alongside their walk.
Prices here are standard prices for Disney Lounges, typically in the $13–$20 range per cocktail. Here are our thoughts on each of the options:
AbracadaBar – We love this themed Magician's Lounge! The home of illusionists, magicians, and their assistants, here at the AbracadaBar you can order one of the many different spell-binding concoctions from their cocktail menu.
In addition to their drinks, they also have a few tasty appetizers you can try. A definite favorite of mine.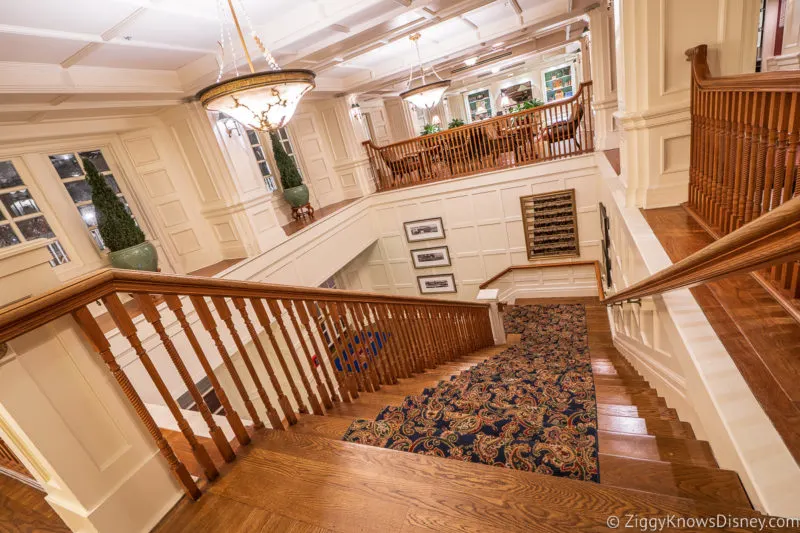 Leaping Horse Libations – This poolside bar is themed to the whimsical carousel of a classic Boardwalk attraction. It's found over at the main pool area of the BoardWalk Inn Resort.
You'll find your standard pool drinks here in addition to some snacks. I'd only recommend making a special visit to come here if you're staying at the resort. If not, there's no need to visit this pool area bar.
READ: Best Disney World Bars & Lounges Ranked
Other Nearby Dining Options
In addition to the "main restaurants and snack options," there are a HUGE number of additional options at the main other resorts around the Disney BoardWalk.
While you will need to actually enter the Disney Resorts, some of them are absolutely worth a visit! We will break them down by the Disney Resort they are located at:
Disney's Beach Club Resort and Villas
Cape May Cafe – Offering a tasty character buffet breakfast and a seafood buffet for dinner. We love this option for families but prices are expensive and start in the $45 range per guest.
Beaches & Cream Soda Shop – A fun 50s-themed table-service diner that offers standard American fare with great ice cream options. Cheaper options are found here and guests can expect to pay $15-$25 per entree.
Beach Club Marketplace – Offering cheaper options for quick-service breakfast, lunch, and dinner options
Martha's Vineyard – A New England-themed beach house lounge that offers typical bar drinks and some appetizer options.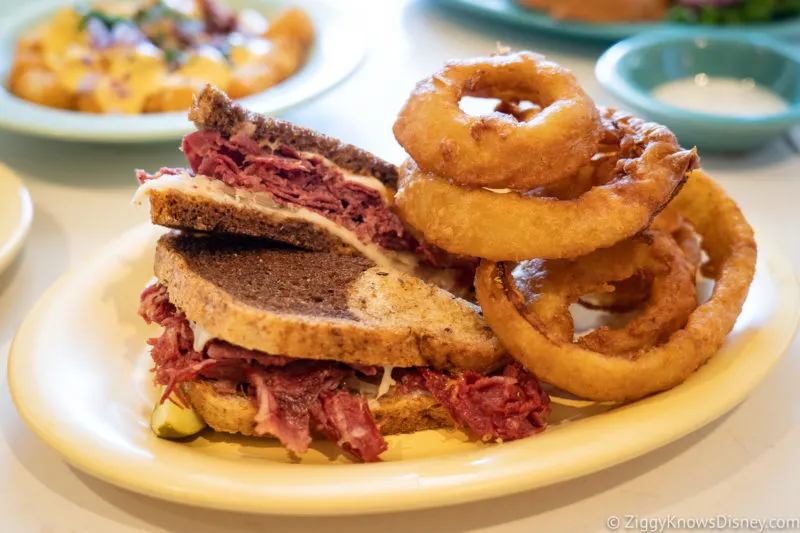 Disney's Yacht Club Resort
Ale & Compass Lounge – This lounge outside the adjoining restaurant is a great way to grab a cocktail and a snack.
Ale & Compass Restaurant – Offering New England comfort food and classic seafood dishes. An underrated restaurant that is open for breakfast, lunch, and dinner. We love breakfast here!
The Market at Ale & Compass – This quick-service option offers standard quick-service fare and grab-and-go options.
Yachtsman Steakhouse – One of our favorite restaurants in all of Disney World, this steakhouse MIGHT be the best steakhouse in Disney, arguably. But be prepared to spend, prices start in the $50-ish range.
Crew's Cup Lounge – This lounge adjoins the Yachtsman Steakhouse Restaurant. They share the same kitchen while offering up some tasty treats and cocktails.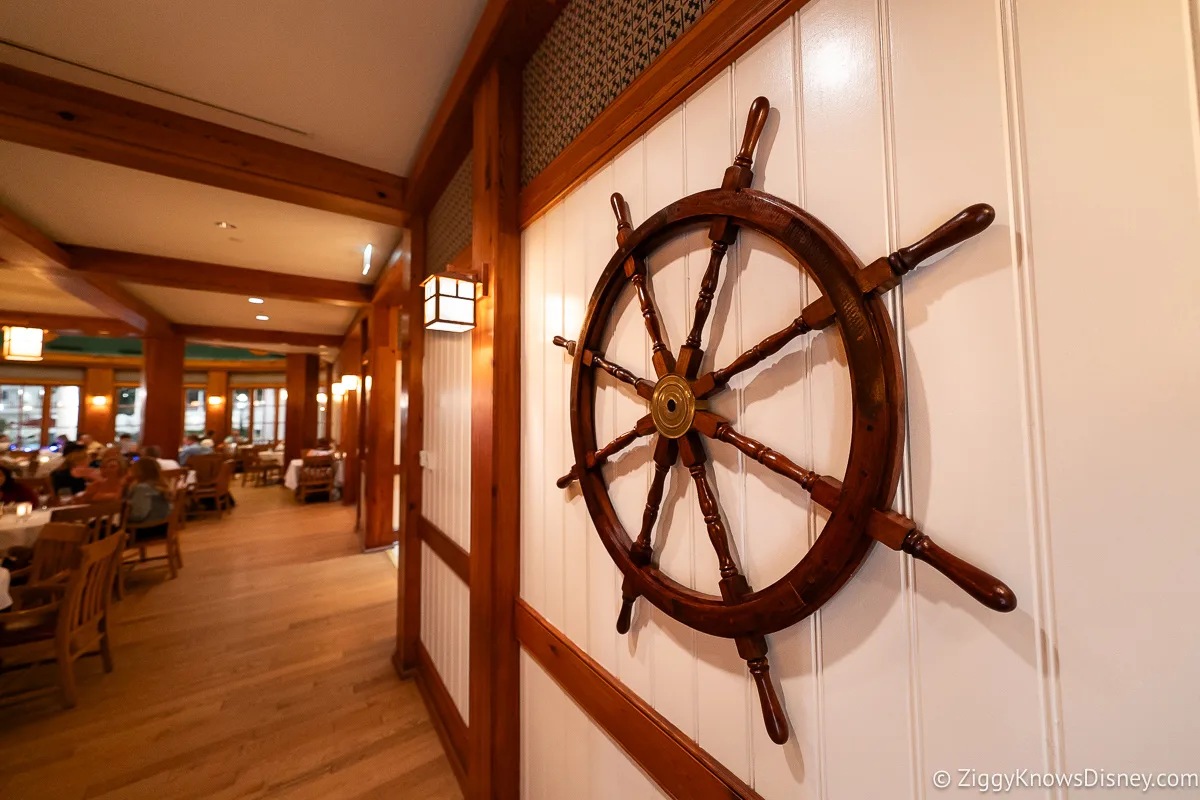 Walt Disney World Swan Resort
Il Mulino Restaurant and Lounge – A signature table-service Italian Restaurant found in the lobby of the Swan. It's a great Italian Restaurant that traditionally offers outstanding service and quality food. Prices will be in the $25-$60 range.
Kimonos Restaurant and Lounge – One of the best places to get sushi in Disney, Kimonos has terrific and fresh sushi. They also double down as a karaoke bar in the evenings.
Garden Grove – A popular breakfast spot at the Swan, offering great value for a la carte offerings. Prices are between $15-$25 per entree.
Chill – A poolside bar that offers a number of different frozen cocktails and some specialty sandwiches and snacks.
Java – A coffee shop that offers fresh pastries and coffee inside the Swan lobby area.
Splash Pool Bar and Grill – The pool bar and grill that services both the Swan and the Dolphin Resorts' main pool area. There are some tasty food and drink options here that are worth getting. We love the burgers here!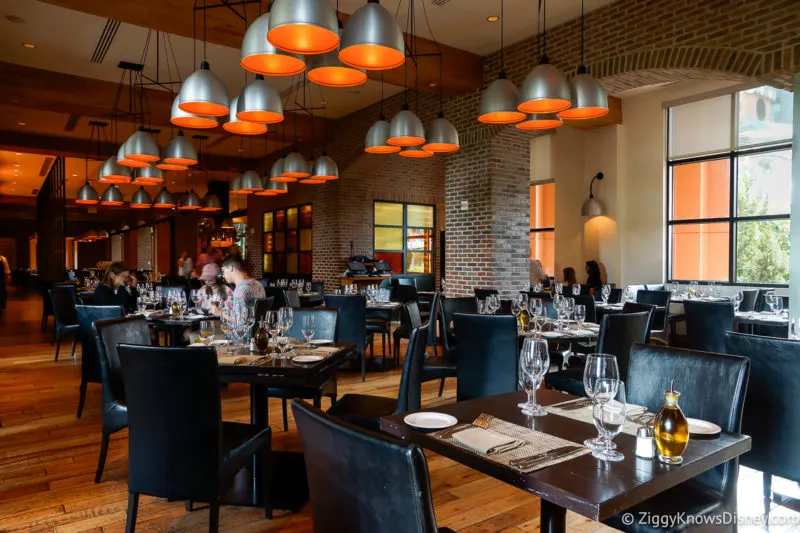 Walt Disney World Dolphin Resort
Shula Steakhouse & Lounge – A signature steakhouse that is themed to famous football head coach Don Shula. The meats here are fantastic as are the side dishes. Prices here are EXPENSIVE though. Be prepared to spend $50-$80 per steak.
Cabana Bar and Beach Club – Near the Dolphin Lap Pool, here you'll find signature cocktails served at a chic illuminated bar. They have a number of different appetizer options and quick bites.
Todd English's Bluezoo – This signature table-service restaurant is an award-winning restaurant that features fresh seafood and an award-winning wine list. Prices here will range from $35-$60 per entree.
Fuel – Typical quick-service location inside the lobby area, offering coffee and ready-made sandwiches and snacks
The Fountain – A sit-down table-service restaurant that offers some decent reasonably priced food items in addition to being a tasty ice cream parlor!
Phins Lounge – A contemporary lounge that is located in the lobby of the Dolphin
Rosa Mexicano & Lounge – A new Mexican restaurant that opened in March of 2023 offering breakfast, lunch, and dinner.
Picabu – A Taqueria that doubles down as a convenience store. There are a number of good food selections here for kids, including hot dogs and chicken fingers.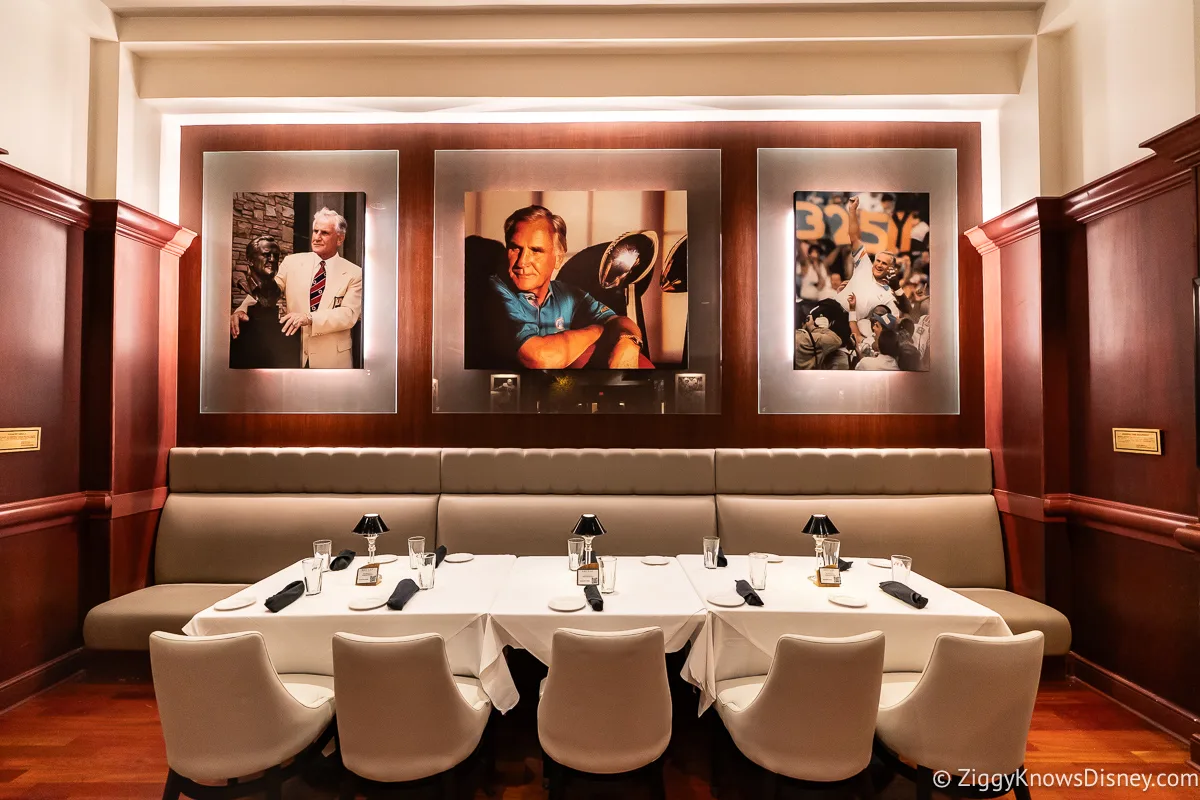 Walt Disney World Swan Reserve Resort
Amare – This Mediterranean signature restaurant offers some great options for guests that enjoy Mediterranean-inspired meals. The flatbread and steak here are REALLY good. The prices here are more reasonable than some of the other Swan and Dolphin Signature meals. Prices range from $25-$65.
Grounds – A relaxed coffee bar that is open all day where you can grab a coffee or a quick snack to eat
Stir – A lobby bar inside the Swan Reserve that offers specialty cocktails and some light bites
Tangerine – A poolside bar that offers a number of different food items, including typical American pub-style offerings such as burgers, sandwiches, and flatbreads.
Shopping
There are a few stores located on the Disney BoardWalk for guests that want to do a little bit of extra shopping while they walk along the main promenade near the BoardWalk Inn Resort.
In this section, we will touch on the available options for shopping found here at the Disney BoardWalk.
What Shops are on the BoardWalk?
There are four main stores you can visit on the Disney BoardWalk. They are:
Disney's Character Carnival – Here you will find all kinds of merchandise that is completely devoted to the variety of different Disney Characters. You'll find some clothing, sports gear, houseware items, and additional accessories.

Screen Door General Store – This general store will be the place to stock up on a variety of different food items and spirits for your hotel room. They also have a number of different snacks and treats, including some additional souvenirs and stationery as well.

Thimbles and Threads – Another place where you can find a number of different Disney-themed accessories and apparel. You'll find different character plushies and a variety of fun T-shirts and swimsuits.

Wyland Galleries of Florida – My personal favorite is the Wyland Galleries! Here you will find beautiful paintings, sculptures, art prints, and jewelry that is inspired by the ocean. There are all kinds of awesome high-end art and collectibles here from Disney, Star Wars, Marvel, and more! It's absolutely worth browsing around, even if you don't want to purchase anything.
Do the Shops Have Disney Pins?
Yes! In fact, three of the Disney Shops on the BoardWalk are known for stocking different Disney Pins. Disney's Character Carnival, the Screen Door General Store, and Thimbles and Threads likely all carry different Disney Pins.
Transportation to the BoardWalk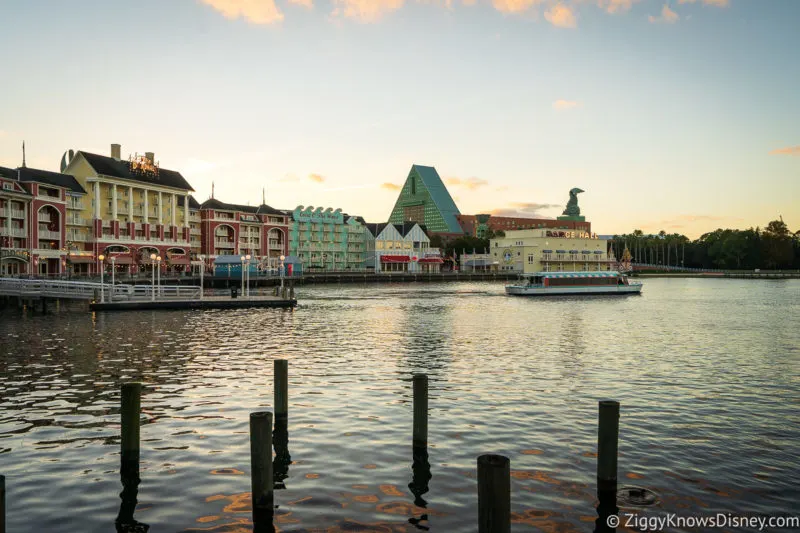 Getting to the BoardWalk can seem like a stressful and challenging proposition, especially if you're not staying over near EPCOT or Hollywood Studios.
In this section, we will focus on the variety of different ways you can make it over to the Disney BoardWalk. Trust me, it isn't as hard as you think!
How to Get to Disney's BoardWalk
While the Disney BoardWalk area has its own parking, guests that don't have access to a vehicle will need to figure out another way to get there. The good news is, you can reach the BoardWalk via boat transportation, Disney Buses, the Disney Skyliner, or even by walking!
If coming to the BoardWalk from EPCOT, you have a few different options. You can walk or you can take one of the Disney Friendship Boats over.
I'd recommend walking as it's SO close. In fact, if you walk out through the back entrance of International Gateway, which is found over in France in World Showcase, you can get to the Disney BoardWalk in about 10 minutes.
If you don't feel like walking, you can also take one of the Friendship Boats on your way out through the International Gateway exit.
And If you want to visit EPCOT again later in the day, you can take one of the boats from the BoardWalk back into EPCOT again.
How to Get from Hollywood Studios to the BoardWalk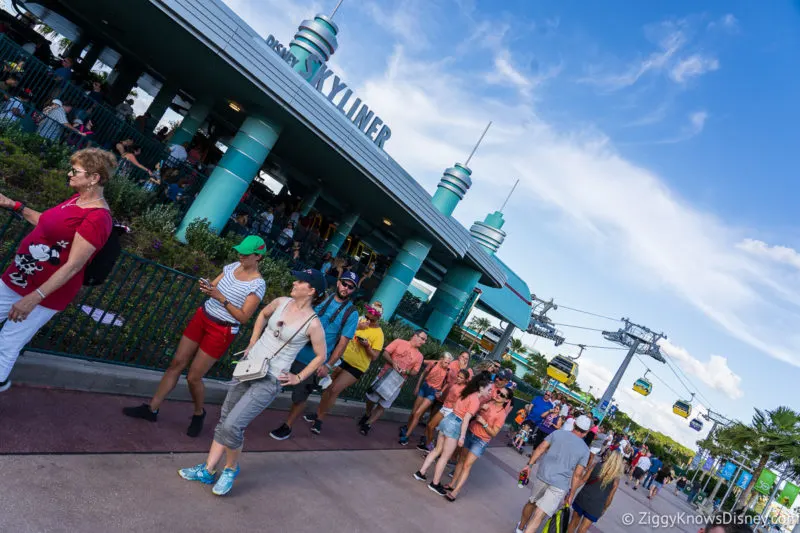 While the easiest way to do this is by walking, the walk is a little bit further and will require about 15-20 minutes or so (although this depends on where your room is located and it could be closer).
You simply follow the walking path towards the left as you are exiting Hollywood Studios. It's called the EPCOT Resorts Hollywood Studios Connector pathway, and it's about a mile in total.
You can also take the Disney Skyliner as you're exiting Hollywood Studios. Just simply take it to the Caribbean Beach Resort and then transfer over to the EPCOT Line. You'll take the Skyliner to EPCOT, and you'll be right next to the BoardWalk.
Your last option is to hop aboard one of the Friendship Boats to the left as you exit Hollywood Studios. It'll take you to several different stops along the Disney BoardWalk and only takes 10 or so minutes once you're aboard.
Disney Skyliner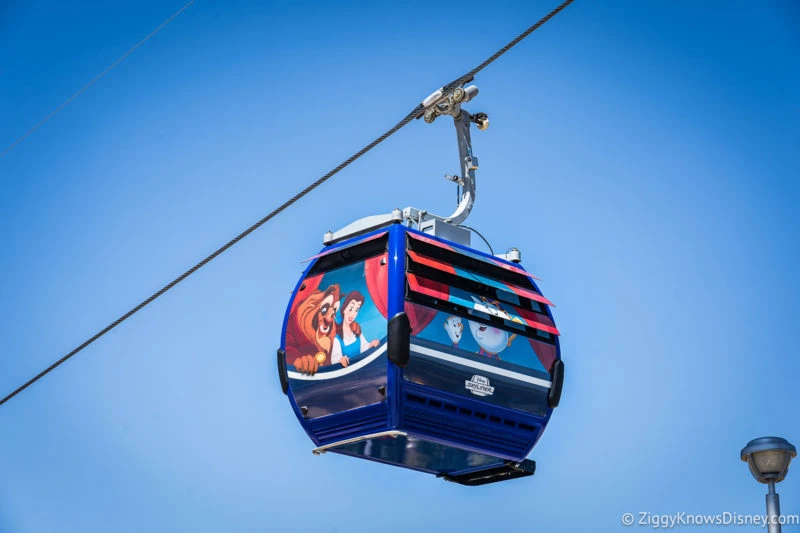 While the Disney Skyliner doesn't DIRECTLY take you to the Disney BoardWalk or the Disney BoardWalk Inn Resort, it takes you right next to the back entrance of EPCOT, near International Gateway.
Once you get off and depart from this station, you'll be a less than 5-minute walk over the bridge and onto the Disney BoardWalk promenade. It's VERY simple and easy.
It's a little longer in total time, but it's more fun than walking the whole way for sure!
Boat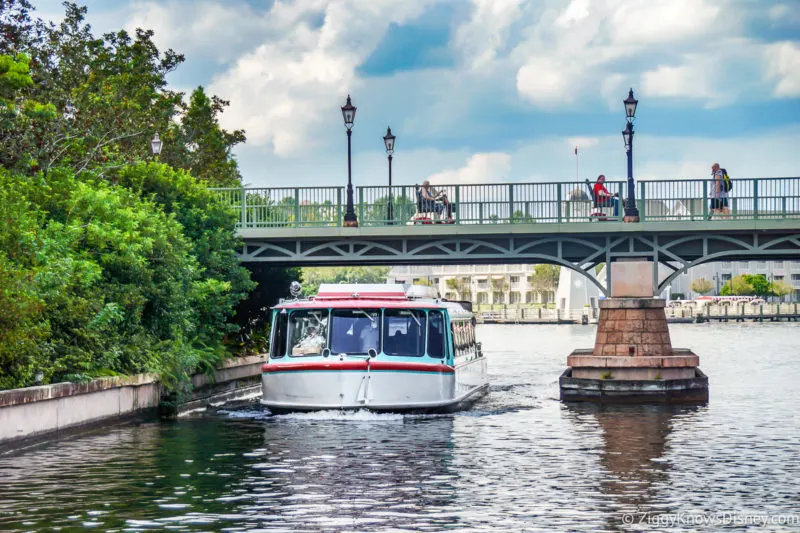 The Friendship Boats sail Crescent Lake through multiple stops along the different Disney World Resorts, including the Boardwalk Inn stop. There are two different boat lines, one taking you to Disney's Hollywood Studios and one taking you to Disney's EPCOT Park.
Regardless of which park you are coming from, by hopping on a Disney Friendship Boat, you'll be able to get off DIRECTLY at the Disney BoardWalk. This is incredibly easy and simple after a long tiring day coming from either one of these Disney Theme Parks.
Bus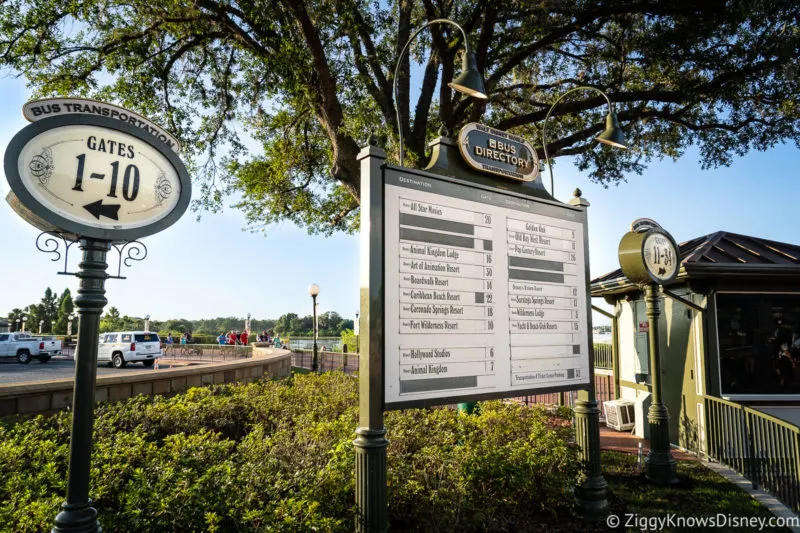 While Disney Buses will NOT take you directly to the Disney BoardWalk, they'll take you to the Disney BoardWalk Inn Resort if you're coming from Magic Kingdom, Animal Kingdom, Disney Springs, or one of the water parks.
(Bus transportation from EPCOT and Hollywood Studios will NOT take you to the BoardWalk, due to the fact that there's boat transportation and it's within walking distance)
By taking a Disney Bus to the resort, you can simply take a flight of stairs down after departing the bus and you'll be on the BoardWalk. It's that simple!
The Hollywood Studios walk is a little bit further and about a mile in length. The EPCOT walk is simple when coming from the back exit of International Gateway and only takes 5-10 minutes.
Driving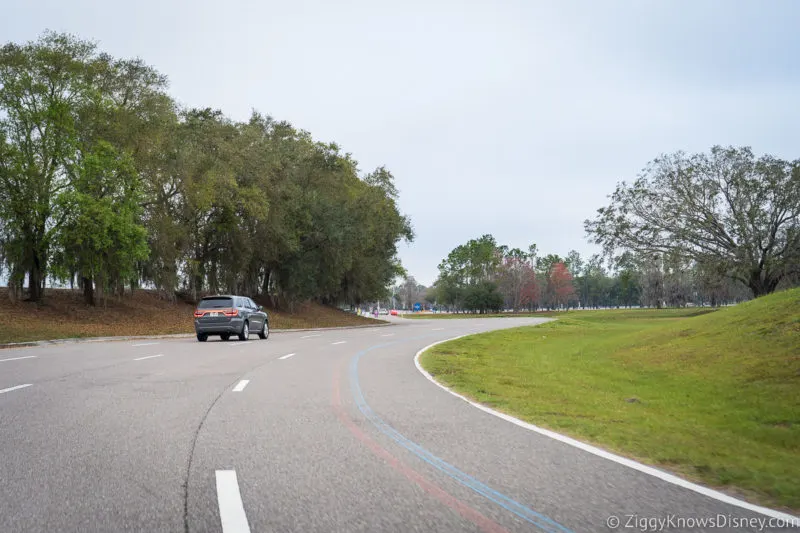 Driving to the Disney BoardWalk is simple if you have a vehicle, as there is a large and spacious parking lot for guests looking to park their cars.
This is the most cut-and-dry way to get to the BoardWalk, but it isn't the recommended way to get to the Disney BoardWalk. Why? We will cover that in just a minute…
Monorail
In a roundabout way, you can utilize the Disney Monorail to get to the Disney BoardWalk. This makes it simpler for guests staying at one of the Disney Monorail Resorts to visit.
But it isn't always the easiest or the quickest. Plus, it requires a LOT of walking. So how would we do it?
First, you'd take the monorail over to EPCOT (Have to transfer at the TTC)
Upon arrival at EPCOT, you will need to enter the park and then walk through the entire length of the park until you get to the back entrance/exit through World Showcase (In the France Pavilion)
Exit the park there, and you can then either take one of the Friendship Boats or walk another 5 minutes to the Disney BoardWalk
As you can see, it can be done but it's a LOT of walking and it will take at least 1 hour or more!
BoardWalk Parking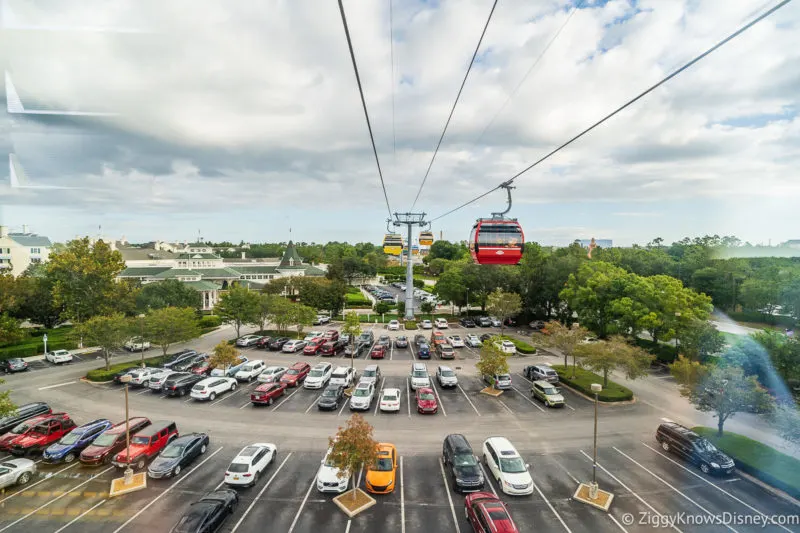 If using your vehicle to visit the Disney BoardWalk, there are some things that you will need to keep in mind. While technically this seems like the easiest way to visit the Disney BoardWalk, it isn't always the wisest decision.
Can You Park at Disney BoardWalk Without a Reservation?
Unfortunately NO, you will need to have a Table-Service dining reservation if you are NOT a registered guest at the BoardWalk Inn Hotel.
While we've had varying degrees of success with this, some Cast Members haven't had an issue if we've parked there and said that we are enjoying some of the offerings at the BoardWalk. They more than anything want to ensure that you aren't parking there to walk into EPCOT or Hollywood Studios to bypass paying the costs.
There usually is a 2-3 hour time limit for how long you can keep your vehicle there whether or not you have a dining reservation, although we don't find that they enforce this all the time.
How Much Does it Cost?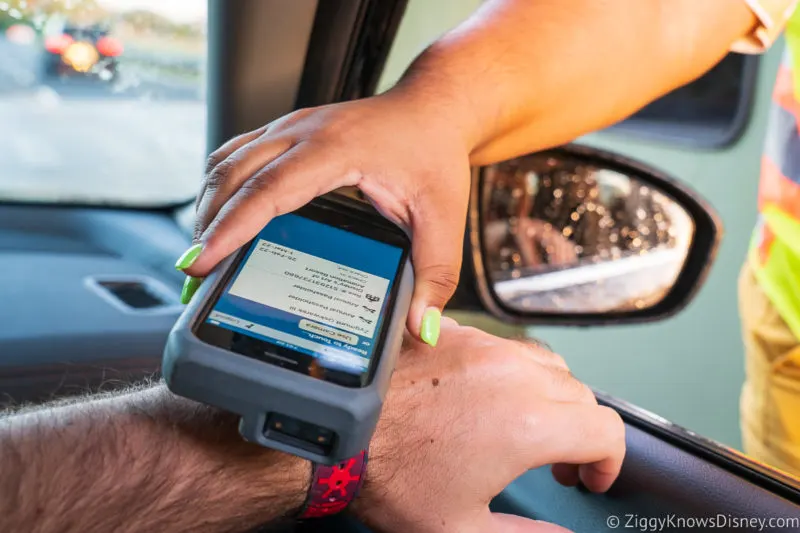 While the cost for standard parking is free, it requires that you have a table-service reservation for one of the restaurants found there.
Technically Disney's rule is "you can stay at a resort you're not staying at for three hours" for free if you're doing some shopping or eating at the resort. So if you are under 3 hours you are good. If you end up staying longer you will be charged the standard overnight rate.
Valet parking is also available for $33.
Read our Full Guide to Parking at Disney World for all of the rules.
Can You Park at the Disney BoardWalk and Walk to EPCOT or Hollywood Studios?
While you technically CAN, it's not a wise idea. The Disney BoardWalk parking areas are filled with security, and they specifically monitor to ensure guests in the parking areas for long periods of time are staying overnight at the hotel.
I'd steer far away from this method just to save a few dollars from having to park in one of the Disney Theme Parks as it will cause more problems than it's worth.
The Difference Between Disney BoardWalk and Disney Springs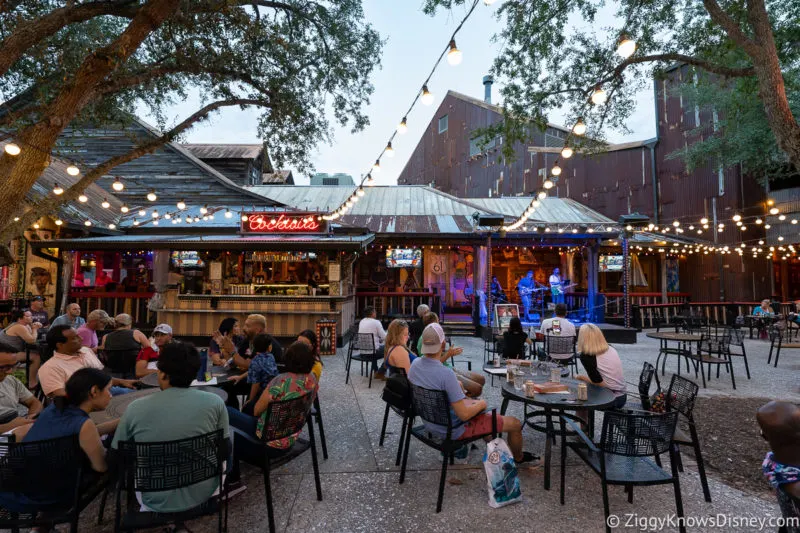 Many guests get confused between the Disney BoardWalk and Disney Springs. Although both of them are marketplaces that have shopping, dining, and recreation, they are COMPLETELY different. The Disney BoardWalk is a themed resort area whereas Disney Springs is ultimately a shopping and dining mecca!
The Disney BoardWalk has a ¼ mile loop around it with a handful of resorts; it's more or less a tiny footprint in comparison to Disney Springs.
Disney Springs is found on the eastern side of the Disney World Complex whereas the Disney Boardwalk is more centrally located. And Disney Springs is situated on 120 acres featuring four completely distinct areas with more than 150 venues. It is MASSIVE!
You can literally spend a full day easily at Disney Springs navigating through the different stores and shopping areas. And it would take multiple vacations to try all the awesome restaurants at Disney Springs.
No, they are over two miles away from each other. Your best bet is either taking a car or a Disney Bus from one venue to another. To get a Disney Bus, you'll need to wait outside the bus station at one of the Disney Resorts located on the Disney BoardWalk.
You can of course also hire a rideshare service such as Uber to transport you back from one to the other, but you'll have to pay.
Which One is Better?
It's hard to say which is better, as we love both. But if I were recommending one or the other to someone who hasn't been to either, I'd recommend Disney Springs.
It has arguably the best shopping, restaurants, and entertainment ANYWHERE in Disney World. It's incredible and oftentimes the place we spend the most amount of time on our Disney Vacations.
Disney's BoardWalk is nice, but it's much smaller so there aren't as many things to do if forced to choose.
Can You See Fireworks from the Disney BoardWalk?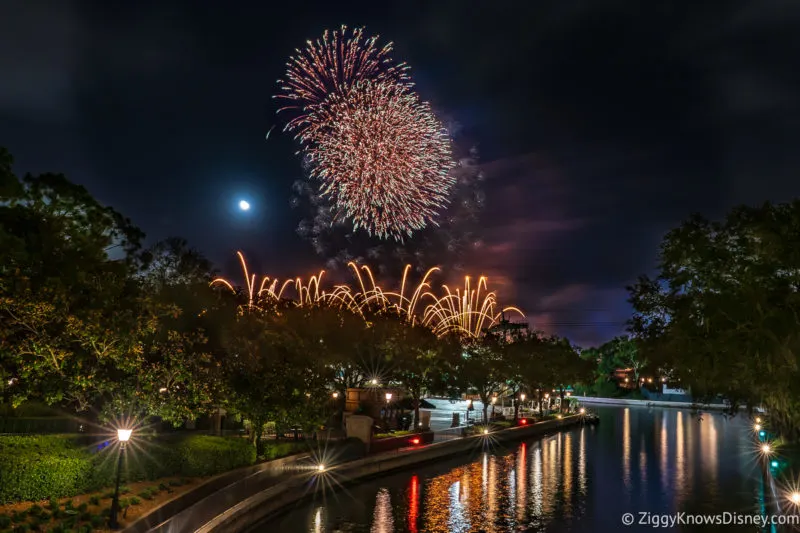 Depending on where you are looking and your vantage point, it's absolutely possible to see the EPCOT fireworks while on the Disney BoardWalk. The BEST spot to view them is to take a walk over to the bridge that connects the BoardWalk to the Yacht and Beach Club Resort.
While it isn't necessarily comparable to being in the park and you'll likely miss a significant part of the show, you should be able to see some of the highlights.
The Magic Kingdom fireworks and Hollywood Studios fireworks are a bit harder to spot and IF you see them, it'll likely be tiny tiny sections of them. So don't plan on any good viewing locations for Happily Ever After here.
Best Times to Visit the BoardWalk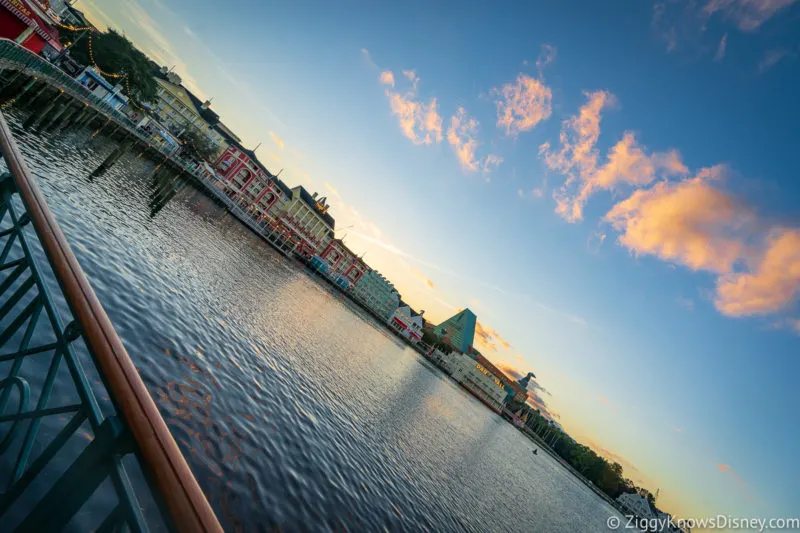 If you want the TRUE BoardWalk feel, I'd suggest coming in the evenings. It comes alive in the evenings, especially the evenings on the weekends. During the week and during the day it's relatively quiet.
The performers, games, and hustle and bustle are the best after dark on Friday and Saturday nights. Locals and visitors alike line the promenade to eat, drink, and be entertained. During these nights, it truly feels like a NY and NJ Boardwalk, while other nights can feel dull.
Staying at Disney's BoardWalk Inn Resort
If you want to experience the TRUE Disney BoardWalk feel, it's worth a consideration of staying at the host hotel, the Disney BoardWalk Inn Resort. Is it worth it?
Overview of the BoardWalk Inn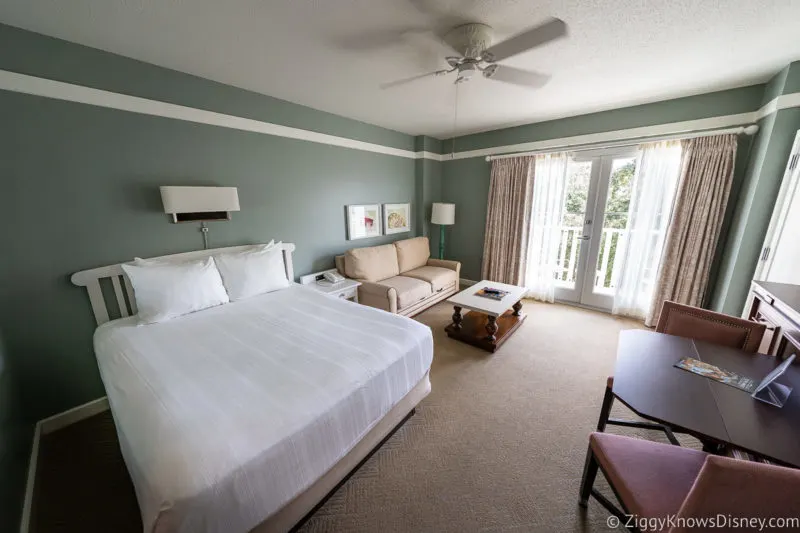 We ranked Disney's Boardwalk Inn 8th on our list of the top Disney World Deluxe Resorts, even though we do still enjoy staying here.
The BoardWalk Inn seamlessly blends in the theming of the BoardWalk with the actual hotel with its turn-of-the-century Atlantic City, NJ theming. It's got great appeal and charm everywhere throughout the resort, not to mention its beautiful views of the stunning Crescent Lake.
From a theming perspective, it's our least favorite of the three Official Crescent Lake resorts (Beach Club and Yacht Club), though the Yacht Club is close. The decorations and theming of the hotel can be a little over the top for us. I personally don't love the Atlantic City Boardwalk vibe, taking it down a few steps for me.
When visiting the BoardWalk I love the ambiance and life and noise, but when staying at the hotel I'm NOT a fan of how chaotic it can be at times, especially on the weekends and in the evenings.
Constant entertainment and activities are going on at the BoardWalk, and the resort can be the stomping grounds for some obnoxious guests after they've had too much to drink.
Guests staying here can expect to pay somewhere between $600 and $800 per night for most times of the year.
Is it Worth it to Stay Here?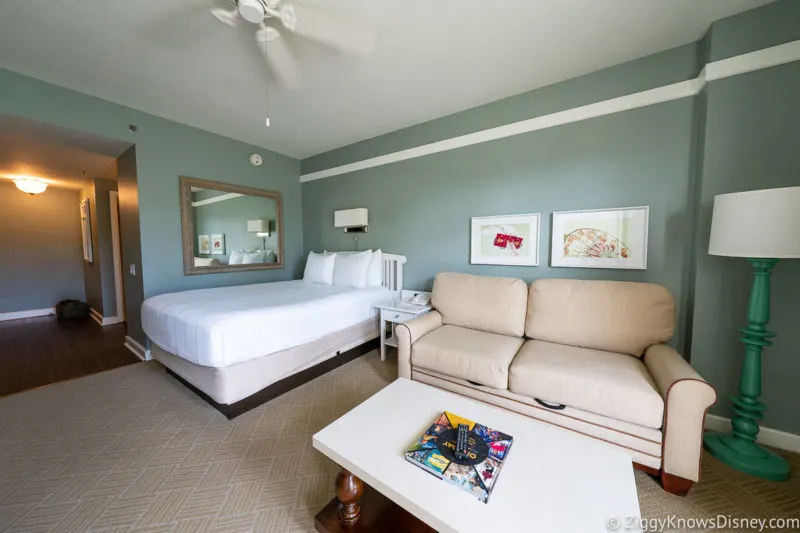 Staying at Disney's Boardwalk Inn can be a solid option for families that want to be right next to the action! Being a short walk or boat ride away from both EPCOT and Hollywood Studios is hugely appealing!
While it's our least favorite of the Official Disney World Resorts on the Disney BoardWalk, it's still a wonderful option. Some families prefer the BoardWalk Inn and the theming found here.
A lot of it is a matter of personal preference, and I'd highly recommend a visit to the BoardWalk Inn Resort FIRST prior to staying here to see if you like it. If you love everything about it, then absolutely stay here!
Boardwalk Tips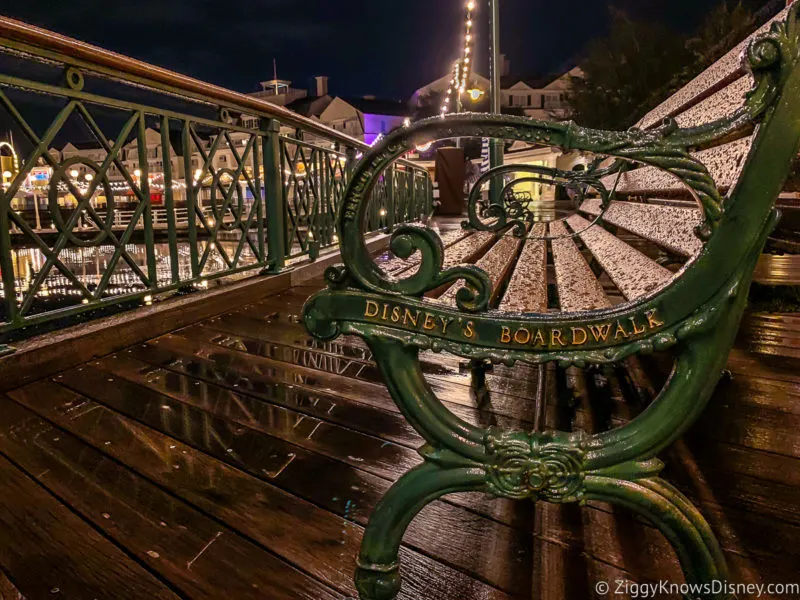 If you want to completely maximize your time visiting the Disney BoardWalk, here are a few of our favorite additional suggestions:
Visit the Jellyrolls Piano Bar! – One of the true 'Hidden Gems' in Disney World, Jellyrolls is a great time for adults that love music and want to sing along and have a fun drink or two.
Visit the two fun lounges, the Belle Vue Lounge AND the AbracadaBar – These are two of the BEST themed lounges in all of Disney World, not to mention they have great cocktails. They easily make it on our list of the Best Bars in Disney World!
Make sure you visit when it's HAPPENING – If you're expecting a great time and good laughs and fun, a visit during the week at an off hour is going to bring a VERY different experience. Visit in the evenings on the weekends. You'll have fun and that's where the BoardWalk is truly at its best.
Take a ride on the Disney Skyliner! – If visiting the Disney BoardWalk, a fun thing to do is take a quick ride on OUR favorite ride, the Disney Skyliner while you're there.
Sit for a Caricature Portrait! – Along the BoardWalk or along the Village Green (located on the backside of the BoardWalk Inn Lobby) you'll find caricature artists making caricatures for guests. There's something special about having your portrait made up for you while in Disney. Families LOVE doing this, and it isn't as expensive as you'd think.
Eat at one of the signature table-service restaurants – We love Flying Fish, but we wouldn't discourage you from eating at Yachtsman Steakhouse at the Yacht Club either 🙂
FAQs
Does Disney Still Have the BoardWalk?
Yes of course! Disney's BoardWalk is still alive and well and you should definitely visit on your next trip!
Is there a Dress Code for Disney BoardWalk?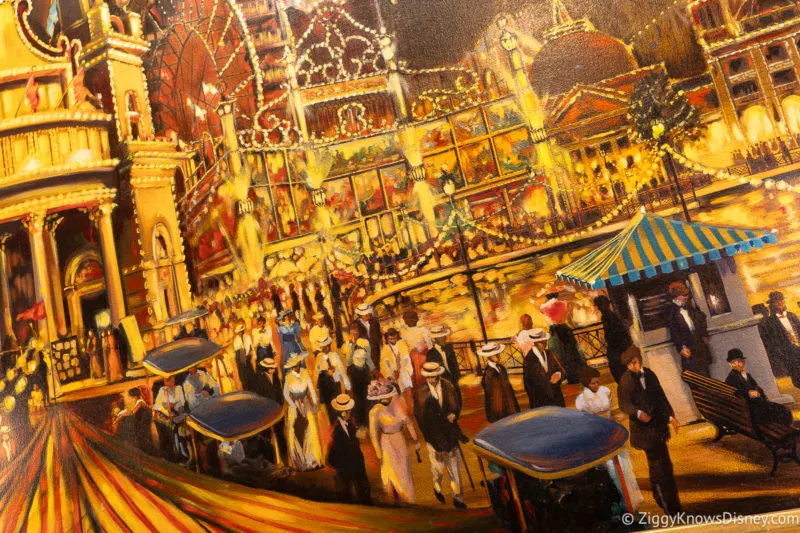 Fortunately, there is no dress code for guests walking along the Disney BoardWalk. Most guests walking through it are coming from a theme park or are on their way to one of the parks, so it tends to be more casual in nature.
You also get a lot of walkers and joggers who are in sporty gear, so no need to dress up here.
Factor in some time to visit the shops, stop at the resorts, and grab a snack, I think two hours would be more than sufficient.
Is the Disney BoardWalk Worth Visiting?
I'd say it absolutely is worth it! With the minimal time requirement, the ease of getting there, and the numerous amounts of things to do and see, it's definitely worth visiting!
Even if you aren't eating, the entire family will find things to do here, from watching the performers to playing one of the fun games.
Want to visit the Disney BoardWalk but are overwhelmed with the idea of planning a trip? Visiting Disney World can be stressful with a constant never-ending list of things for you to do to fully maximize your vacation. The best news is… you can get help!
At Ziggy Knows Disney, we ABSOLUTELY recommend the use of an Authorized Disney Travel Agent that can assist you and help you get the most out of your Disney Vacation. Our favorite company and the one we suggest to everyone is Show You the World Travel.
They are TOP-NOTCH and will help you make sure you get to do all the things you really want to do, including visiting the Disney BoardWalk! The best part of using Show You the World Travel is they don't cost you ANYTHING!
To get more information and to request a FREE quote, fill out this form. One of their amazing and qualified agents will then reach out to you to get ALL your questions answered.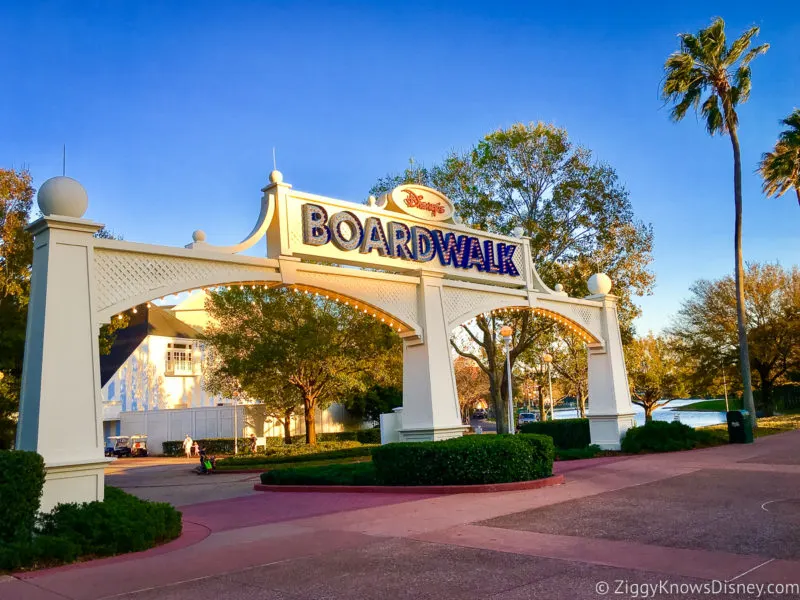 That wraps up our look at Disney's BoardWalk. We hope that if you haven't had a chance to visit yet, it will give you some great ideas of things to do on your next trip, something different from the norm!
If you are thinking about going to Walt Disney World in the coming future, here are some other popular articles where you will find all the info and tips you need to plan your trip.
Your Thoughts
I want to know what you think about our guide to Disney's BoardWalk…
What is your favorite thing to do on The BoardWalk?
How much time do you recommend to visit there?
Let us know in the comments section below!
If you enjoyed this article, as always I appreciate it if you'd share it with others via social media. I work hard at making this website into a useful resource for you and your family to plan your visit to the Disney Parks and I hope it can help you! Thanks 🙂