This is a construction update for the Star Wars Hotel in March 2019. Today we're going to look at some amazing aerial photos that show the foundation for the Star Wars Hotel being installed.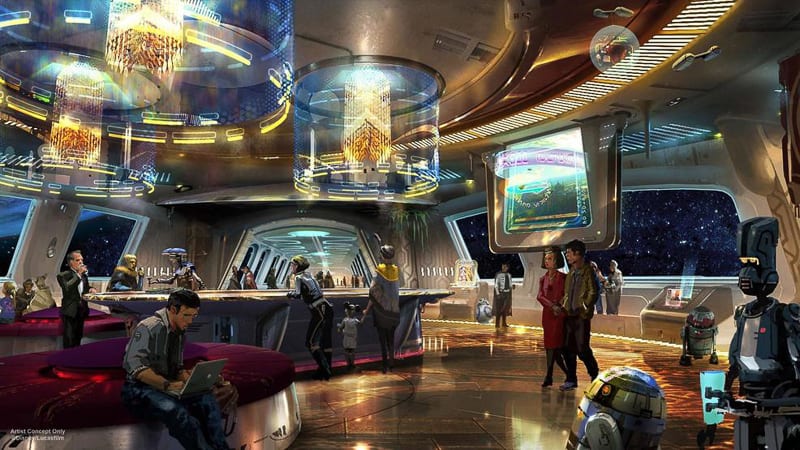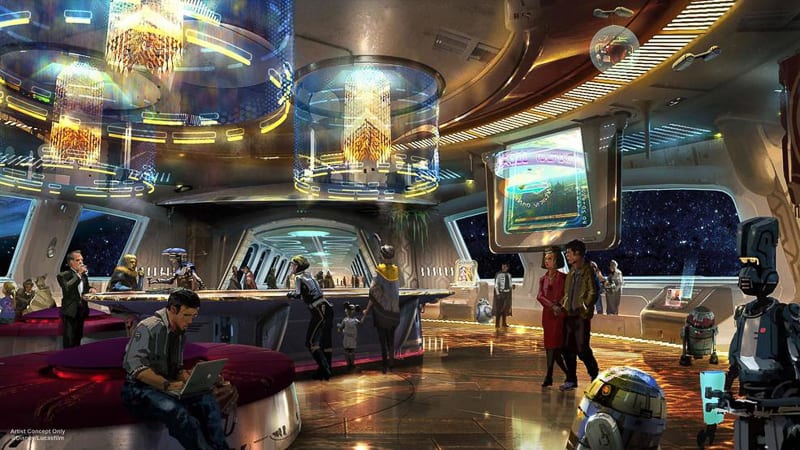 Up till now it's been just land clearing and pushing a whole bunch of dirt around the lot. So it's exciting to now see that actual construction is taking place and vertical progress will be coming soon!
Since our last update though we did get some incredible plans for the hotel where we can see much of the layout and we even found out the elaborate arrival/check-in process guests will experience. It's going to be a truly one of a kind resort on Disney World property, and in the world really.
As always we want to thank @Bioreconstruct who takes the best aerial photos of the various construction projects in Disney World. Looking down from above you can get a different feel for the size and scope of some of these projects.
Ok, let's check out those updates on the Star Wars Hotel and keep checking back throughout the month as we'll be adding more photos and information…
Before we take a look at the foundation for the Star Wars Hotel, let's look just a couple of weeks ago when there was just a huge pile of dirt:
Now you can see a more recent photo and the dirt has been cleared from the right side and the foundation for the Star Wars Hotel is being installed.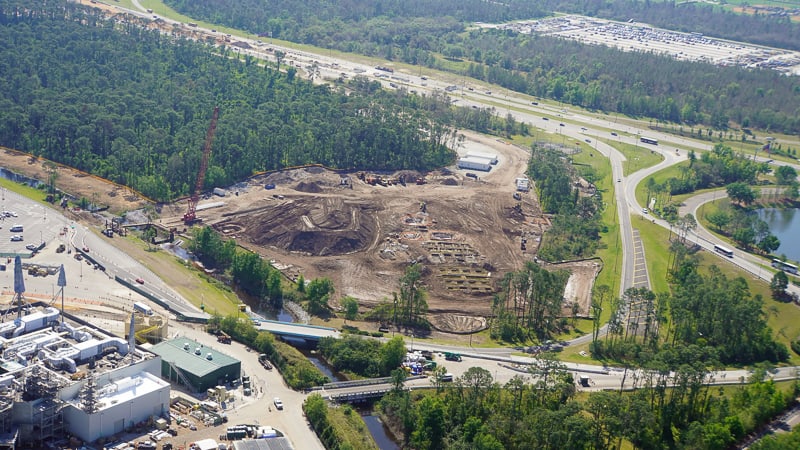 In fact you can see footings for the building if you look close: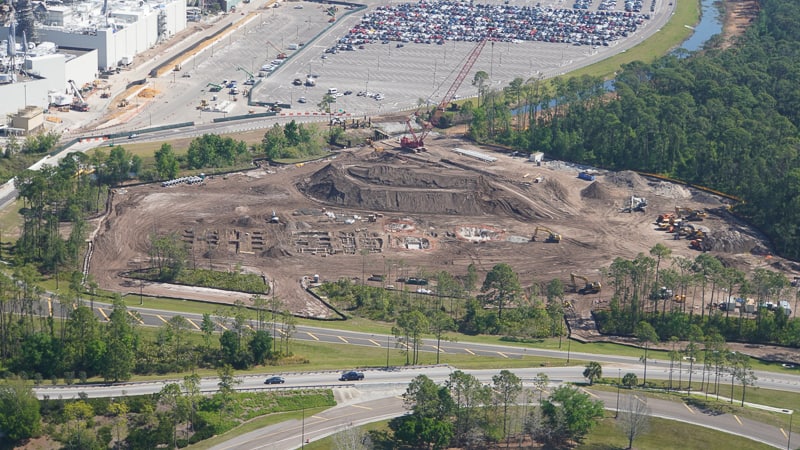 If this is the whole size of the building then it's not very big. From previous reports it seems like the Star Wars Hotel is going to be a 2-story building, and it will only have about 100 rooms or less in the whole place.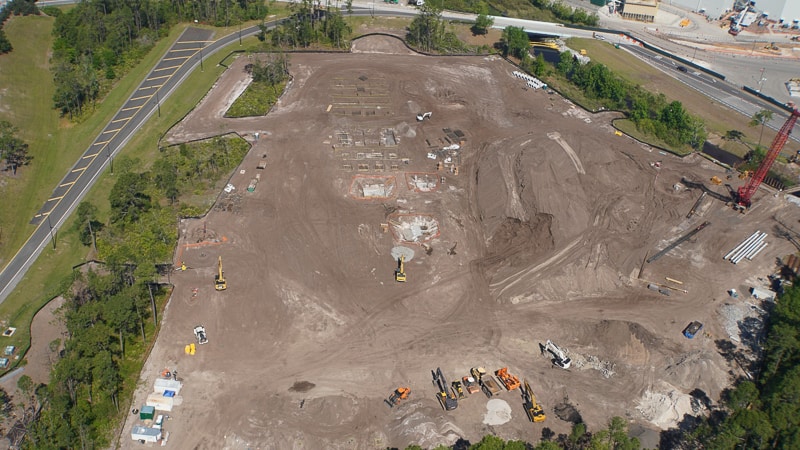 The nice thing about it being on the smaller side is that it shouldn't take a super long time to build the structure itself. Where you're going to see more "problems" is implementing all the new technology and play-testing everything before guests start coming.
As you know there is going to be a lot of cross-over from Star Wars Galaxy's Edge and the Star Wars Hotel, with special missions only for guests of the hotel.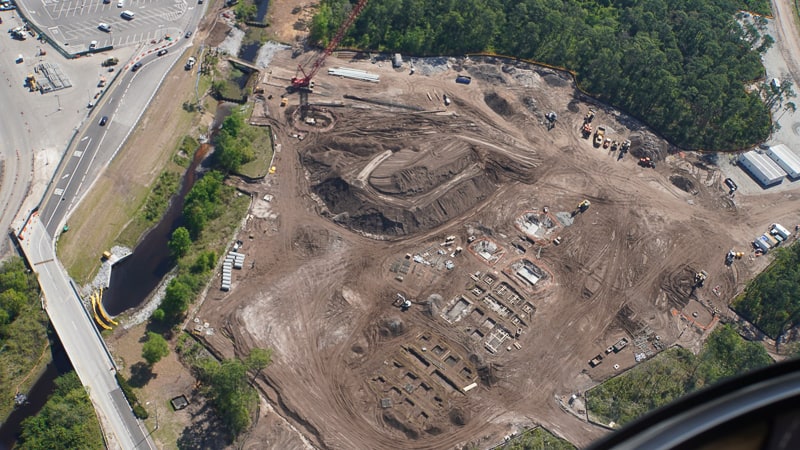 In the next photo we might be seeing the start of the way Disney is going to transport those guests seamlessly from the hotel to Galaxy's Edge. The arrow points out steel work for a bridge crossing the moat: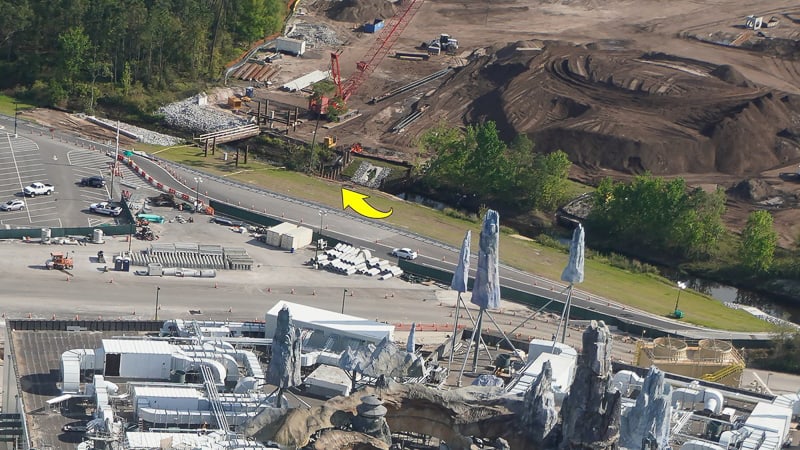 From what we've heard so far, Disney is going to use some kind of tram service to bring guests back and forth, though how they plan on keeping guests in theme and not letting them see the realities of their surroundings is not yet known.
One thing is for sure, the Star Wars Hotel is going to really be an amazing place to stay and we're excited to see this construction move along. We could start seeing vertical movement soon so stay tuned.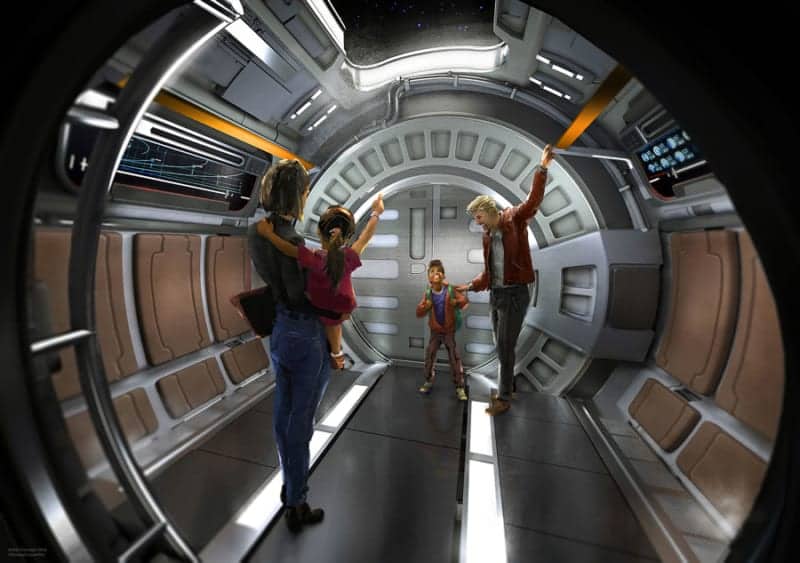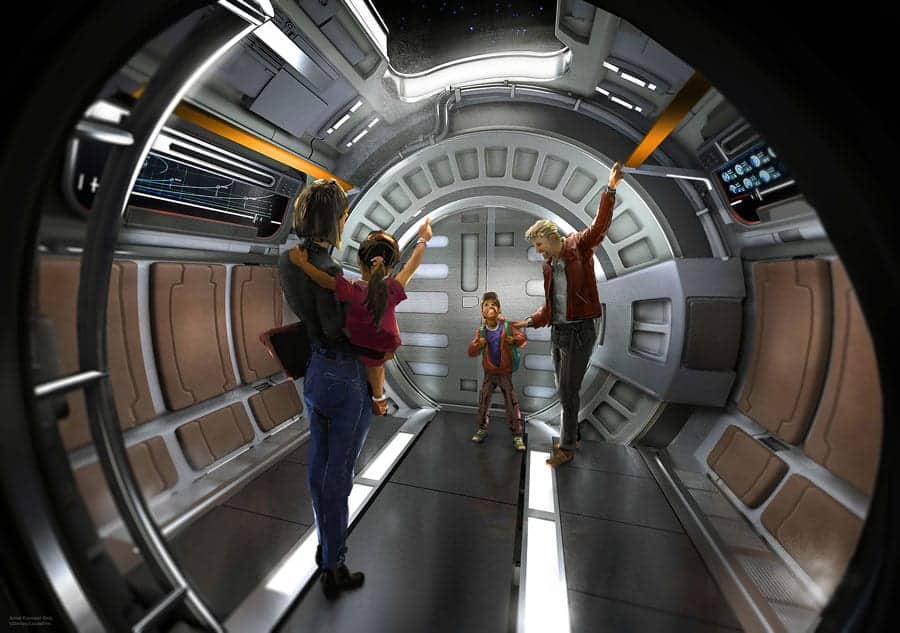 Expect the Star Wars Hotel to open in 2021.
If you are interested in the latest news on this project, read our newest Star Wars Hotel Construction update which shows the latest progress.
Be sure to check out our other construction projects in Walt Disney World for more updates on all the projects going on around Disney World as we continue to bring you the latest!
Other Disney World Construction Updates:
Your Thoughts:
I want to know what you think about the Star Wars Hotel process so far…
Are you excited to stay here?
What type of experiences do you hope to see included?
Let us know in the comments section below!
If you enjoyed this article, as always I appreciate it if you'd share it with others via social media. I work hard at making this website into a useful resource for you and your family to plan your visit to the Disney Parks and I hope it can help you! Thanks 🙂