You've probably eaten in some cool lounges at Walt Disney World, but how many of them have been in outer space? If you are looking for an out-of-this-world dining experience, in a relaxed atmosphere, the Space 220 Lounge is for you!
Ever since Space 220 opened in 2021, it has been a massive hit with guests, and it's quickly turned into one of our favorite places to eat in Disney World. But while the restaurant has risen to galactic fame, not everyone knows that it shares space with a lounge/bar area that you can dine in as an alternative.
In this post, we are going to share everything you need to know about the Space 220 Lounge including the menu, a full review of all the food and drinks, how to make reservations, and the differences between the restaurant and the lounge.
We also will cover if it's worth all the extra hassle it takes to eat here and answer all your FAQs you might have.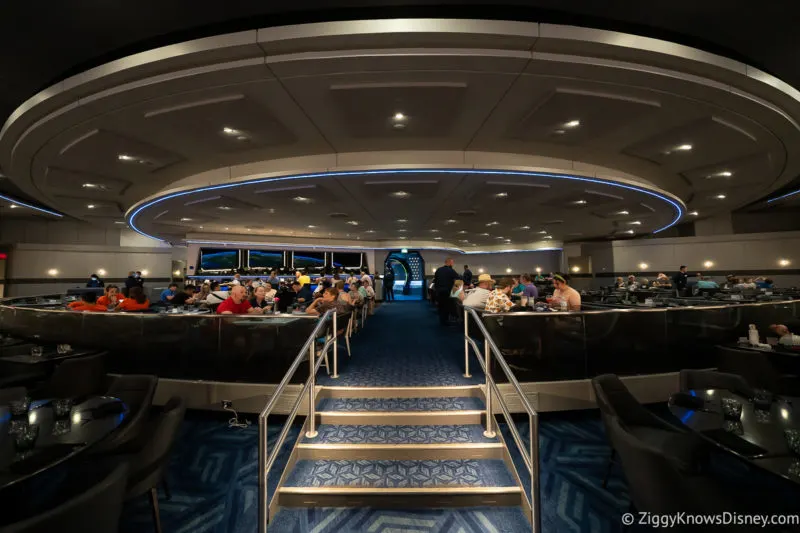 Before we get started, here are some other popular posts about dining you may want to also read:
Before we get into our review, don't forget to sign up for our FREE Weekly E-Mail Newsletter. There we bring you the latest Disney vacation planning tips including how to save money, where to stay, and the best things to do. You can sign up here: Join our E-Mail Newsletter!
What is Space 220 Like?
If you or another family member has always dreamed of being in space, dining at Space 220 will take you to an international space station an imaginary 220 miles away from the Earth!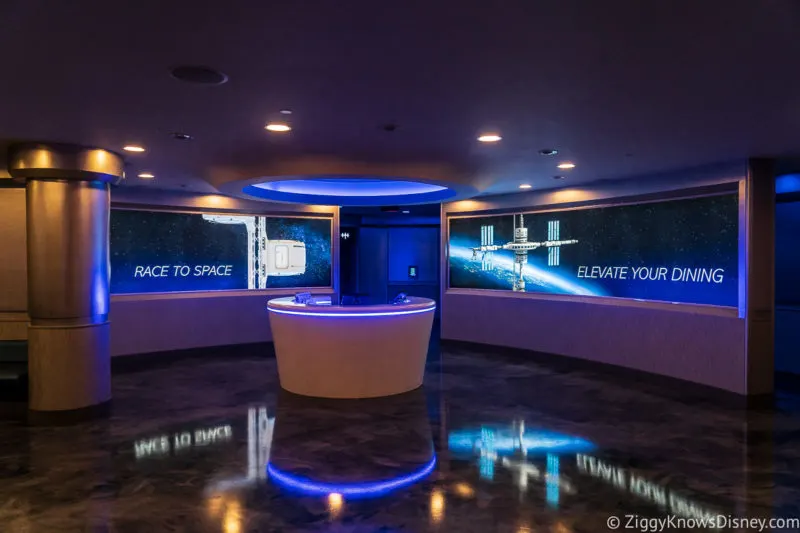 Space 220 is an immersive dining experience that showcases the best of Disney theming coupled with an interactive dining experience unmatched in terms of the "wow factor."
It's a great experience for the entire family, and is a fan favorite for everyone from the smallest of children to the grandparents in the group! Comparing it to another dining experience is almost impossible because there's nowhere quite like it at least that I'm aware of.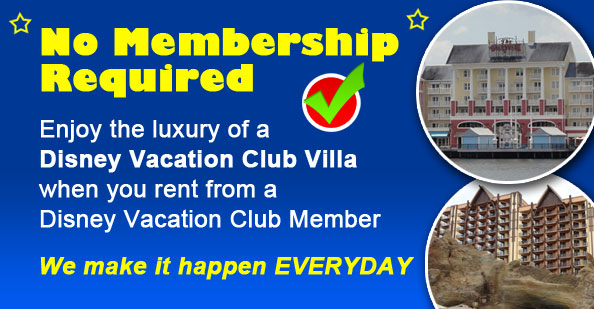 From the moment you check in to the restaurant, you'll be given a boarding pass which will allow you to access the elevator which will transport you to a "space station" once your table is ready for you to be seated. While of course, it's not real, the restaurant does an amazing job of making you feel as it is!
Upon entering the elevator, you'll see a digital screen on the floor and ceiling that will make it feel as if you truly are leaving the Disney grounds on Earth to embark on a space voyage!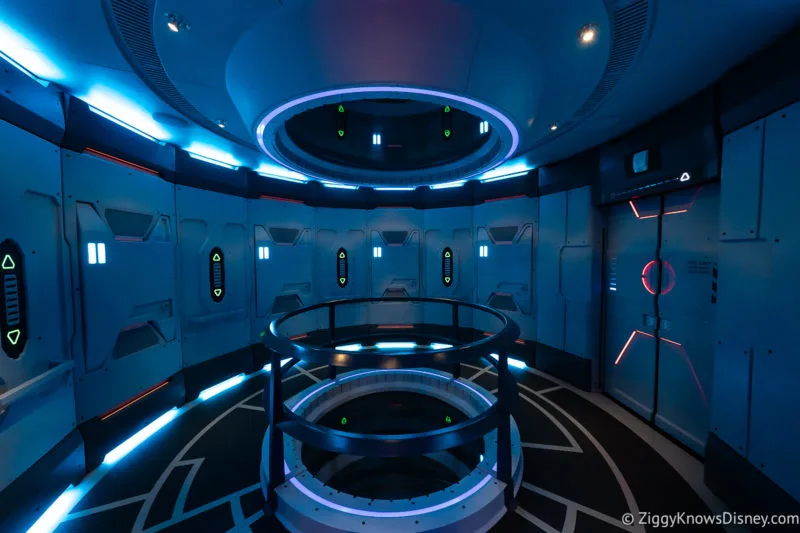 Once you get to the station and as you enter the restaurant you'll see all kinds of incredible sights as you look out around the dining room with large panoramic screens throughout the back of the restaurant.
As you look out these windows that appear lifelike, you'll be looking into the vast window of space with scenes of astronauts, earth, and other random space sightings. It's truly a unique experience that will keep you and your entire family captivated from beginning to end!
The restaurant itself offers an expensive prix fixe menu when coming for lunch or dinner. But if you're visiting just for the lounge, you can get to experience the restaurant without paying the costs associated with the more fixed offerings of lunch and dinner.
Where is the Space 220 Lounge Located?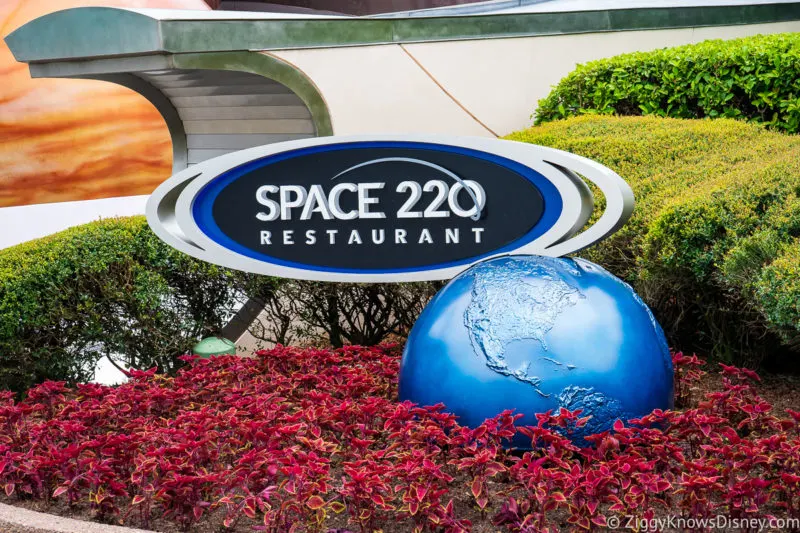 Space 220 Restaurant and Lounge is located in Disney's EPCOT theme park, and it is found just to the right of the Mission Space Attraction, in the 'World Discovery' part of the park.
Upon getting to the outside entrance of the restaurant there will be a Cast Member checking in guests that have regular reservations, but there will also be a walk-up line area where you can stand for those wanting to sit at the lounge OR if you want to try to get a normal dining reservation for the restaurant.
If you have any questions about where to stand or if you want to enter the lounge and get in line, simply ask the Cast Member located there.
What is the Difference Between Space 220 Lounge and Space 220 Restaurant?
The main difference between the Space 220 Lounge and the Space 220 Restaurant is the fact that the lounge gives you more options and flexibility. While the price is fixed when visiting the restaurant, with different prices for both lunch and dinner, the lounge affords guests the ability to order things a la carte.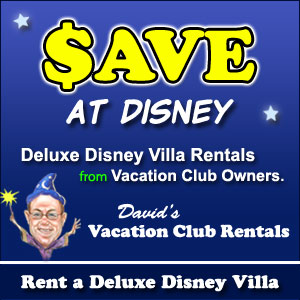 This does NOT mean that going to the Space 220 Lounge is always cheaper than visiting the restaurant. If you were to get multiple dishes and a bunch of drinks at the lounge, it can easily get just as expensive as the main dining room dinner.
Another key difference with the Space 220 Lounge is it's EASIER to get into. While reservations are typically recommended for both the lounge and the restaurant, there is often walk-up seating available at the bar for those wanting to get a spot in the lounge, whereas the restaurant likely will not have any walk-up spots available.
The lounge also features special menu items, which the restaurant does NOT offer on the prix fixe menu. Sitting at the lounge will allow you to eat anything off the normal restaurant menu if you choose OR the special exclusive items on the lounge menu.
How Do You Get Into the Lounge at Space 220?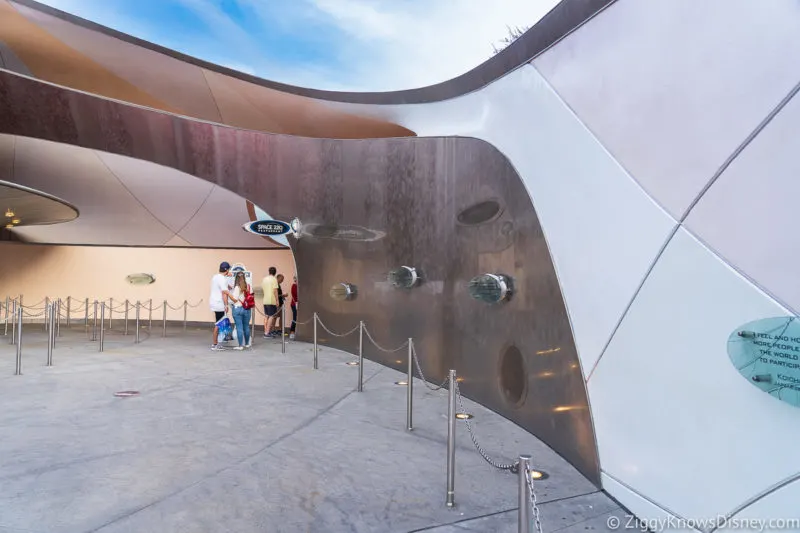 There are two main ways to get into the lounge at Space 220:
The first way is by having an ADR (Advance Dining Reservation).
The second way is by walking up and getting a spot at the bar (only for adults), which is actually fairly simple as long as you don't mind waiting!
If at all possible, we recommend snagging a reservation for those wanting to eat at either the lounge or the regular part of the restaurant. Getting an ADR for the lounge is actually more difficult due to the smaller area, although the lounge area offers walk-up seating at the bar area.
The lounge consists of several tables in addition to the bar seating. So if you can't snag a reservation for the lounge or the restaurant, what can you do to get into the walk-up bar area of the lounge at Space 220? Here's what we found worked for us:
Get in line EARLY, we recommend 10:15 – 10:30 am (that's when the line normally starts), and make sure you stand in the right line, which is for walk-ups. There is also a line for those with reservations as well. While you don't HAVE to go early, it's easier to get in and the line will be shorter.
Prior to the restaurant opening at 11:30 am, they will begin checking people in, and they will ask you if you want to visit the restaurant or the lounge. If you want to visit the restaurant, they'll attempt to make you a reservation for sometime later in the day if there's availability.

If you say the lounge (walk-up bar), you will need to stay in line. If you're at the front of the line, you should be able to get right in once opening, as long as your party isn't more than 10 people!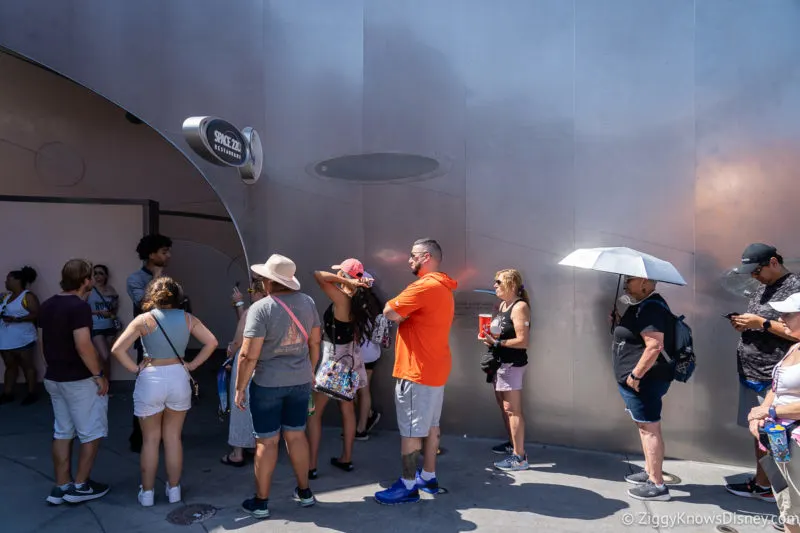 So that's really it! While getting a table at the lounge is difficult and requires an ADR, sitting at the bar (which is found in the lounge) is very simple to do and it's really the easiest way to enjoy the best of all worlds.
The only downside is that you have to be an adult to sit in this area, so it's not a great way for kids to enjoy the restaurant.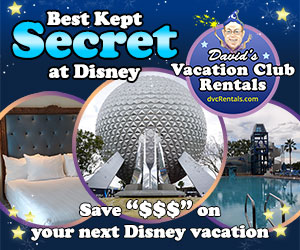 How Hard is it to Get Into the Space 220 Lounge?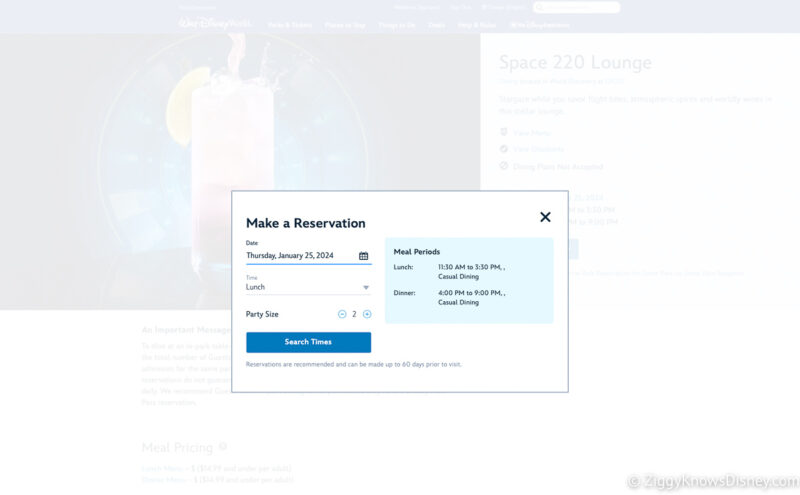 Getting into the lounge area can be difficult if you want to sit in a table area of the lounge, which requires ADRs. These are hard to come by, as the Lounge is often viewed as the most popular way for guests to visit the restaurant and get the experience without needing to spend the expensive costs of the prix fixe menu.
In our experience, it's one of the absolute hardest ADRs to get in Walt Disney World.
If you're OK with getting a spot at the walk-up bar area, it's actually fairly simple! If you get there early enough, you should be able to get right in! If not and you miss the early window, you'll likely have to wait in line for a long period of time.
How Long Does it Take to Eat at Space 220 Lounge?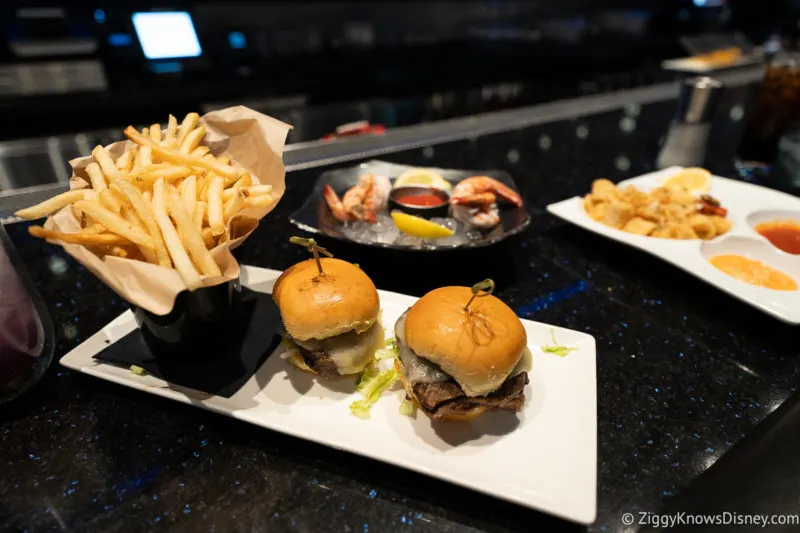 It totally depends on how much food you get! If you're going to the walk-up bar and are just getting a drink or two and having an appetizer, you can feasibly be out of there in under an hour.
If instead you want to enjoy the entire menu while slowly sampling different appetizers and drinks, you can be there for a couple of hours easily. Honestly, it's so cool in there that you will probably want to stay for a couple of hours to check everything out!
Space 220 Lounge Menu
Flight Bites (Appetizers):
Astro Deviled Eggs
Free-Range Eggs, Maple Glazed Bacon, Scallion, Pickled Shallots, Micro Greens
$12.00
Starry Calamari
Fried Calamari, Italian Cherry Peppers, Spicy Marinara, Roasted Pepper Citrus Aioli
$19.00
Blue Moon Cauliflower
Tempura Fried Cauliflower, Housemade Hot Sauce, Blue Cheese Dust
$17.00
Chicken on Waffle
Fried Chicken, Smoked Bacon and Roasted Corn Waffle, Spiced Coleslaw, Bourbon Maple Glaze
$18.00
Braised Beef Tostada
Crispy Corn Tortilla, Saffron Pickled Onions, Avocado Crema and Shredded Lettuce
$18.00
Charred Octopus
Smoked Paprika Chips, Chimichurri and Garlic Aioli
$20.00
Hoisin Pork Belly
Braised Pork Belly, Smokey Rainbow Chard and Golden Raising Agrodolce
$16.00
Tuna Crudo
Coconut Curry Broth, Cucumber Apple Slaw and Aged Balsamic
$18.00
Atmospheric Spirits (Alcoholic):
Gamma Burst
Grey Goose Strawberry Lemongrass, Midori Melon Liqueur, Strawberry Popping Pearls
$19.00
Galaxy Spritz
Lagoon Bay Aperitif, Lychee Liqueur, Lemon Juice, Prosecco
$17.00
Black Hole Fashioned
Knob Creek, Demerara, Whiskey Barrel Aged Bitters
$18.00
Illumination
Bacardi, Malibu, Passion Fruit, Blood Orange, Pineapple, Lime Sour, Passion Fruit Boba
$18.00
M4RG4R1TA
Espolon Blanco Tequila, Watermelon Lime Sour, Salted Lime Foam
$18.00
Command Center
Hendricks Gin, St Germain Elderflower Liqueur, Lemon Juice, Citrus Elderflower Foam
$17.00
Space Age Mule
Tito's Vodka, Fresh Carrot Juice, Mango, Lime Juice, Ginger Beer, Tajin Rim
$17.00
Shuttle Crew
Kettle One Peach and Orange Blossom Vodka, Vanilla, Tangerine, Red Bull and Tang Foam
$18.00
Saturn 2.0
Bacardi 8, Velvet Falernum, Orgeat, Passion Fruit, Lemon Juice
$16.00
Wine:
Sparkling/Champagne Worldly Wines
Prosecco Terre Di Bacco, Treviso, Italy – $14.00
Sparkling Steorra, Russian River, CA – $16.00
White Worldly Wines
Pinot Grigio Campo Di Fiori, Rubicone, Italy – $12.00
Sauvignon Blanc Frenzy, Marlborough, NZ – $15.00
Rosé Space Age Rose, Paso Robles, CA – $14.00
Chardonnay Quintara, CA – $12.00
Moscato Batasiolo Moscato d'Asti, Italy – $13.00
Red Worldly Wines
Cabernet Sauvignon Routestock, Napa Valley, CA – $19.00
Merlot Decoy, Sonoma, CA – $14.00
Red Blend The Prisoner, California – $26.00
Pinot Noir Böen, Russian River, CA – $19.00
Malbec Tapiz Alta Collection, Mendoza, Argentina – $16.00
Red Blend Fable Roots, Italy – $12.00
Crew Brews:
Michelob Ultra Draft – $10.00
Blue Moon Draft – $11.00
Stella Artois – $9.00
Corona – $8.00
Heineken 0.0 – $8.00
Stevens Point Centauri Amber Lager Draft – $12.00
Sierra Nevada Hazy Little IPA Draft – $11.00
Bud Light – $8.00
Modelo Especial – $9.00
Rotating Space Beer – $12.00
FAQ
Does Space 220 Lounge Serve Alcohol?
Yes! The Space 220 Lounge serves up a number of fun and tasty concoctions! And while kids under 21 can sit in the lounge area, they can't sit at the walk-up bar area which is only for adults over the age of 21.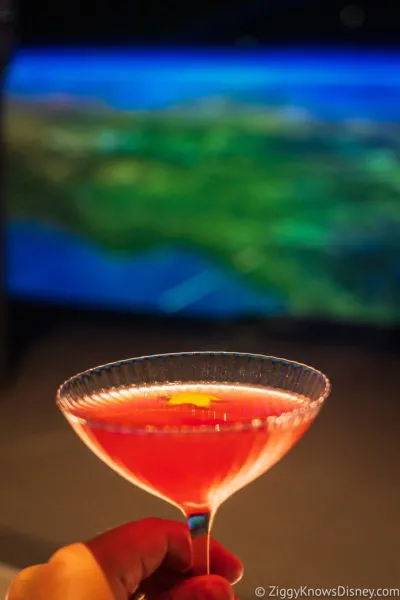 Can You Order Appetizers in the Lounge?
You'll be happy to know you can order all of the regular restaurant appetizers in addition to specialty appetizers, that are ONLY available for those sitting at the lounge.
Can I Order Off the Regular Menu at Space 220 Lounge?
In addition to appetizers and specialty bar bites at the lounge, you can also order off the regular Space 220 Restaurant menu including entrees. However, you still must pay the standard fixe prix cost as you can't order entrees a la carte.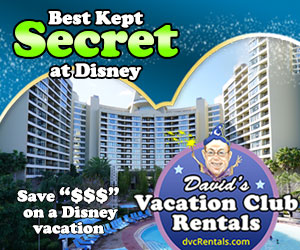 Can You Order Desserts in the Lounge?
Yes, you can. Desserts at Space 220 can also be ordered in the lounge or at the bar.
Can You Do Walk-Up at Space 220 Lounge?
Yes, you can get in by doing a walk-up, but it's only for the bar part of the lounge. For those desiring a table or those with anyone in your group under the age of 21, you'll need to have an ADR for the lounge OR the regular part of the restaurant.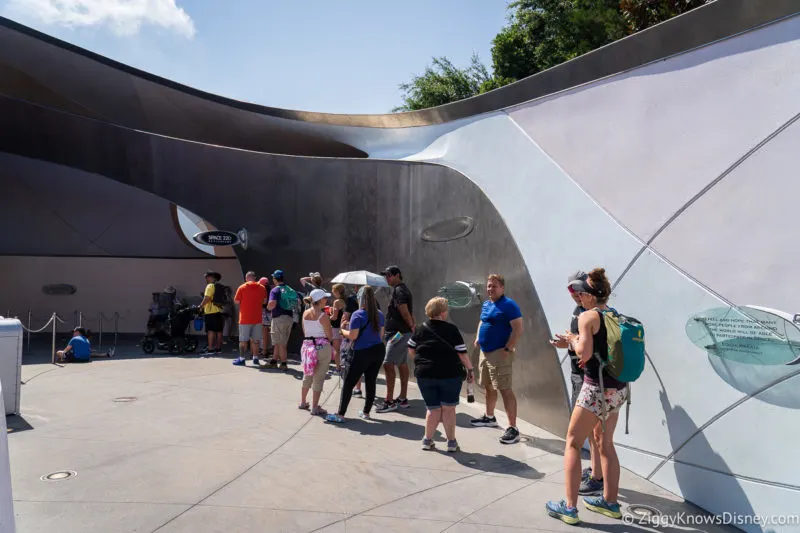 Does Space 220 Have a Dress Code?
No dress code is required at Space 220. Since Space 220 is located in a Disney Theme Park, it has more of a relaxed casual atmosphere. And while the restaurant itself is nice, most guests are in their standard theme park attire.
Do You Have to be 21 to Eat at Space 220 Lounge?
Guests under 21 can eat in the Space 220 Lounge. You ONLY need to be 21 if you're sitting in the walk-up bar area. If you're sitting at one of the tables in the lounge area, you don't need to be 21.
Is the Space 220 Lounge Cheaper than the Restaurant?
The Space 220 Lounge has the "potential" to be cheaper than the restaurant. The nice thing about going to the lounge is not feeling like you HAVE to order a fixed menu. You can order 1 thing or you can order 20 things.
So while in theory, it can be cheaper for budget-conscious travelers, if you get a bunch of items on the menu, it can still be just as expensive as the restaurant.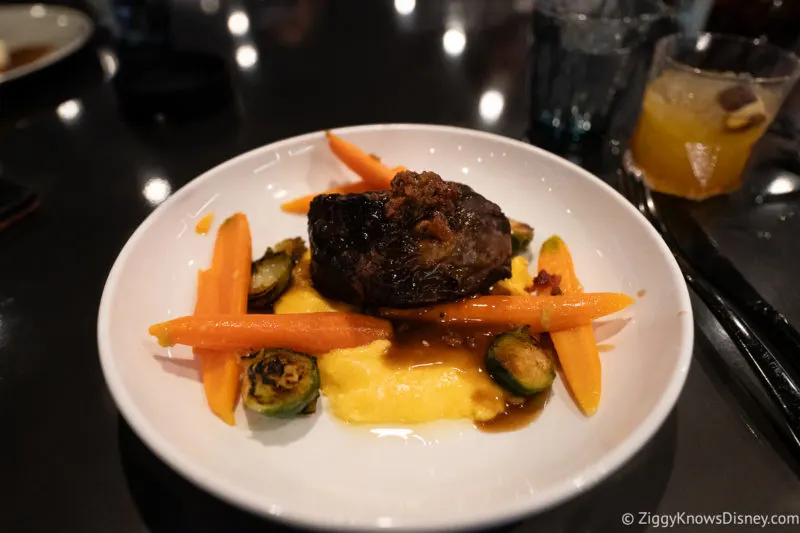 Ready to Start Planning Your Disney Vacation?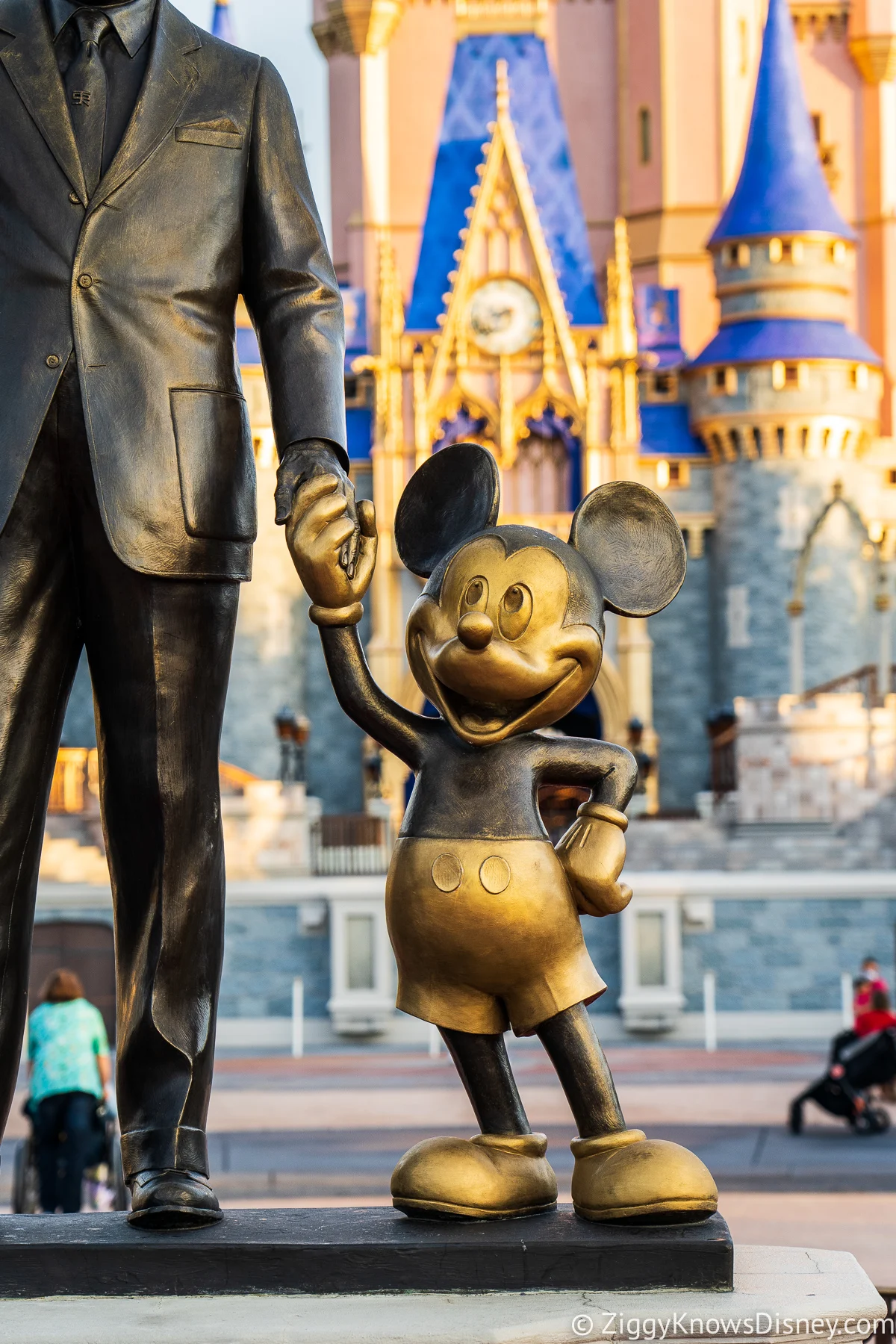 Space 220 Lounge Review
Having been to both the lounge and the restaurant several times now, what are my thoughts on the lounge itself? In this section, I will talk about my overall feelings and views of the lounge.
If you've read my full review of the restaurant itself here, you'll see I'm a BIG FAN of Space 220.
Entrance Experience
When you get to EPCOT, you'll walk over to the restaurant, which is located just to the right of the Mission Space attraction. Follow signs for Space 220, and you'll likely see lines of people forming around the corner.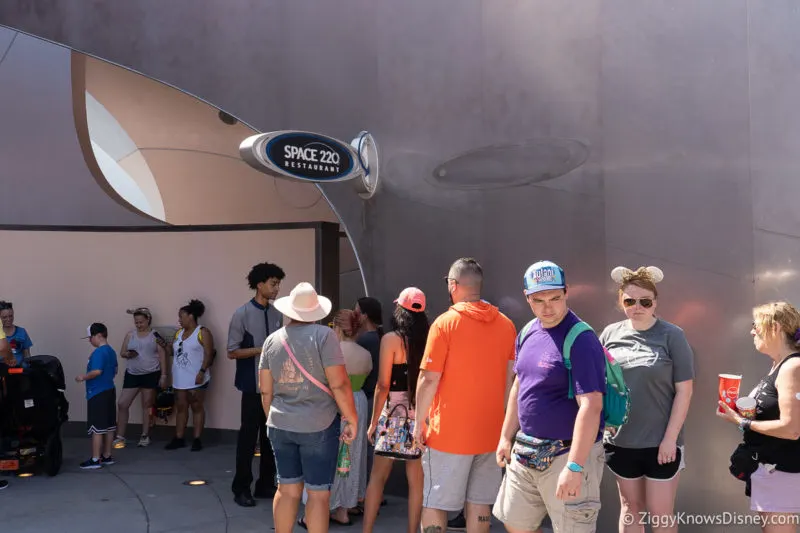 Once there, you'll see two lines and if you have a reservation, get in the line for reservations. If you do not have a reservation, you'll join the walk-up line.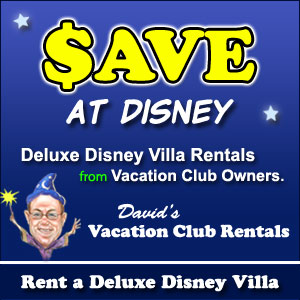 Once your reservation is called or they're able to seat you (if you're in the walk-up line), the fun part of this is the entrance experience starts IMMEDIATELY!
Continue moving forward through some long hallways and outdoor courtyards, where you can park a stroller, an ECV, or any other accessibility vehicle. As you continue walking you'll enter the Space 220 Departure Lounge through a couple of automatic doors.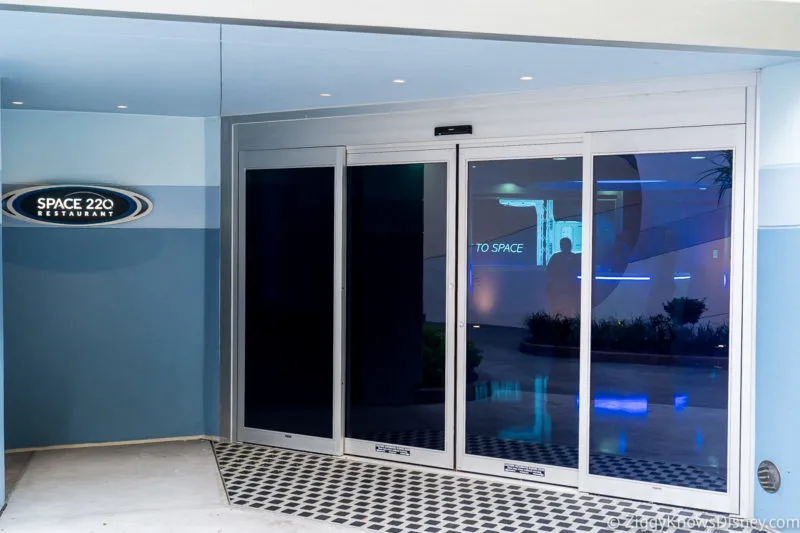 It's here where Cast Members will be waiting for you to help you board your flight to the Centauri Space Station 220 miles above the Earth! You'll be handed a "boarding pass" and instructed to wait until you are called.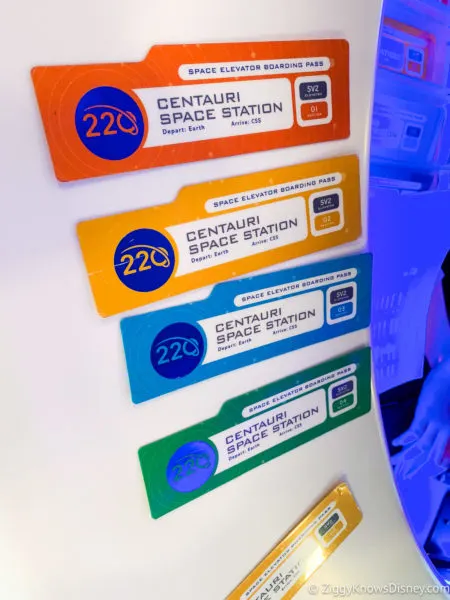 This futuristic check-in area will likely be a short wait before it's your time to turn in your boarding passes and hop aboard the elevator!
Once your group is called via your color-coded boarding pass, you hop aboard one of the two "Space Elevators" that will bring you up to the restaurant, affectionately known as the Centauri Space Station.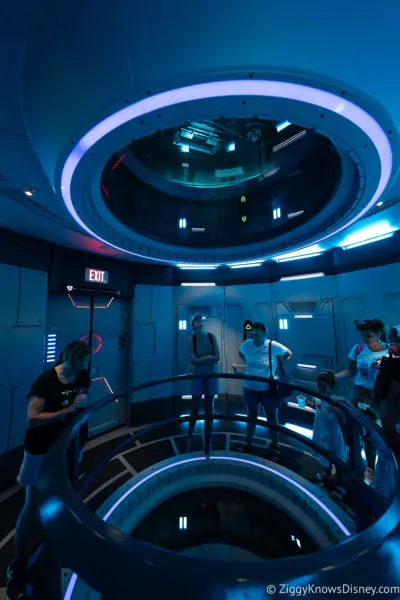 The elevator or "Stellarvator" is completely realistic and so much fun, simulating your transportation to the space station. Inside the circular elevator, you will notice large digital screens that make the trip to the space station truly seem realistic and put you in the story!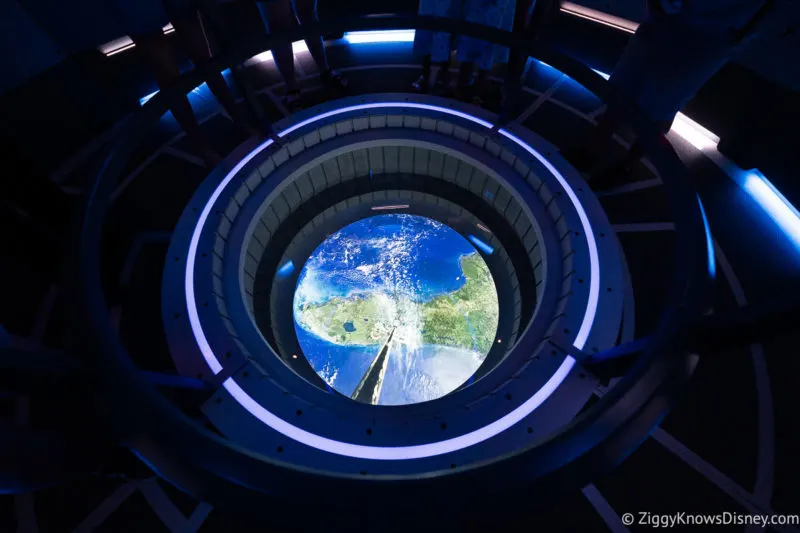 Once you reach your destination at the Centauri Space Station and disembark the elevator, you'll hand your boarding pass to a Disney Cast Member who will take you through the futuristic hallways of the space station, including a spinning wall of produce and a wine room!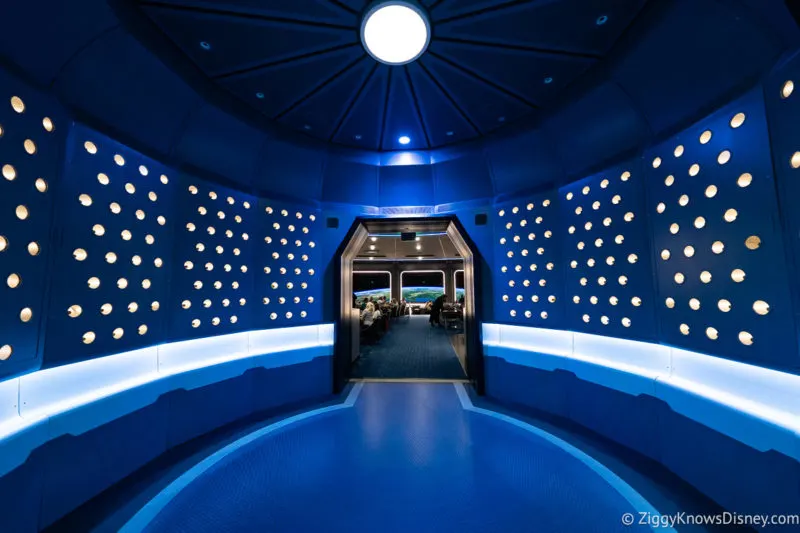 After walking through the fun and incredibly themed hallways of the space station, you'll arrive inside the Space 220 Dining Area where you will find your seat.
Atmosphere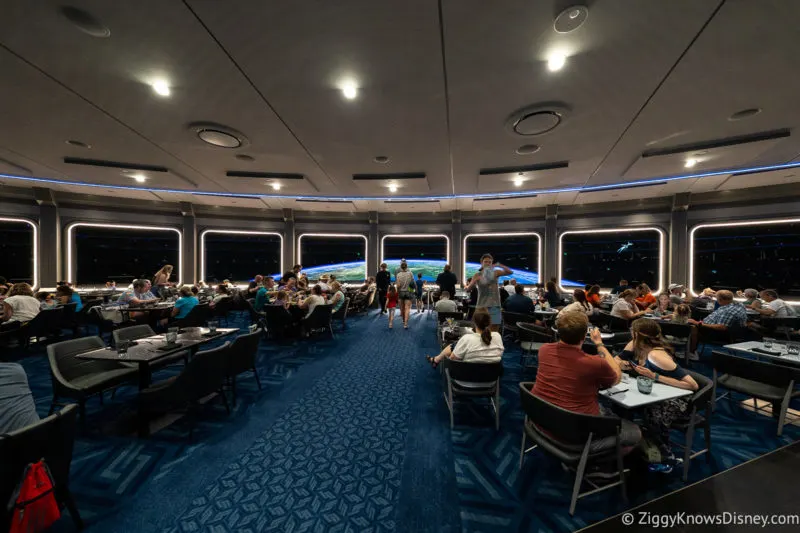 Right when you get inside the dining room area of the restaurant, you'll instantly be awed by the amazing and incredible views of "space." Although fake and completely screen-based, you really have to do a double-take to see that you're not truly in space.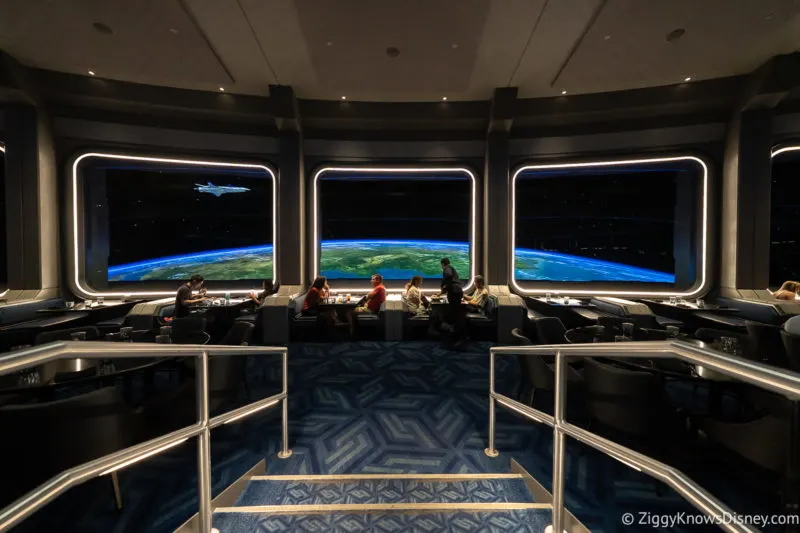 In addition to the actual views of space, the entire dining room is impeccably themed, with beautiful and modern tables and chairs. These seats are SUPER comfy!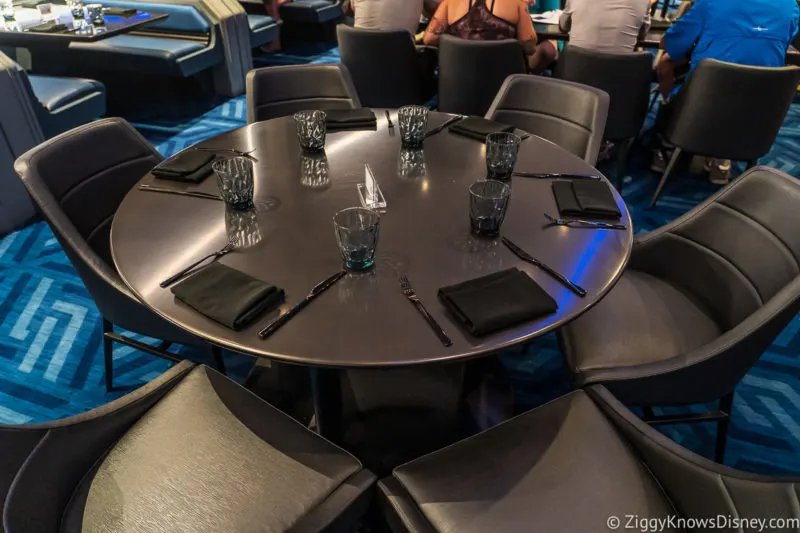 Even the bathrooms are so tastefully done and themed in such a way that you truly feel you are in outer space (and there are a few funny surprises in there too!)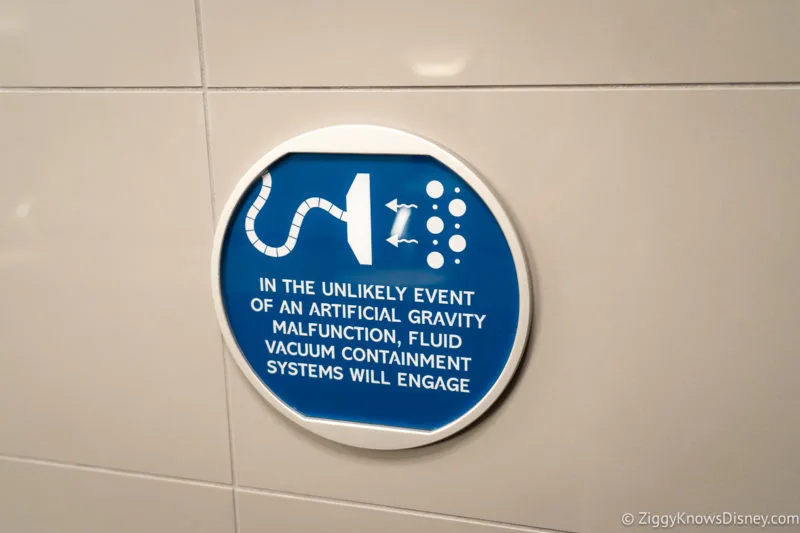 When it comes to the lounge itself, we actually enjoy the views here MORE than the main dining room. The reason why is that if you have a table in the lounge, the seats here look over the dining room and are a little further away from the "space windows", enabling you to get better panoramic views of the entire room.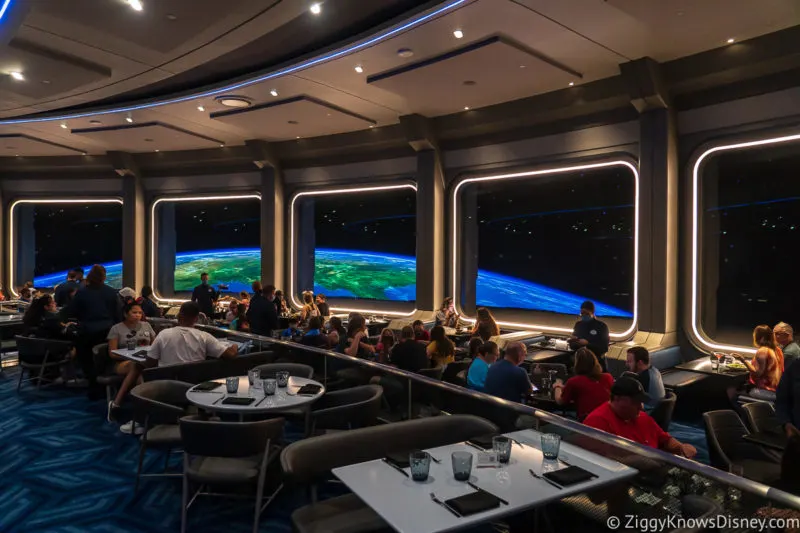 You are elevated above the seats in the main dining room and you can just see way more.
If you're in the lounge, but sitting at the bar, it can be a little more challenging as you'll have your backs to the space scenes going on in the background at all times. However, if you simply turn around, you'll still get great views if you want to see the action.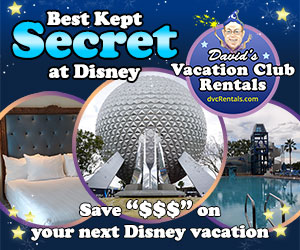 Lounge Seating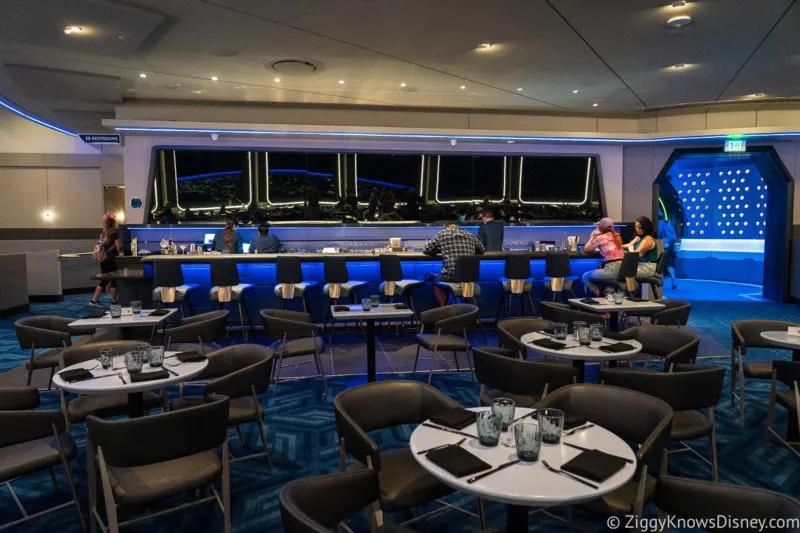 For those getting a table in the lounge, you'll notice that there are primarily two tops and a few four tops. If you have a larger party, you'll likely have to get split up into two different tables.
The seating in the lounge is elevated and you'll be above the action in the dining room. Again, we slightly prefer the lounge seating as you get better views.
Sitting at the Bar
The bar is located along the back wall of the restaurant and is part of the lounge. There are 10 spots here and the stools, like the chairs are really comfy.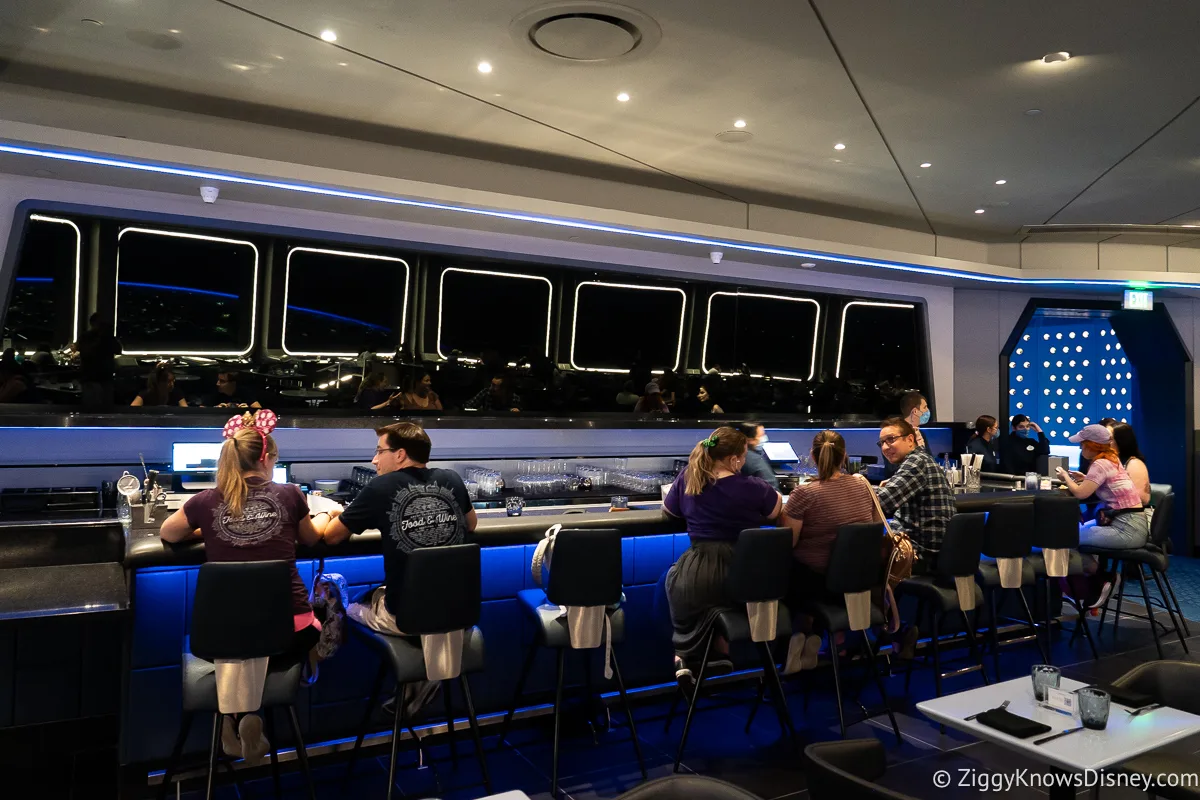 We also really dig the shiny black counter, it seems like something you definitely find in space!
The bar is the only place where you can likely get a spot if you do NOT have a reservation. While the bar area still gives you the same ambiance and feel as the rest of the restaurant, the views are NOT quite as good.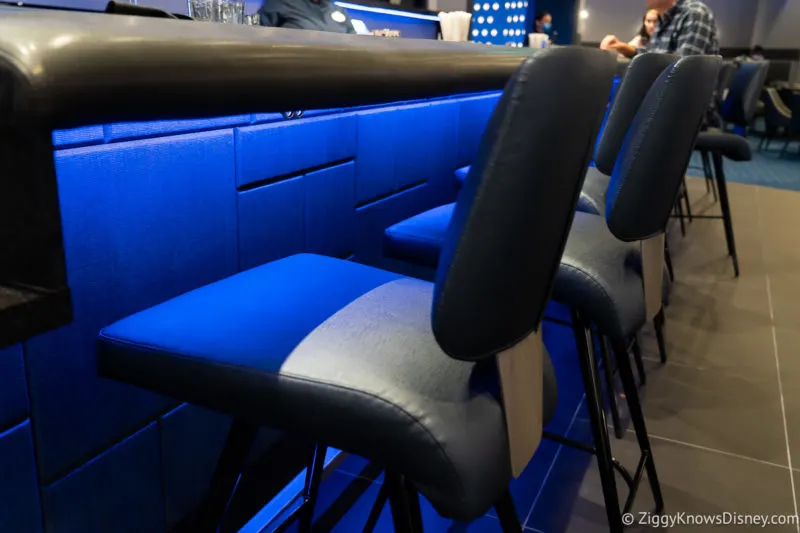 The main reason is due to the fact that your backs are away from the action at all times. There are only 10 seats in the bar, so it's very limited and it's based on a first come first serve basis.
Where is the Best Place to Sit in the Lounge?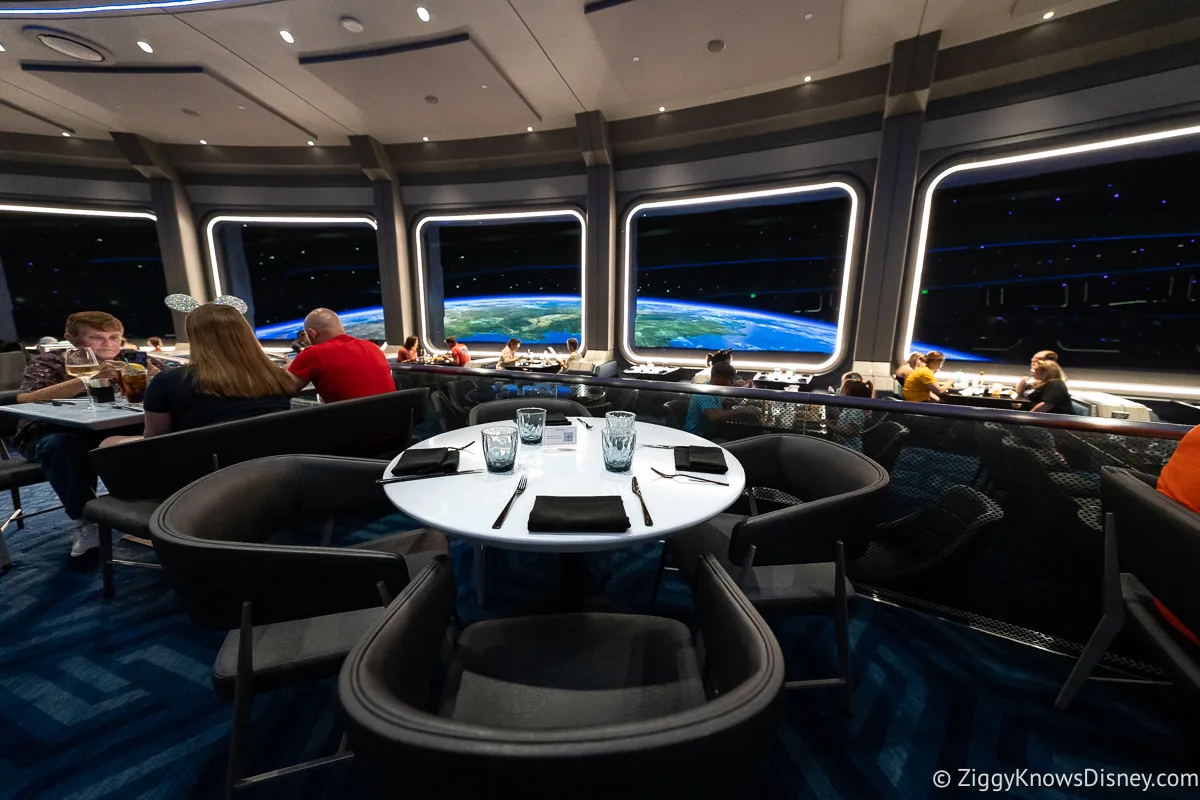 We prefer any of the tables in the lounge, as this will give you the comfort of the regular dining room while also giving you additional comfort and the best views in the restaurant!
If you really want one of the best tables, we'd recommend getting one of the tables near the railing in the lounge. You'll get the best spot for photos with nobody foreseeably behind you.
Space 220 Lounge Drinks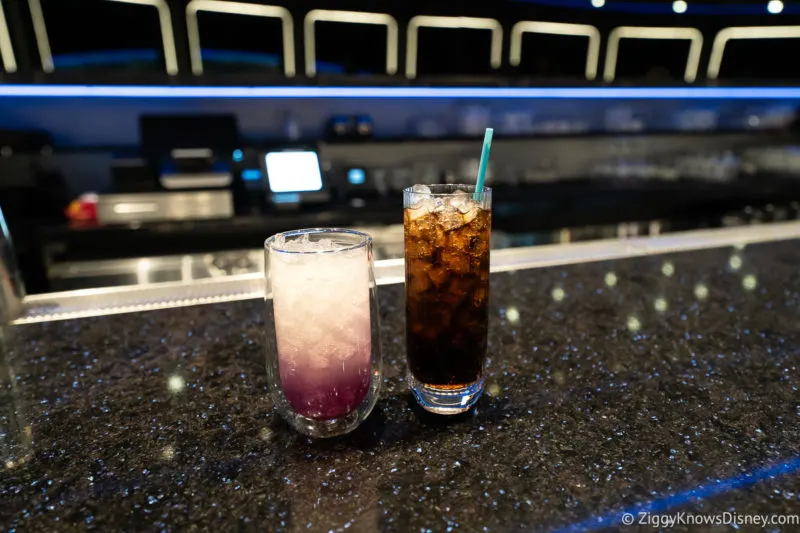 Now let's get to the good stuff! The specialty drinks are part of the "Atmospheric Spirits" on the menu at Space 220. They can be found at both the lounge and the restaurant and there is no difference between them.
In addition, they also have a full bar where you can have them make you other drinks if you desire. All of these drinks cost EXTRA and are not part of the prix fixe menu.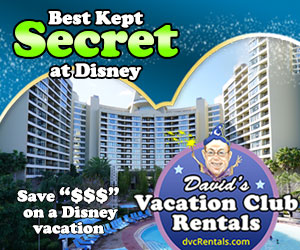 Here are our thoughts on each of them:
Planetary Punch – This fizzy blue drink takes almost like a pina colada on the rocks. It has a strong coconut and pineapple flavor and is definitely on the sweet side. We love the theming of the dry ice, which causes a bubbly effect, making for a picture-perfect Instagram post! If you like sweeter drinks, you'll like this. We'd give it an 8/10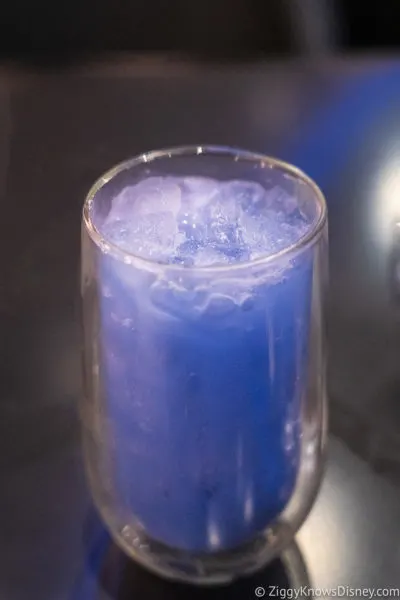 Atmospritz – The name can be deceptive and you might expect a bitter spritz-like taste with this drink. It was actually a little sweeter than we expected, and we love the touch of the cotton candy melting in the drink!
It tastes almost like a Cosmo with noticeable flavors of orange juice and Prosecco. We LOVED this drink both for taste and presentation. 10/10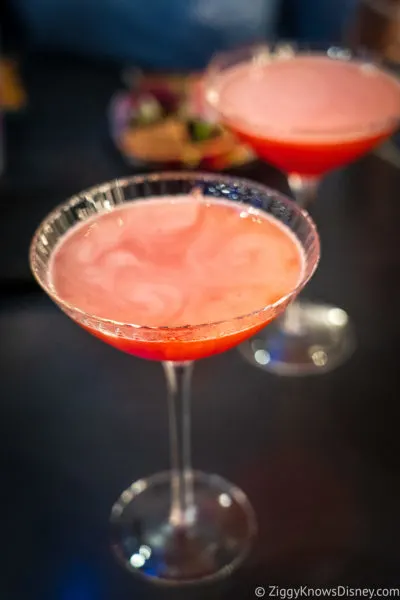 The Big Tang – Another Instagrammable drink that tastes almost like a fruity margarita! With its flavors of strawberry and grapefruit, it perfectly balances the sweetness with good tang and citrusy flavors that you'd expect of a good margarita. We also LOVED this drink. 10/10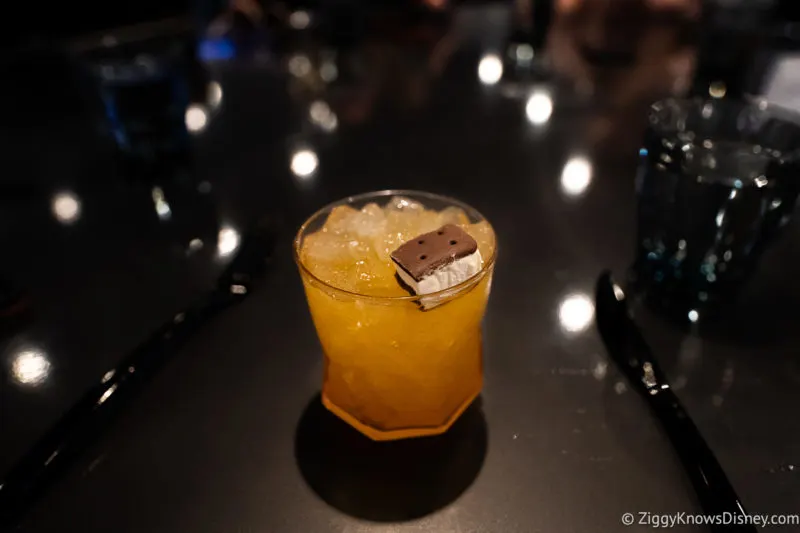 The Nebula – The Nebula is Space 220's take on an Old Fashioned. We loved the uniqueness of this drink, unlike most Old Fashioneds, this one had stand-out flavors of pineapple and honey, which are completely different.
While the presentation doesn't stand out like some of the other drinks, the flavor was excellent. 8/10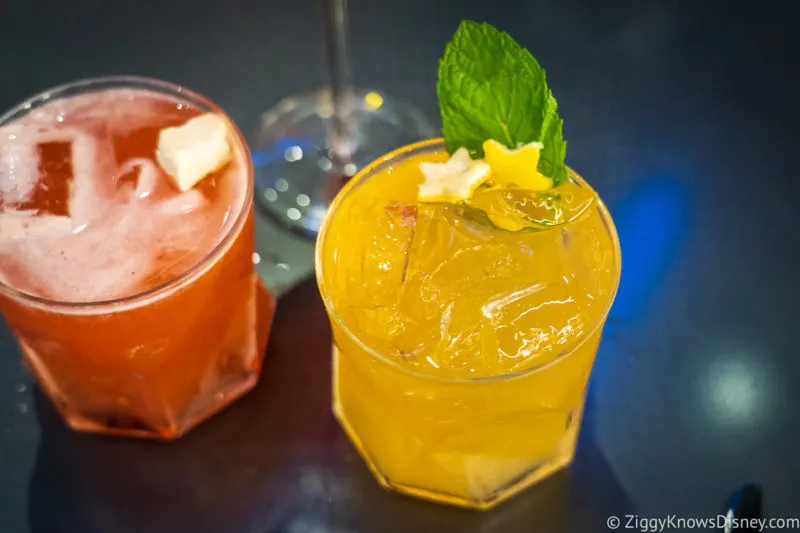 Stargaritia – Another tequila-based drink like The Big Tang, the Stargarita is a purplish drink that features common margarita ingredients such as Cointreau, Agave Sour, and a unique item called B'lure (which is a butterfly pea flower extract).
This was another sweet drink that had a cute presentation. It's a bit sweeter than The Big Tang but is equally as Instagrammable. 8/10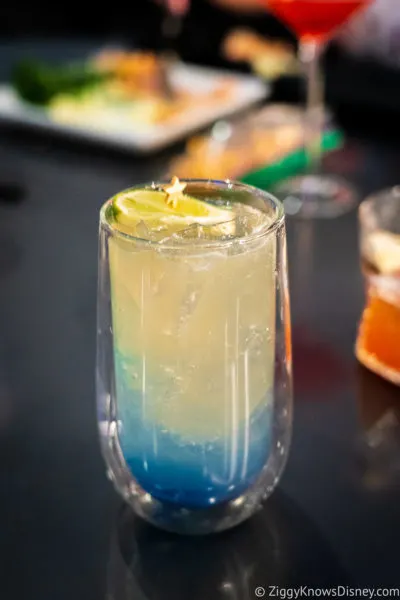 Celestial Cosmopolitan – If you like the thought of a good Cosmo while making you feel as if you are floating through the cosmos, you'll enjoy the Celestial Cosmopolitan. It has a little bit of a floral-like aftertaste, due to the hibiscus in the drink. It's also a stronger drink that features "moon dust" or essentially edible glitter for extra presentation.

There's nothing special about this drink, and it's simply a "safe drink" for those that want something fairly strong but not adventurous. 7/10
Moon Rocks – The Moon Rocks drink is a "Mocktail" and a great choice for kids with its fun unique flavoring and presentation with 'Pop Rocks' candy that gives it a fun popping feeling as you drink. It essentially tastes like a Sprite that's flavored with Cotton Candy.
Kids love this drink, even if it's not quite worth its $12 price tag. 8/10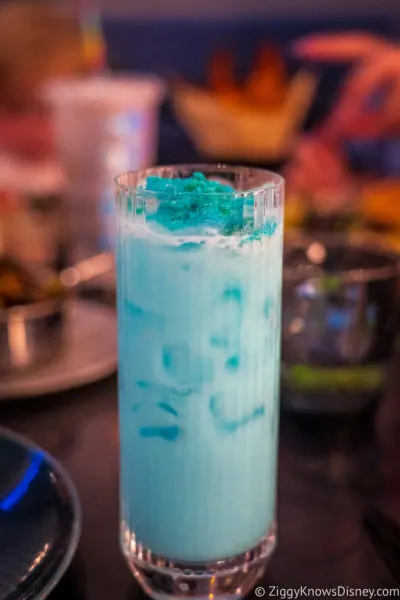 *In recent weeks, Disney introduced a bunch of brand new drinks at Space 220, and we'll be trying those on our next trip there so stay tuned!
Space 220 Lounge Food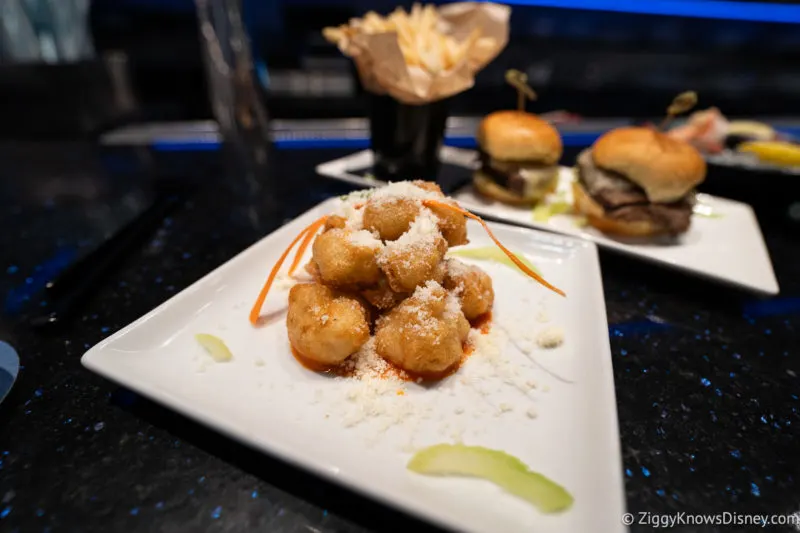 Next, we are going to talk about the "Flight Bites" that you can order at the lounge. Some of these items are exclusive to ONLY those eating at the lounge, while others are also found on the regular dining room menu.
What do we think about these offerings? Here are our thoughts on the lounge food items:
Starry Calamari – The Starry Calamari is also featured on the prix fixe menu in the dining room and features Fried Calamari, Italian Cherry Peppers, Spicy Marinara, and a Roasted Pepper Citrus Aioli. We love calamari normally, and we especially liked this one!
The aioli sauce was very tasty and was the perfect complement to the calamari. We also liked that most of the calamari was bodies and NOT legs, our personal preference. 9/10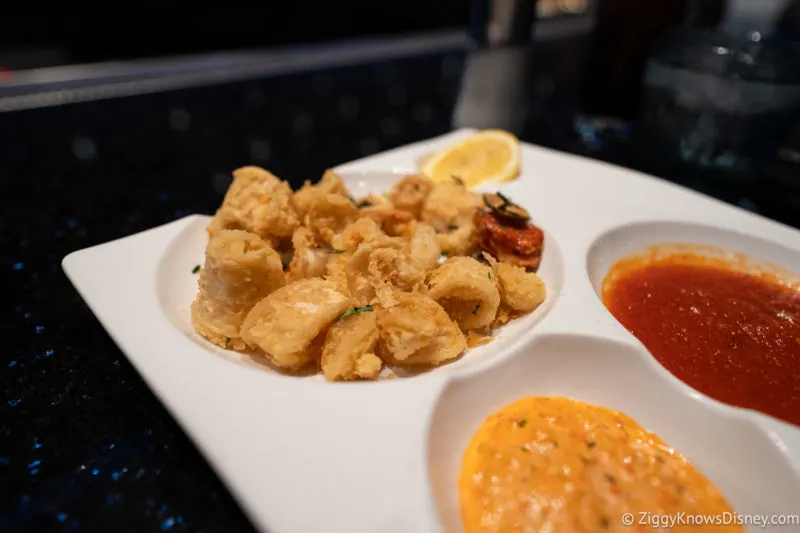 Chicken on Waffle – The Chicken on Waffle is probably our favorite of the "Flight Bites" that is exclusive to the lounge area. It literally features fried chicken, smoked bacon, spiced coleslaw, and a bourbon maple glaze on top of a tasty Roasted Corn Waffle.
It was perfectly breaded featuring the right amount of crunch and flavor! The chicken was wonderfully moist and not dry whatsoever. 10/10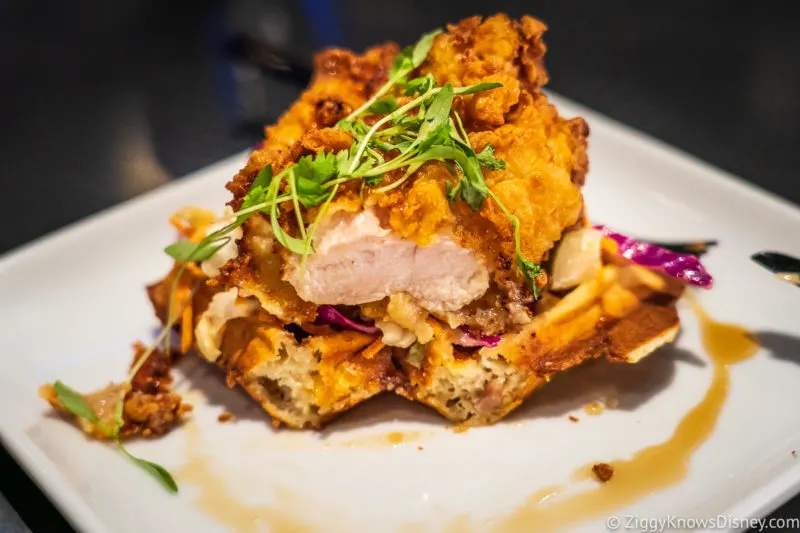 Shrimp Cocktail – The newest of the flight bites, the shrimp cocktail offers large jump shrimp paired with a homemade cocktail sauce. The shrimp are tasty, but the dish as a whole is underwhelming and a bit overpriced in our view.
Its theming certainly doesn't match up to some of the other unique offerings on the menu. 6/10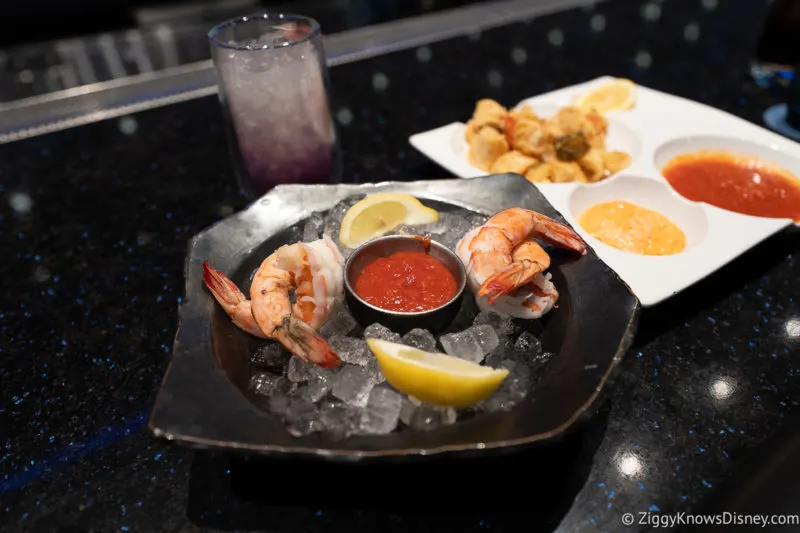 Short Rib Sliders – These tasty sliders come in pairs, featuring chunks of short rib, pickles, lettuce, and cheese! The combinations work well. What we love about these sliders is the delicious buttery bread that they are served on, it truly makes it!
And while the presentation isn't anything worth mentioning, these sliders are tasty and flavorful. We also love the shoestring fries that they are served with, giving them a nice complement. 8/10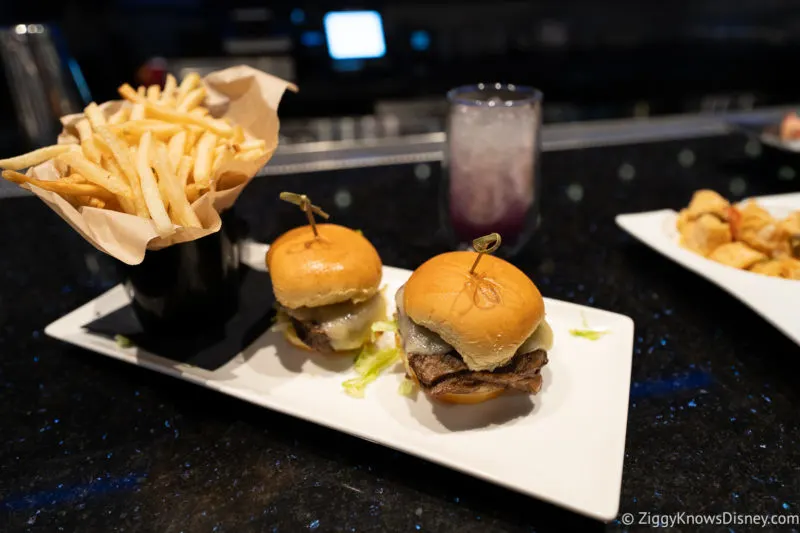 Blue Moon Cauliflower – Also featured on the main dining room menu, we are seriously in love with the Blue Moon Cauliflower. From the presentation to the overall taste of these bites, they are outstanding!
With the perfect blend of crunch and sweetness, this cauliflower will leave you wanting more! It's hard to imagine that this is cauliflower as you're eating it, and we haven't found one person that has tried this but also doesn't love it. And we aren't even the biggest fans of cauliflower, but we LOVE this!
To get the full experience, make sure you dunk your cauliflower bites into the housemade hot sauce and get plenty of that blue cheese dust. 10/10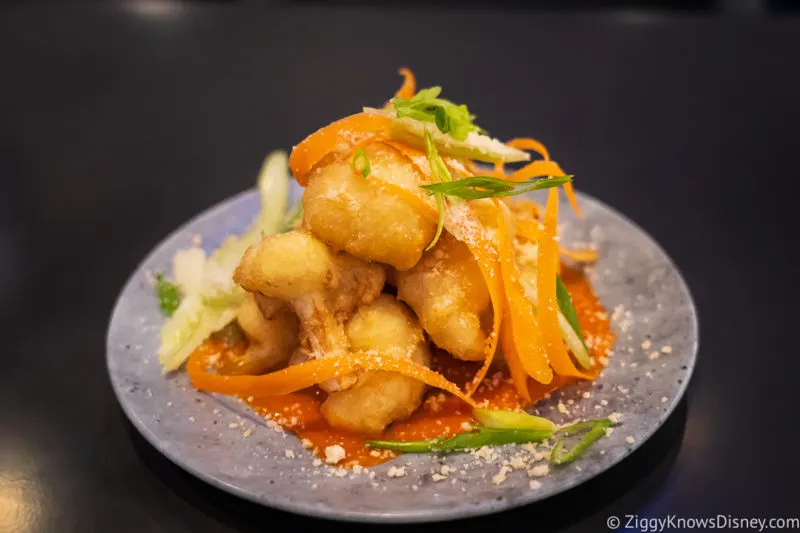 Space 220 Lounge vs Space 220 Restaurant
While the Space 220 Lounge and the Space 220 Restaurant are similar, they are certainly different in many key areas. In this section, we will touch on the differences between both sections of Space 220 and give our verdict on which we prefer when it comes to the different areas.
Atmosphere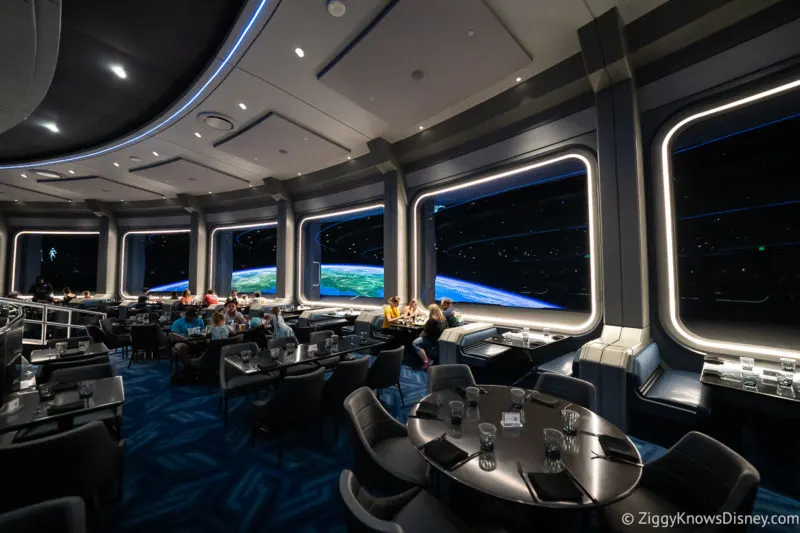 While Space 220 is an open-floor concept restaurant, the main difference between the lounge and the standard dining area is that the lounge is elevated ABOVE the main seating in the dining area. The atmosphere as a whole is identical other than that small piece.
Guests seated in both areas will be practically on the opposite side of the railing separated by a few steps from each other. We LOVE the atmosphere at both sections of the restaurant. If we had to choose, we prefer the atmosphere at the lounge due to its better vantage point for pictures and views.
While sitting in the lounge, you have clear sightlines of the "space windows" with likely no impaired shots or pictures of guests blocking your views. The only caveat to this is if you are sitting in the bar area of the lounge, which has the least desirable views.
We give a slight edge to the Space 220 Lounge in terms of atmosphere.
Reservations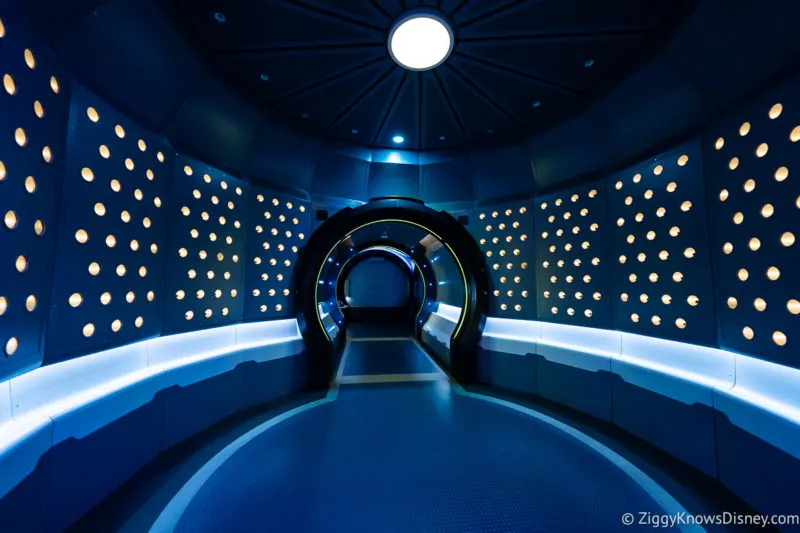 Due to the limited seating of the Space 220 Lounge, getting a reservation here is challenging! And while we love the ability to walk up and get a spot at the bar if you don't have any minors, this is a limited offering that is only available to guests without children.
We've had an easier time getting reservations for the main dining room area of Space 220 for either lunch or dinner and therefore would have to give the slight edge to the Space 220 Restaurant.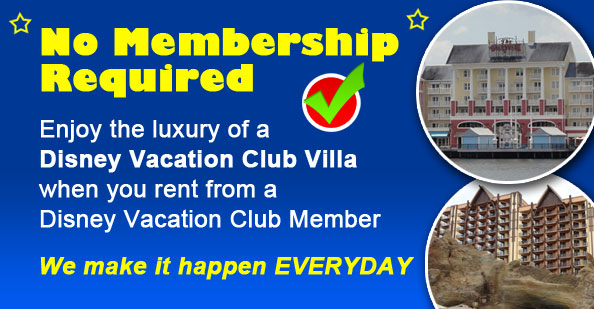 Service
We've found service at both the Space 220 Lounge and the Space 220 Dining Room for the most part to be really good! We've had less desirable experiences at both, and terrific experiences at both.
Most of that comes down to how busy the restaurant is, and how competent your server is, which can be hit or miss anywhere in Disney World. Even if you're sitting at the bar in the lounge, normally the service is still very good. We'd give it a wash for service when comparing the two places.
Food & Drinks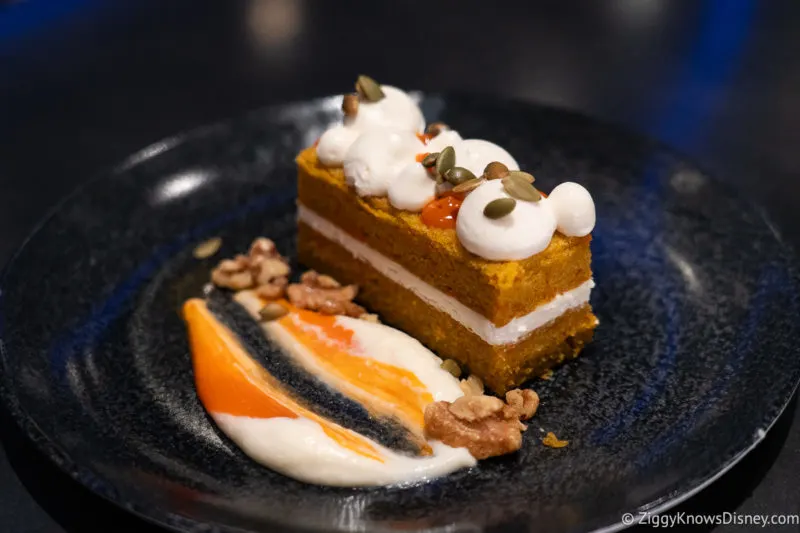 While the food offerings at both the lounge AND the restaurant are tasty and highly underrated, the lounge actually offers better flexibility and MORE options surprisingly. Here you can get unique appetizer "Flight Bites" that are only available for guests at the lounge, and it also offers all of the dining room menu options.
We love the Chicken on Waffles and the Short Rib Sliders that are exclusive to guests eating at the lounge, and you'd totally miss these terrific treats if you're sitting in the main restaurant! For these reasons the lounge comes out on top for us.
Cost
While the costs can be subjective and highly individualized based on the people in your party, as a whole, the prices at the lounge will grant you more flexibility and the "ability" to be cheaper.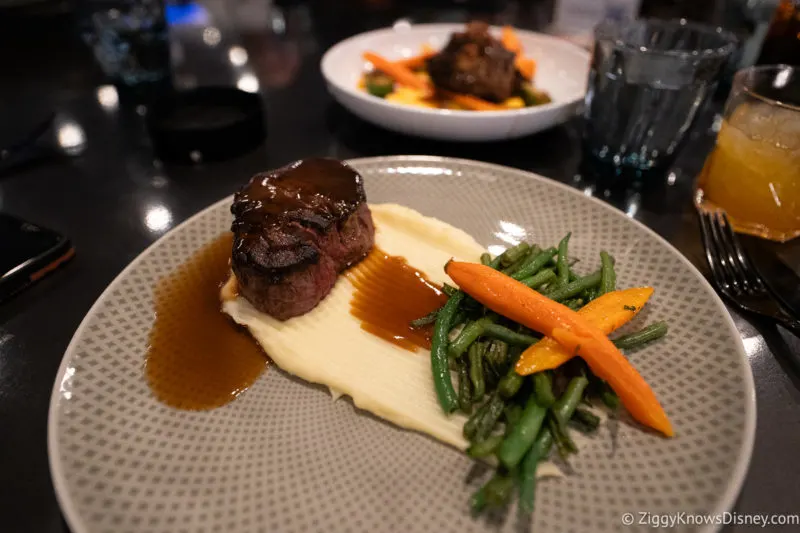 Here's a general guideline of what you could spend for a family of 4 at each. This is assuming that the children are aged between 3-9 (this is also NOT factoring in any drinks for either option).
For Lunch:
At the Restaurant – $168 plus tax and gratuity
At the Lounge (Assuming an appetizer for each family member) – $72 plus tax and gratuity
For Dinner:
At the Restaurant – $216 plus tax and gratuity
At the Lounge (Assuming an appetizer for each family member) – $72 plus tax and gratuity
As you can see from this simple example, the lounge is considerably cheaper IF you want it to be, and we are always interested in saving money at Disney World.
If you go to the lounge and order multiple appetizers and drinks, it can obviously be JUST as expensive if not more than the main dining room.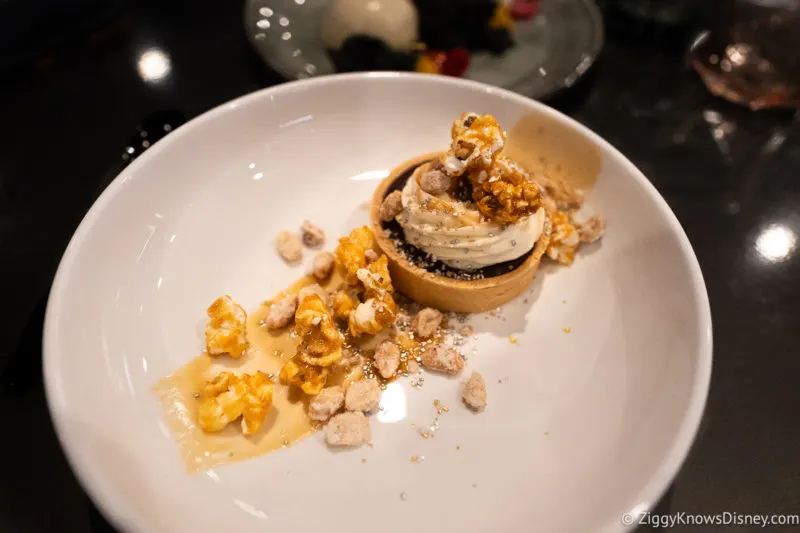 You'll also notice that lunch is CHEAPER for those eating in the main dining room, so if you want a cheaper option and can't get into the lounge, you can also try getting an ADR for the dining room for lunch.
Keep in mind, it's a 2-course meal for lunch instead of a 3-course meal for dinner, it doesn't include dessert. Lunch hours are between 11:00 am and 4:00 pm.
Overall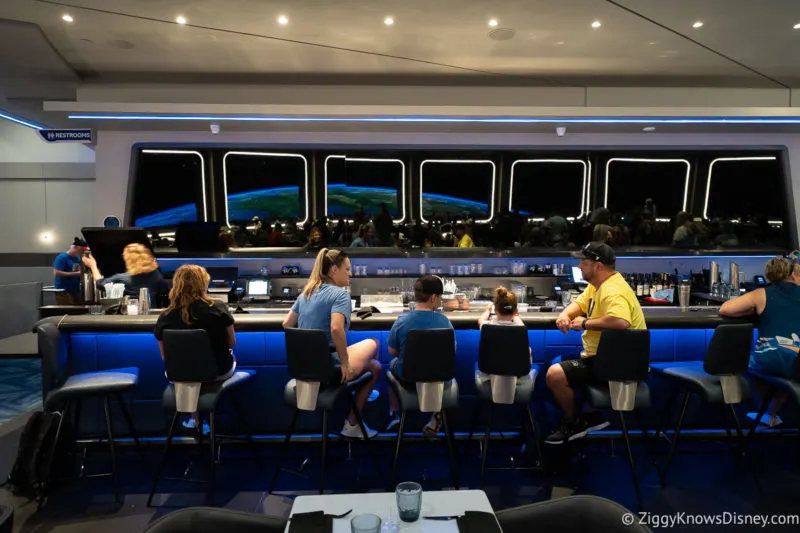 Factoring in all of the differences between the lounge and the main dining room, I have to say we prefer eating at the Space 220 Lounge. There are simply times that you want to enjoy the experience of eating there without stressing over the insanely expensive costs of sitting in the main dining room.
And in our view, if we are going to pay the amount of money for dinner, we'd rather go somewhere else in Walt Disney World where we can enjoy the food a little bit more, considering we've had the "experience" multiple times.
We don't mind splurging for Space 220 for dinner at times, especially for guests who have never been here before. However, for people like ourselves who HAVE experienced Space 220, we'd simply recommend sitting in the lounge.
It can be significantly cheaper, has the same ambiance and vibe, and you'll have MORE food options! What more do I need to say?! We love the lounge and it's truly one of the best hidden gems of Walt Disney World.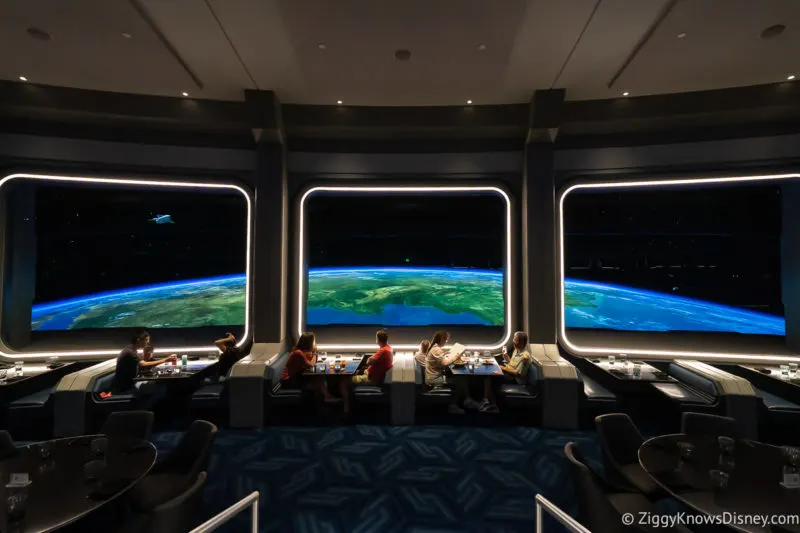 If you need help making advance dining reservations for Space 220 Lounge or any other restaurant in Walt Disney World, we recommend booking your trip with an Authorized Disney Vacation Planner such as Show You the World Travel.
They will help you with all your dining reservations, as well as park tickets and hotel rooms so you always get the best deal. Contact them for a Free Vacation Quote and tell them Ziggy sent you!
That wraps up our review of the Space 220 Lounge in EPCOT. We hope that we gave you some good tips you can use the next time you dine here!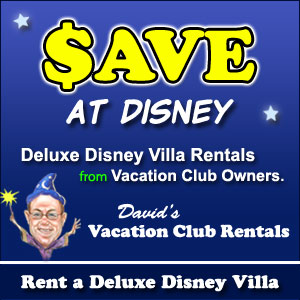 If you are thinking about going to Walt Disney World in the near future, here are some other popular articles where you will find all the info and tips you need to plan your trip.
Best Way to Save Big $$$ on Disney Resorts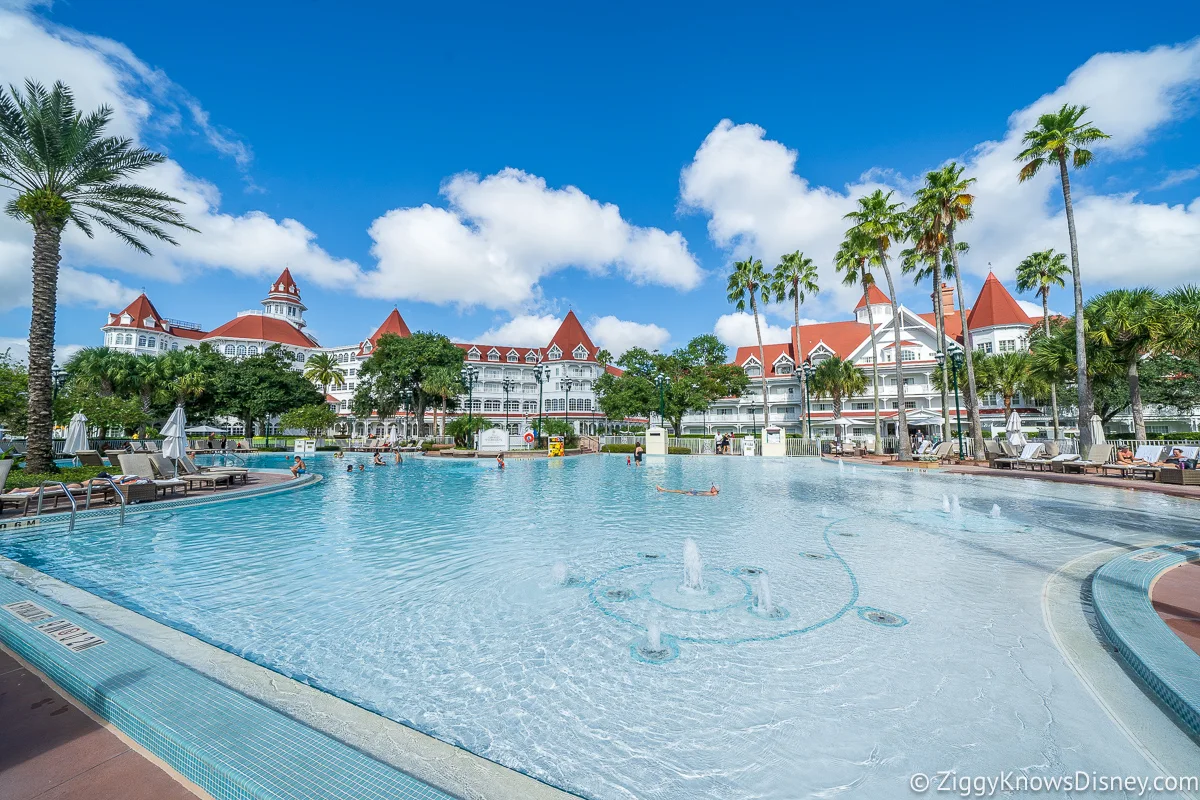 If you want to potentially save thousands of dollars on your next trip to Disney World, I personally recommend David's DVC Rentals. They consistently have the best prices and biggest selection of Disney Villas that will make you ask yourself: "How do they do it?"
Your Thoughts
I want to know what you think about our article on the Space 220 Lounge…
What has been your experience at the Space 220 Lounge?
Which do you like better, Space 220 Lounge or Restaurant?
Let us know in the comments section below!
If you enjoyed this article, as always I appreciate it if you'd share it with others via social media. I work hard at making this website into a useful resource for you and your family to plan your visit to the Disney Parks and I hope it can help you! Thanks 🙂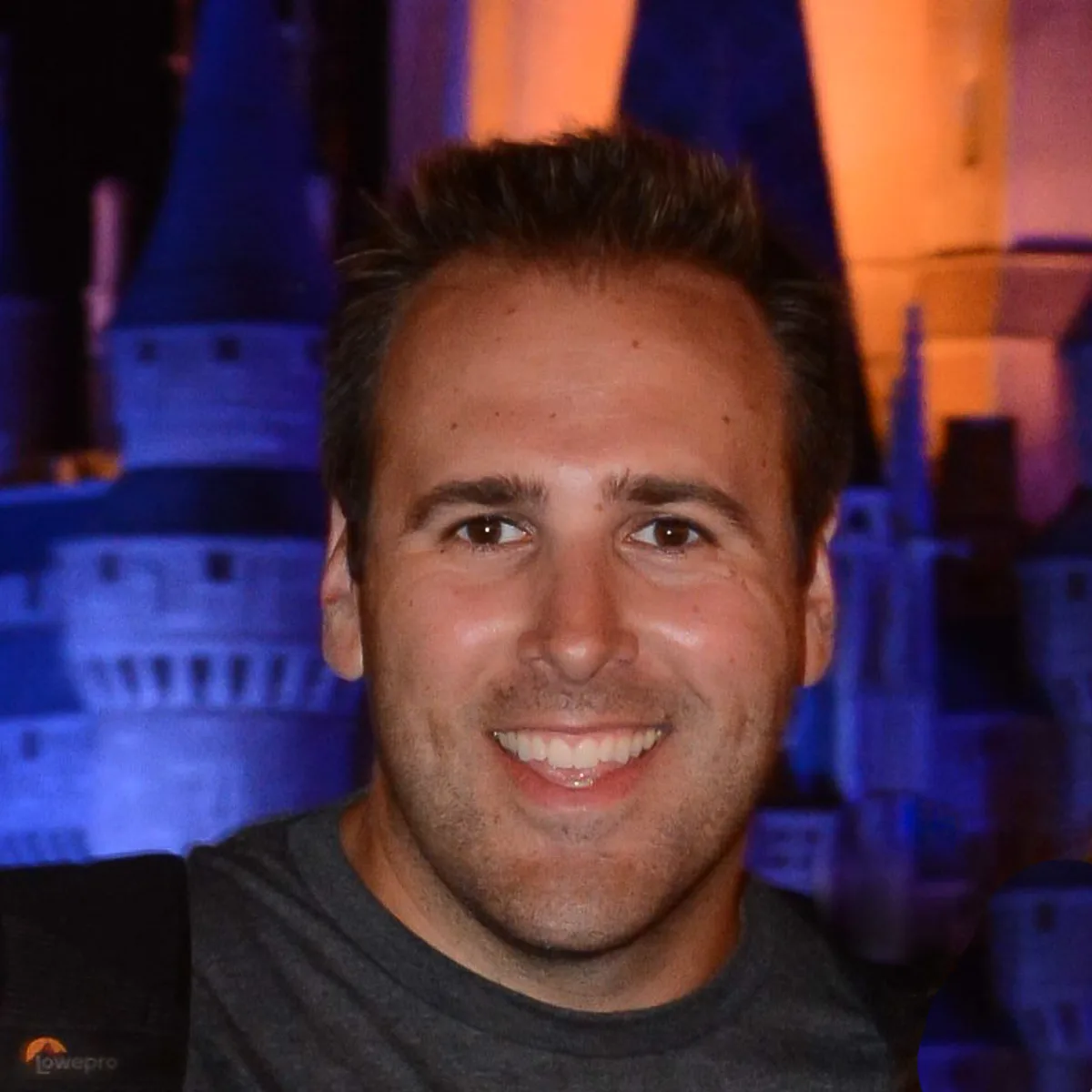 My name is Ziggy and I love Disney, everything Disney! I grew up on Disney and it has and continues to be a huge part of my life. I started young when my parents took me to Disney World when I was 18 months old. Little did they know that would be the first of an uncountable number of trips we would take. I have so many amazing memories going to Disney with my family and friends and it has been interwoven into my DNA.