Walt Disney World is one of the most amazing places to visit, but with all the walking that is required, it can be a nightmare for guests with mobility issues. If that is your case, the best way to make your trip successful or even possible could be to rent a scooter.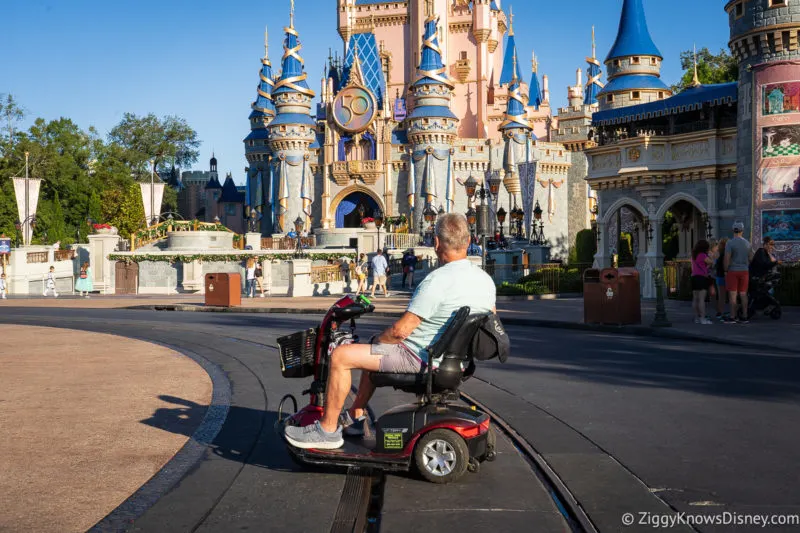 In this post, we are going to explain everything you need to know about renting a scooter at Walt Disney World and how to use it once you are there. It may seem pretty straightforward, but actually, there are a ton of options available and things to be aware of before renting.
We'll compare all the pros and cons of renting a scooter (ECV) including how much they cost, tips to save money, and if it's better to rent them directly from Disney or a third-party company. Most of the companies have similar options, but there are some key differences to be aware of.
You also need to know about the various delivery and pickup options, charging your scooter, where to park it, and what to do with it when riding attractions or Disney transportation. Plus, not all scooters are allowed in Disney World, so we'll cover all the specifications they need to meet to bring one.
My dad, as well as other members of our group, have used an ECV when visiting Walt Disney World, and it really has been a lifesaver. And even if you don't have a serious medical condition, you may just decide that it just makes things easier by cutting down on the crazy distance you need to walk when visiting.
Before we get started, don't forget to sign up for our FREE Weekly E-Mail Newsletter. There we bring you the latest Disney vacation planning tips including how to save money, where to stay, and the best things to do. You can sign up here: Join our E-Mail Newsletter!
What is an ECV (Scooter)?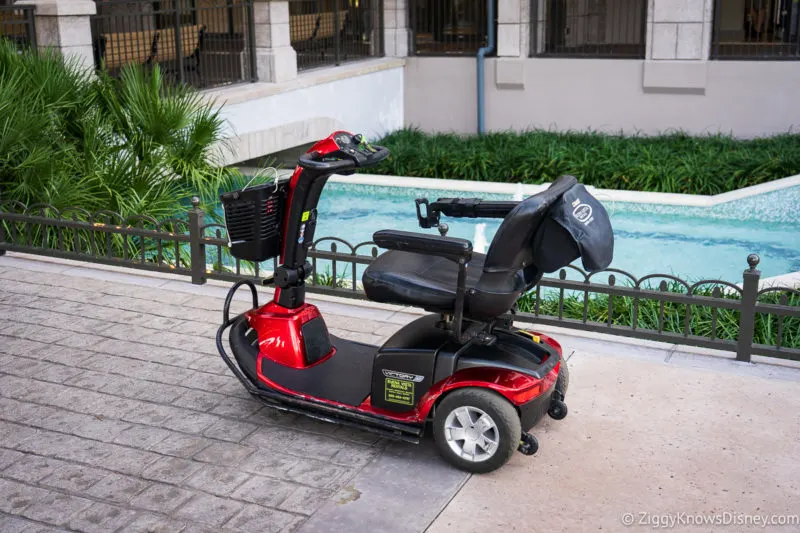 An Electric Conveyance Vehicle (ECV) is more aptly and popularly referred to as a scooter or an electric scooter. These scooters are common throughout Walt Disney World and it's almost impossible to go a few minutes without seeing one.
However, many wonder 'how' and 'why' someone would get a scooter.
Most of you know, walking in Disney World can be long and taxing on the body, especially if you have limitations. Scooters are incredibly popular for families, allowing those in the group with disabilities or health issues to be able to enjoy their experience in the parks fully.
If you and your family have never used one of these scooters before, we will cover all of the different facets of renting or bringing your own to Disney and how to use it when you are there.
How Do Scooters Work at Disney?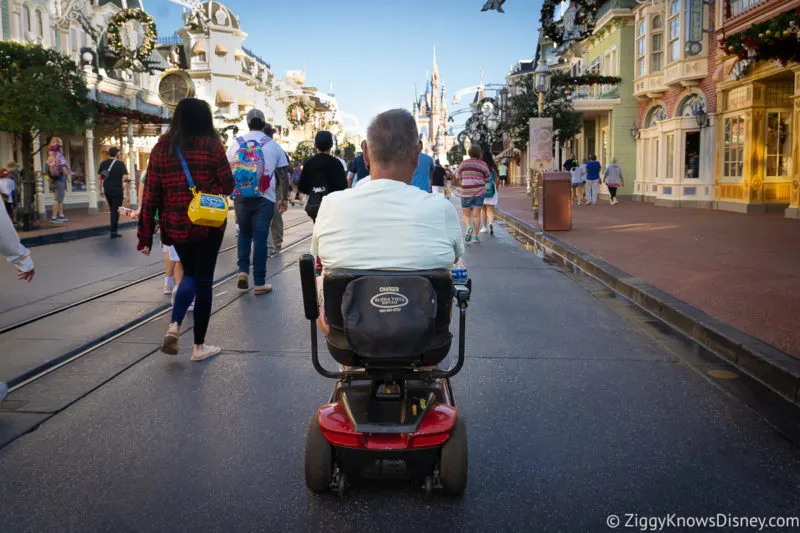 Disney World makes it as simple and easy as possible for guests requiring scooters in the parks. With wheelchair-accessible buses, bathrooms, ride queues, etc, guests that require a scooter can still have a wonderful experience in the parks.
And while yes, it can be a bit crowded on the walkways at times, those using a scooter will be able to essentially do everything any other guest without a scooter can. Some attractions will enable you to bring your scooter directly onto the attraction and some will require that you leave your scooter parked either outside the queue or just outside the actual ride vehicle.
Don't worry, cast members will assist you and help you out all over the parks, explaining where to put your scooter in case you need to park it.
Many of our family members have had wonderful experiences renting scooters, enabling them to enjoy a Disney World trip they never thought they'd be able to with their limitations.
How Much Does it Cost to Rent a Scooter at Disney?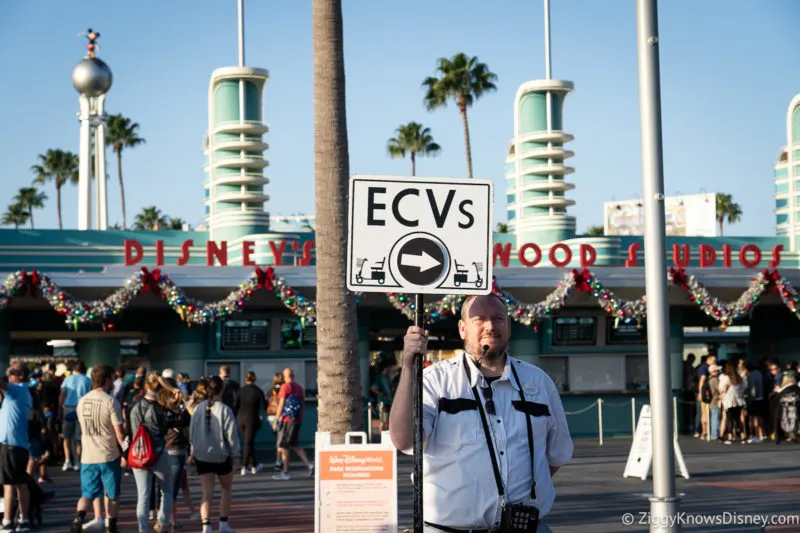 Many visiting Disney World don't realize that scooters can be rented both AT Walt Disney World and off-site. While one may seem simpler, the other can save you hundreds of dollars over the course of your vacation.
Saving money at Disney World is always our top priority, so we will consider the costs of both in this section.
Directly From Disney
To rent a scooter at the Disney World theme parks, it'll cost you $65 a day plus a $20 refundable deposit.
If you want to rent a scooter at the water parks or Disney Springs, the refundable deposit rises up to $100, even though the overall $65 per day cost still holds true.
Unfortunately, Disney offers NO discounts on scooter rentals both for longer rentals and for daily discounts, so don't expect to save any money here.
It is important to note that Disney has recently upgraded their entire fleet of scooters and they are all practically brand-new.
Outside Companies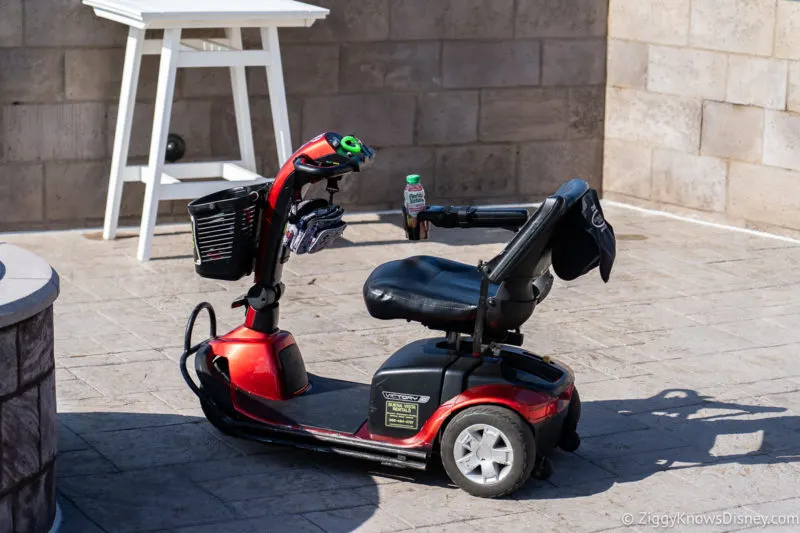 When looking at off-site outside scooter rental companies, you'll notice there are a number of different options at various different price points. In general, outside companies are going to save you more and more money when spread out over several days, a week, or even more.
You will also notice that there are many different options on scooters, based on sizing and personal preferences, unlike Disney. So what can you expect to spend when renting from an outside company?
Generally speaking, outside companies will charge you between $30 and $40 per day for an electric vehicle. The cost will drop even further with longer-stay rentals.
It's important to keep in mind though that not ALL outside companies will do one-day rentals. They will often require multi-day rentals. So if you only need it for 1 day, this may not be an option for you.
It's also important to see if there are additional fees for delivery and pickup. Some will drop off the scooter directly to your hotel, others will not.
One-Day Cost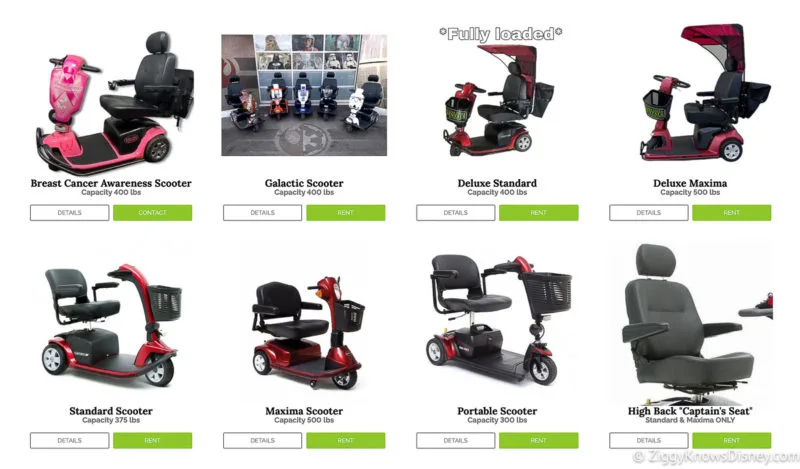 As you can see the one-day cost is cheaper when renting from outside Disney. On average we are talking $35-$40 per day versus the fixed Disney rate of $65 per day.
Length of Stay
While the cost for one-day rentals is a tab bit cheaper, when it's spread out over a week, you can save a considerable amount of money renting from an outside company.
Let's say you are visiting for a week. Renting a Disney scooter each day will cost you:
7 x 65 = $455 for the week
If you are renting with an outside company for a week, the cost will likely go down to about $30 per day. In this case, an outside company will cost you:
7 x 30 = $210 for the week
As you can see from this example, it would save you $245 over the course of the week. Obviously, if you have multiple people in your family that need rentals or if you are visiting for longer than 7 days, the cost difference can be substantial.
Does Disney Offer Electric Scooters to Rent?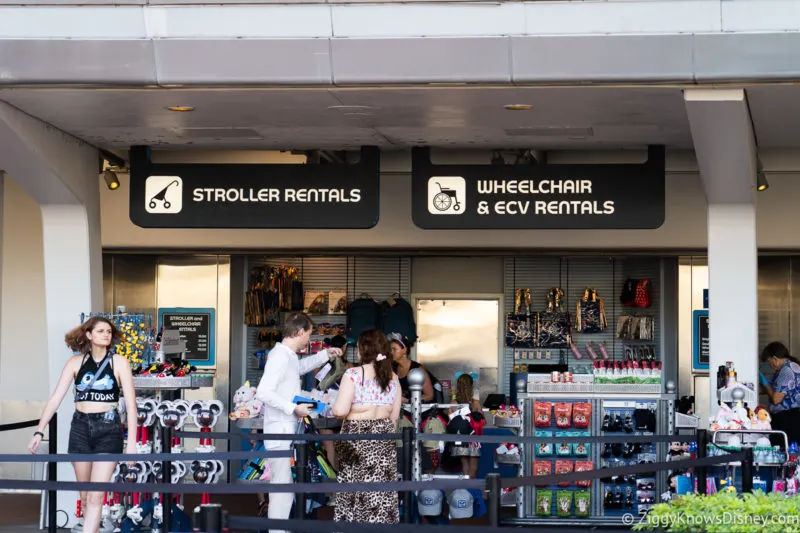 Both scooter and wheelchair rental services are located all over the Walt Disney World property. However, on busier days, it's possible that they will run out of scooters and/or wheelchairs for the day. They rent them on a first come and first serve basis, so if you need a rental it's best to arrive and get one quickly.
You CANNOT leave the parks with your scooter or wheelchair and you must return it at the exact same location you rented. The good news is you do NOT need to pay to rent a scooter at your next location which is helpful if you are park hopping.
Say, for instance, you are going to another theme park or Disney Springs in the evening. The first location you rent your scooter at will give you a voucher upon return of it, which will enable you to rent your scooter at the next location free of charge.
Then once you arrive at the second park or Disney Springs, assuming there is availability, you simply turn in our voucher and they'll give you the scooter. If you are going back to the same park later in the day, they can even hold your scooter for you, ensuring you get one again.
Ready to Start Planning Your Disney Vacation?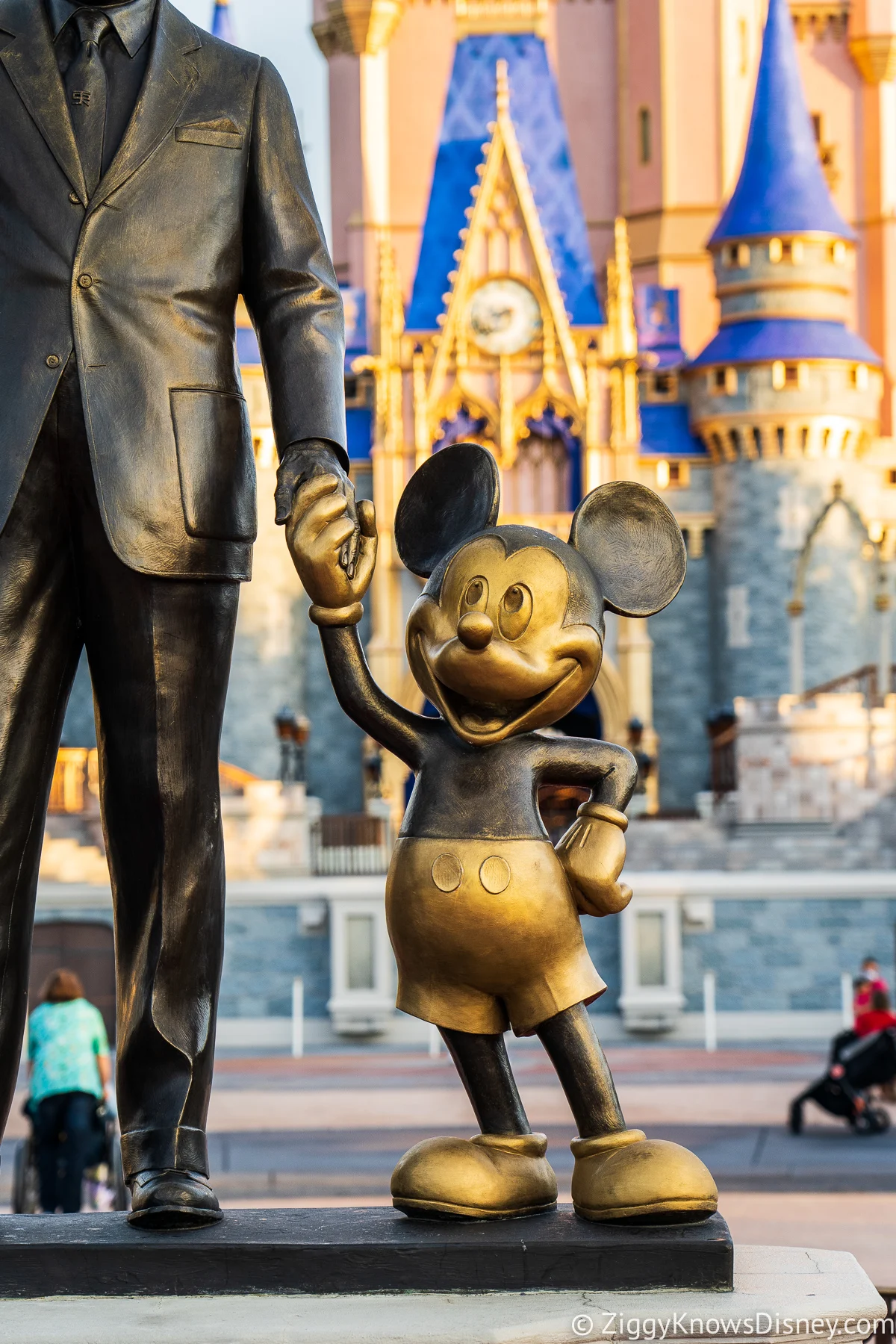 Best Third-Party Scooter Rentals at Walt Disney World
With there being a steady flow of scooter rental companies throughout the Orlando area, it can be overwhelming to decide which company to use. We've also noticed that there is a big difference between companies and some are better than others.
Based on our findings and our experiences, here are our top-5 scooter rental companies in Walt Disney World.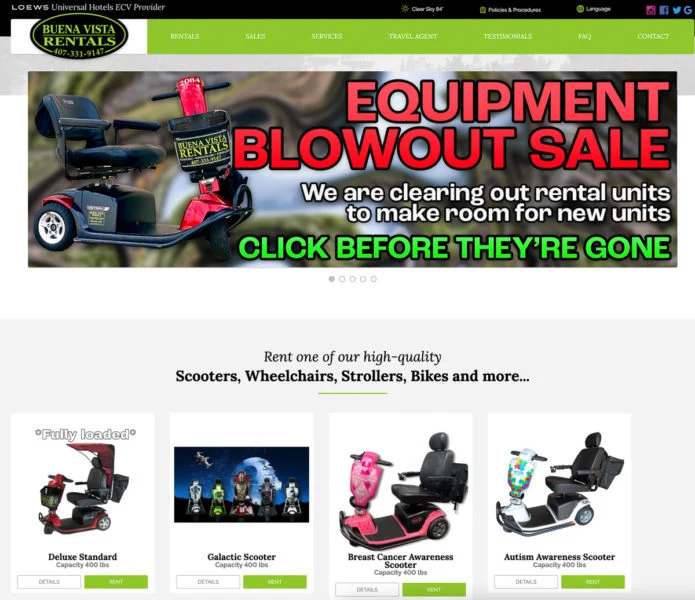 The one we've used the most and have had great experiences with is Buena Vista Scooters! And while they are no longer officially a Disney World provider anymore, we find that they are still the best balance of price, customer service, and ease.
The company that runs Buena Vista Scooters has extensive experience dealing with Disney, and they operate other services on Walt Disney World's property, giving them extensive accessibility when dealing with Disney World Resort guests.
While you will need to schedule a meet and greet when they come to your resort, we've never heard of anyone having an issue with this. It just requires you to be ready at your resort when they arrive and pick up your scooter.
They have 4 different ECV types, ranging in terms of weight capacity, storage space, and speed. And while there is a 2-day minimum rental, their prices are amongst the best in all of Orlando! You can find rates as low as $35 per day with only a 2-day reservation!
We wholeheartedly recommend Buena Vista Scooters and they are our top choice to guests.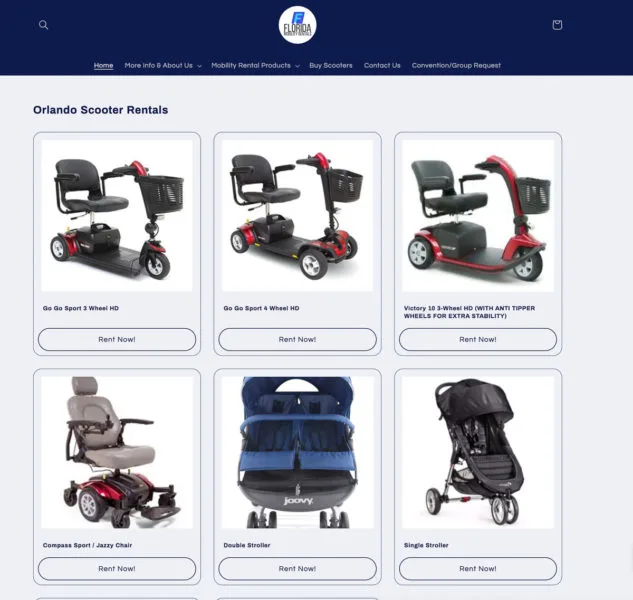 With good ratings on Google and possibly the best prices we've ever seen, our 2nd option for scooters in Walt Disney World is Florida Mobility Rentals. With 4 different scooter types, the cheapest being their Go Go Sport 3-Wheel Scooter.
They offer both 1-day rentals and rentals up to 28 days! With Florida Mobility Rentals, the more days you choose the rent the better. If you rent for 7 days or more, the rate goes down to under $18 per day!
While Florida Mobility Rentals isn't a great option for 1-2 day rentals, it's fantastic and unbeatable as far as savings on stays of 4 days or longer.
They also will drop you off and pick you up directly at your resort. You will need to schedule a meet and greet though for delivery at any of the Disney World Resorts.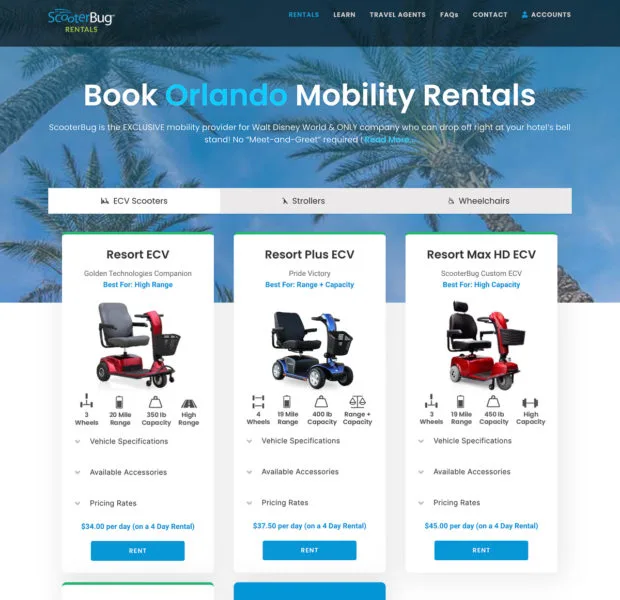 The only featured provider for Disney Resort Guests, ScooterBug will pick up and deliver right to your Disney World Resort in addition to 200 other resorts in the Orlando area.
Disney changed their featured provider program in 2019, and ScooterBug is the only company now that is considered its featured provider. A huge advantage to using them is unlike others on this list, when renting with ScooterBug you do NOT need to be present at your Disney World Resort when they drop off or pick up your scooter.
They offer three different scooter options, including a small one that will fold up and fit into trunks of cars. The cheapest option is the Resort ECV which starts at $61 for a single day. Rates drop down to $34 per day on rentals of 4 days or more.
As you can see, their rates are more expensive than the other options.
And while we like the fact that they are a featured provider by Disney with additional ease, their rates are considerably more than the other above options, so not a great choice if trying to do Disney on a budget.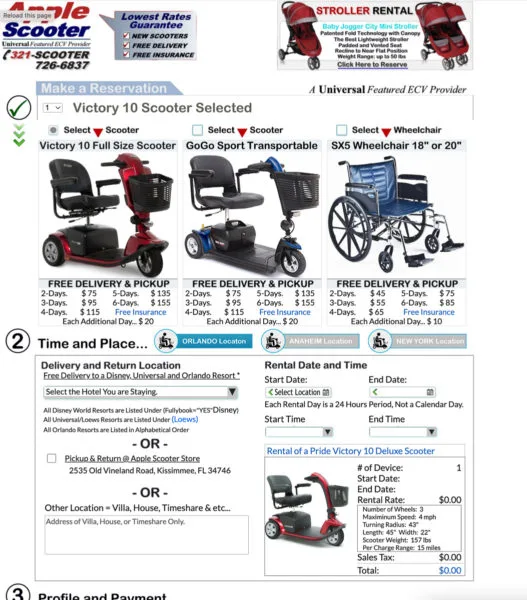 While Apple Scooter has more limited options than some of its competitors, they have a terrific reputation and they are conveniently located just outside of Walt Disney World.
With two different scooter options, Apple Scooter allows you to rent a scooter with a reservation of at least two days.
They offer free delivery and pickup to resorts in Disney and around the Disney area and their prices are very reasonable at only $85 for a 2-day rental. They drop even further with additional days.
You will need to schedule a meet and greet though for delivery if you are staying at a Disney World Resort.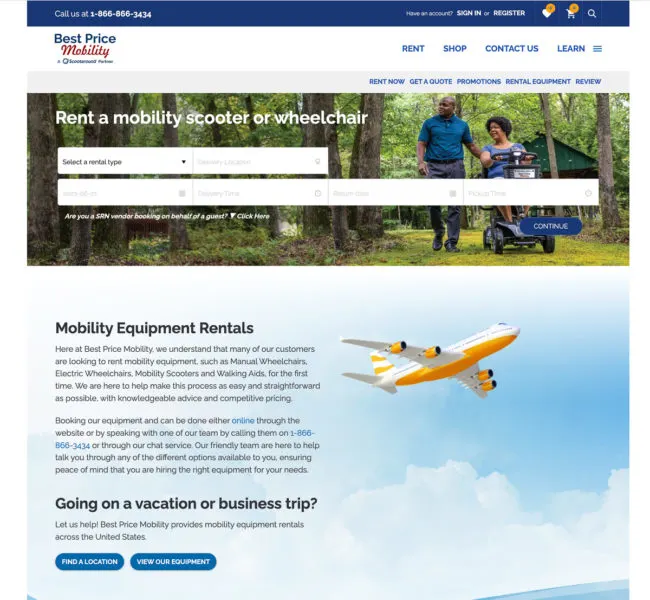 And last is Best Price Scooters and Strollers. They offer three different scooter types, and unlike some of the other rental companies, they also offer one-day rentals. They also do deliveries and pickups directly to your Disney Resort or nearby hotel.
Their prices are competitive, ranging between $30 and $40 per day depending on how long your rental is for. You will need to schedule a meet and greet though for delivery at a Disney World Resort.
Is it Better to Rent Directly from Disney or a Third Party Rental Company?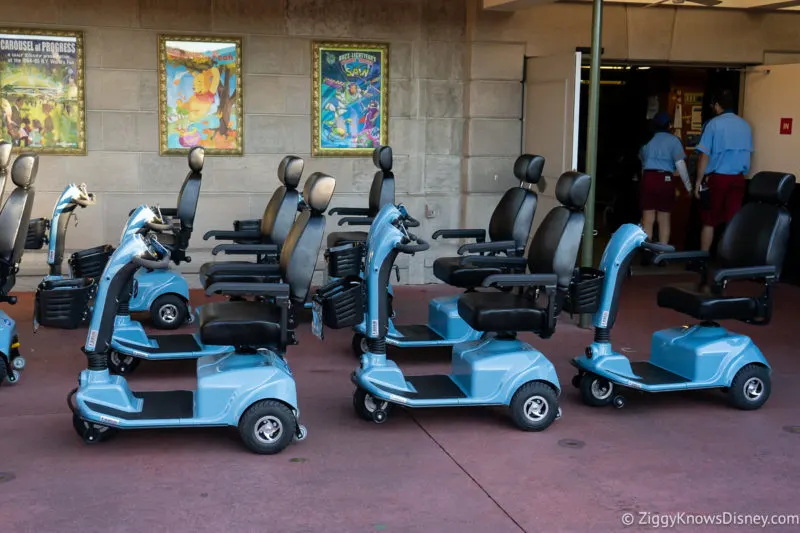 Deciding whether it's best to rent directly from Disney or a Third Party Company can be a challenging decision when factoring in all the deciding factors, and there is not a clear-cut winner.
Here are the pros and cons of choosing directly from Disney and a third-party company:
Directly From Disney
PROS:
Brand-new and improved scooters that are in great condition
The best for 1-day rentals
Transferrable amongst locations, allowing you to get a new scooter at a separate location later in the day. This allows you to avoid the hassle of getting on Disney buses or the travel aspect of the scooter
Don't have to worry about theft since they are Disney's property
Don't have to handle charging it each day or parking it inside your hotel room or outside
Easy customer service options are available throughout Disney's Parks and Disney Springs
CONS:
Only available on a first come first serve basis and sell out frequently
Expensive if requiring one for multiple days
Have to wait until you arrive at the parks for usage and will have to drop off when leaving and then have to do it again if you're visiting another Disney Park or Disney Springs
Third-Party Company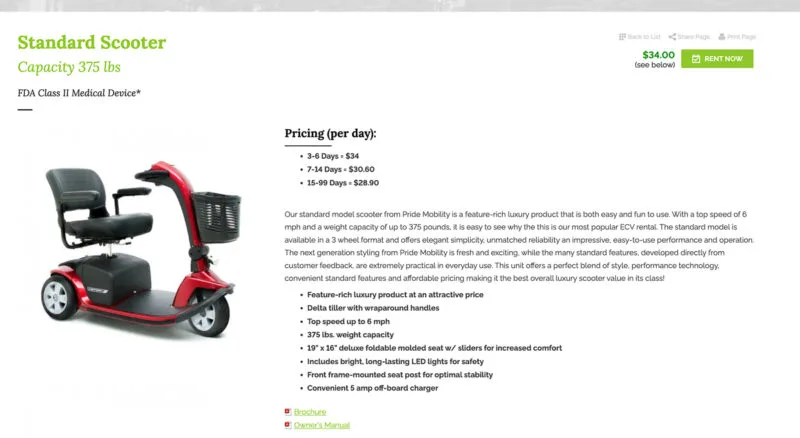 PROS:
Significantly cheaper on multi-day stays
Can utilize the scooter at all times of the day, including at your resort
Don't have to worry about scooters not being available
More scooter options available with larger sizes and more storage capacities
CONS:
Have to make sure the scooter meets eligible size thresholds and isn't too big for Disney Transportation
Can be more expensive on 1 and 2-day rentals
Requires you to likely meet the scooter company at your resort (other than ScooterBug)
Have to board Disney buses or other forms of transportation with your scooter
Have to charge it each day
Have to be more careful about theft, including at the parks and your resort
Not always in the best of condition and can sometimes be slow or clunky
Limited customer service availability
As you can see, they both have pros and cons, but as a general rule of thumb, for shorter stays, you're likely better off just renting directly through Disney. For longer than 2 days, you'll likely benefit from the price savings of renting outside of Disney.
What Kind of Scooters Are Allowed in Walt Disney World?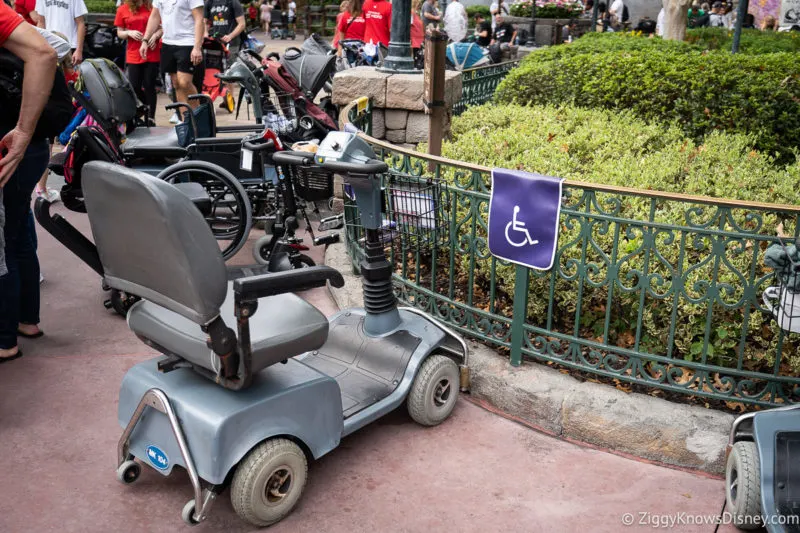 For those wondering about the limitations of scooters within Disney World, in this section, we will focus on what kinds of scooters are and are not allowed. Not every scooter meets eligible metrics so it's imperative that you know IF your rental will be allowed.
Size Specifications
Disney has restrictions on scooter sizes that are allowed in Walt Disney World. The largest scooter size that is currently allowed on Disney World's property is 32 inches by 52 inches. There are not any specific brand limitations or style limitations, just size.
You likely won't find many scooters that are larger than this, as most of the local third-party companies try to cater to the needs of Disney World's guests. But it's always best to check, as some oversized scooters can be larger and you don't want to go through the hassle or renting an ECV and not having it work.
Scooter Rental Age Limits
For both guests renting scooters at Disney World and through a third-party company, you must be 18 years old or older. You will also need to provide a photo ID as verification.
Weight Limits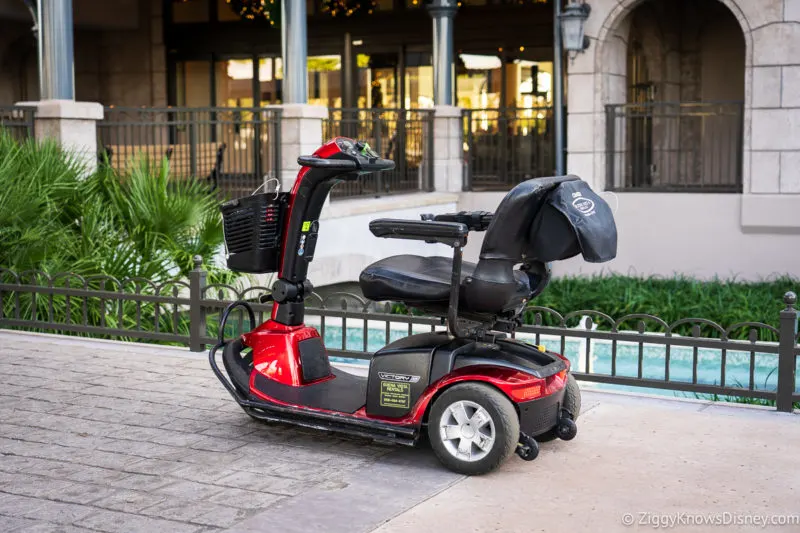 While Disney's scooters will hold a maximum of 450 pounds and are NOT designed to carry more than one passenger, some of the third-party companies have larger capacities.
The important thing is that they fit within that 32 inches by the 52-inch threshold to enter the parks. To ride on Disney's transportation system, they will need to be a tad smaller at 30 inches by 48 inches.
How Fast Do Disney Scooters Go?
Most Disney Scooters, including Disney World Scooters, have a max speed of 4.5 mph. If that's not enough for you, some third-party companies offer scooters that go to a max speed of 6 mph.
Sure it's not like riding on Test Track, but 6mph is cooking when riding around Disney World. When my dad uses one and he is going full speed, none of us can keep up. Honestly, this can be useful if you need someone to go ahead of the group for some reason.
Do Disney Scooters Have Baskets?
The Disney Scooters or ECVs do have a small storage basket in front of them that can accommodate smaller bags or backpacks. They aren't as spacious as some of the third-party scooters, but there is a little bit of room where you can store a few things.
Delivery & Pickup Options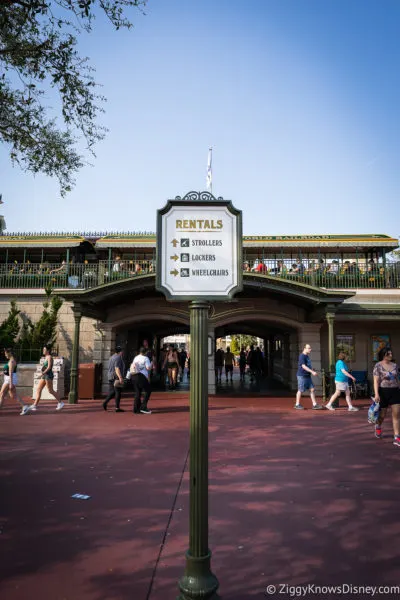 When considering whether to rent off-site at a third-party company, it's important to keep in mind the delivery and pickup options. While most of the companies will do delivery and pickup at your resort, some of them are free and some will actually charge you a fee.
If looking to save money, some will also give additional discounts if you pick up the scooter yourself at their location, as opposed to getting it dropped off and picked up. Let's take a look at your options in this section.
Hotel Deliveries
Third-party companies are able to drop off scooters at your resort under the pretense that YOU will be present at both the time of delivery and at the time of pick up. Only ScooterBug, which is the only current preferred ECV company of Disney World, allows customers to not be present at the time.
Every other company will require you to make a meet and greet time in which you meet them at the front of the resort to pick up your scooter and if you're not physically present they will not be able to pick up or deliver the scooter, unfortunately.
While we've never had a problem with this, it's imperative that you stay near your resort at the scheduled time you booked so you don't miss the pick-up/drop-off. Otherwise, it's likely you'll be hooked with additional fees requiring the company to have to come back another time.
Disney In-Park ECV Locations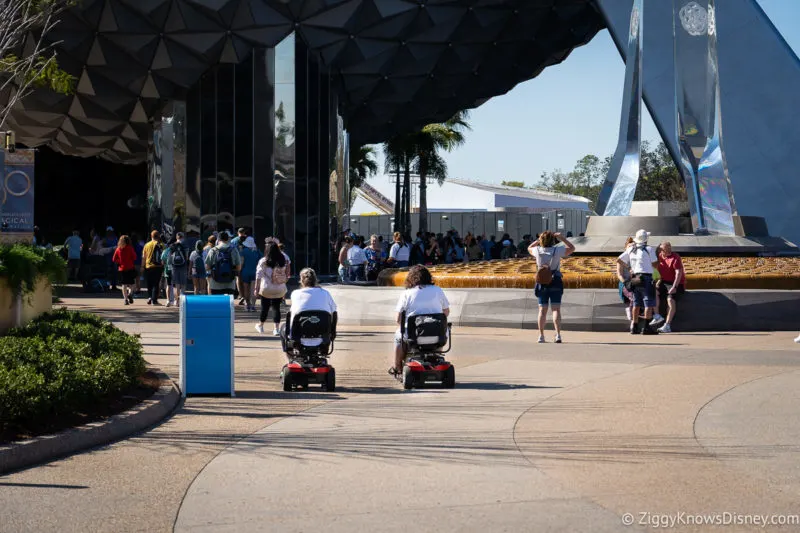 Disney World scooter rentals are available at the following locations:
Magic Kingdom Park: To the right at the entrance to the wheelchair shop
Epcot: At Epcot Main Entrance and International Gateway
Disney's Hollywood Studios: Oscar's Super Service
Disney's Animal Kingdom Theme Park: Garden Gate Gifts
Disney's Blizzard Beach Water Park: Beach Haus
Disney's Typhoon Lagoon Water Park: Singapore Sal's
Disney Springs: Sundries
When exploring ECV rentals at Disney World, you can see the locations ahead of time on the Disney World Guest Services page.
For guests looking to rent a scooter (ECV) in the parks, remember that quantities of scooters are limited. We'd recommend getting there early if you want to rent one.
What if I Have Trouble Walking from the Bus to the Rental Area?
For guests that have difficulty walking from the bus all the way up to the rental area inside the parks, you'll likely see complimentary transport wheelchairs outside of the bus stops. You will also see them in parking areas as well.
If you have difficulty finding one, ask a nearby Disney Cast Member, they'll help you locate one quickly. Remember these wheelchairs are NOT designed to go inside the parks, only until you get to the front of the park.
Get to the Parks Early If Renting Direct from Disney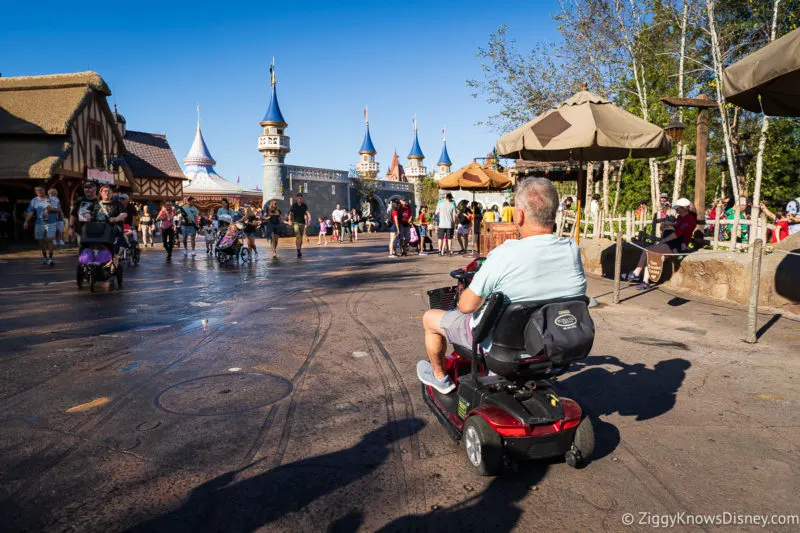 Seeing that the ECVs and wheelchairs go incredibly quickly on busier days inside the parks, it's best to arrive EARLY if you're relying on renting directly from Disney for the day. The queues to get scooters can get long, and you'll likely see guests going there immediately upon arrival at the parks.
To be sure to get one, arrive early and immediately head there first! You'll be surprised how quickly they can sell out for the day, this has happened to many of our party members multiple times.
Electric Scooter Returns
When finished with your electric scooter, how do you return it? Here is what you do both when you're inside a park with a Disney Scooter and when you're at the resort with a third-party company scooter.
In-Park
When renting a scooter direct from Disney you will need to return it from where you rented prior to your departure from the parks. You'll only need to pay per day no matter how many places you visit in the course of the day.
If you visit two parks or Disney Springs, just show your rental receipt to secure another scooter at your next stop, if there is any availability left. Once you're done with your scooter for the day, you will receive your hold deposit back upon dropping it off.
Resort
If you're renting through a third-party company, you'll need to schedule a meeting in the front drop-off area of your resort.
The only exception is If you've rented with ScooterBug since they will work with Disney Resort Cast Members to manage delivery and returns, and you will not need to be present at the resort.
Riding Attractions with a Scooter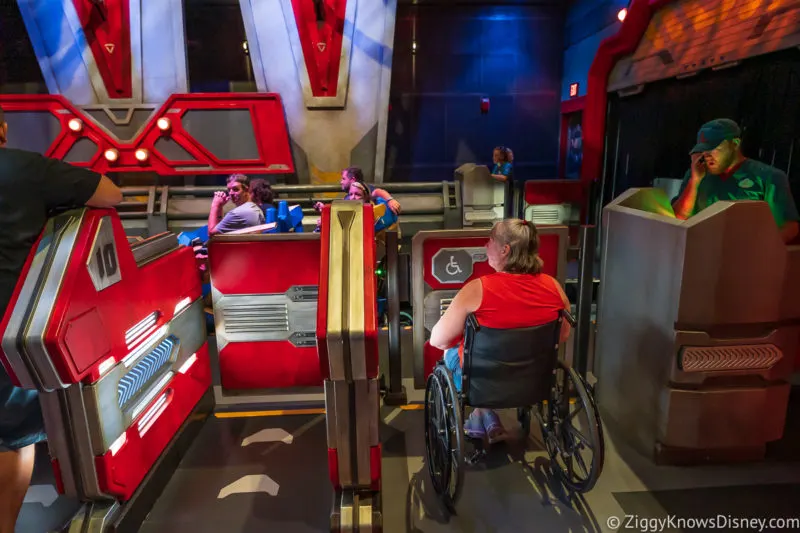 With most rides and attractions being friendly to guests with a scooter, it's important to know that each attraction can be significantly different as far as its rules. Most will allow you to stay in your ECV until you actually get on the ride vehicle.
Other attractions will require those who cannot walk to use a Disney World wheelchair until they get to the front of the attraction. And others might even have a shorter wait for you to stand in, so you don't need to stand in line for too long.
It's impossible to go over every single scenario for every attraction, but the best piece of advice we can give you is to download the My Disney Experience app to see all the rides that are accessible for scooters.
You also of course have the option to speak to Cast Members outside of the ride to ask them any questions that you have. You might want to ask how much walking is required if the attractions are NOT scooter-friendly. That could be a make or break for you as to whether you can ride it or not.
Do Scooters Skip the Attraction Lines?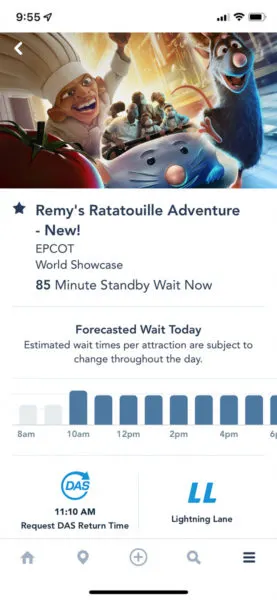 Unfortunately, scooters don't allow you to skip the attraction lines. If you have a disability that prevents you from waiting in line, you can look into DAS (Disability Access Service).
This service is a program that is offered for free to guests that have difficulty tolerating extended waits in a conventional queue environment. It allows guests to NOT have to wait in line, and guests get sent through the Lightning Lane.
But with scooters allowing you to stay seated, and with most queues allowing you to bring your scooter, it's likely that having a scooter will limit your chances of qualifying for DAS.
Which Attractions Are ECV-Friendly?
There are (4) different types of attractions that are ECV-Friendly:
May remain in your scooter the ENTIRE time including during the queue
Must transfer from your scooter to the actual ride vehicle
Must transfer from your scooter to a specific wheelchair
Must transfer from scooter to wheelchair and from the wheelchair to the actual ride vehicle
For each of the Disney World parks below, we will show the rides that fit into each of these (4) categories.
MK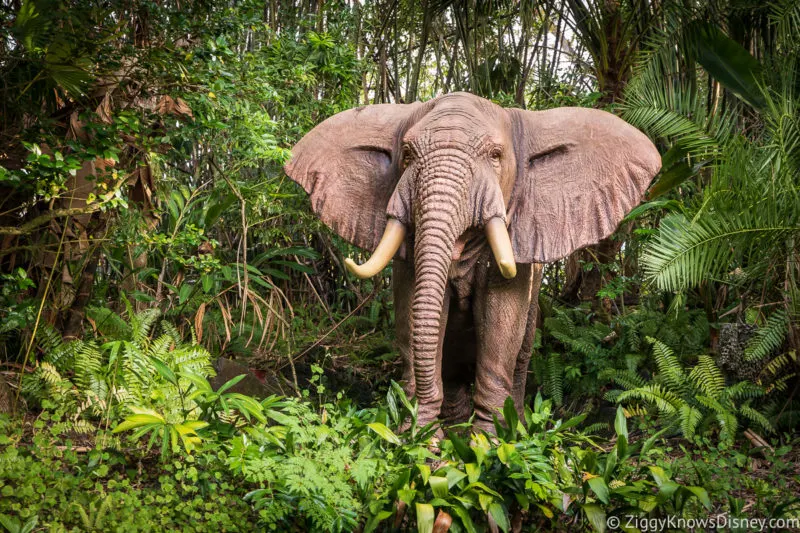 Category 1: Jungle Cruise, Liberty Square Riverboat, Carousel of Progress

Category 2: Astro Orbiter, The Barnstormer, Big Thunder Mountain Railroad, Dumbo the Flying Elephant, Haunted Mansion, Mad Tea Party, Seven Dwarfs Mine Train, Tomorrowland Speedway

Category 3: Buzz Lightyear's Space Ranger Spin, "It's a small world", The Magic Carpets of Aladdin, The Many Adventures of Winnie the Pooh, Prince Charming Regal Carrousel, Under the Sea – Journey of The Little Mermaid, Walt Disney World Railroad

Category 4: Pirates of the Caribbean, Space Mountain, Tron Lightcycle Run
EPCOT
Category 1: Journey Into Imagination with Figment

Category 2: Frozen Ever After, Guardians of the Galaxy: Cosmic Rewind, Mission Space, Soarin', Test Track

Category 3: Gran Fiesta Tour Starring The Three Caballeros, Living with the Land, Remy's Ratatouille Adventure, The Seas with Nemo & Friends

Category 4: Spaceship Earth
Hollywood Studios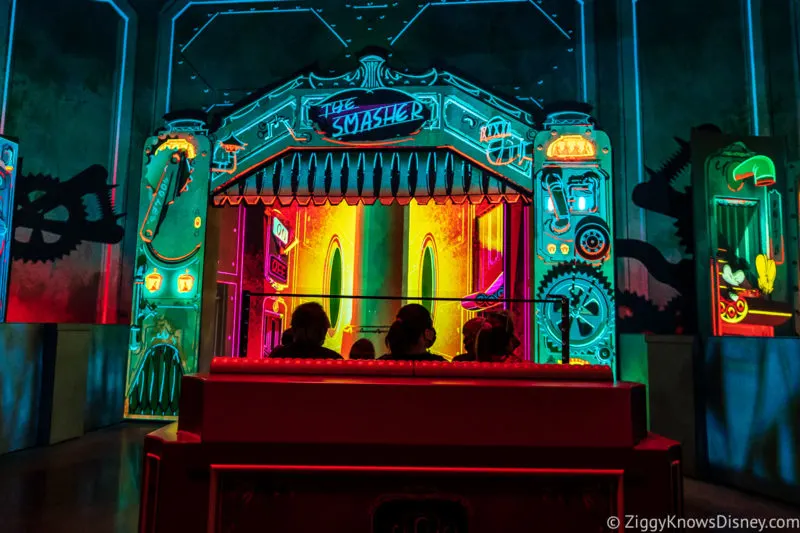 Category 2: Alien Swirling Saucers, Mickey and Minnie's Runaway Railway, Millenium Falcon: Smugglers Run, Star Wars: Rise of the Resistance

Category 3: Toy Story Mania

Category 4: Rock 'n' Roller Coaster, Slinky Dog Dash, Star Tours, Tower of Terror
Animal Kingdom
Category 2: Dinosaur, Expedition Everest, Kali River Rapids, Na'vi River Journey

Category 3: Kilimanjaro Safari, TriceraTop Spin

Category 4: Avatar Flight of Passage
You May Have to Get Off to Ride
As we've mentioned above, many of these attractions will require that you leave your ECV vehicle somewhere along the way, whether it's in the queue, prior to the queue, or as you board the ride vehicle.
For guests with limited mobility, it can be challenging to change from a scooter to a wheelchair and back to a ride vehicle. Keep these things in mind when deciding what ride you want to go on.
The Category 1 rides above will be the easiest since you never have to leave your scooter to ride. Each subsequent category will be more and more challenging which may not be suitable to guests with mobility issues.
Charging Scooters in Disney World
It's important to remind yourself that scooters run on rechargeable batteries and will likely need to be charged along the way, especially if you plan on LONG park days. In this section, we will touch on the different aspects of charging your scooter.
How Long Will a Scooter Run Without Recharging the Battery?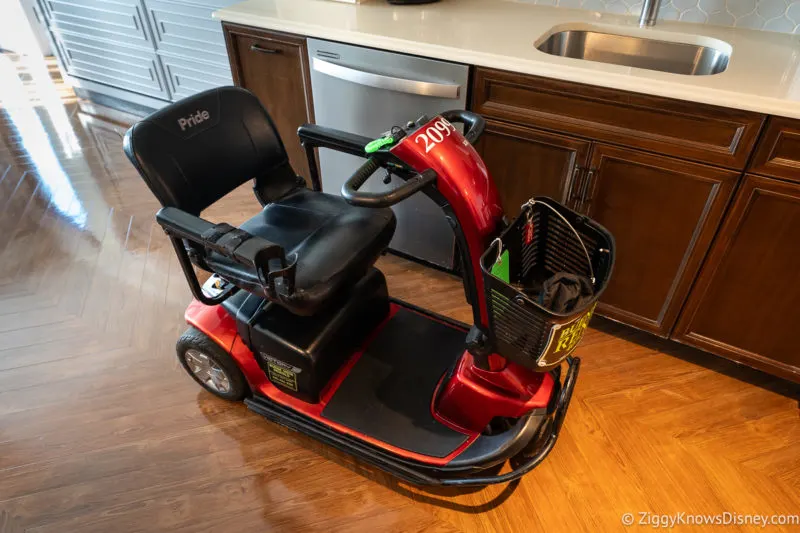 It depends. Each scooter can be vastly different as far as how long the battery lasts. Also, obviously, the more you have the key in the ignition, and the faster you drive your scooter, the quicker the battery will drain.
TIP: Drive slower and keep the key out of the ignition if you notice your scooter running low on battery.
Thankfully, the Disney scooters tend to have larger battery lives, likely due to the smaller engine, and the fact that they are slower vehicles. This means they can easily last all day. Some of the smaller 3-wheeled scooters usually run for only about 6 hours of usage.
When booking your scooter, remember, the faster the vehicle is, the quicker the battery will drain.
Also, be mindful of the charge indicator gauge on the front of the scooter to make sure the scooter doesn't drive while you're in a location where you can't charge it.
Are there Scooter Charging Stations at Disney World?
Yeah, there are charging locations all over Walt Disney World if you need to charge up. You can do so at Disney World restaurants, near Guest Relations locations, and also near some Disney World Restrooms.
The easiest way to find them, what Disney calls "Relaxing Stations" is by checking the My Disney Experience app. You'll find these locations all over the parks and resorts, and they are typically enclosed areas where you can easily charge up for a little bit.
Charging in Your Room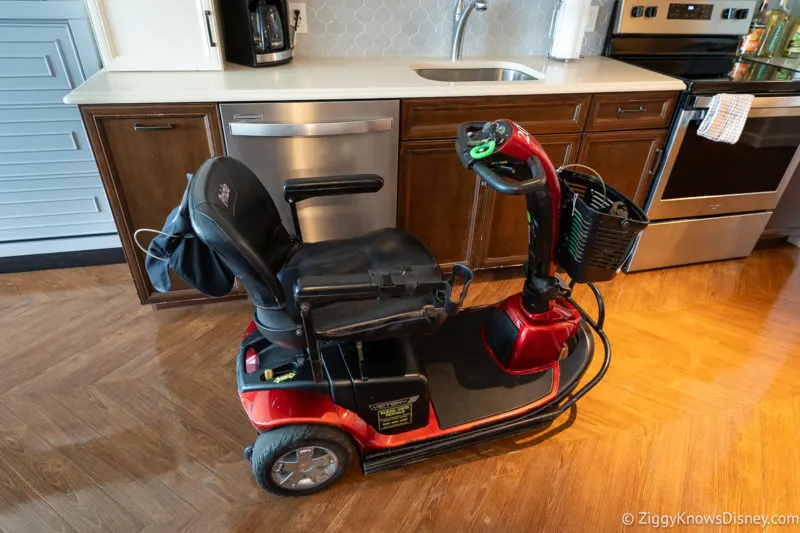 The best way to charge up your scooter or ECV is by plugging it in your room or just outside of your room in the hallway. You'll frequently see scooters in the hallways of Disney Resorts getting charged up near an outlet. Just remember to take your key out so no one takes it!
We highly recommend charging it overnight so you'll easily be ready for a full day of scooter usage in the morning! Or if you just need to take a small afternoon break in your room, charge it for just a little while you rest up. It'll keep it going all night long.
What if the Scooter Battery Dies at the Park?
If the scooter battery dies while you're in the park and you can't reach a charging station, the best thing to do is contact the third-party vendor that you rented the scooter from. They'll likely come out and replace the scooter for you or help you get it to a nearby charging station.
If the scooter is a Disney scooter that you rented in the park, a Disney Cast Member will help you out and likely replace it for you with another.
Transportation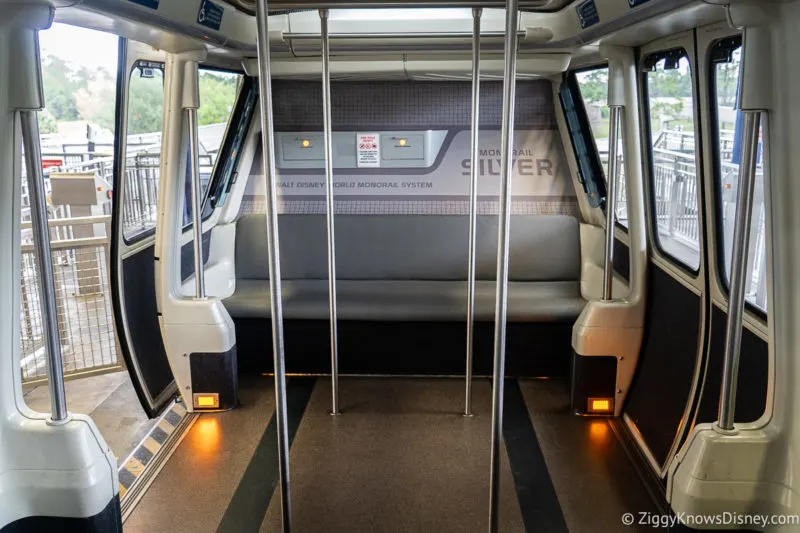 In this next section, we will focus on the many facets of utilizing scooters on Disney's various forms of transportation. For the most part, Disney accommodates ECVs, but it is also good to plan ahead. Here are some things for you to consider.
The Right Size
A visit to Disney World means that you will likely be riding the various forms of Disney transportation including buses, boats, the Disney Monorail, and perhaps even the Disney Skyliner.
While Disney asks that all scooters fit within the maximum size of 32 inches x 52 inches to enter the parks, when it comes to certain forms of Disney transportation, the need for something smaller is likely better.
The American Disabilities Act defines that corporations should accommodate ECVs up to 30 x 48 inches, and that's typically what Disney World expects of scooters. In fact, they even paint boxes at their bus stops within these exact measurements to make sure your scooter fits within that benchmark.
To ensure that you can ride all forms of Disney transportation, make sure it fits within these dimensions. Most of the third-party companies fit within these dimensions, but it's always best to be sure.
Can Scooters Go on the Monorail?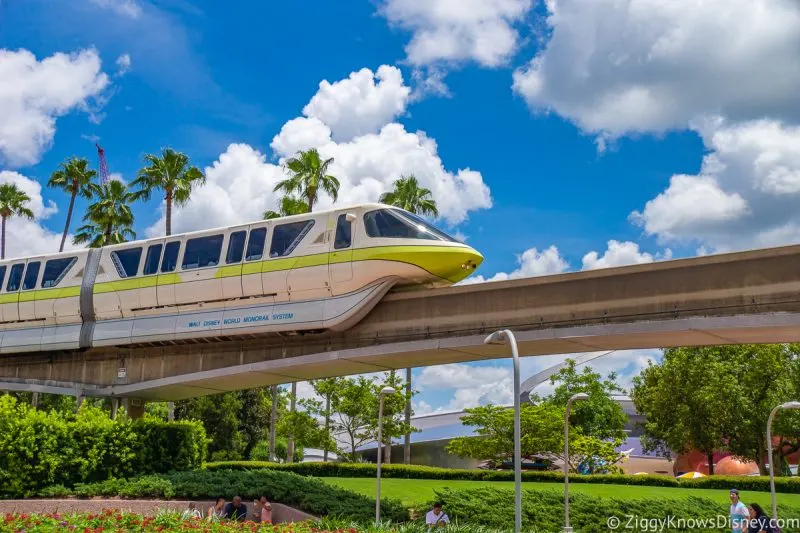 The Disney Monorail is ECV-friendly, but that comes with a caveat. It is tight. The ramps can get super narrow and it's best to have someone guiding and navigating you into the monorail.
When you are actually on the monorail, it can be a close squeeze and with people circulating the cabins, it can be challenging albeit doable.
Can You Ride the Disney Skyliner with a Scooter?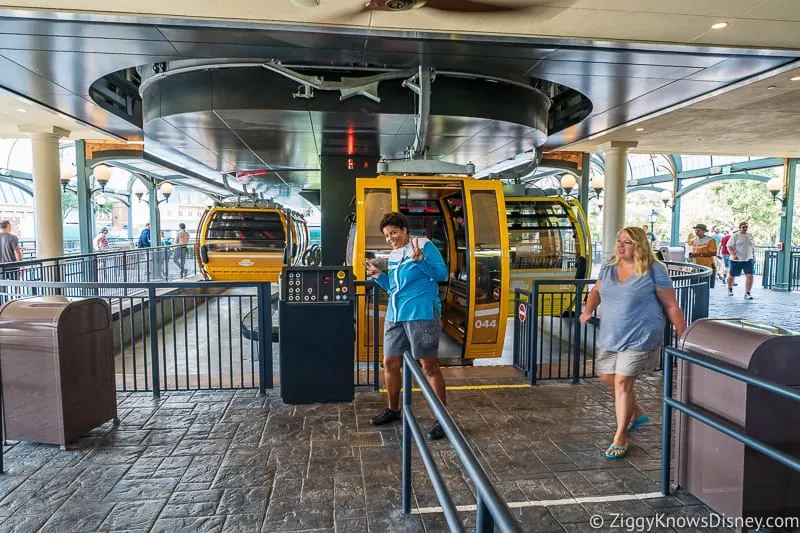 The Disney Skyliner is also accommodating to guests on wheelchairs and ECVs and you can absolutely ride it without getting out of your vehicle!
Sometimes the wait can be long as you will need to request a specific accessible gondola to ride that will fit mobility devices. Once your requested gondola arrives, you will be able to ride on the Skyliner with up to 6 other guests.
Just keep in mind that it can be a slightly longer wait, so not always great if you are in a hurry. Also, you're going to want to make sure your scooter falls within that 30-inch by 48-inch size limit to board the Skyliner or they won't let you on.
Riding the Bus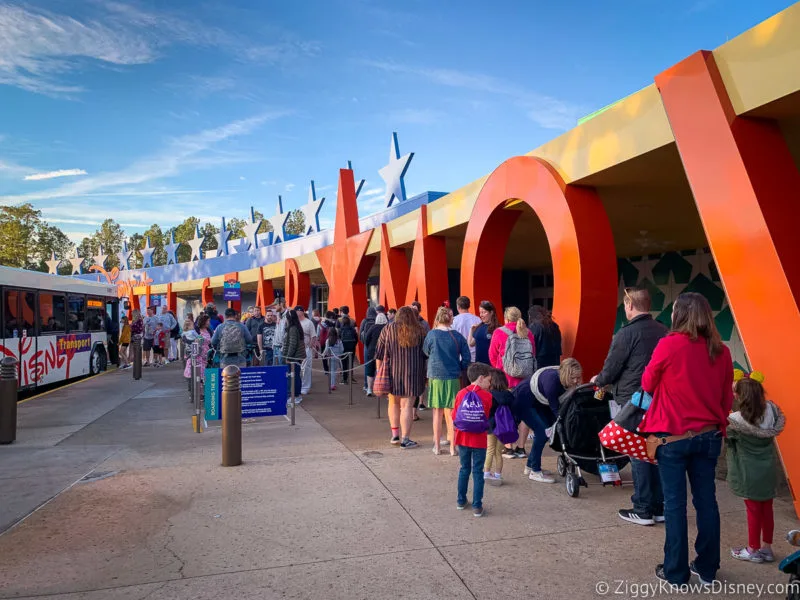 If you've been to Walt Disney World before, you've likely seen guests getting on and off the bus with their scooters. The Disney Cast Members that are driving the buses generally make it very simple to get on and off and they'll guide you in.
Most Disney buses will allow for up to two scooters per bus, sometimes they will fit up to three scooters depending on the size, but 2 is the more common number.
Just be mindful of the others that were there before you and don't force your way through. Be sure to park in the handicapped waiting area as you wait for the bus. You'll notice a box painted on the ground that your scooter can fit in.
The driver will see you don't worry! They will generally allow a few family members to board the bus with the scooter, so everyone in your group will have a seat.
Boats and Ferries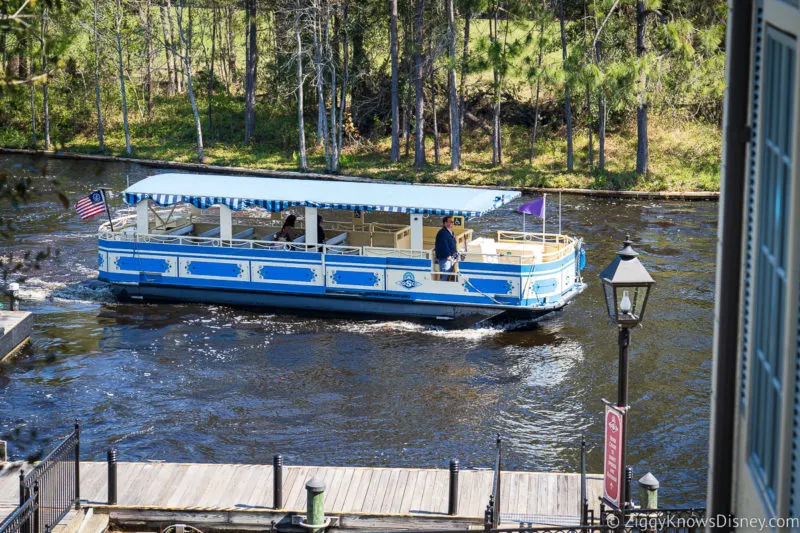 Almost all of the boats and ferries will accommodate ECVs from guests, allowing you to stay in your scooter the entire time. There are a few smaller boats between resorts, such as to the Contemporary or Wilderness Lodge that would NOT accommodate scooters, but the majority of them will.
The Friendship boats around EPCOT, as well as the ferries that will transport you back and forth to Magic Kingdom, and the Disney Springs boats will all accommodate scooters.
If You Have a Car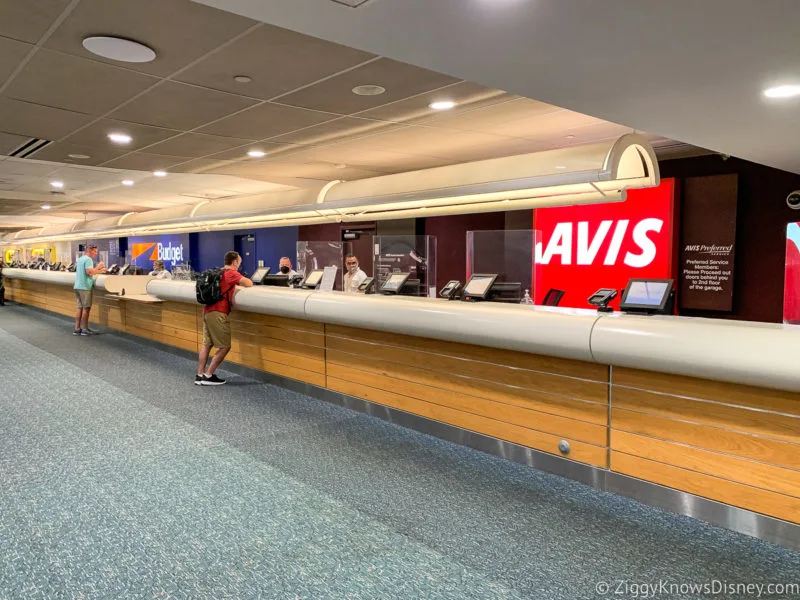 While there are some third-party companies that offer foldable or take-apart scooters, we generally recommend steering away from them. Taking apart scooters and lifting them one by one can be a difficult and complicated process, not to mention the pieces can be very heavy!
And even if it's simply a foldable scooter or one that doesn't require dissembling, it can still require multiple strong people to lift it into the back of a van or vehicle.
If you decide to go this route, it's a wise idea to bring a handicap placard for your car that you likely have at home. If you use it while renting a car in Disney World, they will allow you to park in the handicapped section of the parking lots, getting you much nearer to the park entrances.
Best Rental Car Company in Orlando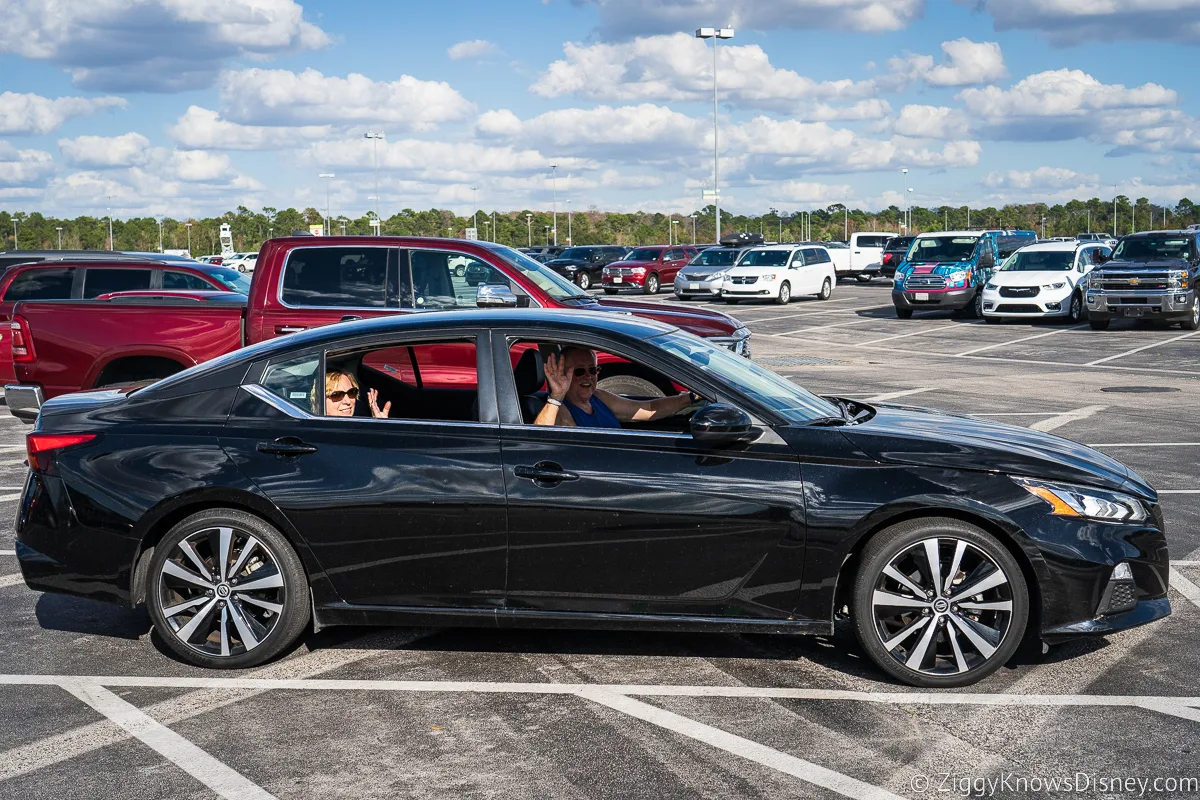 Scooter & ECV Parking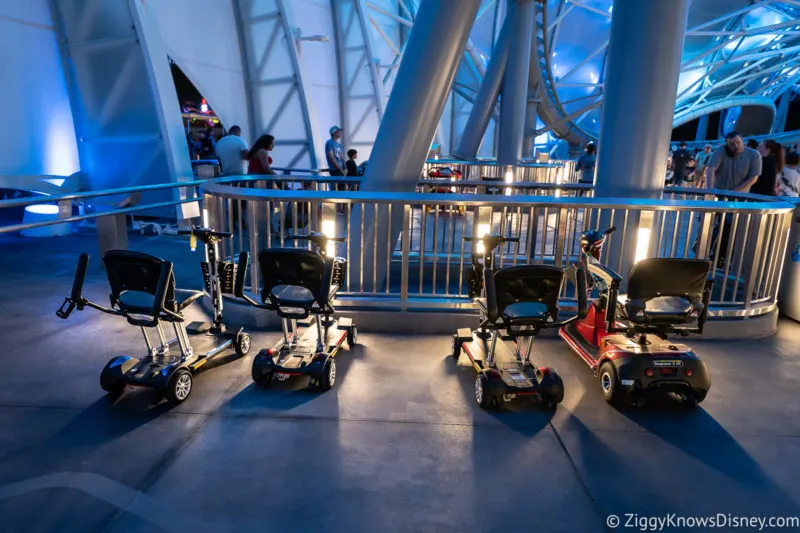 While it's true that when you utilize a scooter for most of the day you'll likely be riding it. But there are likely other times of the day when you will need to leave your scooter somewhere. What can you expect in these instances and where can you put it?
At the Parks
You'll definitely see scooters parked near strollers all throughout the parks, especially near the more popular attractions. Space might be limited but you can likely navigate it and move some strollers around if you need to make a space for yourself.
If you have any questions, ask a nearby Cast Member. Remember not to leave anything valuable in the compartments.
At the Resorts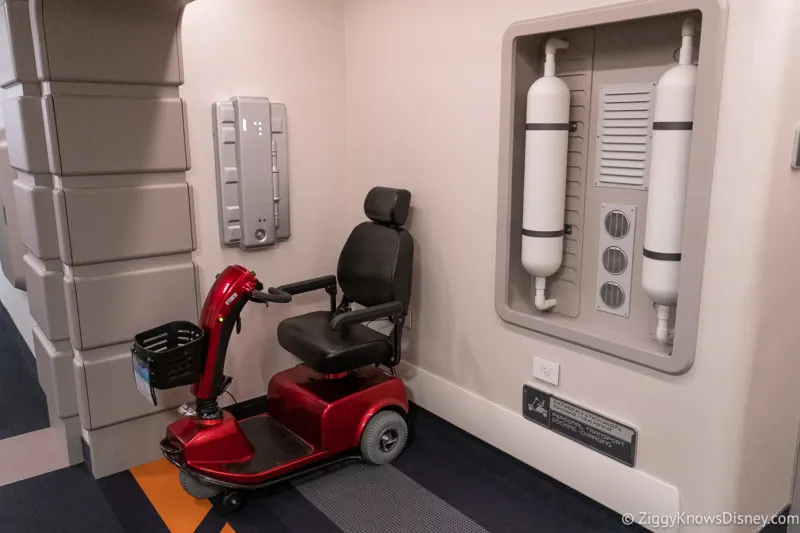 It's always wise to mention to the resort ahead of time when booking your room that you'll need a handicap-accessible room. This will ensure that you can fit your scooter inside your room doorway and there will be an area inside the room for parking.
If you don't want to park the scooter in the room, you can also ask the hotel if it's ok if you leave the scooter parked just outside of your room in the hallway. They might also have another area they recommend you leave the scooter that is more convenient.
In Restaurants
Just like at the theme parks, parking your scooter outside the restaurant is likely your best bet. They aren't hard to find. Disney is very accommodating and has parking areas everywhere for scooters, strollers, and wheelchairs.
Utilize one of these areas to park your ECV. Just be sure not to block anyone in so they can't get out. If you're at all concerned about where you plan on leaving it, ask a nearby Disney Cast Member to make sure it's OK.
Tips & Tricks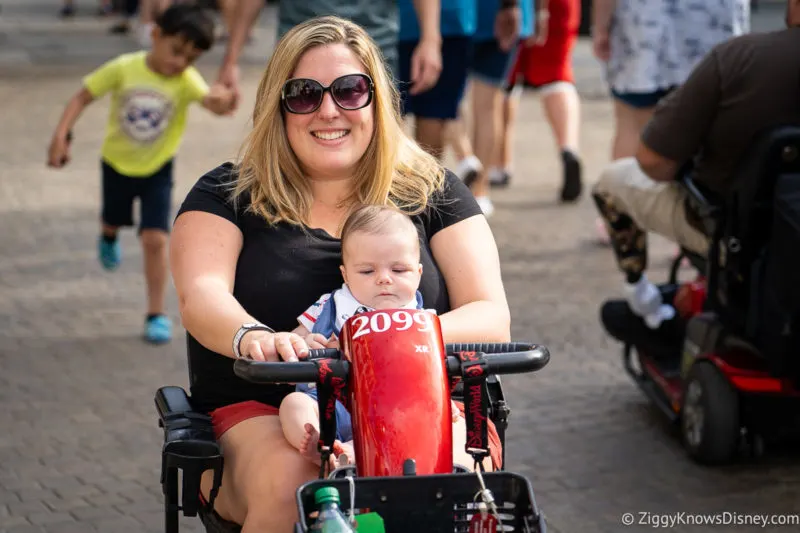 Renting an ECV or scooter in Disney World for the first time can be a stressful experience! Having been with plenty of people over the years, it's important to know a few things prior to you doing it. Here are a few helpful tips and tricks to make it a more enjoyable experience.
Backing Up
Disney World can be incredibly congested and crowded in spots. The last thing you'd want to do is run over or hit another person. ECVs are heavy and can inflict a lot of damage, especially to an older person or a small child.
To avoid problems, I wholeheartedly recommend you learn how to reverse properly with your scooter. Practice in a more open area if possible before you enter the congestion of the Disney Parks. This will help you get familiar with controlling it. It will also help you as you board Disney transportation as you will likely need to reverse.
Don't Leave the Key in the Ignition
While Disney's ECVs have long-lasting batteries, with some of the other third parties, not so much. And the last thing you want to do is spend a couple of hours charging your battery in the parks sitting around and waiting for it to charge so you can leave.
One way to make the battery last longer is by taking out the key whenever you aren't using it. By taking your key out of the ignition, you will ensure it doesn't drain the battery unnecessarily. It will also ensure no one steals your scooter either, which has certainly happened in the past!
Drive with Caution Around Crowds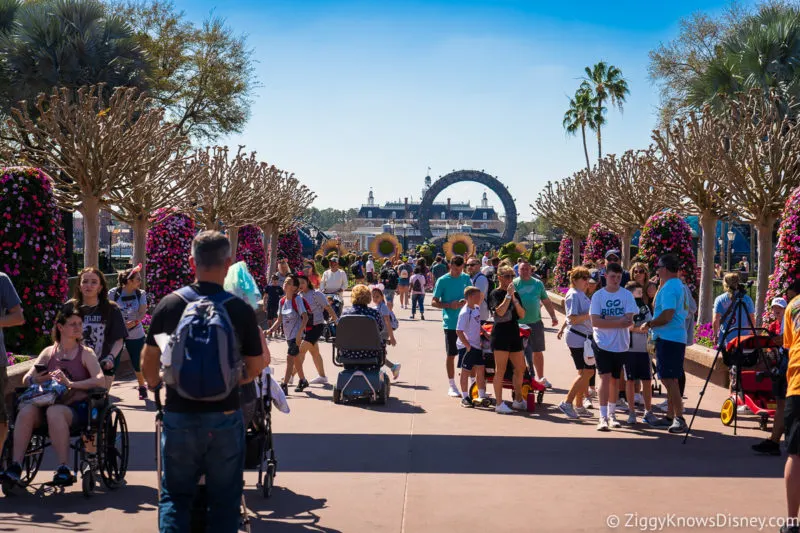 Navigating the parks after a firework show or a parade can be incredibly challenging with a scooter, so drive carefully! Even if people cut you off, which they will, remember that you ultimately have a weapon at your disposal, and like a car, you don't want to use it.
Drive with caution and do your best to remain patient. You'll get out eventually, just remember you're at the happiest place!
Bring a Key Ring
Consider getting one of those key rings with plastic coil-type wristbands. This will allow you to keep your key on your wrist at all times when you leave your scooter.
They have fun decorative ones that you can buy with Disney characters on them. Even if you leave your key somewhere, having a fun and colorful wristband will make it easier to spot.
Tell Your Resort
It's important to tell your hotel or resort that you will be using a scooter or a wheelchair so they can make the most comfortable room arrangements for your family.
Many Disney World Resorts have rooms that are NOT scooter or wheelchair accessible, so it's important to inform your resort when booking your room that you need to be assigned to a room that has an elevator nearby if you're not going to be on the 1st floor.
Practice Makes Perfect
With anything, practice will make you better. Some are more experienced with motorized vehicles and confident and others are not. No matter which you are, it's always best to practice each one.
The speeds and turning radius of each ECV can differ, so it's important to get the hang of yours before bringing it out in the middle of the theme parks.
How to Save Money on Scooter Rentals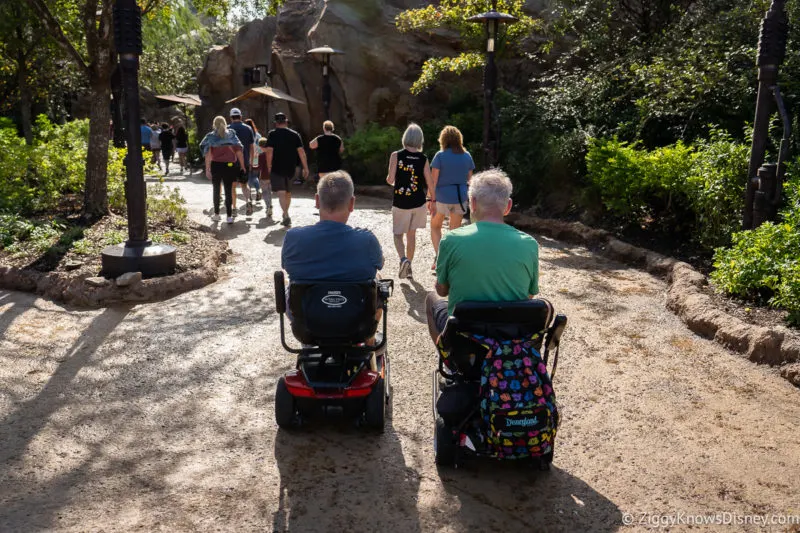 Spending less is always our goal, and there are a few ways you can save money by renting a scooter. Here are our four favorite ways:
Book an ECV or scooter rental for a longer period of time for more savings!
Book through a third-party such as Florida Mobility Rentals to save the most amount of money
Book the rental far in advance, sometimes you'll receive advanced booking savings
Look for any coupon codes or promotional offers
Best Way to Save Big $$$ on Disney Resorts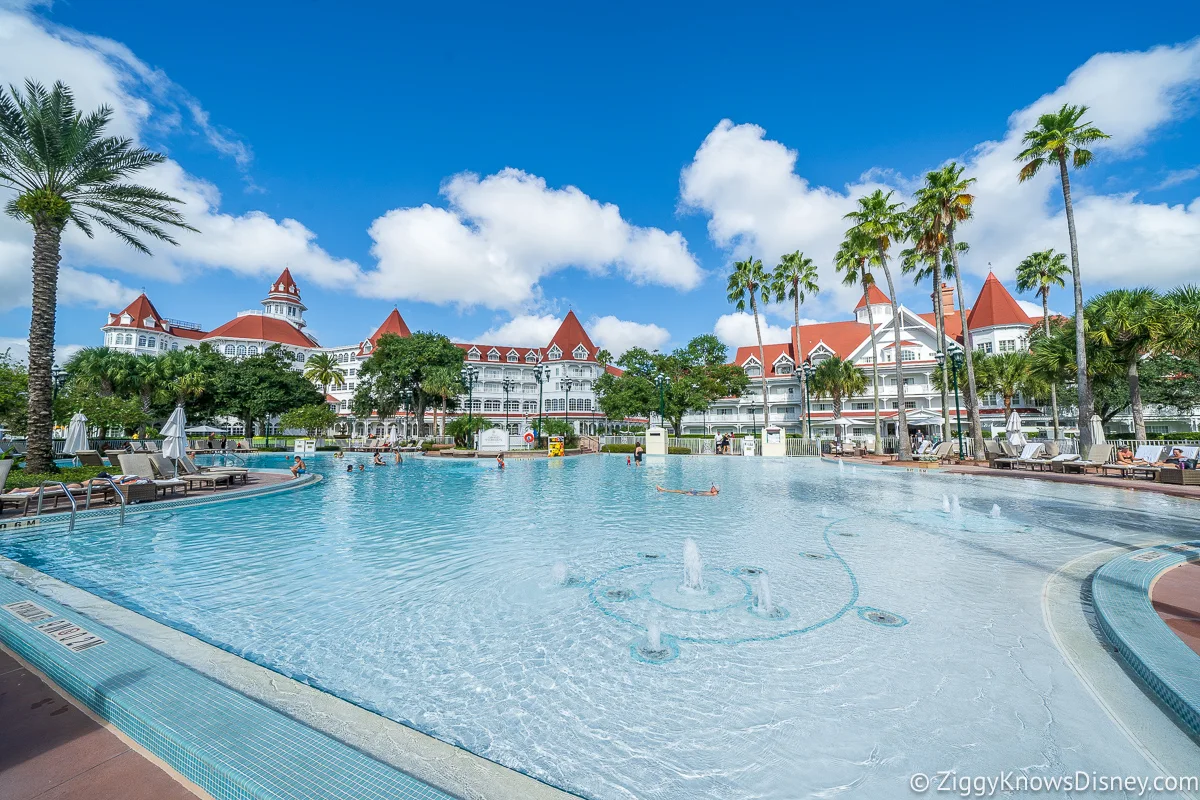 If you want to potentially save thousands of dollars on your next trip to Disney World, I personally recommend David's DVC Rentals. They consistently have the best prices and biggest selection of Disney Villas that will make you ask yourself: "How do they do it?"
How to Get DAS Pass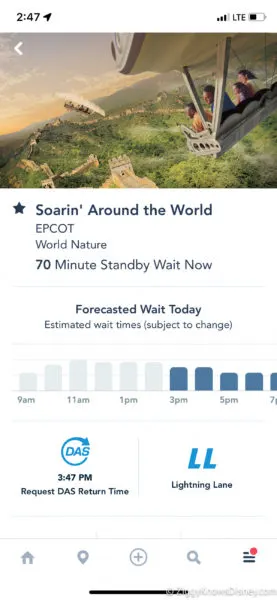 The Disability Access Service Pass or better known as the DAS Pass allows guests to skip lines at the Disney attractions IF they qualify. So the question is: "Who qualifies?"
That's a good question, and the answer is not so simple. In fact, Disney has toughened up in recent years on guests' eligibility and now it's extremely difficult to qualify for DAS.
The main criterion is that if you are incapable to remain in the traditional queue for an attraction for a medical reason, you may qualify for a Disability Access Service Card (DAS Pass). You do NOT need a doctor's note.
This is not a jump to the front-of-the-line pass but rather a system that saves your spot in line while you wait somewhere that's more relaxed for you. It's similar to the Genie+ system and you get a return time when you can enter the attraction, but you are not restricted to a 1-Hour window to return. You can ride anytime after your window arrives.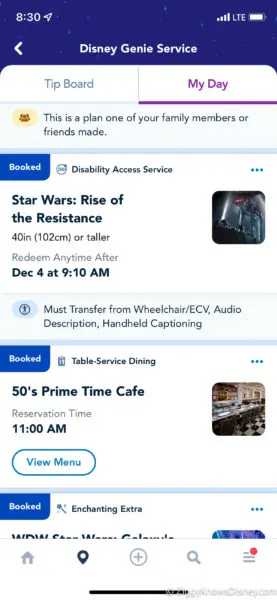 For example, let's say you have a DAS reservation for Rise of the Resistance at 1:00 pm. You can show up anytime from 1:00 pm and after until the end of the day. This is nice because it's more flexible for guests and if they want to show up at 4:00 pm to ride, it's no problem.
You can apply for this card online OR you can get it at Guest Relations when you get to the parks.
When doing it online, you'll be asked a few general questions about your condition and the accommodation that you need. If you meet the qualifications, they will let you know right away.
If you qualify, the DAS pass will be unlocked in your My Disney Experience mobile app where you can virtually enter ride queues without the need to actually be in line. The entire process is managed through the app and is very simple to use.
Just ask a Disney Cast Member in one of the guest relations tents if you can't figure it out.
FAQs
Can You Rent a Scooter (ECV) at Walt Disney World?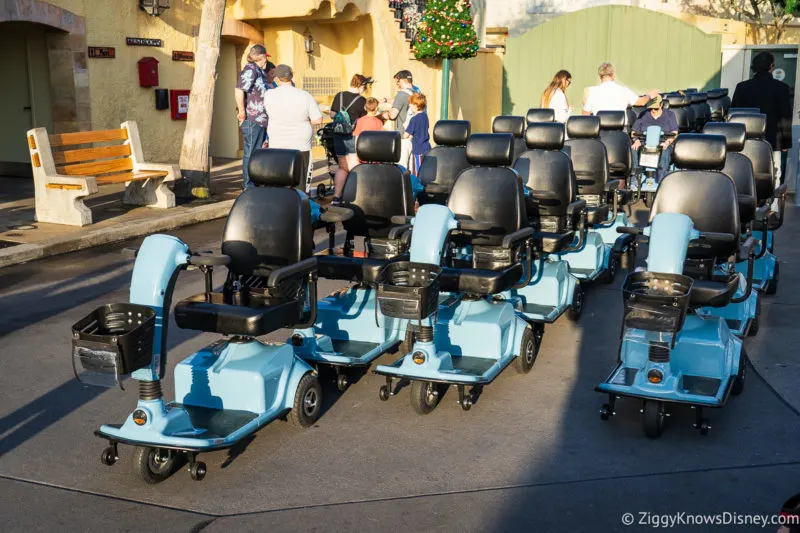 Yes! You can rent a scooter (ECV) at Walt Disney World. There is a limited supply and they are available on a first-come, first-served basis, so get there early.
The costs of renting scooters at Disney World can be pricey if requiring one for multiple days, but for $65 per day, you can rent a scooter.
Do You Need a Doctor's Note to Rent an ECV?
Anyone with valid identification that is over the age of 18 years old can rent an ECV. You do NOT need a doctor's note to rent one.
Why Do So Many People at Disney Use Scooters?
There are a number of reasons why people prefer to use scooters at Disney World. The main one is the fact that it can be very labor-intensive to walk miles and miles per day, and you will be less tired at the end of the day.
Guests with disabilities or mobility issues can utilize a scooter to get practically anywhere they need to, making for a much more enjoyable day. Some guests would never even be able to visit Disney World if they were not available to use.
Will My Scooter Go Through Security?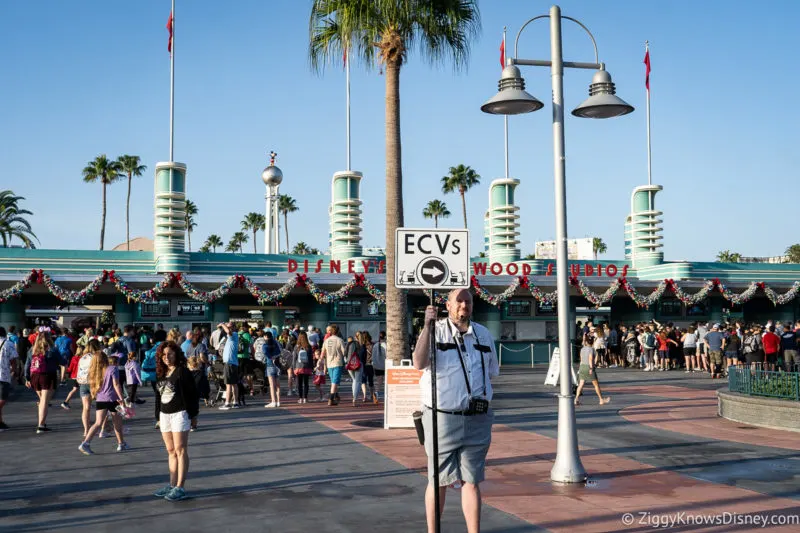 Yes, and no. If you are able to get out of your scooter and walk, you will be asked to go through the metal detector and then pick up your scooter after you go through the metal detector.
If you cannot walk, then you will simply drive your scooter around the detector and be wanded down.
Do Scooters Sell Out for the Day?
It's quite common for scooters to sell out early in the day at the Disney World theme parks, especially at more popular times of the year.
If you're renting a scooter directly from Disney, arrive at the parks early and go grab your rental immediately upon arrival. If you're not renting a scooter through Disney, you don't need to worry about this.
Can I Bring an ECV from One Park to Another?
If your ECV is from outside of Disney that you rented from a third-party company, yes you can. But you can't bring an ECV from one park to another if you rent it directly through Disney.
However, you can utilize the receipt from your rental and get another scooter at the next Disney Park for no additional cost. Simply show them your receipt and you'll be given a new scooter at the new park, assuming there is some available.
What if I Lose My ECV or it is Stolen?
It's incredibly rare that scooters or ECVs get stolen at Walt Disney World. If you can't find it for some reason, the most likely thing that happened is a Disney Cast Member needed to move your ECV if it was in the way.
If you figure out that it was stolen, immediately contact a Disney Cast Member and they will see if it can be tracked down. If it's from a third-party vendor, reach out to them for any suggestions that they may have and any steps you should take.
Should I Get a Scooter at Disney World?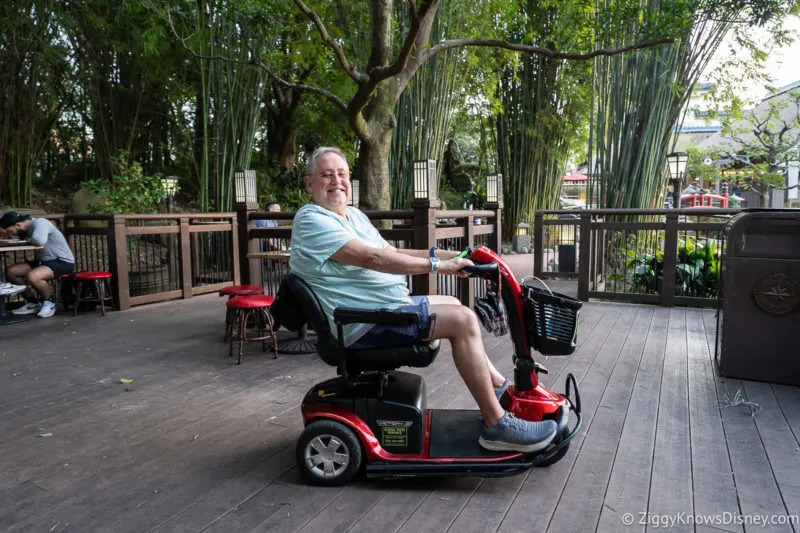 Now we are finally at the ultimate question that you're likely wondering, "should I get a scooter at Disney World?" While that is a question that only YOU can answer, we will provide you with the main pros and cons of deciding on which way to go.
Pros
Allows people with disabilities or physical limitations to have just as good a time
Full range of accessibility in Walt Disney World with virtually no limitations
Allows you to do more in less time
Makes decisions easier while not basing them on YOUR limitations
Cons
It adds additional cost to a trip, likely in the hundreds of dollars per person needing a scooter
Can add some stress with the heavy congestion in the parks and navigating through tight spaces, such as on and off Disney transportation
These are just a few things for you to consider. If you're on the fence, we've typically seen people very happy they chose in favor of renting a scooter. It made their trips more enjoyable in almost every case we've seen.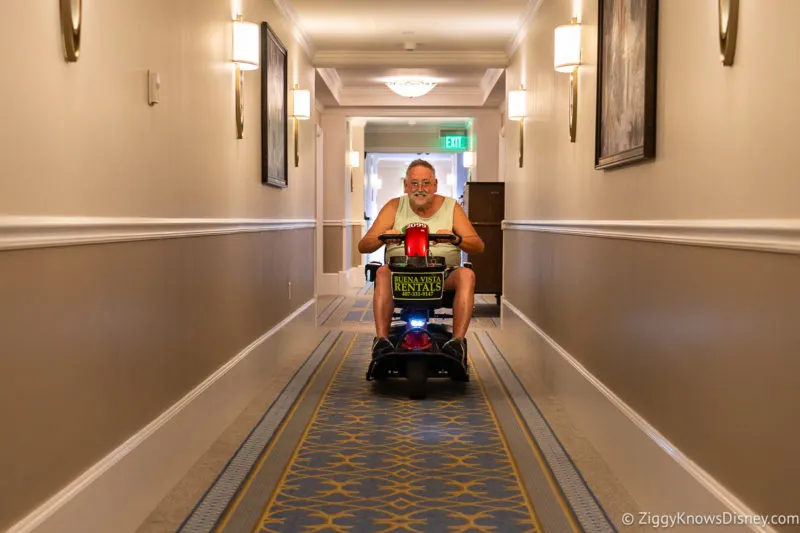 Before a recent trip, for example, my dad had back surgery, and the doctor limited how much he could walk per day. He never would have been able to come to Disney World if he didn't have a scooter to ride around and reduce the walking.
If you're still undecided, get one directly through Disney at the parks one of the days you're there and see how you like it. If it makes your day more enjoyable, you can get a longer rental from one of the third-party companies immediately.
Scooter vs. Wheelchair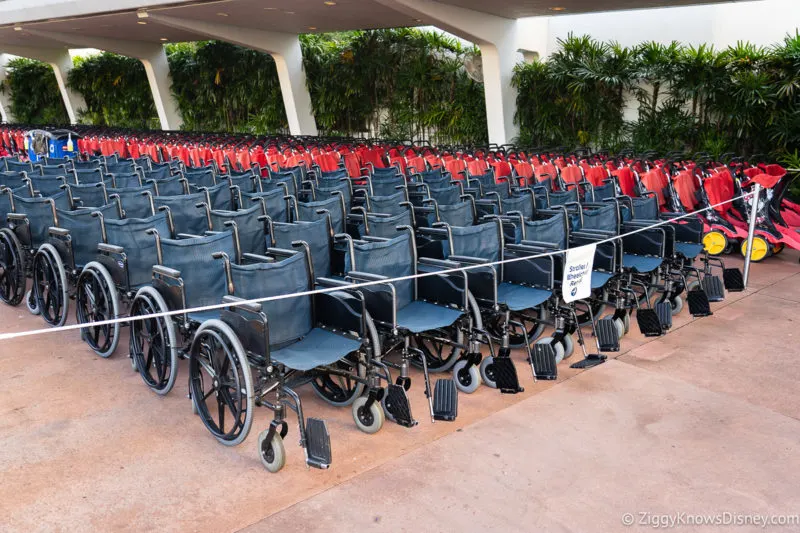 While wheelchairs are usually a few dollars cheaper per day, they also will require you to be reliant on someone else pushing you most of the day. Scooters generally have larger weight requirements and they are far more comfortable. Plus you don't need to be reliant on anyone else!
Since the cost difference is usually minimal, we recommend getting scooters. They're far more enjoyable and they give you more control over where you want to go and what you want to do.
If You Need Help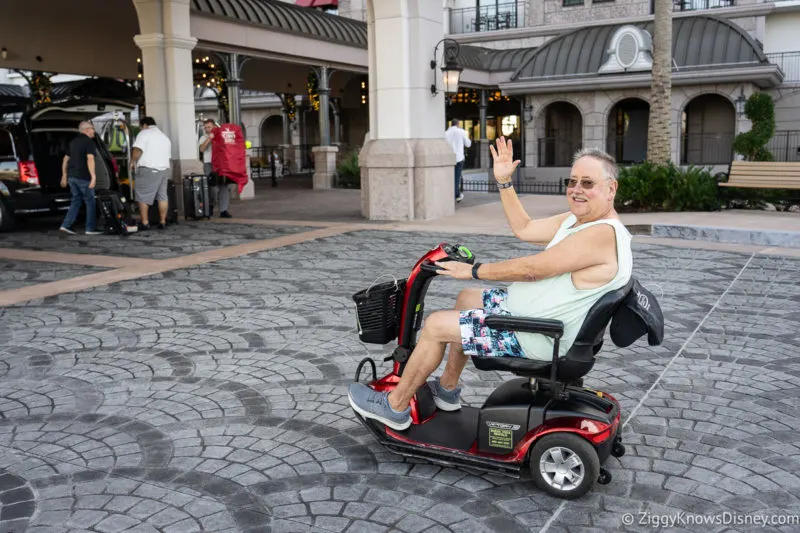 If all of this is overwhelming for you, we recommend without hesitation utilizing an Authorized Disney Travel Planner. Our absolute favorite is Show You the World Travel! They'll help book your scooter for you if you plan your vacation with them.
They'll make sure you're fully ready for your trip from hotel choice to park tickets to dining reservations! You can't go wrong with utilizing them, and they take out all of the guesswork. And the best part of all is that they don't cost you an extra penny!
Many of our readers have had great experiences, and we promise you won't regret using them too!
That wraps up our look at the best scooter rentals at Walt Disney World. We hope that our comparison helped you learn the best option for your family and how you can save money renting one.
If you are thinking about going to Walt Disney World in the coming future, here are some other popular articles where you will find all the info and tips you need to plan your trip.
Your Thoughts
I want to know what you think about our guide to renting an ECV in Disney World…
Where is your favorite place to rent scooters?
What tips have you learned over the years that can help others when renting one?
Let us know in the comments section below!
If you enjoyed this article, as always I appreciate it if you'd share it with others via social media. I work hard at making this website into a useful resource for you and your family to plan your visit to the Disney Parks and I hope it can help you! Thanks 🙂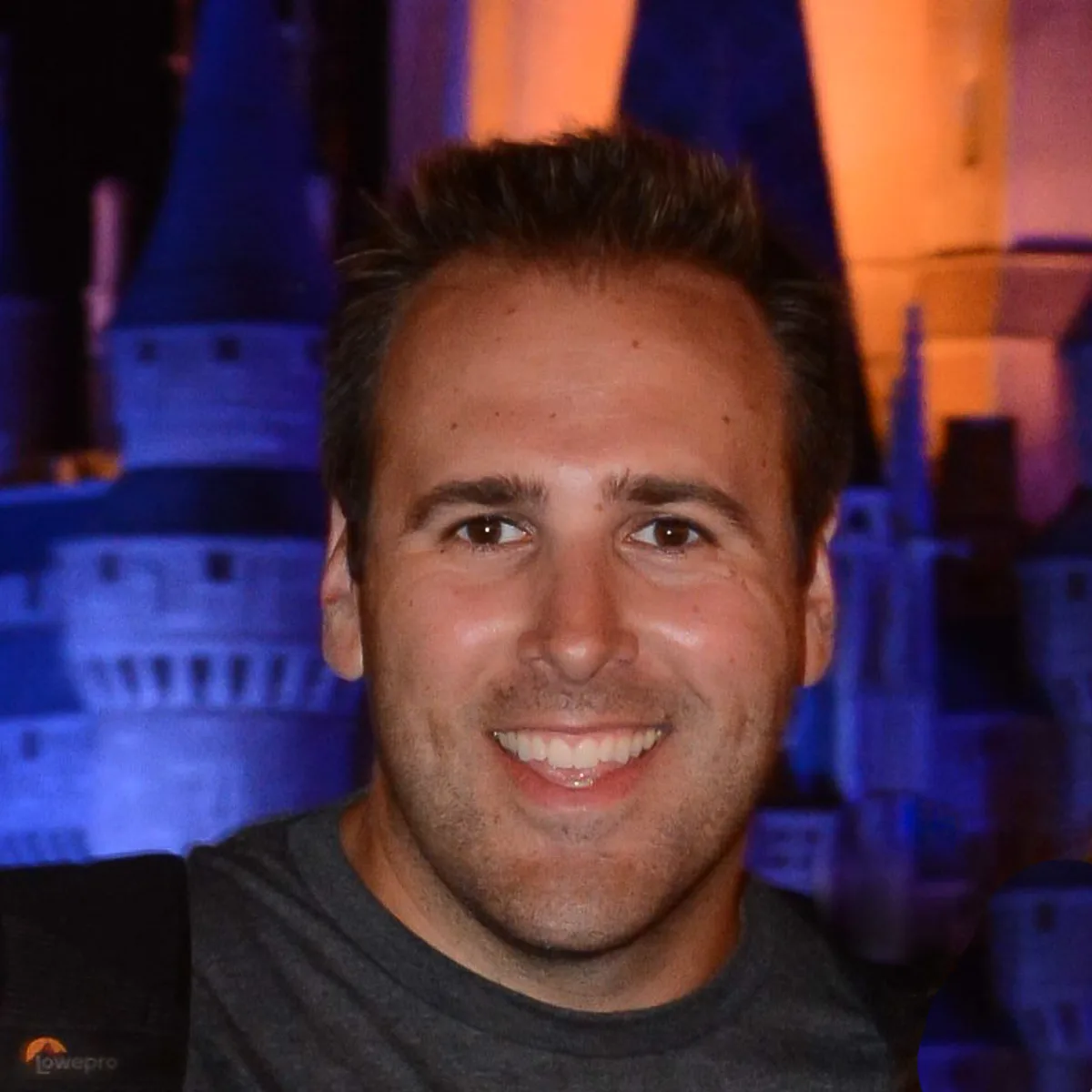 My name is Ziggy and I love Disney, everything Disney! I grew up on Disney and it has and continues to be a huge part of my life. I started young when my parents took me to Disney World when I was 18 months old. Little did they know that would be the first of an uncountable number of trips we would take. I have so many amazing memories going to Disney with my family and friends and it has been interwoven into my DNA.