With Disney's Magical Express discontinued in 2023, guests need more options for traveling to Walt Disney World from the Orlando International Airport. Now that The Sunshine Flyer airport shuttle service is here, they have more options.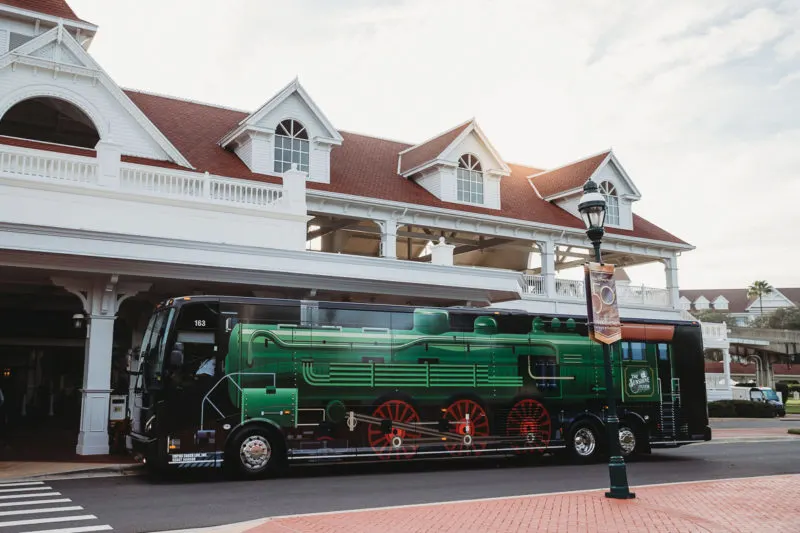 In this post, we are going to explain everything you need to know about the new Sunshine Flyer airport shuttle service. How it works, how much it costs, and how to make reservations for your trip to Walt Disney World.
Lots of guests (ourselves included) have been pretty upset over Disney's Magical Express coming to an end. After all, it was the most convenient transportation solution to get from the airport to your resort hotel, and the fact it was free was one of our favorite perks to staying on-site.
The whole convenience of getting to the airport and not having to rent a car or call a ride-sharing service was great. Not to mention, they picked up your bags and dropped them off for you.
With this giant-sized hole that has been left by Disney, other companies are picking up the slack and starting to offer guests more solutions.
Enter the Sunshine Flyer shuttles. Similar to the new Mears Connect shuttle, it's another paid option, though convenient and cost-effective and it gives guests more opportunities to choose.
As we get more info on this new shuttle, we will update this post with the latest prices, and a review so you know what to expect before reserving it.
Before we get started, don't forget to sign up for our FREE Weekly E-Mail Newsletter. We will update you with any changes to the Sunshine Flyer Airport Shuttle and share the latest vacation planning tips. You can sign up here: Join our E-Mail Newsletter!
What is the Sunshine Flyer Airport Shuttle?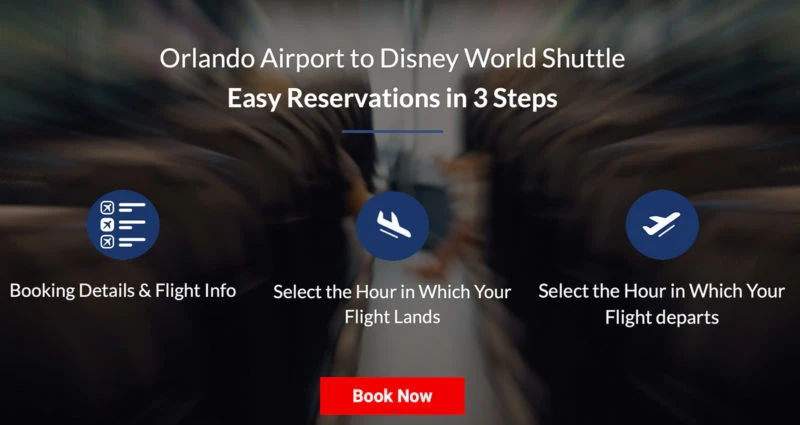 The Sunshine Flyer is a motorcoach shuttle that transports guests between Orlando International Airport (MCO) and Walt Disney World and Universal Studios Resort. It is run by Transportation Management Services (TMS).
It works in a similar way to Disney's Magical Express in that it picks you up at the airport, brings you to your hotel, and then back to the airport when it's time to go home.
Guests can expect scheduled service, luggage handling, convenient airport terminal staging, and return trips from resorts to the airport.
What makes The Sunshine Flyer service stand out from other motorcoaches are the cool designs and theming. You will notice the old-fashioned style right when it pulls up to pick you up. Currently, there are two designs, a locomotive train engine, and a passenger car. More designs are coming soon.
The Sunshine Flyer website describes the service as "late model, premium motorcoaches with a theme centered around old-fashioned passenger cars and train locomotives."
No two vehicle designs will be the same, which provides a distinctiveness for each Sunshine Flyer ride, giving both first-time riders and returning guests a new experience and photo opportunity each time they ride.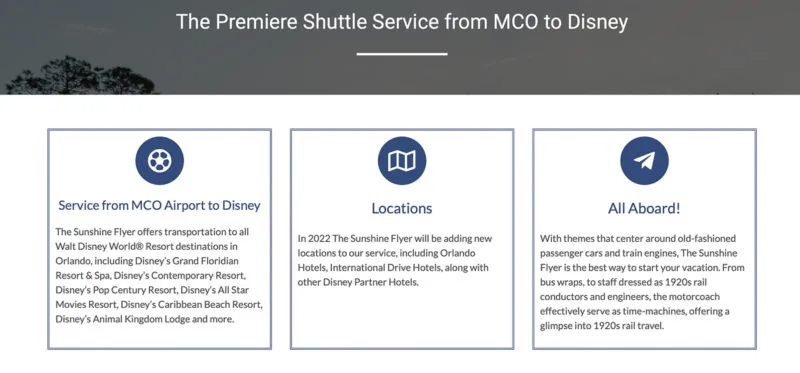 The fun doesn't stop there though. Even the drivers have themed costumes styled around early 1900s train conductors. This is a nice touch and will likely be a hit with kids.
Here are some of the benefits of using The Sunshine Flyer from their website:
Themed 1920s service
Technology-driven approach to keep your trip under 60 minutes
Backed by TMS's 25+ years of large event experience
Modern, clean, and spacious buses
Staff help with bags at the airport and your destination
Easy to find location, and simple boarding process
No ride-share lines or surge pricing
Where Does the Sunshine Flyer Go?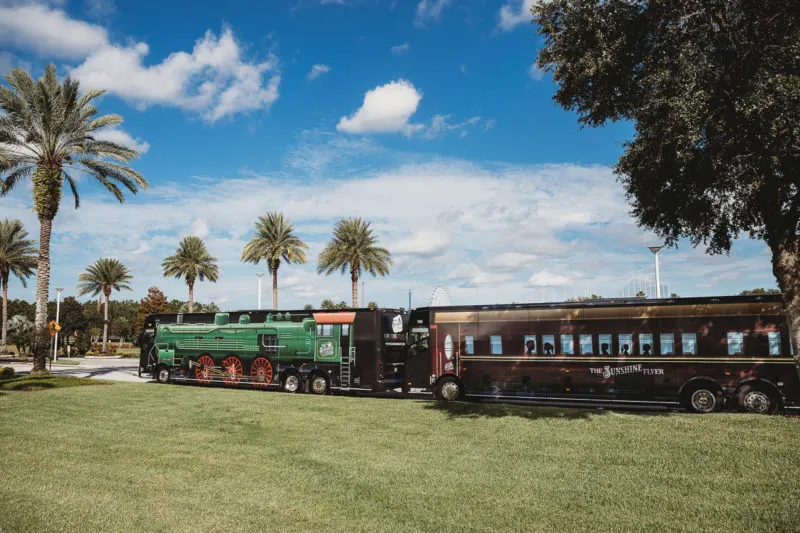 The Sunshine Flyer is similar to Disney's Magical Express in that it not only brings guests from the Orlando International Airport to all Walt Disney World Resort hotels. This includes the deluxe, moderate, and value resorts.
Here is a list of all participating hotels:
Walt Disney World Resort Hotels:
Disney's Animal Kingdom Lodge
Disney's Animal Kingdom Villas – Kidani Village
Disney's Animal Kingdom Villas – Jambo House
Bay Lake Tower at Disney's Contemporary Resort
Disney's Beach Club Resort
Disney's Beach Club Villas
Disney's BoardWalk Inn
Disney's BoardWalk Villas
Boulder Ridge Villas at Disney's Wilderness Lodge
Copper Creek Villas & Cabins Disney's Wilderness Lodge
Disney's Contemporary Resort
Disney's Grand Floridian Resort & Spa
The Villas at Disney's Grand Floridian Resort & Spa
Disney's Old Key West Resort
Disney's Polynesian Village Resort
Disney's Polynesian Villas & Bungalows
Disney's Riviera Resort
Disney's Saratoga Springs Resort & Spa
Disney's Wilderness Lodge
Disney's Yacht Club Resort
Reservations for The Sunshine Flyer are now being accepted for all upcoming travel dates.
Each motorcoach makes multiple stops before arriving at its final destination, however, they guarantee that 65 minutes is the longest anyone will be on a bus once it leaves the airport.
How Much Does the Sunshine Flyer Shuttle Cost?

Unfortunately, unlike Disney's Magical Express, The Sunshine Flyer motorcoach is not free and it is an additional expense you will have to account for on your trip.
Pricing is pretty straightforward and it depends on if you want a one-way ticket or a round trip.
One-Way Service – $17 per adult, $12.50 per child
Round Trip Service – $34 per adult, $25 per child
Pricing for The Sunshine Flyer is very comparable to the Mears Connect shuttle, with prices slightly more for adults but slightly lower for children, making it a wash.
The listed prices also include all tolls and extra surcharges, so the final price is what is listed on the website.
As of this writing, the listed prices are the same for all dates, including holidays and weekends. This is likely a promotional price to attract customers, so it could go up later in the year. We'll keep an eye on it and inform you of any increases.
To make a reservation go to The Sunshine Flyer website here.
Cancellation Policy
Full refund if canceled 72 hours in advance, full credit towards future tickets if canceled under 72 hours.
Is The Sunshine Flyer a Good Way to Get to Walt Disney World?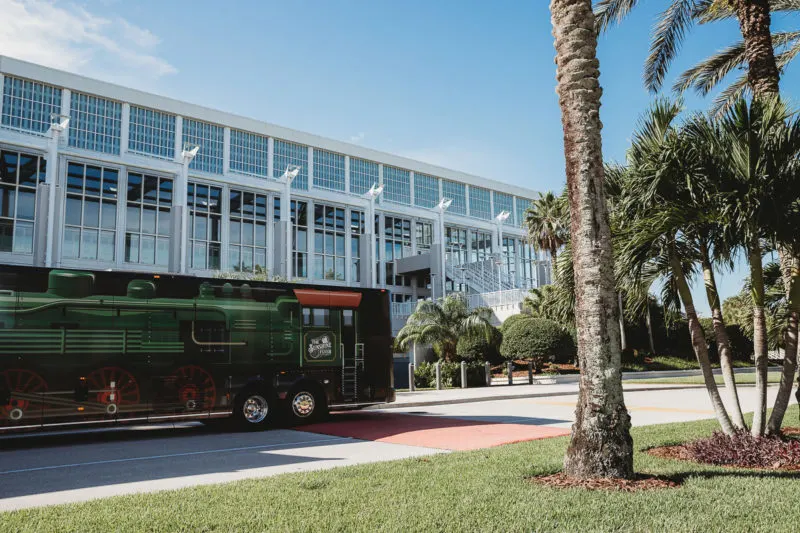 Now to the good part. Is The Sunshine Flyer really a good transportation solution to get to and from Walt Disney World?
There is no doubt that a big void was left when Disney's Magical Express went away, and families have since been trying to figure out the best solution. Whether or not to use The Sunshine Flyer service will depend on what your vacation plans are when visiting Orlando.
If you are going to be spending a lot of time off Walt Disney World property visiting other attractions, any shuttle service will not be your best option. In that case, you are going to want to rent a car at Walt Disney World. A car is a much more convenient and cost-effective solution since you will need to get from place to place each day besides what Disney offers.
If you are staying on property for the majority of your trip, a shutter service like The Sunshine Flyer can be a viable option. Ultimately, you are comparing this service with Mears Connect, or ride-sharing services like Uber and Lyft.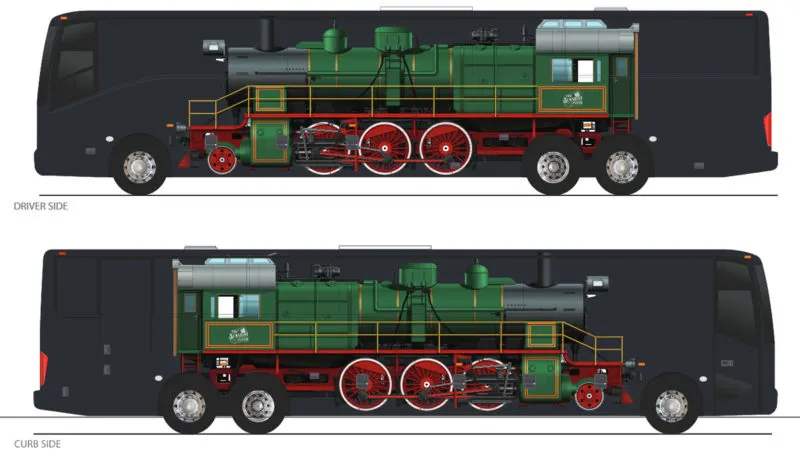 First, let's compare The Sunshine Flyer to Mears Connect. The price is practically identical with only a $1 or so difference either way.
One difference, however, is that Mears Connect offers luggage handling included in the price of your ticket while The Sunshine Flyer doesn't currently offer it. This is a big deal if you want to see your luggage delivered without lifting a finger. It should be coming to The Sunshine Flyer soon so this advantage will be negated.
The Sunshine Flyer on the other hand has better theming than Mears Connect, the latter of which is completely lacking a theme. This might not be important for solo travelers or couples, but when you have kids the train theme can be enticing, especially when the price is basically the same.
To us, choosing between the two is a toss-up and it depends on if you care about a more fun experience or not.
Next, we have to look at shuttle transportation like The Sunshine Flyer when compared to Uber or Lyft.
Tickets for a family of 4 on The Sunshine Flyer are approximately $118 round trip to and from the Walt Disney World Resort and the Orlando International Airport.
When you compare that price to Uber or Lyft at around $30-$40 each way, it's easy to see that ride-sharing is the hands-down winner if the price is the biggest concern. This changes though if you are traveling solo or have a party of 2 people. Round-trip tickets for 2 cost $68, just about the same as an Uber.
You also should note that a ride-sharing service is going to be the faster solution. You have a minimal wait time to get an Uber or Lyft, and it will bring you directly to your destination rather than making multiple stops along the way. Since time is always crucial in Disney World, it's hard to argue differently.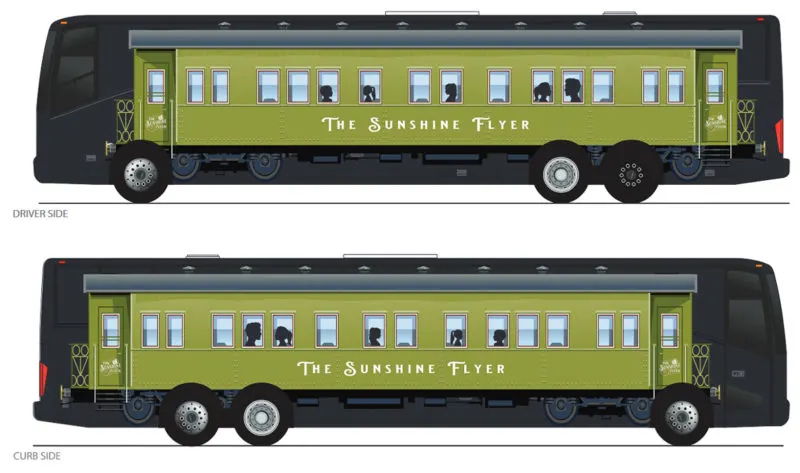 The only thing that motorcoach transportation offers that is obviously better is luggage handling. With ride-sharing, you have to pick up your bags from baggage claim and drag them around with you whereas The Sunshine Flyer will do it for you.
Overall, you will have to make the choice based on your family size and your individual needs. While we are definitely disappointed that the free option in Disney's Magical Express is gone now, we are happy that The Sunshine Flyer offers yet another option to get to Walt Disney World from the airport and it certainly has its place among the other transportation
We are happy with the new Mears Connect service, and that guests now have another option. We are confident in Mears' ability to offer a quality and trusted transportation service to Walt Disney World. While not as many guests will use it when compared to a ride-sharing service or the old Magical Express, it will have its place for a certain category of guests.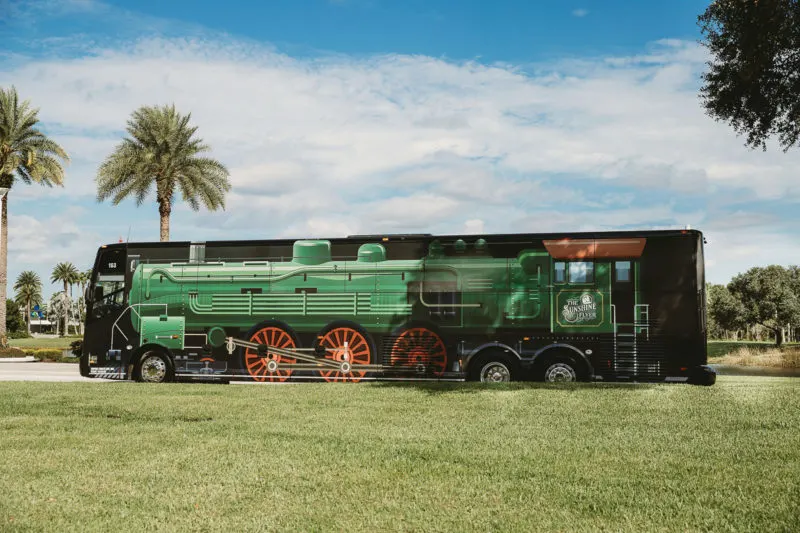 For a more detailed look at all your options including pros, cons, and prices, read our post on How to Get from Orlando Airport to Walt Disney World.
FAQs
Does The Sunshine Flyer Handle My Luggage?
At the time of launch, there is no luggage handling service which means you will need to pick up your own bags at baggage claim before boarding. A luggage handling service is planned, however, and will hopefully launch by the Summer.
Where is The Sunshine Flyer Located in Orlando International Airport?
Sunshine Flyer is in the Main Terminal Building on Terminal B, Level 1 in the Ground Transportation area. This is the same location where Disney's Magical Express used to be located. Once you arrive, take the elevator or escalator down to Level 1. The baggage claim is located on Level 2.
What Time is Pickup When Returning to the Airport from My Walt Disney World Resort Hotel?
All guests will receive a confirmation email advising them of the motorcoach departure time on the day before checkout. The pickup time will be approximately 3 hours prior to your scheduled departure time for domestic flights and 4 hours prior to your scheduled departure time for international flights.
Is The Sunshine Flyer Kid-Friendly and Safe?
Safety is one of the primary concerns and all Sunshine Flyer Motorcoaches have 3-point harness seatbelts at each seat. Child safety seats can also be secured with the 3-point harness seat belt at each seat or stowed in the storage compartment underneath the motorcoach.
Also, they only work with vendor partners with the highest safety ratings, and a complete background investigation is held prior to hiring new employees to ensure the best possible drivers are behind the wheel.
Is The Sunshine Flyer Wheelchair Accessible?
Yes. Make sure to check the box indicating an ADA-accessible bus is needed when booking your reservation.
How Frequently Do Buses Leave the Airport?
Once guests enter the Sunshine Flyer staging area the wait time is not more than 20 minutes to board the bus.
For more information on planning your vacation to Walt Disney World here are some of our most useful posts:
Your Thoughts
I want to know what you think about the Sunshine Flyer airport shuttle service…
Would you take this from the Orlando International Airport to Walt Disney World?
What is your preferred transportation from the airport?
Let us know in the comments section below!
If you enjoyed this article, as always I appreciate it if you'd share it with others via social media. I work hard at making this website into a useful resource for you and your family to plan your visit to the Disney Parks and I hope it can help you! Thanks 🙂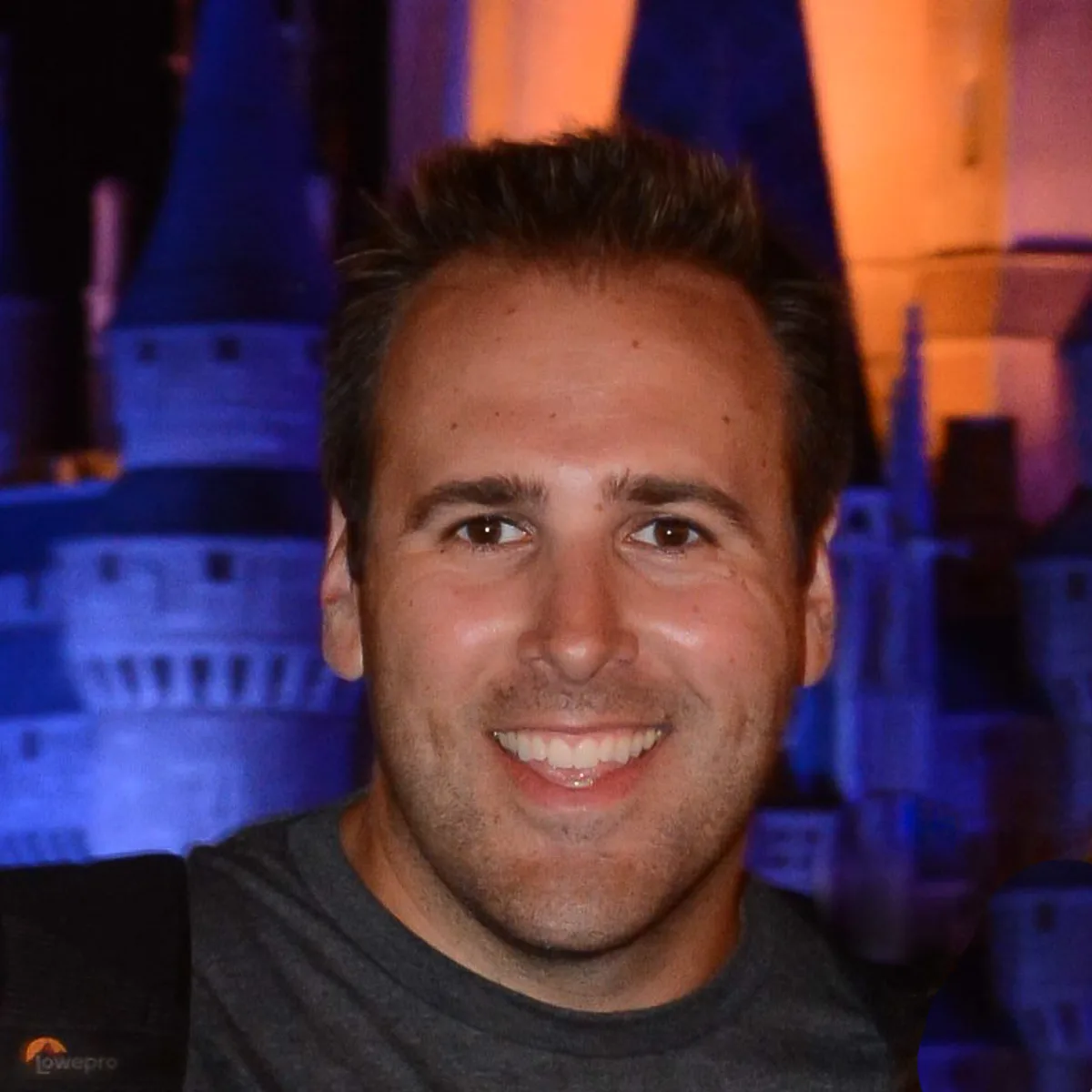 My name is Ziggy and I love Disney, everything Disney! I grew up on Disney and it has and continues to be a huge part of my life. I started young when my parents took me to Disney World when I was 18 months old. Little did they know that would be the first of an uncountable number of trips we would take. I have so many amazing memories going to Disney with my family and friends and it has been interwoven into my DNA.