There is a big expansion planned for the Disney Vacation Club Villas at Disney's Polynesian Village Resort, including a new tower.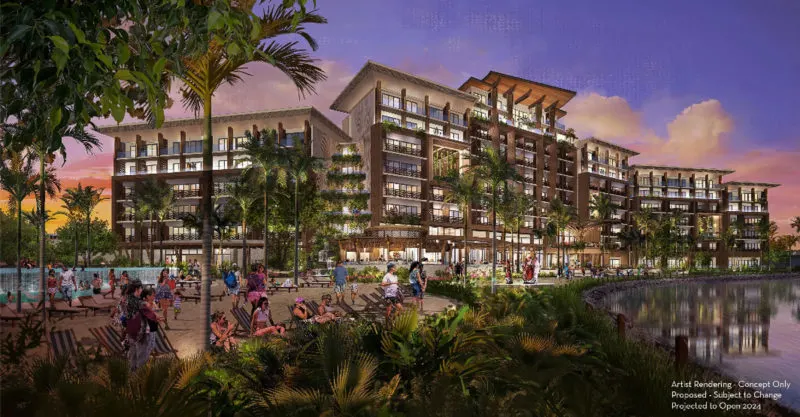 In this post, we are going to explain everything you need to know about the Polynesian Resort DVC expansion, as well as all the changes coming to this resort in the next few years. We'll share our thoughts on why Disney chose to make this move, and what the expansion might look like and include.
With its excellent location on the Seven Seas Lagoon, convenient monorail transportation, and just a stone's throw away from the Magic Kingdom, the proposed project was "inspired by the early concepts for Disney's Polynesian Village Resort," according to Disney.
If this all sounds familiar, it's because Disney's Polynesian Village Resort just had a big refurbishment to the hotel in 2021, and this DVC expansion is the latest addition to what is arguably the most popular resort at Walt Disney World.
As more details come out about this project, we will update you here so keep checking back for the latest info.
Also, don't forget to sign up for our FREE Weekly E-Mail Newsletter. We will update you as soon as we know more info about the DVC expansion at the Polynesian Resort, and share the latest vacation planning tips. You can sign up here: Join our E-Mail Newsletter!
Polynesian Village DVC Tower Overview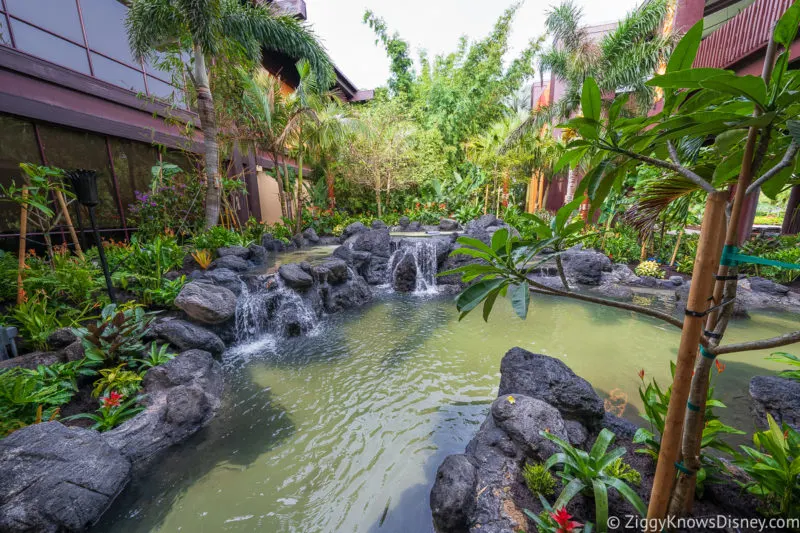 Here are the main details to know about the DVC expansion coming to at Disney's Polynesian Village Resort:
A new tower is being built on the old Spirit of Aloha site
Spirit of Aloha is permanently closed
The tower is scheduled to open in late 2024
The property will have incredible views of the Seven Seas Lagoon and the Magic Kingdom
New recreation and dining options will be included
Here is the full press release from the Disney Vacation Club:
"It's no secret that our Members and Guests love the monorail resorts at Walt Disney World," said Bill Diercksen, senior vice president and general manager of Disney Vacation Club. "Expanding our Disney Vacation Club offerings at the Polynesian would give our Members and Guests yet another incredible option for staying close to the magic while making vacation memories that last a lifetime."
Inspired by the early concepts for Disney's Polynesian Village Resort, the Imagineers of today are honoring the past while furthering the resort story with this innovative addition. Projected to open in late 2024, the proposed vacation ownership property would complement the existing resort and evoke the spirit of the Pacific Islands.
Situated on the shores of Seven Seas Lagoon, the proposed property would join the rest of the resort in offering stunning views of the Magic Kingdom. Proposed plans would offer additional rooms, new recreation offerings and dining options. More information and project details will be shared at a later date.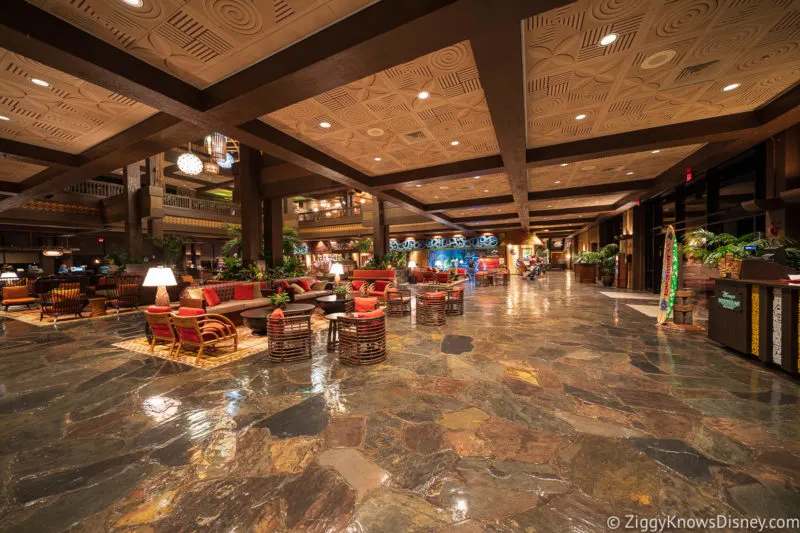 Since 2015, Disney's Polynesian Villas & Bungalows has been a favorite resort destination, offering an island paradise in the middle of the magic. Disney's Polynesian Villas & Bungalows currently has 380 Disney Vacation Club villas, including the largest Deluxe Studios at any Disney Vacation Club resort at Walt Disney World and unique two-bedroom Bora Bora Bungalows, located over the waters of the Seven Seas Lagoon – the first of their kind at Disney."
Let's take a look at all the details more in-depth…
Polynesian Resort DVC Tower Design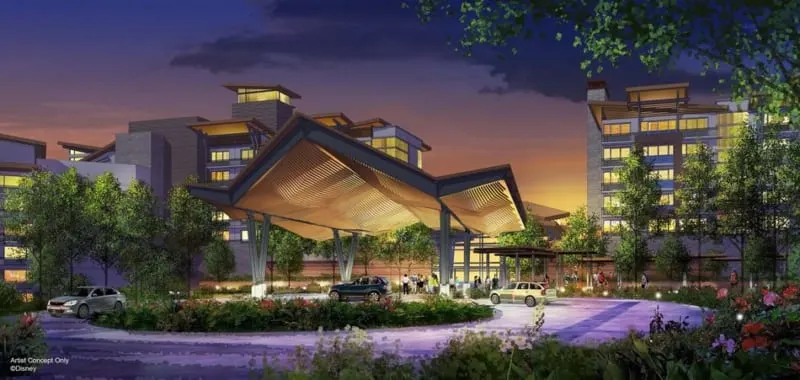 The first thing that stands out about the new tower is its design. If you are a frequent guest of Disney's Polynesian Resort, you immediately notice that this structure does not look like the current buildings at the resort which evoke the spirit of the Pacific islands. In fact, it looks a lot like the previously canceled Reflections – A Disney Lakeside Lodge that was being built near Fort Wilderness.
In our opinion, it looks pretty plain, and without the incredible theming we are used to from the Polynesian. Honestly, this is to be expected at Disney right now. Most of the new projects that have either been announced, or built, have all leaned toward a more generic, muted aesthetic instead of heavier theming.
I know that many fans are upset with this decision (including us), but that's what Disney management has decided guests are looking for at the moment. We've seen it with Disney's Riviera Resort, Reflections – A Lakeside Lodge, Disney's Gran Destino, the new Disneyland Hotel tower, and the list goes on.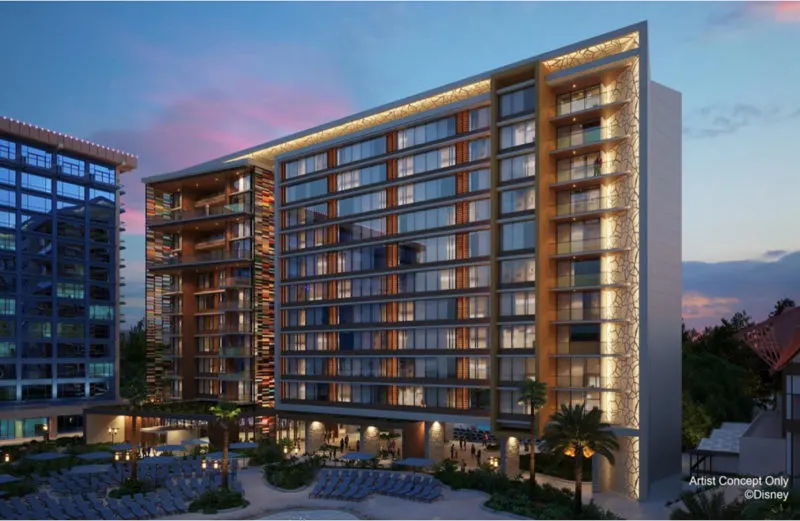 Disney describes it as being "inspired by the early concepts for Disney's Polynesian Village Resort," and that is partly true. An early concept art for Disney's Polynesian Resort included a 12-story tower, reminiscent of something you would find on Waikiki Beach in Hawaii.
That of course, never got built (thankfully), and instead of the unique and exotic design of the original Polynesian buildings, the Bora Bora Bungalows, or like what we see over at Disney's Animal Kingdom Lodge, this new DVC tower is pretty plain and uninspiring.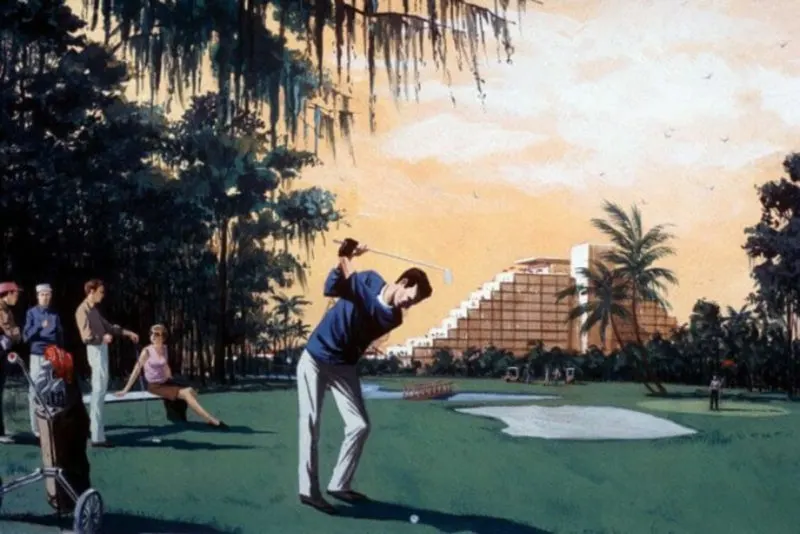 It pretty much looks like any generic hotel you can find at any location throughout the United States or the world, and to us that means not living up to "Disney standards." The fact that there is very little imagination between all these hotels really sums it all up.
I'm not writing it off completely, I just feel that a lot of potential here will probably be wasted. I personally like the sound of the Disney's Boardwalk renovation and the DVC expansion at the Grand Floridian much more, but we'll have to wait and see when all the projects are finished.
We just feel it's generally lazy. We don't blame the Imagineers either. They have shown in recent years, when they are given the budget, they can do some amazing things (hello Star Wars: Galactic Starcruiser). In our opinion, it's Disney management who clearly does not want to spend the extra money to make this an immersive and themed environment because they know people are going to buy these DVC units due to its location.
There will no doubt be many great aspects of the resort when it's complete. The rooms will probably be more spacious and feel more luxurious than other rooms at the Polynesian Resort, but skipping on the theming, is what will probably keep this from truly great status.
Why is Disney Building a New DVC Wing at the Polynesian Resort?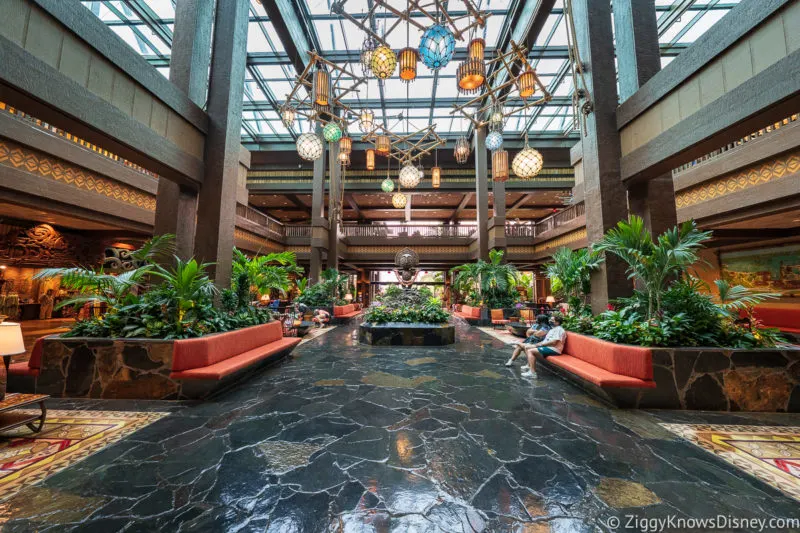 This expansion will help resolve the need for more hotel rooms at Disney's Polynesian Village Resort, especially for Disney Vacation Club members.
It's no secret that the Polynesian Resort is maybe the most resort destination at Walt Disney World, and usually sells out for all dates. If you are trying to book with DVC points and the Polynesian is not your "home resort," it can be almost impossible to get a room there.
Right now there are only 380 Villas and Bungalows at the resort, so with this new expansion, it makes finding a room a little bit easier, which is good for guests willing to shell out the money.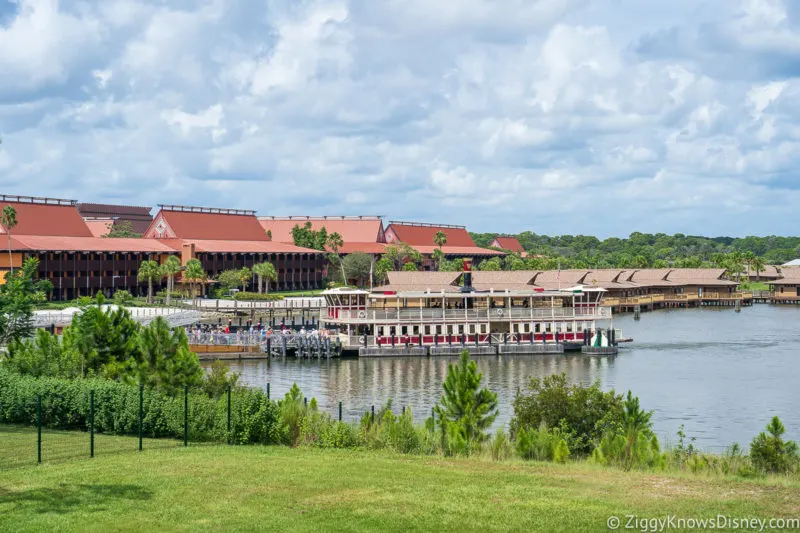 It also lets the DVC part of the Polynesian keep up with the regular hotel. If you remember, in 2021 it had a big overhaul with a new Moana-themed guest rooms, a new porte-cochère installed, and a renovation to the monorail station.
Unfortunately, Disney needs to maximize revenue, and that land will make a ton more money as a DVC hotel than it will as a dinner show. I don't like it as much as you don't, but that's the way it is.
Amenities and Dining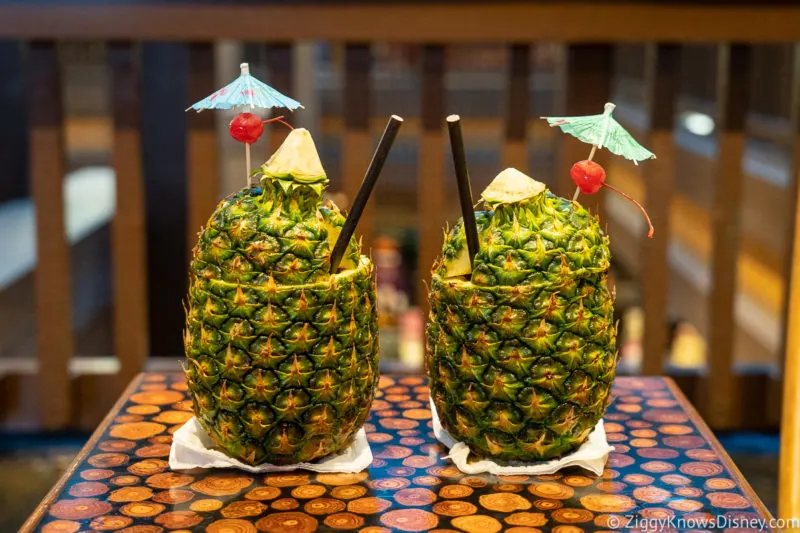 What can guests expect to find here when it opens? So far Disney hasn't revealed many details about the amenities that will be located in this new DVC tower.
The only thing they mentioned so far in the press released was that there will be "new recreation offerings and dining options." That's pretty open-ended and vague and could mean just about anything.
While it mentioned dining options, we aren't sure if it will have a rooftop restaurant or not. These are all the rage right now at new Disney World Resort hotels (Gran Destino and Riviera Resort immediately jump out), and with the amazing views of the Magic Kingdom, one would make sense here too.
I'm not sure though from the concept art that there is enough space at the top center of the structure for a full restaurant. It might be just a lounge, which would be awesome too. We'll keep you posted when we find out more.
Not everything is staying however, some things are on their way out…
Closing Spirit of Aloha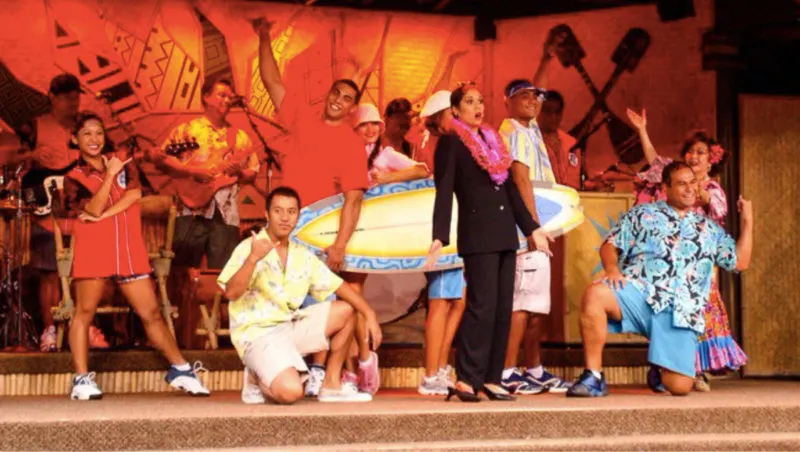 Out with the old, and in with the new. Unfortunately, to build this new DVC tower at the Polynesian Resort, something has to go, and it just so happens that thing is the historic Spirit of Aloha dinner show.
Disney's Spirit of Aloha dinner show was an all-you-can-eat feast, with traditional Polynesian dancers, entertainers, and live music. It's been a family-favorite for decades and one of the most unique dining experiences in Disney World.
When it closed back in 2020, there were rumors of it shutting down for good, but Disney hadn't made any official announcements, with many hoping it would eventually return. That is not happening now, and the land where the show once stood will be home to this new tower expansion.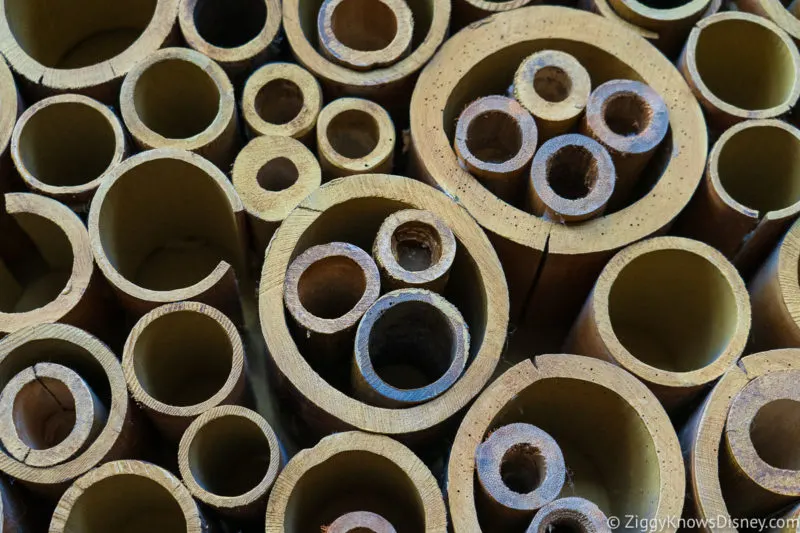 Most fans are going to have a problem with this, and we completely understand. We hate it when some of our favorite Disney experiences, the ones we've had for decades and that really make us feel a connection to Walt Disney World are taken away. Taking it away for a tower that is seemingly bland and without personality makes it even worse.
When Will the New DVC Tower at the Polynesian Be Complete?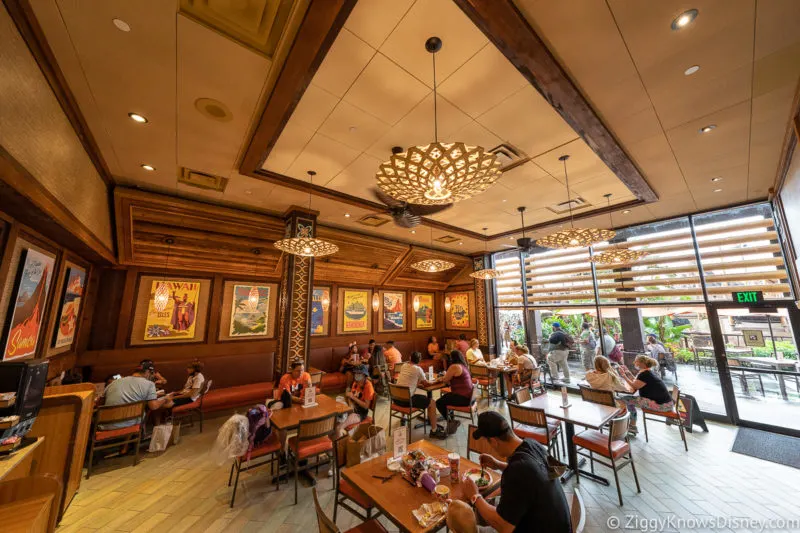 Right now we don't have an actual date, just that it will be open sometime in late 2024. That's an extremely long time from now, more than 2 years as of this writing. A lot of things can happen between now and then, so I wouldn't hold Disney to that exact date.
Construction projects at Disney World rarely go according to plan or their original timeline, so in our experience, you can expect some delays. We'll keep an eye on it though and let you know when we have an exact opening date.
Make sure to read our Guide to Disney World Refurbishments for the latest work being done on all the hotels and attractions around property.
For more information on planning your vacation to Walt Disney World here are three of our most useful posts:
Your Thoughts
I want to know what you think about the expansion to the Disney Vacation Club Villas at Disney's Polynesian Village Resort…
Are you looking forward to this new addition?
What changes to the rooms would you like to see?
Let us know in the comments section below!
If you enjoyed this article, as always I appreciate it if you'd share it with others via social media. I work hard at making this website into a useful resource for you and your family to plan your visit to the Disney Parks and I hope it can help you! Thanks 🙂