In this Star Wars Galaxy's Edge Construction Update we're going to look at all the progress around this new land in Disney's Hollywood Studios, including a New Star Wars Galaxy's Edge Building, and see what changes have been made to the attractions since our last update. We did find out some interesting information recently where we got our first on-ride image of the Millennium Falcon attraction, and it looks incredible! We also have been studying to find out the location of the new Star Wars Hotel, and due to recent permits that were submitted that location is now known.
Thanks again to @bioreconstruct over on Twitter who always takes amazing aerial shots of Star Wars Galaxy's Edge, so let's get down to it and take a look!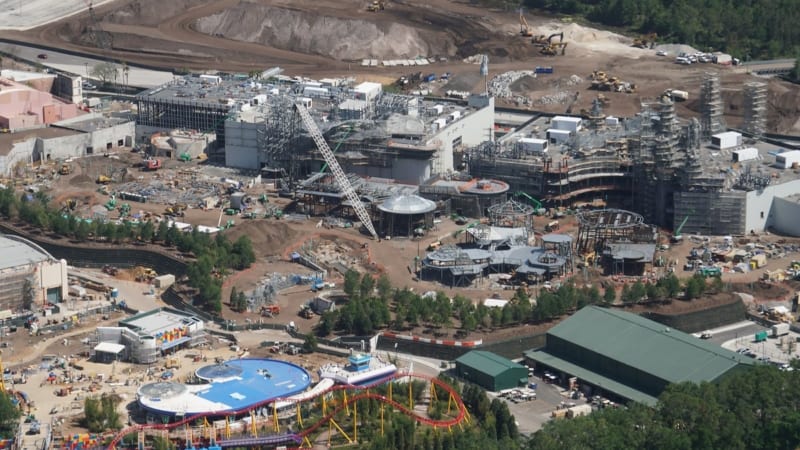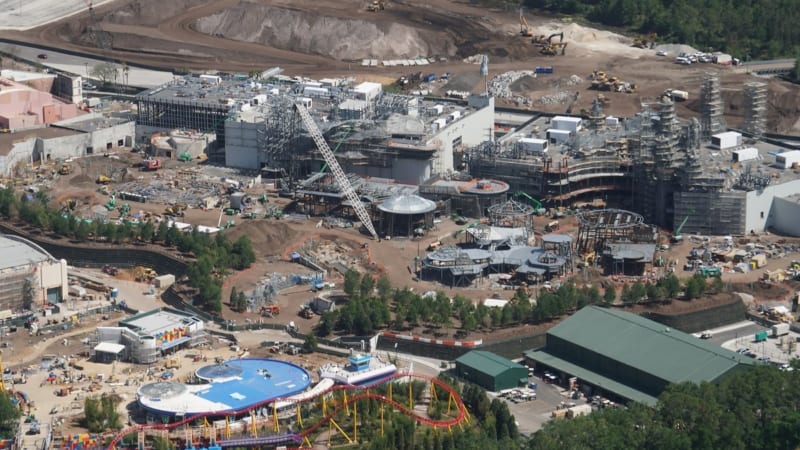 First we have a nice aerial shot with an overview of Galaxy's Edge. This is the angle from the Toy Story Land side, and you can see the row of trees along the berm there, and where the entrance on this side will be. The Hollywood Studios version of Galaxy's Edge will have 2 entrances, while the Disneyland version will have 3:
We've come a long way on the Galaxy's Edge construction in the past year. Don't believe me? Just take a look at the difference between this current photo: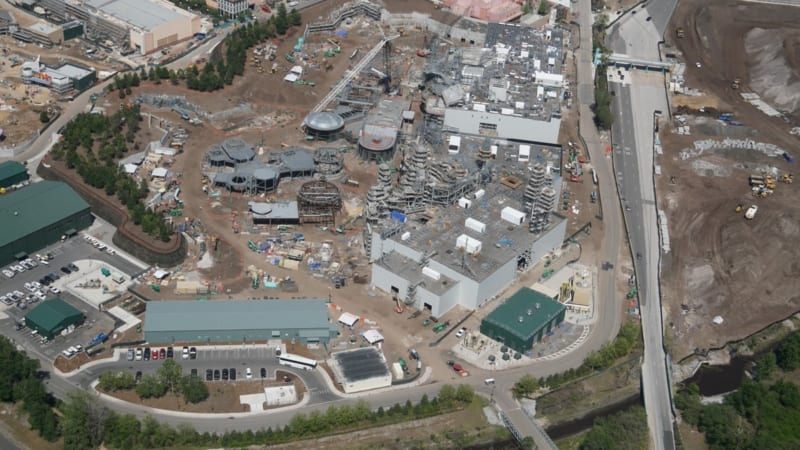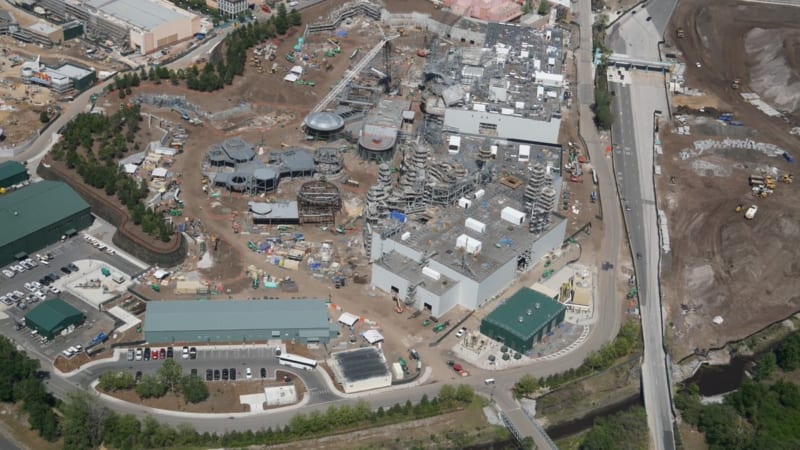 And this one from May 2017. Only 11 months time and a world of difference: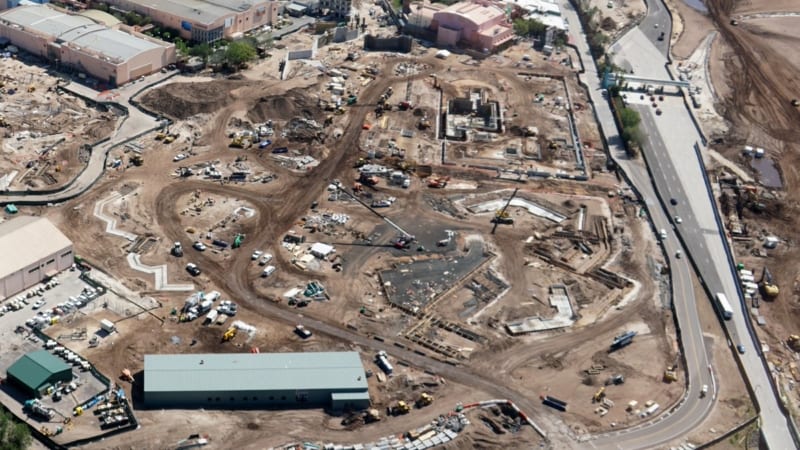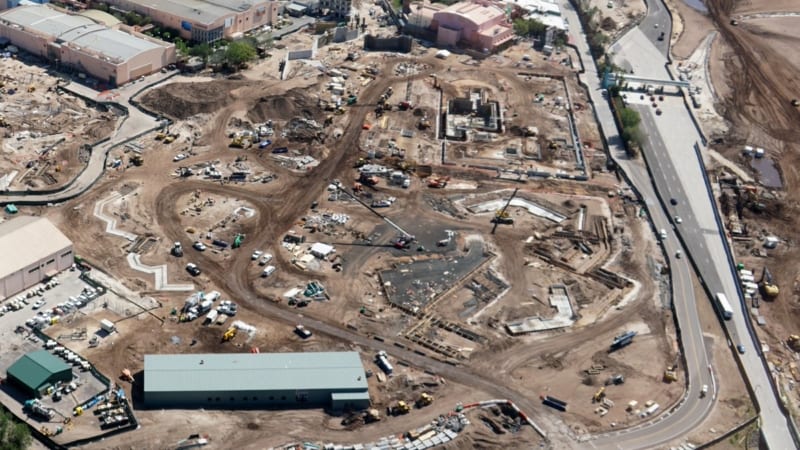 Yes everything is taking form really nicely and you can start to really see how the layout of Galaxy's Edge will be once finished. I can't even imagine how packed this place is going to be after opening. Think Magic Kingdom in July imo. In this shot you can see the backsides of both the Millennium Falcon and Battle Escape attractions: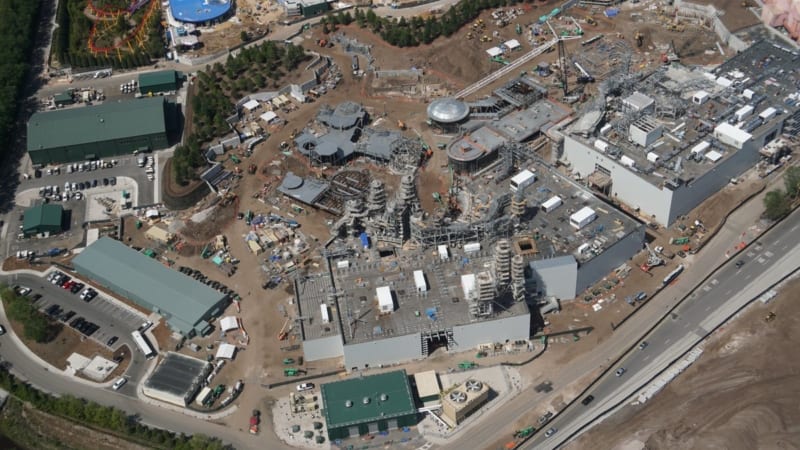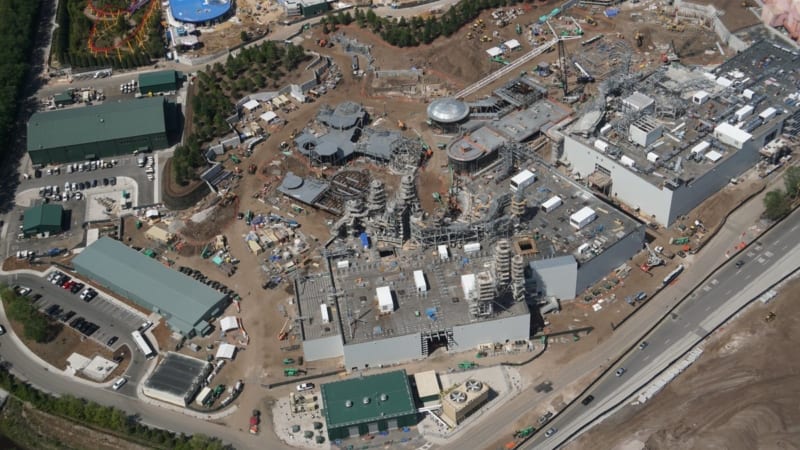 So in the last few months we've also seen the rise of the smaller buildings in the center of Galaxy's Edge, which will serve as the busy marketplace area, where the 2 restaurants and shops will be. In this photo we can now see that a new building is under construction in the same area: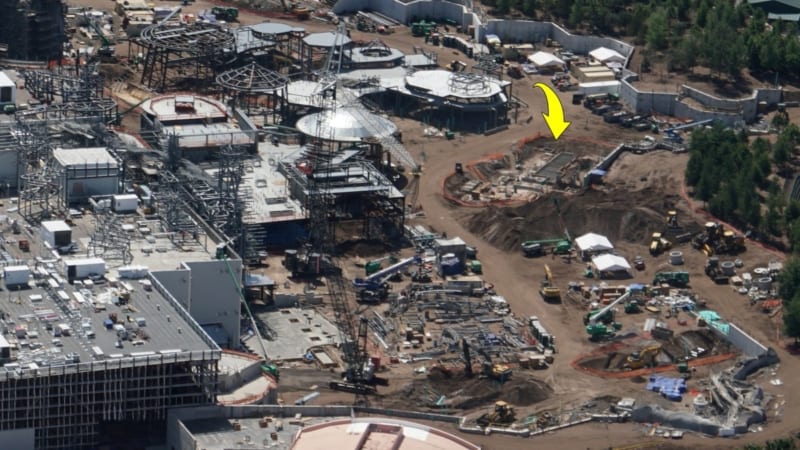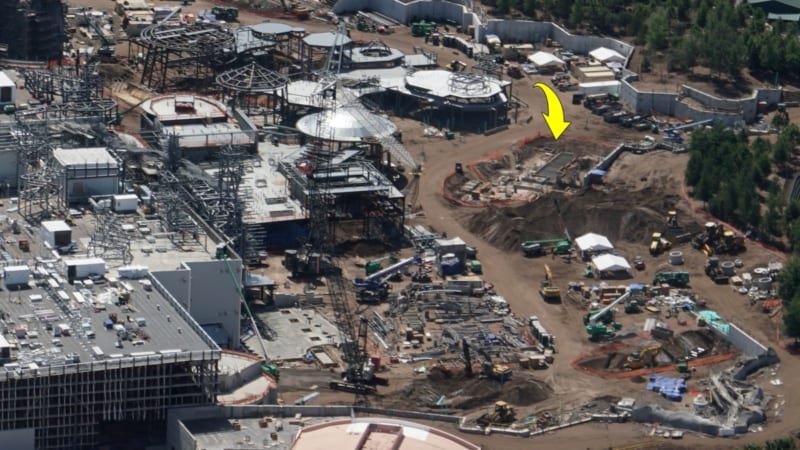 This whole area will try to mimic a crowded street market you might find in an exotic place such as Morocco. I t will be interesting to see how Disney handles crowd flow in a place where guests are supposed to wander though casually and explore, while at the same time send the masses off to the 2 attractions as quickly and efficiently as possible.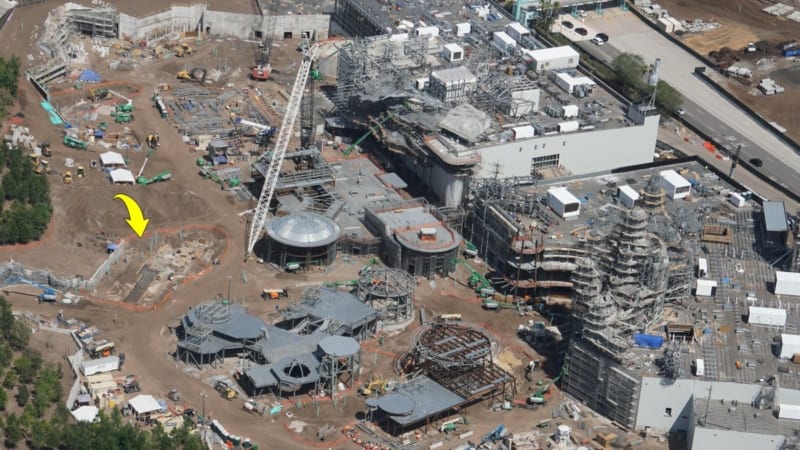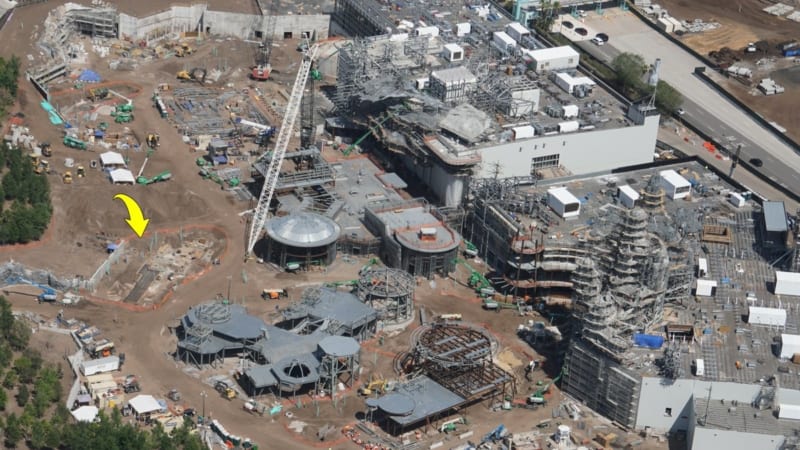 Here's a closer look at more of those buildings. We aren't sure yet which buildings are restaurants or shops, but that will soon become more obvious as construction goes along.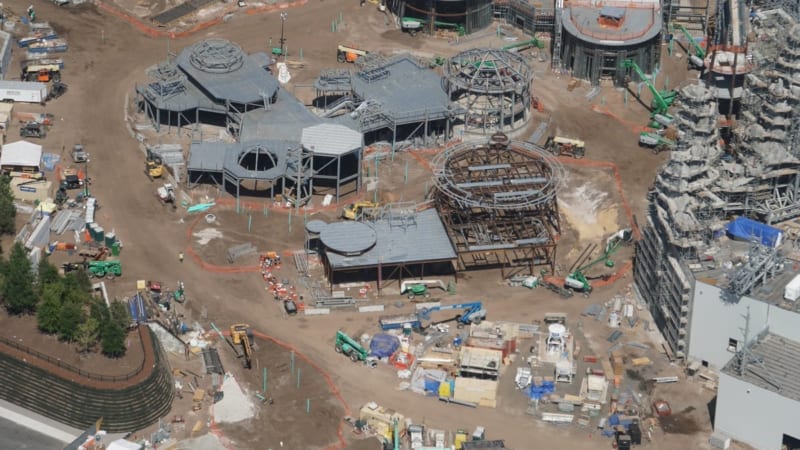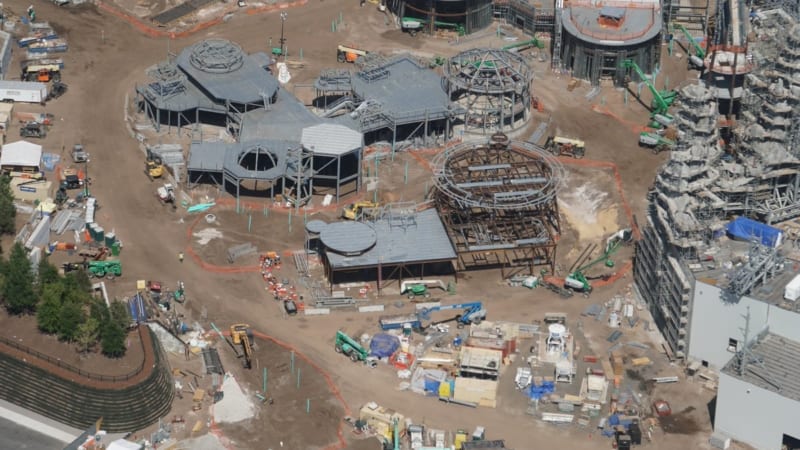 From this angle you can really see a lot of detail throughout the land. Notice the berm on the left being covered over from the inside in order to adapt to the theming of Galaxy's Edge. The huge door in the back of Millennium Falcon is used to bring construction materials in and out of the attraction.
I already couldn't wait for this and we just got our first look at some Test Footage Video from the Millennium Falcon attraction which has me even more pumped!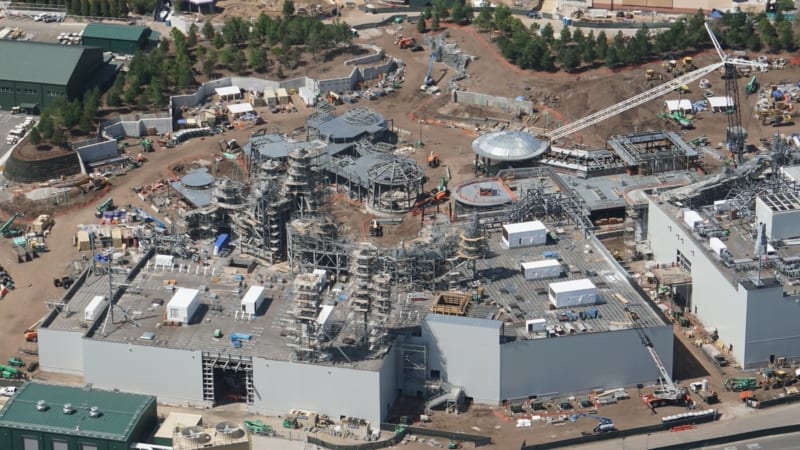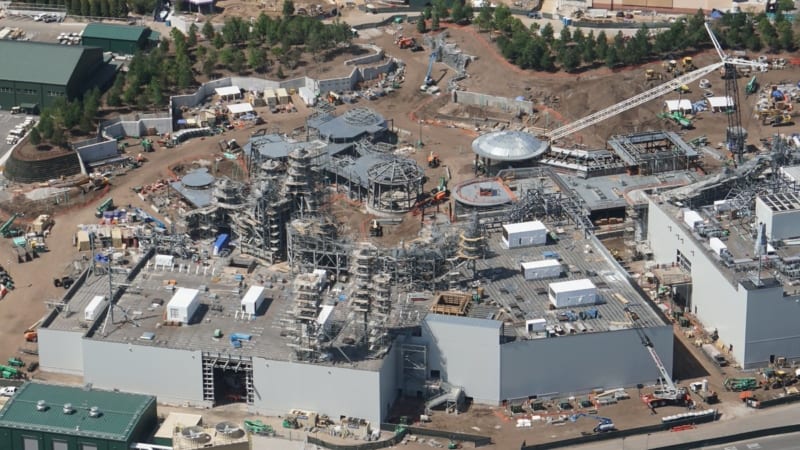 Let's go over to the Rise of the Resistance attraction where we see a new curved roof being prepared and will then eventually be put onto Battle Escape. This will serve as the overhang for the attraction exit as we brought out in our explanation of the Battle Escape queue: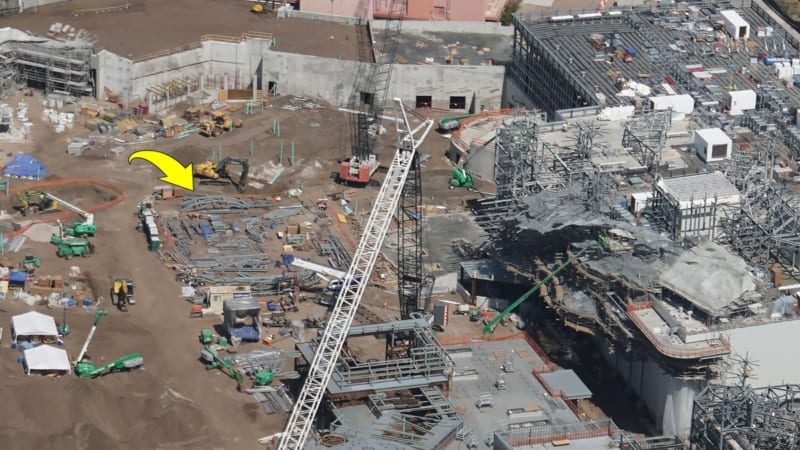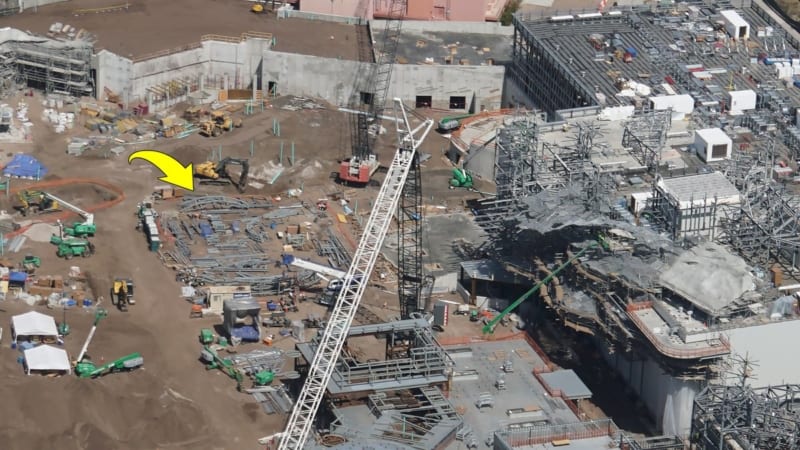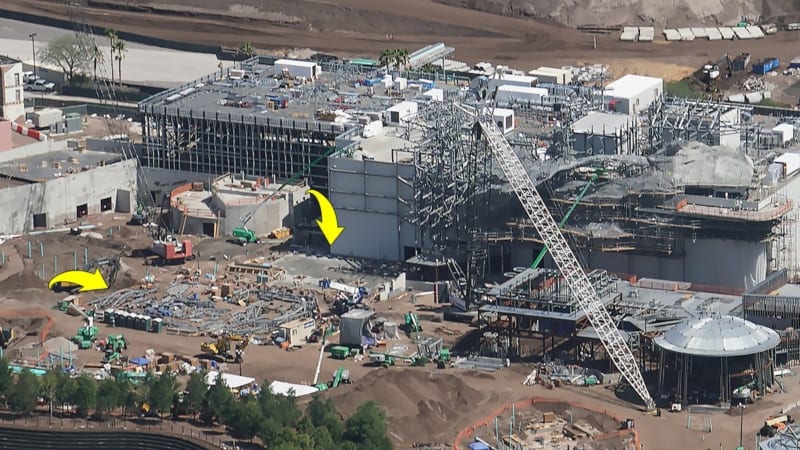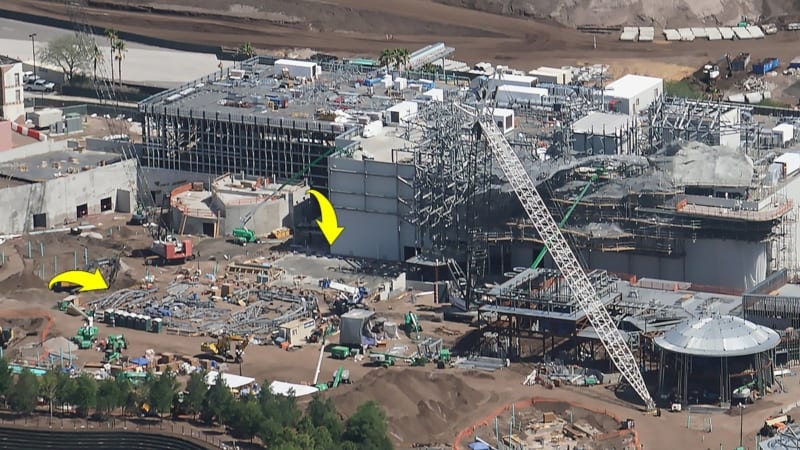 Over by the Main Entrance to Galaxy's Edge from Grand Avenue, you can see the berm separating the 2 lands. On the right is where the Battle Escape queue will start, before weaving in and out of a lengthy and detailed pre-show area: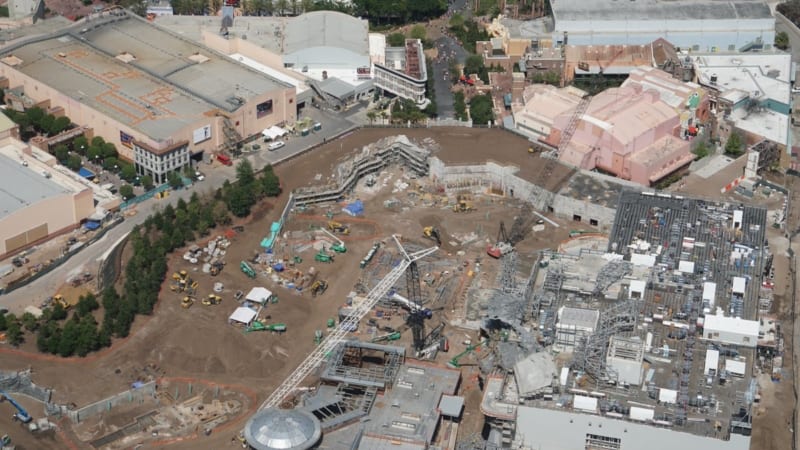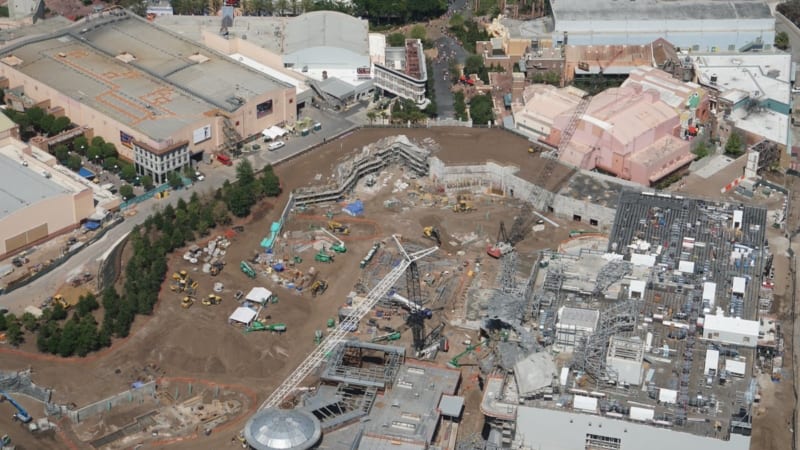 Lastly we have a shot of the future site of the Star Wars Hotel. Recent permits submitted by Disney confirmed this. It will be the section of land where those windy dirt roads currently are. In that case it seems like the Hollywood Studios parking lot will extend to the current huge mass of land which has been cleared near Galaxy's Edge. In some way though there should be access to Star Wars Galaxy's Edge from the Star Wars Hotel, so it will be interesting to see how it develops: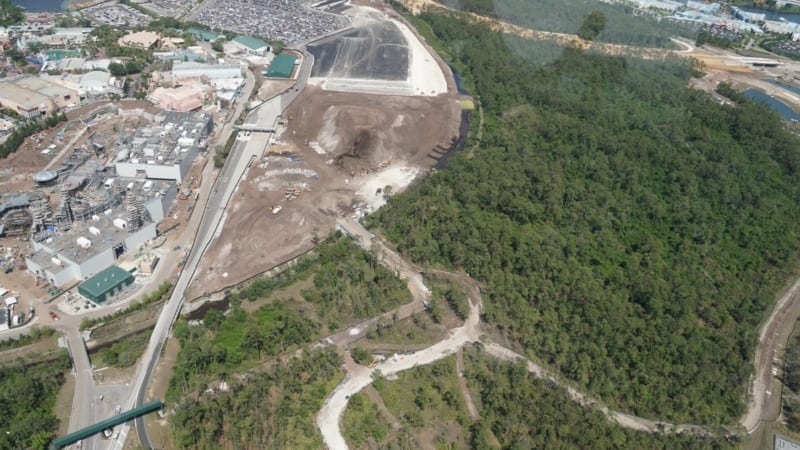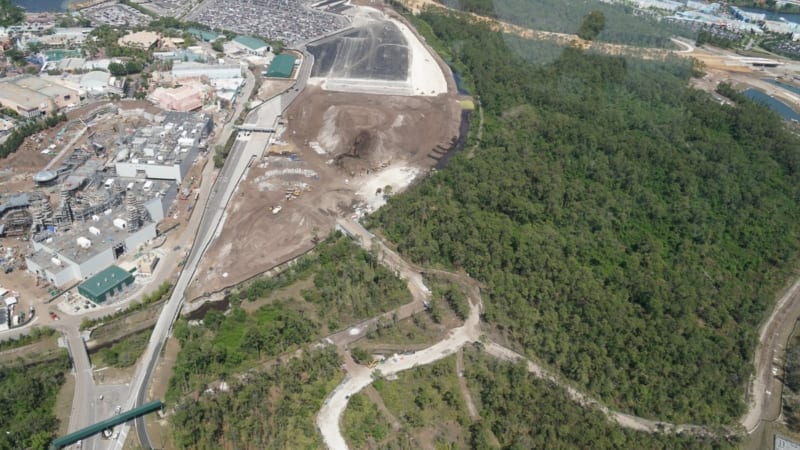 We're still waiting to hear when the opening of Star Wars Galaxy's Edge in Hollywood Studios will be. We know it's sometime in late 2019, so anytime from September on is possible. Since the 2019 D23 Expo is August 23-25, 2019, the Disneyland version will be open at least by then, and then the WDW version soon after. As soon as we have more info we'll let you know!
Don't forget to check out my latest Disney World Construction Updates including:
Toy Story Land Construction Update April 2018
Guardians of the Galaxy Coaster in Epcot
New Parking Garage Pedestrian Bridge in Disney Springs
Disney Skyliner/Gondola Update
Ratatouille and France Expansion
Mickey and Minnie's Runaway Railway Roof Work
Wonders of Life Roof Refurbishment Visible in Epcot
Many have been wondering the When is Galaxy's Edge Opening? We know it's going to be Disneyland on May 31, 2019 and in Hollywood Studios on August 29, 2019, and that post goes into more depth in narrowing down the dates.
Your Thoughts:
I want to know what you think about the Star Wars Galaxy's Edge Construction Update for April 2018.
What do you think the new building is going to be?
Which attraction are you looking most forward to?
Let us know in the comments section below!
If you enjoyed this article, as always I appreciate it if you'd share it with others via social media. I work hard at making this website into a useful resource for you and your family to plan your visit to the Disney Parks and I hope it can help you! Thanks 🙂
Photos: @Bioreconstruct