Dining in Star Wars Galaxy's Edge is always a treat, but now it's about to get even better with 5 new menu items being added to the various dining locations in Star Wars Land in Disneyland, including some vegan options too!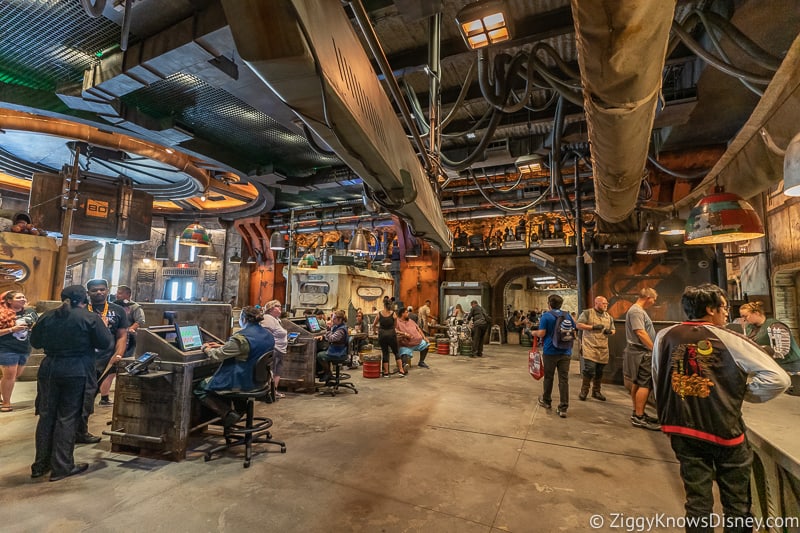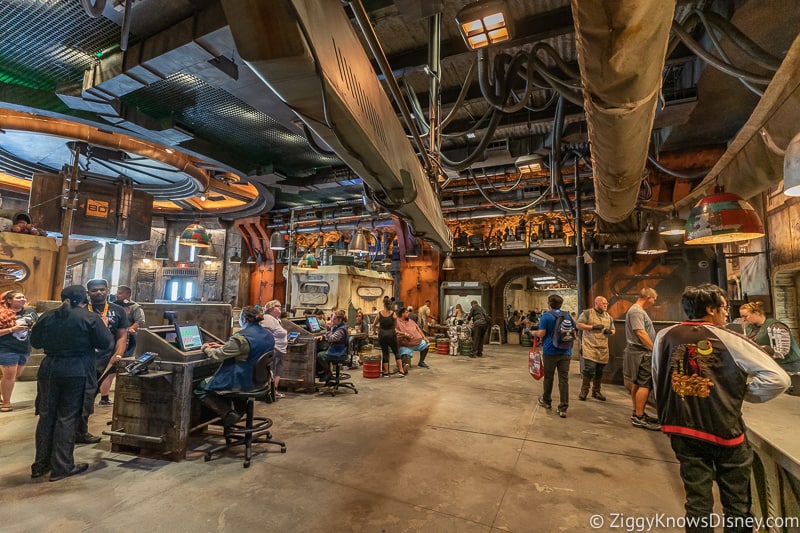 Later on we're going to share with you some news about how to make reservations for the various experiences in Galaxy's Edge including new 60-Day reservations available for Droid Depot, Savi's Workshop and Oga's Cantina.
You won't want to miss out on the new shipments arriving in Black Spire Outpost starting October 16th at: Docking Bay 7 Food & Cargo, Oga's Cantina, Ronto Roasters and Kat Saka's Kettle.
Hey I'm always down for more food as long as its tasty, so this sounds like a great idea to me!
UPDATE 10/16/19: We now have the prices for these new menu items so scroll down to get them.
Let's look at the new food!
Docking Bay 7 Food & Cargo
Garden Patty Bun – $9.99
Docking Bay 7 is the best spot in Galaxy's Edge if you want a meal, and now there is a new vegan option to try for kids, the Garden Patty Bun! This new kid's meal features a bao bun, roasted carrots, house sauce, and an orange.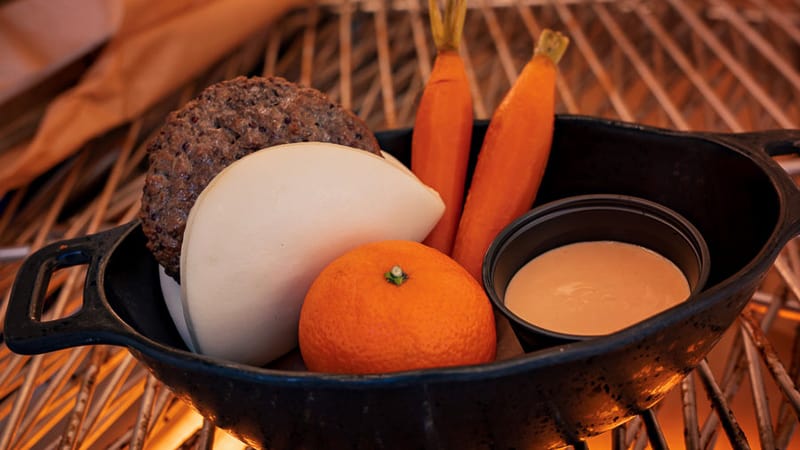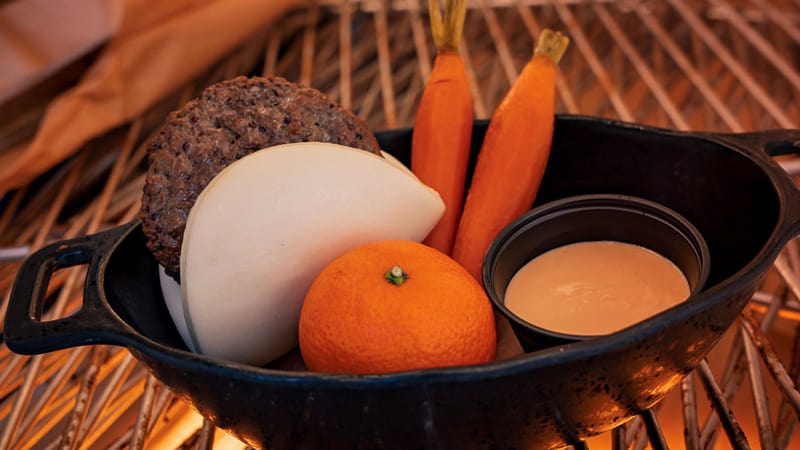 Sure it's on the Kid's menu, but we're sure a few adults are going to be trying it too!
Oga's Cantina
Happabore Sampler – $21.00
If you've been to Oga's Cantina then you know there aren't many food options available on the menu, well now there is a new charcuterie plate: the Happabore Sampler.
This sampler features a selection of cured meats, artisan cheeses, pickled and preserved rations, and crackers. It's the perfect shareable bite to munch on while you sip on the many delicious concoctions Oga has to offer.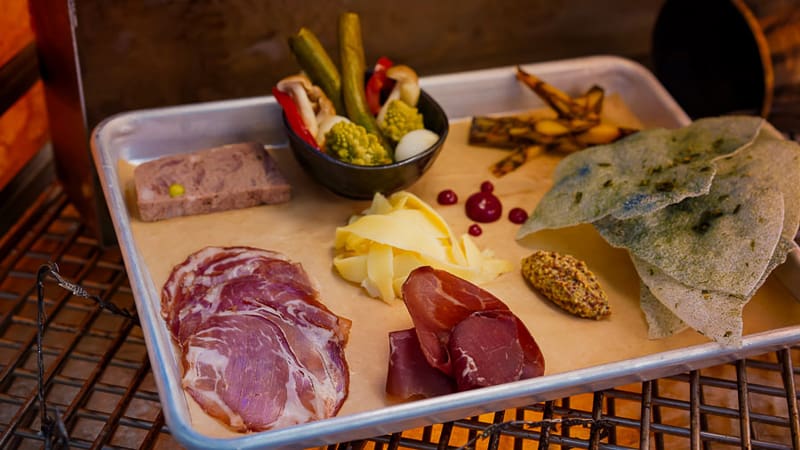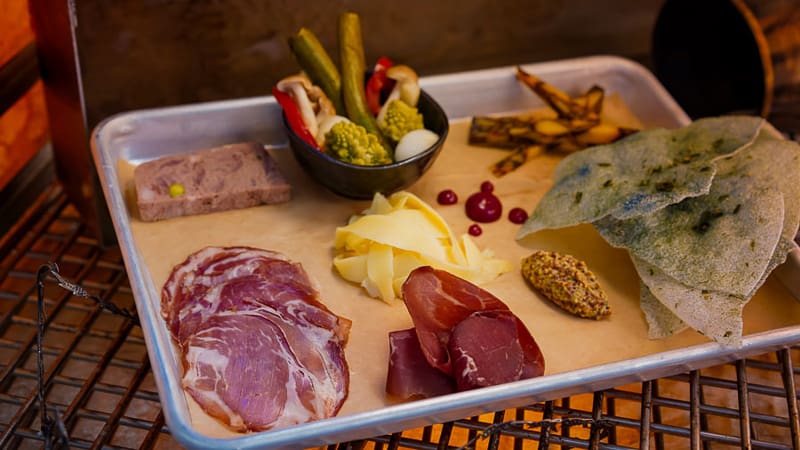 Ronto Roasters
Ronto-less Garden Wrap – $12.99
Kyryll Pork Rinds – $19.99
Ronto Roasters is famous for its meat on a spit that you can see cooking on the pod racing engine outside. Well now there are two new meat-less options coming to Ronto's: the Ronto-less Garden Wrap, and the Kyryll Pork Rinds.
The Ronto-less Garden Wrap features plant-based sausage, spicy kimchi slaw, sweet pickled cucumber, and Gochujang spread all wrapped in pita. The Kyryll Pork Rinds have cinnamon-sugar served in a MSE-6 Series Repair Droid souvenir vessel.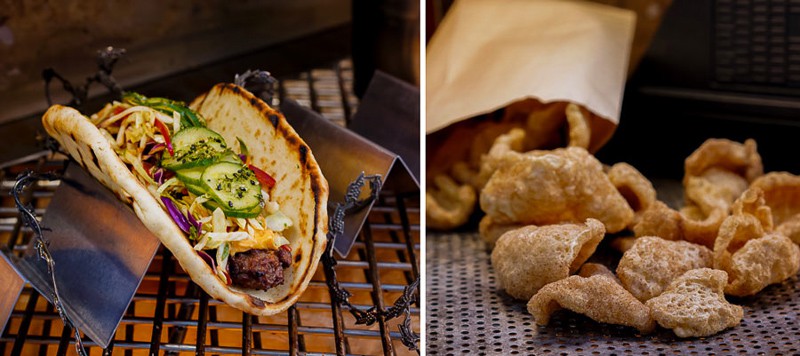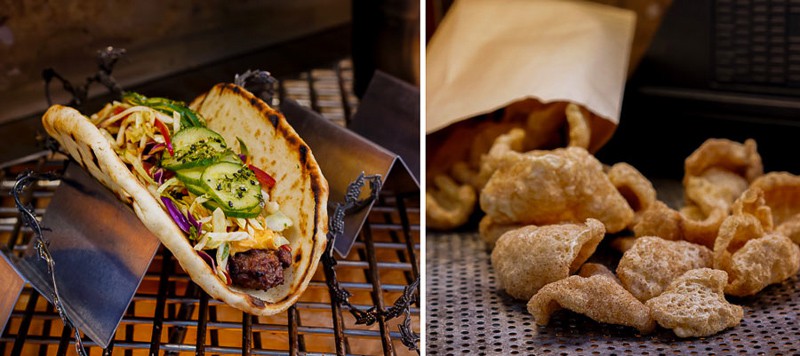 Kat Saka's Kettle
Chocolate Popcorn with Crait Red Salt – $6.49
The popcorn already served at Kat Saka's Kettle can be quite addicting, but now it has competition, with Chocolate Popcorn with Crait Red Salt!
Remember that this salt comes from Crait, the now-uninhabited red mineral world dusted by a layer of white salt which reflects the planet's sunlight which we saw in The Last Jedi.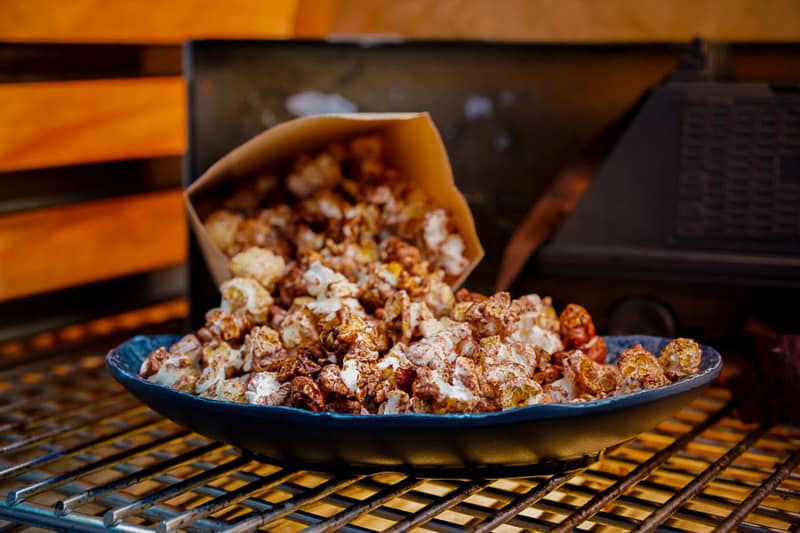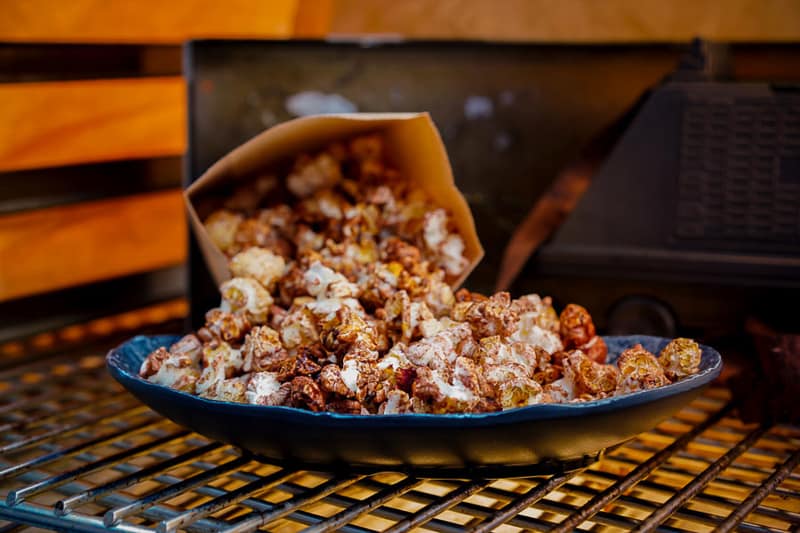 Disney has been transforming its in-park menus to offer many more Vegan options in both Disneyland and Disney World, and it's nice to see even more options are popping up every day.
My only question is if these new food items will make their way over to Galaxy's Edge in Disney World eventually, or if these will be exclusive to Disneyland only. If they stay in Disneyland then let's hope the Hollywood Studios version of Star Wars Land gets its own new snacks too!
New 60-Day Reservations
There are some experiences in Star Wars: Galaxy's Edge that have been fan favorites from day one like Oga's Cantina, Savi's Workshop and Droid Depot. Because of that, at times it can be very difficult to get into them during your time on Batuu.
In our experience in Star Wars Land, these are three of the coolest things you can do there, especially Oga's Cantina, which is a personal favorite of ours! If you want to really experience Galaxy's Edge the way it was made to be experienced, these three things are a must, at least once!
Now, starting October 21, Oga's Cantina, Savi's Workshop and Droid Depot will all have 60-Day reservations available for guests, which means you can lock in your time to visit even earlier than now.
This follows the pattern of other Disneyland restaurants, allowing guests to book 60 days out. Now you can do it not only for Oga's, but for the other two experiences too.
These popular experiences book up quickly, so be sure to check out the Disneyland Resort website or the Disneyland app to make your reservations today!
To learn more about the food and drinks in Star Wars Land, read our guide to Galaxy's Edge Dining. And for a more detailed look at how to plan your visit to Galaxy's Edge itself, read our Star Wars Land Guide which is full of great tips to enjoy your time there.
Your Thoughts:
I want to know what you think about the new food options coming to Star Wars Galaxy's Edge…
Which one looks the best to you?
Do you like the 60-Day reservation system?
Let us know in the comments section below!
If you enjoyed this article, as always I appreciate it if you'd share it with others via social media. I work hard at making this website into a useful resource for you and your family to plan your visit to the Disney Parks and I hope it can help you! Thanks 🙂
News Source: Disney Parks Blog