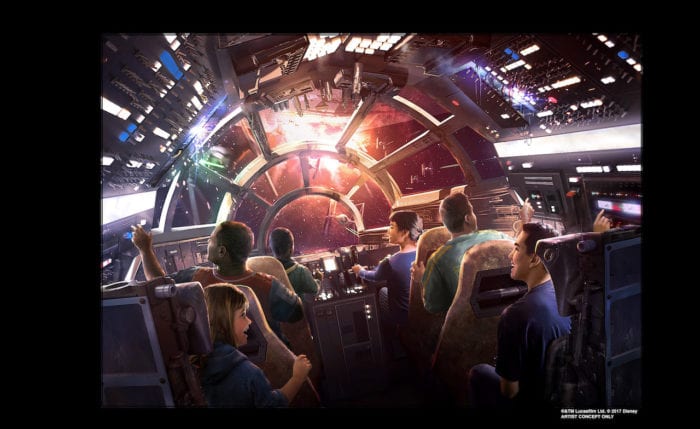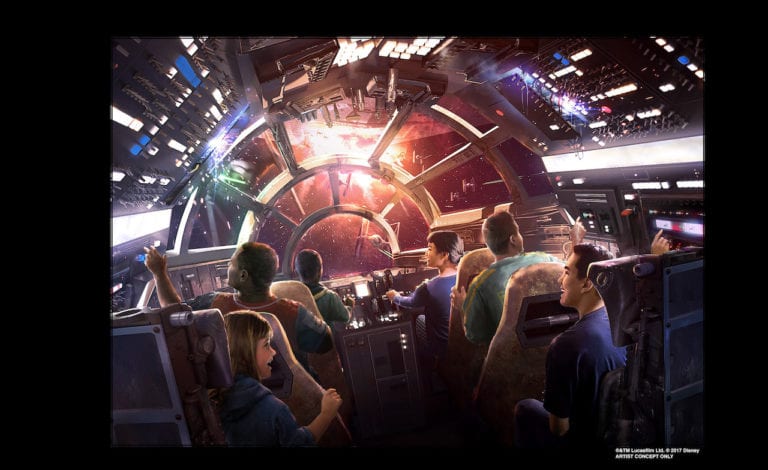 Unless you've been living under a rock for the last 3 years, you're no doubt one of the millions of people eagerly anticipating Star Wars Galaxy's Edge opening up in Disney Parks in 2019. Recently some exciting new details for the Millennium Falcon ride have come out as well as other info about Galaxy's Edge itself and how you the guest will interact with it all.
In this post we're going to talk about the Millennium Falcon: Smuggler's Run ride, but for more info on Galaxy's Edge read our Star Wars Land Complete Guide for a detailed look at the rides, dining, planning and touring strategies.
Let's take a look at what we've learned about the Falcon:
First let's talk about the story and the fact that it centers around the pirate from the Clone Wars and Rebels series: Hondo Ohnaka. According to makingstarwars.net: "Hondo is the owner of Hondo Ohnaka's Transport Solutions sending your crew on mission to Corellia. Before you enter the ride, you will see the Falcon outside. As you go in and have some sort of encounter with Hondo you board the Falcon from underground on Batuu. We assume the idea is that the ship lowered underground to let you board that way."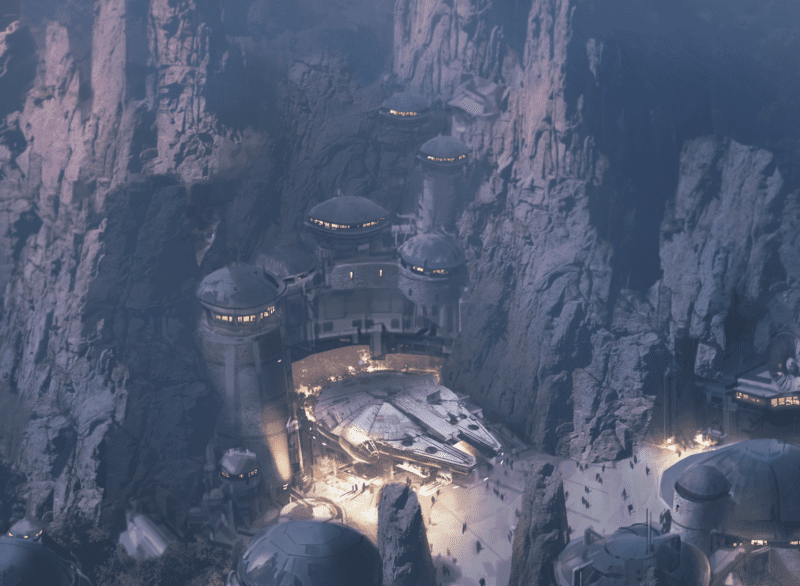 We've known that you will see the Millennium Falcon from outside the attraction since the very first concept art released which shows the famous starship parked right outside. However this makes it seem like you will see the Millennium Falcon from the outside, right before boarding it. That would be really sweet and it would be an incredible moment watching the ramp lowered down as you then make your way up and into the Falcon! They could always say that the Millennium Falcon was lowered down and underground from its place outside, where you then board it.
You will also have interaction with Hondo before going on your mission, it's unclear though if that will be in the form of an Audio-Animatronic figure, using screens or even a live actor. I personally hope for the former and want to see something along the lines of the Shaman figure in Pandora and its impressive fluidity and realism.
The Millennium Falcon will feature 7 "pods" each holding 6 guests, giving a total of 42 guests per ride. Inside each pod it will look and feel exactly like being inside the Millennium Falcon itself with dozens of levers and switches to mess with, all interacting with the environment.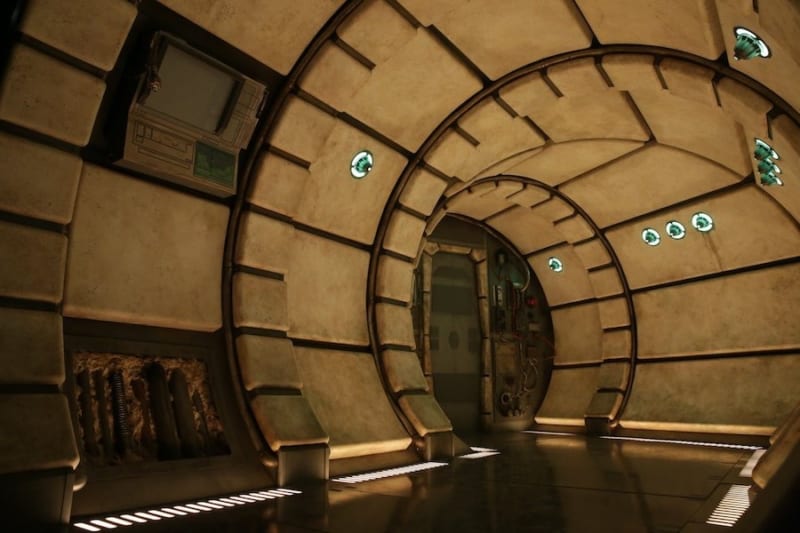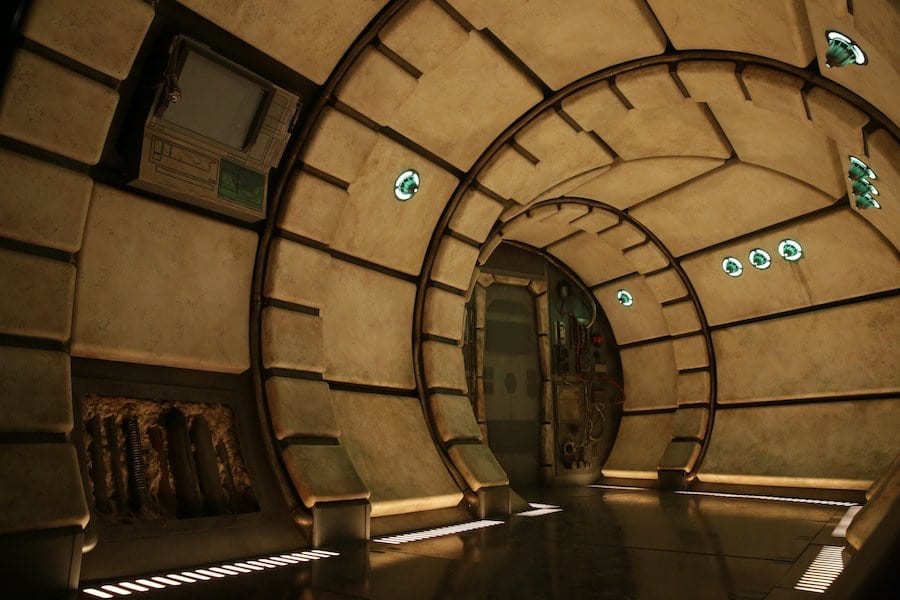 We also learned that the Millennium Falcon attraction will feature randomized missions and not the same one over and over again. That's much like Star Tours, but this will probably be much more random, with different events happening within each mission. Even if you go to the same planet over and over again through different times riding it, each time will be different.
Some of the mission examples are given:
Mission Scenario One: Hondo gets you involved in a race on Corellia that he's sure you can't lose with the Millennium Falcon.
Mission Scenario Two: Hondo sends you to the First Order Shipyard on Corellia, possibly on a mission for the Resistance.
Mission Scenario Three: Your crew will have to steal some piece of cargo but the cargo is guarded by a giant monster similar to The Maw from Solo: A Star Wars Story and you'll have evade the creature like the mythic heroes stealing the treasure from the sleeping dragon. Spoiler: The dragon wakes up.
How well you do in each of your missions will have consequences on your stay in Galaxy's Edge as you will earn "galactic credits" and be able to spend them in other experiences and interactions throughout the land. Disney has been having a hard time balancing the difficulty of the Millennium Falcon attraction, because if they make it too hard and people fail the mission in the first minute, they will have a lot of angry guests who probably waited in line for 5 hours to get on. Plus if you get stuck in a group of people that have no idea how to operate the Falcon, it could be a very frustrating experience for you. How Disney learns to balance the gameplay remains an interesting point to watch…
We also found out that the Millennium Falcon attraction will take place in between Star Wars Episodes 8 and 9, but as more Star Wars films are developed in the future, more missions can be added to go along with those timelines and stories, even being updated yearly.
Lastly, Disney has been working on a Star Wars Galaxy's Edge commercial, and in it they hint at premium access being given to guests in the form of paid special events. This is no surprise as Disney has used hard-ticketed events as a revenue grower and could capitalize big-time of the opening of Star Wars Galaxy's Edge.
They already tried it out last year with the opening of Pixar Pier in Disney California Adventure and there would be 10x the demand for access to Galaxy's Edge with a limited number of people. They charged $299 per guests last year, they could ask $499 this time around without breaking a sweat. Disney could even take a period of time before the public opening, let's say a whole month, and dedicate that to these hard-ticketed events if they saw a demand. Let's just hope it doesn't become paid access only…
That's all the new details for Star Wars Galaxy's Edge and the Millennium Falcon: Smuggler's Run ride for now, but stay tuned as Disney continues to drop more info on this exciting and revolutionary new land…
Your Thoughts:
I want to know what you think about the new details about Millennium Falcon Ride in Star Wars Galaxy's Edge…
Does this news make you even more excited for the attraction?
Do you like the idea of private Star Wars Galaxy's Edge events?
Let us know in the comments section below!
If you enjoyed this article, as always I appreciate it if you'd share it with others via social media. I work hard at making this website into a useful resource for you and your family to plan your visit to the Disney Parks and I hope it can help you! Thanks 🙂
Need Help Planning Your Disney Vacation? Show You the World Travel is Here to Help!
Just fill out the form below and someone will contact you for all your Disney Vacation Planning Needs….