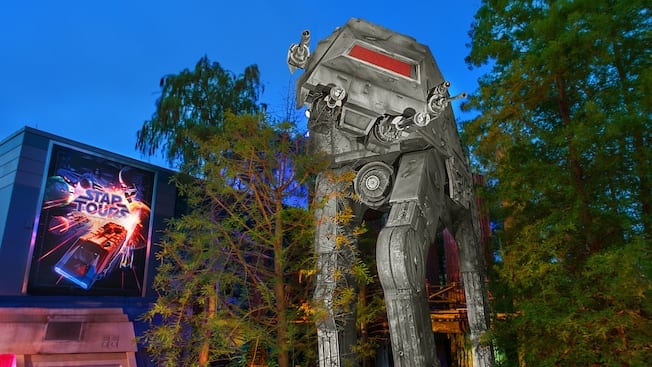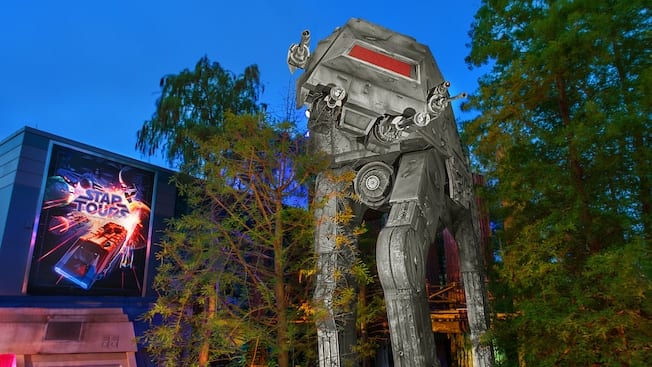 UPDATE 11-17-17: Today the new missions for Star Tours have come out and we now know what new adventures guests will be going on. The new Star Tours – The Adventures Continue starts with one of two intros, one with Kylo Ren and one without, as we reported earlier. Once guests confront him they make the jump aboard the lightspeeder to Jakku where either BB-8, Maz Katana or Poe Dameron give you your mission details in a transmission.
Once done on Jakku it's off to the planet of Crait, which will play an important role in The Last Jedi with a climactic battle between The First Order and Resistance, and of course you find yourself in the middle of it all. The Starspeeder flies through a crystal cave, which beckons the original Star Tours attraction.
At the end of the mission you visit the planet of Batuu, which we found out today is the official name for the planet that guests will visit in Star Wars Galaxy's Edge when it opens in 2019.
No word on how long the old trilogy missions will be gone for, but for the interim, fans should enjoy these missions from the latest trilogy!
ORIGINAL STORY: We know about the new mission from The Last Jedi coming to Star Tours in just a few days, but now according to Comicbook.com, Disney is dramatically changing the way guests will experience Star Tours. Apparently when Star Tours debuts the new scene it will take guests to Canto Bight and a sequence featuring Jakku, to celebrate The Force Awakens. But that's it. For the foreseeable future Star Tours is not going to bring guests on any of the mixed missions that we're used to which take place in episodes 1-6, just the new stuff.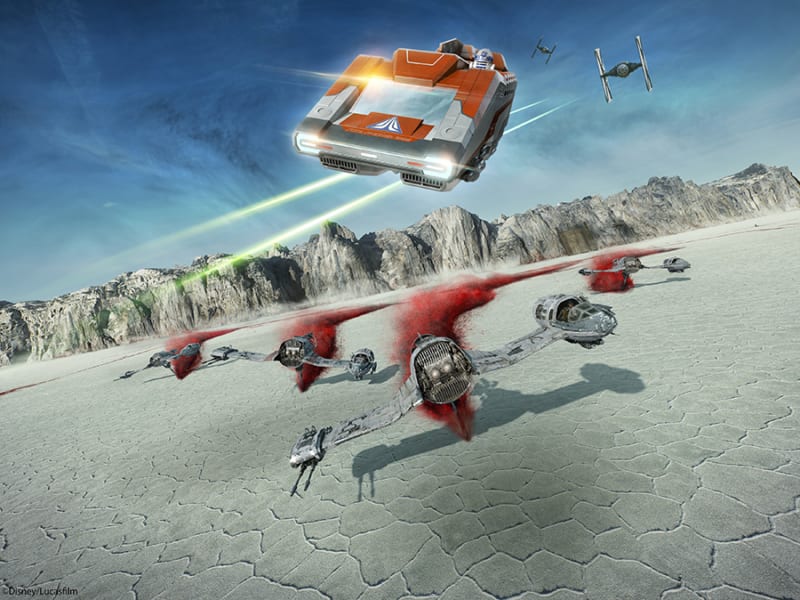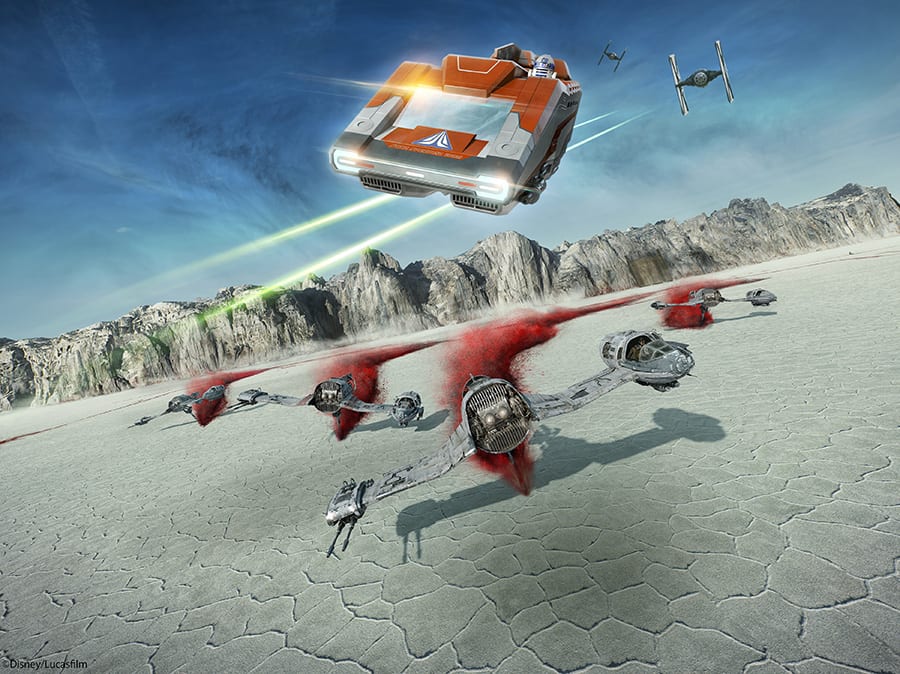 According to the Disney World Website some places we might see when it re-opens are:
Distant destinations you may visit include:
The dusty mineral world of Crait—beginning November 17, 2017
The underwater realms on Naboo
The bustling city-planet of Coruscant
The dreaded Death Star
In addition to C-3PO and R2-D2, you may encounter:
Kylo Ren—beginning November 17, 2017
Boba Fett
Poe Dameron—beginning November 17, 2017
Princess Leia
Yoda
In the future, however Star Tours will offer guests a choice at which missions they want to go on, either the old trilogies 1-6 or the missions from the new trilogy. Two separate paths so to say. So at this unknown future date there will be separate groups of missions and before entering you'll choose if you want missions from The Phantom Menace – Return of the Jedi, or Force Awakens, The Last Jedi and Episode 9.
Obviously Disney wants to heavily market The Last Jedi and the group of Star Wars characters from the new trilogy and a move like this gets them in front of guests as much as possible.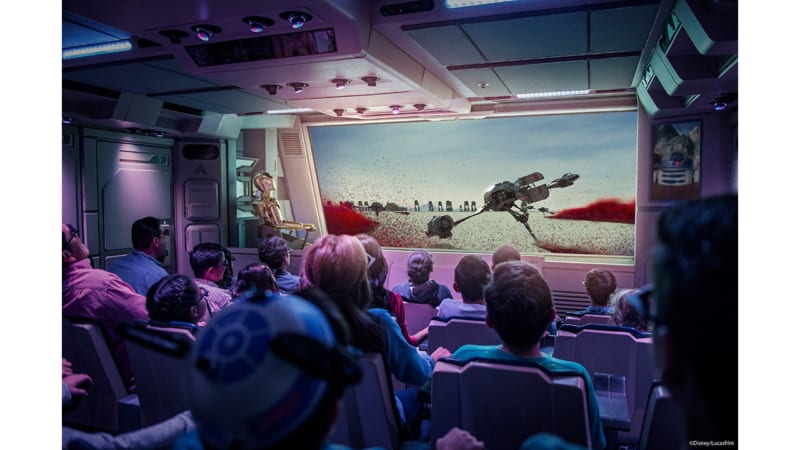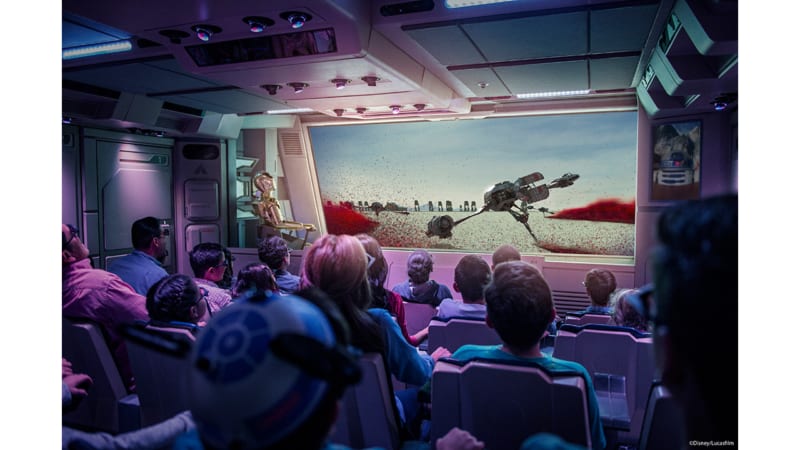 This change in the Star Tours scenes will happen to all versions of the attraction in Disney's Hollywood Studios in Walt Disney World (Nov 17th), Disneyland Park (Nov 17th), Disneyland Paris (Nov 22nd) and Tokyo Disneyland (December 15th).
Overall I don't think it's such a bad idea. It helps Star Wars fans be able to choose which films they want to experience in the missions, which will be useful if you have strong opinion verses one or the other. Right now Disney hasn't given a date when the old missions are coming back or when it will be possible to make this choice in missions. I'm not sure I like the idea of having to ride the new missions and not being able to ride the other ones, especially without knowing how long it's going to last (Disney isn't always the fastest moving company you know). We'll have to see just what's included when Star Tours opens up today. Stay tuned for more info when we have it!
Your Thoughts:
I want to know what you think about Star Tours separating old and new missions. Why or why don't you think it's a good idea? What other future scenes would you like to see come to Star Tours? Let us know in the comments section below!
If you enjoyed this article, as always I appreciate it if you'd share it with others via social media. I work hard at making this website into a useful resource for you and your family to plan your visit to Walt Disney World, and I hope it can help you! Thanks 🙂