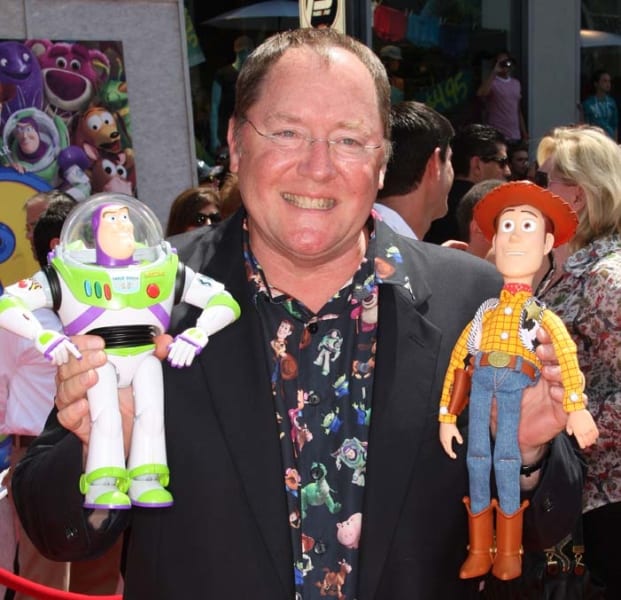 According to the Wall Street Journal, John Lasseter might be coming back after a 6-Month leave of absence from Disney/Pixar. John Lasseter was the chief creative officer of both Pixar and Walt Disney Animation Studios, but had to take a leave of absence back in November due to sexual misconduct allegations. This no doubt came as a shock at the time due to Lasseter's high profile and important position within the company, but he was one of many over the last 6 months with similar accusations.
Apparently Disney executives have discussed the possibility of letting Lasseter come back to work with the company in a reduced role, which would still allow him to use his creative abilities with a limited exposure to other incidents. Lasseter's presence is important at Pixar because he is looked to in such high regard for his creative influence and what he means to the leadership of the company in general. Plus since he's been on a leave of absence, there hasn't really been anyone capable of filling his role with Pixar and the employees are now wondering what the direction of the company is going to be. Lasseter can help stabilize that part.
The Wall Street Journal had this to say: "His absence has been felt in every corner of Disney's animation business, current and former employees say. Though he personally directed only five movies, the last one in 2011, he consulted on every movie at Pixar and Disney Animation, weighing in anywhere from every few weeks to every few months depending on how smoothly production was running, employees said. Approval from Mr. Lasseter was necessary to move past key benchmarks in writing, storyboarding, production and editing.
Now Disney is relying primarily on a panel of artists, producers and executives at each studio to make creative decisions, according to current and former employees, a more diffuse approach than Mr. Lasseter's arrangement."
Disney has not commented on the potential of Lasseter coming back with the company and Lasseter himself hasn't commented on the situation.
Disney has a tricky decision to make on the subject as they don't want to take sexual misconduct lightly and most likely bringing Lasseter back to Pixar would certainly give people reason to question if Disney and Pixar are really looking out for their other employees and potentially sending a bad message. On the other hand, one of the company's most important divisions is in dire need of clarity on the direction of the company, and bringing Lasseter back who has been so instrumental in the success of Pixar would help tremendously from a business point of view.
Don't forget that Disney has Incredibles 2 coming in June, Wreck-It- Ralph 2 in November and Toy Story 4 in 2019, so any creative input on franchises that Lasseter is so familiar with could make the difference into making them massive successes or not.
The 6-Month mark is on May 21st, so if something is to happen we could see it in the next weeks. We'll keep you posted.
Your Thoughts:
I want to know what you think about the potential of John Lasseter coming back to work for Disney – Pixar after a 6-month absence.
Should Disney bring him back?
Why or Why not?
Let us know in the comments section below!
If you enjoyed this article, as always I appreciate it if you'd share it with others via social media. I work hard at making this website into a useful resource for you and your family to plan your visit to the Disney Parks and I hope it can help you! Thanks 🙂
News Source: Wall Street Journal