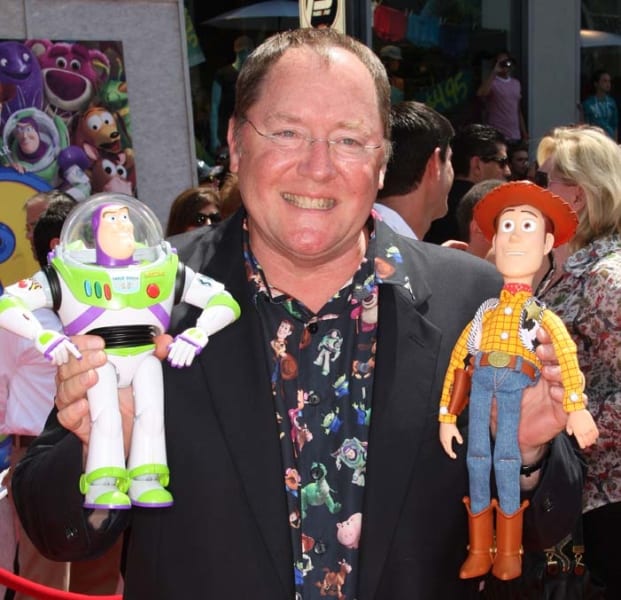 In a certainly turbulent time in Hollywood for scandals, Disney Animation Head John Lasseter announced he is taking a leave of absence from Pixar due to sexual misconduct allegations.  He wrote a letter to his staff on Tuesday acknowledging "painful" conversations and unspecified "missteps," which was made public by The Hollywood Reporter.
This comes as a surprise to many of John Lasseter's fans, as he is a larger -than-life figure and chief creative officer of both Pixar and Walt Disney Animation Studios.  I mean when you think of someone in Disney Animation, Lasseter is immediately the face that first comes to mind.  He's the driving reason behind Disney's run of box office success recently with smash hits like Frozen, Zootopia, Moana, and is heading up all the upcoming films Disney/Pixar has in the works too such as Wreck it Ralph 2, Toy Story 4, Incredibles 2, Frozen 2, not to mention Coco, which hits theaters this week.
If you've been even somewhat awake over the last months, you know the huge scandals which have rocked some of Hollywood's biggest names due to sexual abuse, harassment or misconduct.  This topic has turned red-hot and is now putting executives across Hollywood under the spotlight.
The Hollywood Reporter claims that Rashida Jones and Will McCormack departed Toy Story 4 after Lasseter made unwanted advances toward Jones.  Disney has denied this as the reason for the split, saying it was for "creative differences."  Many have acknowledged that Lassetter has been known to drink heavily at social events, although his alleged misconduct extends beyond these events.  Lasseter is known for hugging Pixar employees and other industry insiders, Lasseter has also been accused of "grabbing, kissing, making comments about physical attributes."
John Lasseter wrote this letter to Pixar Animation employees:
I have always wanted our animation studios to be places where creators can explore their vision with the support and collaboration of other gifted animators and storytellers. This kind of creative culture takes constant vigilance to maintain. It's built on trust and respect, and it becomes fragile if any members of the team don't feel valued. As a leader, it's my responsibility to ensure that doesn't happen; and I now believe I have been falling short in this regard.
I've recently had a number of difficult conversations that have been very painful for me. It's never easy to face your missteps, but it's the only way to learn from them. As a result, I've been giving a lot of thought to the leader I am today compared to the mentor, advocate and champion I want to be. It's been brought to my attention that I have made some of you feel disrespected or uncomfortable. That was never my intent. Collectively, you mean the world to me, and I deeply apologize if I have let you down. I especially want to apologize to anyone who has ever been on the receiving end of an unwanted hug or any other gesture they felt crossed the line in any way, shape, or form. No matter how benign my intent, everyone has the right to set their own boundaries and have them respected.
In my conversations with Disney, we are united in our commitment to always treat any concerns you have with the seriousness they deserve, and to address them in an appropriate manner. We also share a desire to reinforce the vibrant, respectful culture that has been the foundation of our studios' success since the beginning. And we agree the first step in that direction is for me to take some time away to reflect on how to move forward from here. As hard as it is for me to step away from a job I am so passionate about and a team I hold in the highest regard, not just as artists but as people, I know it's the best thing for all of us right now. My hope is that a six-month sabbatical will give me the opportunity to start taking better care of myself, to recharge and be inspired, and ultimately return with the insight and perspective I need to be the leader you deserve.
I'm immensely proud of this team, and I know you will continue to wow the world in my absence. I wish you all a wonderful holiday season and look forward to working together again in the new year.
John 
Lasseter is taking a six month sabbatical to try to get himself together and return as the leader of Disney and Pixar animation.  Lasseter acknowledged he has a problem and apologized to anyone he may have offended or hurt.  Whether or not this is a isolated incident remains to be seen but it doesn't seem likely from the tone of Lasseter's letter.
Disney has declined to comment to THR's request in regards to Jones and McCormack, spokesperson for Disney did however say this: "We are committed to maintaining an environment in which all employees are respected and empowered to do their best work. We appreciate John's candor and sincere apology and fully support his sabbatical." 
What does this mean for the long-term leadership of Pixar and Walt Disney Animation?  First I want to say that any type of misconduct of this type is abhorrent and it should be punished, as we are seeing all around Hollywood today.  The next question though is what impact this will have on the Walt Disney Company.  It's yet to be seen who will pick up the slack in Lasseter's absence and what kind of impact they will have.  If this becomes a long-term problem and for one reason John Lasseter doesn't come back we could have a big problem, and it would be terrible breaking the huge momentum Disney is riding right now.
If Lasseter is guilty of the allegations against him, he rightly will be punished and I would find it hard to believe Disney would even take him back.  I just can't see a company who's focus is on family-themed entertainment being ok with someone convicted of this type of behavior.  Whatever move they make, Disney is going to be under a very small microscope.  Hopefully for his sake the allegations aren't as serious as some believe and Lasseter can get it together and come back strong, otherwise it's bye bye…
Your Thoughts:
I want to know what you think about John Lasseter taking a leave of absence from Pixar.  What do you think Disney should do moving forward?  What sort of impact do you think this will have on Disney long-term?  Let us know in the comments section below!
If you enjoyed this article, as always I appreciate it if you'd share it with others via social media.  I work hard at making this website into a useful resource for you and your family to plan your visit to Walt Disney World, and I hope it can help you! Thanks 🙂