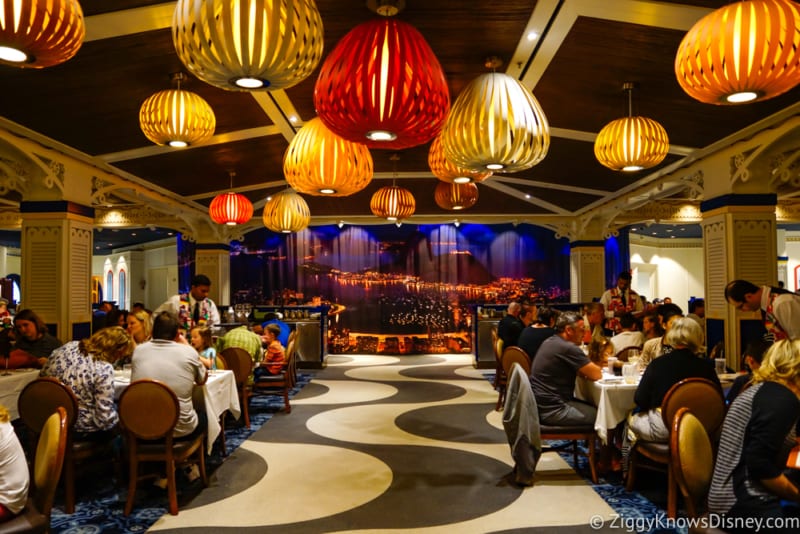 We recently had the opportunity to go on a Disney Cruise onboard the Disney Magic ship, and man was it a blast! Part of the dining rotation on on the Disney Magic is Carioca's restaurant. Carioca's is a American and South American style restaurant, and the decor will bring back memories for any more "seasoned" Disney fan, being inspired by the Three Caballeros. Carioca's is open for Breakfast, Lunch and Dinner, but we are going to share with you our Carioca's Dinner review, which was the best of the 3!
You can find Carioca's only onboard the Disney Magic, so it's unique in that way, not like Cabanas, Animator's Palate or Palo which can be found on every Disney Cruise ship. Carioca's is themed to South America, Brazil more specifically, so expect to find a more latin-based menu, but nothing overly exotic even for picky eaters.
Again Carioca's is part of the normal Disney Cruise Dining Rotation which is a fun and exciting way to enjoy dinner. Basically every night you go to dinner with the same people, at the same time, and have the same servers, just the restaurant changes every night. You don't need to make a reservation ahead of time, you will automatically be assigned here on one of the nights of your cruise.
Of course at Carioca's as all the rotational dining restaurants, you can order as much food as your heart desires, as the price of the restaurant is already in your room charge. So bring your hunger and stretchy pants with you! And it's also good if you have allergies or special dietary needs, or even just likes and dislikes as the waiters learn about you and your entire party over the days you are with them.
TIP: There are 2 rotational dining times: at 5:45 and 8:15 p.m. Of course if you go to the earlier seating expect to find more kids there as that's usually the more "family friendly time," so plan accordingly.
I hadn't heard as much about Carioca's before going, as imo it isn't nearly as well known as Animator's Palate, probably because that's almost a dinner show with entertainment, where as Carioca's is more straightforward order, eat and go. Also it should be noted that Disney has announced a new Tangled-themed restaurant called: Rapunzel's Royal Table, which will be replacing Carioca's in 2018. So if you are going to be on the Disney Magic before that opens, make sure to visit Carioca's as it will be your last chance!
Let's get to it in my Carioca's dinner review, and see what this place is all about!
We're ready to go in:
Atmosphere:
Carioca's is located on Level 3, and is themed as a Brazilian restaurant. Once you step into the entryway you'll immediately notice the bright and warm colors prevalent all around: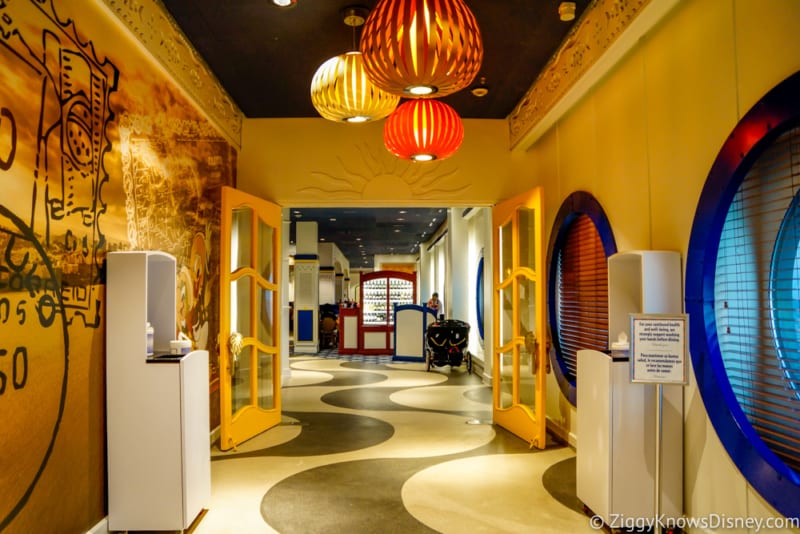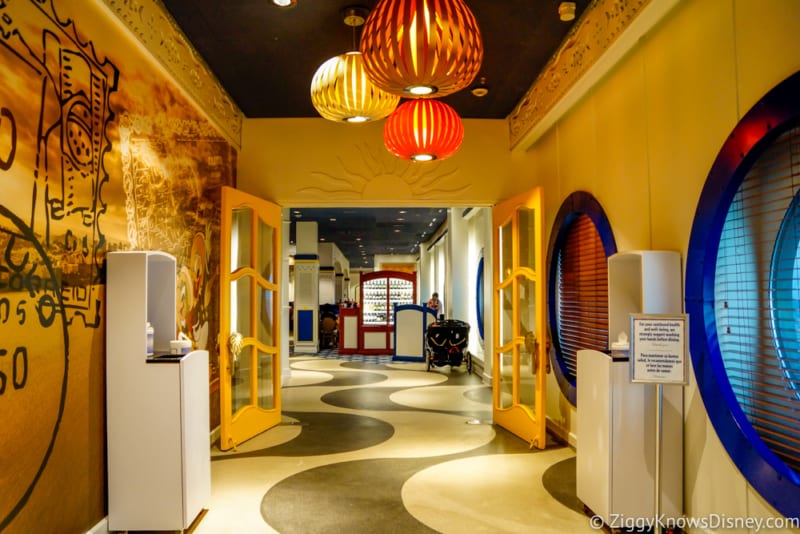 The beautifully colored lanterns is what immediately strikes the eye: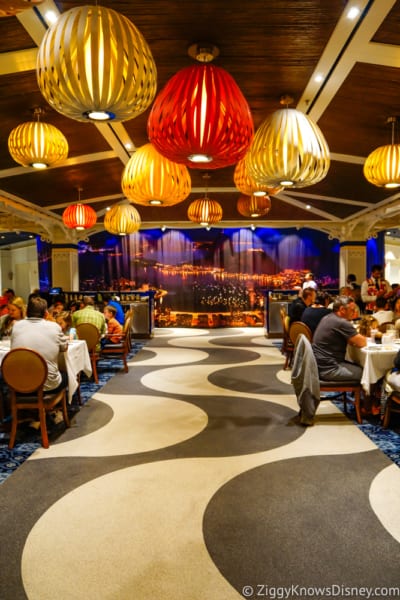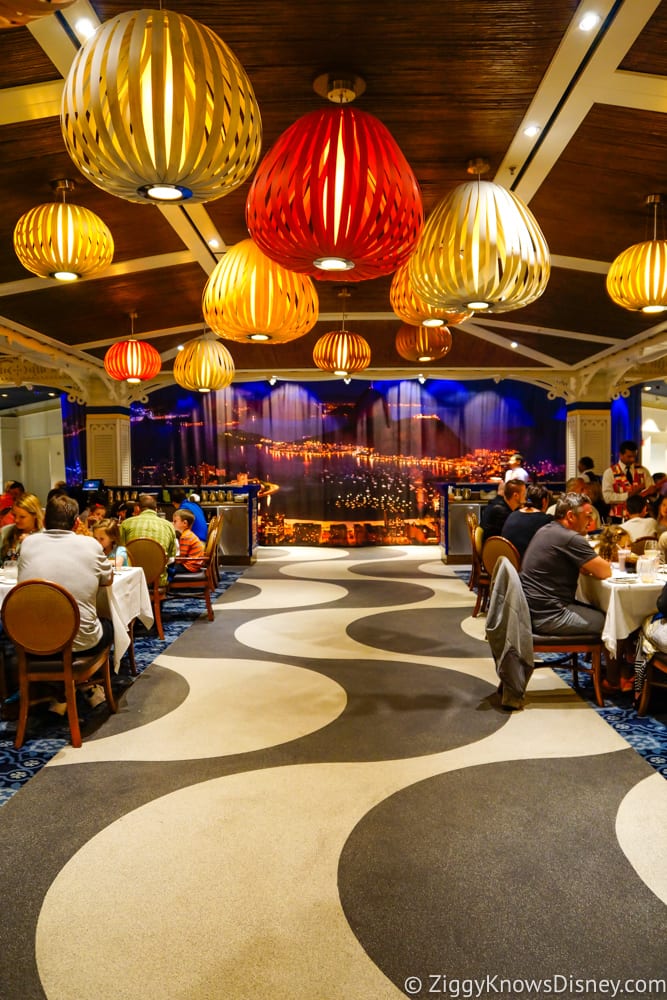 You can see we aren't on the Disney Magic anymore, but we're in Rio De Janiero: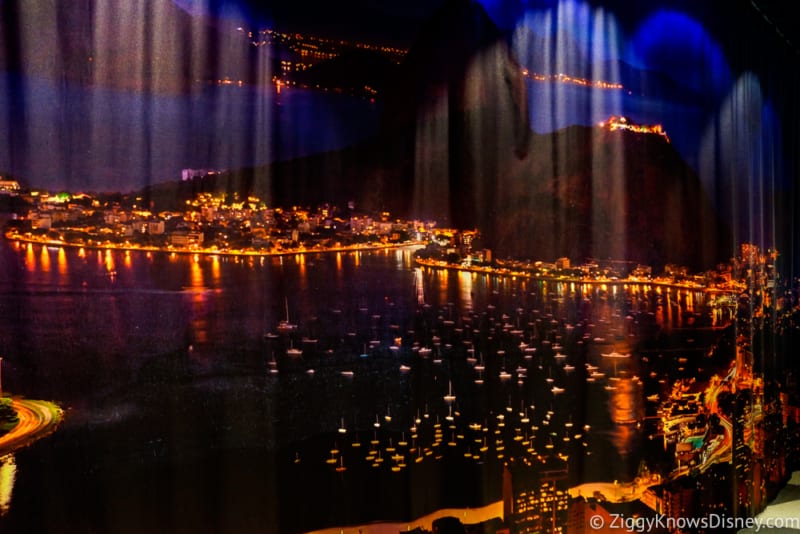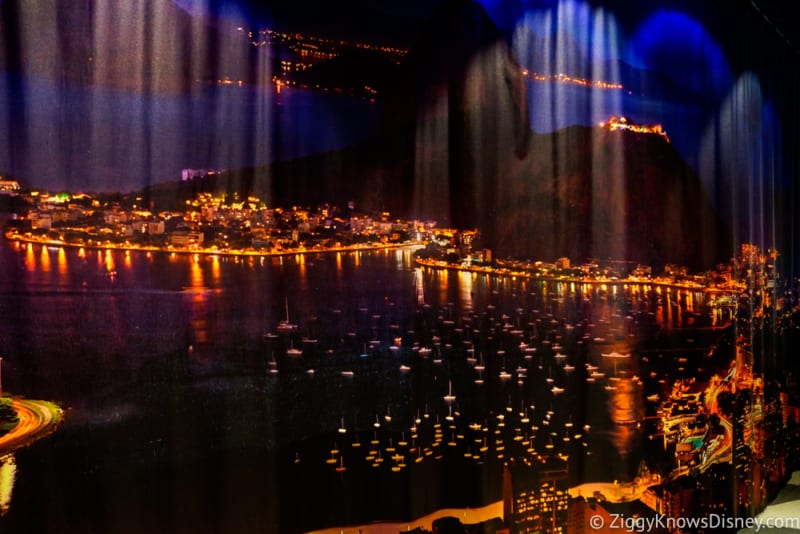 Take a look around the Dining Room and get a feel for Carioca's: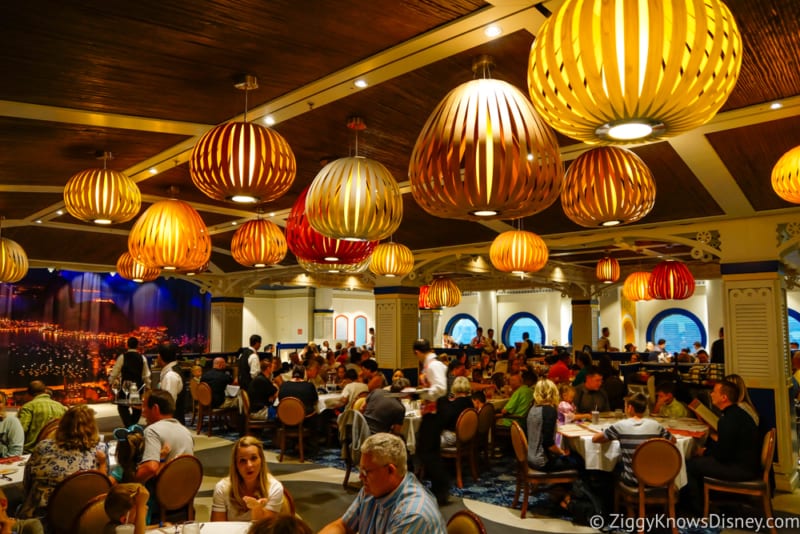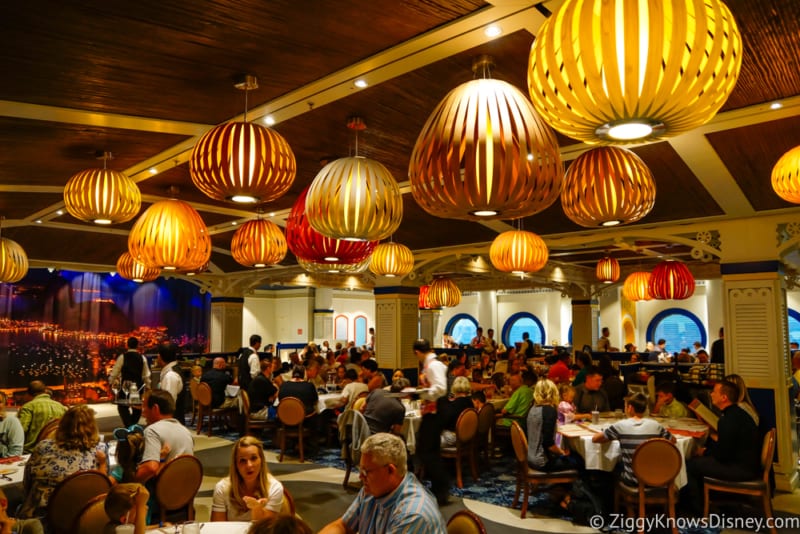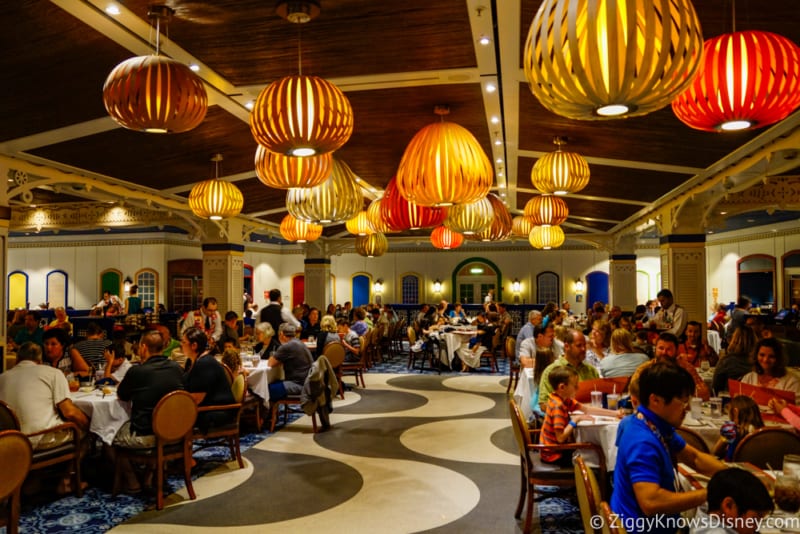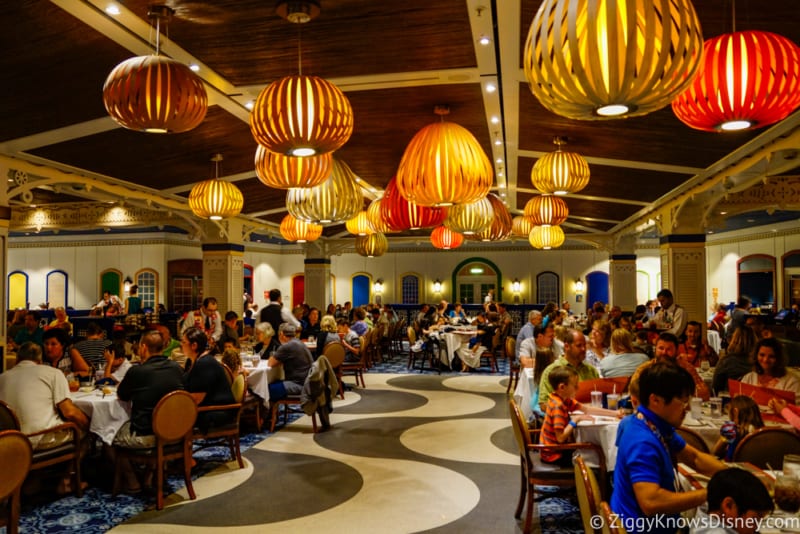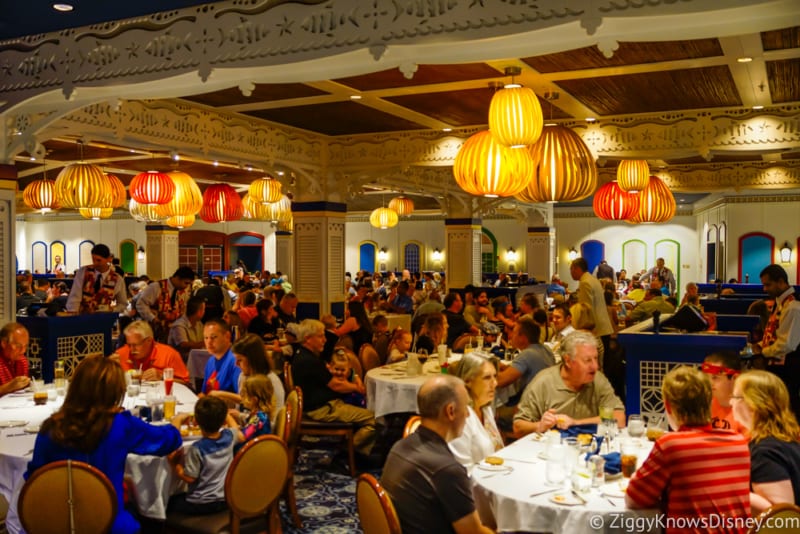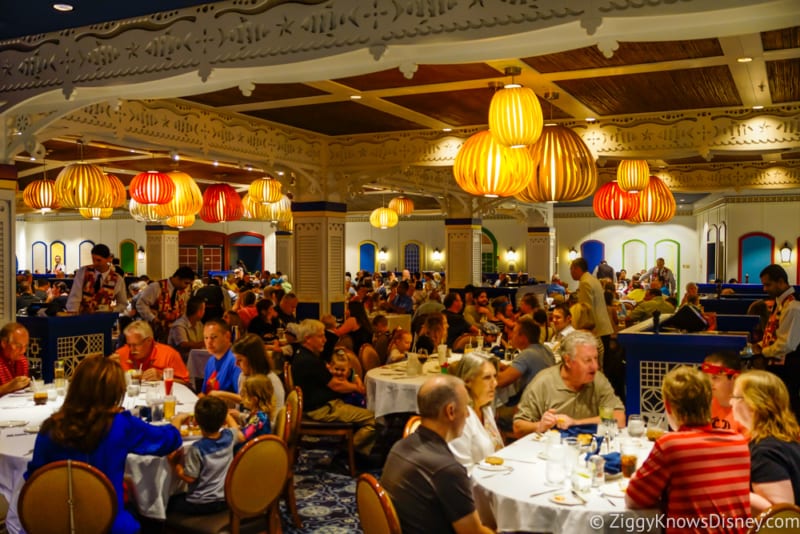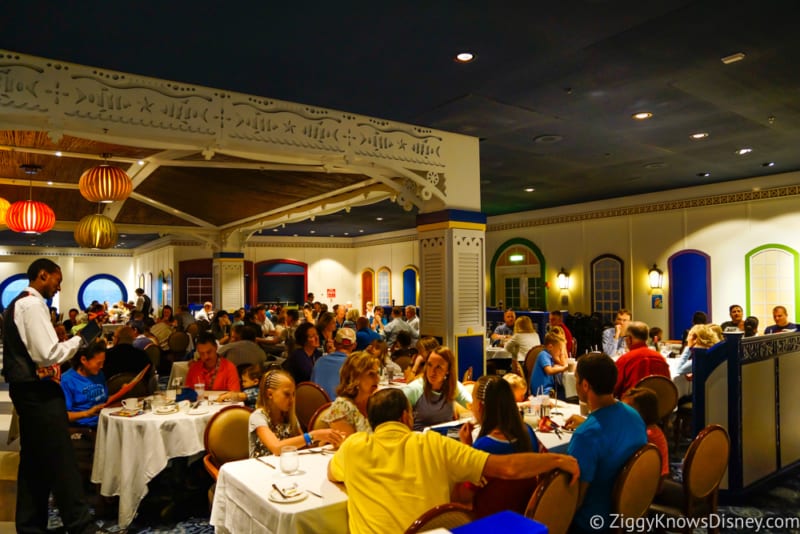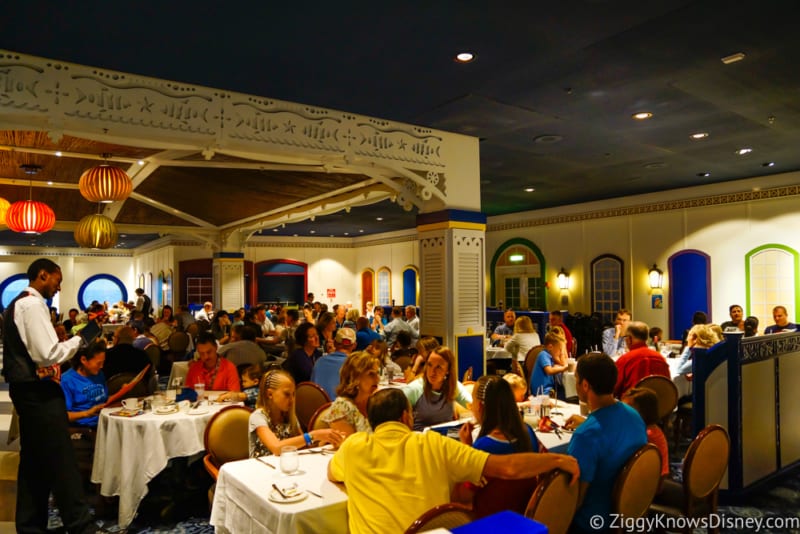 While the atmosphere isn't the best among the rotational dining restaurants on the Disney Magic, you can't help though but to like its festive atmosphere. And the lanterns are great: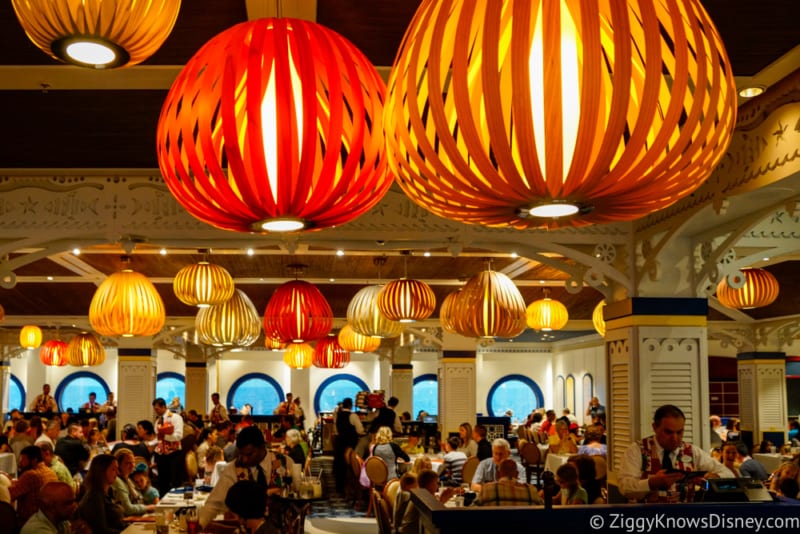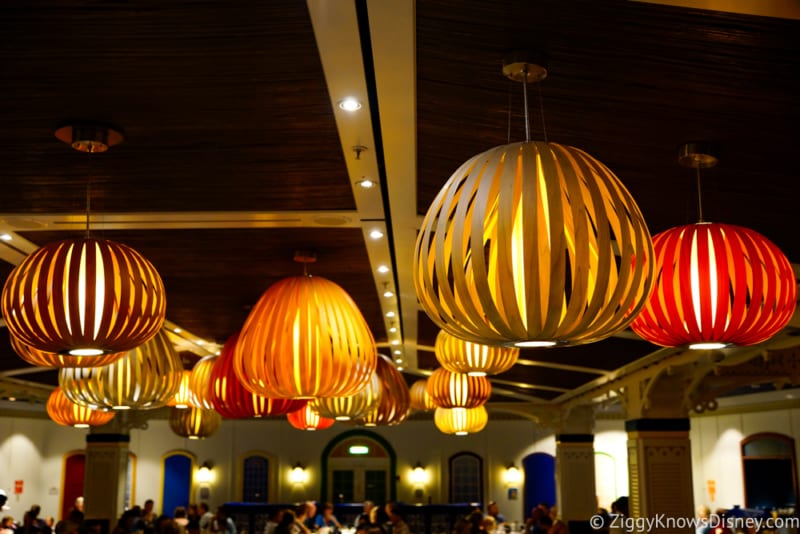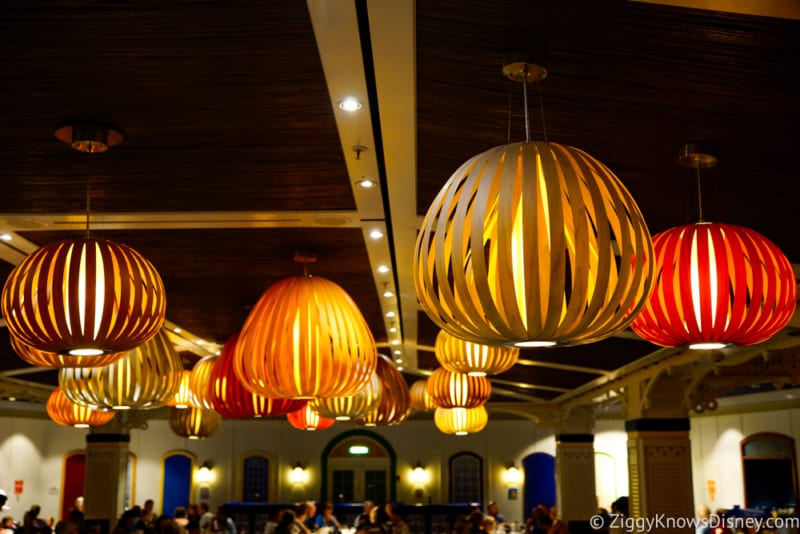 Our stars of the night, you'll notice The Three Caballeros all over the place: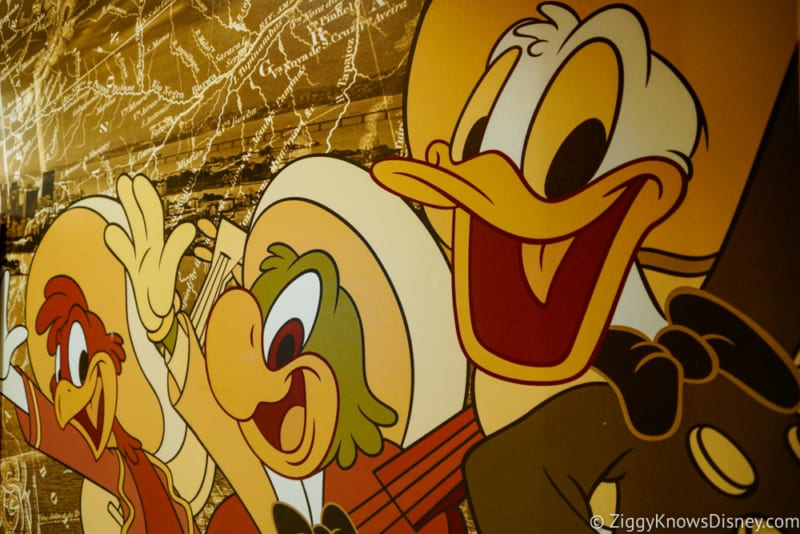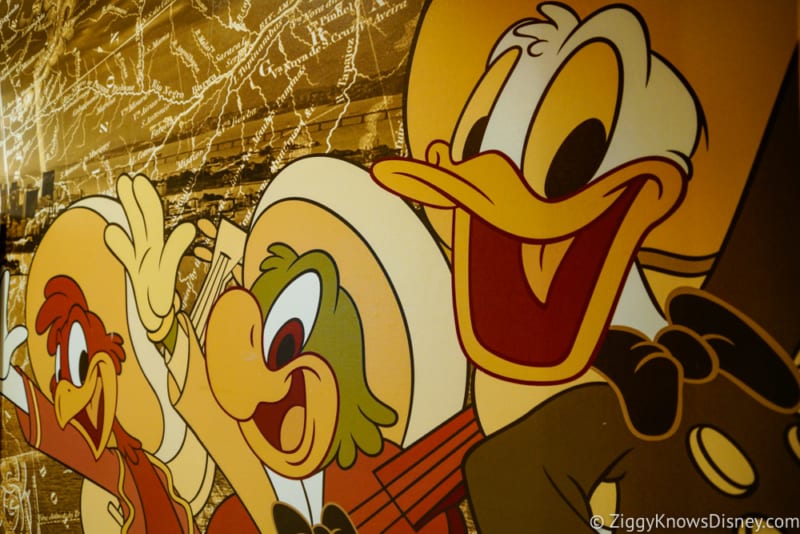 The Wine Cooler is ready to go: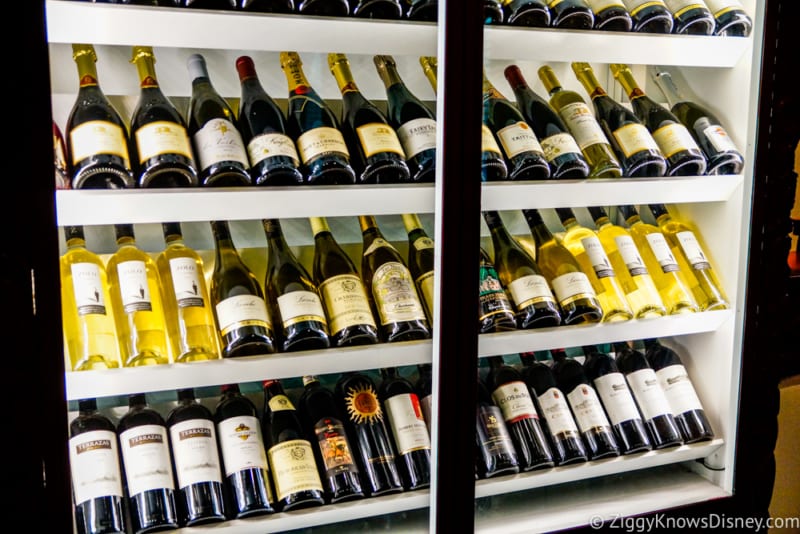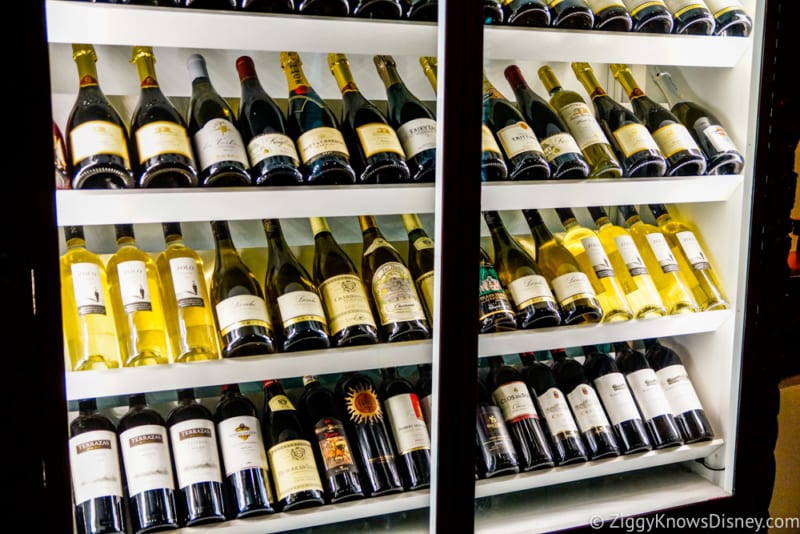 We're hungry and ready to eat!!!
Food:
Carioca's specializes in South American food, with its normal dining options including such choices as:
Lobster Croquetas
Empanadas
Ahi Tuna and Avocado Tower
Peruvian Causa
Tiger Shrimp Ceviche,
Lobster, Shrimp, and Mahi Mahi Skewers,
Pork Belly,
Orange and Lemon-marinated Flank Steak
Sometimes however, like in unfortunately our case, Carioca's changes the menu and offers a more American-style menu. We ate here on the last day of our cruise, and we missed our original sitting because of dinner at Palo. Sometimes on the Disney Cruise Line on the second time through the dining rotation you don't get the original menu so we had to make due with what came around this time:
Starting out was the Bread Service:
It was pretty standard with some whole grain bread and standard rolls. Rolls were really fresh and fluffy on the inside and outside was nice and crunchy. Pretty much the same as what we had at Animator's Palate. The tomato garlic dipping sauce was really good. It was FULL of garlic so beware if you have a hot date!
As one of our appetizers we tried the Chicken Satay:
I like Indian food so I was looking forward to this, but honestly it left a little to be longed for. The cucumber sauce didn't do anything for me. Peanut butter sauce did really do anything for me either. Chicken had little hairs on it and was a little dry. I would say it was edible but wouldn't order again.
Next we had the White Cheddar and Broccolini Soup with toasted baguette croutons:
I love cheddar broccoli/broccolini soup, it's been my favorite since I was a kid, and imo it's pretty hard to make a bad one. Carioca's almost accomplished just that. I was hoping for a creamy soup, something like the Canadian Cheddar Cheese Soup from Le Cellier, but it was much more brothy than I like. And there wasn't really a strong cheddar flavor, in fact it was nearly undistinguishable. I thought it could have been much better and left disappointed.
So our appetizers weren't exactly on a hot streak here, and next up was the Lobster Bisque:
Might as well keep the streak alive as this wasn't any better than the others. It was really bitter. Once again like the Cheddar Broccolini soup, it was too brothy also, I like it a little thicker. Didn't come together well, almost a heavy tomato based soup but shouldn't be. Didn't work. Even the waiter says nobody likes it. Makes me wonder why on earth it's even on the menu then….
Maybe just maybe the Porcini Sacchetti can redeem the others:
Sacchetti are little sacks or pouches in Italian, and it's a common term of stuffed pasta like we would call ravioli. Also in northern Italy, Porcini mushrooms are king. Many of my friends go out looking for porcini mushrooms in the Fall, but they are so popular that even in the most remote parts of the woods there, 9 times of of 10 the area will be picked clean of Porcini before you even get there. How did they work together here?
I liked them, I didn't love them. They had tons of mushrooms which was nice, and they were tasty, they just were a little cold. I don't think they were supposed to be served that way and was probably just a result of trying to feed hundreds of people at a time.
After that was the Dill and Lemon Marinated Shrimp:
The greens were fresh enough and crisp tasting. The shrimp were tasty but tasted like any shrimp you could find in the frozen food isle of a supermarket, and I thought they could have used more of them on top. Let's be honest, I'm not a salad guy so don't think this was going to wow me beyond belief.
So the appetizers weren't the greatest in the world, in fact a little disappointing. Hopefully the entrees can make up for it. First up we tried the Roasted Salmon Steak with celeriac puree, buttered savory cabbage, crisp parsnip chips and truffle red wine jus (Gluten Free):
Let's say I was quite surprised by the salmon. It was really excellent, nice and flaky and cooked medium The sauce was perfect also and perfectly balanced by the red wine. The plate in general was a good sized portion. And even though I have no idea what celeriac puree is, it was really smooth and creamy, and I didn't even realize till after that I wasn't eating potatoes, so that should tell you how good it was. Finally things good a turn for the better!
Next was the Blackened Chicken Salad with corn, romaine lettuce, tomatoes, green onions and a cilantro-lime dressing:
Between this and the other salad I'll take this any day of the week. I loved the blackened chicken, it was heavily seasoned and gave a really nice kick to what would have been an otherwise boring salad. I liked the cilantro-lime dressing, it was very fresh and light. Also a winner.
Next the Grilled Garlic Marinated Shrimp w/linguine, artichokes, sautéed baby spinach, roasted cherry tomatoes and a tomato-basil Provencal sauce:
I'm a big pasta lover, and even though I'm spoiled with the freshest and most unbelievable pasta you can imagine most of the year in Italy, I'm not a super picky pasta eater, most kinds are still good to me. This one sounds amazing on paper, but in the end though it just didn't work together for some reason. The shrimp were a little dry and overcooked. The Linguine were not cooked al dente. The artichokes were kinda bland. And the sauce just tasted like a normal jarred sauce. Love the idea, didn't like the execution.
The nice thing about Carioca's, or any restaurant on the Disney Cruise Line, is that even if you don't like some of the more restaurant-specific menu items, you can also choose from the generic menu, or even re-order something you had another night at one of the other restaurants. This works out good for your more picky eaters. Good example of this was the Grilled Grain-fed Sirloin Steak w/ baked potato and veggies. (Gluten Free)
This was a standard sirloin cut of meat. Not going to be your most tender steak ever, it was a little tough, but that's expected and it was still pretty good. Medium rare and cooked as asked. The portion size was great too. 2 people from our table ordered this, one with baked potato and the other with steak fries. Both sides were just ok and nothing to write home about.
One that I was eager to try was the Chicken Schnitzel w/roasted bacon potatoes and buttered greens:
This is a plate I really liked but unfortunately it was pretty small. Thank goodness we are on a Disney Cruise and you can order as many entrees as you like! ?. I though the chicken was really flavorful, lightly fried and not overly heavy. Preferred these bacon potatoes hands-down over the baked one or the fries as the bacon and onions added a whole lot of flavor. Nice choice, but maybe order 2 next time!
The last entree of our Carioca's review is the Roasted Filet of Beef Wellington:
Definitely the most inventive and appealing entree of the night. This is basically filet of beef, wrapped up inside a puff pastry shell and served with fingerling potatoes, veggies and a cabernet black truffle jus. It was every bit as good as it sounds!
Very tender, and very good. The meat as you'd expect from filet was quite juicy, and look at that center….nice and rare!!? Cooked perfect and deliciou! Broccoli was hot and crisp. Fingerling potatoes were cooked perfect as well, and had the perfect amount of seasoning and olive oil. My only small complaint would be the piece of meat inside could have been a little bigger and it didn't quite fit the pasty puff, and we needed better knives to eat this. Overall though this was the star of the night by far!
Ok onto dessert!
First we had the Baked Alaska:
This is basically cake with chocolate, vanilla and strawberry flavored ice cream in the center, and burnt meringue on the outside. The cake itself wasn't amazing, didn't have a whole lot of taste to it. Thought the ice cream should have been more solid, but obviously we aren't getting anything homemade in a restaurant this big. Just ok, and certainly no-where near the level of awesomeness that is the S'mores Baked Alaska at The Boathouse!
Next up is the Chocolate Decadence which is a self-proclaimed chocolate lover's dream:
Both of these desserts hit the spot if you are craving some chocolate. The first one was a dessert layered with different kinds of chocolate, a mousse underneath and a chocolate crust with fudge on top. The next was a Dark Chocolate Lava Cake in a glass, very rich but right amount for choc lover, and my favorite of the two. It was awesome, and the whipped cream was pretty intense too, almost a mousse itself. Would definitely order it again!
Next was the Sweet Temptations, a dessert trio of Chocolate Decadence, Celebration Cake and Cappuccino Mousse:
The chocolate decadence was the same as the one from the previous dessert and was ok. I wasn't crazy about the cappuccino mousse, I thought it tasted too much like mocha. And the best way to describe the Celebration Cake was that it tasted a hit synthetic, and not real, and dry to boot! Wouldn't get it again.
Lastly was the Old Fashion Apple Pie:
Again it's hard to really mess up Apple Pie, but Carioca's succeeded in doing just that. Didn't like anything about it. The ice cream tasted funky. The apple pie wasn't warm, and seemed to commercialized. Not sweet enough and not really an apple flavor, a little jelly tasting and stiff. Skip this for sure!
Summary:
What this Carioca's review has taught me is that there is a reason Rapunzel's Royal Table is coming to the Disney Magic. Carioca's has to be considered somewhat of a failure though seeing as it itself is a newly redesigned restaurant, only having been around for 3 or so years and now it's getting re-imagined. Yes it wasn't the normal Carioca's menu, but besides the entrees which were solid the rest left a lot to be desired and our really only restaurant on the Disney magic we didn't thoroughly enjoy. The Salmon, Beef Wellington and Chicken Schnitzel were all great, but besides that everything was just blah.
I like the overall atmosphere of the restaurant, but there is an emptiness to it and something is missing, that "extra magic" which we found at Lumiere's, Palo and Animator's Palate. Our waiters as usual were awesome, just like they were in every restaurant, but the overall feel just wasn't there. They should have put some kind of entertainment in there which would have made the atmosphere a bit more lively imo. At least that's now being done with the change, as there will be live entertainment w/Rapunzel the mischievous Snuggly Duckling Thugs.
I would currently rank the Disney Magic Restaurants:
Lumiere's
Carioca's
Skip Carioca's, and make that the night you go to Palo instead!
I love to write Restaurant Reviews of Walt Disney World, Disneyland and Disney Cruise and I hope you found this one to be informative and helpful. If you liked this review then please visit my Disney Dining Reviews Page where I have many other Restaurant Reviews. I'm happy sharing with you what I love doing best…eating! ? I try to bring you the most thorough and unbiased reviews about the food and restaurants at Walt Disney World, so that as you are planning your vacation, you know the "can't be missed" places, and where you shouldn't waste your time. Hope you enjoyed this one and will enjoy many others in the future!!
Your Thoughts:
I want to know what you think about my Disney Cruise Carioca's Dinner Review. What was your experience at Carioca's like? Where does it rank on the list of Disney Magic Restaurants? Are you happy Rapunzel's Royal Table is coming instead? Let us know in the comments section below!
If you enjoyed this article, as always I appreciate it if you'd share it with others via social media. I work hard at making this website into a useful resource for you and your family to plan your visit to Walt Disney World, and I hope it can help you! Thanks 🙂