Disney has just announced big plans to renovate The Cabins at Disney's Fort Wilderness Resort into a new DVC property which will open in 2024.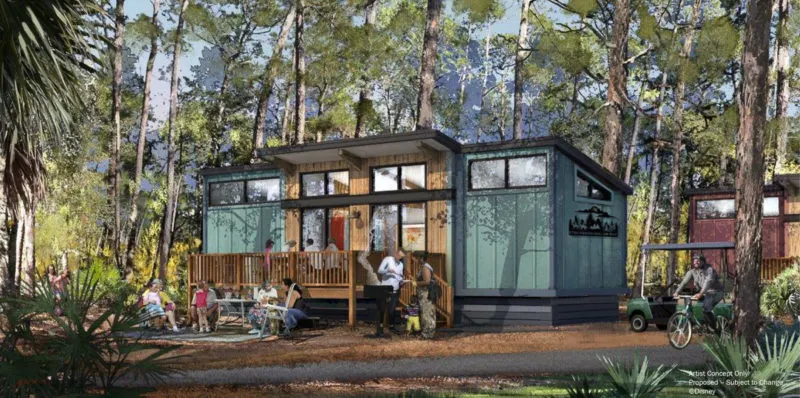 In this post, I'm going to explain everything you need to know about the new DVC expansion and reimagining of The Cabins at Disney's Fort Wilderness Resort. We'll share our thought as to why Disney is doing this, what the cabins will look like, all the features, prices, and a potential opening date.
There is no doubt that this project will be in demand from guests, even though we are skeptical about the final product and turning them into a Disney Vacation Club property instead of being part of the main resort.
This has definitely been the trend of late from Disney as they recently refurbished 500 hotel rooms into DVC rentals at Disney's Grand Floridian Resort. There is also a new DVC tower coming to Disney's Polynesian Village Resort next year right along the Seven Seas Lagoon.
Now with this addition of even more DVC rooms at Disney's Fort Wilderness Resort, it's clear they have made it a priority to add more inventory near Disney's Magic Kingdom park.
As more details come out about this project, we will update you here so keep checking back for the latest info.
Before we get started, here are some other articles about the resorts at Walt Disney World you may enjoy:
Before we get started, don't forget to sign up for our FREE Weekly E-Mail Newsletter. We will update you as soon as we know more info about the DVC remodeling of The Cabins at Disney's Fort Wilderness, and share the latest vacation planning tips. You can sign up here: Join our E-Mail Newsletter!
The Cabins at Disney's Fort Wilderness DVC Overview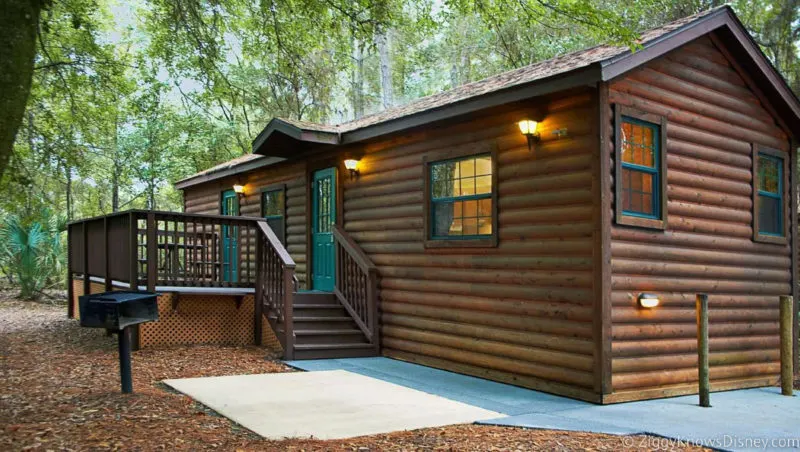 Here is what we know about the new DVC cabins…
The project will include a total of 350 cabins completely refurbished and environmentally friendly. We've also confirmed that these 350 cabins will replace all of the existing cabins, like the one you see in the above photo.
This means that the old ones will be torn down to make room for the new ones and non will remain. That style was much more rustic and fit into a traditional "wilderness theme."
The new cabins will still utilize the footprint of the old cabins, so don't expect them to be any bigger than the current ones.
Each cabin will include a bedroom, bathroom, living room, full kitchen, and a patio. They will each sleep up to 6 guests (just like the existing ones), and some of the cabins will be designated "dog-friendly" for families that want to bring them on vacation.
The resort will also include a "proposed pool and walking trail enhancements as well as new expanded dining experiences at Trail's End Restaurant and Crockett's Tavern."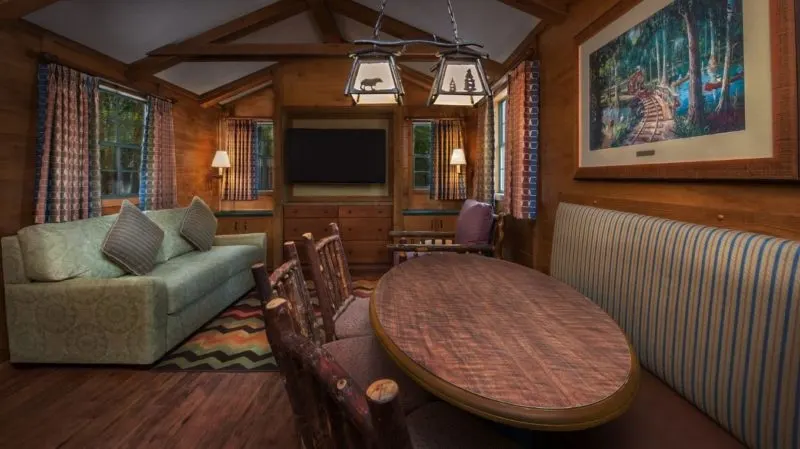 So far, you can put me in the group that is less than impressed by this change. Sure, the cabins have been at Disney's Fort Wilderness for decades, but they are classic and I personally love the traditional cabin style.
The Disney Vacation Club website says: "Design concepts offer a fresh take on the current cabin experience and are inspired by the resort's idyllic setting, while also paying homage to the resort's unique culture and heritage through the magic of Disney storytelling."
However, to me, these new DVC cabins look like nothing more than shipping containers dropped in, and lacking in character, especially for something you'd expect to find in the wilderness.
They are very similar to the current Disney architectural style of all its recent projects which are very generic and lacking in imagination, creativity, and theming.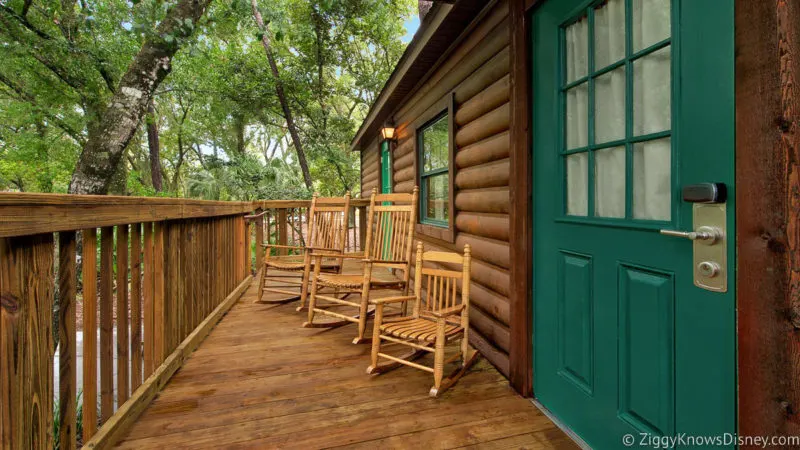 I don't think the move was necessary from a structural standpoint either as all the cabins are still in great shape and nothing a regular maintenance refurbishment couldn't fix. They are also a very affordable option for families on a budget, and one of our picks for the best Disney World Resort for large families.
These new DVC will no doubt get a price increase, which will make them much less desirable for people visiting Disney World on a budget.
So far we don't have an exact date for when this new DVC property will open. All they have said is The Cabins at Disney's Fort Wilderness Resort – A Vacation Club Resort will open at Walt Disney World sometime in 2024.
It's still too early to announce an exact date or even make a guess on our part. Construction hasn't even started yet, so we think it's more likely the opening date will be in late 2024 rather than in the first half of the year. We'll be updating our post on Everything New Coming to Disney World very soon, so keep checking back.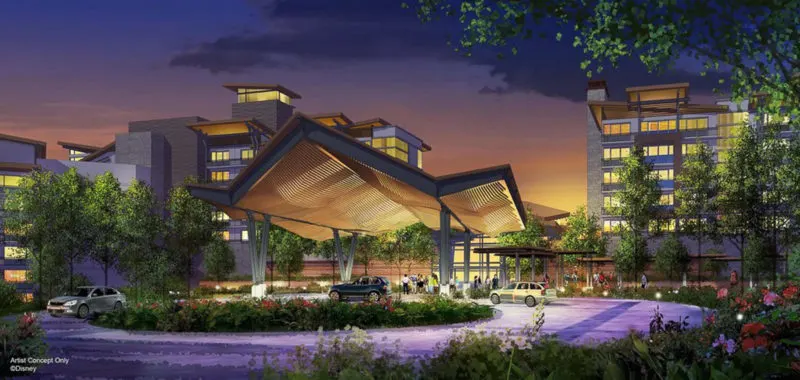 I guess this is officially the end of the "Reflections – A Disney Lakeside Lodge" that was coming to the old River Country site right next to Disney's Fort Wilderness Resort & Campground.
Originally, it was going to have 900 hotel rooms and be open by 2022, but the pandemic squashed those plans. Even though construction was started on the project, Disney decided it was not worth it moving forward, and we haven't heard anything since.
But since it was also going to be a DVC property, it now looks like this refurbishment of The Cabins at Fort Wilderness is going to happen instead.
The old "Reflections" project could always start back up again at some point in the future, but this seals the deal for the time being.
As soon as we have more info on the new DVC Cabins at Disney's Fort Wilderness Resort we will update you, so stay tuned for that soon.
Make sure to read our Guide to Disney World Refurbishments for the latest work being done on all the hotels and attractions around property.
How to Save Money Staying at a DVC Resort
We love to stay at the Disney Deluxe Resorts and our favorite way to do that economically is by renting DVC points. In our experience over the years, you can sometimes save as much as 30%-50% off the regular rack price from Disney.
Our favorite way to rent DVC points is by using David's DVC Rentals. They offer excellent prices and they have the best customer service hands down. Plus you don't need to worry about the hassle of dealing with smaller resellers you don't know.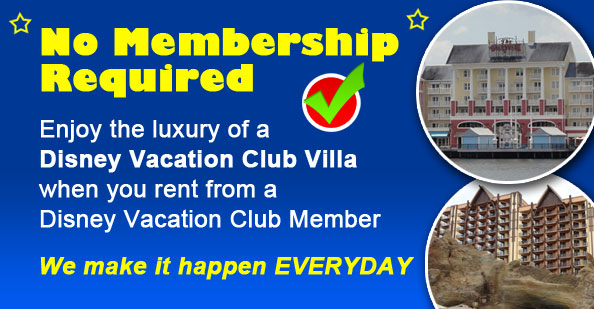 For more information on planning your vacation to Walt Disney World here are three of our most useful posts:
Your Thoughts
I want to know what you think about the remodeled cabins coming to Disney's Fort Wilderness Resort and the fact they are being turned into DVC rentals…
Are you looking forward to this new refurbishment?
What features would you like to see in the cabins?
Let us know in the comments section below!
If you enjoyed this article, as always I appreciate it if you'd share it with others via social media. I work hard at making this website into a useful resource for you and your family to plan your visit to the Disney Parks and I hope it can help you! Thanks 🙂