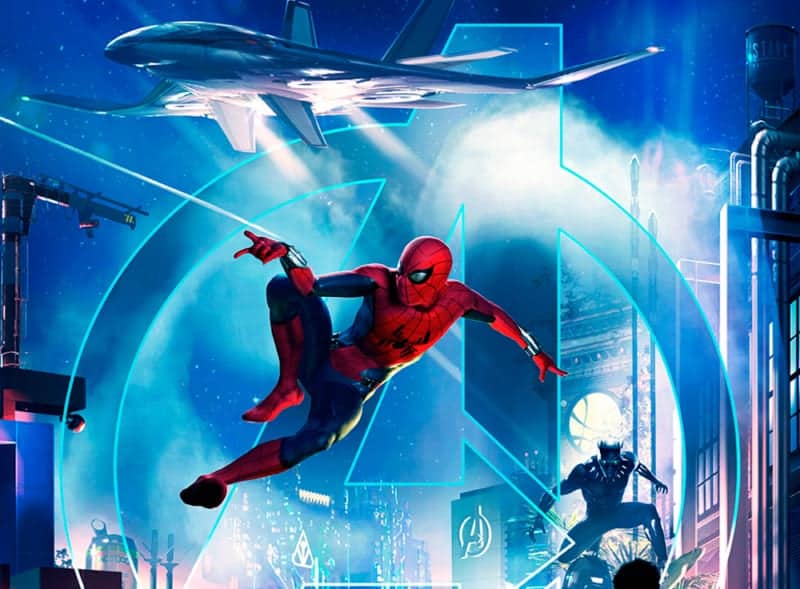 If you are even half-alive, you are no doubt super excited for the upcoming Marvel Super Hero Land that was announced at the 2017 D23 Expo last Summer. Since then we've got some more info about these lands, and now recently we have some exciting new details to share about the Marvel Super Hero Land coming to Disneyland, at Disney California Adventure including info on the attractions, experiences and even food! Let's dive in…
Disney California Adventure already has one Marvel-based attraction in the park, and that's the amazing Guardians of the Galaxy: Mission BREAKOUT! However Disney is adding to that with even more Marvel attractions. Just last month in "A Bug's Land" closed in Disney California Adventure, which will be the home for the new Marvel Super Heroes Land. In fact if you take a stroll around the area now you will see construction walls up in the area, with the work being done by none other than….Stark Enterprises:
I absolutely love putting Stark Enterprises on the wall and think it sets the stage for what's coming…
Disney is rolling out the Marvel Super Hero Land in phases (just like the MCU), which will be broken up in at least 2 parts.
Phase 1:
To get a better idea we need to look at the concept art poster Disney released back in March when they announced the Marvel Super Hero Lands coming to 3 Disney Parks, as all the keys to the attractions and experiences are already there: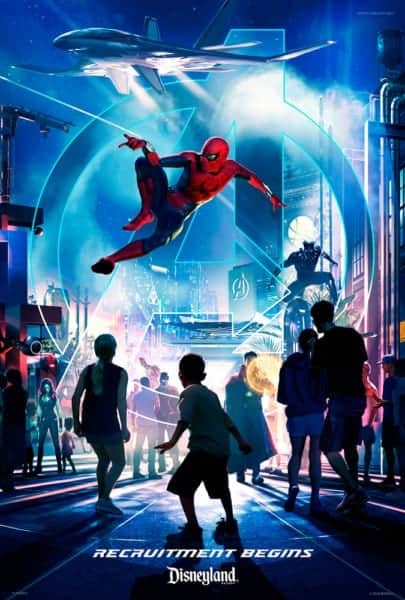 Where the "It's Tough to Be a Bug" theater is located, that area is being reimagined into an interactive Spider-Man attraction. Disney hasn't yet announced the attraction, but this will be a screen-based ride, most likely 3-D and it will be a web-slinging shooter, in the vein of Toy Story Mania. Jim Hill had previously mentioned that the Spider-Man attraction would utilize the swinging arm patent Disney filed a while back that would simulate the swinging that Spider-Man does while going through NYC, while moving through the rooms on an overhead track. There would be screens all around you and also on the floor, giving you the feeling you are 30 stories above everything.
This latest report doesn't mention that, so we'll have to see once Disney announces it how exactly the ride-system is going to work. It will have some big difference in ride-system from Toy Story Mania, because they wouldn't put 2 attractions which are too similar together in the same park. Let's hope they are similar but have a big jump like Soarin' to Flight of Passage is.
Here is an idea of the layout for Marvel Super Hero Land: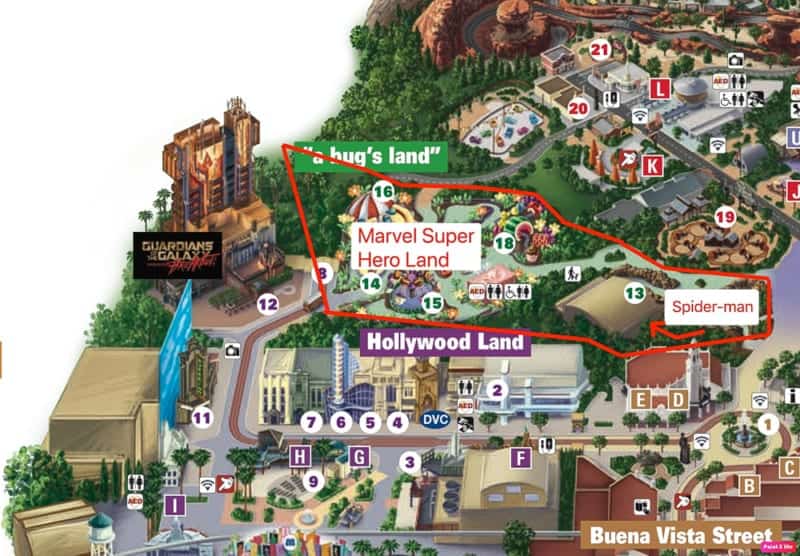 In between Spider-Man and Mission Breakout though is a lot of real estate and that's where the Avengers section of the park is going. Included here will be attractions, restaurants and shops all from the Marvel Cinematic Universe. There will be some form of the Avengers' headquarters building built into the cityscape.
There will be an Ant-Man themed microbrewery and possibly another quick service location. In the poster you can see hints of the Ant-Man-themed restaurant with a beer can: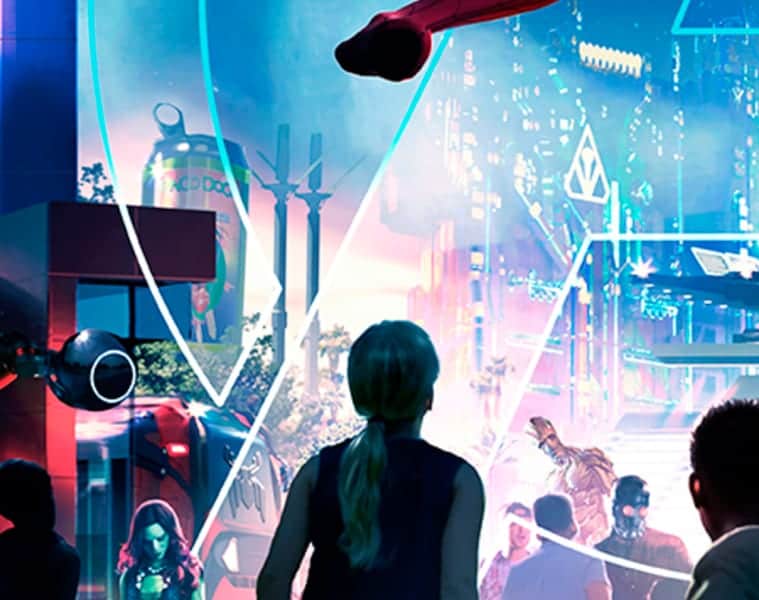 Dr Strange is in the poster and it looks like there will be a Dr Strange experience/show, probably in a version of the Sanctum Santorum, and it could be similar to the show already on the Disney Cruise Line.
Phase 1 will be complete in 2020. Good timing too because the Marvel Super Hero Land will need to take some of the heat off Star Wars Galaxy's Edge which will most likely have lines backed up and just waiting to get into Disneyland by 9am. This will be a good alternative for guests "forced" into California Adventure.
Phase 2:
It looks like the above mentioned things are all coming in Phase 1, but there's more. If you look at the concept art you can see a Quinjet (from Guardians of the Galaxy) at the top.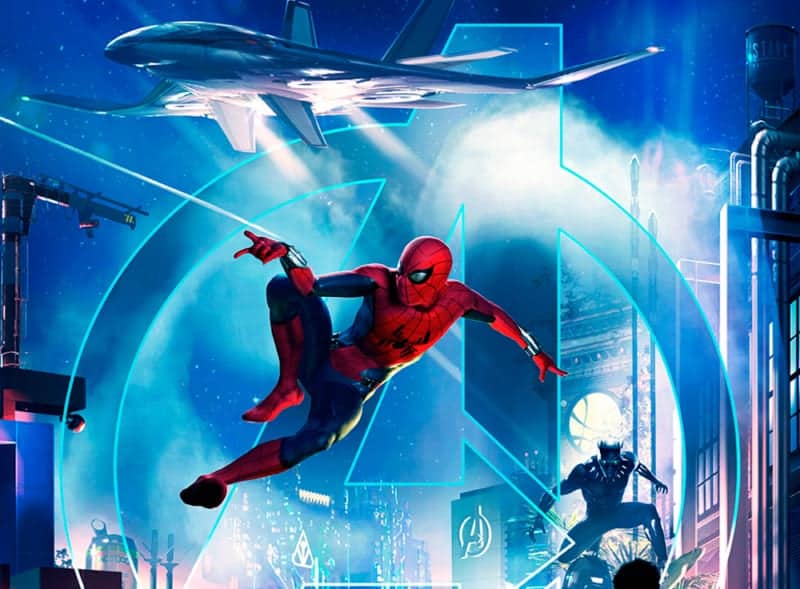 That will be part of a major E-Ticket attraction, which is expected to be a roller coaster. Knowing how Disney doesn't like to develop attractions just for one park, but likes to send them internationally too, this is most likely going to be the same attraction as the big E-Ticket going to the Marvel Land in Hong Kong Disneyland:

No details have been revealed yet about this attraction, though it will most likely be an Avengers team-up attraction with all your favorite characters from the MCU.
So right there we have 3 attractions/experiences: (Spider-Man, Dr Strange show and Quinjet/Avengers coaster. The Marvel Land is rumored to have 5 attractions, and Guardians of the Galaxy may or may not be counted in that number.
One figure that is on the poster but nothing has been said about yet is Black Panther. You can clearly see him standing there, crouching, looking ready to lunge into action. That means we may be getting an attraction based on Black Panther.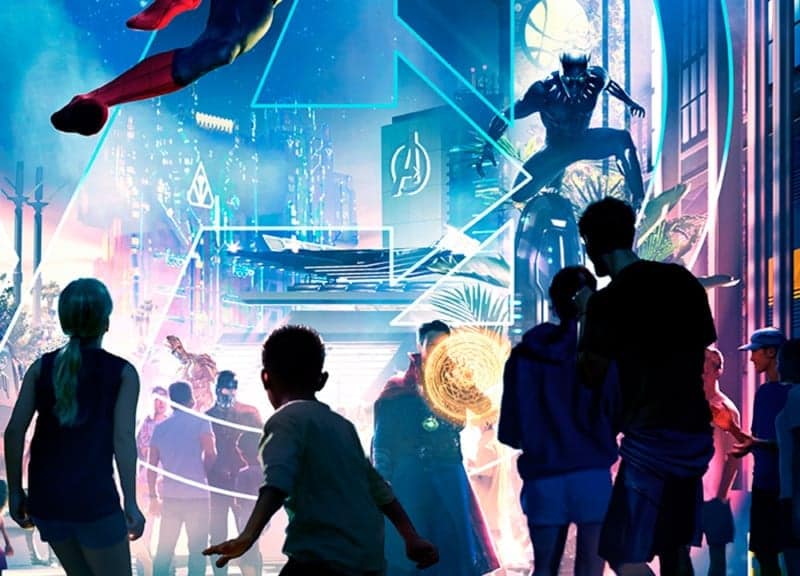 It's also been rumored the Ant-Man and the Wasp attraction going to Hong Kong Disneyland will be coming to Disneyland too, but it would be strange imo for two shooter-type attractions to be included in the same land. We'll have to see.
Here are the Posters for the Marvel Super Hero Lands coming to Disneyland Paris: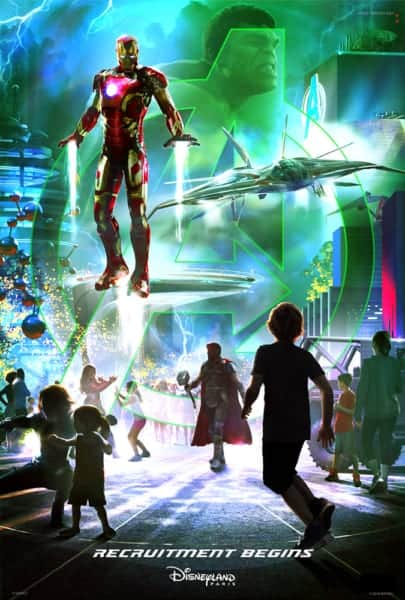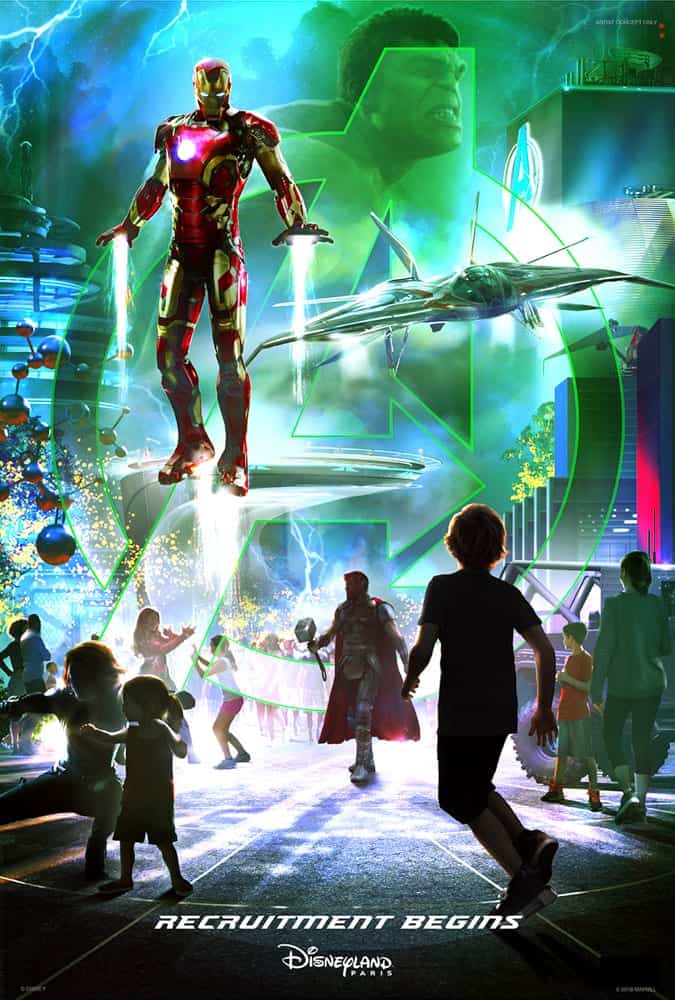 and Hong Kong Disneyland: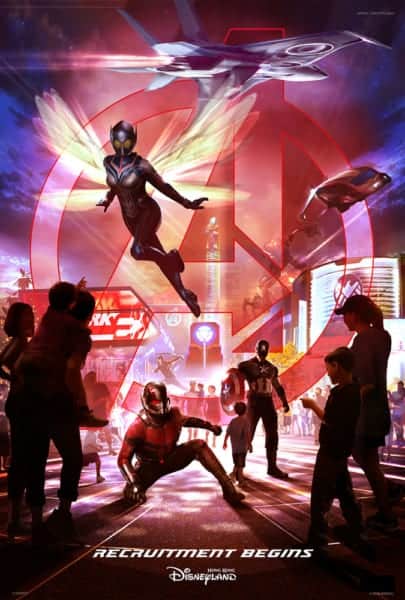 Here's a video Disney released a while back explaining the new Marvel Super Hero Lands in the Disney Parks:
These plans haven't yet been announced to the public, but come from internal documents in Disney so they can be trusted as not just rumors.
As we said, Phase 1 is set to be completed in 2020, and it's not yet known about Phase 2 and beyond, but I would say 2022 is likely. What I want to know is if this will only be complete in 2 phases or if there will be more? The current land that "A Bug's Land" takes up, isn't very big, and something as big as Marvel should get a bigger footprint imo. That leads me to believe the land behind Guardians of the Galaxy: Mission Breakout could be used for further expansion in the future, especially with the X-Men characters being introduced into the MCU in the coming years.
Stay tuned for more info…
Your Thoughts:
I want to know what you think about the new details of the Marvel Super Hero Land coming to Disneyland…
Which attraction are you most excited for?
What else would you like to be included?
Let us know in the comments section below!
If you enjoyed this article, as always I appreciate it if you'd share it with others via social media. I work hard at making this website into a useful resource for you and your family to plan your visit to the Disney Parks and I hope it can help you! Thanks 🙂
Source: wdwnt.com
Need Help Planning Your Disney Vacation? Show You the World Travel is Here to Help!
Just click here and one of our trusted travel agents will contact you for all your Disney Vacation Planning Needs….
[rainmaker_form id="19792″]