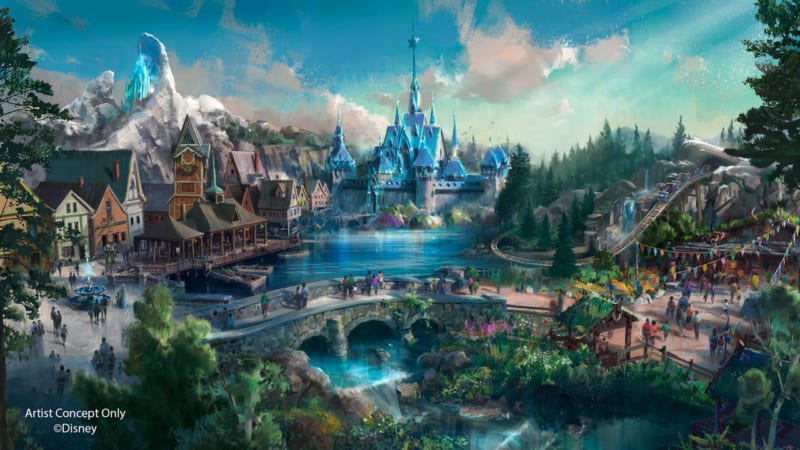 We knew there is a multi-year expansion underway at the Hong Kong Disneyland Resort, but now we have some more news regarding that expansion. Disney has announced that there is a Frozen Roller Coaster coming to Hong Kong Disneyland as part of that expansion project and will headline the Frozen-themed Land. In fact the new concept art you can see above, shows the track for the Frozen Roller Coaster, which has been added since the last concept art of the land. Expect the Frozen Land to be very detailed and immersive, and it will also include dining, shopping and entertainment of some kind. Hopefully there will be more than one attraction here, but it's not clear from the concept art.
A Frozen Roller Coaster isn't the only addition coming to Hong Kong Disneyland though. As we heard about a couple months ago, Disney is developing a new Marvel themed land at the resort as well, and an Ant-Man and the Wasp attraction will frontline it. We don't know too much about how the attraction will work yet, only that you'll be fighting along side Ant-Man and the Wasp against Arnim Zola and an army of Hydra swarm bots. Sounds to me like it will be a more interactive attraction and not just a sit-back kinda of ride.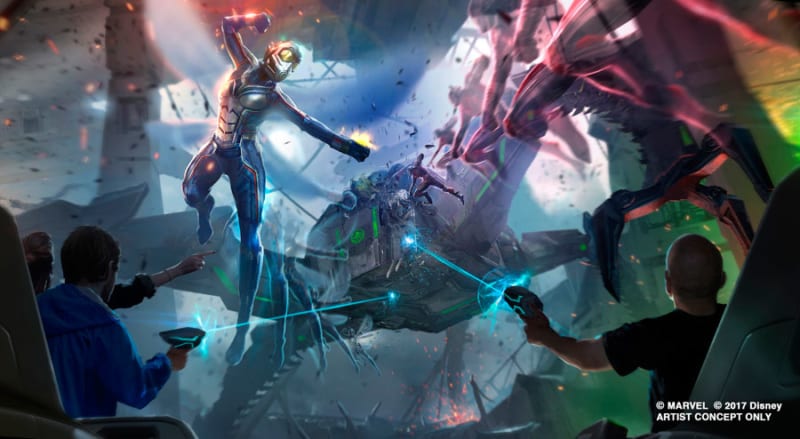 Also we know that Sleeping Beauty Castle at Hong Kong Disneyland is currently undergoing a severe overhaul, and it will be the first time that Disney changes one of the castles in such a big and permanent way. It will be well served as the old castle was just too small imo. I'm not quite sure I dig the style completely, it's a pretty big mish-mash of styles, but I'll hold total judgement until I see it in person.
It's even changed a bit from the previous version of the castle concept art. Just look at the difference:
This new castle will join the other Disney castles throughout the world in that it will now be equipped to handle an up-to-date nighttime spectacular and will utilize Disney's projection technology to make a show that will be superior to its predecessor.
This news is on the heels of the "Moana: A Homecoming Celebration" which is Hong Kong Disneyland's first new entertainment offering for the expansion. The way Disney has it lined up is that something new will be coming to Hong Kong Disneyland practically every year until the expansion completion in 2023.
Stay tuned for more updates!
Your Thoughts:
I want to know what you think about a Frozen Roller Coaster coming to Hong Kong Disneyland and the rest of the expansion.
Which new part of the expansion are you most looking forward to?
Are you happy about a Frozen Roller Coaster?
Let us know in the comments section below!
If you enjoyed this article, as always I appreciate it if you'd share it with others via social media. I work hard at making this website into a useful resource for you and your family to plan your visit to the Disney Parks and I hope it can help you! Thanks 🙂
News/Photo Source: Disney Parks Blog