A few years ago at the D23 Expo, we learned so much about the new Avengers Campus initiative that's being rolled out to Disney Parks worldwide including California, Hong Kong, and Paris. Now at this year's D23 Expo we also got confirmation of a brand-new big E-Ticket Avengers attraction coming to California as part of its Phase 2.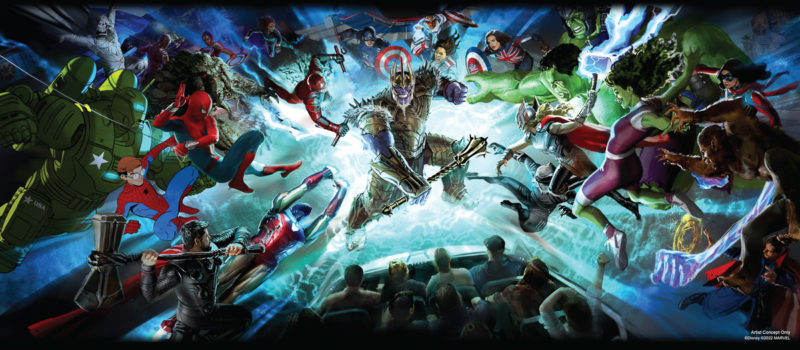 (UPDATE 9/9/22) – While we expected to hear more about the new Avengers E-Ticket attraction at this year's D23 Expo, we didn't expect it to be on the first day, and we ended up with a lot more info than we originally thought.
In this post, we'll go over everything we know about the new Avengers Multiverse attraction with King Thanos including the location, ride system, opening date, included characters, and any news and updates about this new ride.
Before we go into what we know so far, don't forget to sign up for our FREE Weekly E-Mail Newsletter. We will send you all the latest updates to the Avengers attraction as well as the latest Disney vacation planning tips. You can sign up here: Join our E-Mail Newsletter!
Avengers Attraction Overview
Location: Avengers Campus in Disney California Adventure (Disneyland Resort)
Status: In Development
Opening Date: (TBD – 2025?)
Ride Type: TBD – Enhanced Motion Vehicles?
Thrill Level: Medium to High
Genie+ or Individual Lightning Lane: Likely an Individual Lightning Lane selection
Ride Length: TBD
Height Requirement: TBD
Capacity: TBD
The Marvel Lands called Avengers Campus will be rolled out in two phases in Disney California Adventure. Phase 1 included a Spider-Man attraction, a Doctor Strange experience, and a Pym Technology quick-service restaurant. Phase one of Avengers Campus opened in 2021.
Phase 2 on the other hand includes the aforementioned Avengers E-Ticket ride that we just got a whole bunch of new information about.
To begin, we can't say how excited we are that an Avengers E-Ticket attraction is actually still coming to Avengers Campus and that it will be the focal point of the land's expansion project.
During the Disney Legends presentation at the latest D23 Expo, Disney CEO Bob Chapek confirmed that Avengers Campus is expanding and adding a third attraction to its lineup. Even though we don't have all the details yet, we have a lot more to go on than we did before the event.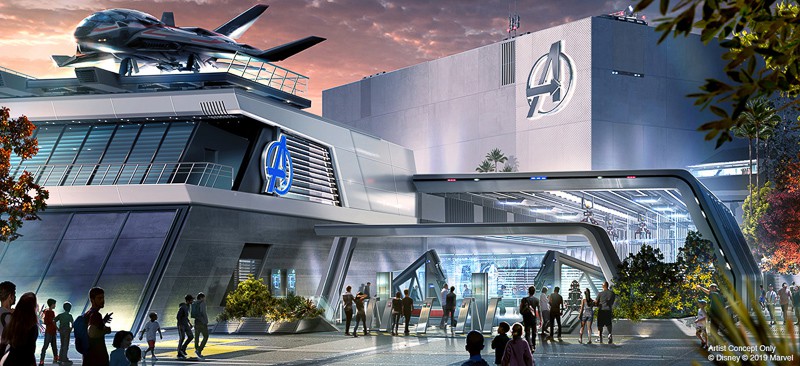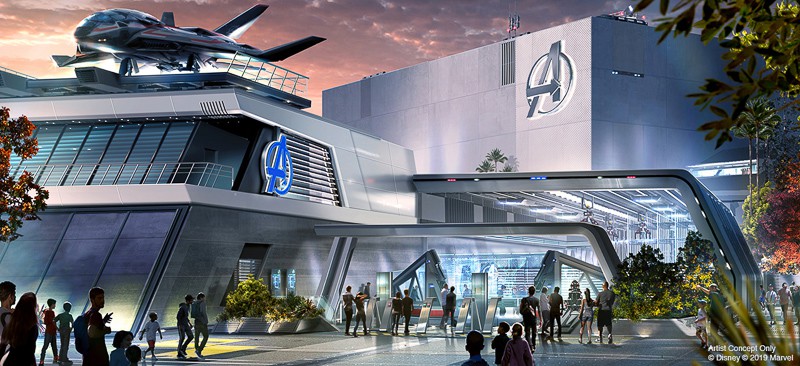 For example, this new Avengers attraction is going to be based on the multiverse. Chapek described the attraction as having a brand-new story that brings guests into battle alongside their favorite Marvel super heroes and villains from anywhere.
At the Disney Parks & Experiences presentation, Marvel head Kevin Feige and Disney Parks Chairman Josh D'Amaro gave us even more info about the attraction and explained that guests will battle alongside all characters against King Thanos. This isn't the Thanos from Endgame that lost, but instead a Thanos that won!
The idea of Marvel using the Multiverse has been woven through the latest set of films and series in the MCU, but now it's also heading into the parks and offers a ton of new possibilities and versions of characters we have never seen yet on the big screen.
For the moment, the Avengers attraction doesn't have an official name. We are calling it the Avengers attraction/ride, but we've seen it be called the King Thanos attraction too. We'll have to wait and see what Disney eventually settles on.
It's also unclear at this time if this new Avengers attraction will be based on the same ride concept featuring the Quinjet that was going to be used 3 years ago when the original announcement was made or if this is going to be something altogether different. (More on that later.)
Which Parks is the Avengers E-Ticket Ride Coming to?
As of right now, the new Avengers and King Thanos E-Ticket ride is coming exclusively to Disney California Adventure at the Disneyland Resort in Anaheim, California.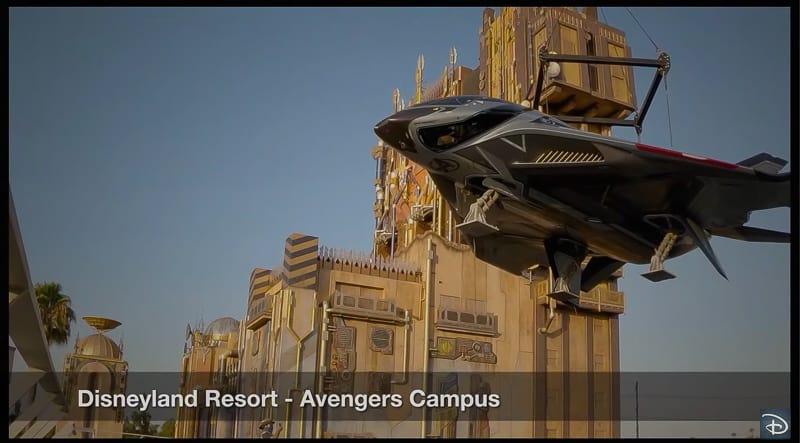 Already if you visit Avengers Campus at Disney California Adventure, you can see the facade of the attraction building that will house this ride, and you might even spot some Avengers hanging out on the rooftops. You will definitely notice the Quinjet which is sitting there (look at the concept art above and photos below), and that will be instrumental in the ride later on.
There have been some rumors that this Avengers ride will eventually make it to other parks around the world, perhaps in the other Avengers Campuses in Disneyland Paris or Hong Kong Disneyland, but at this time it's only coming to California Adventure.
If it becomes a success, it's possible we could see it in those other locations, especially since Disney likes to recycle the same attractions and use them in multiple parks to save money on development.
As far as we can tell, the Avengers King Thanos ride will be located behind the building that currently holds the Quinjet perched upon its roof. In fact, if we look at the latest concept art for Avengers Campus, you can see the purple light behind the building where the Quinjet is located.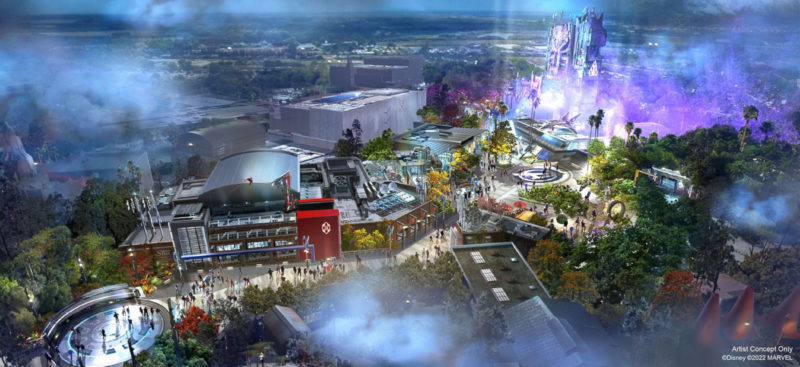 A look at the land behind that area confirms there is plenty of space to build a new attraction with a pretty extensive show building.
Ride System
Even though it wasn't commented on during the presentation, from the new concept art we can get a good feel for what type of ride system and vehicle the Avengers and King Thanos attraction is going to use.
From what we can tell the ride vehicle holds 12 guests and it could be some kind of enhanced motion vehicle. Maybe something similar to the car from the Zootopia E-Ticket attraction that is coming to Shanghai Disneyland.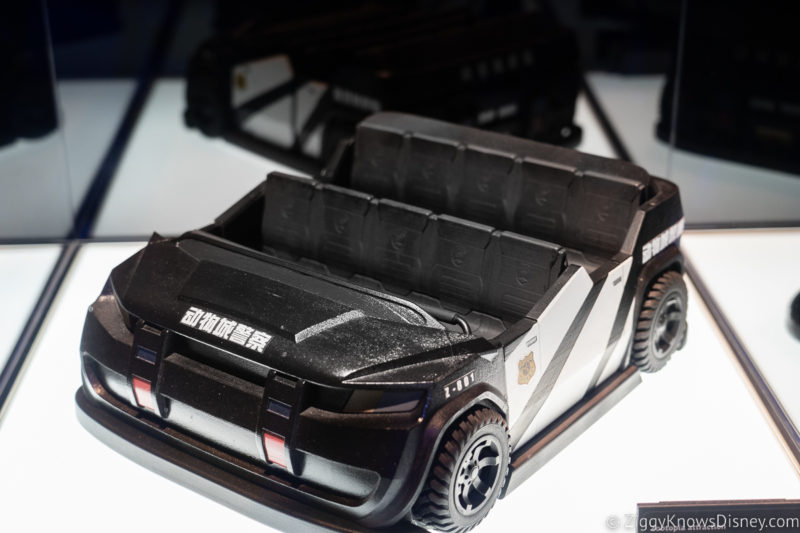 It could always be a trackless vehicle too, something similar to the one used in Rise of the Resistance, only with an extra row.
Even before 2019, this ride was rumored to be some kind of Avengers coaster, but I'm actually really glad we aren't getting that type of ride and we get something more innovative and different. After all, we already have a new TRON coaster and Guardians of the Galaxy: Cosmic Rewind coming our way so it's way better if Imagineers come up with something new.
As has been the trend with Disney rides of late, expect there to be a lot of screen technology in use. Like it or not, they are cheaper and easier to run than the more complicated and problematic audio-animatronics, though I really do hope we get a few of those in here too.
What Characters are in the Avengers Attraction?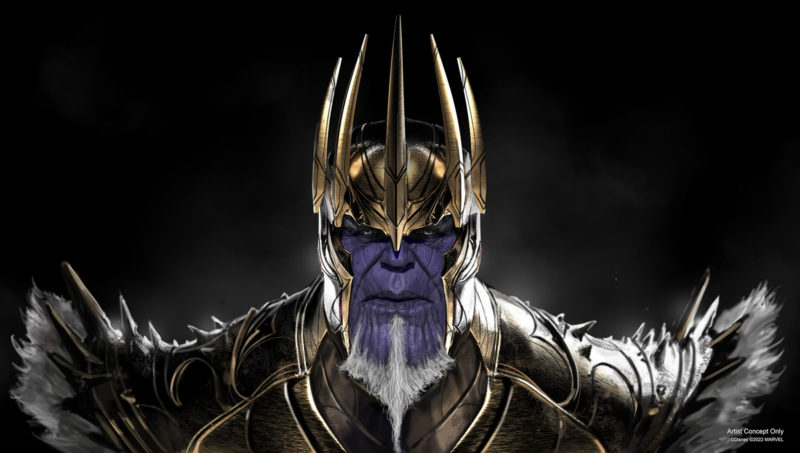 This Avengers attraction is going to have dozens of your favorite MCU super heroes, and also some of its best villains. The biggest news is that King Thanos is going to be the main villain of the ride.
This isn't the same Thanos from Infinity War or Endgame, but it's an even more powerful version of him, one that won the battle against the Avengers.
That's where you come in as you must team up with the Avengers to stop him.
The fact that they are incorporating the Multiverse now into the ride, means that it could include almost any character that has ever been in the Marvel comics. During the presentation, Kevin Feige said that there will be a lot of characters that we are already familiar with from the MCU, but many we have not met yet either.
From looking at the concept art for the ride, here is a list of characters that we have been able to confirm so far:
King Thanos
Iron Man
Spider-Man
Thor
Mighty Thor (Jane Foster)
Black Panther
The Hulk
The Hulk (version from Ragnarok)
She Hulk
Captain America (with Mjölnir)
Captain Britain
Captain America (Sam Wilson version)
Ms. Marvel
Dr. Strange
Warewolf by Night
Daredevil
Moon Knight
Steve Rogers (in The Hydra Stomper armor)
The Dora Milaje
Man-Thing
That is not a final list of the characters that will be in the attraction and it is just a sample of who we can expect to see.
When is the Avengers Quinjet Attraction Opening?
Right now of course, the big question is "When is the Avengers ride opening?"
At this time Disney has not commented on when we can expect to see the new attraction open or when this expansion to Avengers Campus will actually get started.
Just the fact that Disney is talking about it however, is a really good sign.
This latest announcement goes along with the comments that Bob Chapek made at a recent Disney shareholder's meeting. There Chapek talked about some of the announced projects that were put on hold, including the Avengers Quinjet attraction originally scheduled for Disney California Adventure.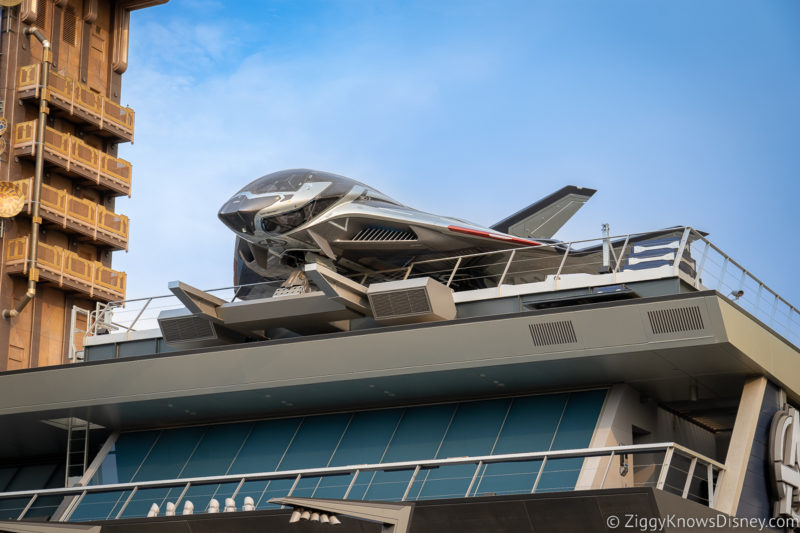 Since the parks closed in 2020, many of the projects under construction either got delayed or some even were outright canceled. Many feared that the ground-breaking Avengers attraction would never see the light of day. After Chapek's comments, that no longer seems to be the case.
It was here that Chapek initially confirmed that Disney still has plans to build the Avengers ride at California Adventure. At the time, however, it didn't seem like it was a top priority and more like it was on hold until more funds were available. This was similar to his announcement about the Mary Poppins attraction coming to EPCOT.
After the news at the D23 Expo though, it looks like Disney is really going to prioritize bringing this 3rd attraction to Avengers Campus.
This is reassuring as it sounds like it is one of the most ambitious attractions Disney has ever attempted to build and it would be a shame if guests didn't experience it.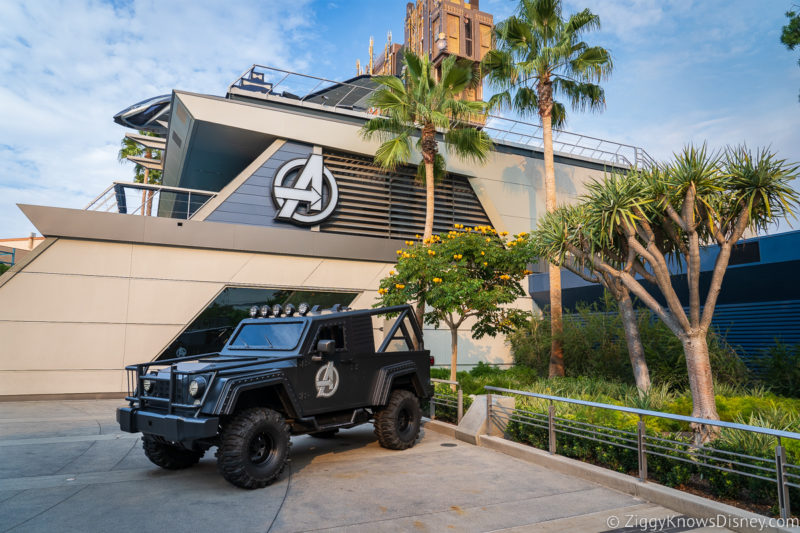 We still don't have a date for this Avengers E-Ticket ride, and we will have to wait a while longer. Phase 1 opened in 2022, but it was delayed from its original 2020 opening date.
Taking into consideration how long it takes Disney to finish a new attraction once they actually get started, I don't expect this Avengers ride to open before 2025 or 2026 at the earliest.
Even a ride like TRON Lightcycle Run at the Magic Kingdom has been under construction for 5 years, and that is a clone of an already existing ride where all of the hard work has already been done.
If this Avengers attraction is as ambitious as Disney is making it seem, a full 5 years is not out of the realm of possibility from start to finish. That means, even if (and that's a big if) construction on the attraction started before the end of the year, 2027 will be 5 years.
But again, there is no guarantee the project has even been completely green-lit and I think getting started next year is a more realistic timeline. We'll keep you updated as soon as construction starts and we have a better idea of how long things will take.
Is this the Same as the Original Quinjet Attraction?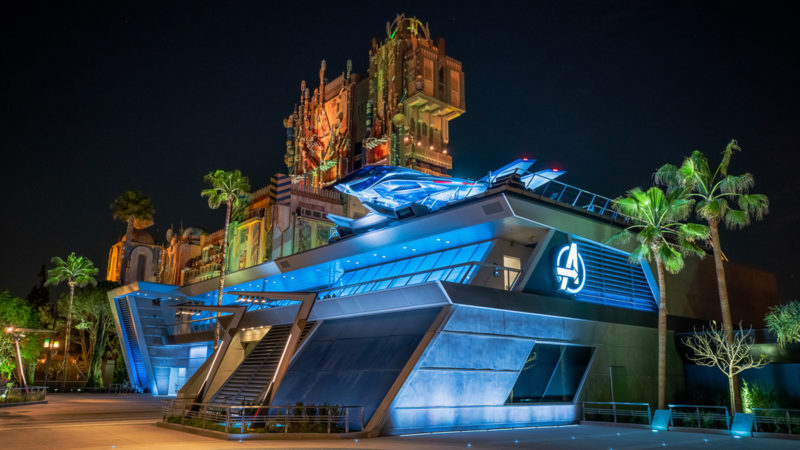 One of the biggest questions we had before this latest announcement is whether or not this new Avengers attraction with King Thanos is the same as the Quinjet Avengers attraction that was announced back in 2019
While there are definitely a lot of similarities between the two, it looks like they are in fact, different attractions with different ride systems.
The most obvious proof is the concept art for the two rides. In the original Avengers attraction, you were supposed to go into a Quinjet and fly alongside the Avengers, using an all-new ride system that Disney Imagineering is currently working on.
The small details that were given at the D23 Expo sounded amazing. You and the other guests fly onboard the Quinjet to Wakanda and you have to team up with the Avengers in order to save the world from one of the most powerful villains they've ever come across.
Guests would have to use their superpowers in order to defeat this enemy and save the day. They also mentioned working alongside your fellow Avengers, so it sounds like some teamwork was going to be involved in order to complete the mission.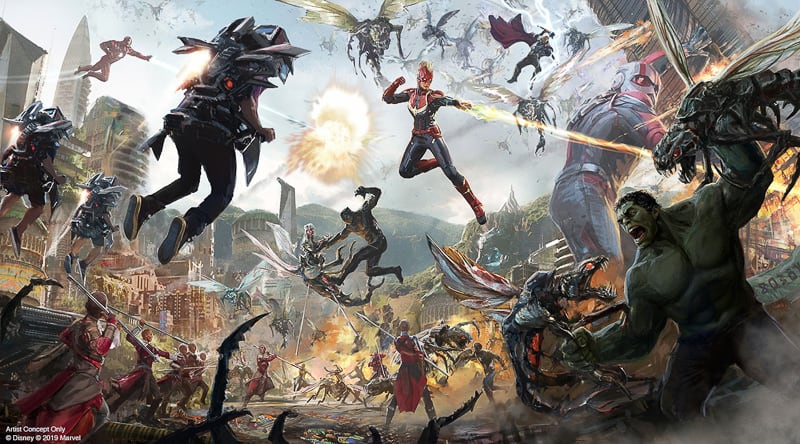 The concept art for the latest version announced at the D23 Expo looks totally different than the original. Riders in the old one had what looked like some kind of jet packs on that enabled them to fly around the action and participate in the battle.
The current version looks a lot tamer and is more of a passive attraction with guests viewing the action rather than having to do something and being active participants in the chaos. In that respect, it reminds us more of Star Wars: Rise of the Resistance so far in that you are thrown into the middle of a battle, but just to observe what's going on.
The Quinjet was going to be a big part of the original attraction, but no mention was made of it this time at the D23 Expo, or at least it won't be the main ride vehicle for the attraction.
From what I've heard behind the scenes, Disney has had a hard time developing this system and hadn't been able to finalize what the ride system is. That's the reason why phase 2 was needed in the first place and they weren't able to get it done earlier.
The villains in the two attractions are also different. In the original announcement, they didn't say who that villain was going to be, while in this latest announcement we know that King Thanos is going to be the main villain, but it also sounds like you will fight against other MCU villains too.
I also don't see those weird insects flying around, which isn't necessarily a bad thing as Thanos is a way cooler bad guy than bugs.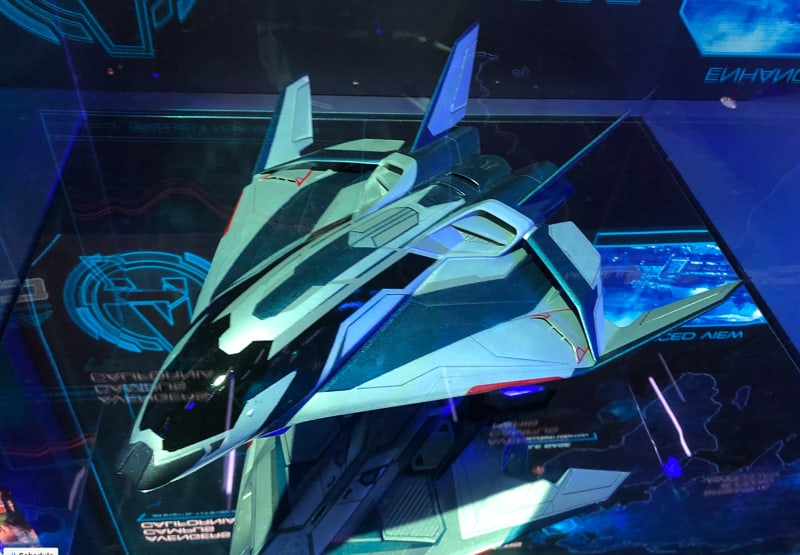 Now it could be that they had always planned on Thanos being the main villain in this ride, but they hadn't quite worked out all the details at that time.
What has remained the same is that judging by the concept art it still looks like an Infinity War or Endgame-level battle with all sorts of superheroes involved!
This ride is not a small attraction, but it's supposed to be on the same size and scale as Rise of the Resistance, and with the same level of ambition. Due to the size and scope of this new project, and Disney's reluctance to invest in more rides beyond what is currently under construction, I don't think we'll see Phase 2 before 2026, but that's just a guess on my part.
A lot still remains to be seen.
For now, it doesn't seem like this ride is going to either Hong Kong Disneyland or Disneyland Paris. Paris has got its own Iron Man roller coaster which has been put in the old Rock 'n' Roller Coaster building.
Chapek and D'Amaro did however say that we will be finding out more info on the Avengers E-Ticket attraction very soon, so stay tuned as it sounds like it's we are in for quite a ride!
FAQs
Is the Avengers Multiverse Attraction Open?
No, it is not. An Avengers attraction has been announced for the 2nd phase of Avengers Campus, but at this time there is no opening date planned.
Is the Avengers Ride a Roller Coaster?
No, it is not. Disney hasn't commented on the exact ride system at this time, but from the concept art and everything they have said so far, it is not going to be a roller coaster.
Does it Use Genie+ or Lightning Lane?
While it's impossible to say exactly how it will run once open, it's almost a guarantee that the new Avengers attraction will either use Genie+ or the Lightning Lane. Our guess is that it will be an Individual Lightning Lane attraction when it opens, much like Rise of the Resistance and WEB SLINGERS: A Spider-Man Adventure.
Does it Use the Virtual Queue?
At this time we don't know if the Avengers Multiverse attraction will use the Virtual Queue or not. However, many new E-Ticket rides have started out using it at least for the first few months. Such rides include Rise of the Resistance, Remy's Ratatouille Adventure, Guardians of the Galaxy: Cosmic Rewind, and WEB SLINGERS: A Spider-Man Adventure. This ride will probably use the Virtual Queue too once open.
What is the Height Requirement for the Avengers Attraction?
Disney has not commented on a height requirement for the new Avengers attraction yet, though there most likely be one. If we were to guess, it would make sense to see something around 40 inches, that way it can be exciting but also accessible to the whole family.
Is King Thanos Coming to Disney World?
No, unfortunately, it is not. Universal owns the rights to most Avengers characters East of the Mississippi, which is why Disney cannot build this ride in Disney World and only at the Disneyland Resort in California. Unless something drastic changes, we will never see it come to Disney World.
As soon as we know any more info on this story we will update you so keep tuned for more…
This was only one of the exciting announcements made today at the D23 Expo. To hear what else is coming, please visit our D23 Expo News and Announcements page and our post on all the New Attractions Coming to Disney World to see what you will soon find in the Disney Parks!
Your Thoughts
I want to know what you think about an Avengers-based ride coming to Disney California Adventure…
Do you like the way it looks so far?
What type of ride should it be?
Let us know in the comments section below!
If you enjoyed this article, as always I appreciate it if you'd share it with others via social media. I work hard at making this website into a useful resource for you and your family to plan your visit to the Disney Parks and I hope it can help you! Thanks 🙂
Meet the Author of Ziggy Knows Disney!