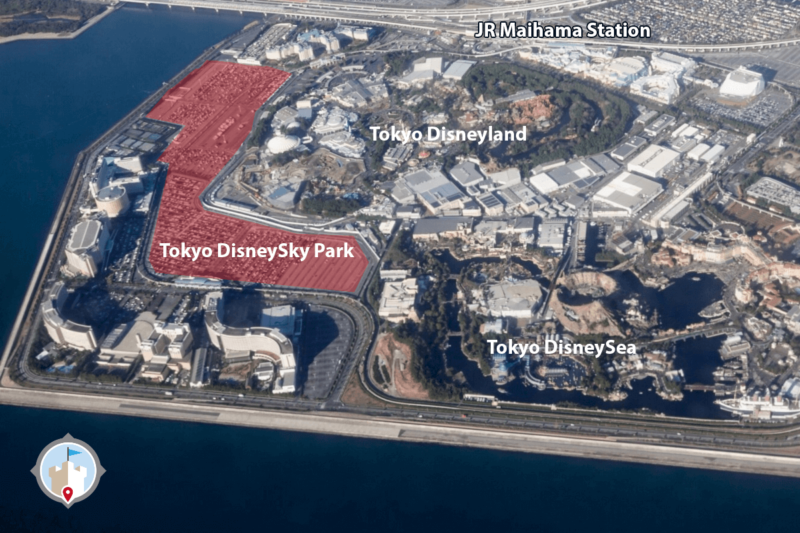 Even though Tokyo Disneyland is in the middle of a $670 Million dollar expansion, it looks like more is on the way with Tokyo Disneyland Planning a 3rd Park. According to the newspaper Mainichi Shimbun the Oriental Land Company, which is the majority stake holder in the Tokyo Disneyland Resort, wants to add a 3rd gate to the resort alongside Tokyo Disneyland and Tokyo DisneySea.
This 3rd Tokyo Disney park would be built to the brand new theme "Sky", differing from the already existing "Land" and "Sea" themes. Like DisneySea, it would be a theme that is completely unique in the world of Disney parks. The report states that there will be attractions and areas with the Sky and Universe themes, and an attraction where you simulate space travel and jet aircraft travel. Avatar and Star Wars themed lands are also rumored to be a part of a 3rd Tokyo Disney Park, I could also imagine some Marvel-based attractions too.
Also new would be the moving walkways throughout the park so people won't get as tired walking around. The entryway is rumored to use a wireless/ticketless technology which would allow guests to enter using their smartphones, allowing easy access. The Tokyo Disney Resort definitely needs more capacity, with long lines and congestion almost always a problem. The Tokyo DisneySky Park would take advantage of sensors throughout the park, tracking guest movements and helping guest flow in order to avoid traffic jams. A new multi-level parking structure on property near the 2 current parks will also be built for the extra guests.
Kydo News had reported a $2.7 Billion expansion for the Tokyo Disney Resort. If we are to believe the report about a Tokyo DisneySky Park, then that $2.7 Billion expansion is now likely morphing into this 3rd park instead of just upgrades to Tokyo Disneyland and DisneySea. Construction for the 3rd Tokyo Disney park would begin in 2019 and last 3 years, finishing in 2022.
Everything about this project sounds like it will be amazing, and I have even more confidence considering both current Tokyo Disney parks are the 2 best theme parks in the world. My only question is can they really fit a whole park into that small space indicated on the map above? It seems like an awfully small amount of real estate to put a park, seemingly only half the size of Tokyo Disneyland.
We'll keep you informed with any new developments regarding a 3rd Park in the Tokyo Disney Resort.
Your Thoughts:
I want to know what you think about Tokyo Disney Resort planning a 3rd park DisneySky. What would you like to see in DisneySky? Let us know in the comments section below!
If you enjoyed this article, as always I appreciate it if you'd share it with others via social media. I work hard at making this website into a useful resource for you and your family to plan your visit to Walt Disney World, and I hope it can help you! Thanks 🙂