It looks like Woody's Lunchbox won't be the only place to eat in Toy Story Land at Disney's Hollywood Studios as a new table service restaurant "Roundup Rodeo BBQ" is opening in 2023!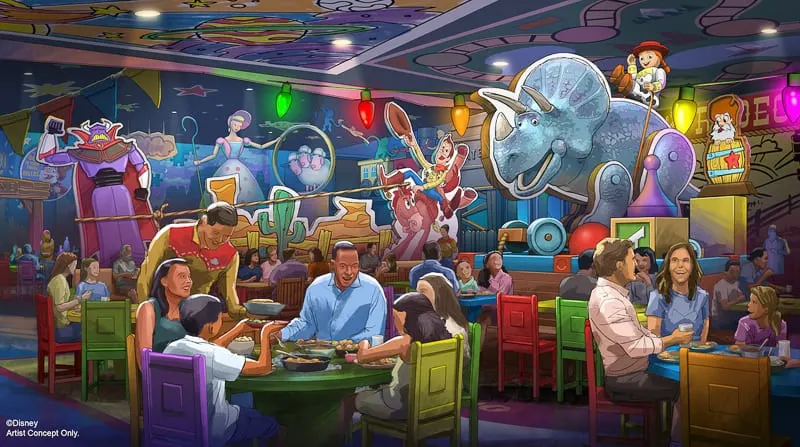 In this post, we are going to explain everything you need to know about the new Roundup Rodeo BBQ restaurant coming to Disney's Hollywood Studios.
We'll share with you the opening date, the menu, how to make reservations, a full review once we eat there, and all the other details about the unique Toy Story theming and decorations inside the restaurant.
(UPDATE) – The long-awaited opening for Roundup Rodeo BBQ in Disney's Hollywood Studios is officially opening on March 23, 2023. It was delayed from 2022 to Spring 2023 so we're happy to finally have a date. You can read more about that, as well as the full menu in the Updates section.
Basically, if you are a Toy Story fan, this is a must-stop destination for you when you visit and yet another reason to visit Hollywood Studios, perhaps even more than once.
Before we start, don't forget to sign up for our FREE Weekly E-Mail Newsletter. There we bring you the latest updates to Roundup Rodeo BBQ and other Disney vacation planning tips. You can sign up here: Join our E-Mail Newsletter!
(UPDATE) Full Look at Roundup Rodeo BBQ Interior & Theming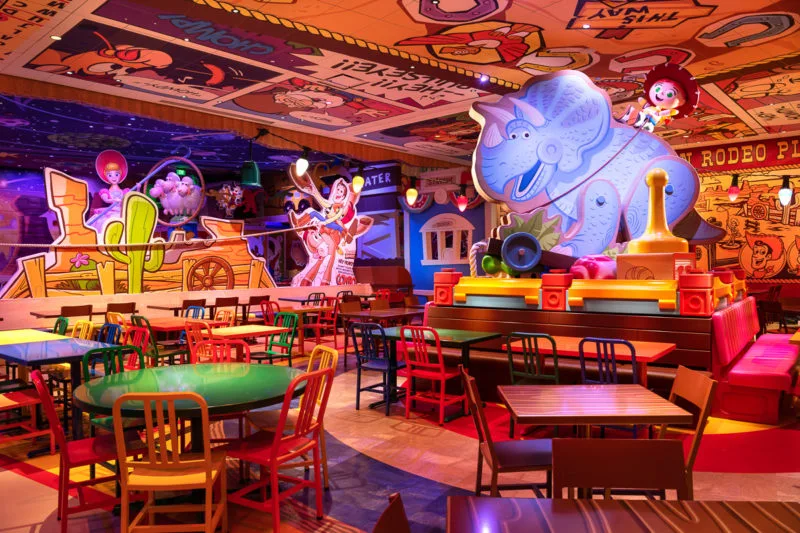 Disney has just given another sneak peek inside Roundup Rodeo BBQ in Toy Story Land in Disney's Hollywood Studios, which will soon "welcome guests for delicious barbecue and toy-sized fun."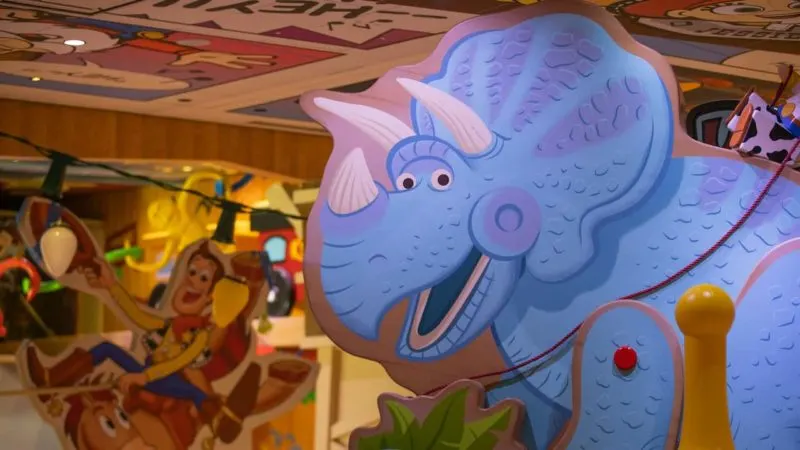 We got to see a new video preview of the restaurant and a look at the theming guests can expect to find when they go.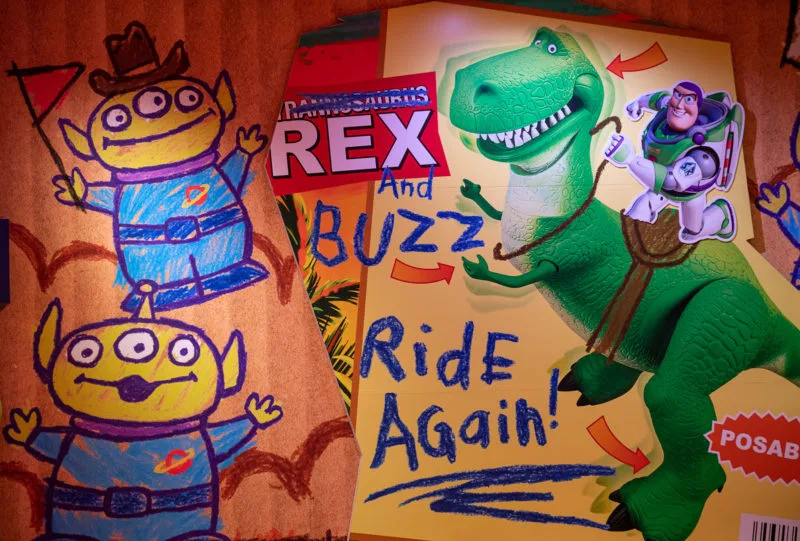 Guests can expect to find all their favorite characters from the Toy Story film franchise throughout the restaurant including Woody, Buzz Lightyear, Rex, Jessie, Trixie, Bo Peep, and her Sheep, the little Green Alien Men, and more.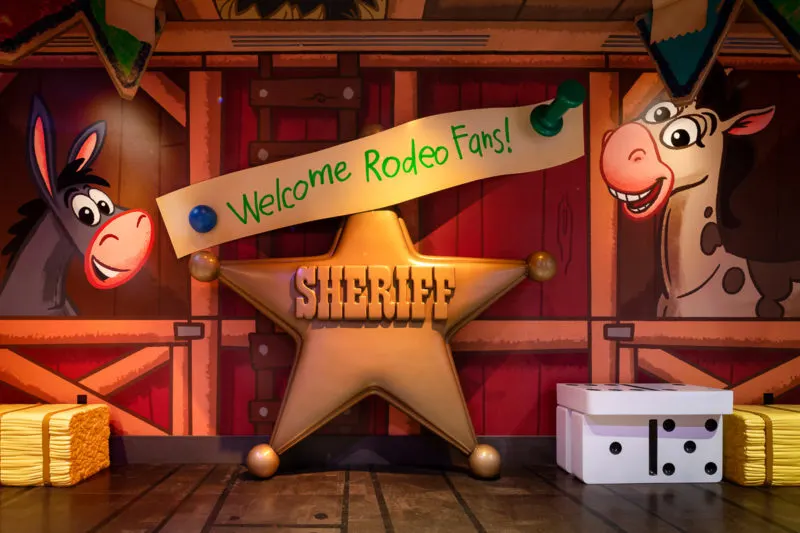 The style of the theming is identical to what you find in the rest of Toy Story Land, and most of it is painted directly on the walls. It looks decent, but we were hoping for something that stands out a little more than just painted walls.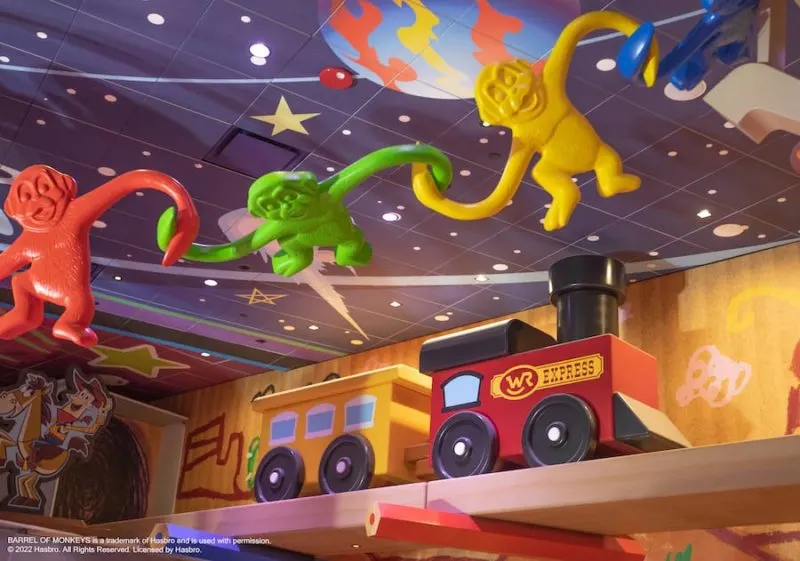 There are some parts of the restaurant that are three-dimensional such as the monkeys hanging from the ceiling and the toy steam train on the track above. What I want to know is if that steam train is actually running through the whole restaurant, or if it is stationary. If it's moving, that gets extra points in my book.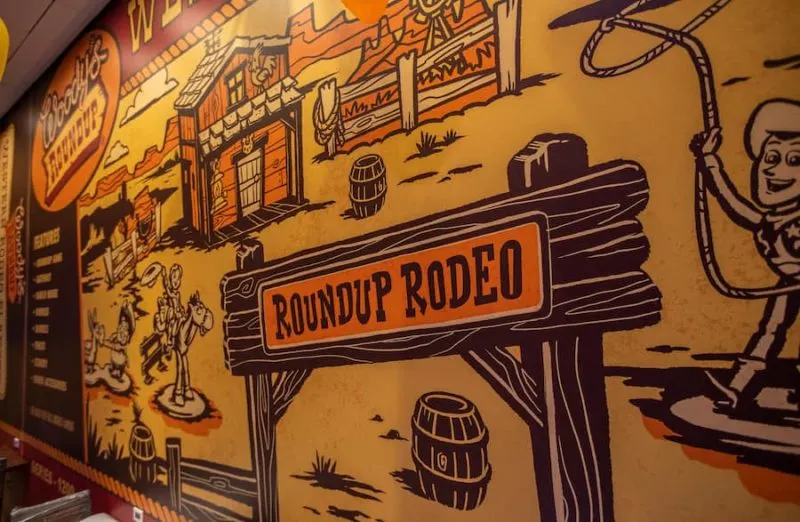 Disney Imagineers also worked closely with Disney Pixar Animation Studios to bring these toys, games, and sets to life from the films and give them a unique environment "that can only be found in Disney's Hollywood Studios."
The most interesting feature of the interior looks like it will be the Jessie animatronic figure riding Trixie in the middle of the room.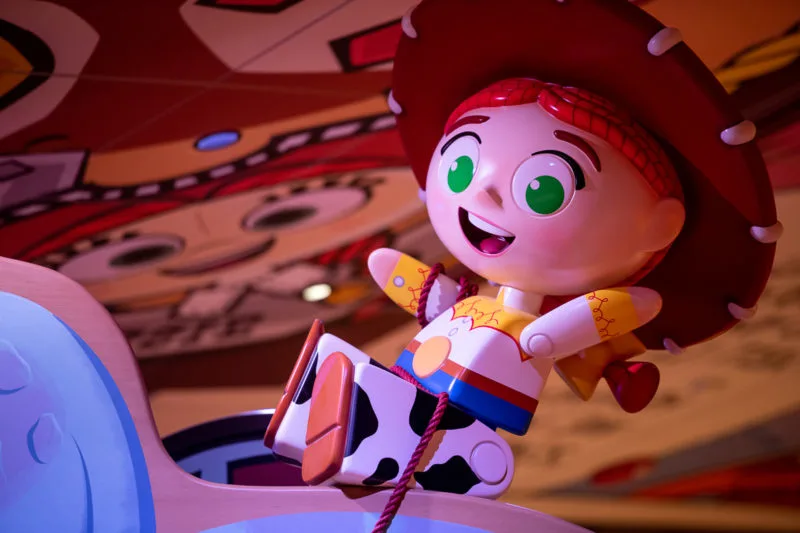 They even designed full comic strips about Woody's adventures, which Andy has used as part of the dining room ceiling!
Here is the full video preview of Roundup Rodeo BBQ:
Disney also recently released a new video giving an interview with the Chef de Cuisine Concept Development, Bobby Riviera Otero as he shows off some of the food and theming concepts behind Roundup Rodeo BBQ when it finally opens.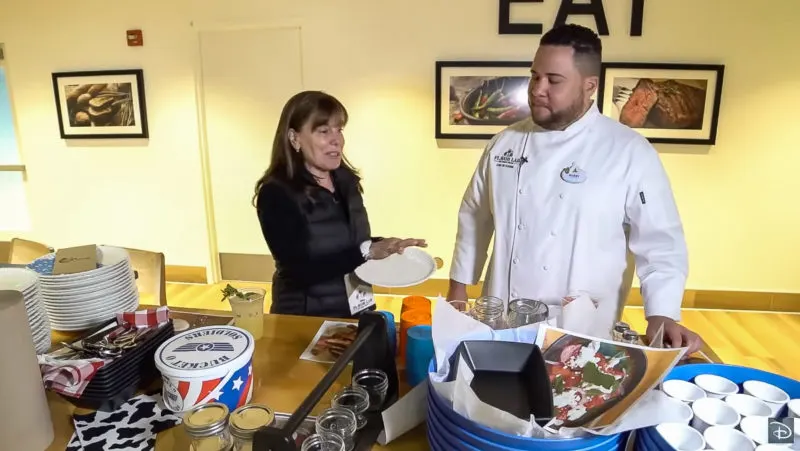 In the video, there is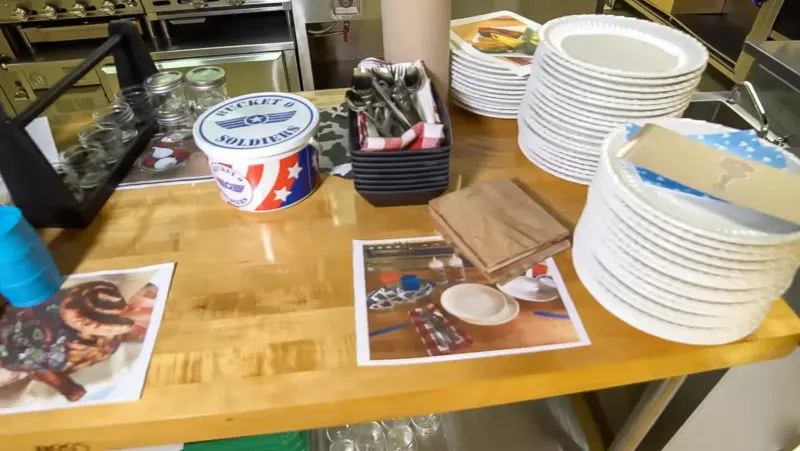 By looking at the table, we can see some of the tableware and food that will be present at Roundup Rodeo BBQ. The decorations definitely have a classic BBQ feel to them with red and white checked napkins, mason jars, and lots of pictures of BBQ meat.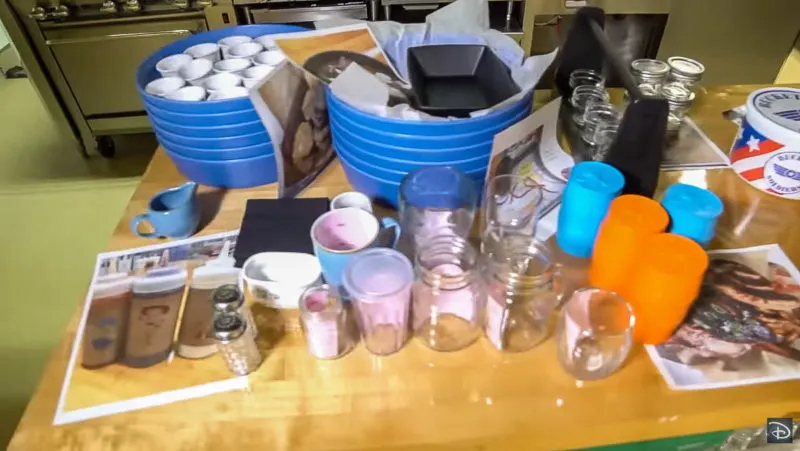 Disney is all about bringing to life the small details when making any ride or restaurant, and we definitely see that at work here. Look at the BBQ sauce bottles on the left side with the Toy Story characters on them.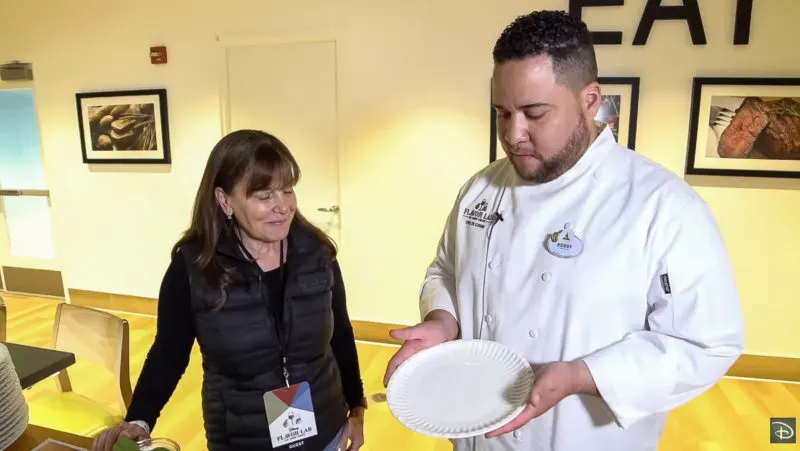 Another cool touch is the paper plates. They are just like the standard paper plate you find at an outdoor cookout. Or at least that's what they want you to think they are.
In reality, they are only designed to look like paper plates and instead are made of fine china.
You can watch the entire video here for more info and get you excited about this new addition.
We only have days to go until the official opening day for Roundup Rodeo BBQ, so stay tuned for more soon!
(UPDATE) Roundup Rodeo BBQ Opening March 23 and Full Menu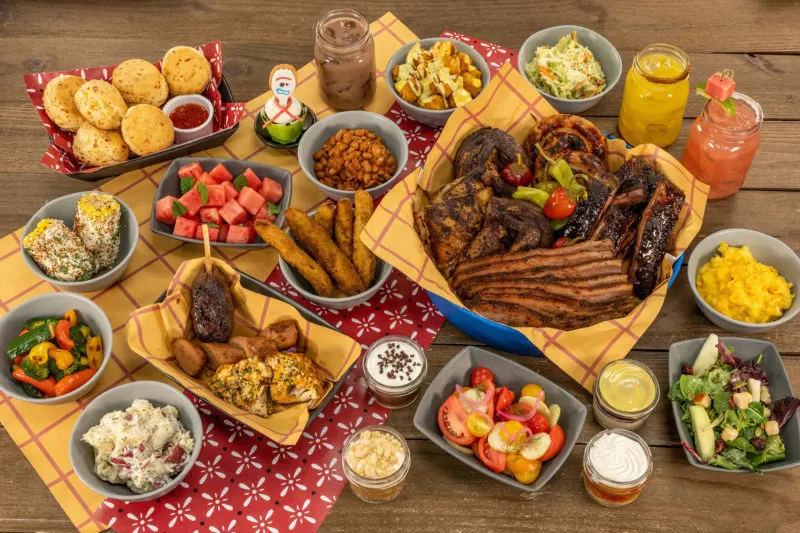 After more than 3 years of waiting, we finally have the official opening date for the newest restaurant in Disney's Hollywood Studios. Roundup Rodeo BBQ in Toy Story Land is opening on March 23, 2023.
We also got a first look at some of the incredible-looking food on the menu including, house-smoked meats, a roundup of sides, sweet surprises, salads, and unique drinks (both alcoholic and non-alcoholic.
Let's take a look at what's on the menu: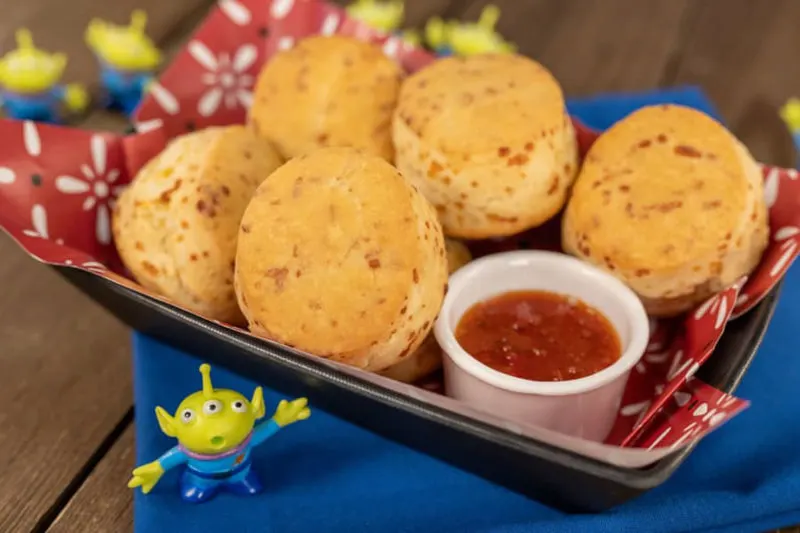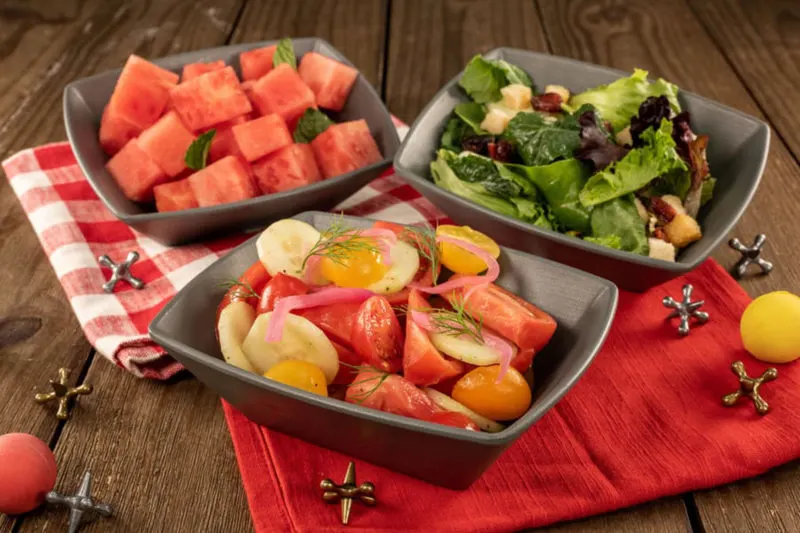 There are 3 delicious salads to try:
Tomato Salad: Tomatoes, cucumbers, and pickled red onions tossed in a white balsamic vinaigrette and garnished with fresh dill (plant-based)
Rex's Romaine and Kale Salad: Romaine and kale mixed with green apples, pumpkin seeds, and dried cranberries tossed with green goddess dressing
Watermelon Salad: Cubed watermelon garnished with freshly torn mint leaves (plant-based)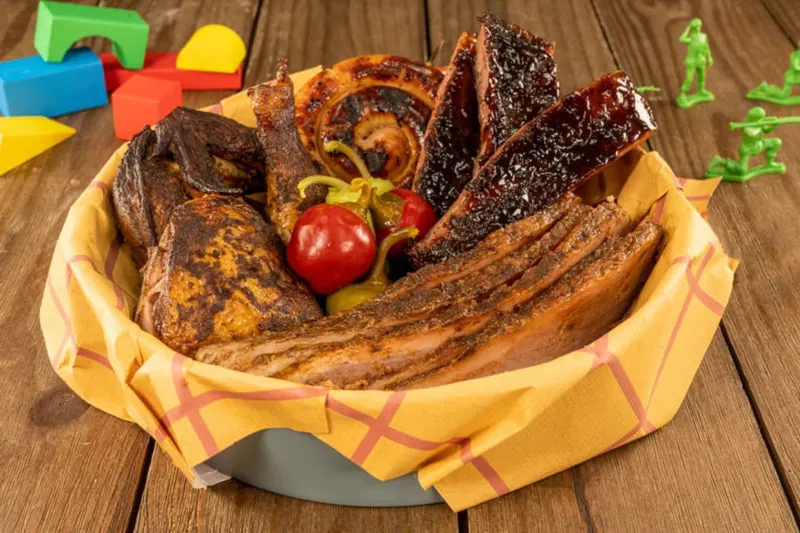 As nice as the starters look, the main event is the house-smoked meats including:
Evil Dr. Smoked Ribs: Fall-off-the-bone pork ribs, slow-cooked for hours in our onsite smokehouse
Buttercup's Beef Brisket: Hand-sliced beef brisket, smoked then slow-cooked to juicy perfection
There's a Sausage in My Boot: Spiced pork sausage fire-grilled over live oak to give it an added kick
BBQ Chicken – with Style! Chicken brined for 48 hours, rubbed with our secret backyard BBQ spice and smoked to tender juiciness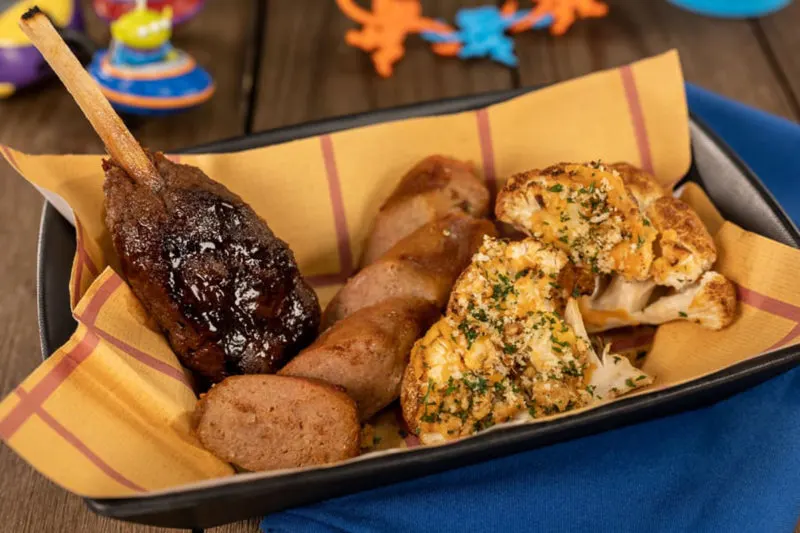 For guests not eating meat, there are some savory plant-based bbq items:
Slow-smoked Cauliflower topped with sweet harissa drizzle and crunchy walnut gremolata
Oven-roasted "Bratwurst" that is tender and juicy, sliced to perfection
IMPOSSIBLE "Rib Chop" seasoned with spices, then roasted and glazed with sweet BBQ sauce and skewered on a sugar cane "bone".
All three entreés are served with an assortment of sweet, traditional, and spicy BBQ sauces.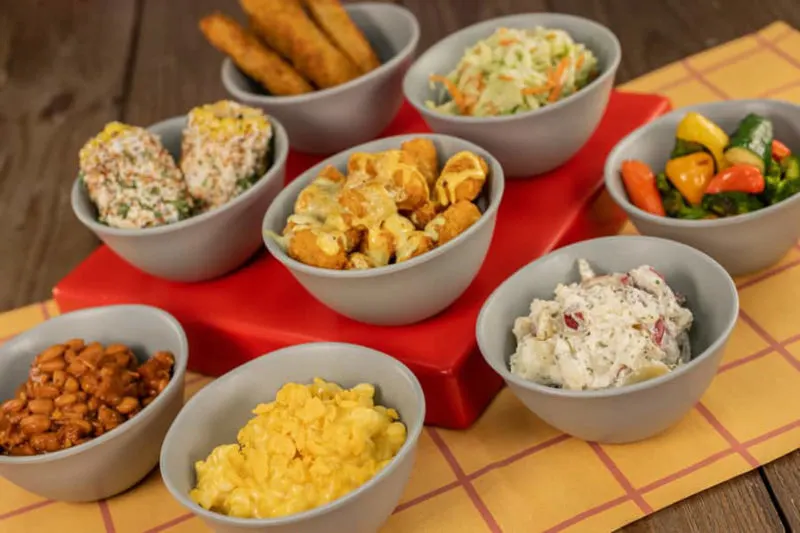 It wouldn't be a good bbq place if there weren't some great sides to go along with them. You can choose four of the following sides for the whole table:
The Married Spuds: Loaded potato barrels drizzled with green goddess dressing, cheese sauce, and seasoned BBQ spices
Force Field Fried Pickles: Jumbo pickle spears coated with a dill-flavored breading and fried to perfection
Slinky Doooooooooog Mac & Cheese: Spiral pasta in a creamy house-made cheese sauce topped with crumbled cheddar crackers
Buckin' Baked Beans: A traditional BBQ picnic favorite (plant-based)
Cowpoke Corn on the Cob: Grilled and seasoned with a chili-lime spice blend, cilantro, cotija cheese, and lime juice
Mean Old Potato Salad: Homestyle with red-skinned potatoes
Veggie Slaw: Crunchy shredded veggie slaw that is a summertime favorite! (plant-based)
Campfire-roasted Vegetables: A variety of roasted seasonal vegetables (plant-based)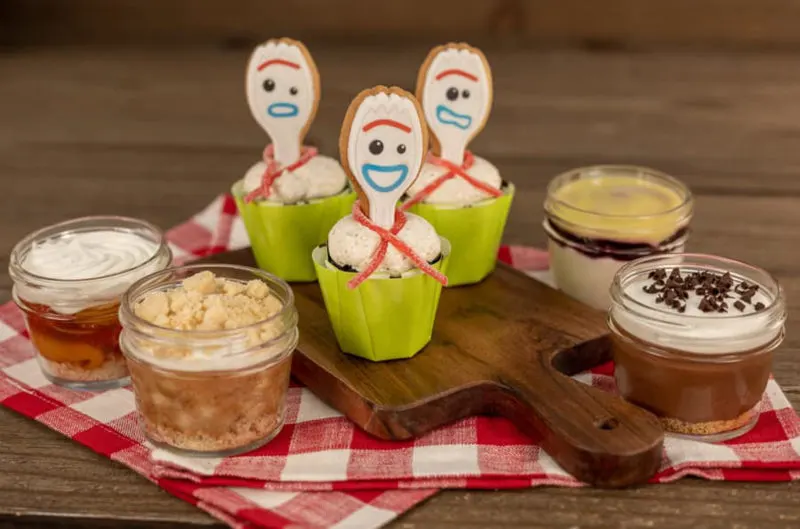 The desserts at Roundup Rodeo BBQ look really tasty as they are reminiscent of classic bbq picnic desserts. Each table can choose from the following selection:
Cupcake à la Forky: Forky is up to something sweet! A classic chocolate cake with a gooey chocolate ganache center topped with velvety graham cracker buttercream and a sugar cookie
Lemon and Blueberry Cheesecake: An iconic creamy dessert that balances the tanginess of the cheesecake with the natural sweetness of blueberries and lemon
Billy's Chocolate Silk Pie: Layers of graham cracker crust and silky chocolate mousse topped with chantilly cream
Goat's Apple Pie: A picnic classic! Tart apples and warm pie spices balance perfectly with the creamy sweet filling under a crumble crust
Gruff's Peach-Strawberry Pie: With its silky sweet peaches and tartness of strawberries, this dessert is a fruit-centric delight! (plant-based)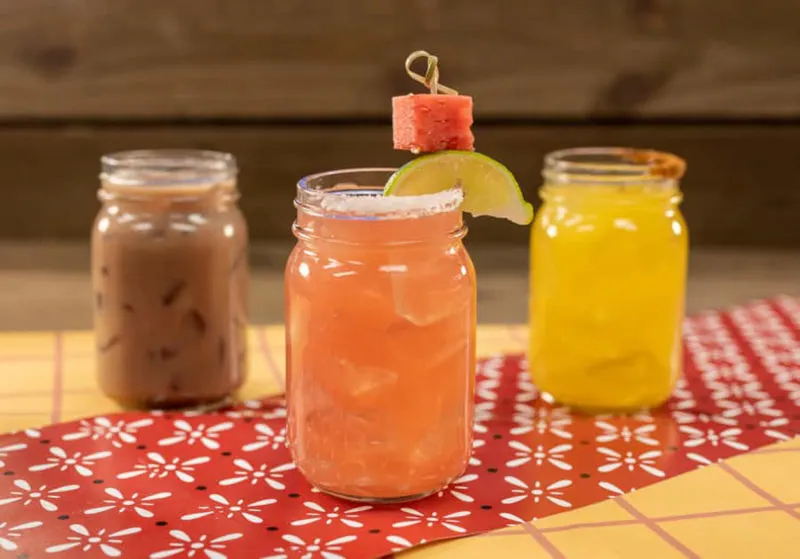 Last but not least is the assortment of refreshing craft cocktails which make you think of backyard picnics on hot summer days. Some of them are alcoholic and some non-alcoholic, so there is a drink for everybody.
Grown-up Craft Cocktails:
Snake Eye Margarita: Inspired by a summertime BBQ featuring watermelon, smoke, and a bit of spice!
Rum Punch: Rum punch with vibrant flavors of passion fruit and pineapple finished with a smoky spiced garnish
Chocolate with a Grown-up Twist: A blend of chocolate rum, horchata liqueur, cocoa, and flavors of toasted marshmallow
Frozen Peanut Butter & Jelly: A fun frozen twist on the classic peanut butter & jelly featuring peanut butter whiskey
Whiskey Lemonade: A fresh take on a strawberry lemonade made with Tennessee whiskey and Italian bitter aperitif
The Rodeo Mule: A classic "patio sipper," this mule mixes vodka with fresh juices and ginger beer
A selection of beer, hard cider, and wines by the glass are available.
Nonalcoholic offerings:
Molly's Frozen Iced Tea: A frosty concoction with iced tea and citrus flavors
Frozen Cocoa: A frozen blend of cocoa and vanilla topped with miniature marshmallows
Partysaurus Tex: Strawberry lemonade is even more fun when you garnish it with gummy worms!
At first glance, we are pretty impressed by the menu. Of course, the most important things about any bbq restaurant are the smoked meats, and the fact that the meat here is smoked in-house is certainly promising. We'll find out just how good it actually is very soon.
We'll also let you know as soon as you can start making advance dining reservations for Roundup Rodeo BBQ, so stay tuned.
Roundup Rodeo BBQ Overview
If you noticed when you enter Toy Story Land there is some space along the right side near the Woody statue and that's exactly where the Roundup Rodeo BBQ is going. Originally Disney had plans for shops in that area so I'm happy they are putting it to use.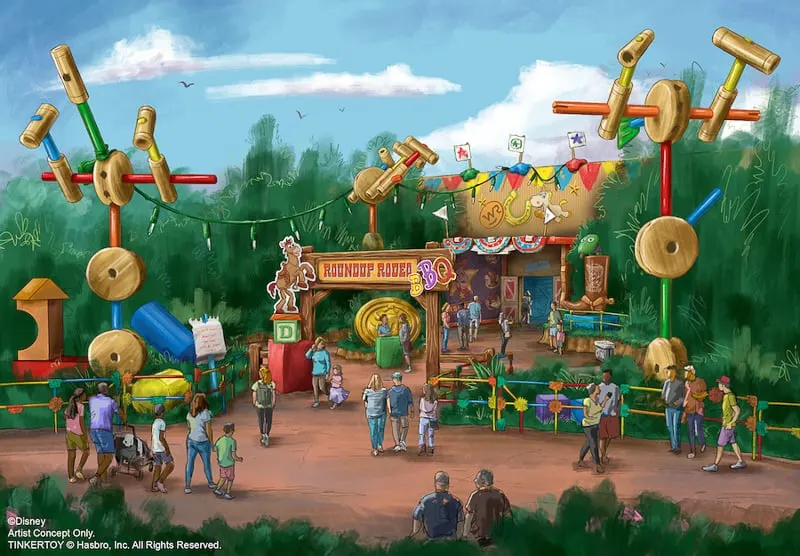 The Roundup Rodeo BBQ is described by Disney as a "unique, fun, family-friendly dining experience" where "guests will enjoy delicious barbecue fare while surrounded by a kaleidoscope of toys, games, and playsets that Andy has brought together to create his one-of-a-kind rodeo."
The official description from Disney continues: "Using his imagination, Woody's Roundup toys, and other playthings, Andy has built a rodeo restaurant for all his pals. We are excited for guests to enter the dining room and discover just how much fun Andy had creating a rollicking place for honorary toys to enjoy barbecue-inspired comfort foods served family-style, with platters of house-smoked meats, a roundup of sides and some miniature sweet surprises along the way."
Guests will enter Andy's backyard, and magically be transformed into the size of a toy, with playsets and other toys throughout the space.
You can see some of the playful toy elements of the Roundup Rodeo, including a giant snake in Woody's boot right outside the entrance.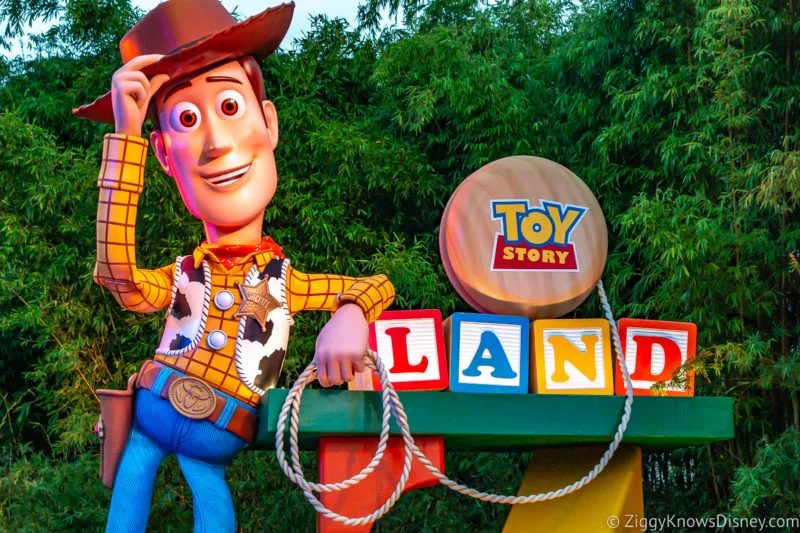 The inside of the restaurant holds two large dining spaces, which Disney has tried to make fun by creating a game theme, similar to Toy Story Land itself. To us, it looks pretty basic for now and there isn't a lot to the interior, and we hope improvements are made before the opening.
The theming inside Roundup Rodeo BBQ will obviously have a western feel to it, but it will also be mixed with an assortment of Disney•Pixar characters including Jessie, Trixie, Bo-Peep, and the whole gang who look like they are putting on the rodeo themselves.
One highlight of the restaurant will be the 2 rodeo play areas (a Western town and train station) which are made up of cardboard boxes taped together. The cool thing is that it's not only western toys but a huge assortment that will make up the rodeo area.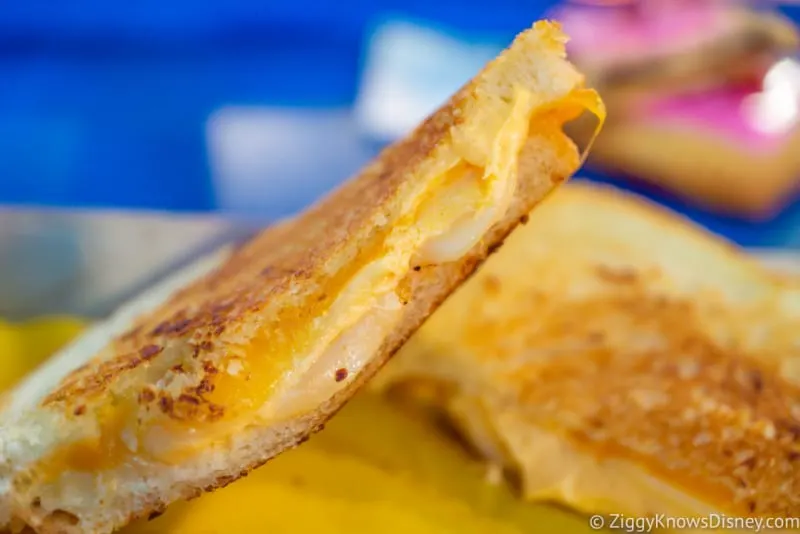 The most promising part of the theming is what appears to be an animatronic figure of Jessie riding Trixie. If it really is an operating audio-animatronic it will at least be entertaining.
The rest mostly looks like mostly flat, 2-dimensional cardboard figures decorating the room which I'm not sure will completely sell the guests, much like the Slinky Dog Dash queue.
Prices
Fixe prix menus have become all the rage in Walt Disney World these days, with restaurants across property doing it such as Space 220, Topolino's breakfast, and even the high-end Monsieur Paul. Roundup Rodeo BBQ is also going to have a set price and no al à carte options available.
Current prices for Roundup Rodeo BBQ are:
Adults – $45 per adult, plus tax
Children (ages 3-9) – $25 per child, plus tax
From what we can tell, this will include homemade cheddar biscuits, salads, an entree, and 4 sides for the table to share. Soft drinks will also be included, with alcoholic drinks costing extra.
We'll have to wait and see how big the portions are and the quality of the food, but $45 a person for lunch is pretty expensive when you can just go next door to Woody's Lunch Box and pay less than half that amount.
Hours of Operation
Roundup Rodeo BBQ daily restaurant hours:
Lunch & Dinner: 10:45 am – Park Closing
As of this writing, Roundup Rodeo BBQ will only be open for lunch and dinner, with no breakfast option available. However, if it is a success, we wouldn't be surprised to see it added in the future.
Roundup Rodeo Opening Date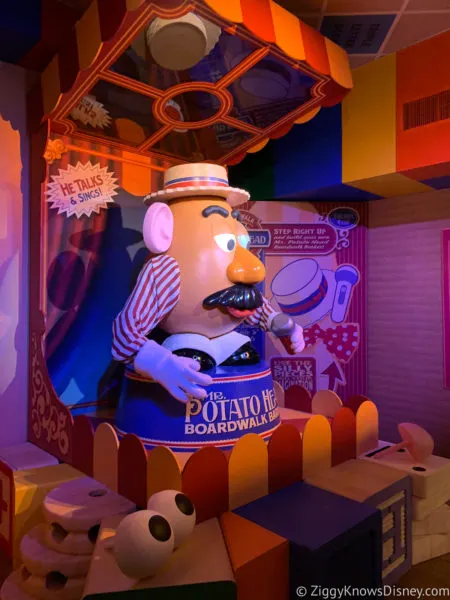 About a year ago, Disney announced that the opening date for the Roundup Rodeo BBQ would be sometime in 2022. However, they have since delayed that and Roundup Rodeo BBQ is opening a bit later than previously expected.
Right now, Roundup Rodeo BBQ is opening in Spring 2023 but we don't have an exact date at this time. Things could always change, so we'll keep an eye out.
From the outside, construction looks like it's almost complete. Scaffolding is up around the sides of the building which means they are working on the exterior, and work is being done on the marquee sign. We can also tell that the sidewalk has been paved and work on the exterior theming has begun.
As soon as we know when it's opening we'll let you know, but since Disney changed the deadline to Spring 2023, it gives them more time to put on the finishing touches.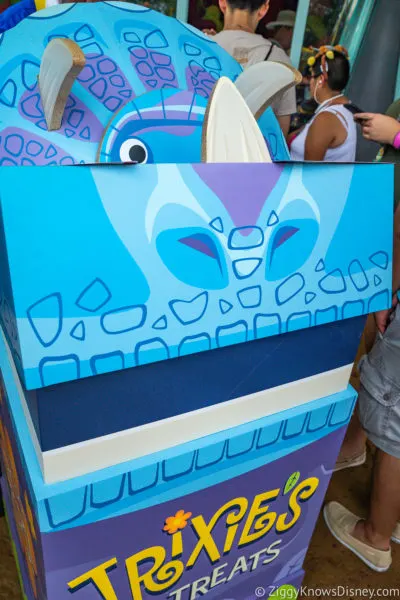 I'm just excited about having an actual indoor restaurant, which is a blessing as Toy Story Land is the hottest area of the park by far and in desperate need of a place you can go to get cool.
Not too many details have been given yet about this new restaurant yet, so we'll be excited to find out what type of food it's going to serve, some more of the theming elements it will have, etc.
It looks like it's going to be pretty fun from the concept art and if the food is half as good as it is in Woody's Lunchbox, then it'll quickly rise to the top of my Best Hollywood Studios restaurants list.
Stay tuned for more details about the Roundup Rodeo BBQ soon right here including menu info and photos and reviews of all the food and drinks.

Your Thoughts
I want to know what you think about the Roundup Rodeo BBQ restaurant coming to Walt Disney World…
Are you looking forward to this new restaurant?
What type of food would you like to eat?
Let us know in the comments section below!
If you enjoyed this article, as always I appreciate it if you'd share it with others via social media. I work hard at making this website into a useful resource for you and your family to plan your visit to the Disney Parks and I hope it can help you! Thanks 🙂
News Source: Disney Parks Blog