Though it is always empty when it's open anyway, starting today May 4, 2019, Disney has reopened PizzeRizzo in Disney's Hollywood Studios and will stay open for seasonal operation in various points of the year.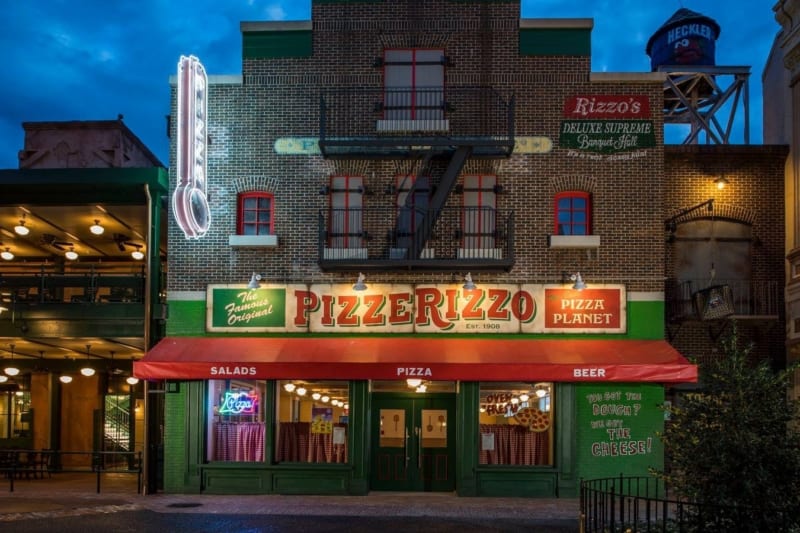 Disney's Hollywood Studios needs more dining capacity because on May 5th the ABC Commissary is closing for a temporary refurbishment while getting ready for its new reservation fast casual dinners.
The nice thing is that when PizzeRizzo reopens, there is a new dessert on the menu: thePeanut Butter & Jelly Verrine. I'm not getting my hopes up or anything, but maybe it will be worth a visit finally!
PizzeRizzo was originally a quick service restaurant Pizza Planet, themed after the famous restaurant from the Toy Story film franchise. It was then remodeled in November 2016 with a Muppets theme, but though it carries the name of one of the franchise's characters one of the complaints is that you can hardly see anything inside resembling the Muppets. The menu also hardly changed since Pizza Planet and hasn't been a hit with guests in the park.
Just walking by PizzeRizzo you can see that it's not exactly popular with guests in the parks, and It looks like Disney is closing PizzeRizzo until a bigger need for restaurants comes up closer to the Galaxy's Edge opening.
By that time with people lining up for hours on end in Grand Avenue, they will need food and PizzeRizzo is positioned to benefit from that demand. But that's not to say Disney won't give PizzeRizzo another make-over by that time as moving to "seasonal operation" is usually the kiss of death for Disney attractions/restaurants.
It's a shame that they spent all that money on a remodel just two years ago and PizzeRizzo has been a big disappointment since then. They need to at least make a big menu re-haul when they reopen it or it will just continue to have the same problems in the future.
Disney hasn't given an exact date for how long PizzeRizzo is staying open, but I think it will probably stay this way through the year at least with the opening of Galaxy's Edge this summer. They will need all the dining in Hollywood Studios possible.
Stay here with Ziggy Knows Disney and we'll keep you updated with any changes…
Your Thoughts:
I want to know what you think about PizzeRizzo reopening for seasonal operation…
Do you like PizzeRizzo?
What can Disney do to turn it around?
Let us know in the comments section below!
If you enjoyed this article, as always I appreciate it if you'd share it with others via social media. I work hard at making this website into a useful resource for you and your family to plan your visit to the Disney Parks and I hope it can help you! Thanks 🙂