In this latest Star Wars Galaxy's Edge Construction Update, we're going to look at the drastic changes that have taken place to the Galaxy's Edge entrance since our last update. Before you were able to see into Galaxy's Edge from Grand Ave, especially the tall rock spires being constructed on the tops of the attraction buildings, and many were wondering how Disney would keep the atmosphere separate from the rest of the park. This is after all on another planet! Disney has fixed that and the Star Wars Galaxy's Edge entrance is now blocked by trees.
We have these great pictures again thanks to @bioreconstruct over on Twitter who also takes amazing aerial shots of Star Wars Galaxy's Edge. Let's take a look at the changes.
So here is an old shot from back around Christmas time. The Galaxy's Edge entrance is pretty clean and you see up and over the wall. Notice for example the big crane: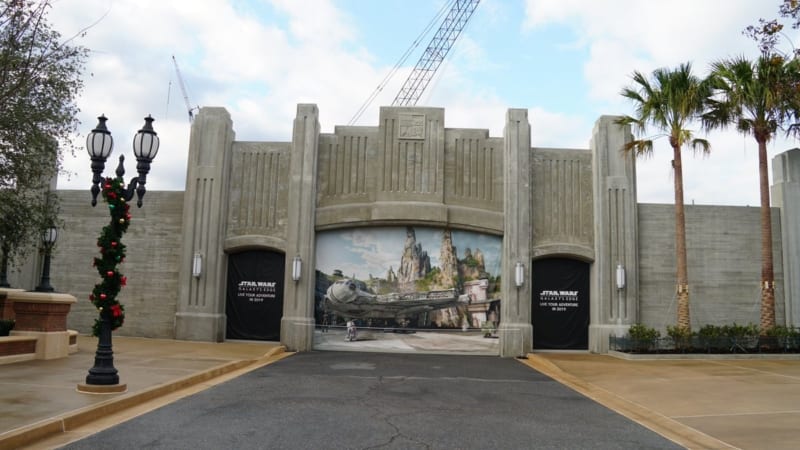 Here you can see the rock spires forming above the walls. If it remained like this, it wouldn't really ruin the ambiance from down on Grand Avenue which is supposed to be in modern-day Los Angeles. The tunnel that they built leading guests into Star Wars Galaxy's Edge is the perfect setup because as we described in the past, it won't point straight back, but will curve to the side on the other end, so you have to actually enter it and come out the other side to see Galaxy's Edge: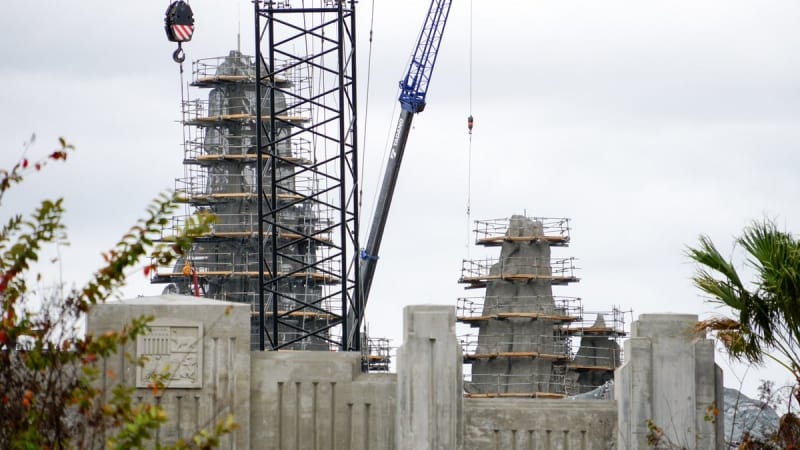 Now look at the difference!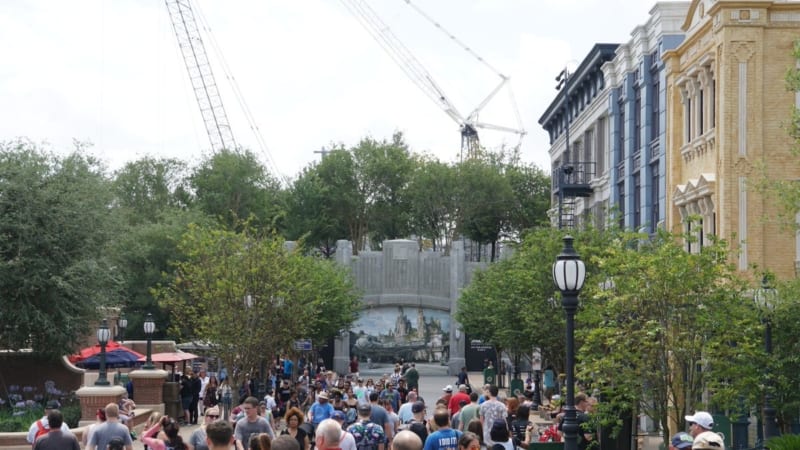 Trees are covering everything past the wall and you can't see the buildings over it any more. The only things you can see are cranes, but once the construction is done they will be gone, creating clean sight lines and keeping the Grand Avenue side to look like a park in Los Angeles: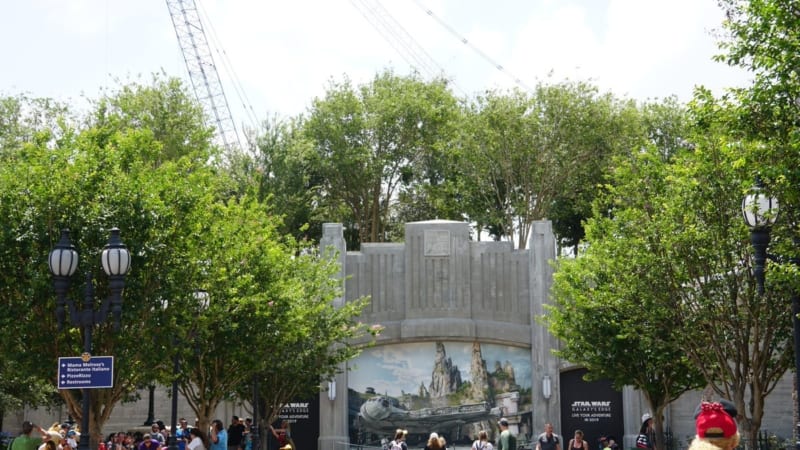 Here's a shot of Grand Avenue and the Galaxy's Edge entrance blocked by trees at night. Looks gorgeous!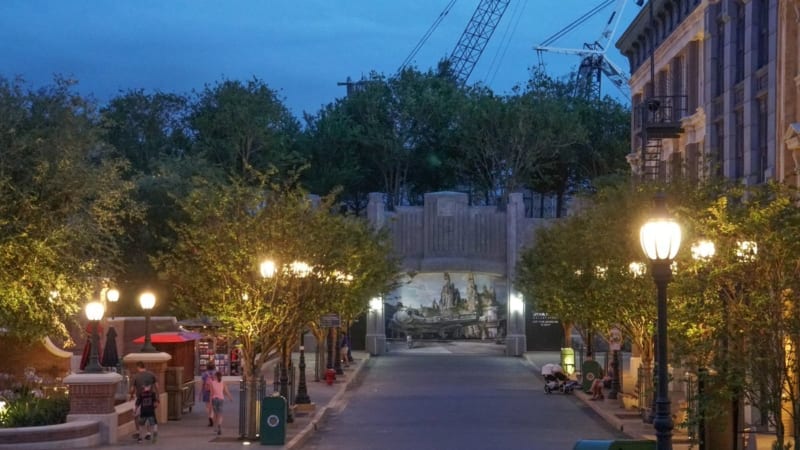 This comes on the heels of another development in Star Wars Galaxy's Edge where we could see the projection domes from the Millennium Flacon attraction on the ground outside as they are getting installed. These will run the attraction's ride system, simulating flight in this iconic Star Wars ship.
October/November 2019 is probably what we're looking at for the opening of Star Wars Galaxy's Edge, we'll keep you posted with that and any other updates that come out!
Don't forget to check out my latest Disney World Construction Updates including:
Toy Story Land Construction – New Rex Theming Added to Slinky Dog Dash
Toy Story Land Construction – Entrance Sign Now Installed
Toy Story Land Construction – Woody Figure Arrives
Disney Skyliner/Gondola Update – Weather System on Cable Towers and Bullwheels Arrive
Ratatouille – Steel Framing of Attraction Building Rising in Epcot
Incredicoaster Trains First Look
Star Wars Land is opening in May and August for Disneyland and Disney World. Find out how to get reservations…
Your Thoughts:
I want to know what you think about the Star Wars Galaxy's Edge Entrance being blocked by trees.
Do you like the way they are able to hide Galaxy's Edge?
Are you looking forward to this new land?
Let us know in the comments section below!
If you enjoyed this article, as always I appreciate it if you'd share it with others via social media. I work hard at making this website into a useful resource for you and your family to plan your visit to the Disney Parks and I hope it can help you! Thanks 🙂
Photos: @Bioreconstruct