This is a Toy Story Land Construction Update. We are now only 41 days from the opening of Toy Story Land in Disney's Hollywood Studios and that means full all out press till the finish. Lots has changed only in the last couple weeks since our May Toy Story Land Construction Update, and today we're going to look at some of the final details being installed. One of those is the Slinky Dog Dash coaster which has been testing 3 trains on the track at once.
We'll also check in on the other attractions like Alien Swirling Saucers and Toy Story Midway Mania which is pretty far along with its new interactive queue. And we also learned this past week that Toy Story Midway Mania is closing for one week in June before the Toy Story Land opening to get the new queue ready.
As always @biorecontruct on Twitter took some amazing aerial shots from above so that we could get a better view of Toy Story Land and see how it's progressing. Let's take a look at how it's going:
Here is the latest aerial shot of Toy Story Land. It's really starting to look nice with lots of greenery in place around Slinky Dog Dash: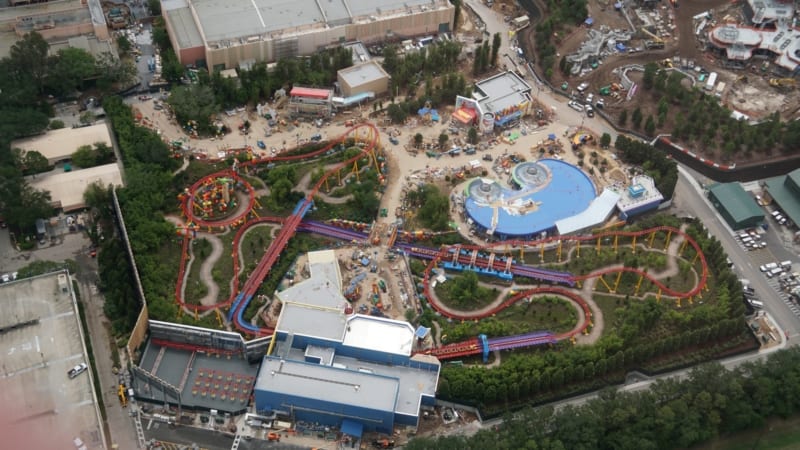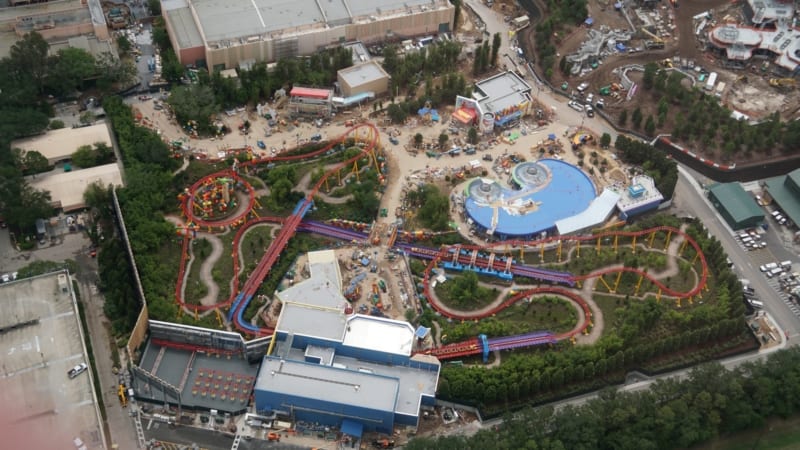 If you don't believe how much progress has been made in less than two years, look at this photo of the Toy Story Land site from back in August 2016: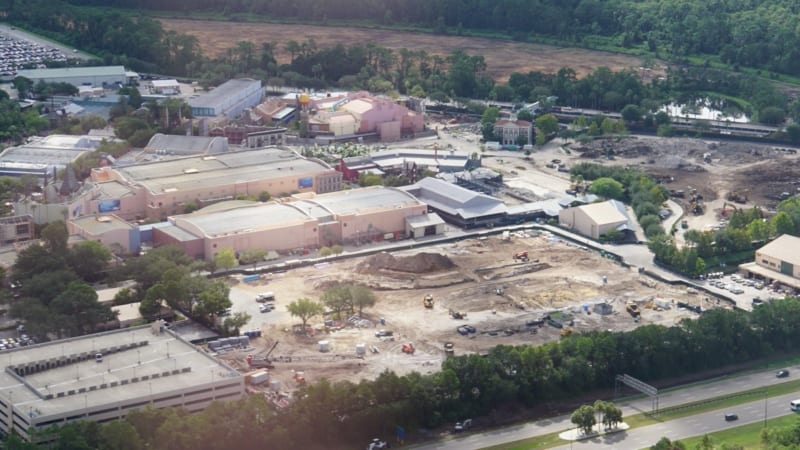 and compare it to Toy Story Land today! A world of difference and it actually looks like a theme park again: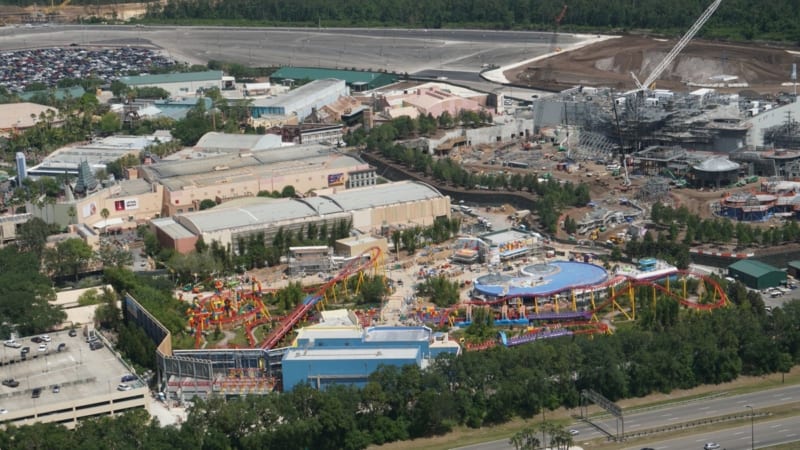 To get into Toy Story Land you'll have to use one of the two entrances. This is where the main entrance will be off Pixar Place. To show how Disney handles scenery changes between land, you can see where Toy Story Land will officially begin when you look at the difference in light fixtures. In the middle of the photo they look like pretty standard green light posts, but at the bottom of the they are made of toys:
Moving into Toy Story Land you see the new Midway Mania queue which is being built on the left and Woody's Lunch Box on the right. Notice on the Toy Story Midway Mania sign the facade at the entrance is currently getting painted: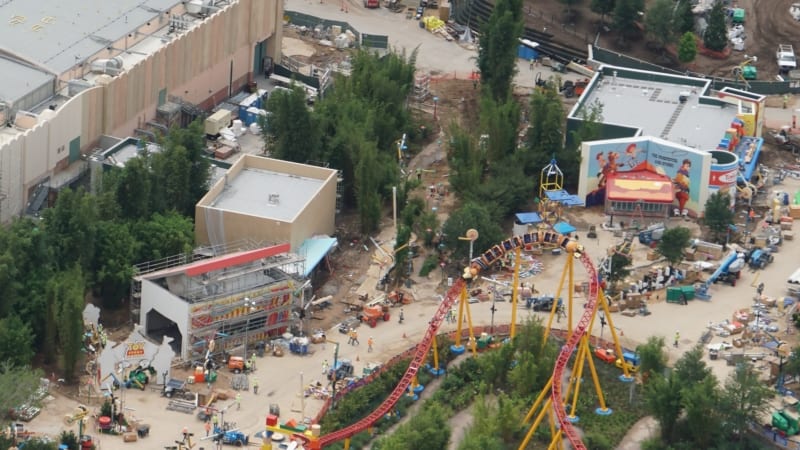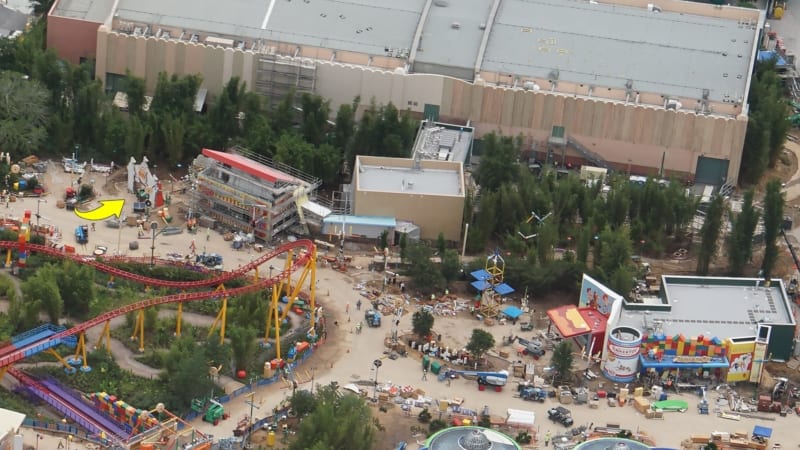 Here's a view from the back end of the queue and behind Woody's Lunch Box: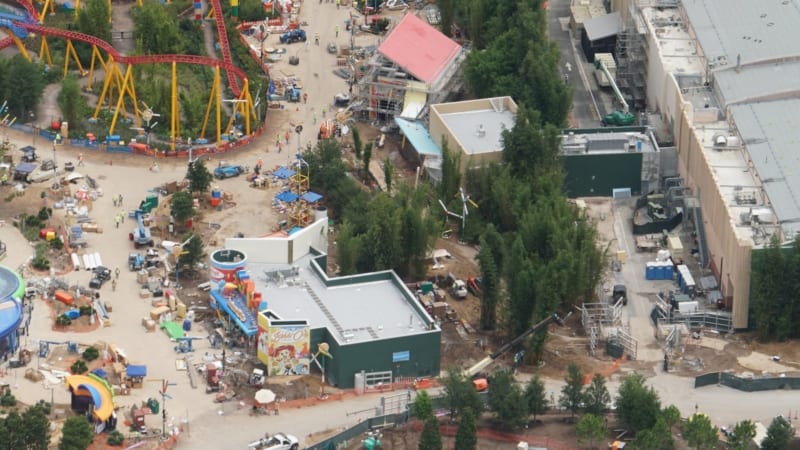 From this angle you can see the Toy Story Land attractions much better. Alien Swirling Saucers is to the left and Slinky Dog Dash coaster on the right:
At Alien Swirling Saucers the yellow arrow is pointing out the marquee for the attraction's queue now in place: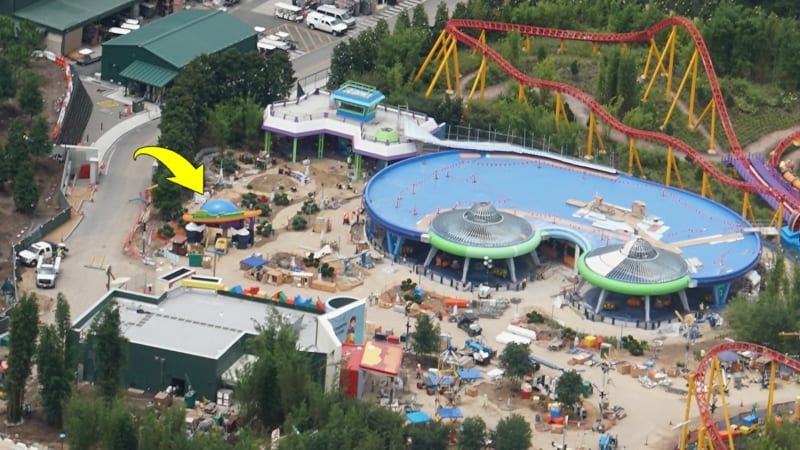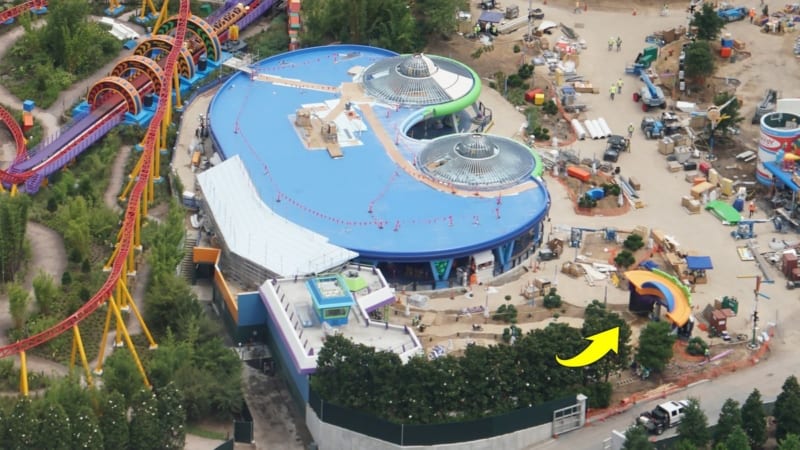 If you look close inside the building, you will also see that many of the attraction cars are in place already. They of course are themed to the little green men from Toy Story. I still want a look at "The Claw" though: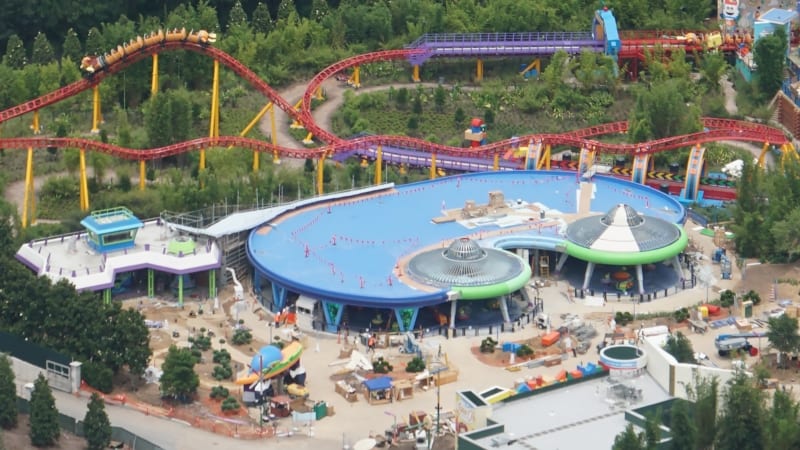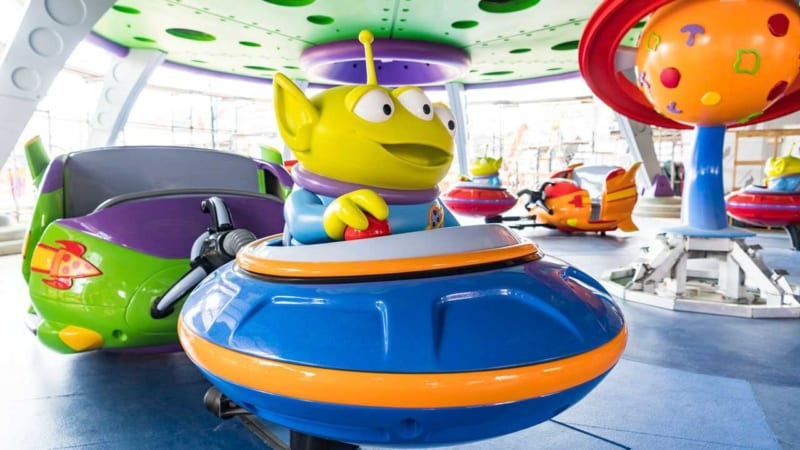 From the back you can get a shot of Woody's Lunch Box. The food window will be on the left and it's been recently painted and it also looks like most of the decorations on the side of the building are in place: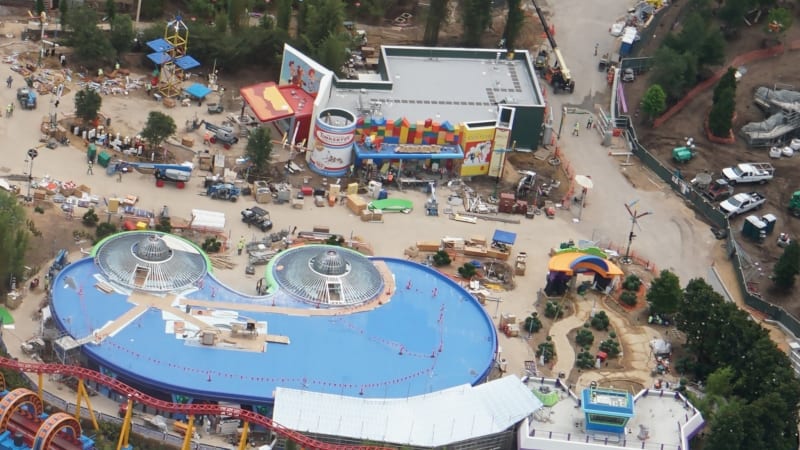 Check out the Woody's Lunch Box Menu here to see what mouthwatering treats await!
Lastly is what will for sure be the most popular ride in Toy Story Land, the Slinky Dog Dash coaster. Here we get a good view of the station where people will wait in queue and then be loaded on the trains. Here you can see they are testing 3 Slinky Dog Dash trains simultaneously to see how they work around each other and to get the timing right for the launches: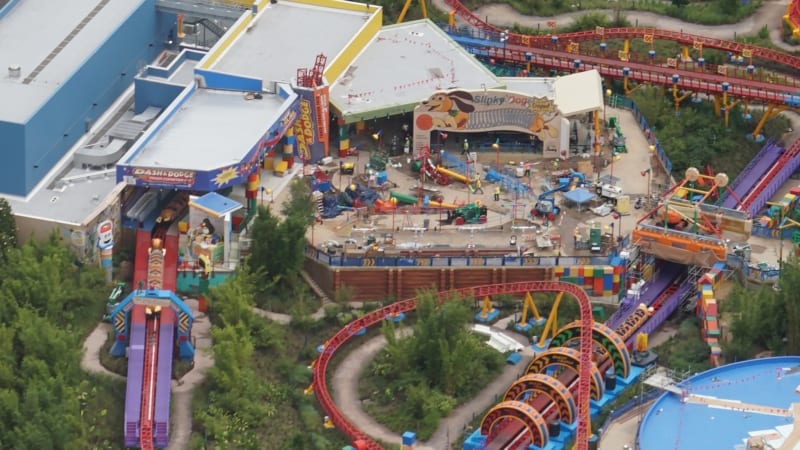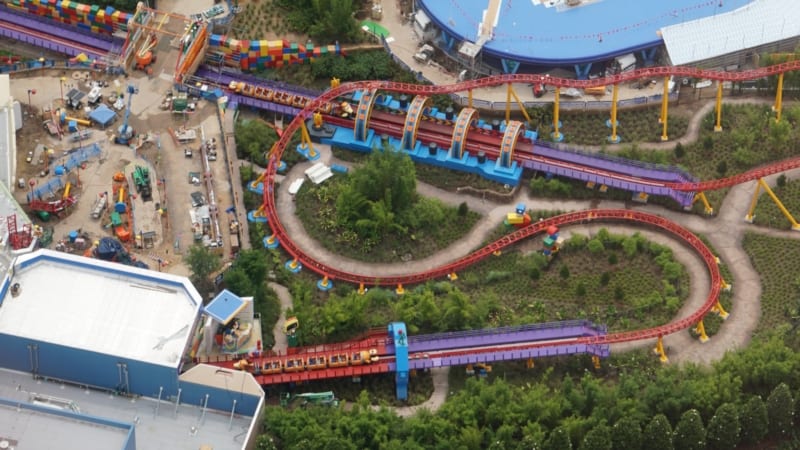 As they are testing the Slinky Dog Dash trains, they've been loaded with weights to simulate how it will be with real passengers: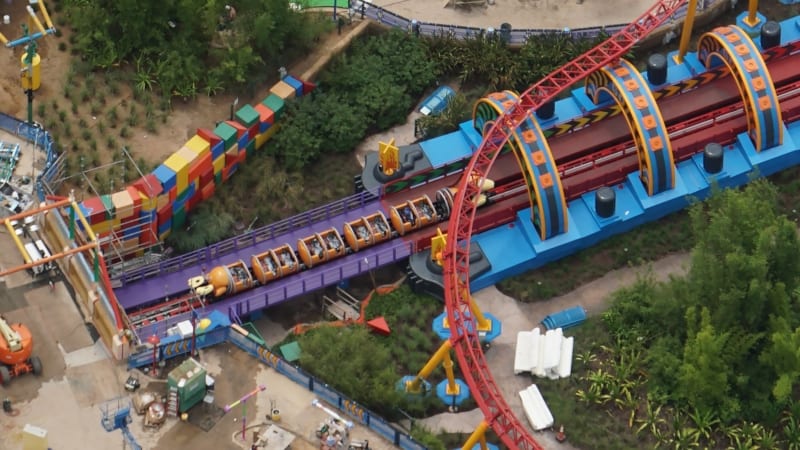 More details with the train moving around the curve with Jessie and Rex: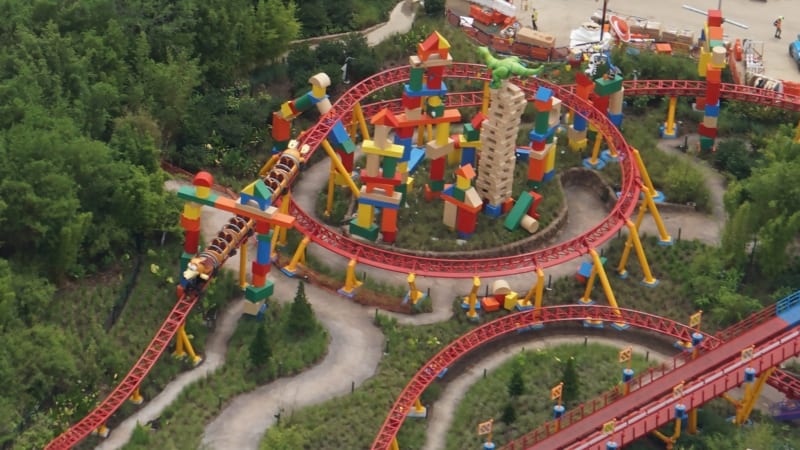 If you are going to Hollywood Studios and Toy Story Land this Summer, I highly recommend you start making your FastPass+ reservations now as they are now available and extremely hard to get. For more help check out our entire Toy Story Land FastPass+ Strategy Guide and Tips so you don't miss anything!
Make sure to watch Toy Story 3 on Wednesday, May 23 from 8-10pm EST for another Toy Story Land Sneak Peak on ABC!
Don't forget to check out my latest Disney World Construction Updates including:
Your Thoughts:
I want to know what you think about this latest update and the Slinky Dog Dash coaster testing 3 trains.
Are you going to Toy Story Land on opening day?
What are you most excited about in this new land?
Let us know in the comments section below!
If you enjoyed this article, as always I appreciate it if you'd share it with others via social media. I work hard at making this website into a useful resource for you and your family to plan your visit to the Disney Parks and I hope it can help you! Thanks 🙂
Photos: @Bioreconstruct