(UPDATE 3/28/19): Well still no Luxury Hotel in Disneyland (that's a story for another day), but Disney has just given more info on the new parking structure which will be called Pixar Pals parking structure. Expect it to be ready in July 2019.
(Original Story): Going hand-in-hand with the news we just learned about the New Luxury Hotel coming to Downtown Disney at the Disneyland Resort, Disneyland is adding a 6,500-space parking structure to the Disneyland Resort.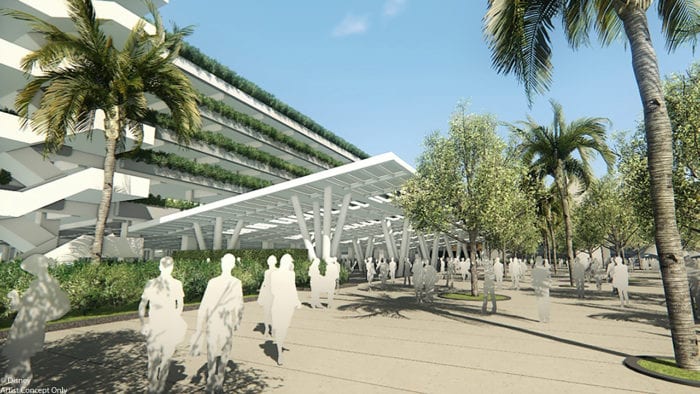 That's a HUGE size structure and will serve towards the current Disneyland Resort expansion plans. As the Orange County Register is reporting, this essentially kills the Eastern Gateway project, which was the original plan for the area, however many businesses on Harbor Boulevard held it up, and this is now its replacement.
With this new 6,500-space structure, it will drastically improve parking and traffic flow throughout the Disneyland resort. Guest arrival time should be sped up dramatically, with a 60 percent increase in the number of access lanes and adding additional parking capacity on the west side of the resort.
It will also streamline vehicle arrivals on the west side of the resort and eliminate backups onto city streets. In addition, the tram boarding area will be reconfigured to enhance the transportation experience for guests parking at both the new structure and Mickey & Friends.
Another reason Disney chose to build this parking structure instead of going forward with the Eastern Gateway Project is that Disney's plan on the west side of the resort needs minimal city involvement. So when it's finished, between the new parking structure and Mickey & Friends, Disneyland will have well over 16,000 spaces in that area.
On this map you can better see the future projects and their layouts:
Of course we know of Disneyland's current projects with Star Wars Galaxy's Edge coming in 2019 and Pixar Pier next year, but Disney also has to think of the Marvel-themed land coming to Disney California Adventure soon after and the effect the influx in guests will have on current park infrastructure.
This way Disney is upgrading, improving and adding new parking and transportation enhancements that have been in the plans for a long time. This new parking structure will be the centerpiece of this plan and is going to be built on the current Pinocchio surface parking lot next to Mickey & Friends.
Also a big factor in the announcement of a Disneyland Resort parking structure, is the New Luxury Hotel Coming to Downtown Disney, which will serve as a gateway to the Disneyland Resort for guests.
Obviously more parking is needed for that to happen and so these two projects benefit each other. Disney also said that it will be building a new parking structure near the Paradise Pier hotel to accommodate future guests.
Construction is scheduled to begin in February 2018, and should be ready to open in 2019, just in time for Star Wars Galaxy's Edge.
Your Thoughts:
I want to know what you think about the New Disneyland Resort Parking Structure…
Do you like that a new parking structure is coming to Disneyland?
What other improvements can be made?
Let us know in the comments section below!
If you enjoyed this article, as always I appreciate it if you'd share it with others via social media. I work hard at making this website into a useful resource for you and your family to plan your visit to the Disney Parks and I hope it can help you! Thanks 🙂