So back over a year ago we found out about a brand new Luxury Hotel coming to Downtown Disney at the Disneyland Resort.  We haven't heard anything else about it until now.  We are still getting a Luxury Hotel in Downtown Disney, but the layout will be different than previously reported, and also the location.  Just like the previously announced hotel, it's still going to be a Four Diamond hotel, the first for Disneyland in over two decades.  But instead of being built between Downtown Disney and the Mickey and Friend's parking lot, it's going to the west end of the Downtown Disney District, and will serve as a gateway to the Disneyland Resort.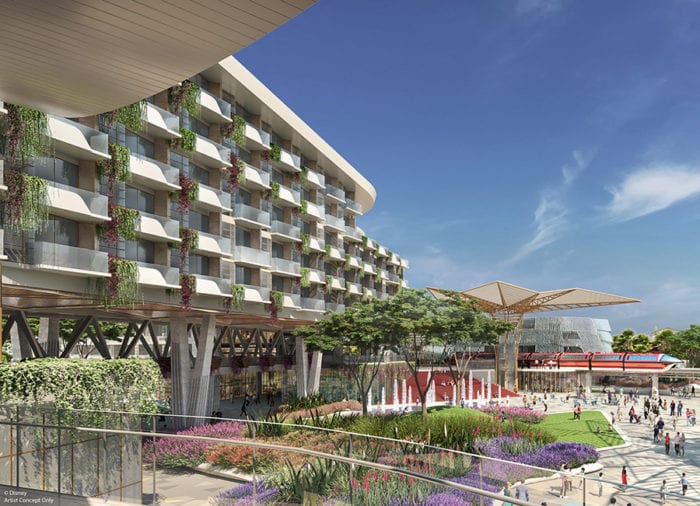 The photos look stunning, and it will have both a sophisticated design, and also make you feel very much a part of nature with extensive landscaping, gardens and even plants hanging form the windows of the rooms.  This natural beauty will be on display on every level of the hotel, creating a resort oasis-like environment.  Speaking of rooms, it's going to have 700 of them and looks huge on the concept art.
The impact on Anaheim will be great as well, creating a dynamic dining, entertainment and hotel experience for resort visitors and local residents.  One of the highlights will be the upper-level restaurant and lounge that will give guests an incredible view of the Disneyland Park and fireworks.  Sounds like I've found my spot for dinner!
Another awesome addition will be a dedicated Monorail platform inside the hotel, which will bring guests right into Disneyland Park.  The new hotel also connects all four Hotels of the Disneyland Resort through lush gardens and beautifully landscaped walkways.  Plus we also learned tonight about a new 6,500-space Parking Structure next door to the existing Mickey and Friends parking structure, which will serve this new Luxury hotel and as a gateway into the Disneyland Resort.
This photo gives you a better idea of the Disneyland construction projects: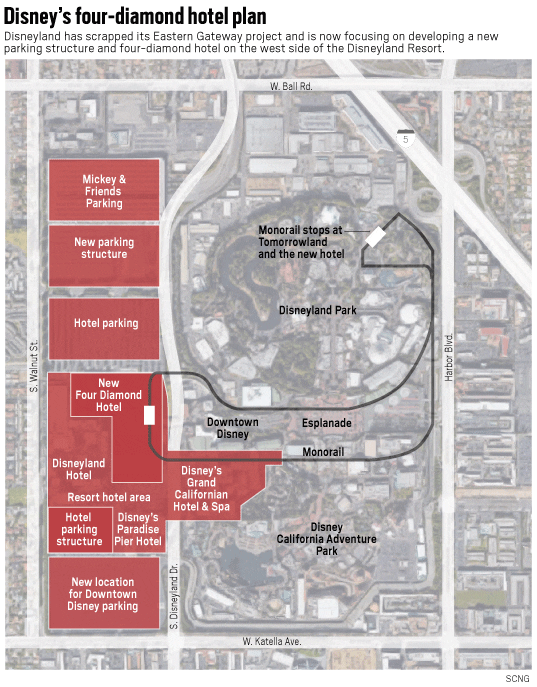 This is part of a larger Disneyland Resort expansion project which will need more hotel rooms on property.  In 2019 we will see Star Wars Galaxy's Edge in Disneyland Park, Paradise Pier in being transformed next year into Pixar Pier, and we're still waiting on more information about the new 'Marvel-themed' land and attractions that are coming to Disney's California Adventure sometime after the first two.  So this fits in perfectly with those expansions.
So since the location is different what does this mean for existing restaurants and shops in the west end of Downtown Disney?  Let's just say it doesn't look good for them.  The ones in question are in particular: ESPN Zone, Rainforest Cafe, AMC Theatres, and  Earl of Sandwich.  This new luxury hotel just might mean the end of them, or in some cases could mean moving location.  For example, because the ground level of the hotel will include restaurants and shops with an expansive landscaped plaza, it's possible that some of them could move in there.  In fact the Orange County Register says that Disney will be contacting some of them to potentially move into the new Hotel plaza.
Overall Anaheim of course is happy about the project because it's going to bring a lot of benefits to the community and is expected to generate about $25 million in new taxes in the first five years of operation which will then go directly to Anaheim's general fund.  Of course a job of this magnitude is going to create a lot of construction jobs (as if Disney didn't already have a bunch of expansion work currently), and perhaps thousands of other permanent, long-term jobs too, not to mention even more guests.
Construction is scheduled to start in summer 2018, with a grand opening slated for 2021.  No name is currently known for this hotel, but keep checking back for updates and we'll let you know any new information about the project.
Your Thoughts:
I want to know what you think about the New Luxury Hotel Coming to Downtown Disney.  Do you like the design?  Are you happy with its location in Downtown Disney?  Let us know in the comments section below!
If you enjoyed this article, as always I appreciate it if you'd share it with others via social media.  I work hard at making this website into a useful resource for you and your family to plan your visit to Walt Disney World, and I hope it can help you! Thanks 🙂