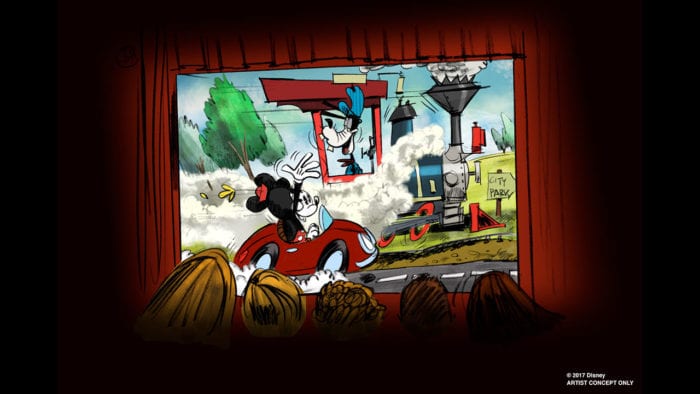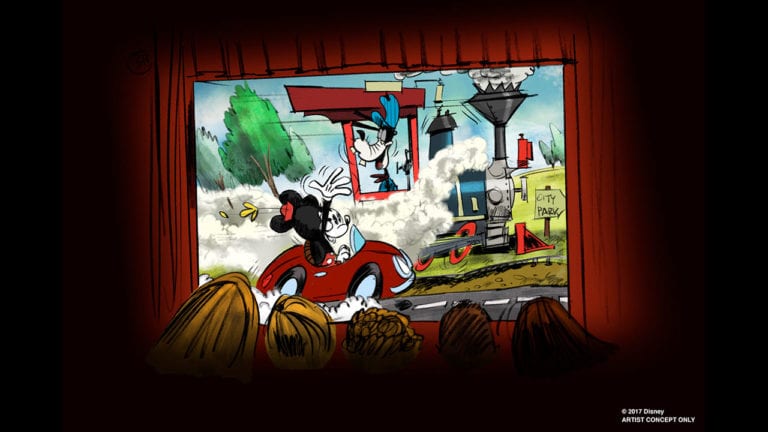 What we'd known for months has finally been confirmed. A new attraction called "Mickey and Minnie's Runaway Railway" is coming to Hollywood Studios. This is historic news because Mickey has never had his own themed ride and this one is the ride the iconic figure deserves. We got the first details for the attraction today at the D23 Expo when Bob Chapek even showed us a demonstration of what the ground-breaking technology will be like.
With this news is also the confirmation that The Great Movie Ride will indeed be ending, with its contract coming up with TCM.
The basis for Mickey and Minnie's Runaway Railway will be that you step through the movie screen and join Mickey and his friends like never before. You never know what is going to happy inside the wacky world of Mickey as he and his world can be quite unpredictable. There's going to be one part where riders end up on a runaway train of which Goofy is the conductor.
It's going to be a dark ride that will utilize a fantastic new technology that they called "2 1/2 D" so no 3D glasses needed! Walt Disney Imagineer Kevin Rafferty said teams are inventing new technologies that turn the flat world of a colorful cartoon short into a "dimensional display of amazingness."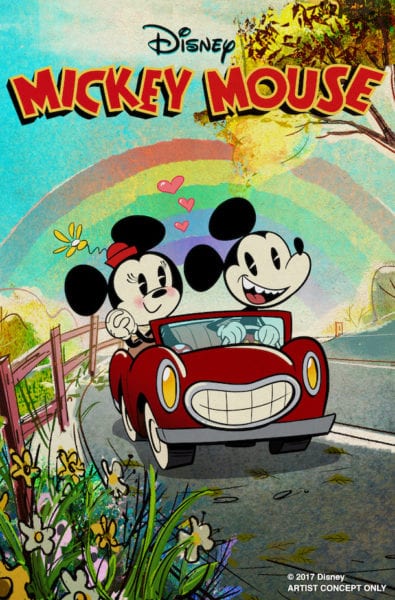 Drawing on Walt Disney's inspirational way, Rafferty said "This is one of the boldest…most impossible things I've ever worked on in almost 40 years of being an Imagineer. And you know what? That's what I love about it. Well, that, and Mickey," Kevin said. "This is not going to be a small attraction, it's going to be game-changing."
Again the clip we saw was really incredible and it showed the characters entering the room and when they did they whole room changed form, almost the entire dimension and perspective changes. Like 3D, but not. It's something you really had to see to understand. I'm extremely high on this ride and I think it has good a chance to make Great Movie lovers not have any regrets for the attraction's change. The final day of operation for The Great Movie Ride will be August 13, 2017, so get there while you still can! Stay tuned for more updates on the Mickey and Minnie's Runaway Railway.
Check out all our D23 Expo coverage our D23 Expo Announcements Page and also our D23 Expo 2017 Blog
Your Thoughts:
I want to know what you think about Mickey and Minnie's Runaway Railway Coming to Hollywood Studios. Do you like the theming? Let us know in the comments section below!
If you enjoyed this article, as always I appreciate it if you'd share it with others via social media. I work hard at making this website into a useful resource for you and your family to plan your visit to Walt Disney World, and I hope it can help you! Thanks 🙂