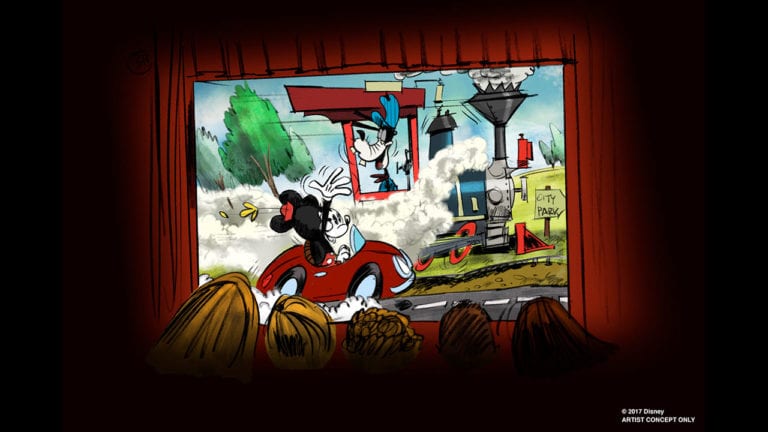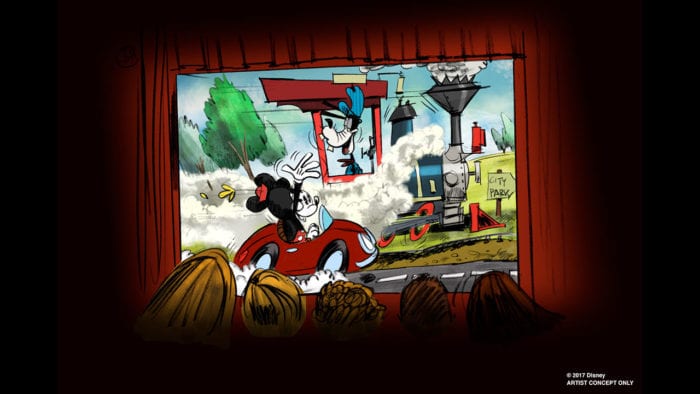 Today the news is flying fast and furious for Mickey Mouse!  Earlier today we shared with you the rumored Mickey and Minnie's Runaway Railway Opening Date to be between April and May 2019, if not May 1st, which would coincide with Hollywood Studios' 30th anniversary.  Now we have a look at what the Mickey and Minnie's Runaway Railway Ride System will be like.
We already knew that the ride system for Mickey and Minnie's Runaway Railway was going to be trackless, and this information confirms that.  This is a newer technology which has had major success in international Disney parks, like on the Mystic Manor ride in Hong Kong Disneyland, or Pooh's Hunny Hunt in Tokyo Disneyland.  Trackless technology allows the ride vehicles to move without a track, giving guests a more spontaneous ride, not knowing where the twists and turns are.  This technology is also being used in the upcoming Star Wars: Rise of the Resistance attraction in Star Wars Galaxy's Edge and Ratatouille in Epcot's France pavilion.  That means that the whole ride system won't be anything like The Great Movie Ride's, and won't be like what Disney did with Frozen Ever After basically recycling the same ride system from Maelstrom.
We also knew that Goofy would be conducting an out of control train that will bring guests on a wild and crazy journey though a Mickey Mouse cartoon.  If you look at the concept art you can see that Goofy is driving the train, and guests "step in" through the screen and aboard the train with Goofy.  There will be four separate cars, each holding 2 rows of 2 for a total of 4 guests per car.  It seems like during the attraction, the 4 cars can separate from each other, and then be reunited back together later on in the attraction.  I love this idea and will give a much more wild and crazy feel to the ride.
I know people are still suffering from losing The Great Movie Ride and all, but Mickey and Minnie's Runaway Railway I think is going to kill it once it opens, and be an immediate smash hit with guests.  The fact they are really changing the ride, installing a whole new trackless ride system, not to mention the 2 1/2 D effects that will be throughout the ride gives me very high hopes, and will leave many wondering why they were so upset.
Again, these details have not been confirmed by Disney, so take them with a grain of salt as things can always change a bit.
Stay tuned for more updates as soon as they come out…
Your Thoughts:
I want to know what you think about the Mickey and Minnie's Runaway Railway Ride System details.  What do you think about the way this ride is shaping up?  Let us know in the comments section below!
If you enjoyed this article, as always I appreciate it if you'd share it with others via social media.  I work hard at making this website into a useful resource for you and your family to plan your visit to Walt Disney World, and I hope it can help you! Thanks 🙂