Have you ever wanted to train with a lightsaber? Now it is actually possible onboard the Star Wars: Galactic Starcruiser during the lightsaber training experience.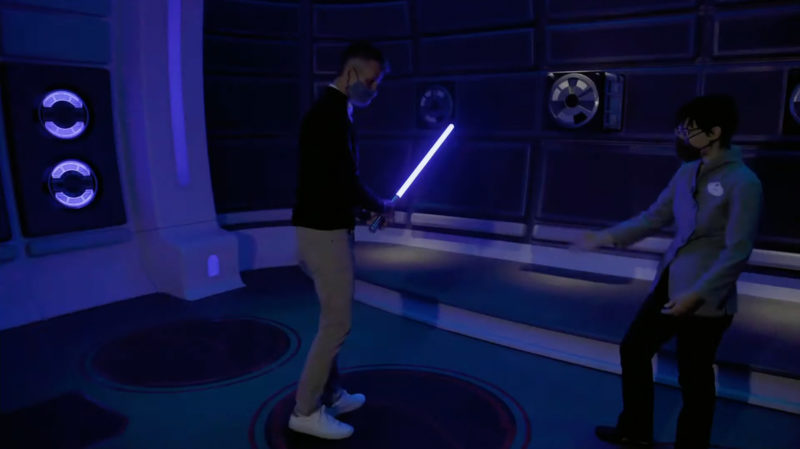 Ever since we saw "A New Hope" when we were children, how many people have dreamed of being like Luke Skywalker in the scene on the Millennium Falcon when he is learning how to use a lightsaber with the training orb.
Disney is about to make that dream a reality and they have developed a real lightsaber training experience for guests staying at the Star Wars Hotel.
Sure you can build a custom lightsaber at Savi's Workshop or buy a Legacy Lightsaber from Dok Ondar's, but when you bring them home, do you actually use them? Most likely you have them on a shelf in your house on display.
Disney is now offering you the chance to train with a lightsaber like a real Jedi would!
In this post, we are going to share everything we know so far about the lightsaber training including how it works and every FAQ you might have about doing it. This is instantly going to be one of the most popular experiences on the Galactic Starcruiser and we plan on spending as much time as possible in the training room.
At this time we only have limited info about the experience, but as Disney releases more we will update this article with the latest so you know what to expect before your voyage.
Before we get started, here are some useful links that will help you find out everything you need to know about the Star Wars: Galactic Starcruiser hotel:
Also, don't forget to sign up for our FREE Weekly E-Mail Newsletter. We will update you as soon as we know more about the lightsaber training, and share the latest Disney vacation planning tips. You can sign up here: Join our E-Mail Newsletter
Lightsaber Training Overview
Location: Star Wars: Galactic Starcruiser, Walt Disney World
Status: Opening March 1, 2022
Attraction Type: Lightsaber Simulation Exercises
Thrill Level: Low
Length: TBD
Height Requirement: No restrictions
Capacity: 4 guests training at a time
The lightsaber training is an experience on the Star Wars: Galactic Starcruiser that lets you see what it is like to hone your Jedi skills using a lightsaber. Use a lightsaber or shield to deflect incoming laser blasts from the wall-mounted training stations.
When Does It Run?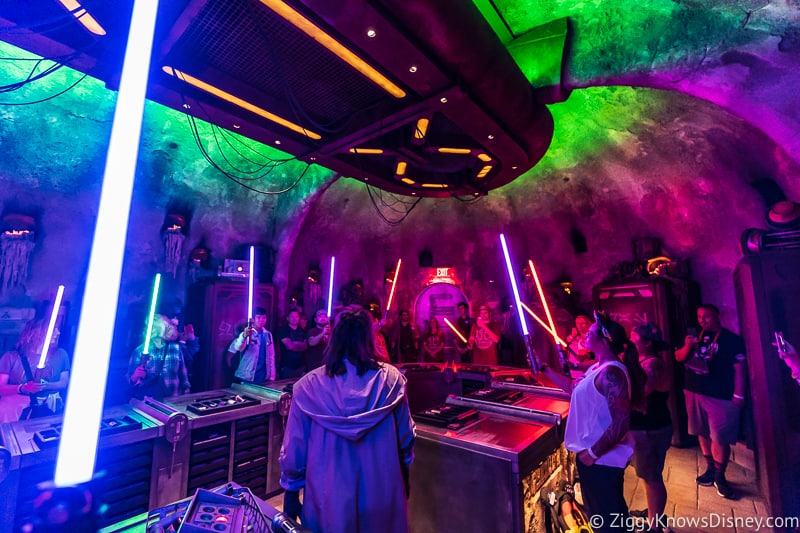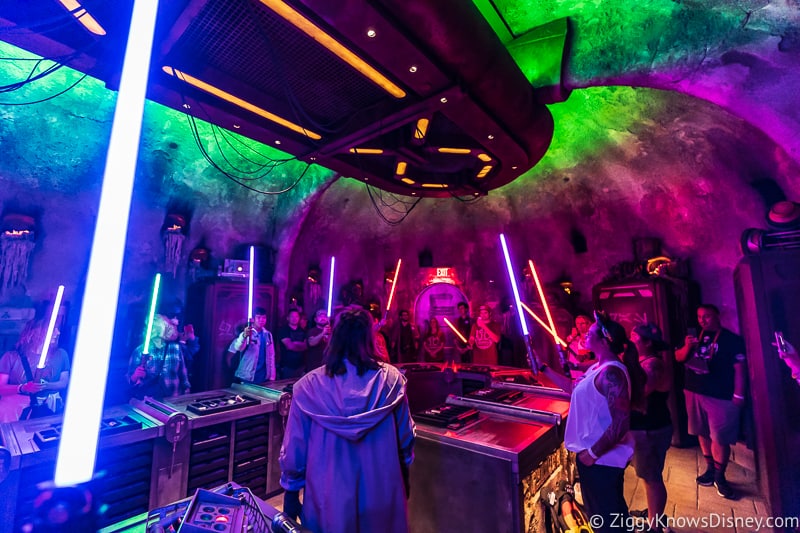 At this time, it's unclear just exactly at what point during the Galactic Starcruiser voyage that guests will be able to participate in lightsaber training.
On the official Galactic Starcruiser itinerary, it lists lightsaber training on Day 1 of your trip, but it appears as "unscheduled." Guests can schedule it during that time, but there are no official listed hours for the experience right now.
It's also unclear if the lightsaber training is only available on Day 1 or if you can also do it on Day 2. Stay tuned for the official experience hours soon.
How It Works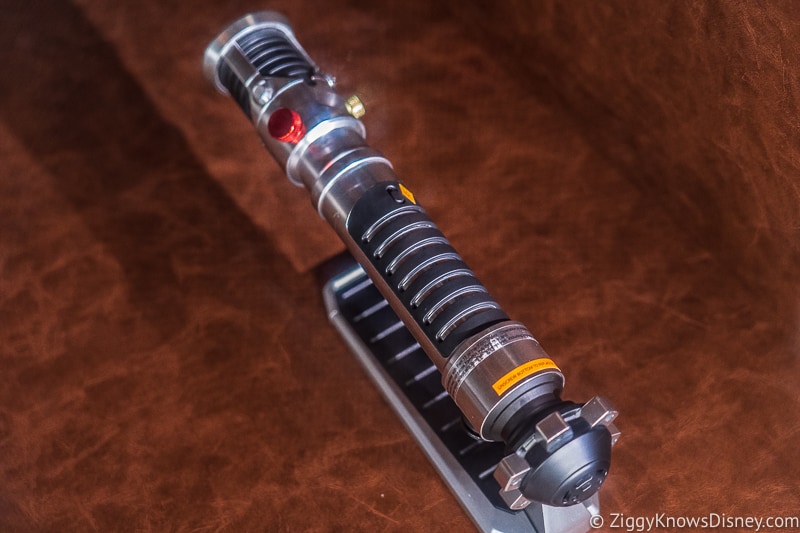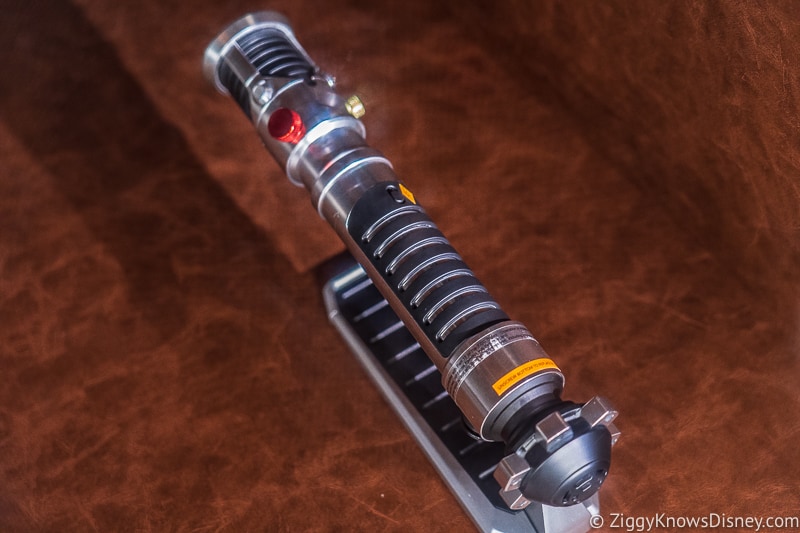 Once your turn is ready, guests enter into an open room we can call a Jedi doji of sorts. There are 4 wall-mounted training stations in a row which is where the laser blasts come from.
Guests walk up to their designated circle on the ground in front of the training station which indicates where to stand. Once the training begins, guests block the incoming blasts with a lightsaber or shield (easier for kids).
There is a visible laser beam that comes out of the wall which points to a specific spot. The objective is to move your lightsaber to the different spots quickly and block as many of the laser blasts as possible, just like if you were a Jedi.
Disney has mentioned there are fiber optic items built into the walls of the room which help guests anticipate where the next blasts will come from, and get there in time. Of course, this is all happening rapid-fire so it is challenging to keep up.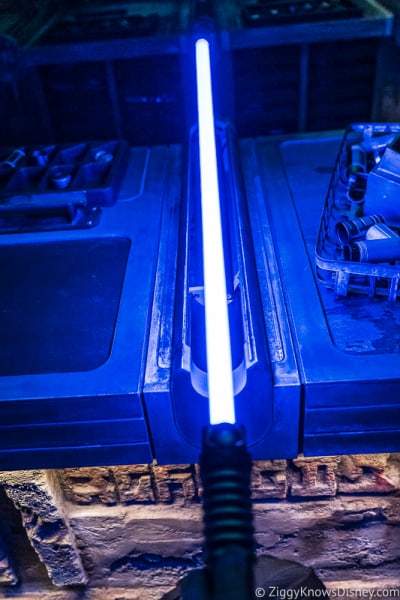 There are special effects built into the walls that can be set off when you block the blasts which make the experience interesting to watch. We imagine something similar to the walls in Rise of the Resistance when they get blasted.
Of course, when you first start training, it will take some time to get the hang of things. For that reason, the experience starts off slow, like a video game. The further you go, the more difficult things become and the more you need to anticipate where the next blasts are coming from.
Guests can even use the force to block lasers once you reach a high enough level. Using the force sounds amazing and we can't wait to try it out.
We are still waiting to see if there will be a points system and how your performance in the Lightsaber Training might have consequences on the rest of your voyage.
The Lightsaber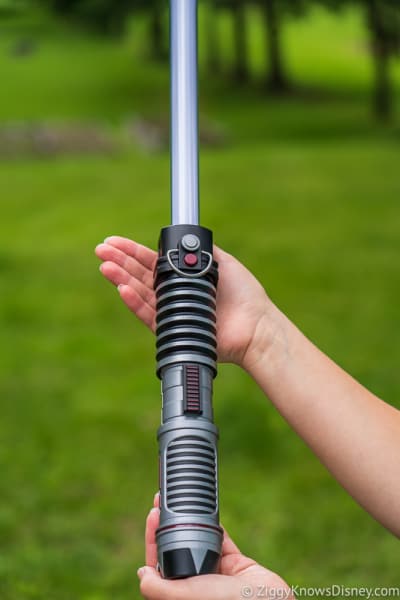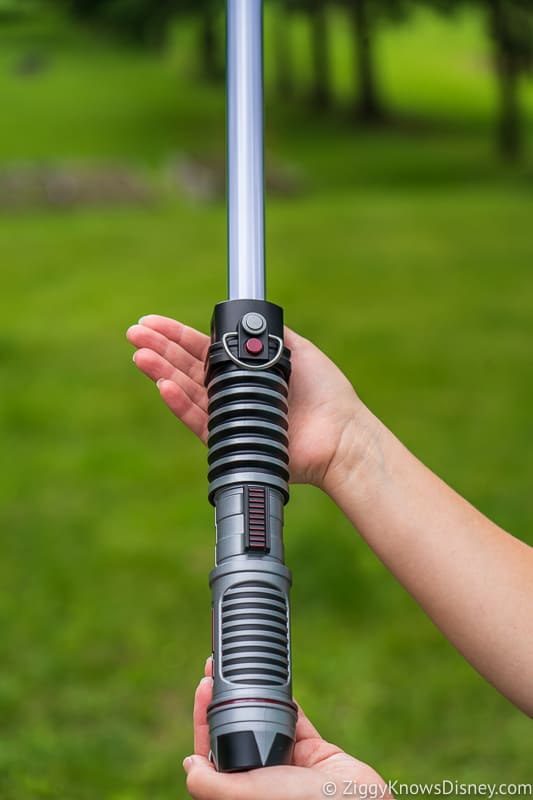 Of course, we are here to wield a lightsaber so let's find out more about it! During the lightsaber training experience, guests use a special training lightsaber made for this experience. It is a replica lightsaber, similar to the ones found at Dok Ondar's or Savi's Workshop in Galaxy's Edge.
It's not as fancy as the legacy lightsabers, and pretty basic in its form. It still has all the sounds and special effects as the ones from Galaxy's Edge. The blade lights up when you turn it on, but does not retract. It also vibrates and makes lightsaber sounds when swiping it quickly or hitting something against it.
The lightsabers can be quite difficult to use for some guests, especially children, so Disney has also introduced shields to the experience. The shields are used to block incoming laser blasts just like the lightsabers, it's just a bit easier to block them.
Can You Use a Real Lightsaber?
For some months now, Disney has been showing off its "real" working lightsaber as a build-up to the Star Wars Hotel project. This thing is amazing and it has an actual blade that comes out and then retracts into the hilt.
Obviously, after seeing them fans want to know if they can use one of the real lightsabers on the Galactic Starcruiser or even buy one.
Unfortunately, the answer to that question is no. The real lightsabers Disney has shown off cannot be used by guests and are used exclusively by performers.
A while back Disney gave us a first look at the working lightsabers with a video of Rey impressively handling one of them:
You can see when the lightsaber is turned off, only the hilt is visible and the blade is retracted. Once the lightsaber is turned on, the blade exits the hilt and goes straight up, exactly like it does in the films. It even makes the same lightsaber sound when it turns on.
Even more recently, Josh D'Amaro, Chairman of Disney Parks, Experiences and Products, gave a live preview of the lightsaber onstage at the latest Destination D23 event.
D'Amaro was onstage with the lightsaber in hand and when the room lights dimmed, the blade come out of the hilt glowing blue and again, making the lightsaber sound.
It was a very impressive moment and a testament to the efforts of Disney Imagineers.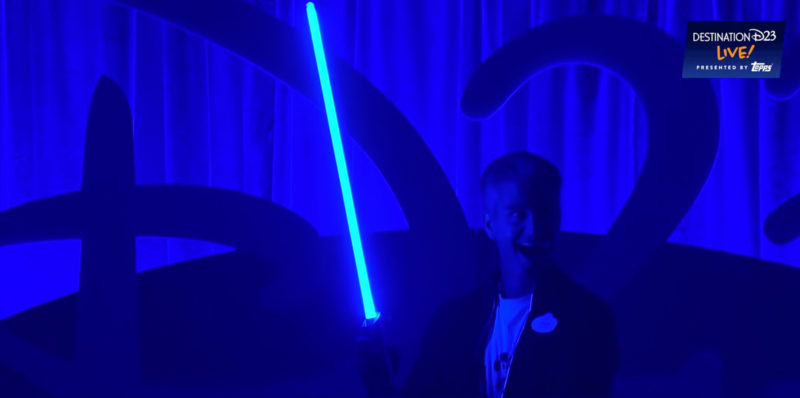 On the Galactic Starcruiser guests only use the designated training lightsabers which are replicas. That is a bummer, especially after how much Disney has been promoting them. The only question now is why can't guests use them?
If the lightsaber actually "works", it would be a major safety hazard to allow guests to handle something as dangerous as a lightsaber. However, we have not seen the lightsaber actually cut anything so when Disney says it's a working lightsaber, they probably mean it just goes up and down from the hilt, not that it is actually hot and capable of cutting objects like a real lightsaber.
We find it hard to believe that they are truly dangerous, otherwise actors likely wouldn't be allowed to wield them either. Our guess is that they are just so expensive to create, they don't want guests touching them for fear of breaking them.
Ultimately, we'll have to wait and see which lightsabers guess can use on the Galactic Starcruiser. Either way, we are pumped and can't wait to spend some serious time training to become a Jedi!
Lightsaber Training in Action
During the latest Destination D23 event, Disney Parks, Experiences, and Products President Josh D'Amaro went onboard the Galactic Starcruiser and shared his experience in the lightsaber training room.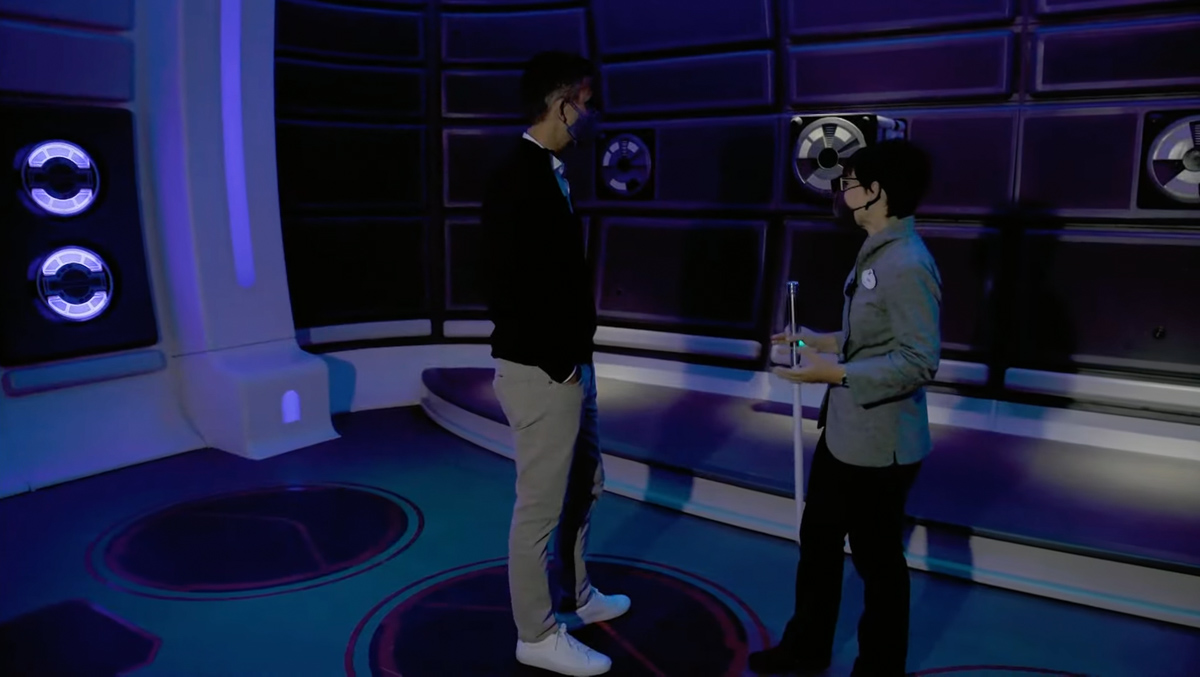 From what we can tell in the video, guests step into a room and in front of one of the training stations on the wall that shoot lasers for practice. There are 3 stations in the room which means the experience should allow for up to 3 guests at a time.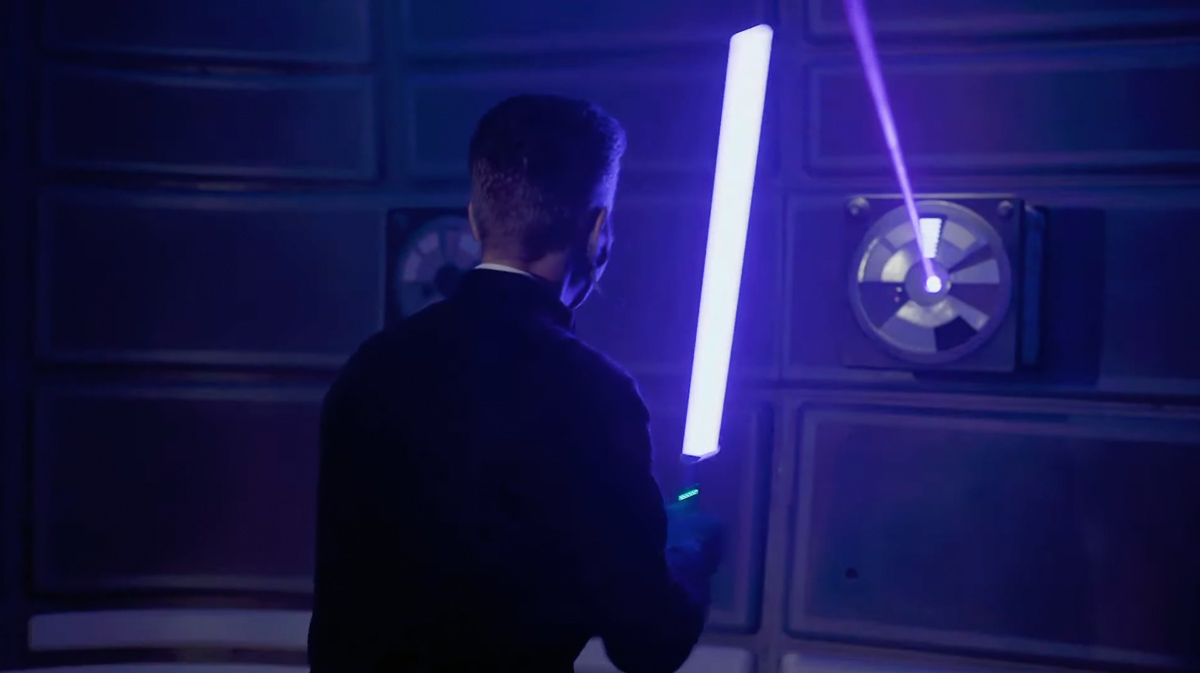 Guests must stay within the designated space on the ground as they try to block the incoming lasers with the lightsaber.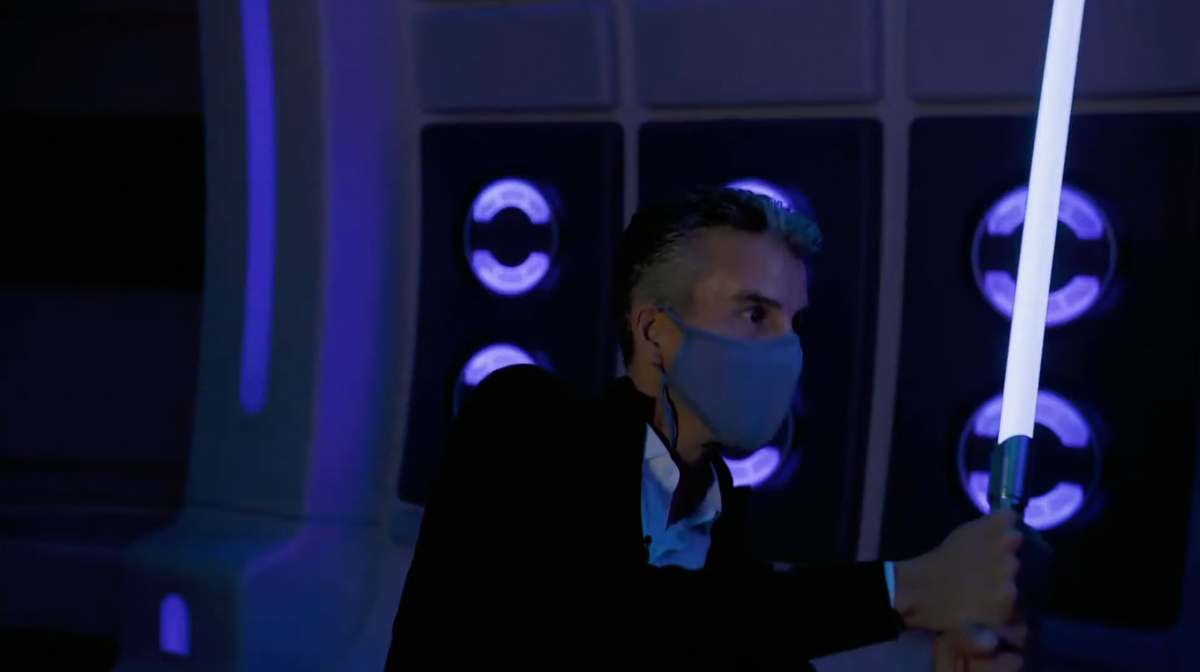 The device shoots a beam of light that appears to be a laser. From what we can see, it changes direction with each blast and guests will have to react quickly to whichever direction it blasts.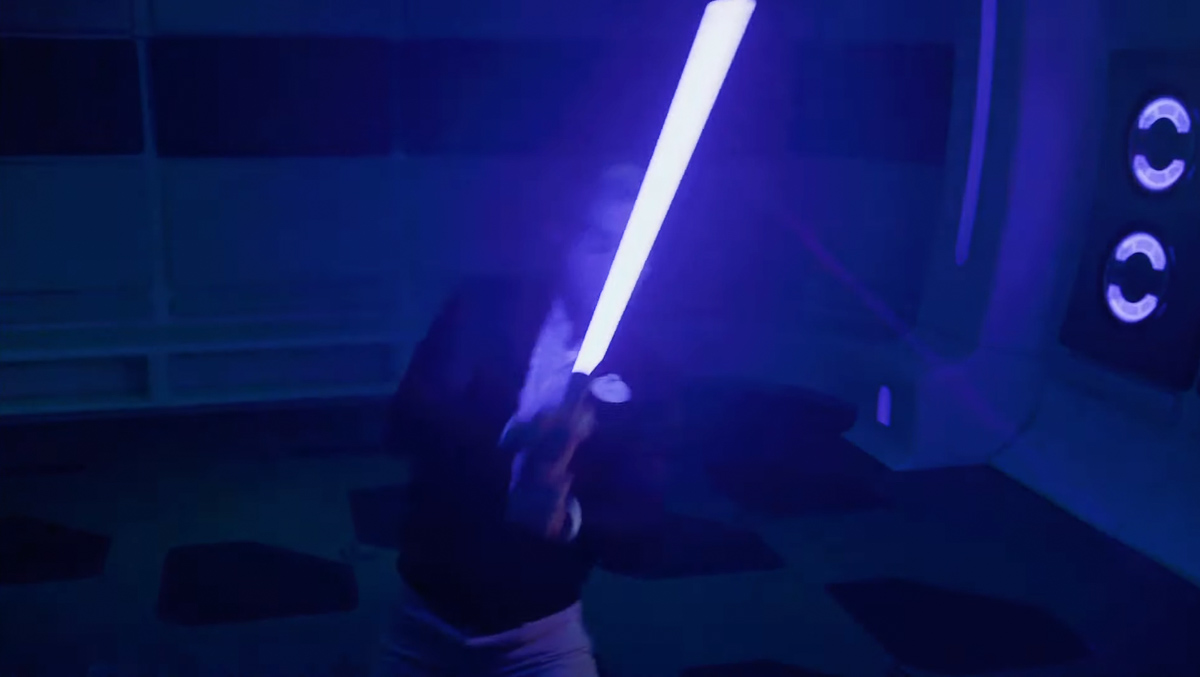 It seemed like it will be pretty challenging as there is no way to predict which direction the blasts will come from and you have to react as quickly as possible.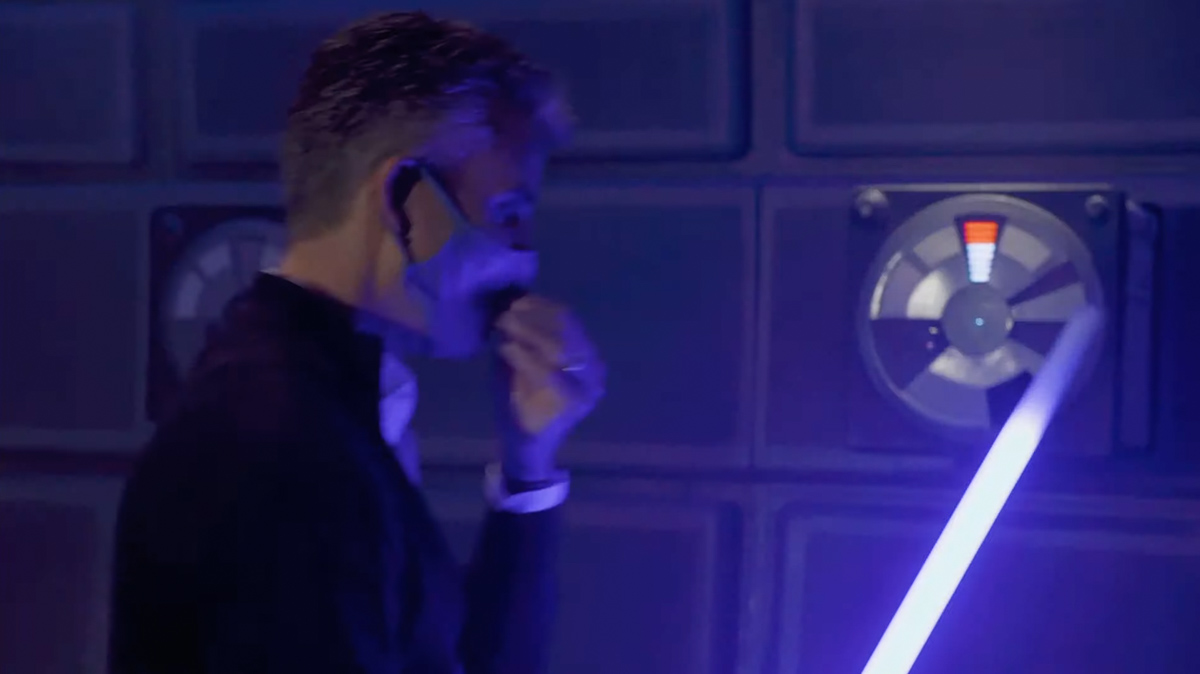 Here is the full video of Josh D'Amaro training with a lightsaber on the Galactic Starcruiser:
It looks a like a blast (no pun intended) although we have some concerns after watching the video. We were hoping the later blasts would look a bit more realistic instead of just light beams coming out of the wall. It also would have been way cooler if they could have found a way to make the blasting devices float like in A New Hope.
We'll reserve our final judgment until we can actually try the experience ourselves, and we are still hoping that it will be one of the most fun things to do on the Galactic Starcruiser.
How to Make Reservations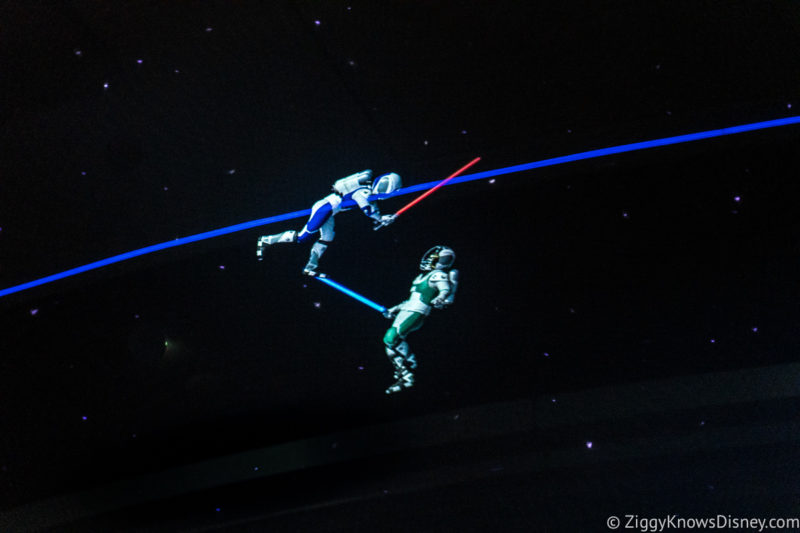 Like most activities on the Star Wars: Galactic Starcruiser, to experience the Lightsaber Training, you need to have a reservation. It's not like a theme park attraction where you just wait in line. This is very important to remember because if you don't make a reservation, you won't get a chance to do it.
When you go into your Galactic Starcruiser itinerary in the Datapad in the Play Disney Parks app, you will find the Lightsaber Training is "unscheduled."
It is listed as an event that is available for scheduling, but not yet scheduled in your personal itinerary. It's possible that 30 days prior to your embarkation you will have it automatically scheduled, but that is not always the case.
If you check your itinerary before departure and it's not automatically scheduled for you, that means it's up to each guest to schedule the Lightsaber Training for themselves if they want to do it.
To book the Lightsaber Training you need to speak with a crew member upon arrival.
TIP: Don't waste any time making reservations when you arrive on the Galactic Starcruiser. This is sure to be one of the most popular experiences and you run the risk of not getting the reservation time you want, or perhaps not being able to book it at all.
FAQs
Is the Lightsaber Experience Free on Galactic Starcruiser?
Yes, the Lightsaber training is free and included with your Galactic Starcruiser vacation package.
Is the Lightsaber Experience Open Both Days?
Disney has not come out and said if the Lightsaber Training will be open for one or two days of the voyage. On the official itinerary, it's only listed under "Day 1" which leads us to believe it will only be available one day and not both.
We'll keep you updated when we know for sure.
How Many Times Can I Do Lightsaber Training?
At this time we are not sure if Disney will allow guests to do the lightsaber training multiple times during their voyage, or if it is limited to once per guest.
Reservations are needed, so likely doing the experience more than once will depend on how busy it is.
It also depends on if Lightsaber Training is open only on Day 1 or on both days. Keep in mind there will be between 200-500 guests on board any given voyage. There are only 4 training pods in the room, so if the experience lasts 5 minutes, that doesn't give many opportunities for repeat runs.
Right now I'm going to guess you will be limited to once per guest, but we'll have to see once it opens.
Is there a Height or Age Requirement?
No, there is no height or age requirement to do the Lightsaber Training experience. Of course, each participating guest will need to be big enough to hold one of the lightsabers or shields, so it isn't something very small children will have an easy time with.
As long as they can wield the lightsaber or shield and understand the concept of blocking laser blasts, they should be fine and will have fun.
Is the Lightsaber Training Difficult to Learn?
No, it isn't. The Lightsaber Training experience was designed with younger guests in mind, so don't expect it to be overly difficult to learn or execute. Guests who have already experienced it have commented that it was challenging at first, but it was not hard to get the hang of after a couple of minutes.
Disney had to balance making it easy for kids and still fun for adults at the same time. I imagine the learning curve to be something like Toy Story Mania, where guests of all ages can grasp the concept and play without great difficulty.
Can You Use Your Own Lightsaber From Home?
No, you can't. Guests are provided with a specific training lightsaber for the experience, and cannot use a custom lightsaber or one of the legacy lightsabers from Galaxy's Edge.
Can I Buy the Training Lightsaber?
No, you can't. The replica training lightsaber on the Galactic Starcruiser is not for sale and is available to use only during the Lightsaber Training experience.
Will Disney Ever Sell a Real Lightsaber?
Also, guests cannot purchase the "real" working lightsabers that Disney has created specially for the Galactic Starcruiser. These are the ones with the blade that actually comes up and retracts down into the hilt
Guests cannot use this lightsaber on the Galactic Starcruiser, and they cannot buy one to bring home.
There will likely be other lightsabers for sale in the The Chandrila Collection, perhaps even lightsabers exclusive to the Star Wars Hotel that you can't buy in other locations.
Other Experiences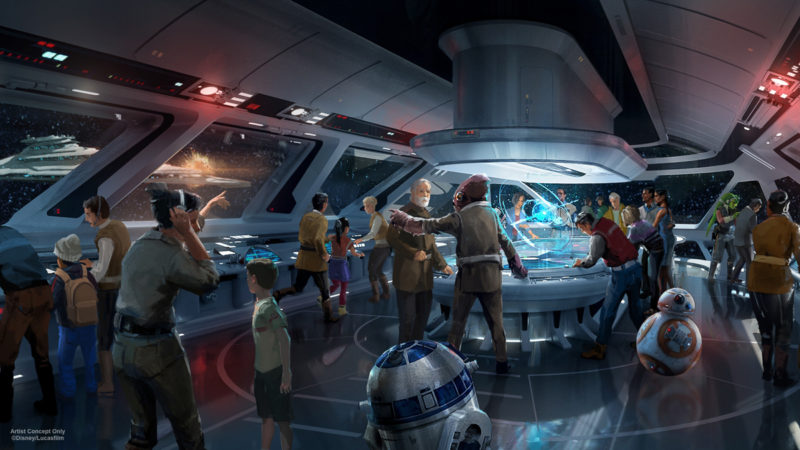 While we think the Lightsaber Training is the most interesting activity for guests to do on the Star Wars: Galactic Starcruiser, there are plenty of other experiences you won't want to miss.
Here are a few of the highlights:
Bridge Ops Training – Learn how to operate and protect the Halcyon starcruiser from enemy attacks. You'll learn navigation, control systems, loaders, and defense systems, all of which will come in handy later on the voyage.
Sabacc Lessons & Tournament – This is the most popular card game in the galaxy. You'll learn how to play and then compete against other passengers on the starcruiser.
Droid Racing Tournament –
CSL Starshow at Bespin & A Halcyon Starcruiser Celebration – There are always fireworks at Disney World and you'll even be able to see them on the Galactic Starcruiser with 2 special nighttime spectaculars.
Batuu Transport – On Day 2 of your voyage you can take a transport to Galaxy's Edge on Batuu for a special mission, as well as riding the 2 attractions there.
Loth-Cat Crew: Porg Detection Drill – Learn how to find stow-away creatures such as porg with the Galactic Starcruiser crew.
Engineer Room – Discover the hidden secrets of the Halcyon, with secret spaces hidden deep in the mechanics of the ship and perhaps even find a secret meeting or two while you are there. This is a secret experience that isn't even listed on the itinerary.
Our post on Star Wars: Galactic Starcruiser Activities and Full Itinerary will give you a more in-depth look at everything there is to do onboard.
That wraps up our look at the Lightsaber Training experience on the Star Wars: Galactic Starcruiser. We'll have a full walkthrough and review of the experience once the hotel opens on March 1, 2022. Stay tuned for more.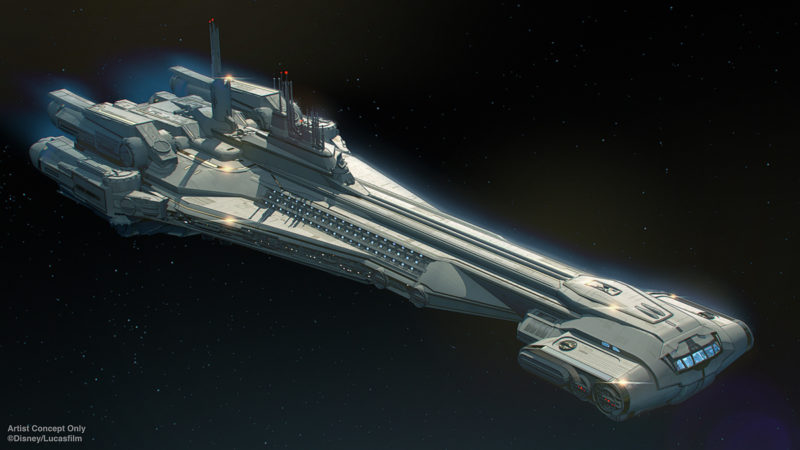 In the meantime, here are some of our most popular planning guides for your trip to Walt Disney World:
Your Thoughts:
I want to know what you think about the lightsaber training experience coming to the Star Wars: Galactic Starcruiser…
Are you looking forward to this new experience?
What ideas do you have for it?
Let us know in the comments section below!
If you enjoyed this article, as always I appreciate it if you'd share it with others via social media. I work hard at making this website into a useful resource for you and your family to plan your visit to the Disney Parks and I hope it can help you! Thanks 🙂