A few months after getting banned from Walt Disney World, the same guest has now been banned from Disneyland after hanging a Donald Trump election banner…again.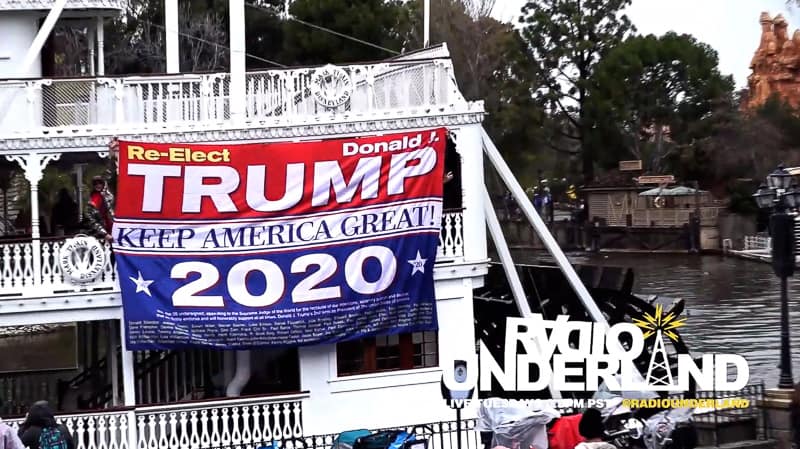 The man identified as Dion Cini was live streaming on Facebook in Disneyland Wednesday just before hanging a banner which read: "Re-elect Trump 2020." He and another male guest took it out from a bag and hung it over the side of the Mark Twain Riverboat for onlooking guests to see.
Of course he is looking for the most trafficked spots to push his political agenda.
The incident was captured on video by a media group called Radio Underland where they posted it to YouTube.
Guests can be heard in the background yelling at the men hanging the video.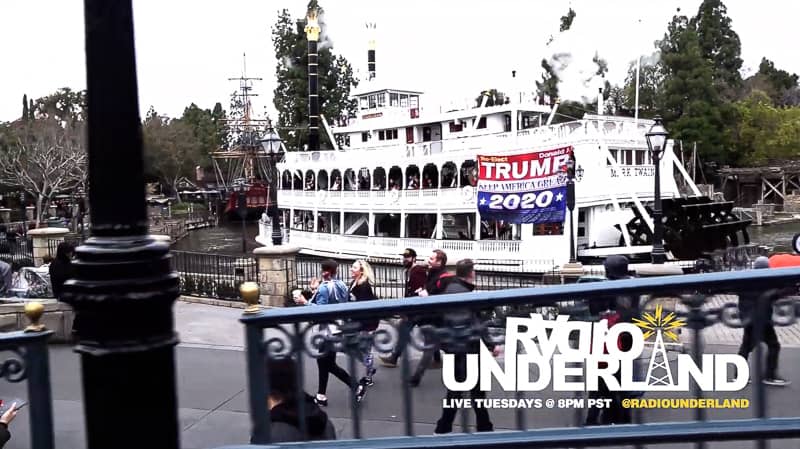 Cini was taken by Disneyland security guards who were waiting for him on the dock as Cini exited the Mark Twain and continued live streaming the event. Once the stream ended Cini was taken backstage where he allegedly was met by Anaheim police.
Disneyland released the following statement about the incident:
"We welcome all guests to enjoy our parks; however, demonstrations and the display of signs and banners are not permitted on the premises. This person has been previously warned about this behavior, and we have taken appropriate steps to preserve other guests' experiences."
This is the third time Cini has been kicked out of a Disney theme park in the span of 6 months. The first time was back in September when he hung a similar Trump election banner from the Train Station on Main St in Disney's Magic Kingdom.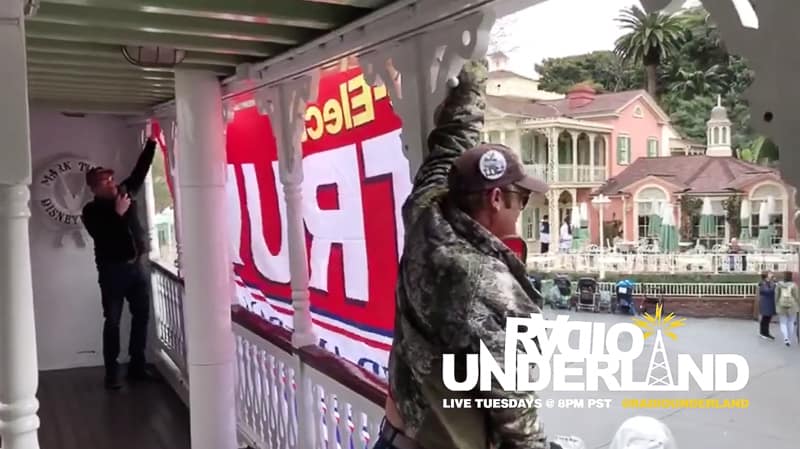 After the first ban he managed to get back into the Magic Kingdom, this time flying a banner as he was going down Splash Mountain. That second incident earned him a life-time ban in Walt Disney World.
It doesn't seem like he's earned his lesson, and this third incident has earned him a ban from Disneyland too, though who knows if that will stop him in the future.
Honestly theme parks are not the place for guests to promote political agendas and I'm glad Disney is taking a hard stance with this guy. Unfortunately it's hard to enforce a life-time ban wince guests can just buy a single day ticket and continue to enter the parks. Disney will have to look into a solution if this continues.
Your Thoughts:
I want to know what you think about this guests getting banned again from another Disney park…
What should Disney do to stop similar incidents?
Let us know in the comments section below!
If you enjoyed this article, as always I appreciate it if you'd share it with others via social media. I work hard at making this website into a useful resource for you and your family to plan your visit to the Disney Parks and I hope it can help you! Thanks 🙂