After closing the park for almost one year, the Disneyland Annual Pass program is being canceled indefinitely with some parts being eliminated for good. Now Disneyland passholders are wondering what's next for the future of the happiest place on Earth?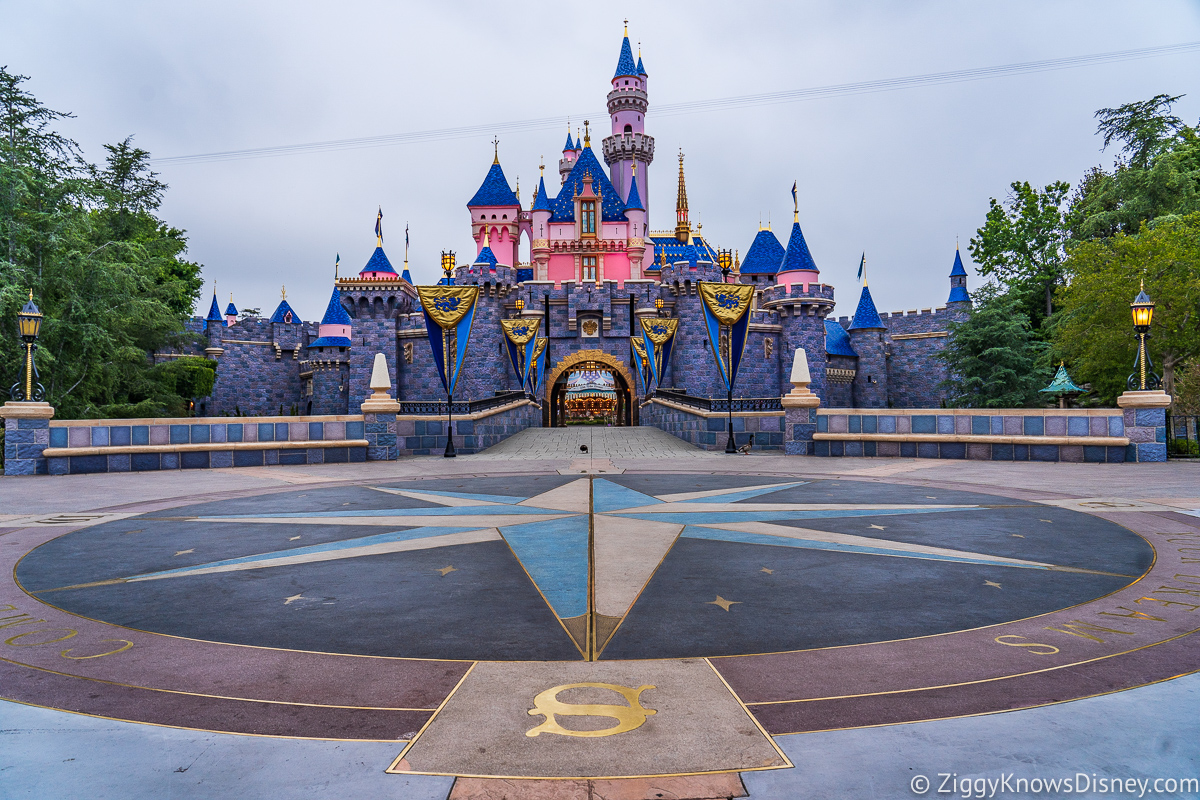 The unfortunate announcement was made by Ken Potrock, president of Disneyland Resort who explained due to the extended closure of Disneyland and the current health crisis, the annual passport program as we know it is being suspended.
Potrock did share that guests will be able to get refunds for the unused days left on their annual passes and the Disneyland website has since offered more information on how to do that.
Here is one of the statements from Ken Potrock: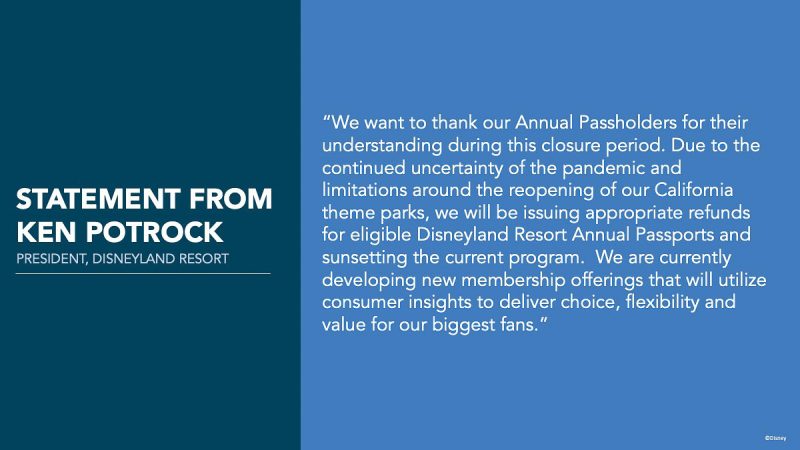 Refunds & Discounts
Among the news of suspending the Annual Passport program, Disney also offered information for guests to get a refund for unused annual passes, as well as special discounts.
Disneyland Annual Passports that were valid through March 14, 2020, may be eligible for a pro rata refund amount due to the sunsetting of the current Annual Passport program.
For guests who had active Disneyland Annual Passports as of March 14, 2020, can still get discounts on food & beverage at select Downtown Disney District and Buena Visita Street locations until new membership offerings are announced.
From January 18, 2021, through February 28, 2021, annual passholders will receive a special 30% discount on select merchandise at select Downtown Disney District and Buena Visita Street locations, Monday through Thursday.
Refunds for annual passports depend on many factors including if you bought your pass outright, if you were part of the monthly payment program, or if you renewed during the closure period.
In many cases, Disney is taking the total cost of the annual passport and giving them back an amount based on how many unused days are left on the pass. New annual passports can be fully refunded.
The most important thing to know is that Disney is automatically sending a prorated refund for the number of unused days on annual passports. You shouldn't have to take any action to get your refund.
See the Disneyland website for more details on the Annual Passport refunds. You can also stay in touch with the latest news on the Annual Passholders Facebook page.
Why Did Disneyland Cancel Annual Passports?
Honestly, Disneyland really had no choice right now.
At this time it doesn't make any sense to offer annual passes since no one even knows when Disneyland will be able to reopen. Due to the extremely high reopening standards in the state of California, it will be many months before the parks reopen.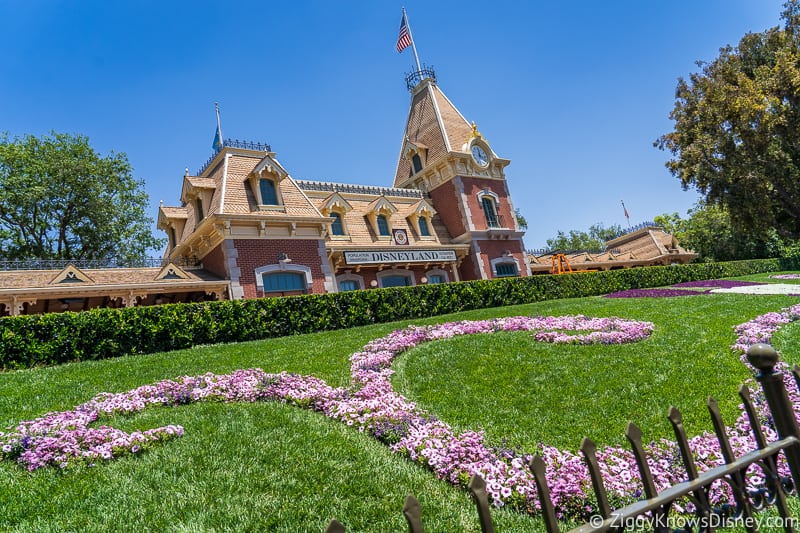 An annual passport is a binding contract between Disneyland and the guest. However, if Disneyland isn't going to be open in the near future, they can't hold up their end of the deal.
Suspending the annual passport program was their only choice right now.
What is Replacing Annual Passports?
At this time we don't know what is replacing Disneyland annual passports.
In his statement, Disneyland President Ken Potrock said they are using this time to develop "new membership offerings" that will use consumer insights to offer guests choice, flexibility, and value. What those offerings are exactly, remains a mystery for the moment.
Don't worry, Disney knows that you want to get back to the parks once they are open, and they will have a solution ready. Right now, Disney is surveying guests to see what they want so they can be as accommodating as possible.
I know it's not easy, but right now it's better to buy a ticket that is valid for a shorter period of time than an annual passport that you are not guaranteed access with that you already paid for.
Whatever kind of new ticketing structure they come up with at Disneyland, it will allow guests flexibility and give Disney more control so they are able to serve those guests during this difficult situation.
Is the Annual Pass Program Ever Coming Back to Disneyland?
Right now annual passes are being canceled indefinitely at Disneyland, but that mean they will never come back?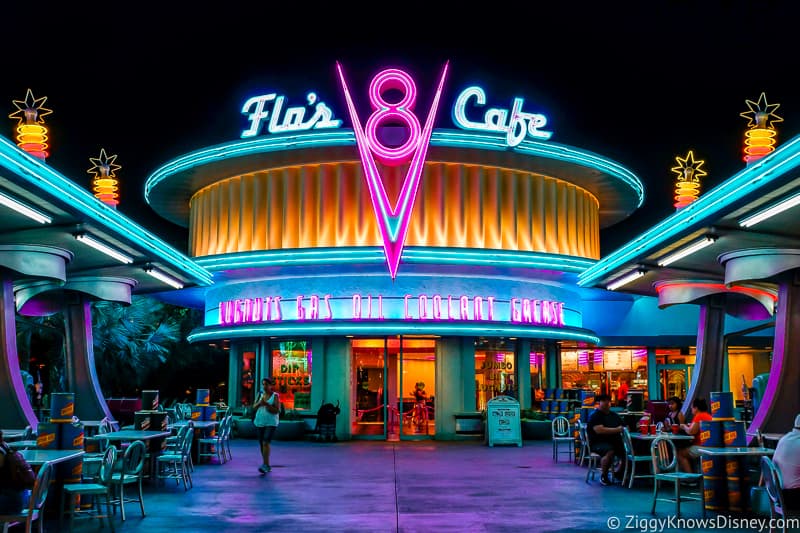 The latest announcement about annual passes being canceled is Disney admitting that it is still going to be some time until guests can go back to the parks. In our Disneyland Reopening post, we went in-detail about the closure and when Disneyland could reopen.
We have no insider insight into what Disney is working on and if they plan on bringing annual passes back, but our initial guess is, yes, the annual pass program will be back at some point in Disneyland.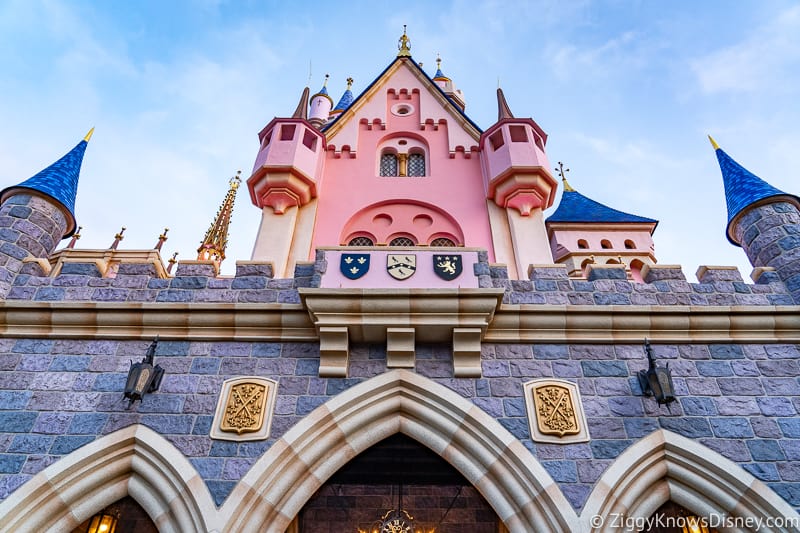 It might not be back in time for the Avengers Campus opening for example, and probably not for the rest of 2021. However, it will likely be back at some point, probably in 2022.
Remember that a huge percentage of their visitors are locals who live within an hour from Disneyland, and when the parks reopen, they can't afford to completely alienate those guests by charging them full-price. They definitely can't survive without them either.
Unlike Walt Disney World, Disneyland relies heavily on these guests and doesn't draw nearly enough tourists to fill the parks, so they will need their loyal fanbase to come back.
We think whatever new ticketing system they put in place will be temporary to get them through these unique and trying times. When things go back to "normal," we expect Disneyland to offer an annual pass program.
Of course, that program will have many changes. For example, the Premiere Passport has already been permanently canceled which allowed guests unlimited visits between Walt Disney World and the Disneyland Resort. So there will be more changes.
What those are exactly, we will have to wait and find out.
This is a developing story and we'll have more details for you soon.
Your Thoughts
I want to know what you think about the Disneyland Annual Pass program being canceled…
Are you disappointed by the change?
How does this affect your going to Disneyland in the future?
Let us know in the comments section below!
If you enjoyed this article, as always I appreciate it if you'd share it with others via social media. I work hard at making this website into a useful resource for you and your family to plan your visit to the Disney Parks and I hope it can help you! Thanks 🙂