Though the Disney Skyliner gondola cars have been out on the lines testing for some weeks now, they've been covered up pretty good and we haven't been able to really get a good look at them.
For more construction news you can look at our Disney World Construction Updates post for more updates on all the projects going on around Disney World as we continue to bring you the latest!
Today we got a special treat as we have a first look at one of the Disney Skyliner gondola cars completely uncovered as it's traveling between stations: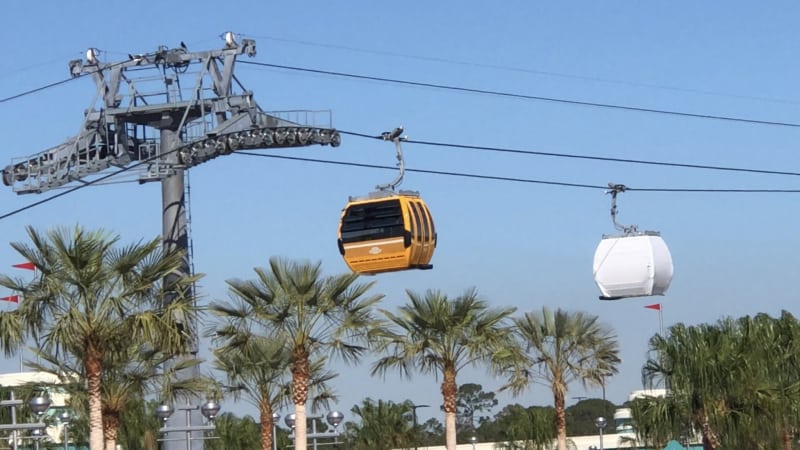 Many of the Skyliner gondolas have designs on them with at least 20 of your favorite Disney/Pixar/Marvel and Star Wars characters on them. The majority are more like this one, just a plain solid color. Hopefully we start to see more uncovered gondola cabins roaming about soon, and especially the ones with the characters!
It's not our first look at the gondola cabins in general (we saw them in a preview event at D23 Destination D). However this was this first time seeing them uncovered and in action!
One thing that's been on people's mind is how will guests fare on the Disney Skyliner without air conditioning? Disney has promised that the Skyliner will have sufficient air ventilation, and we get a better look at that here.
The Disney Skyliner has recently been clocked at speeds of 11-12mph, and the grates on the side of the gondola looks like it will let a decent amount of airflow though the cabin at that speed. Also, you see the dark windows? That's a special protective coating that covers them which will help keep the heat down caused by the sun. I'm curious to see how well it works but I'm sure Disney has been testing it so I wouldn't be too worried about it.
Other Disney World Construction Updates:
Stay tuned right here at Ziggy Knows Disney for more updates on the Disney Skyliner.
Your Thoughts:
I want to know what you think about the Disney Skyliner now that you see it uncovered…
Do you like the design?
Which character's gondola car do you most want to ride in?
Let us know in the comments section below!
If you enjoyed this article, as always I appreciate it if you'd share it with others via social media. I work hard at making this website into a useful resource for you and your family to plan your visit to the Disney Parks and I hope it can help you! Thanks 🙂