In between all the attractions at the Magic Kingdom you are bound to get hungry and you don't always want a big meal. That's why we wrote this post and share our rankings of the Best Quick Service Restaurants at Disney's Magic Kingdom.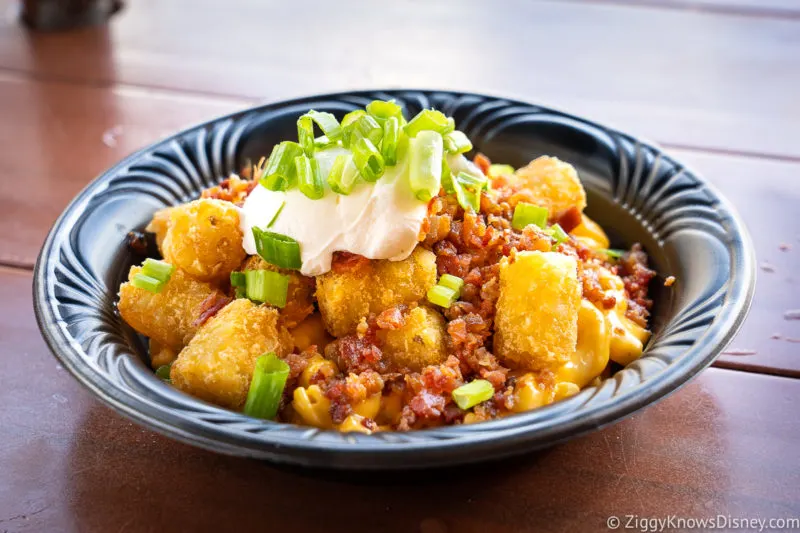 Disney's Magic Kingdom can be a crazy place to visit. Packed walkways, towering attractions, bustling stores, and tons of places to grab a quick bite to eat.
In this post, we're going to share with your the best counter service restaurants at the Magic Kingdom and what to order when you go there. We've included the top 11 places which should give you more than enough options.
We'll tell you exactly what food and drinks to order there so you know what to get right away.
Since we've been coming here for almost 40 years, we've had time to try all the counter service meals in the park. Some of them are great, some tolerable, and some you want to avoid altogether. We've done the heavy lifting for you so you don't waste your time and money and only get the best.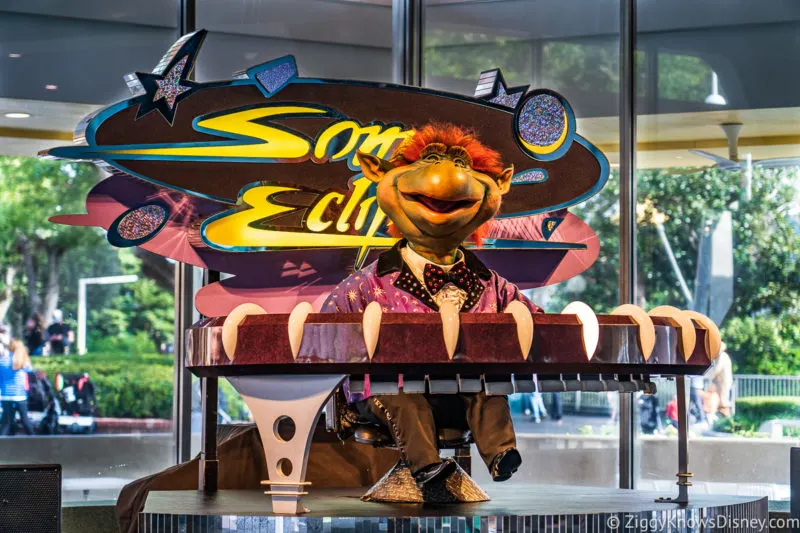 Time is of the essence in any Disney park and the worst thing to do is to not have a plan beforehand. By checking out the menus ahead of time and deciding where to visit, you'll save valuable time while touring the park which means more time for rides.
Besides sharing with you the best quick service restaurants, we'll also tell you which are the worst, where to get breakfast, where to find the best snacks and sweet treats, how to eat healthy at the Magic Kingdom, what to do if you have dietary restrictions.
Remember, the restaurants in this list are quick service only and don't include any sit-down restaurants.
If you are looking for table service restaurants to eat while visiting this park during your vacation, make sure to read our rankings of the Best Restaurants at Disney's Magic Kingdom for the ultimate rankings of table service restaurants too.
Also, don't forget to sign up for our FREE Weekly E-Mail Newsletter. There we bring you the latest updates on all the newest additions to the parks as well as vacation planning tips. You can sign up here: Join our E-Mail Newsletter!
Magic Kingdom Counter Service Restaurants Overview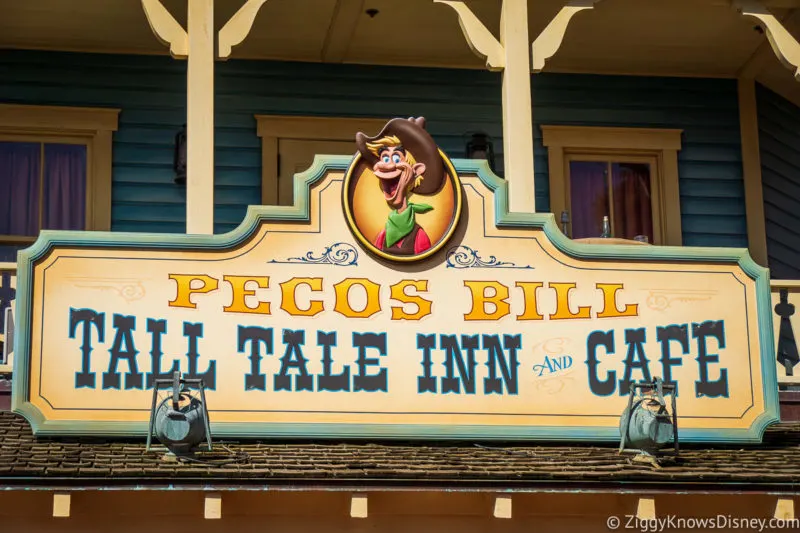 Before we look at the rankings of the best counter service restaurants, there is some basic info you need to know to get you prepared.
First of all, it's good to know that no matter where you are at the Magic Kingdom, it's easy to find a quick service restaurant. From Fantasyland to Tomorrowland and over to Frontierland, you have plenty of choices.
Right now there are 24 quick service restaurants at the Magic Kingdom. Some of them are full restaurants with entrees, others only serve snacks and desserts.
Besides saving you time, another advantage of eating at a quick service restaurant is that it will also save you money. If you are on a budget and coming with kids, eating counter service is a good way to keep your food bill down. Considering the cost of a Disney World vacation is very high, every bit helps.
It's also nice that quick service dining for the most part does not require making an advance dining reservation. Most you can walk up to at the last minute or use the Disney Mobile Ordering service to order your food ahead of time and pick it up when you are ready.
What Restaurants are Quick Service at Magic Kingdom?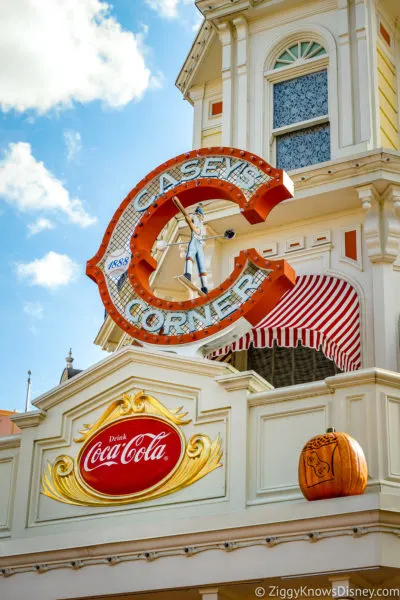 Here is a list of all the current counter service restaurants at the Magic Kingdom:
Aloha Isle
Aunt Polly's Dockside Inn
Auntie Gravity's Galactic Goodies
Casey's Corner
Cheshire Café
Columbia Harbour House
Cool Ship
Cosmic Ray's Starlight Café
The Friar's Nook
Gaston's Tavern
Golden Oak Outpost
Liberty Square Market
The Lunching Pad
Main Street Bakery
Pecos Bill Tall Tale Inn and Café
Pinocchio Village House
Plaza Ice Cream Parlor
Prince Eric's Village Market
Sleepy Hollow
Storybook Treats
Sunshine Tree Terrace
Tomorrowland Terrace Restaurant
Tortuga Tavern
Westward Ho
What Type of Food Can I Expect to Find at the Magic Kingdom?
Overall the food variety isn't as good at the Magic Kingdom as at the other Disney World parks. Outside of some Italian and Mexican, there aren't very many international cuisines represented here. More than any, this is the park you are more likely to have to settle for traditional American fast food.
Some examples of meals you can find include hot dogs, burgers, pizza, and chicken fingers. You also can find salads, nachos, lobster rolls, shrimp skewers, tacos, turkey legs, rice bowls, and chicken pot pies.
Which Magic Kingdom Quick Service Restaurants Sell Alcohol?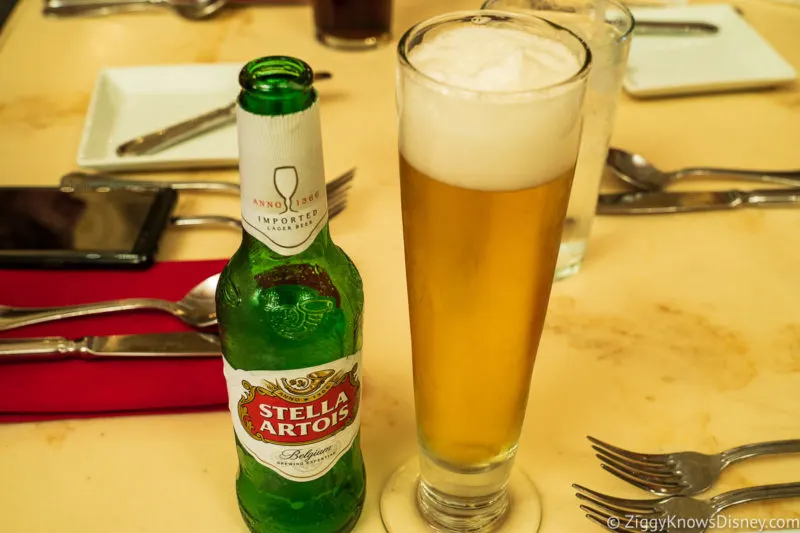 For years there were no restaurants at the Magic Kingdom that sold alcohol. This was Walt Disney's original vision for his parks as he wanted as much of a family atmosphere as possible without worrying about people drinking too much.
The Magic Kingdom was completely alcohol-free until 2012 when Be Our Guest opened and began serving wine and beer.
Unfortunately, the only restaurants at Disney's Magic Kingdom that serve alcohol are table service restaurants and no alcohol is available at quick service restaurants at this time.
Allergies & Dietary Restrictions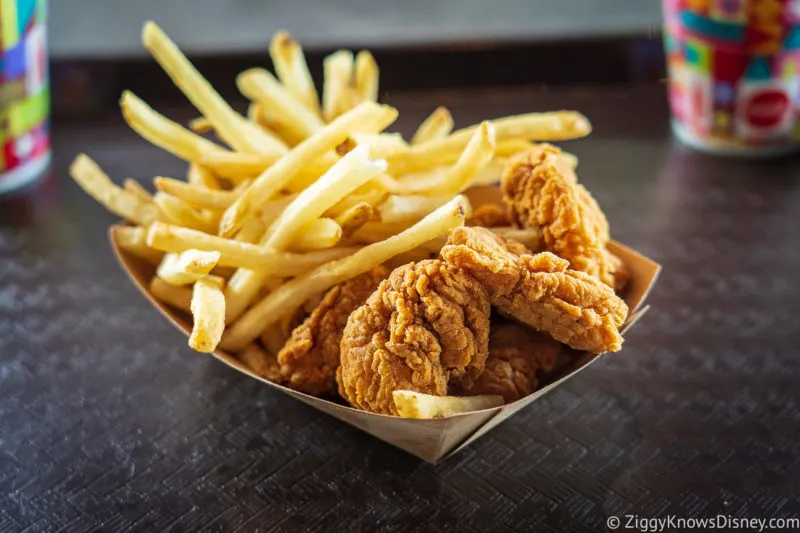 Nowadays, the majority of families have at least one person with dietary restrictions they need to follow and it can be a painful thought to eat out and have to worry about what ingredients are in each dish and cross-contamination.
Thankfully, Disney does a very good job of offering guests a variety of food and drinks that are compatible with the most common allergies and dietary restrictions. Most restaurants have a completely separate menu to accommodate such guests.
Some of the most common dietary restrictions Disney caters to include:
Gluten/Wheat Allergy-Friendly
Egg Allergy-Friendly
Milk Allergy-Friendly
Peanut/Tree Nut Allergy Friendly
Soy Allergy-Friendly
These are easily marked on the menus to see. If you are in doubt you can always ask a cast member at that restaurant and they will be more than happy to explain all your options.
At most restaurants, Disney even uses a separate fryer for those with allergies to gluten.
If you want to look at the menus ahead of time for each restaurant you can open the My Disney Experience app and at the bottom of each menu, it shows all the allergy-friendly options.
Our Ranking Factors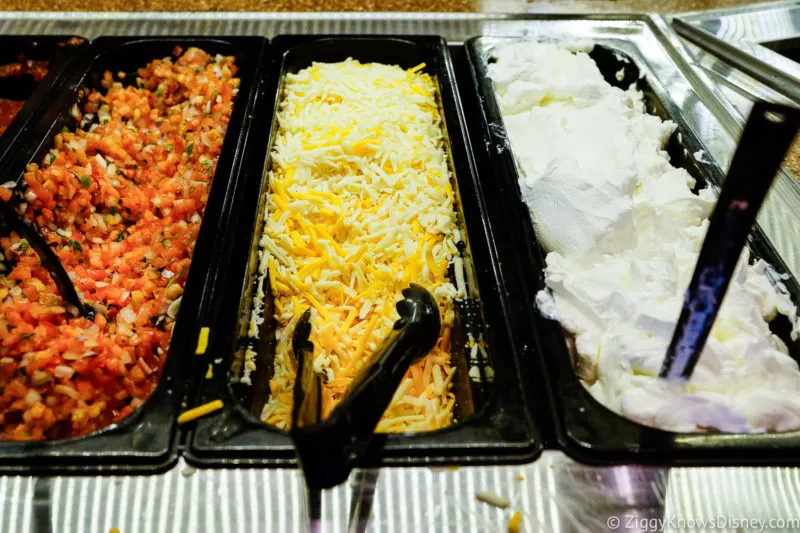 Listing all the best counter service meals seems like an easy task, but it's a lot harder than you would think to narrow them all down. The Magic Kingdom is one of the easier ones, but parks like EPCOT which have way more choices become even harder.
Some of the ranking factors we considered are:
Food Quality
Price to Quality Ratio
Portion Sizes
Restaurant Theming and Ambiance
Some restaurants at the Magic Kingdom have good food but no theming or a cool atmosphere but the food isn't very good. We tried to weigh all these factors and make the list as well-rounded as possible.
We also included only quick service restaurants that serve at least some savory items or entrees. It has to be a place where you can get something that can be considered an actual meal. That means locations that only sell sweets were not considered for this list.
Best Quick Service at the Magic Kingdom Ranked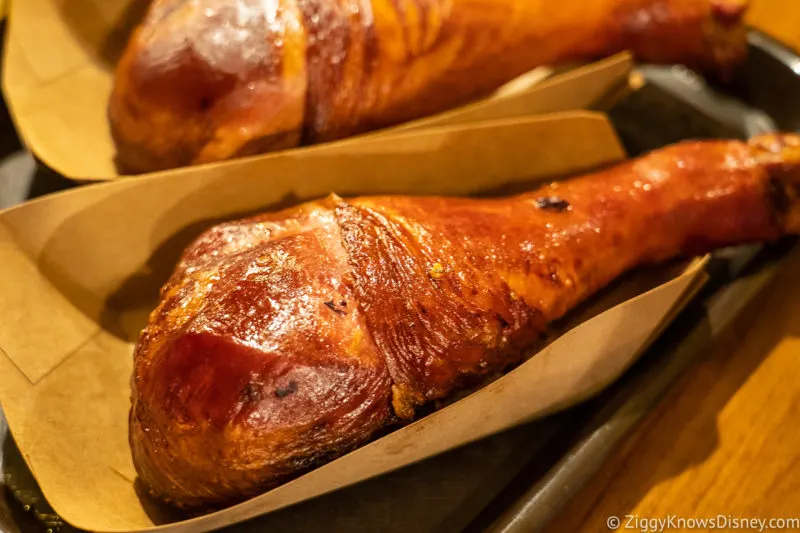 In our rankings, we've included the name of the restaurant and where it's located in the Magic Kingdom. We've also included the approximate price, type of food, and our favorite food items at each one. This should help you out in deciding what to order.
11. Pinocchio Village Haus (Fantasyland)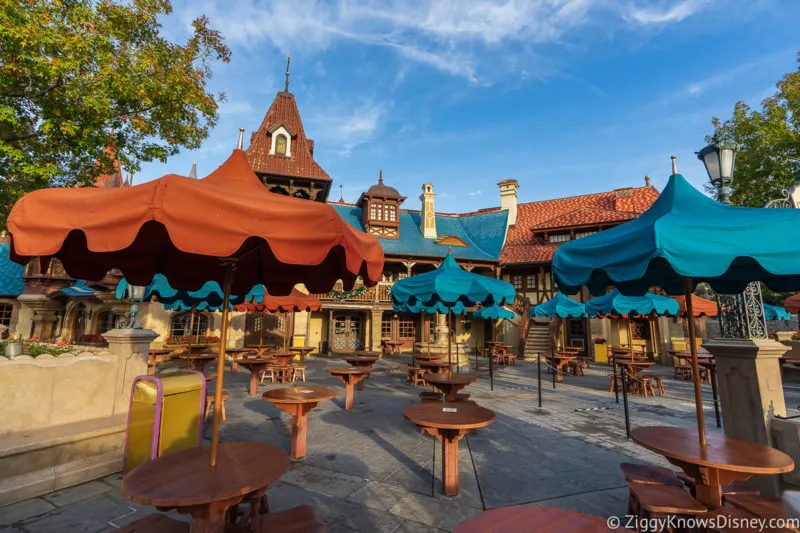 Cuisine: Italian (Pizza, Salad, Chicken Tenders)
Let's make this clear, we would only go to Pinocchio Village Haus for a meal if all the other counter service restaurants at the Magic Kingdom were closed. And even in that case, we'd probably just eat pretzels and ice cream bars all day instead.
Honestly, it's just not a good place to eat. The atmosphere is mediocre and the theming needs a lot of work. It's inspired by Geppetto's cottage from the film, but we think Disney would be better off starting over from the ground up on this one.
It's hard to mess up pizza, but we just are not feeling these flatbreads. They are overpriced and lacking flavor. I've had cardboard boxes with almost as much flavor. They could also benefit from making some more creative options instead of Margherita, pepperoni, all meat, and yet another cheese option.
If your kids will only eat pizza then come here. Otherwise, you would be wise to choose any other restaurant on this list.
What to Get: The flatbreads are the reason to come here, but we aren't fans. We usually take the opportunity to get a Caesar Salad with chicken instead. I know it's not very exciting but beggars can't be choosers.
10. Tortuga Tavern (Frontierland)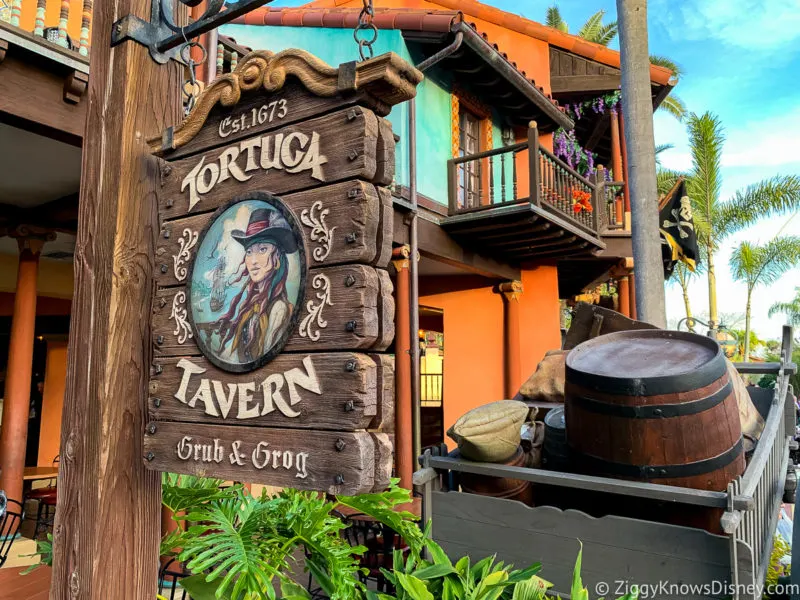 Cuisine: American (BBQ, Caribbean-inspired)
It's hard to rank Tortuga Tavern, one because the menu is always changing here and also because it operates seasonally and is only open at the busiest times of the year.
A while back it got a refurbishment with a heavy Pirates theme, fitting seeing it's located right across the walkway from the famous attraction.
The menu right now is a mix between BBQ and Caribbean food, but it's so small and there aren't that many options.
Realistically, it will probably be closed when you visit, and even if it is open, there are a lot better options, including Pecos Bill which is nearby and with way more to choose from.
What to Get: The Jerk-smoked Brisket Sandwich is one of our favorite options and we like this unique twist on brisket. The Ropa Vieja is one of the best values on the menu. Served over white rice it's both flavorful and filling.
9. The Lunching Pad (Tomorrowland)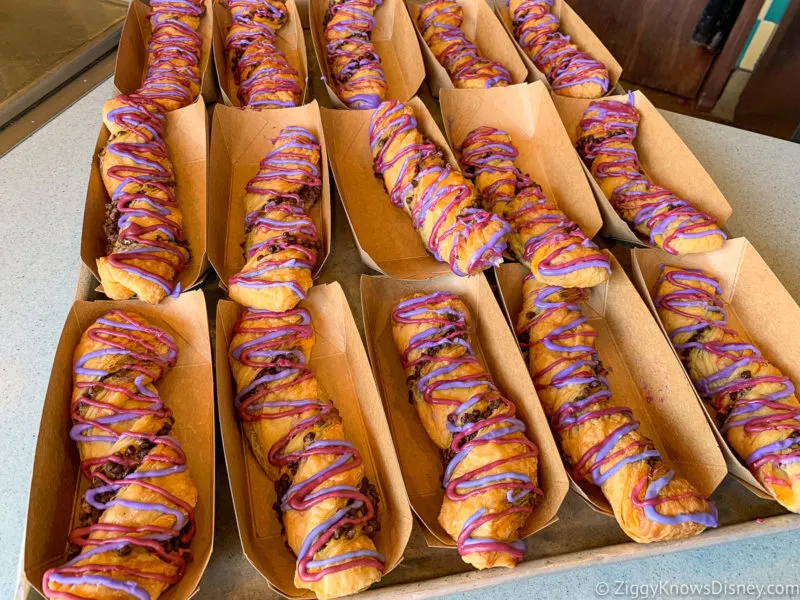 Cuisine: American (Hot Dogs, Pretzels, Sandwiches)
All the counter service restaurants with a limited menu are going toward the bottom of our list as you've noticed, and The Lunching Pad is no different. It's a good snack spot, but there aren't many choices if you are looking for a full meal.
You can expect to find hot dogs here, usually just a basic foot-long version, nothing fancy. There is also a pulled pork sandwich which is decent but not exceptional. If you like pretzels then this is home to the cream cheese-stuffed pretzel, one of the park's most popular snacks.
There is no theming here either, it's just located under the Astro Orbiter with outdoor seating and no air conditioning. It's fine in a pinch to grab something quick, but even in Tomorrowland, there are better options.
What to Get: The Cream Cheese Pretzel is by far the best item on the menu. It's served warm and when you tear that soft pretzel apart, dunk it in more cheese sauce for a truly enlightening experience. Otherwise, the Pulled Pork Sandwich is our second choice.
8. Tomorrowland Terrace Restaurant (Tomorrowland)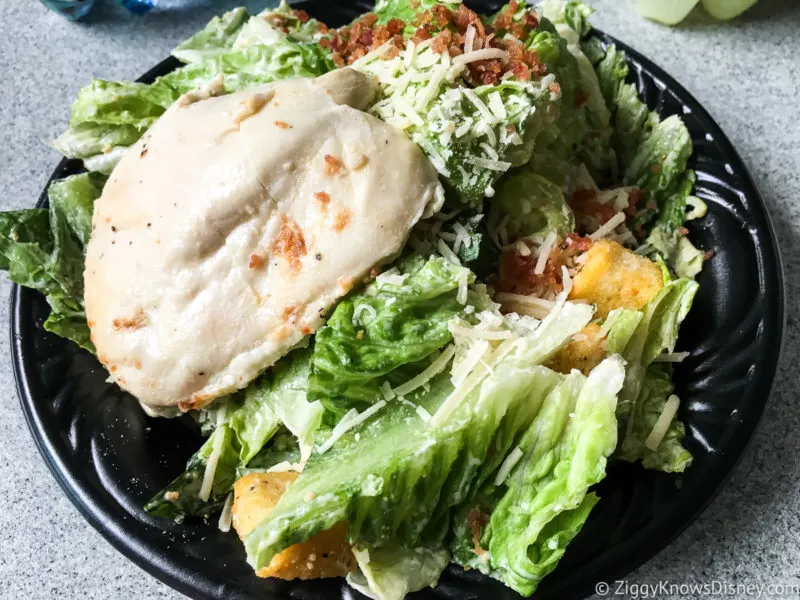 Cuisine: American (Burgers, Sandwiches, Seafood)
The Tomorrowland Terrace is another seasonal quick service restaurant that has a huge dining space that more than half of the time is not even used. When it's open, the menu here changes often and most recently it has been seafood-based with most of the items from the Columbia Harbour House coming over temporarily.
The food quality is standard with some good choices and some worth skipping. Prices are also middle of the pack and with good portion sizes it is usually has a decent price-food ratio.
Theming is non-existent and the entire space is all cement with a view of The Hub from seats along the wall. There is no air conditioning here, but at least all the tables are in the shade. It's often used for dessert parties, but when the restaurant is open is worth a stop with some quality menu items.
What to Get: The Lobster Roll is the best item on the menu and is full of lobster chunks. A good value for the money. Any of the fried platters are also a good choice including the Fried Shrimp or Fried Fish.
Tomorrowland Terrace Restaurant Menu
7. Aunt Polly's Dockside Inn (Tom Sawyer Island)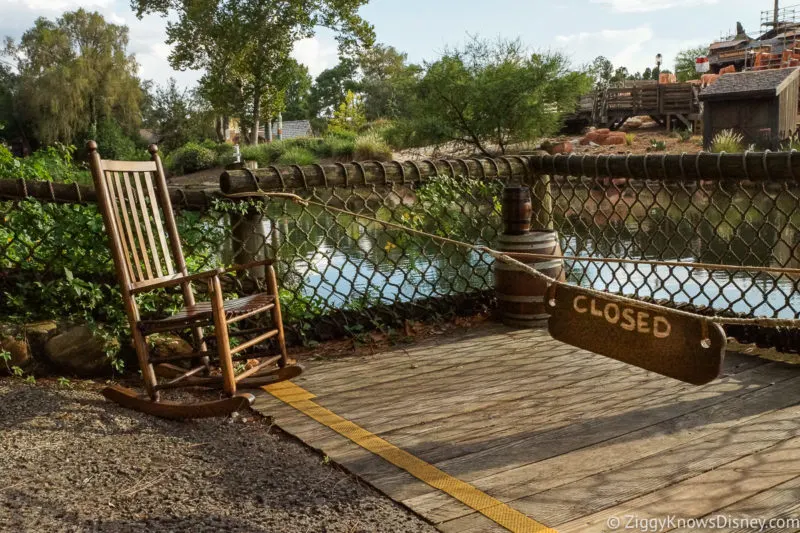 Cuisine: American (Sandwiches)
It's safe to say that the majority of guests visiting the Magic Kingdom have probably never been to Aunt Polly's. That's because it's closed for most of the year and its location. To get to Aunt Polly's you have to take a raft over to Tom Sawyer Island, but once you arrive you will see the trip was well worth it.
The menu is small but mighty. It has changed over the years but it always has some kind of sandwiches with the current options being biscuit sliders and a variety of peanut butter sandwiches. The quality of all the options is always great, among the best in the park.
Even though it doesn't sound like much, this is one of the coolest quick service dining experiences at the Magic Kingdom as you feel like you've been transported back in time about a hundred years somewhere on the Mississippi River.
What to Get: One of our favorite counter service meals in the park is Betty's Buttery Biscuit BBQ Sliders. The meat is tender and served up on a buttery biscuit makes it even more incredible. We also like the house-made cajun chips served with it, a perfect accompaniment.
6. Cosmic Ray's Starlight Café (Tomorrowland)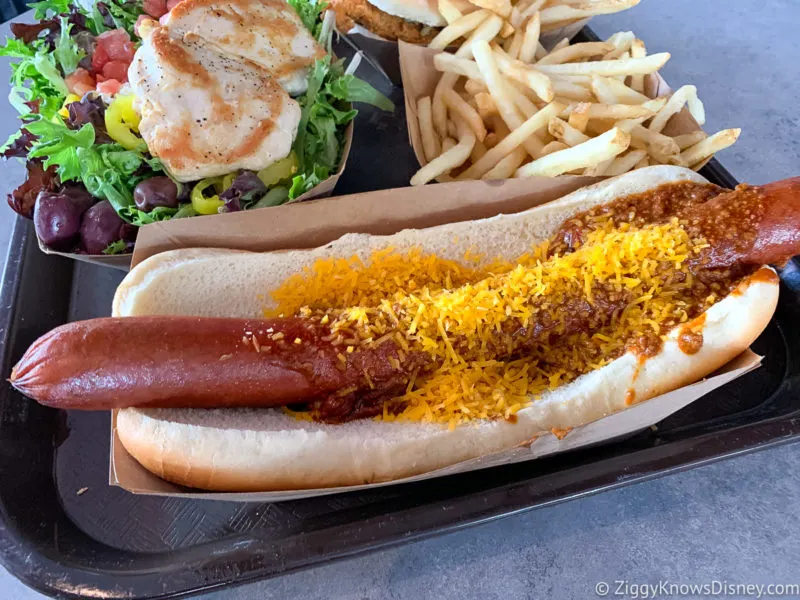 Cuisine: American (Burgers, Sandwiches, Salads)
Cosmic Ray's is your typical theme park quick service restaurant with a heavy emphasis on burgers, hot dogs, fries, and other sandwiches. It's also one of the biggest restaurants in the Magic Kingdom and has hundreds of tables.
We love a good burger as much as the next guy but the ones here are just not anything special, they are the same standard ones you can get at any quick service. However, the nice thing is that there is a toppings bar where you can load your food with tomatoes, sauces, and of course the crispy onions.
Even though the food is just ok, the real reason to come to Cosmic Ray's is to see the animatronic alien lounge singer Sonny Eclipse. He is a Magic Kingdom institute and it's a right of passage to grab a table nearby and enjoy the sweet space tunes and downright cheesy jokes.
What to Get: The Chili-Cheese All-Beef Foot-long Hot Dog is a huge entree if you are hungry and it's piled high with chili and Mac and cheese. The Greek Salad is a nice option if you are watching your calories and all the ingredients are pretty fresh. Try the S'mores for dessert with its soft graham cracker shell loaded with warm chocolate and marshmallow filling.
5. Casey's Corner (Main Street U.S.A.)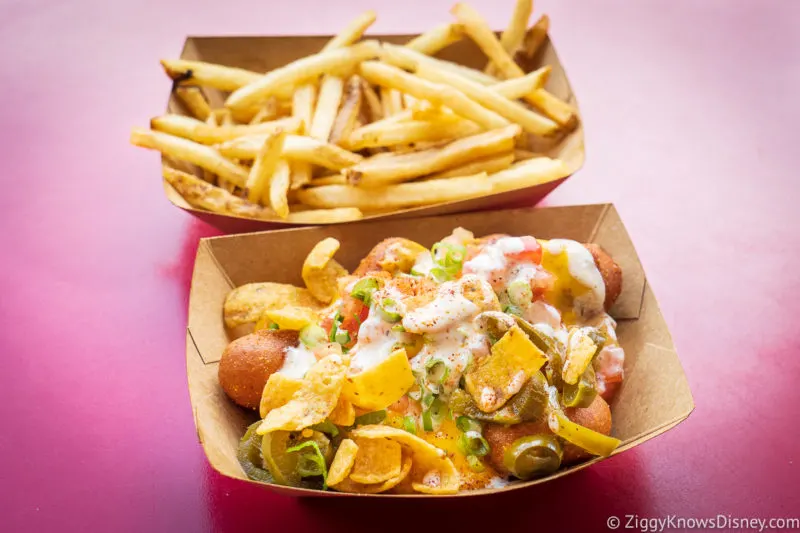 Cuisine: American (Hot Dogs)
Don't come to Casey's Corner looking for a wide variety of fancy entrees. Here they serve up hot dogs and are done in every way you can think of.
Baseball fans will appreciate the theming as this counter service location is inspired by the famous poem "Casey at the Bat." The decor is turn-of-the-century and a perfect fit on Main Street U.S.A. Hopefully, you stop by when Jim the piano man is playing some catchy tunes outside.
As for the menu, options include foot-long dogs, chili cheese, Mac and cheese, and special monthly hot dogs that rotate. The monthly dogs are usually the best items on the menu since they are much different than other hot dogs you can find around Walt Disney World.
If you are looking for hot dogs at the Magic Kingdom, this is the place to go. It's also one of the last restaurants to close on a given night so if you are looking for a late-night fix, you'll find it here.
What to Get: Any of the Hot Dogs are good so get whichever flavor appeals to you the most. The Corn Dog Nuggets are also a Casey's classic and one we never get tired of eating. Vegetarians will also like the Plant-based Hot Dogs and Sausages that are available.
4. The Friar's Nook (Fantasyland)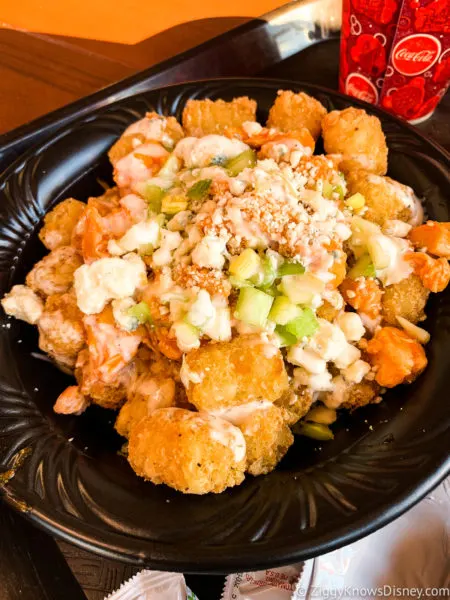 Cuisine: American (Loaded Tater Tots)
Trust us, if we could make tater tots a regular staple in our diet, we'd stop by The Friar's Nook and eat them every day! The menu has hot dogs, bratwurst, and Mac and cheese, but everyone comes here for the loaded tots!
The Friar's Nook went through a menu change in recent years making the loaded tots the main attraction. There are two flavors including buffalo chicken and bacon mac and cheese
Friar's Nook has gone through a few menu changes in its history, but the most recent is focused on hot dogs and loaded tots. The staples to choose from include buffalo chicken and bacon mac and cheese. We used to love all the Mac and cheese options here, but the tots are equally delicious.
The only downside to The Friar's Nook is its location and seating. There is only outdoor seating here and without much shade, it can make for an uncomfortable lunch in the summer. Plus the lack of tables makes it hard to get a seat.
Without a doubt, The Friar's Nook is one of our absolute top quick service restaurants at the Magic Kingdom, and maybe the place we end up going most of all.
What to Get: Any of the Loaded Tots are great. If you asked 100 guests if they prefer the Buffalo Chicken or Mac & Cheese Tots, I'm convinced you'd get a 50/50 split as both are incredible. If you come in the morning you can even get the Sausage and Gravy Tots, one of the best overall breakfast items in the park.
3. Columbia Harbour House (Liberty Square)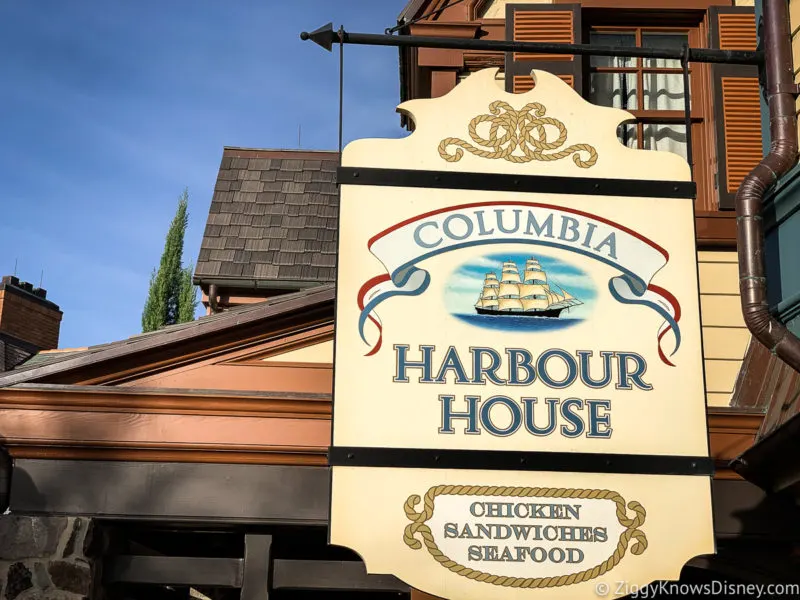 Cuisine: American (Seafood)
Seafood lovers will feel right at home at the Columbia Harbour House in Liberty Square. Normally, I wouldn't be crazy about eating seafood in a theme park, but the food is actually pretty decent quality.
The menu is one of the largest at the Magic Kingdom and offers selections such as fried shrimp, lobster roll, fish and chips, New England clam chowder, and salmon. If some members of your group don't like seafood they can get a salad or one of the delicious chicken pot pies.
We also really like the authentic feel of the Columbia Harbour House and it fits in perfectly in Liberty Square. All the old, dark wood and antiques around the building make it feel like you are living during the revolutionary war.
The top floor is our favorite place to sit. It's quiet and tucked away from the thousands of guests crowding the walkways below. The chairs are also amazing, very sturdy, and easy to sit in. If you are a huge seafood fan, this will most likely be your favorite counter service at the Magic Kingdom.
What to Get: The lobster roll is our favorite item on the menu and they aren't skimpy with the amount of lobster meat. The Trio Platter is also incredible as you get fried shrimp, fish, and chicken all together. Healthier eaters will love the Grilled Salmon, which just means more room for dole whip later.
2. Pecos Bill Tall Tale Inn & Café (Frontierland)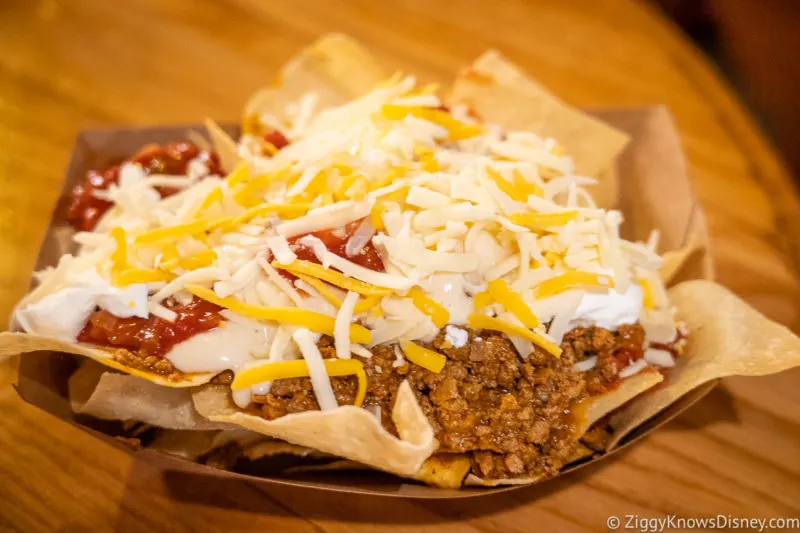 Cuisine: Tex-Mex, American (Tacos, Nachos, Fajitas)
If you are a big fan of Tex Mex, then you're going to love Pecos Bill Tall Tale Inn & Café. The menu here has changed many times over the years from BBQ to its current state.
Menu items include fajitas, tacos, rice bowls, nachos, burgers, and a southwest salad. You can even get churros with dipping sauce for dessert. Sure the overall quality is not as good as some places back home, but for a theme park, it really hits the spot and always leaves us satisfied.
Prices are reasonable and most of the entrees are quite filling which makes it a good spot for big eaters like us. You also can't beat the toppings bar which has salsa, sour cream, fresh veggies, cheese, and more to pile high on your meal.
The atmosphere is an Old West/Cowboy theme and in our opinion, second to none at the Magic Kingdom. There is seating indoors or outdoors, perfect for super hot days. With the combination of great theming and good food, Pecos Bill remains high on our list after all these years.
What to Get: It's so hard to choose since we love the whole menu. The Taco Trio gives you a good variety as you can choose a different meat for each taco. The Pork Carnitas Rice Bowl is one of the most filling items on the menu and also very flavorful.
Pecos Bill Tall Tale Inn & Café Menu
1. Sleepy Hollow (Liberty Square)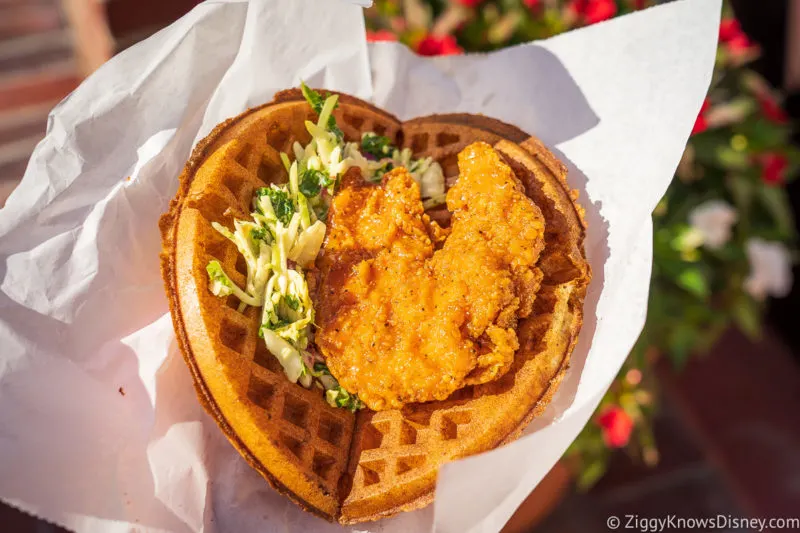 Cuisine: American (Waffle Sandwiches, Corn Dogs, & Sweets)
Putting Sleepy Hollow as our number one Magic Kingdom quick service may seem like a stretch to some. After all, the menu isn't very big and many wouldn't even consider it a full-fledged counter service restaurant and more like a snack stand. However, there are still enough options that you can use as a meal and everything they do is so amazing we couldn't knock them below #1.
The long line outside tells the story of Sleepy Hollow as the menu is small but everything is worth getting here. It's primarily known for its waffles, both savory and fruit waffles with Nutella, and both unbelievable. They also have hand-dipped corn dogs that are excellent and sometimes turkey legs are also available.
There is a load of snack choices like the churro ice cream sandwich and the multiple varieties of funnel cakes. Ultimately, it's the food that keeps us coming back again and again, and it's a must-stop at every visit to the Magic Kingdom!
What to Get: Your visit to Sleepy Hollow starts with one of the waffles. For savory get the Sweet-and-Spicy Chicken-Waffle Sandwich with a honey-sriracha glaze and house-made chips. This is one of our favorite food items in Walt Disney World. If you are looking to satisfy your sweet tooth, try the Fruit Waffle with Nutella and prepare to be amazed.
Why isn't Be Our Guest on this List?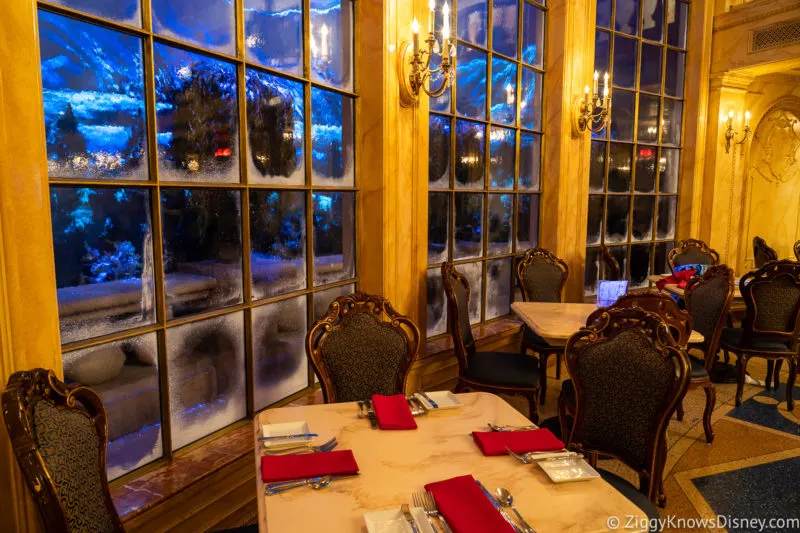 Wait a minute…why haven't we included Be Our Guest on our list? It is after all one of the best restaurants in the whole park.
When Be Our Guest opened it was originally a quick service restaurant for breakfast and lunch and a table service restaurant for dinner.
Since the park has reopened Be Our Guest has now become a table service restaurant only. At this time we don't know if it will ever return as a quick service restaurant. So for that reason, we left it off our list, otherwise, it would easily be the #1 choice.
Best Places for a Snack/Dessert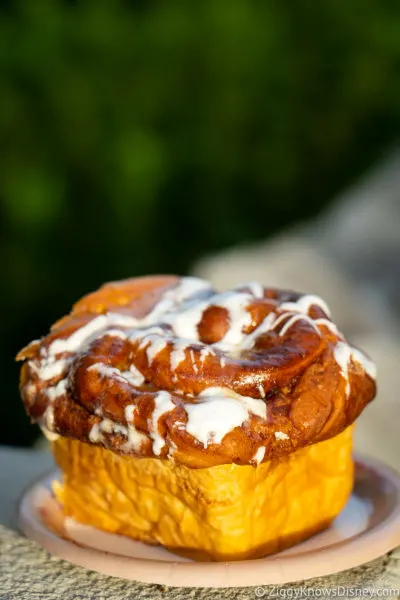 If you are just looking for something sweet instead of, or after your meal, the Magic Kingdom has plenty of options.
Here are our favorite places for dessert:
Aloha Isle (Adventureland) – This is the home of the famous dole whip, the most famous frozen snack at Disney World and you can't go without trying it.
Sleepy Hollow (Liberty Square) – Though the chicken waffle is great, we really come to Sleepy Hollow for the fruit waffles with Nutella or the funnel cakes with strawberries and powdered sugar.
Plaza Ice Cream Parlor (Main Street U.S.A.) – Something about grabbing an ice cream cone on Main Street U.S.A. makes it taste all the better. Our favorite here though are the giant ice cream sandwiches that are handmade!
Sunshine Tree Terrace (Adventureland) – Guests that come here get the famous citrus swirl, the sworn enemy of the dole whip. It's a little more bitter and has a sharp orange flavor that is very addicting.
Main Street Confectionery (Main Street U.S.A.) – Ok, so technically this isn't a restaurant, it's a sweets shop. They have it all though and if you visit you'll be walking out with a bag full of fudge, rice crispy treats, candy apples, and a whole lot more.
Storybook Treats (Fantasyland) – This is another great place for ice cream. They have soft serve and are always coming up with new and inventive sundaes to make. This is also the place to find the famous Peter Pan Float, made with lime dole whip and sprite!
Gaston's Tavern (Fantasyland) – There are two main snacks you need to get here, the warm cinnamon rolls overflowing with icing and The Grey Stuff Cupcake from Be Our Guest. Both are incredible must-gets.
Auntie Gravity's Galactic Goodies (Tomorrowland) – A good place to get soft-serve ice cream, sundaes, smoothies, and floats.
Cheshire Café (Fantasyland) – Home to the popular Cheshire Cat tails, which is a pastry twist with chocolate and icing.
Cool Ship (Tomorrowland) – This is the place to get churros at the Magic Kingdom.
Main Street Bakery (Main Street U.S.A.) – This used to be our favorite place for pastries before it was Starbucks, now it's just ordinary stuff you can mostly find at any of the chains around the country.
Check out our post on the Best Magic Kingdom Snacks for the full list of snacks
How to Eat Healthy at the Magic Kingdom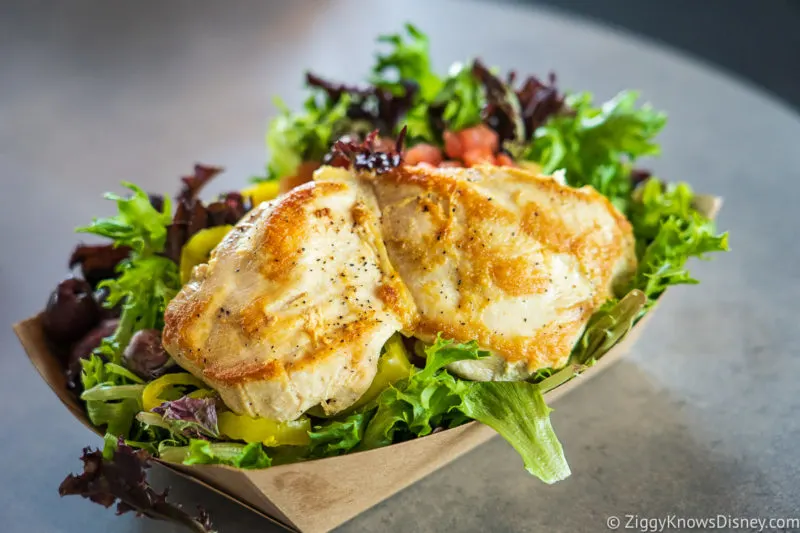 If you are on a diet or trying to stick to a New Year's resolution while visiting Walt Disney World it can be tough knowing what to eat. Likely you won't be filling up on corn dogs and ice cream sundaes, and you'll be looking for something lighter.
Thankfully, there are plenty of healthy options at Disney's Magic Kingdom as well as the other parks.
Here are some healthier entree options at the counter service restaurants:
Cosmic Ray's Starlight Café – Order the Greek Salad which has tomato relish, banana peppers, olives, feta, and vinaigrette dressing.
Casey's Corner – They always have at least one or two plant-based hot dogs and sausages that are pretty tasty and have fewer calories.
Pecos Bill's Tall Tale Inn & Café – The Chick Rice Bowl is a healthy yet filling option or you can get the Southwest Salad which has chicken, roasted corn, and bean salsa.
Columbia Harbour House – Stay away from the fried fish here and get the grilled salmon with vegetables and rice instead.
Pinocchio Village Haus – If you want pizza, go with the Margherita Flatbread and skip the ones filled with meat.
Another thing you can do is ask for a healthier side with your meal instead of fries. All quick service restaurants will also have an option of mandarin oranges or apple slices you can substitute which are better options.
Best Places for Breakfast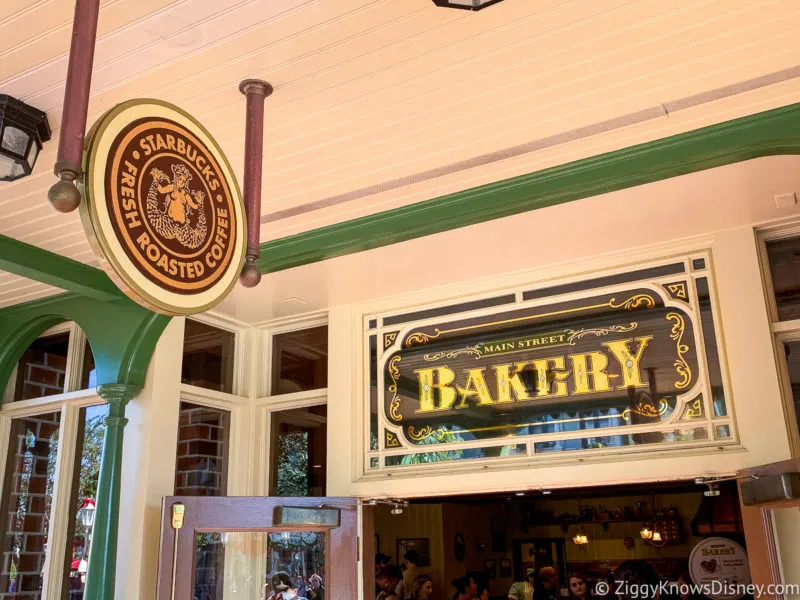 Sure if you want a table service breakfast with characters you can head over to the Crystal Palace or Cinderella's Royal Table. However, the Magic Kingdom is short on good quick service breakfast choices.
Here is a list of the best ones:
Sleepy Hollow – Any time is a good time for a fruit and Nutella waffle and this is THE place to get a giant mickey waffle with strawberries and whipped cream!
Main Street Bakery – Even though this isn't our favorite place to eat, it's the only place at the Magic Kingdom where you can get your Starbucks fix. It's fine for a quick breakfast sandwich or donut on the run.
Friar's Nook – Who says you can't have potato barrels for breakfast? Get the sausage and gravy tots or a breakfast sandwich for something savory, or the delicious donut holes dusted with cinnamon sugar for something sweet.
The Lunching Pad – If you are over in Tomorrowland you can get a breakfast sandwich here, or a better option is a Cheshire Cat Tail.
Liberty Square Market – This is good for a morning snack on the run like fresh fruit or granola.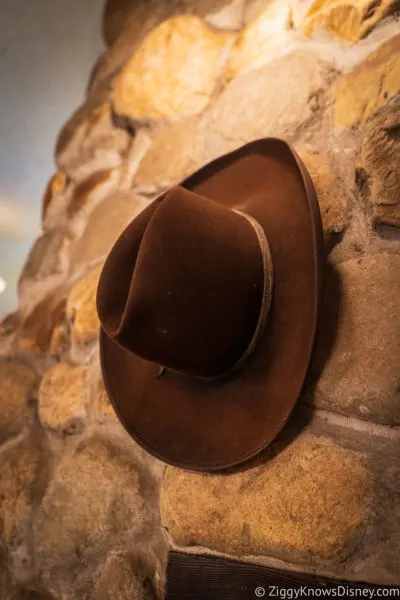 That wraps up our rankings of the best counter service restaurants at the Magic Kingdom. We hope you enjoyed our list as it's always fun to write about food and all the yummy restaurants!
For more list of the top quick service restaurants at Disney World, check out our other guides coming soon:
Best Hollywood Studios Quick Service Restaurants
Best Animal Kingdom Quick Service Restaurants
We want to hear what your top Magic Kingdom quick service restaurants are, so drop them in the comments!
If you are going to Disney World soon, make sure to read our Disney World Planning Guide for all the tips and info you will need to cover everything! Also, check out our Disney World Crowd Calendar so you know when the best time to visit is!
Your Thoughts
I want to know what you think about our list of the best quick service meals at the Magic Kingdom…
What are your Top 10 Restaurants?
What is the overall Best Counter Service Restaurant at the Magic Kingdom?
Let us know in the comments section below!
If you enjoyed this article, as always I appreciate it if you'd share it with others via social media. I work hard at making this website into a useful resource for you and your family to plan your visit to the Disney Parks and I hope it can help you! Thanks 🙂