The African Marketplace was a standout in 2017 and we're excited to get back there this year and see what we find.  They still have my Berbere-style Beef Tenderloin Tips which are amazing so life is good!  Let's check out my Africa Review 2018 Epcot Food and Wine Festival….
Africa Marketplace:
The Africa Marketplace is located on the far side of World Showcase Lagoon, but it's worth the hike over there.  Plus it's in a gorgeous setting…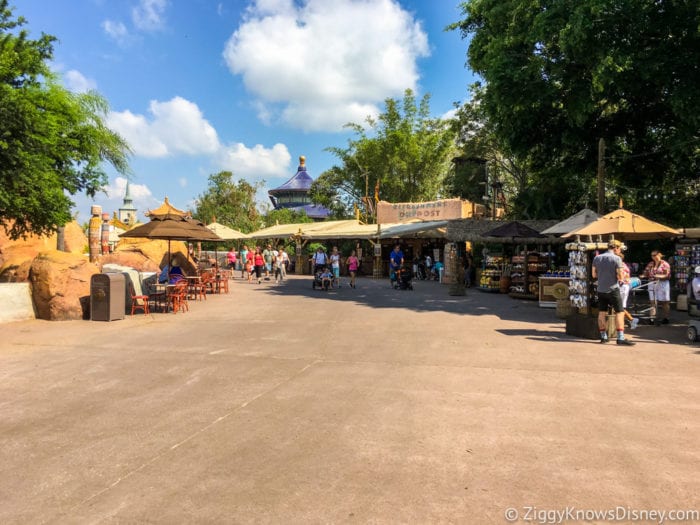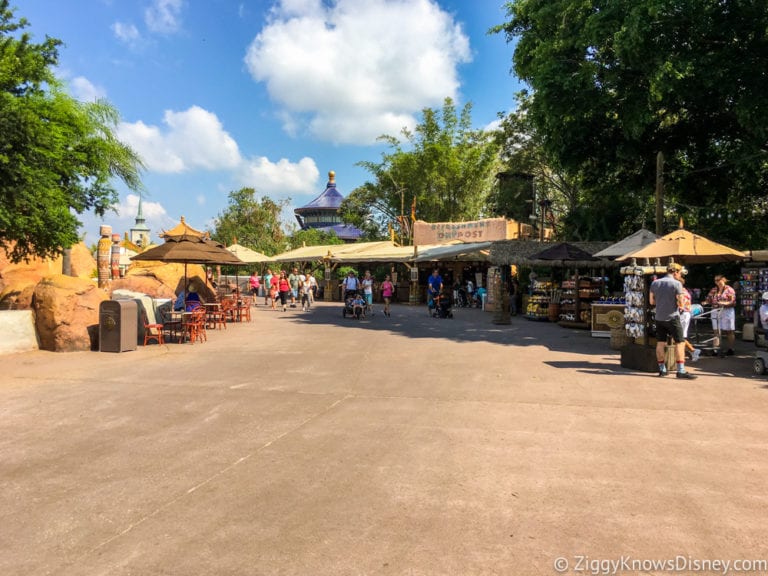 The marketplace itself is in a cute "hut" with typical African style construction: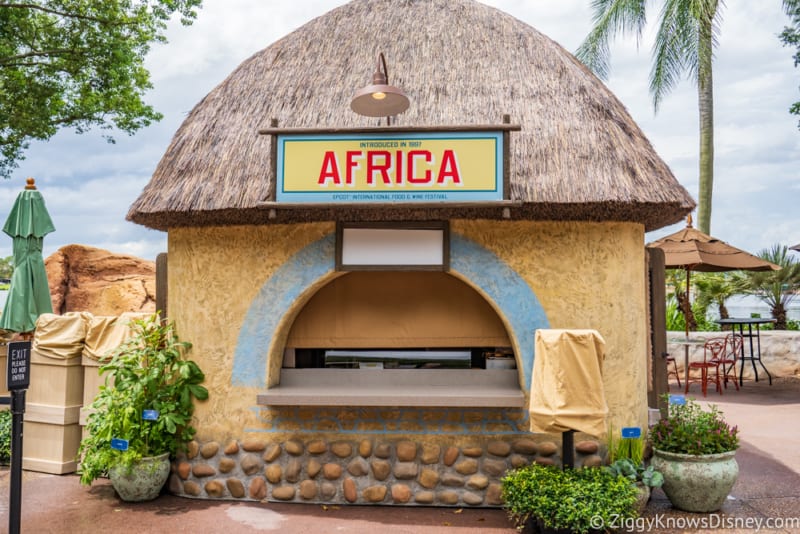 Africa Menu:
As I said before, the Africa menu from 2017 was really strong and even made my list of the Top 10 overall marketplaces.  You gotta like spicy though as it's not for the weak…??
2017 Menu:
2018 Menu: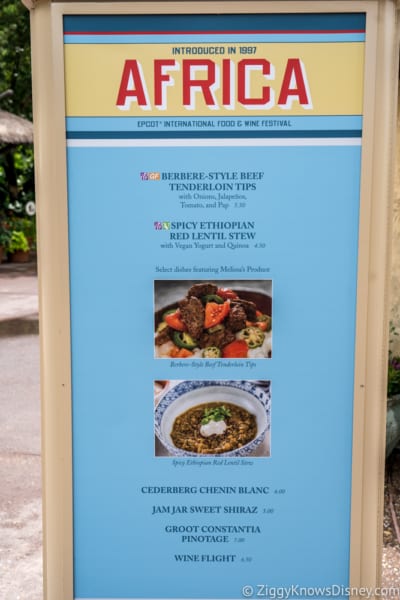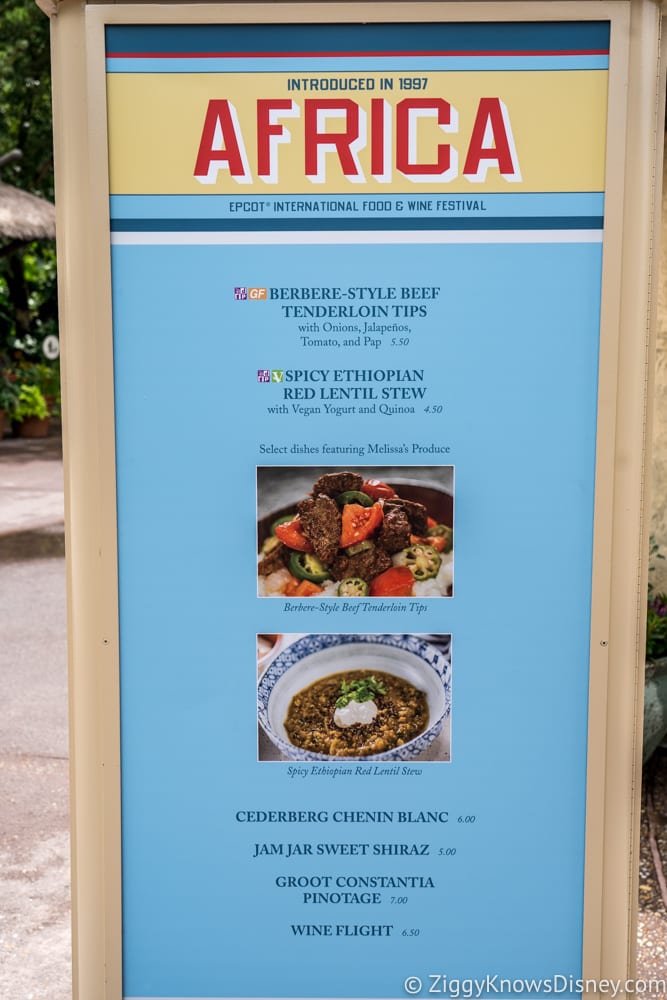 Things are almost the same from 2017, but this year there are only 2 food items instead of 3.  We still have the Berbere Style Beef Tenderloin Tips and the Spicy Ethiopian Red Lentil Stew but the Spinach and Paneer Cheese Pocket is gone.  It wasn't my favorite last year, but it would have been nice to see it replaced by something though.  The price on the Beef Tenderloin Tips also went up 0.25 cents.
Food:
Berbere-style Beef Tenderloin Tips with Onions, Jalapeños, Tomato and Pap (GF) ($5.50)
Spicy Ethiopian Red Lentil Stew with Vegan Yogurt and Quinoa (V) ($4.50)
Beverages:
Cederberg Chenin Blanc ($6.00)
Jam Jar Sweet Shiraz ($5.00)
Groot Constantia Pinotage ($7.00)
Wine Flight ($6.50)

Menu Review:
Berbere-style Beef Tenderloin Tips ($5.50):
Another one of my favorite items at Food and Wine, but it's definitely spicy so be prepared.  I happend to LOVE spice so this is one of our first stops!  Lots of good beef in there, which is really tender and juicy, just as good as last year.  Never disappoints.  I also like the pap, which is underneath the beef and kind of like polenta.  It's very smooth and creamy and blended perfectly with the beef.  Good sized portion and not too expensive means I'm gonna keep coming to Africa for this!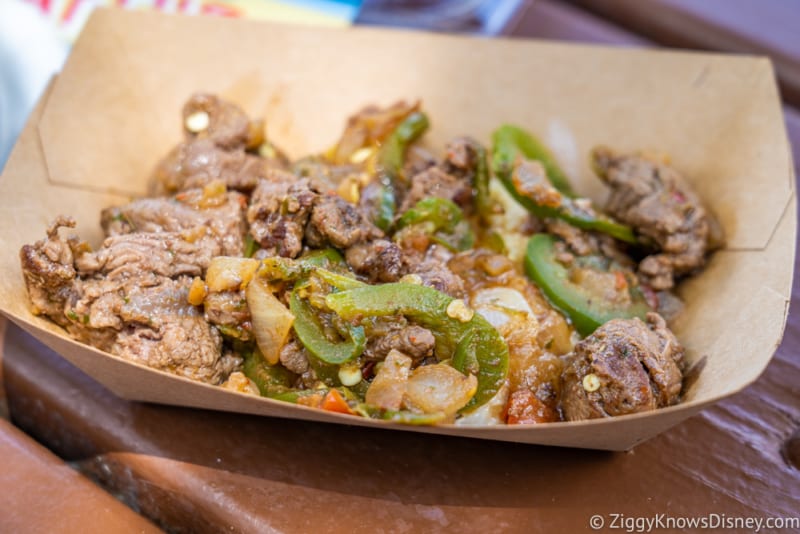 Spicy Ethiopian Red Lentil Stew ($4.50):
So Red Lentil Stew doesn't exactly sound intriguing when telling someone about what you tried at Food and Wine this year, but it would be a mistake to overlook it.  The beans and lentils were pureed up making this dish very creamy.  And though it wasn't as spicy as the beef, it still had lots of flavor and spice.  My complaint last year was that there isn't any kind of naan bread served with it which would make it incredible.  Still really good and something you should try!

Wine Flight ($6.50):
One of the best bargains at the Food and Wine Festival is this Wine Flight from Africa.  The Cederberg Chenin Blanc is quite crisp and holds you, quite different for a white.  The Jam Jar Sweet Shiraz is my favorite and is very sweet and delicious, lots of red fruits in there.  The Groot Constantia Pinotage was ok, not as good as the rest of them, not as mature but still drinkable.  One of my favorite Wine Flights at Food and Wine!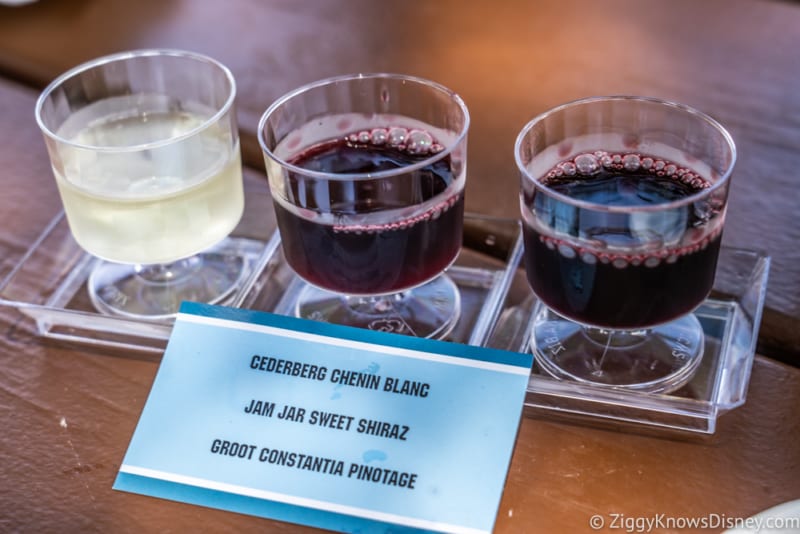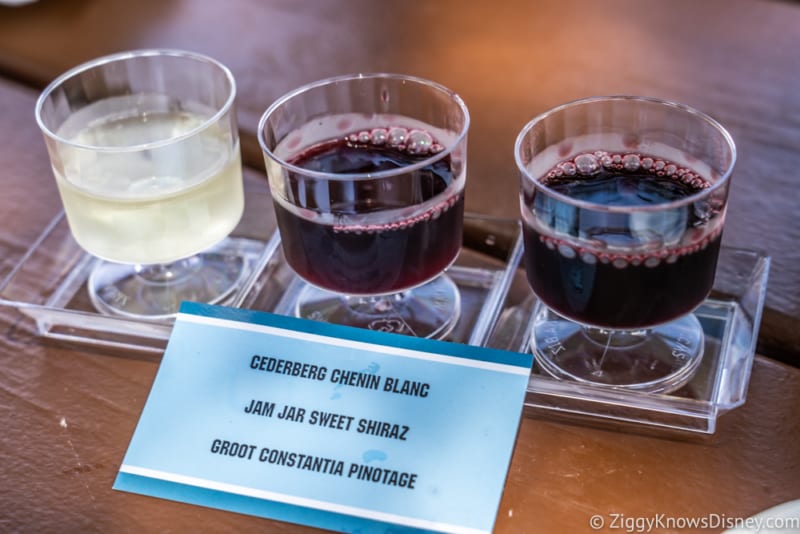 Booth Summary and Grade:
Africa for me remains one of the Epcot Food and Wine Festival's best kept secrets again this year.  Both food options are really really good, and the wine flight equally delicious.  I would say if you are a fan of spicy food then you have to try the Beef Tenderloin Tips, which might be your favorite thing all festival long.  Just wish they didn't get rid of having three food items and would add one more.  Make sure you stop in Africa this year!
If you have to get just one thing: 
Berbere-style Beef Tenderloin Tips
Africa Review

Overall Grade -

8/10
I want you to be able to have the best info on the Festival so you have a great time and don't waste your time!  Take a look at all of my 2018 Epcot Food and Wine articles including:
Your Thoughts:
I want to know what you think about my Africa Review at the 2018 Epcot Food and Wine Festival…
Which is your favorite item?
Which do you still want to try?
Let us know in the comments section below!
If you enjoyed this article, as always I appreciate it if you'd share it with others via social media.  I work hard at making this website into a useful resource for you and your family to plan your visit to the Disney Parks and I hope it can help you! Thanks 🙂
---
---