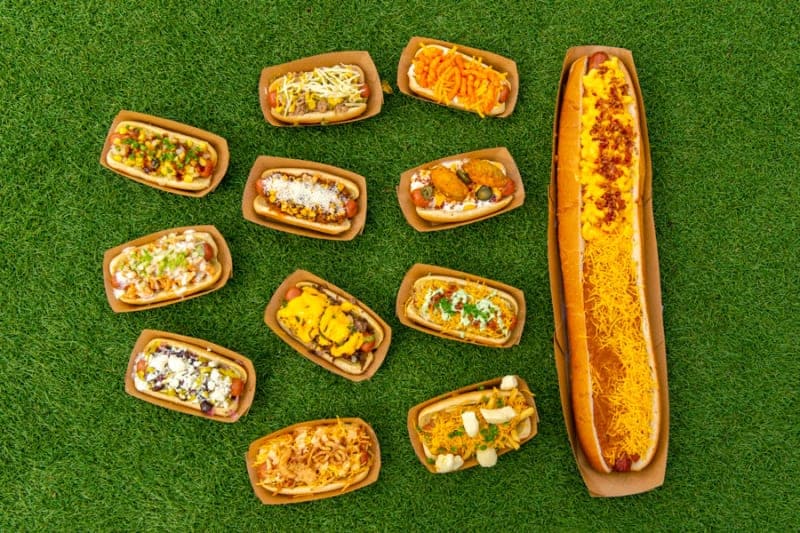 Casey's Corner is always an incredible place to stop for Hot Dogs when visiting Disney's Magic Kingdom, in fact it's one of my favorite quick service restaurants in the park. For a limited time in December, 12 incredible Hot Dogs are coming to Casey's Corner in the 12 days before Christmas, where you can relive all of your favorite hot dogs from this past year with the Hot Dog of the Month specials!
Each Hot Dog is available only for one day so make sure you're in the Magic Kingdom on the right day to get your favorite! Here is the list of hot dogs:
Dec. 14 – Pineapple Teriyaki Dog topped with roasted pineapple, onions, Teriyaki sauce, and green onions
Dec. 15 – Buffalo Chicken Dog topped with buffalo chicken, celery, and a garlic ranch drizzle
Dec. 16 – Greek Dog topped with olives, banana peppers, red onions, feta cheese, and tzatziki sauce
Dec. 17 – Cuban Dog topped with mojo pork, relish, swiss cheese, and mustard
Dec. 18 – Aztec Dog topped with sweet and spicy ground beef and creamy elote mixed with spicy lime mayonnaise and grated Parmesan cheese
Dec. 19 – Philly Cheesesteak Dog topped with roast beef, sautéed peppers and onions, and cheese sauce
Dec. 20 – Casey's Classic Dog topped with hash browns, bacon, cheese, and fried onion straws
Dec. 21 – Cheesy Dog topped with cheddar cheese, queso cheese, and spicy cheese puffs
Dec. 22 – Jalapeño Popper Dog topped with cheese sauce, garlic ranch, bacon bits, jalapeño poppers, and sliced jalapeños
Dec. 23 – Loaded Mashed Potato Dog topped with garlic mashed potatoes, caramelized onions, cheddar, bacon, scallion sour cream, and green onions
Dec. 24 – Poutine Dog topped with fries, poutine gravy, cheese curds, and chives
Dec. 25 through Jan 1. – 2 Foot-Long Hot Dog with your choice of two toppings (Casey's Classic, Chili Cheese, or Macaroni & Cheese)
While all the hot dogs at Casey's Corner are great, my favorite is the beast of a dog, the 2ft-long Hot Dog which came out for a day back in July and had a choice of Casey's Classic, Chili Cheese, or Macaroni & Cheese. It will be great to try it again and maybe even finish it this time!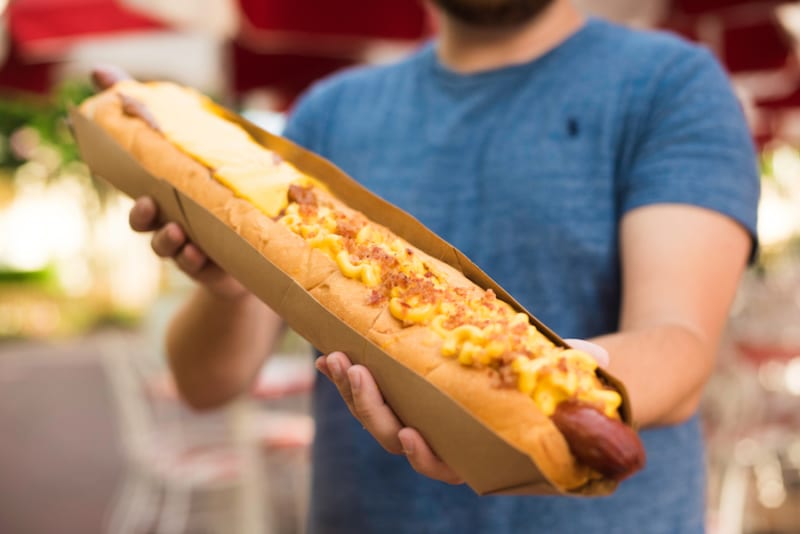 Whichever one you decide on, I would say it's a must to pair it up with the Bacon Mac and Cheese Fries, they are the best snack we've had in a long time in the Magic Kingdom!
Your Thoughts:
I want to know what you think about the 12 Hot Dogs coming to Casey's Corner in December…
Which one was your favorite?
What flavors do you want to see next year?
Let us know in the comments section below!
If you enjoyed this article, as always I appreciate it if you'd share it with others via social media. I work hard at making this website into a useful resource for you and your family to plan your visit to the Disney Parks and I hope it can help you! Thanks 🙂
Source: Disney Parks Blog
Need Help Planning Your Disney Vacation? Show You the World Travel is Here to Help!
Just fill out the form below and someone will contact you for all your Disney Vacation Planning Needs….