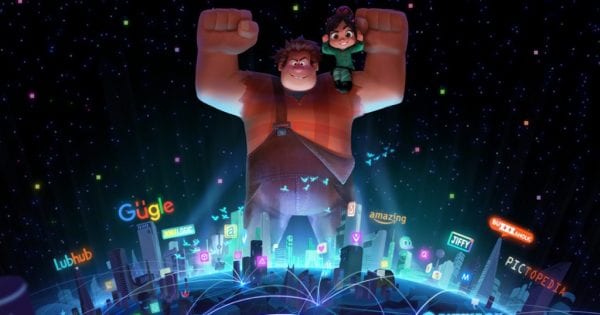 Yesterday we were told that Disney animation had a big announcement coming, and today at 9am Pacific Coast time, Disney made it official that Wreck It Ralph 2 is coming to theaters in 2018. March 9th 2018 to be exact. The Disney annimated film Gigantic was supposed to be released in that spot, but Wreck It Ralph 2 smashed his way into that spot and Gigantic has been pushed off to November 21, 2018.
Along with Director Rich Moore and Co Director Phil Johnston, John C. Reilly made the announcement that he will be reprising his role as Ralph this morning, via the Walt Disney Animation Facebook Page. Sarah Silverman also will be playing her role again as Vanellope Von Schweetz.
We don't know much about the plot yet, only that Ralph will be leaving the Arcade and instead he will be breaking the Internet. The possibilities are endless here, I can't wait to see how the story develops!!
"From the moment we started working on the first Wreck-It Ralph, we knew there were so many possibilities with these characters," said Moore, who has been developing it since shortly after the release of the first film, and while directing this year's critically-acclaimed hit Zootopia with Byron Howard. "This time, Ralph's wrecking wreaks havoc on the Web—as only he can do. Characters we loved in the first film are back and we are ecstatic to be working with them—and the actors who voice them—once again."
"The world of the internet is the perfect place to send Ralph and Vanellope," said Johnston. "The scope and scale are so vast and the possibilities for comedy are endless."
"Ralph is a character very near and dear to my heart," added Reilly. "I'm really looking forward to playing the big lug again. Making the first 'Wreck-It Ralph' was one of the most special experiences I've ever had and I'm really looking forward to bringing him back to life. So many kids I've met all over the world are excited to see him again, too. They tell me all the time!"
The original Wreck It Ralph had tremendous success and grossed $471 million worldwide. And besides Ralph, Disney is continuing to develop several animated franchises such as Frozen 2, Cars 3 and Toy Story 4. We'll keep an eye on Wreck It Ralph and see how what mess he gets into on March 9th 2018.
Let me know what you think of Wreck It Ralph 2 being announced in the comments section below. How excited are you to see it? As always I really appreciate it if you help spread the word, so if you liked this post and my site then please share it with others! Thanks! 🙂