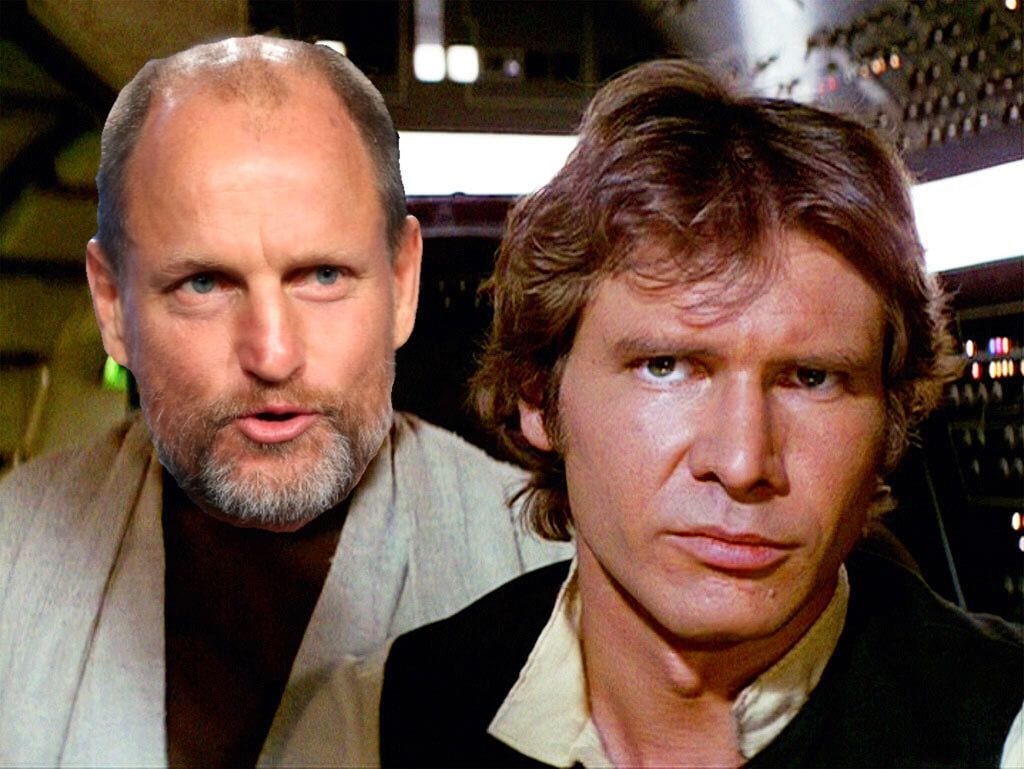 It's been rumored now for a while, but now it's official that Woody Harrelson is joining the cast of the Han Solo Star Wars Spinoff film. In fact it seems that Harrelson will have a major role in the film. StarWars.com broke the news that the former star of Cheers, The Hunger Games, No Country For Old Men and True Detective would be joining the cast and how excited everyone is:
The film's directors Phil Lord and Christopher Miller had this to say: "We couldn't be more excited to work with an artist with as much depth and range as Woody."
This leads us to ask though: What exact role will Harrelson have in the film? In an interview with Harrelson on Facebook by Mashable, Harrelson had this to say: "I'm a mentor to Han but I'm also a bit of a criminal. I don't think I should say much more than that because the Force is not allowing me."
So a little ambiguous there, but a further look into the Star Wars Expanded Universe (now Legends) might give us some clues. We have known for some time that Harrelson's character would be some sort of mentor to Han Solo (played by Aldon Ehrenreich), but the fact that he is a criminal is new to us. I would imagine that since this Han Solo Spinoff takes place roughly 10 years before "A New Hope", that Harrelson's character is who gets Han into the smuggling business.
Looking to the Expanded Universe, this role was filled by a character named Garris Shrike. Shrike got Han his start into a life of crime, and in the end a confrontation with Shrike led to a bounty on Han's head and Shrike tracking him down.
This isn't to say Harrelson's character will Shrike exactly, but it's easy to believe that his character will be roughly based on the one from the book and be somewhat similar. We'll have to see how it plays out.
I think that Harrelson will do a great job in the film, I think he's a great actor and can see him filling his role perfectly. The still untitled Han Solo stand-alone film doesn't have an exact release date yet. Some were thinking Summer 2018, now it seems that a December 2018 release is more likely. Stay tuned for more updates.
Your Thoughts:
I want to know what you think about Woody Harrelson joining the Han Solo Movie. Do you like the idea? Can you see him playing the role of a criminal mentor well? If not who would you have liked to see in his place? Let us know in the comments section below! 🙂
If you enjoyed this article, as always I appreciate it if you'd share it with others via social media. I work hard at making this website into a useful resource for you and your family to plan your visit to Walt Disney World, and I hope it can help you! Thanks 🙂
Photo Credit: Digital Spy